The Synthesizer Workstation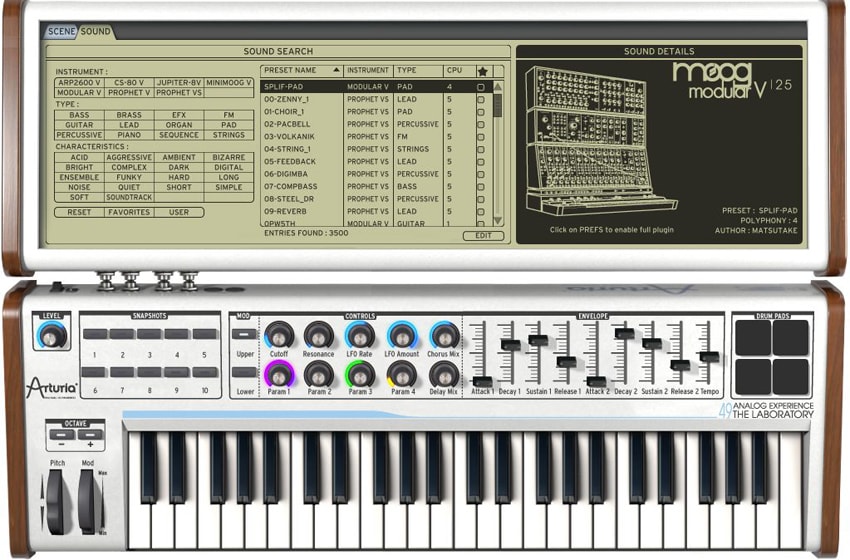 Analog Laboratory is an extremely powerful software synthesizer solution.
First of all, Analog Laboratory offers 4300 legendary classic synthesizer sounds from Arturia's vintage analog recreations: Mini V, Prophet V, CS-80, Jupiter-8, ARP, Prophet VS,Moog Modular V, Wurlitzer and Oberheim SEM V.
With the addition of 200 scenes organized by genres, including drum loops, advanced arpeggiation melodies and ways to allocate sounds to different parts of your keyboard, Analog Laboratory is likely to become your favorite synth workstation, constantly feeding your creativity with inspiring ideas.
But Analog Laboratory goes further by offering a unique interface to tweak them all as well as the ability to edit each of them in depth, in the original synthesizer*.
Finally, Analog Laboratory also brings Scenes, organized by musical genres. Scenes are a preset configuration of two sounds over your keyboard, plus advanced arpeggiation toward one of these sounds and assignement of loops to the drum pads.
* Requires all synths to be installed on your hard-drive.
MIDI Assign Features
Midi Learn Controllers : 1 clickable encoder, 10 encoders, 8 sliders, 11 switches, 1 modulation wheel, 1 pitch bend wheel.
Main Features
4300 synth sounds selected from the Arturia Classic Synths (mini V, Modular V, CS-80V, ARP 2600 V, Prophet V, Prophet VS, Jupiter-8V, Oberheim SEM V and Wurlitzer V).
TAE® powered sounds with unparalleled audio quality.
200 scenes organized by musical genre.
Straight forward Editing for each sound.
In-depth Editing on the original synths for the owners of Arturia Classic Analog recreations.
Fast filter the presets to your requirements: by Instrument, by Type (Bass, Pads, Leads…) and by Characteristics (hard, soft, complex, simple, short, long…).
Organize Presets view by Name, Instrument, Type, CPU usage, Favorites, or User Presets.
Press Clipping