Description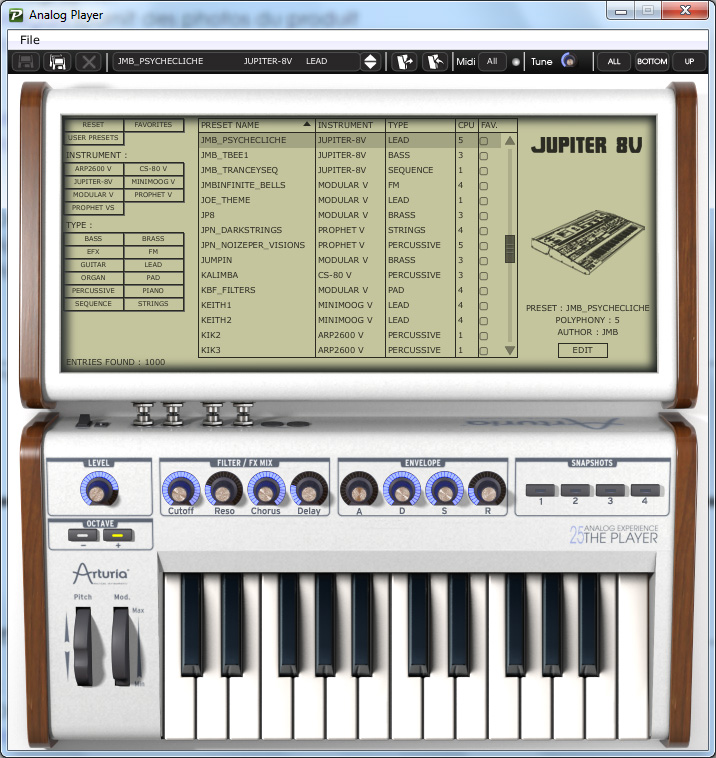 The Player software, offering 1000 sounds, is an ideal way to get the most out of our TAE® based synths without getting into the details and complications of sound design. Packed full of our hottest analog sounds made by our international team, this software gives a full spectrum review of 7 of our best analog emulating software synths. If you need a compilation of our best analog sounds then Analog Player is for you.
Main Features
1000 analog synthesizers sounds that have defined the sound of modern music.
All presets are carefully selected from the Arturia Classic Synths (minimoog V, Moog Modular V, CS-80V, ARP 2600 V, Prophet V, Prophet VS and Jupiter-8V). These TAE® powered sounds offer unparalleled audio quality.
Smart Preset Manager. Fast filter the presets to your requirements: by Instrument, by Type (Bass, Pads, Leads…), and find presets according to these filtered choices.
Organize Presets view by Name, Instrument, Type, CPU usage, Favorites, or User Presets.
Straight forward Editing, with the most essential parameters for personalizing presets: Cutoff and Resonance, Chorus & Delay mix, ADSR envelope.
4 SNAPSHOTS buttons : quickly store up to 4 snapshots for sound comparisons, variations…
Integrated as a plug-in within your sequencer, on Mac and PC, or plays as a stand-alone software synthesizer.
Optimize your screen space: chose to view the Preset Manager only, the Keyboard only, or both at the same time.
Set to Control with your external MIDI keyboard in just a few clicks.
Save and recall presets.
Vst 2.4 / Cubase 5 ready.