DubFire Interview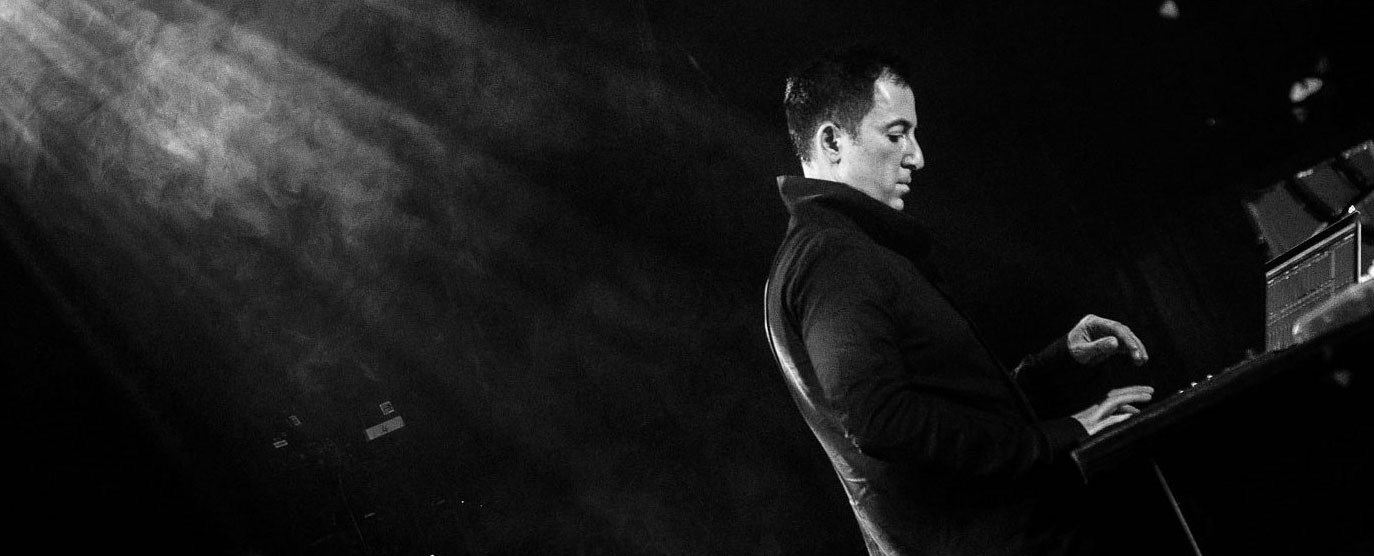 Biography
Grammy Award-winning recording artist Dubfire is renowned for his innovative DJ sets, revolutionary music, and much-lauded SCI+TEC label. Widely recognized as one of electronic music's most versatile artists, Dubfire initially brought a pioneering sound to the masses during his days as one-half of the distinguished DJ & production duo Deep Dish, which led to a catalog of timeless dance classics and numerous international awards to their credit.
Follow Dubfire on
Arturia: For your set at Variations it's a live performance of a classical piece, how did you prepare for the show?
Dubfire: It was one of the most challenging projects I've ever been involved in. It all started when I met Mari Samuelson over dinner in Oslo in May of this year as she is good friends with the promoter I was playing for. She has been (minimalist composer) Max Richter's muse for quite some time now, doing many performances with him, and is constantly striving to bring a younger audience into the classical music genre so we naturally discussed a possible collaboration.
Then in July she was approached by the Variations team and thought of me. We had only 1 day to get together in the studio in Berlin and figure out how to re-interpret Arvo Pärt's brilliant "Fratres" composition, stretching the original 10 minute piece into the required 25 minute performance the following month. The poor girl flew all the way over from San Francisco for that day and flew all the way back the next. It was also mid-August so I was in full on summer touring madness! But I love tackling things outside my comfort zone so welcomed this opportunity to do something i hadn't attempted before.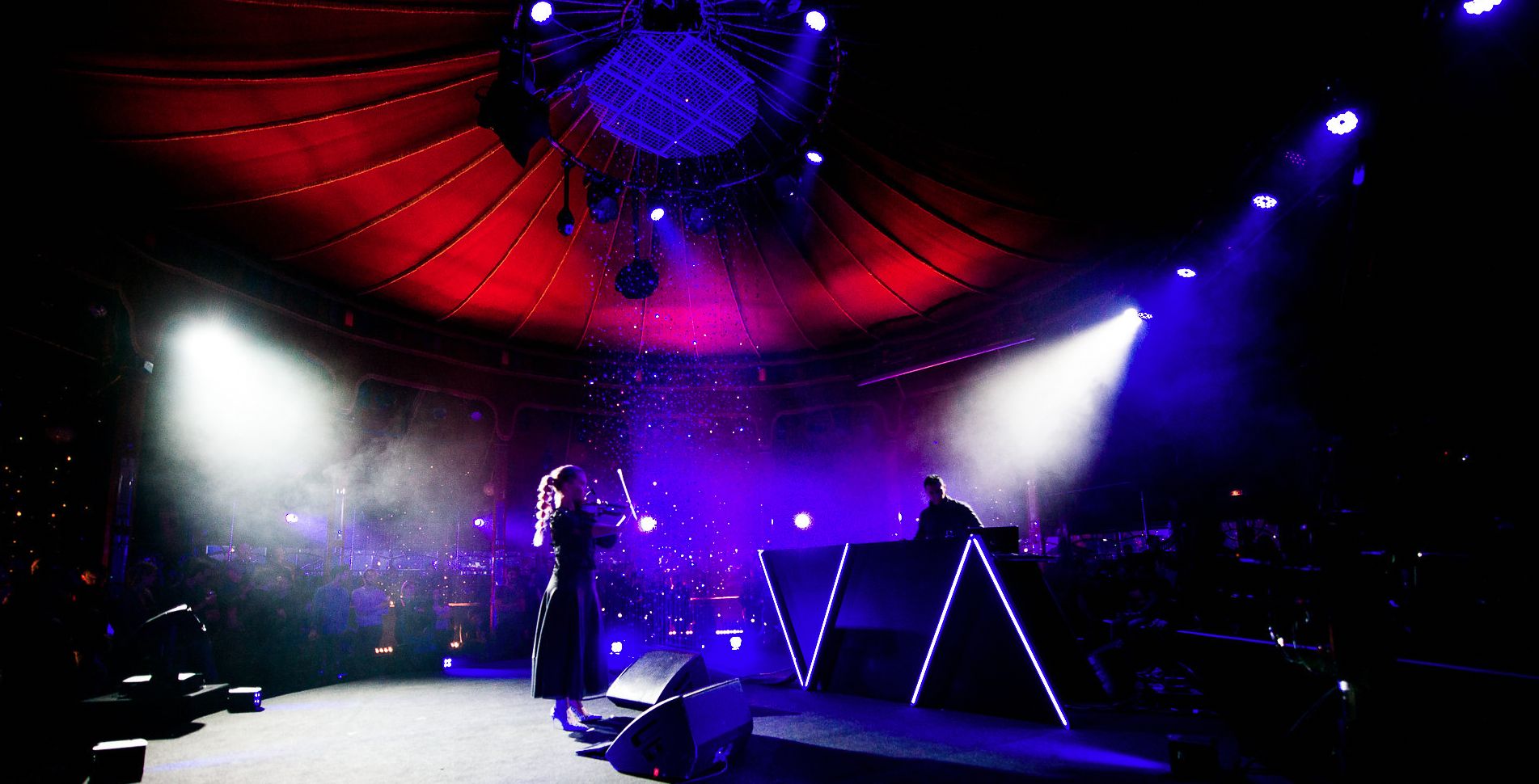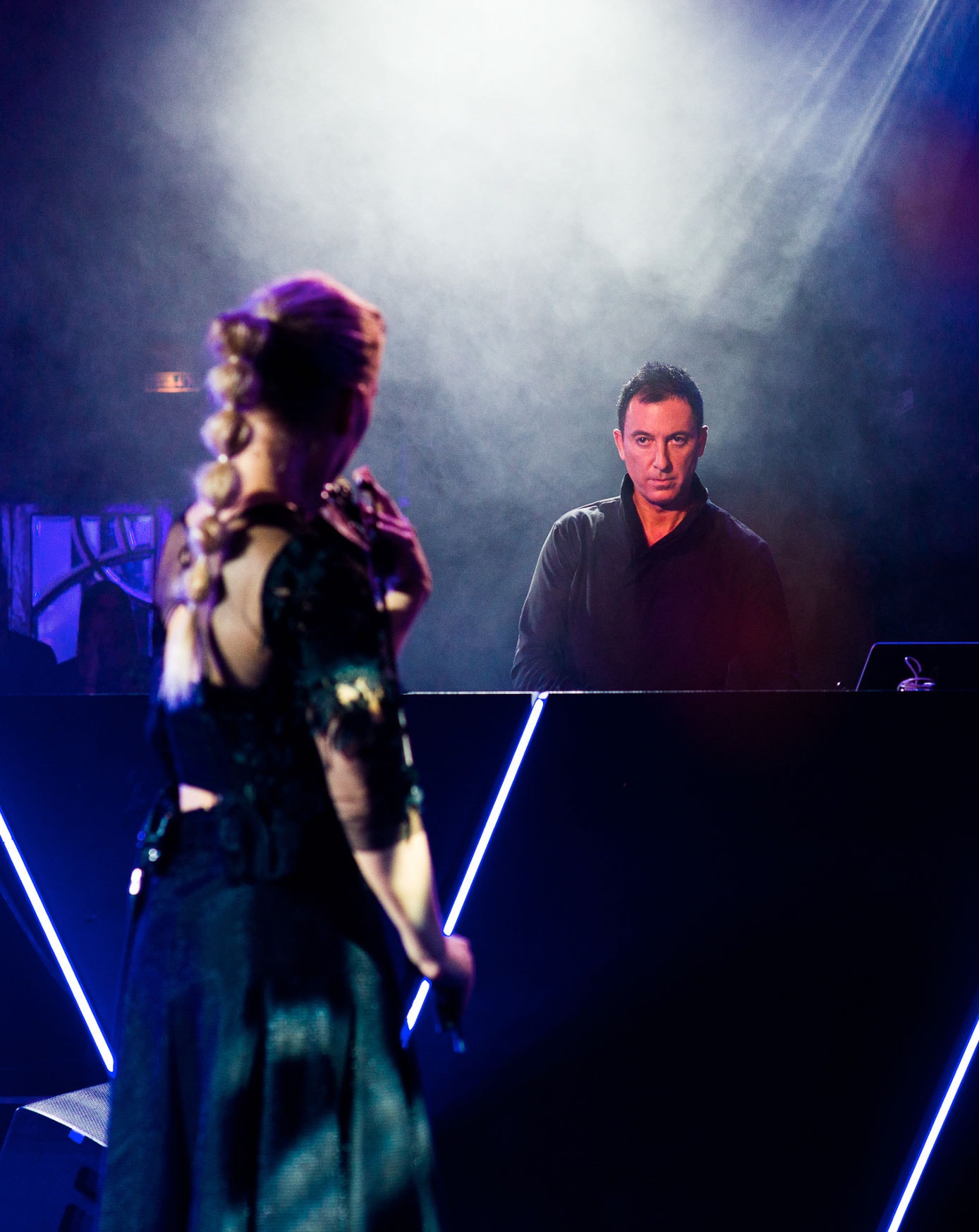 Arturia: Taking elements of the Arvo Pärt composition, what was your approach to compliment the original yet add your own influence?
Dubfire: My vision was pretty clear from the start; I had mentally broken our version up into 4 sections: Mari would begin with the traditional composition, displaying her natural talent as well as staying true to the original work. Next we would move into an ambient section whereby I naturally created slowly unveiling soundscapes while she played long sustained notes, all running thru reverb, dub delay and Guitar Rig FX. Then rhythms would slowly reveal themselves and we would move into a heavy, percussive drum section. The final part would see us breaking the rhythm down under 303 acid baselines and new ambient soundscapes and patterns, before ending it all in a very delicate and quiet manner.
Arturia: How did you assemble the sounds you had in mind for the live set?
Dubfire: It was a combination of samples, loops, drum and virtual instrument programming and FX as well as the use of the MicroBrute. We also created a drum bank of useful sounds in Push 2 which I would use live during the performance to create a more organic and spontaneous feel.
Arturia: The MicroBrute is a part of the palette, how does it integrate into the setup?
Dubfire: The MicroBrute - in this particular set - is used for the main bass line and sub. It's sequenced via Ableton and rerouted into the Apollo so that I can apply sidechain, but still allowing lots of flexibility for tweaking the cutoff, resonance and brute factor for the more intense moments.
Arturia: Why did you choose this particular synth?
Dubfire: My second, Berlin-based engineer - and Musical Director of my HYBRID live show - Cristiano Nicolini has one in his studio and while there with Mari preparing the show, it was natural to go to it to find a warm, yet powerful bass sound. I've been a HUGE fan of Arturia for years so naturally gravitate towards their range:-)
Arturia: What are the main features that you like in it? Why?
Dubfire: It is fully analog and you can really hear that in the patches. It is also very powerful, letting you shape the sounds in a number of unique ways. The matrix is also a HUGE plus when you want to program a more complex sound.
Arturia: Is it also part of your production work in studios?
Dubfire: Oh yes, definitely! While these days I tend to mainly work with plug-in synths, the only two physical units I use are a Prophet 6 and the MicroBrute as it is always nice to go and put your hands on an actual instrument and sculpt the sound you want directly on it. I like the fact that with my relentless travel schedule and having to work on the road, synths like the MicroBrute force you to commit to a sound once you have it, not being able to go back to it like on a virtual instrument.
Arturia: Will you use it live in a different configuration then Variations?
Dubfire: Sure, it has many sonic possibilities; I can use it not just for making bass lines, but interesting leads or patterns with its internal sequencer (always synced to Ableton).
Arturia: Can analog gear bring a different flavor to a DJ/ live set?
Dubfire: Of course! The fatness and warmth of analog equipment have always been proven to create a better, punchier sound. I am currently touring with Richie Hawtin's MODEL1 mixer which has pristine and unparalleled sonic enhancements for my DJ sets and the audiences can hear - and FEEL - that!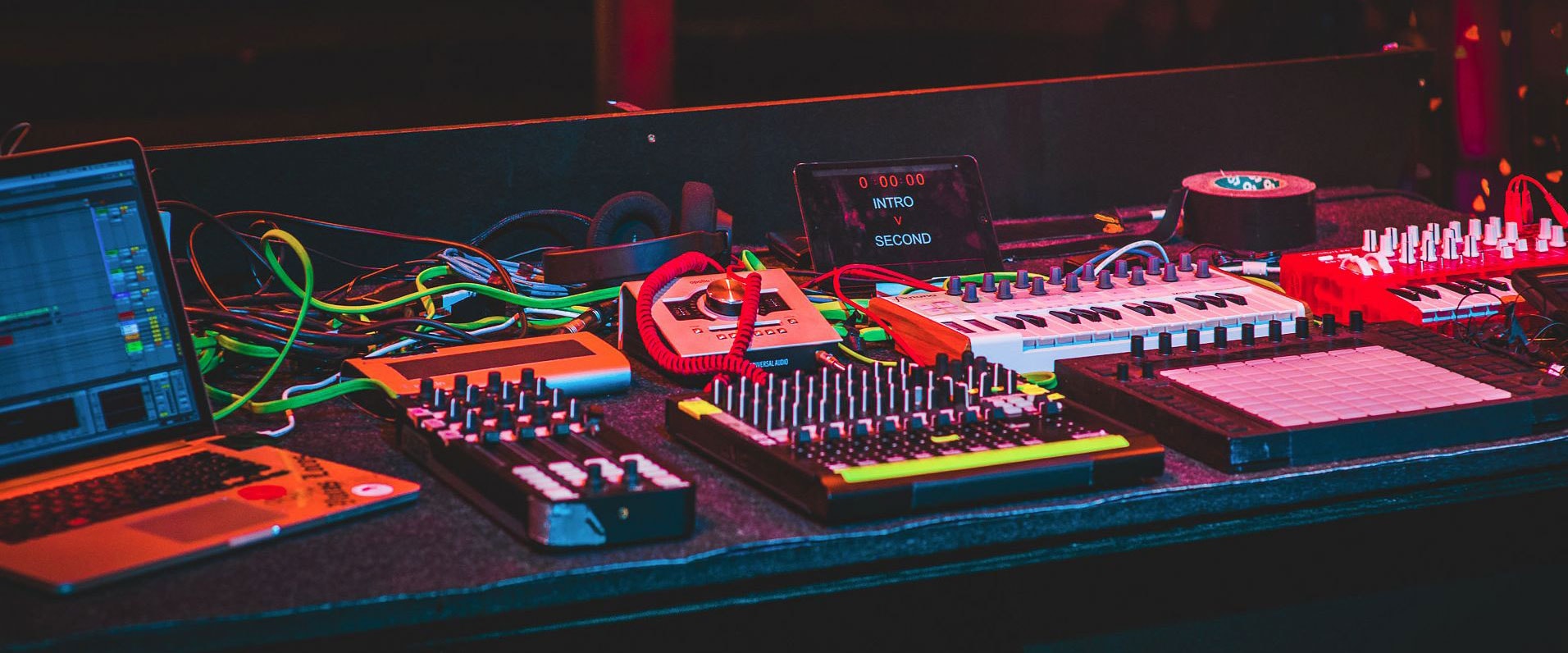 Arturia: Having being a producer for many years, where do you find inspiration to keep challenging yourself musically?
Dubfire: By always striving to push boundaries. For instance the current live HYBRID show, the collaboration and performance with Mari and most recently the Boiler Room in Paris that I did with Miss Kittin where I decided to play the old music that helped shape me as a teenager all those years ago, and NOT what everyone expected me to play. It's nice to always keep the public and fans guessing about your next move!
Arturia: Your music is constantly evolving yet always has a similar emotion. When writing a track, what makes you excited and think 'yes, that's the one'?
Dubfire: I try to never repeat myself; that approach keeps everything interesting for me to engage with. I also choose my projects very carefully based on their different creative challenges.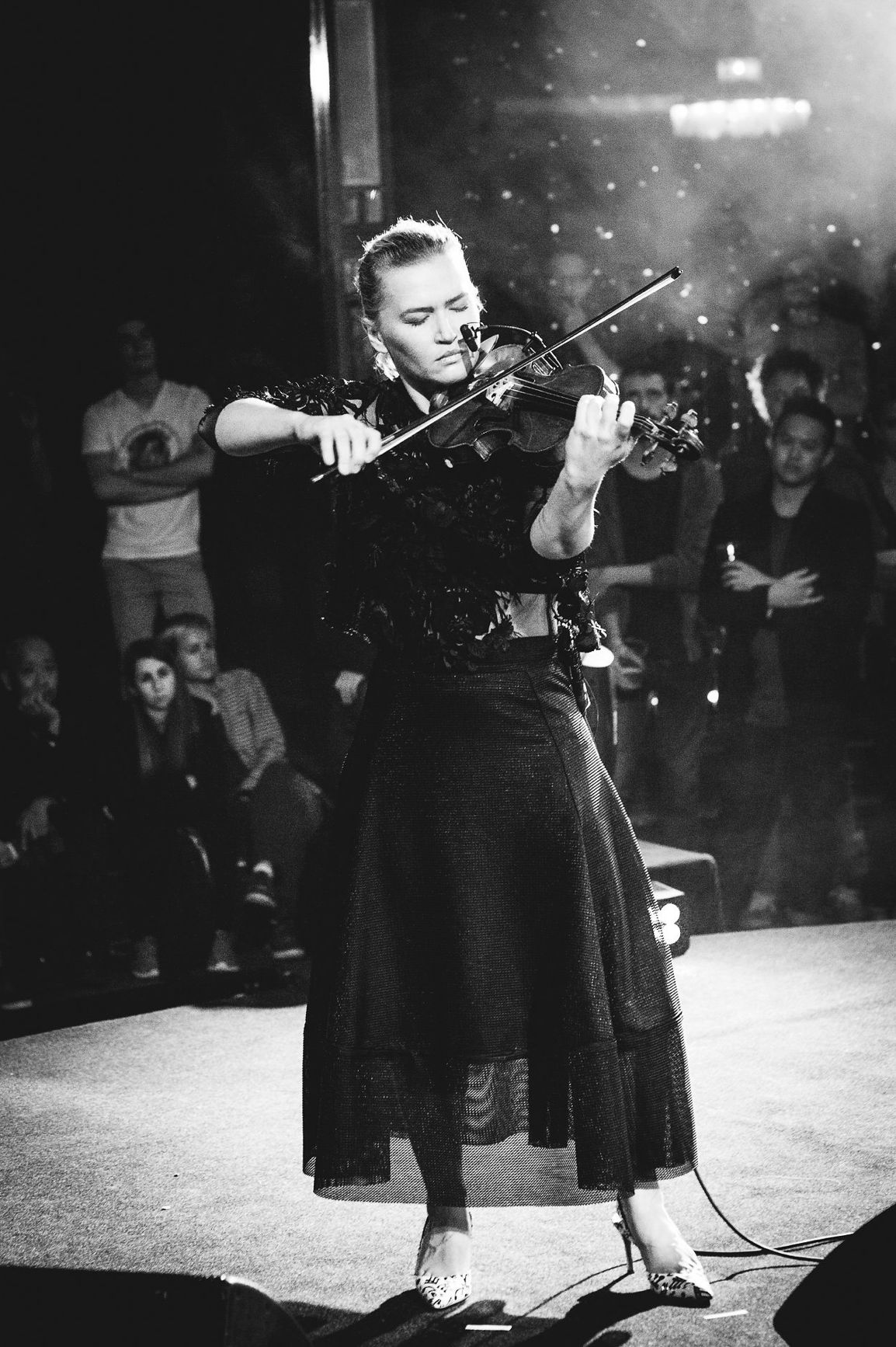 Arturia: When working with other musicians, in this case with Mari Samuelsen on violin on the Variations project, does that trigger new musical ideas?
Dubfire: Yes definitely! Ideas were going off constantly while we were in the studio together and also during the performance. It was something both of us had never done before so we were constantly discussing further ideas which we will definitely be exploring in the future. But during Variations, we had to have single minded focus on that particular project!
Arturia: "Forward thinking" and "innovative" are words often used to describe both you and your music. What's next on your agenda to keep on challenging yourself as a musician and producer?
Dubfire: My focus this year was mainly on diving into my debut artist album - which I have completed a few tracks for - so that will be an evolving work in progress. There was also the Audion "Mouth to Mouth" remix which was terribly difficult to do as it is such an iconic track but I was very happy with what I achieved creatively there. Miss Kittin and I have completed the follow-up to "Exit," entitled "Ride;" that will be the lead single from a forthcoming retrospective album, HYBRID: A Decade of Dubfire spanning my entire musical output as a solo artist over the past 10 years and both should surface sometime this fall. Before that however there will be the final single, "Humano," from Oliver Huntemann and I along with another retrospective of our collaborative work together which should be out in September titled simply, Retrospectivo. And there are numerous remix projects that have been piling up which I need to dive into now that the summer is behind me. So it's looking to be another busy year!