THE PRESS IS ALREADY
MAD ABOUT BEATSTEP PRO!

"With the affordable and innovative Beatstep Pro,
Arturia may have created a sequencer for the masses."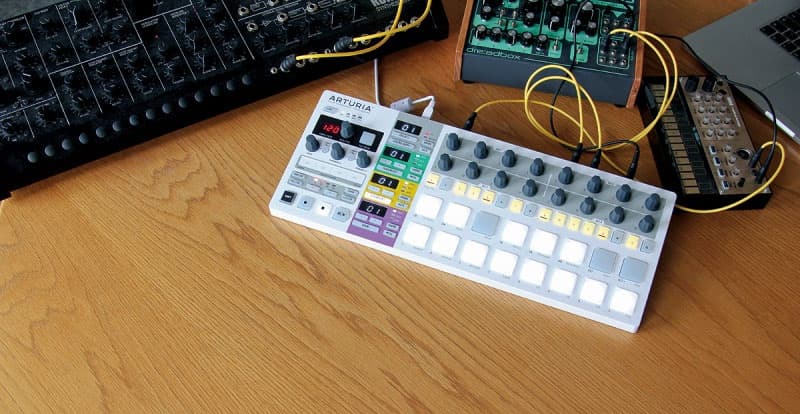 October 2015 Review
Arturia's original Beatstep offered a simplified introduction to the looping, hands–on world of the step sequencer. Its price ensured complaints were kept to a low murmur, but there were some crucial limitations, not least that it consisted of a single monophonic sequence line and only synchronised to the outside world via USB. Earning its 'Pro' title, the new Beatstep will happily sync to just about anything, plus it serves up twice the number of simultaneous sequences and throws in a drum track for good measure.
Whatever mix of gear you've acquired over the years, the Beatstep Pro is in a position to bid for two jobs — sequencer and MIDI controller — thanks to connectivity you can file under 'comprehensive'. This amounts to a set of eight analogue trigger outputs, MIDI, DIN Sync, CV and Gate, plus USB–sourced MIDI, yet you can still expect change from £200. It sounds almost too good to be true.
Beat Petite
Superficially resembling a typical drum pad–based controller for software synths and DAWs, the BSP is a slimline tablet of metal and off–white plastic. It's a solid and portable package of 415 x 163 x 36 mm and weighs a comfortable 1.45kg. I mentioned just now that it can perform two jobs, but if there's a darkened studio corner in need of bright coloured lights, make that three!
While the Beatstep Pro can rightfully claim to be a MIDI controller and step sequencer, the emphasis is firmly on the latter. There are three tracks, consisting of two 'melodic' parts and a drum sequencer. Arturia had the inspired idea to colour–code each, picking green and yellow (the manual claims orange) for the two regular sequence tracks and purple for drums. Whichever track you select, its colours are replicated on the active step keys, even if the drum part's posh purple is portrayed as a rather watery pink. The colouring ethos extends to the lettering of the rear panel. Admittedly it's not quite so striking there, particularly the yellow text which is fairly indistinct against the panel's creamy background..."
Paul Nagle

"Rarely does a company come close to Apple with the kind of awe that takes place after one opens the box and looks inside. Arturia obviously spent some time and money on the packaging. In fact, the box is sturdy enough to act as a short-term road case, until you either make a custom, or find one out there that will work. And, it's pretty rare that the quickstart guides are actually helpful. So, I'd like to applaud Arturia for getting the buyer gratification down out of the gate. Software installation was quick and simple. And, even the firmware update was taken care of for me, upon launching the included MIDI Control Center. All I had to do was power the unit on, and off, and then back on... Color me impressed, as installation and firmware updates tend to be the bane of everyone's existence. Arturia appears to be a company that understands what the end user is going to see through listening carefully to their customer support..."
Read more...

"Arturia is known for standalone synthesizers, keyboard MIDI controllers, DJ controllers, audio interfaces, drum machines, iOS instruments, and more. With the release of the BeatStep in 2014, Arturia delivered an incredible software control interface. Now, a year later, the BeatStep Pro has arrived. While the original BeatStep focused on the software and MIDI realm, the BeatStep Pro does that, but also adds support for standalone modular synthesizers, drum machines, non-MIDI devices, and more. Whether you're a DJ or music producer that stays "in the box", a synth head with racks of modular synths, or a hybrid of the two, the BeatStep Pro will allow you to perform and produce easily, letting the creativity flow."
Read more...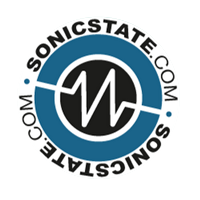 "It's been a tantalising wait since we first saw it at the shows earlier this year. With three Sequencers - two Gate CV and one with 8 analog triggers, it's the modular/analogue jammers dream - at least that what it seems..."
Read more...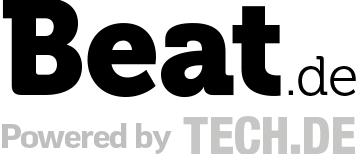 "BeatStep Pro is recommended as a control center for every studio, at an unbeatable price!"
Read more...

"Arturia Beatsep Pro takes the original Beatstep concept and adds a whole load of new features in a compact, affordable unit. With two CV/gate and MIDI sequencers, plus a 16 part drum sequencer which outputs 8 channels of trigger for driving modular kit. This is quite an impressive achievement considering its powered by a USB input – which if you didn't know, only supplies 5V – not sure how the heck they do that!"
Read more...

" An important part of this kind of hardware is its interface and how easy it is to use and understand. Arturia has been creating devices with easily understandable interfaces for a long time now, and the BeatStep Pro is no exception..."
Read more...

"There's so much to the BeatStep Pro that it can be overwhelming if you insist on learning every feature. I suspect users will pick and choose what they use depending on their individual requirements. For the money litle else comes close - I will be buying one."
Read more...

"If someone had told me three years ago that hardware step sequencers were about to become one of the hottest gear trends, I probably would have recommended a good therapist or at least asked what they were drinking. Granted, my crystal ball generally works well when it comes to technology, but the explosion of modern modular rigs is unprecedented by any standard.
Arturia has been ahead of this curve for a while now, and the success of last year's original BeatStep (reviewed July '14) has given them some serious insight into what keyboardists and synthesists really want in a performance sequencer. I use the word "performance" for a specific reason here, because the step sequencer trend doesn't target composers and producers per se. Instead, it's targeted at the growing ranks of gigging electronic artists who want to interact with their sequencing tools in real time as they perform or compose. So Arturia has taken their original concept, listened to their users, innovated wildly, and created a live sequencing product that integrates beautifully with almost any rig..."
Read more...