Boost your BeatStep Pro with the new firmware 1.3!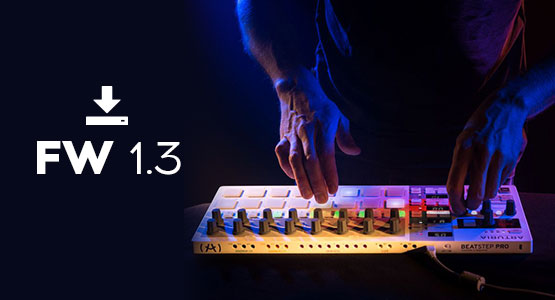 With this new update, BeatStep Pro is more powerful than ever. It will become the ultimate companion to your live or studio sessions. This firmware update adds more features, more possibilities.
The sequencer is enhanced with quantized pattern launch and pattern chains, parameters can now be edited for all steps at once and an improved song position algorithm keeps BeatStep Pro synchronized at all times. This is just a glimpse of the new features. Discover them in detail below.
What is new ?
Wait to load pattern:
BeatStep Pro can now wait until the end of the current pattern to load the next one. This feature is activated from the MIDI Control Center application. If the Preset Link function is activated, the patterns will all change together at the end of the Drum pattern.
Chain patterns:
This functionality frees you from the 64-step per pattern limitation and will let you build entire songs on BeatStep Pro. Create chains of up to 16 patterns that will play one after the other. Chains can be created separately for the two melodic sequencers and the drum sequencer.
Saving improvements:
The saving functionalities of BeatStep Pro have been improved. You can now save a sequence from the Sequencer 1 on the Sequencer 2, or the opposite. Visual feedback is provided for edited pattern via a dot on the display. Empty and filled patterns are shown upon saving, to prevent erasing your existing sequences.
Edit all steps at once:
It is now possible to edit the Velocity, Gate and Shift amount of all active steps in a sequence simultaneously. You can set the same value for all the steps, or add an offset to all the existing values. Create fills by making all the notes longer, by increasing their velocities at the twist of a knob.
Set the input MIDI channel directly from the unit
An improved song position algorithm lets you stay in sync while changing the timing resolution and playback direction.
Watch the video tutorial
How to proceed to download the new firmware ?
This firmware update can be installed through the MIDI Control Center.
If you do not have the MIDI Control Center installed on your computer, download it from below:
Open the MIDI Control Center, Click on the update notification (in the top left corner of the screen), and choose 'download latest'. Follow the instructions on screen and BeatStep Pro will be automatically updated.
For a more detailed explication on how to update your BeatStep Pro, please refer to the support page: Quick Start
What's new in the BeatStep Pro Firmware 1.3.0.23? (release notes)
Wait to load pattern (activated in the MIDI Control Center): when Wait to load pattern is On, it waits until the end of the pattern to switch
Chaining pattern: Up to 16 patterns can be chained for each sequencer to create longer sequences. Use SHIFT + SEQ1, SEQ2 and/or DRUM and press the step buttons in the order of your chain.
SHIFT + KNOB : Changes are applied to all the steps of the pattern using one knob. KNOB 1 is used for RELATIVE changes and KNOB 2 for ABSOLUTE changes. Velocity, Gate and Shift can be modified this way.
Input MIDI channels can be set using SHIFT + CHAN combination.
BeatStep Pro stays in sync when changing the time resolution or playback direction, by calculating the new playing position.
SHIFT + PLAY restarts the 3 sequencers, quantized to the next Drum step.
Hold notes triggered by pads in CONTROL mode when switching to another mode.
Gate lengths have now a minimum value regardless of the tempo. The Minimum duration of a Gate is 3 ms.
Copy patterns between SEQ1 and SEQ2: to copy a pattern from SEQ1 to SEQ2 : set the BeatStep Pro in SEQ1 Mode, then hold SAVE + SEQ2 + STEP in this order to save
Saving patterns feedback: A dot is displayed at the bottom of the pattern number on the sequencer's display if the pattern is modified
BeatStep Pro shows the used patterns when saving: when pressing Save to save a pattern (SEQUENCER 1, 2 or DRUM) patterns which are not empty light up in white
7-segment displays blinking modification on pattern save
The last used project will be loaded when the unit starts
Fixed Bugs
Real-time recording improvements
No lose synchronization when USB clock is used.
MIDI output channels and Metronome state are now properly recalled
no more knobs jump to 0 when turned fast
Pads no longer lit when MIDI notes are triggered if SHIFT or DRUM or SEQ1/2 buttons are pressed
Knob acceleration enhancement
Looper reverse mode enhancement
Mute mode enhancement
Changing projects enhancements
The Roller continues to play when touch strip is pressed before the pad