Choose your sonic destination
The sun has arrived, and what better time to become your best creative self? Have a taste of the musical travels that await with our instruments, effects, and presets.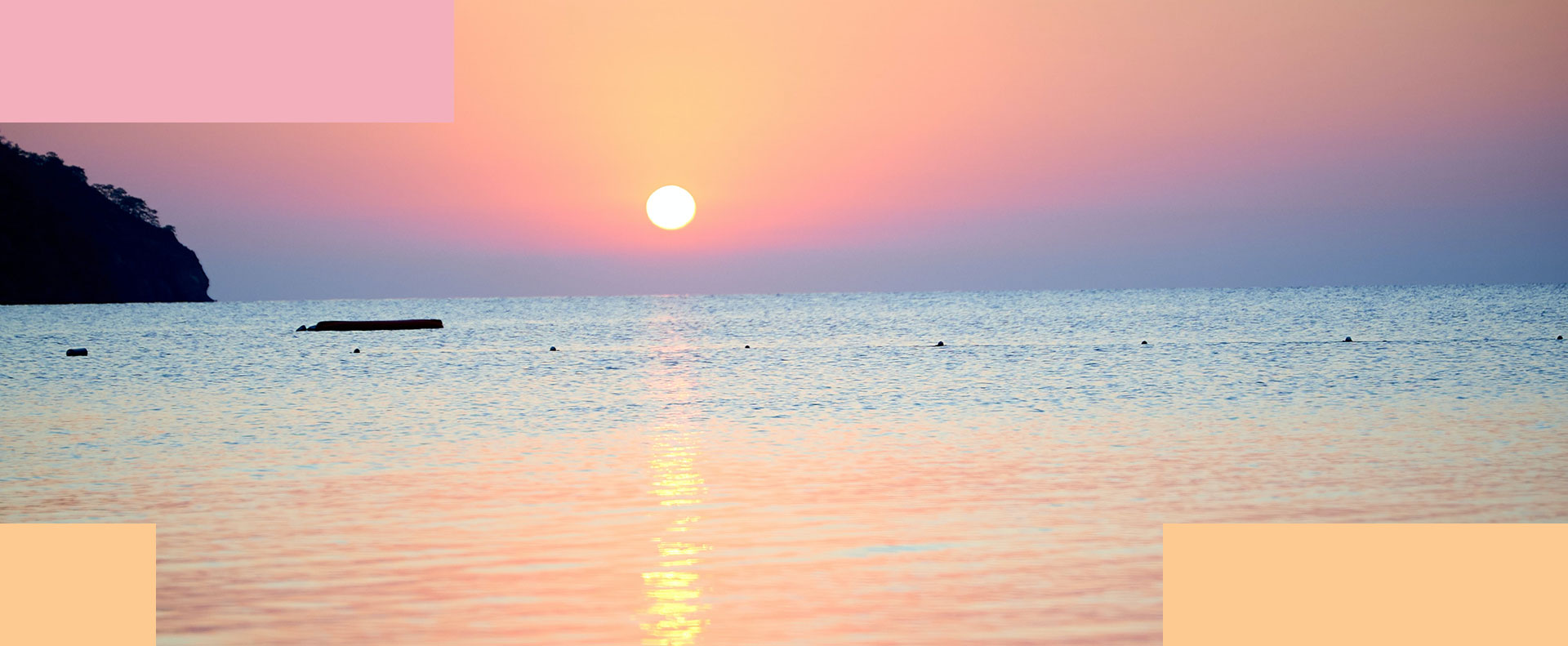 Creativity going places
Treat yourself to some new instruments, effects, and sound banks, and escape to that place of inspiration. You've earned it.
Analog Lab V
Go all-inclusive with a single plugin that unlocks the enormous variety of inspiring sounds from V Collection and Pigments. A proverbial ocean of incredible presets, from vintage analog to futuristic sound design, accessible in a streamlined workflow that gives instant results.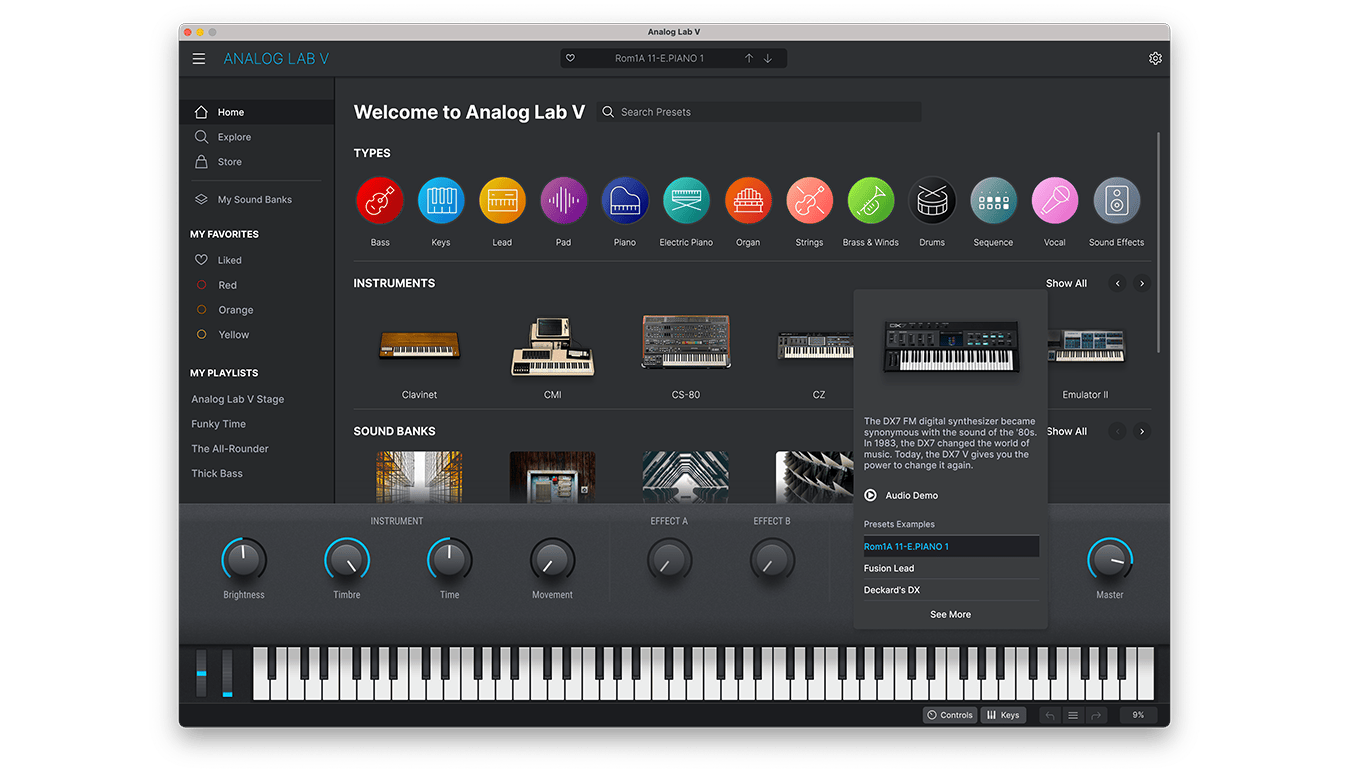 US$ 99.00

US$ 199.00

- Buy Now
Learn More
Pigments
A ticket to every shade of synthesis. Pigments is designed to facilitate any kind of sound; with multiple sound engines, from wavetable to additive, limitless modulation, and a slick color-coded interface, weaving complex & unique patches has never been this easy.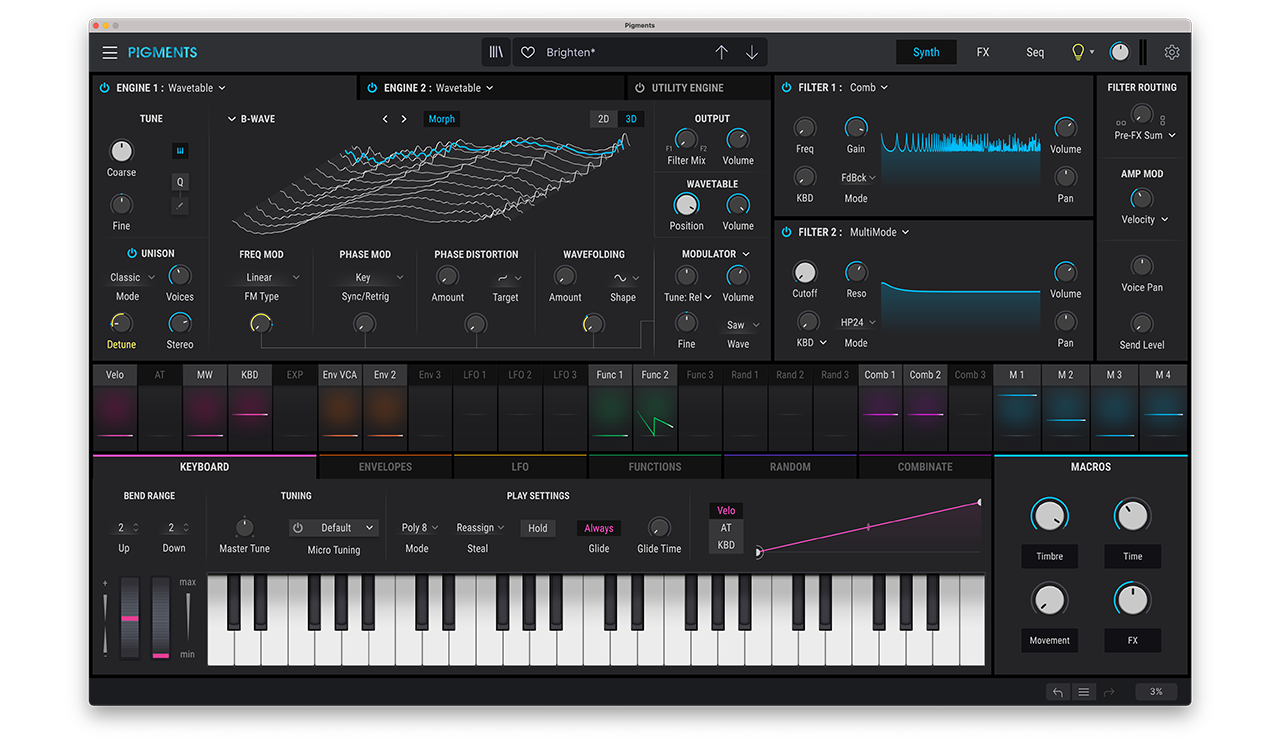 US$ 99.00

US$ 199.00

- Buy Now
Learn More
V Collection instruments
Every synth & keyboard is another adventure waiting to happen.
Choose from the soulful escapism of relics like Stage-73 V and Mellotron V, the five-star prestige of icons like OB-Xa V and Jup-8 V, the digital charm of DX7 V and Emulator II V, and much more.

Effects
The perfect selection of mixing & mastering tools
AS well as top-tier audio enhancers, and plugins that will guide and sculpt your sound in real-time, from analog classics Chorus JUN-6 and Phaser BI-TRON, to studio staples like Comp DIODE-609 and Rev PLATE-140.

Sound banks
Expand your palette with fresh presets from world-class sound designers. Opt for more familiar favorites to fit into your flow or explore something new, from artist tribute packs to abstract ambiences for Pigments, Analog Lab V, PolyBrute, MicroFreak, and more.
New Horizons
Venture further into sound

Analog, digital, vintage, hybrid

New Horizons Venture further into sound

Analog, digital, vintage, hybrid

bass

brass & winds

drums

electric piano

keys

organ

pad

sequence

sound effects

strings

synth lead

vocal

MJ Tribute
The sound of Michael Jackson

Groovy, thrilling, retro, pop

MJ Tribute The sound of Michael Jackson

Groovy, thrilling, retro, pop

bass

brass & winds

drums

electric piano

keys

organ

pad

sound effects

strings

synth lead

vocal

Onyx
Tension, time, and texture

Animated, noise, arpeggios, metallic

Onyx Tension, time, and texture

Animated, noise, arpeggios, metallic

bass

drums

keys

pad

sequence

sound effects

synth lead

Amethyst
Cirrus reflections

Soft, textural, pads, layered

Amethyst Cirrus reflections

Soft, textural, pads, layered

keys

pad

synth lead

vocal

Ochre
Keys unlocked

Warm, vintage, keyboards, retro

Ochre Keys unlocked

Warm, vintage, keyboards, retro

brass & winds

electric piano

keys

organ

piano

sequence

synth lead

vocal

Malachite
Crystalline tones

Bells, acoustic, glassy, harmonics

Malachite Crystalline tones

Bells, acoustic, glassy, harmonics

bass

electric piano

keys

pad

piano

sequence

sound effects

strings

synth lead

vocal

Crimson
Red-hot and hard-edged bass

Bass, edgy, aggressive, heavy

Crimson Red-hot and hard-edged bass

Bass, edgy, aggressive, heavy

Stardust
David Bowie tribute

Retro, electro, pop, glamorous

Stardust David Bowie tribute

Retro, electro, pop, glamorous

bass

electric piano

keys

organ

pad

piano

sound effects

strings

synth lead

PatchWorks
The classics evolved

The instruments of the past, the soundtrack to the present, and ...

PatchWorks The classics evolved

The instruments of the past, the soundtrack to the present, and a fanfare for the future.

bass

brass & winds

drums

electric piano

keys

organ

pad

sound effects

strings

synth lead

The Weeknd Tribute
Soulmate insomnia

Work your love magic with these 32 modern pop presets. ...

The Weeknd Tribute Soulmate insomnia

Work your love magic with these 32 modern pop presets. Predominantly based on the After Hours album, this pack is a melting pot ...

bass

brass

keys

lead

organ

pad

percussion

sfx

sequence

strings

Vangelis Tribute 2
Android dreams

If you always dreamed of having composed the Blade Runner ...

Vangelis Tribute 2 Android dreams

If you always dreamed of having composed the Blade Runner soundtrack, this pack is for you. Carry the legacy of Vangelis with ...

bass

brass

keys

lead

pad

sfx

sequence

standard

strings

Blush Response Signature
Cybernetic industrial synthesizers

Experience the industrial hybrid sound design of Blush Response ...

Blush Response Signature Cybernetic industrial synthesizers

Experience the industrial hybrid sound design of Blush Response straight from the artist. On top of his prolific career as a ...

bass

keys

lead

pad

percussion

sfx

sequence

Savage Trap
Menacing synths and sequences

If you prefer to take control of your own melodies and ...

Savage Trap Menacing synths and sequences

If you prefer to take control of your own melodies and basslines, and leave the loops behind, Savage Trap is for you. This ...

bass

keys

lead

pad

sequence

Stranger Synths
Sounds from the Upside Down

A fitting tribute to the incredible score and sound design from ...

Stranger Synths Sounds from the Upside Down

A fitting tribute to the incredible score and sound design from the popular Netflix series Stranger Things.

bass

brass

keys

lead

pad

sfx

sequence

Kavinsky Tribute
Answer the night call

The mysterious synthwave legend has had a huge influence on the ...

Kavinsky Tribute Answer the night call

The mysterious synthwave legend has had a huge influence on the genre, and talented synth sound designer Simon Gallifet has ...

bass

brass

keys

lead

pad

sequence

strings

Daft Tribute
French Invasion

For over 25 years, the French electronic duo have been ...

Daft Tribute French Invasion

For over 25 years, the French electronic duo have been remixing, reworking, and reinventing the music world around them, ...

bass

keys

lead

organ

pad

sfx

sequence

Synthopedia
Modern Sounds Resource

Contemporary, unique, inspirational sounds for the modern-day ...

Synthopedia Modern Sounds Resource

Contemporary, unique, inspirational sounds for the modern-day music producer.

bass

brass

keys

lead

organ

pad

percussion

sfx

sequence

strings

template

It's a Trap!
Electro hip-hop nightmares

Straight from the twisted minds of Sample Magic comes It's a ...

It's a Trap! Electro hip-hop nightmares

Straight from the twisted minds of Sample Magic comes It's a Trap!, an intense collection of 32 dark, minimal hip-hop ...

Depeche Wave Tribute
The New Wave Backbone

Pioneers of electronic pop, Depeche Mode and Vince Clarke's ...

Depeche Wave Tribute The New Wave Backbone

Pioneers of electronic pop, Depeche Mode and Vince Clarke's dark, cool sounds packed out clubs and discos around the world, ...

bass

keys

lead

percussion

sequence

SFX

Air Tribute
Going on a Moon Safari

In 1998, French electronic music pioneers Air released their ...

Air Tribute Going on a Moon Safari

In 1998, French electronic music pioneers Air released their debut album to critical acclaim, and its songs and sounds soon ...

bass

keys

brass

lead

processed

sequence

sfx

standard

strings

Floyd Tribute
Psychedelic by definition, progressive by necessity

As a lighthouse of progressive and psychedelic rock, Pink Floyd ...

Floyd Tribute Psychedelic by definition, progressive by necessity

As a lighthouse of progressive and psychedelic rock, Pink Floyd is considered as one of the most influential bands. Getting rid ...

bass

brass

lead

pad

sequence

sfx

strings

Vangelis Tribute
Conducting the electronica breakthrough

Having been worshiped as a messiah of electronica throughout ...

Vangelis Tribute Conducting the electronica breakthrough

Having been worshiped as a messiah of electronica throughout his extensive career, Vangelis brought an approach to music and ...

bass

brass

keys

lead

pad

sequence

sfx

strings
Show more