Beatstep Pro - General questions
---

---
Do you have questions about Beatstep Pro? You will likely find an answer here.
---
Pitch CV Out range: 0 to 10V.
The Beatstep Pro can't deliver negative pitch voltages.
If your destination device requires 5V, it will work and won't damage it.
But in long term, we advise to use attenuators to avoid any risk of premature wear.
Please note that the velocity output voltage can be attenuated from the MCC
Clock Output: Delivers 3.3V
Clock Input: Tolerates between 3.3 to 10V
The compatible clock rates are the following:
1 pulse / step
24 PPQ
48 PPQ
2PPQ (Korg)
Yes, this is not an issue. The Beatstep Pro uses the clock pulses received to calculate the tempo, however, the clock pulses always have a little bit of jitter between each other.
These fluctuation are micro fluctuations between the clock pulses (24 pulses per quarter notes in MIDI), and doesn't mean that the device is getting out of sync.
So obviously these fluctuations are displayed but the tempo screen, but cannot be heard by a human hear.
Generally, most of the manufacturers are hiding the tempo when a device is slaved to avoid any confusion, but we preferred to keep the display on when slaved.
This is probably because your 0V note is too high for your destination device.
However, you can change this root note to your convenience, like explained in the related article called
Beatstep Pro Tips & Tricks
.
You can power your Beatstep Pro from:
A computer USB port
An AC/USB charger (5V DC 500mA)
An iPad / Smartphone*
*In this case, you must start the Beatstep Pro in low consumption mode, to do that: Hold SHIFT + STOP + Power up
In record mode, some functions are locked to prevent any weird behavior.
Here is what you can't do in record mode:
Change last step
Change play direction
Change pattern (it will blink until you quit record)
Change time division
Use the looper. (In record, the looper will act like a roller as a recording tool.)
This is probably a ground loop noise ! Use the Y cable to get rid of it.
To learn more about this phenomenon, you can check the related article called
Beatstep Pro tips & tricks
.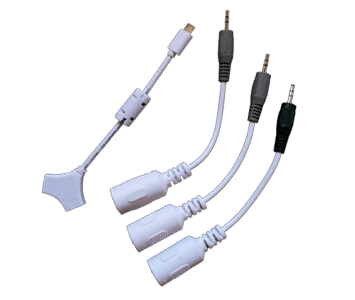 Grey adapter: Must be used to transmit MIDI only. (3.5 TRS Jack to DIN5 MIDI)
Black adapter: Must be used to transmit the Analog clock only. (3.5 TRS Jack to DIN5 Clock)
Y USB adapter: Must be used to split your USB power & data and kill the ground loop noise.

(Micro USB to 2 x female USB A)
Create tied notes:
There are three ways to proceed:
Set the each step gate time to tie/slide with the encoders. (Make sure to select the knobs Gate mode)
Press and hold the first and the last step of the note to be tied during 0.7 second.
Record in real time.
Display tied notes:
To display
your sequence
tied notes simply Hold SHIFT:
The root notes will be lit in their standard color (green, yellow or purple)

The tied steps will be lit in blue.
Generally, you won't have to use these modes.
But with some synthesisers, you will have to set your CV pitch scale to Hz/Volt and also invert your gate polarity by setting it to S-Trig.
As an example, you can check the tutorial below, it explains how to setup the Beatstep Pro with a Korg MS-20:

How & why shall I set my BSP to Hz/Volt & S-trig
In such case, it would be wise to check the following things:
Make sure you don't have a user scaled selected. Since the last update, the scales transpose the notes already recorded in the sequence and not only to the notes that will be recorded.
Make sure no MIDI notes are sent on the concerned sequencer Input midi channel.

Otherwise it will transpose the sequence playing.
Make sure no MIDI notes are sent on the transpose midi channel. In this case, the sequencer 1 & 2 will be transposed.
Please make sure:
The notes sent by your drum sequencer fit the notes used by your destination instrument.
Your Drum scale is not set to one note per Midi Channel.
---
If you have any further questions, feel free to
contact us
.
---