PAUCHI SASAKI
& MICROBRUTE
Building one-self

A

Sound at a time
Composer, producer, film-scorer, performer, creator, improviser.
Pauchi Sasaki is a world-renowned multimedia artist who isn't afraid to blur the boundaries of contemporary music and the classics.
We recently caught up with Pauchi to get an insight into the way she works, what motivates her creativity, and how she integrates the Arturia MicroBrute into her pioneering set-up.
"My focus is on timbre composition and atmospheres, and I love the thickness of the sound that synthesizers can bring."
Although Pauchi was totally enthralled by music since learning violin at the age of 5, it wasn't until she attended Mills College, California that she first discovered the world of synthesizers.
Years later, Pauchi began using the Arturia MicroBrute: a small format analog synthesizer. She was amazed that such a small instrument could create such a huge sound. Sasaki found that the sound of the MicroBrute had its own very unique color, and a width that she would find very useful for atmospheric scoring.
"My first experience of a synth was playing a Moog while studying electronic music, I was obviously inspired by the exciting new textures that synthesis could create."
Reinventing the creative process
"My tendency has always been to create very introspective music."
"I feel compelled to describe 'internal landscapes' on a psychological level, dealing with complex emotions and giving them a musical voice. I suppose this is why creating film scores comes quite naturally for me."
Sasaki's particular blend of musical and visual art, as well as the combination of classical and electronic styles, certainly defies convention. However, the use of analog synthesizers feels like a natural progression for Pauchi, and not simply a forced gesture to add 'shock value'.
"After picking up the violin, I started to become interested in the vernacular of popular music, and then electronic music."
"I felt like I was collecting colors in my palette."
Pauchi likens the use of varied musical equipment to a traditional painter's medium.
"Of course there are incredible artists who are able to express all kinds of emotions in just black and white - and that's amazing - but the more colors you have, the more resources you have available to create your music."
This sonic fluency gives Sasaki the inspiration she needs in film scoring, giving her the creative flexibility for each new project, story, and character.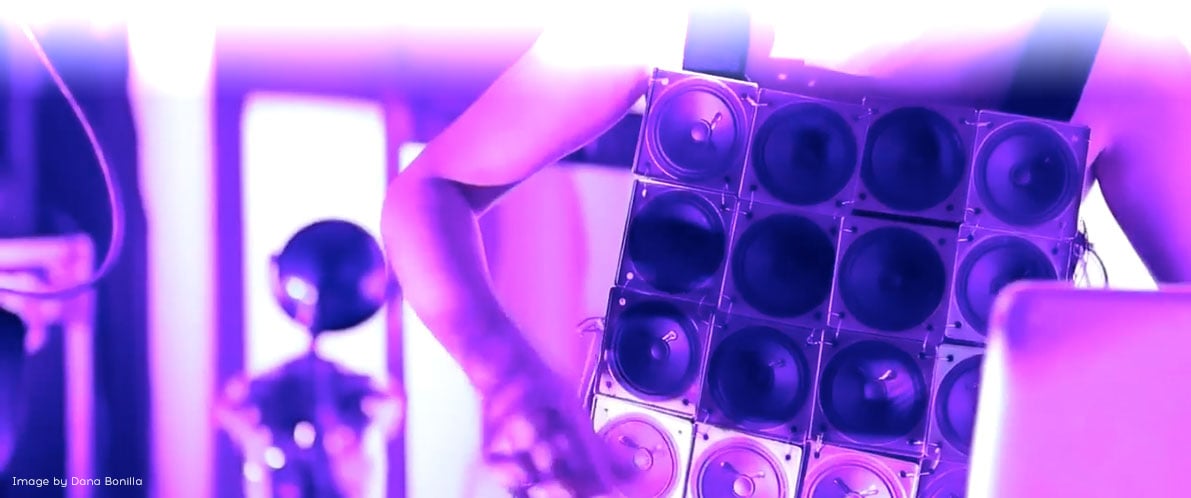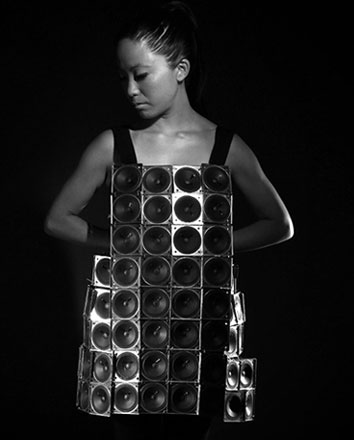 Photo by Juan Pablo Aragón
MicroBrute:
small size, huge sound
According to Pauchi, blending the sounds of quartets and classical compositions with the raw sound of the MicroBrute was a difficult, but rewarding journey.
"It took me a while to figure out how to mix the violin with electronics in a natural way."
In her regular improvisation sessions, Pauchi Sasaki uses a versatile set-up where she experiments with new sounds, equipment, and ideas. It was here that she slowly pieced together the sonic connections between the acoustic and the electronic world.
"My first synthesizer was made by this amazing engineer in Peru called AtomoSynth. He builds all of his synthesizers in his workshop in Lima, and they are very wild! Sometimes too wild…"
"This is one of the reasons I started using the MicroBrute."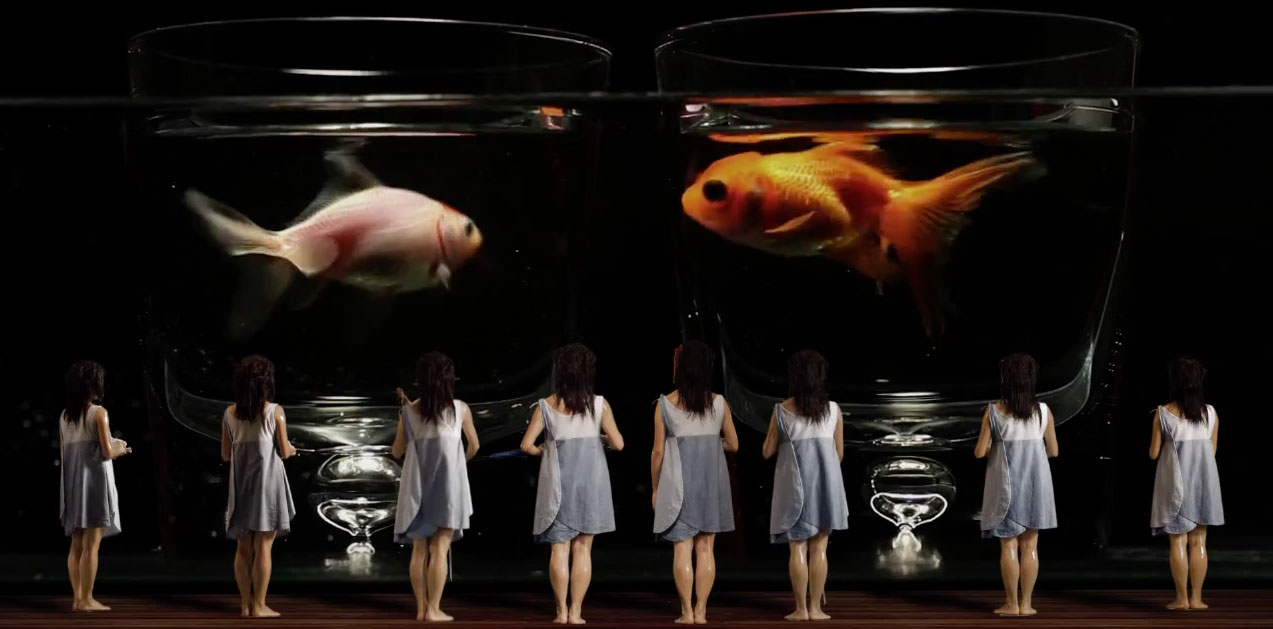 ame Video Clip, performed by Pauchi
Desiring more control, Sasaki discovered that by using the iconic Brute Factor feature of the MicroBrute, she could achieve the 'wild' sound she desired, but with more creative control, while still retaining a unique tonal character.
Through experimenting, rehearsing, and performing, Pauchi has developed several techniques to make the most of her synthesizer's distinct tone. For example, whenever she uses the MicroBrute in a live performance, she connects it directly to the sound desk instead of integrating it with her Max/MSP patch via her interface.
"I feel that when analog instruments are connected to the digital world, they lose some of their power and thickness."
This concern for analog tone is shared by the Arturia's product designers and engineers, who made the difficult decision when planning the then-unreleased MicroBrute that - despite its portable size - it would not have the option of battery power, instead only running via DC mains electricity. To create the mighty, aggressive sound that its creators desired, the MicroBrute would need full power in order to get the best possible performance out of the demanding analog components.
"I understand why the designers chose not to give the options of battery power to keep the strong tone" Sasaki remarks, "but a battery powered MicroBrute would be a dream come true. Fortunately, I have my ways…"
"My AtomoSynth has a really raw sound, whereas my MicroBrute is more like a thick snake!"
Each machine has its own timbre and behaviour, and I love the variation it brings to my music."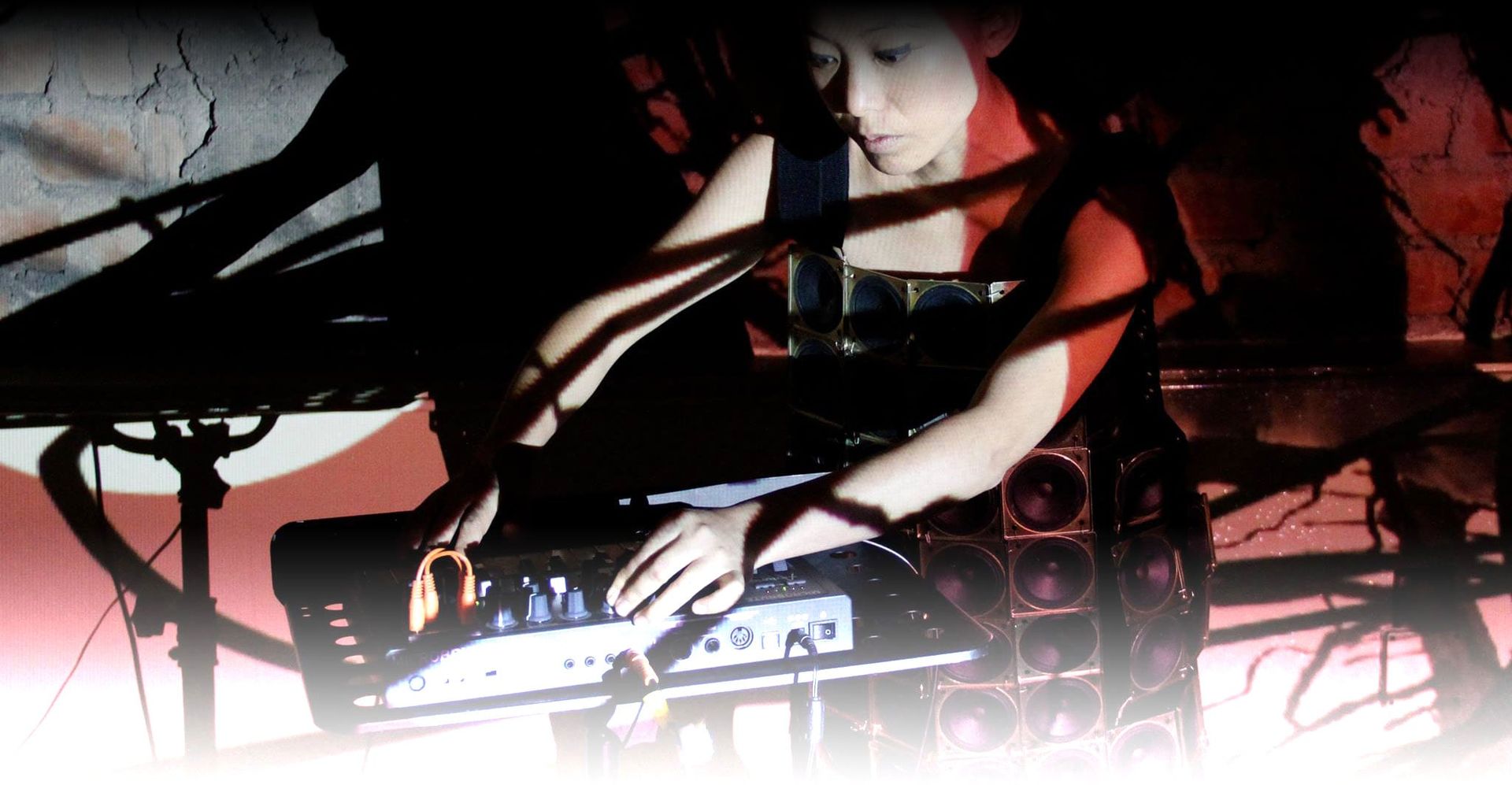 Blending serenity with Brute force
Another aspect of the MicroBrute that drew Pauchi in was the organic nature of the filter resonance and the overtones it can create, which she finds indispensable for creating soundscapes in her scoring work.
"I also really love to patch using the MicroBrute. It's really fun to adventurous and hands on, and patching in microphones and other instruments to use for live performance opens up really cool possibilities"
In the studio, Sasaki makes great use of her MicroBrute, and has developed a few techniques in processing its sound to match the distinct flavor of her music.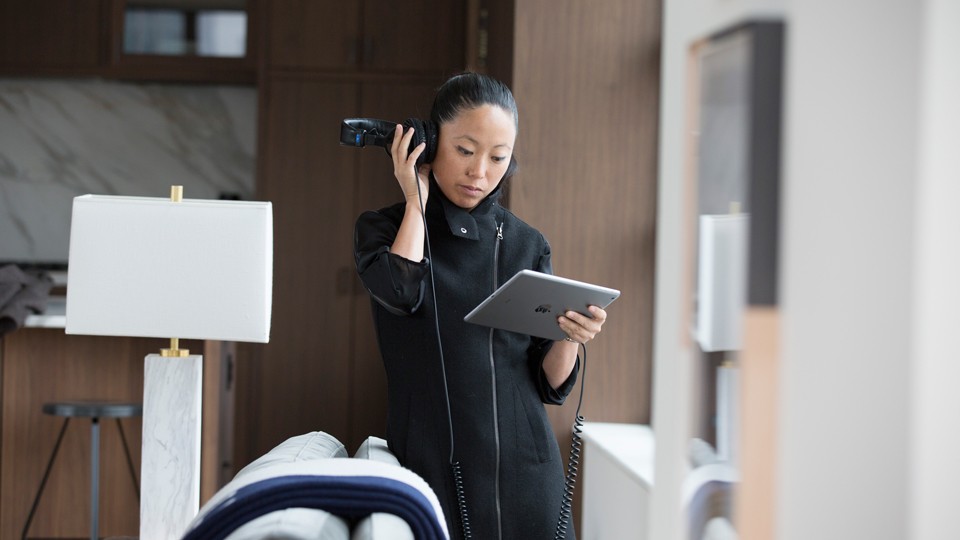 "MicroBrute is a very important part of my film scoring"
I'm very comfortable working within the Pro Tools environment, and one trick I use to make the sound of my MicroBrute really come alive is by using the Space effect in Pro Tools."
Pauchi uses the reverb impulse responses within Space - a mix of real and modelled sound environments - to augment and compliment the sound of her MicroBrute, giving it an exciting new dimension, and adding some really unexpected harmonic details.
In a recent collaboration with Arturia, Pauchi Sasaki performs an abstract piece using the MicroBrute connected to her iconic "speaker dress".
"I approach film in the same way I do with music. I spent a lot of time considering how I would like it to look."
Sasaki describes her music videos as "sound sculptures", as the she pays close attention to the context, concept, and creation of each element within them. For this video, Sasaki felt that the music didn't suit the confines of a room, and so with the help of her director and producers they found the perfect location for the video.
"I really wanted to show Lima, my home, so we chose Morro Solar to be the setting: a mountain in Chorrillos where you have a beautiful backdrop of the city."
In the world of music and art, you can always be sure that you will face unexpected challenges, and this video was no exception. Sasaki and her team faced several technical issues to overcome while filming the video.
"The speaker dress itself is quite tricky to perform with, as it's quite dangerous. The first time I used it, I burned my hair!"
"I needed everything to be portable, but as I already mentioned, the MicroBrute does not use batteries. There was obviously no DC power on top of the mountain, but thanks to the amazing help of the team, we found a way to work around these problems and make the video a reality."
For newcomers, this video perfectly encapsulates the experimental, artistic nature of Sasaki's work. From years of honing her particular style, she's well aware that her creations can sometimes appear to be quite shocking or confusing.
"If I am allowed to be wild - I will be wild!"
"I like to open a real dialogue with the moment, and work within the context of each project. Of course I will always do things with my own style, but I try to deal with what I'm confronting and interacting with. If the situation dictates that I behave - I will behave! If I am allowed to be wild - I will be wild! It's just like life."
From hearing Sasaki discuss her passion for music, soundtracks, and art, it becomes quite apparent that she enjoys extremes, from the super-subtle, inoffensive and sweet, to the most wild, unpredictable noise.
"When you love to read and love to watch movies, you really enjoy the variety of emotions they bring. This is my aim in music: to create a place where I can mix these extremes together in a complementary way."
Conjuring emotions
For Pauchi, film scoring was the natural way to achieve this fusion of emotions and textures. The variety of structured pieces and chaotic atmospheres gives her immense creative freedom, and allows her to be, in her words…
"Musically shapeless"
Through her inspired soundtracks and evocative live performances, Sasaki came to the attention of legendary composer and scorer Philip Glass, and recently became his protégé. Despite their dramatically different methods and backgrounds, Glass and Sasaki share a common approach and desire in the creation of music.
"For better or worse, many aspects of how creative people make music is dictated by money. For example, if I needed to hire a quartet for a performance, I would need many thousands of dollars. For an independent producer, this is almost impossible to justify. Thanks to virtual instruments, synths, and controllers, you can find ways to make things happen."
To Sasaki, Philip Glass is an amazing example of consistency and determination, with a strong, identifiable style, and flexible, inspiring methods.
"In a similar way, at the start of his career Philip used keyboards to to overcome this problem. Unlike other composers, he didn't just use piano sounds, he used organs and synthesizers, too. This also gave him freedom to move and tour and travel. In this way, he and I are very similar."
"It's a real joy to watch him work!"
Thanks for reading this article. If you've been inspired by Pauchi Sasaki's use of the Arturia MicroBrute and want to find out more, visit the Arturia website for more details.
If you want to hear more of Sasaki's work, she will be performing her speaker dress duet in California, USA in June, and premiering a new, exciting production at the Grand National Theater of Peru in August 2017.