Have your mind blown by the power of sound
Analog Lab gives you streamlined access to 6500+ of the hottest presets from our award-winning V Collection. Featuring sounds from all 21 faithfully modeled vintage keyboards, combining awe-inspiring sound with exceptional ease of use and awesome features. In addition to studying the feedback from the music community, our developers worked hand-in-hand with professional ergonomists to optimize each aspect of this music production & performance dream instrument. It resulted in an intuitive interface, a beautifully organized category based browsing experience, and natural mapping of the sonic parameters, creating a self-contained sonic encyclopedia of legendary sounds.
Discover inspiration at every step on your musical journey.
Keeping it real
You're all about the sound. So is Analog Lab.
Why settle for samples of classic instruments when you can have faithful reproductions of them? In Analog Lab, you're surfing the best sounds from Arturia's award-winning V Collection of 21 classic synths, organs and pianos—all of which are authentic physical models of the originals. There's simply nothing more true to the organic sound quality of yesteryear available anywhere.
Bring the authentic warmth of analog to your music with Analog Lab.

All of your favorite go-to sounds at your fingertips
Analog Lab gives you the best of 21 instruments that made music history, all in one convenient place.
Analog synthesizers. Digital synthesizers. Acoustic pianos. Electric pianos. Organs. Strings machines. With the best of 21 vintage instrument reproductions on tap, Analog Lab lets you transcend time and style by arming you with everything from the most iconic sounds of the past to modern sound designs that are cutting edge today. Whether you're composing, recording or performing, over 6500 sounds cover every song, genre, mood and ambience you can think of—no programming required. Use it standalone or with your favorite DAW.
Unleash the sonic power of keyboard history's greatest hits for your musical adventures.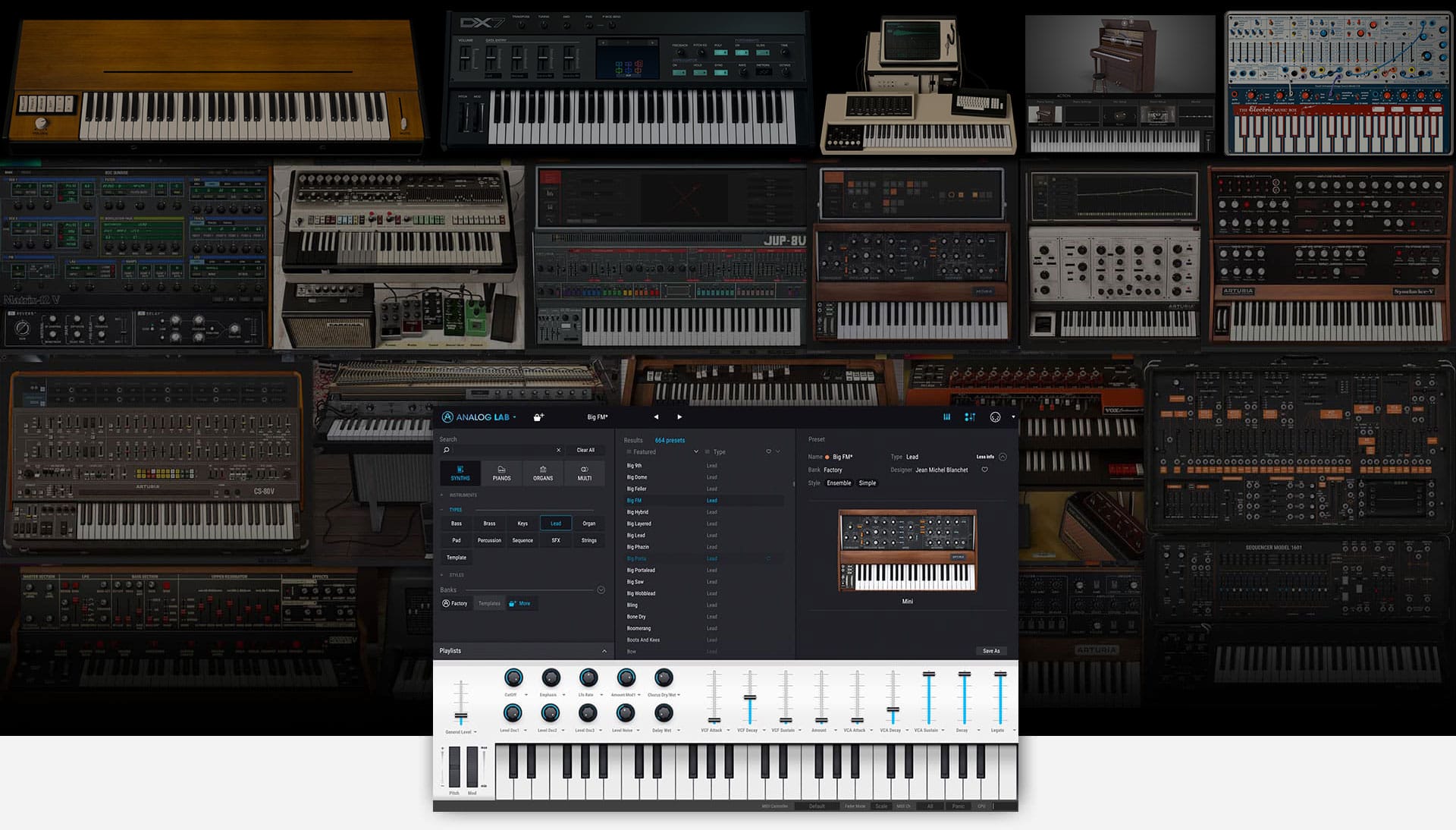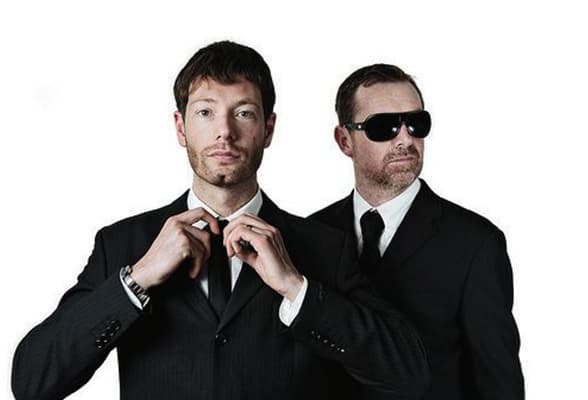 Artists Corner
We have found the KeyLab 49 a great addition to the Way out west studio. All the soft synths especially the ARP 2600 are simple to use and produce fantastic sounds. The keyboard itself looks great and fits in with all our vintage keyboards a treat.
Way out West
( DJ/ Producer )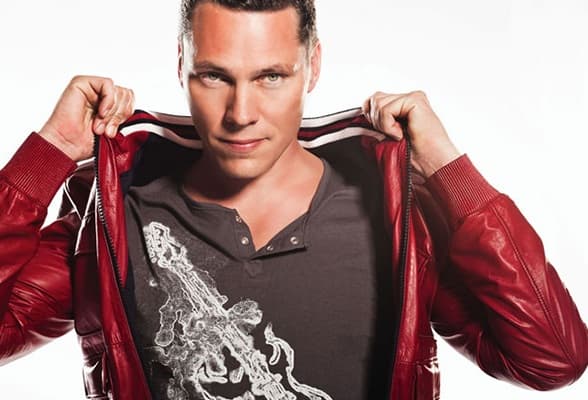 Artists Corner
We love using the Arturia virtual synths. They are top notch when it comes to analog synthesizer emulation. And now with the KeyLab you have a direct access to all these sounds in a simple and classy way.
Tiesto
( DJ/ Producer )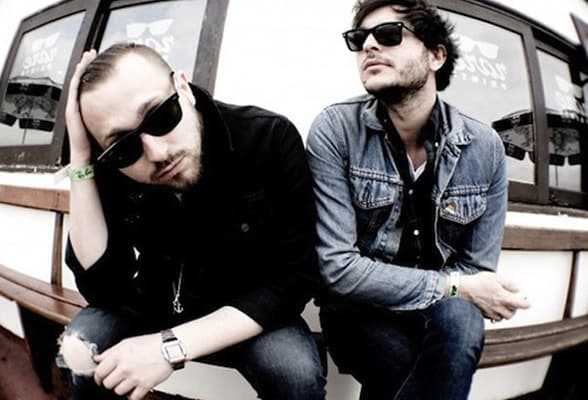 Artists Corner
We love the KeyLab 61 because the keyboard is so intuitive! As fans and owners of vintage synths, we definitely find the same warmth and character in this great Arturia product.
The-Shoes
( DJ/ Producer )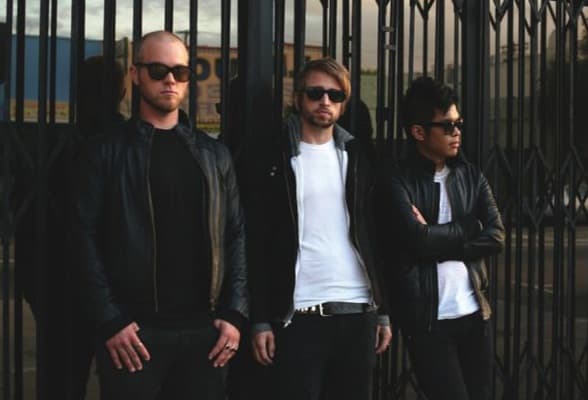 Artists Corner
When producing our album we started a new setup from scratch. We got rid of all of our hardware synths and based everything off of Arturia. The idea was to make a cutting edge electronic record that sounded classic and timeless. The Analog Lab allowed us to do this with much ease.
The Glitch Mob
( DJ/ Producer )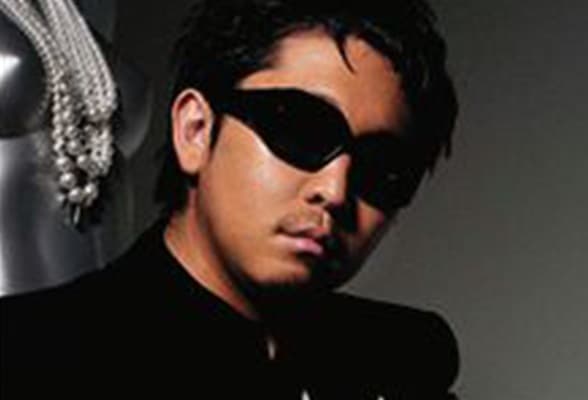 Artists Corner
The three great things about Analog Lab: its fat sound, the ease with which you can change the sound to suit your needs and finally, finding a great preset from the vast library is only a few clicks away.
Taku Takahashi
( m-flo )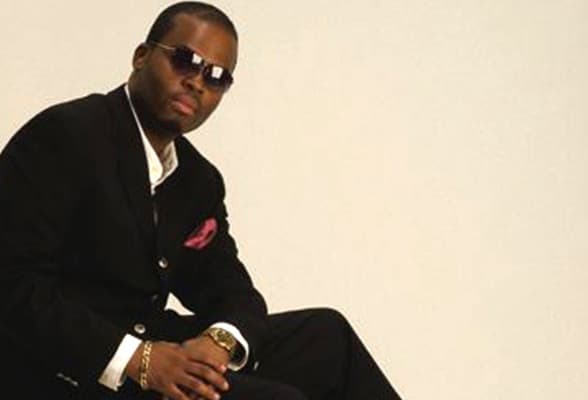 Artists Corner
Analog Lab is the go to soft-synth for any serious musician who wants to make a statement in today's music. It was designed to make your life easier, no more headaches. If you are a beat maker this new product will really come in handy when it's time to lay a track. Hands down Arturia!
Steve Pageot
( Producer - Composer )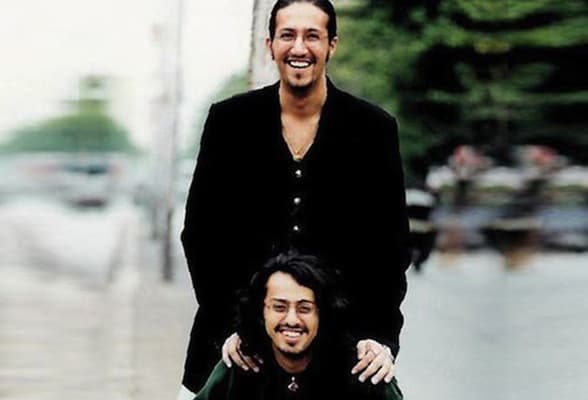 Artists Corner
It is a pre-christmas gift ! It's made of the good stuff ! This product is quite a killer.
Salim and Sulaiman
( Music Director )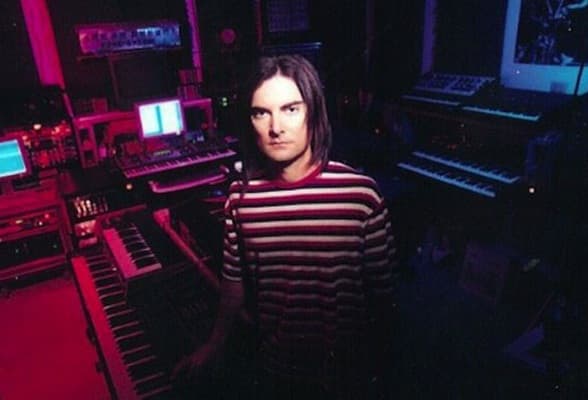 Artists Corner
Having been a fan of Arturia's product line for many years I was pleasantly surprised by the creation of Analog Lab. To have so many amazing presets from over a decade's worth of classic analog synths all in one device...AND I can still go to town editing them as needed. Brilliant addition to an already great collecton of soft synths.
Roger Manning Jr.
( keyboardist )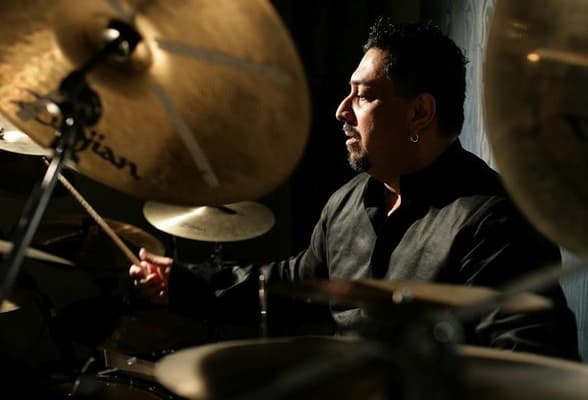 Artists Corner
I know there have been other attemps in the software world, but no other product comes close to this. Analog Lab gives me the necessary tools to create cutting edge music.
Ranjit Barot
( Score Composer )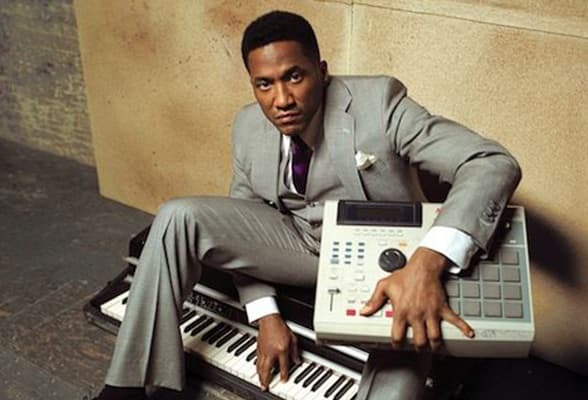 Artists Corner
Arturia synths are the best sounding on the market. With the KeyLab, I am enjoying immediate access to all of their sounds through a straightforward interface. The product is easy to use and extremely inspiring.
Q-Tip
( Producer - Composer )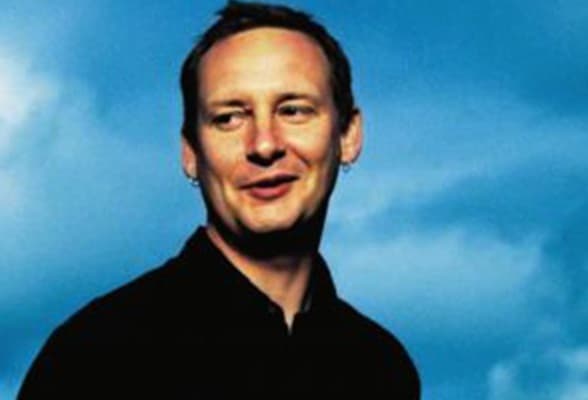 Artists Corner
Who want an inexhaustible supply of vintage analog gear at their fingertips, Analog Lab is a must.
Paul Hartnoll
( Orbital )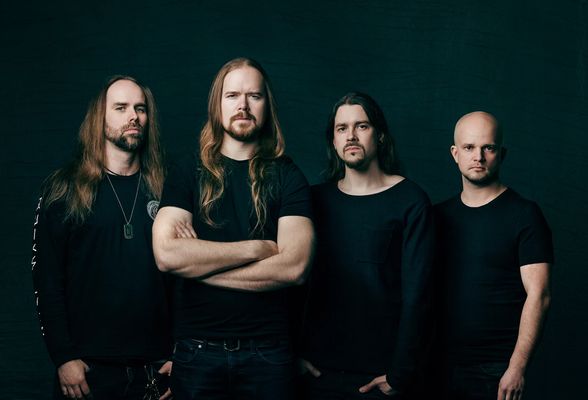 Artists Corner
Analog Lab has a thrilling array of sounds that are perfect for creating epic cinematic atmospheres. I grew up with the magical synth sounds of the 80's so exploring the presets in Analog Lab is like taking a walk down the memory lane. And I find it very inspiring to combine those sounds with modern metal manifestation or timeless orchestral instruments... the possibilities are endless!
Niilo Sevänen
( Insomnium )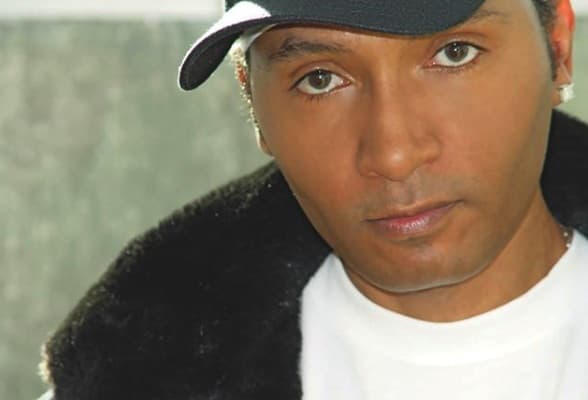 Artists Corner
If you want that old school sound the KeyLab is the perfect solution. It comes with one of the best feeling keyboards money can buy and thousands of sounds. Mischke
( Producer - Composer )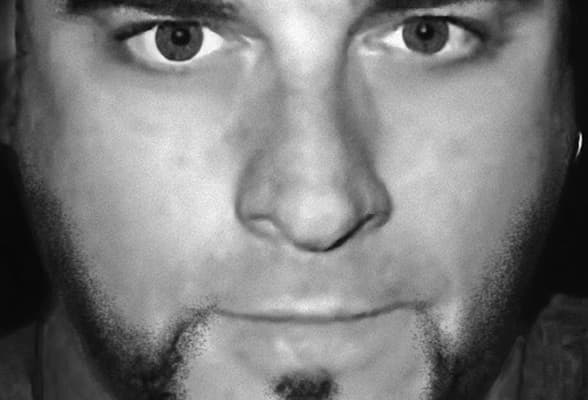 Artists Corner
Having all these great sounds in one high quality, easy to use plug-in is the real deal!
Man Parrish
( Producer - Composer )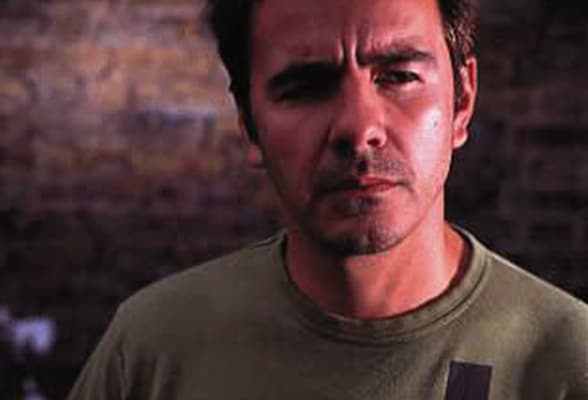 Artists Corner
If like me you are always looking for new sounds, Analog Lab is the instrument to always use as it is most definitely very inspirational.
Laurent Garnier
( DJ/ Producer )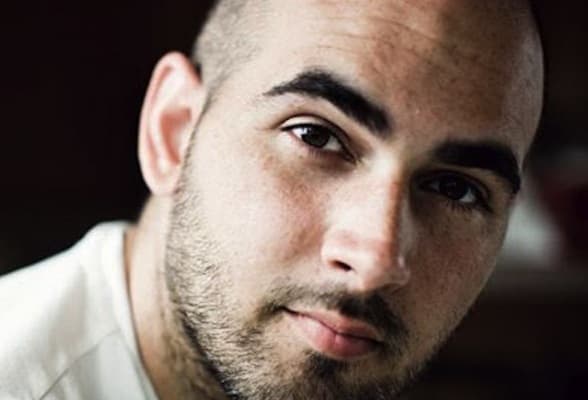 Artists Corner
Since I got Arturia's Analog Lab I have literally used it on everything I've worked on. The ability to have so many historic synthesizers available at the touch of a button is amazing. I'm simply blown away!
Keith Everette Smith
( Producer - Composer )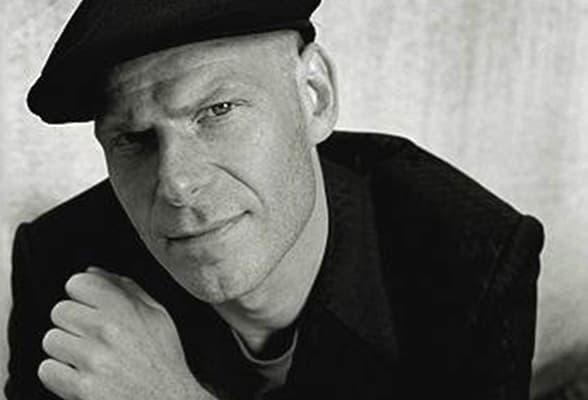 Artists Corner
KeyLab has it all... Killer sounds, and an intuitive and easy way to dial up anything I could possibly need.
Junkie XL
( DJ/ Producer )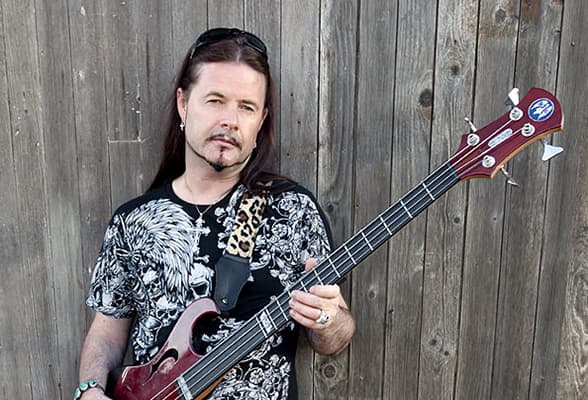 Artists Corner
I'm very pleased with my new Analog Lab. It sounds wonderful and the control is amazing. Brilliant peace of hit.
John Payne
( Asia )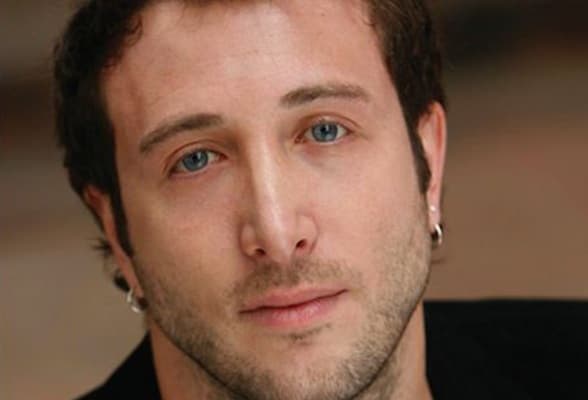 Artists Corner
Analog Lab is laid out in such a way, that in a few seconds you are making the sounds your own. The presets are big, warm and scrumptious. I've been using the Arturia synths for a while now and I really love them.
Jim McGorman
( Music Director )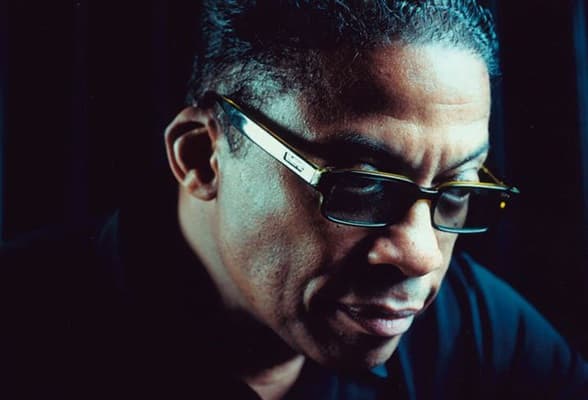 Artists Corner
Analog Lab is a beautiful mixture of the current Arturia products all rolled into one package.
Herbie Hancock
( Jazz composer )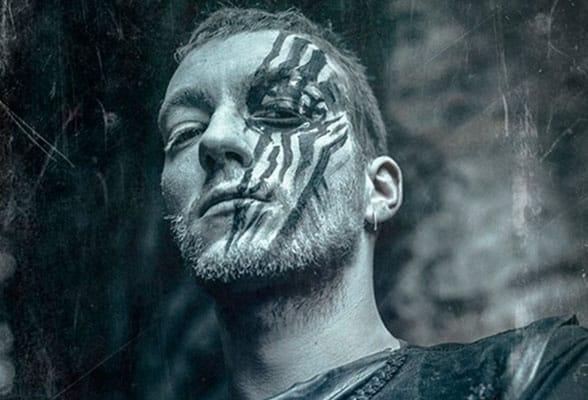 Artists Corner
Analog Lab is one of those gold nugget that will leave you speechless! Hours and hours, days, weeks & months and I still didn't come near playing through all the presets that this thing has packed inside! And just imagine that the Analog Lab is just a taste of what really is behind, the monstrous V Collection.
Gojko Marić
( Welicoruss )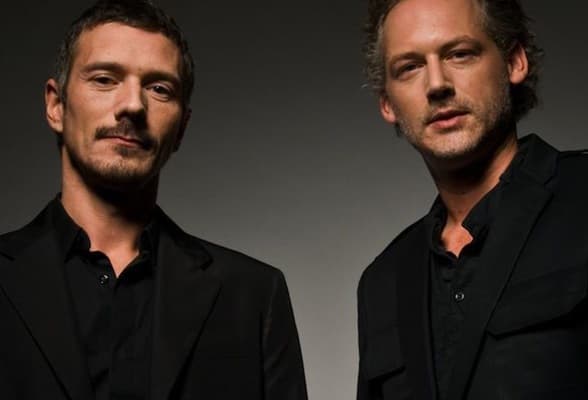 Artists Corner
We have been using Arturia's instruments for quite a while now and it`s an excellent addition to our work. Their new Analog Laboratory is a very effective unit especially in combination with the original soft synths.
Dr. Richard
( Kruder & Dorfmeister )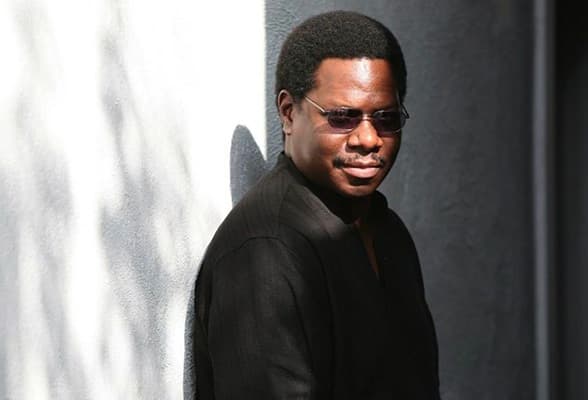 Artists Corner
Just looking at Analog Lab takes you back to the 70's hits when analog keyboards ruled! After you've gone through a few sounds, you're busy creating some hits of your own !
Dave Isaac
( Producer - Composer )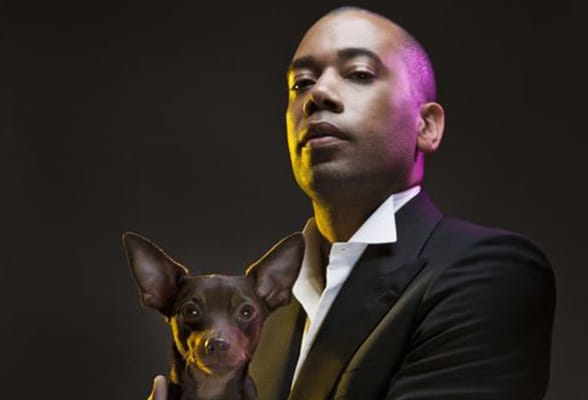 Artists Corner
I've always wanted a CMI and now I have one in Analog Lab 3. With the default sound I can pretend to be Art of Noise all day!
Carl Craig
( DJ/Producer )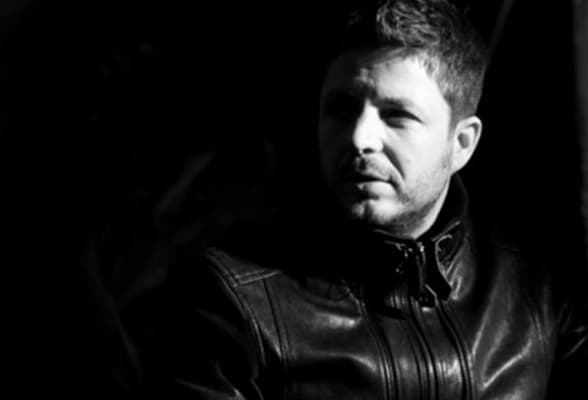 Artists Corner
We tried the Arturia Analog Lab straight away on recommendation and we were so impressed with the quality of sound, authenticity of sound along with the reliability of the software which is a must for using in the live scenario. Thanks Arturia !!
Ben Keeley
( Kasabian )
Find and recall your favorite sounds instantly
With Analog Lab's sleek new browser, you can always find just the right sound.
Where's that sound? Find it in a flash by clicking tags to filter Analog Lab extensive sound library by Types, Characteristics, Instruments and more. Need a fat, funky bass? Just click that combination of tags to get a short list from the across the entire library—or limited to just the virtual instruments you select. Click to designate your favorites for instant recall later. Use Playlists to line up just the sounds you need for gigs or sessions, then access or step through them with MIDI program change mapped to your preferred buttons or pedal.
Whether your writing, recording or gigging, Analog Lab's elegant browser makes it a breeze to quickly mine the depths of this vast library for the sonic gold you're looking for.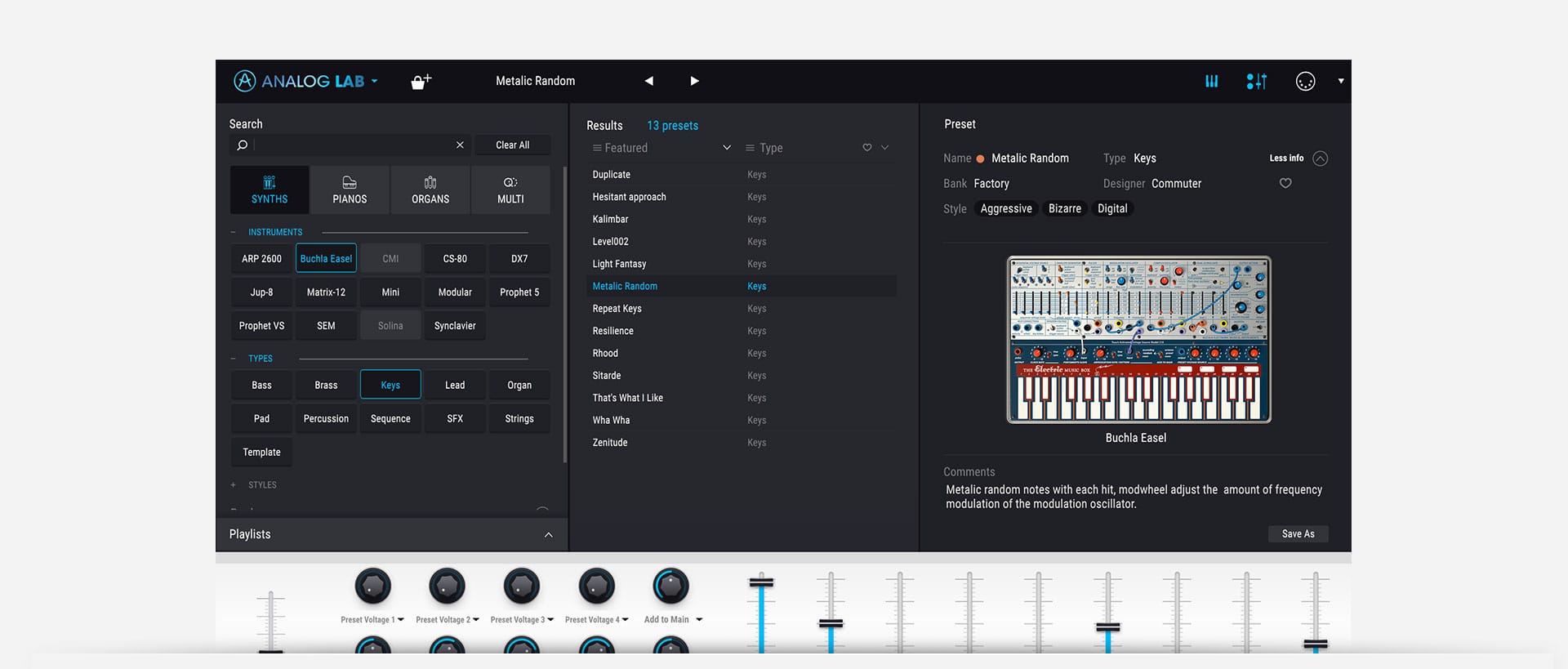 Sound Corner
Beats n' Bits
All the sound were made using presets from Analog Lab. No external effects nor samples were used, and little to no EQ and editing.
Keep On Holding
All the sound were made using presets from Analog Lab. No external effects nor samples were used, and little to no EQ and editing.
Memories
All the sound were made using presets from Analog Lab. No external effects nor samples were used, and little to no EQ and editing.
Alien Mind
All the sound were made using presets from Analog Lab. No external effects nor samples were used, and little to no EQ and editing.
Change
Jazz funk demo using Analog Lab except the drums and a funky rhythm guitar sample (in the last part of the demo).
Part 1
Down tempo demo track made with Analog Lab only.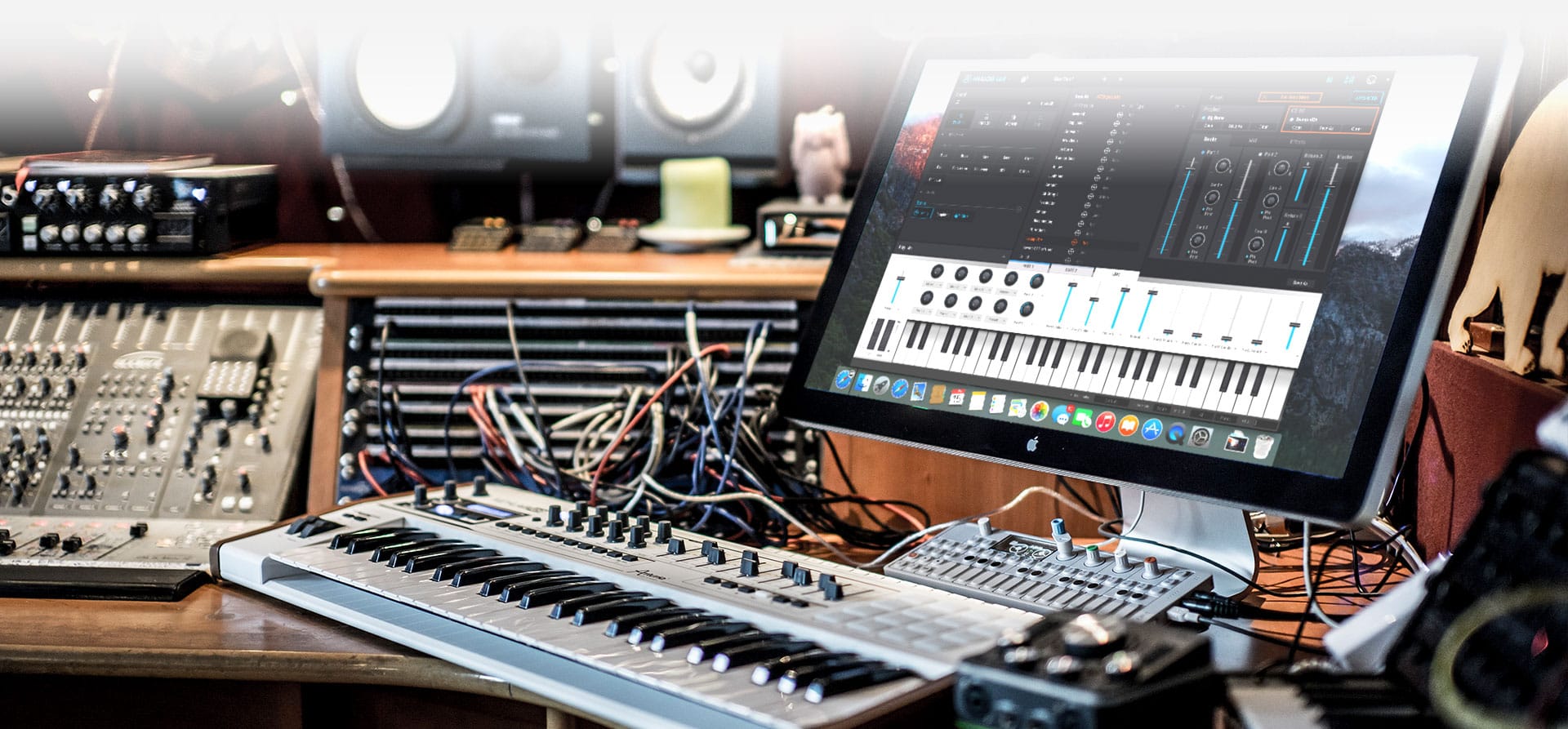 Arturia Software Center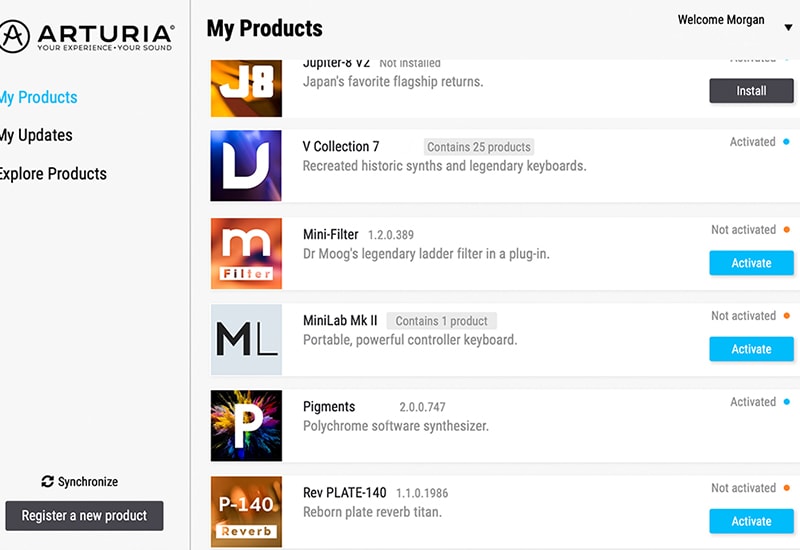 ASC is the central software that elegantly manages all your Arturia software licenses. It activates your licenses and synchronizes them across multiple devices (you get five instances with each instrument license). ASC also notifies you of updates and downloads them. You can even easily learn about new products, download demos versions and purchase the full products. Simple.
Learn More
Download the ASC
Included in V Collection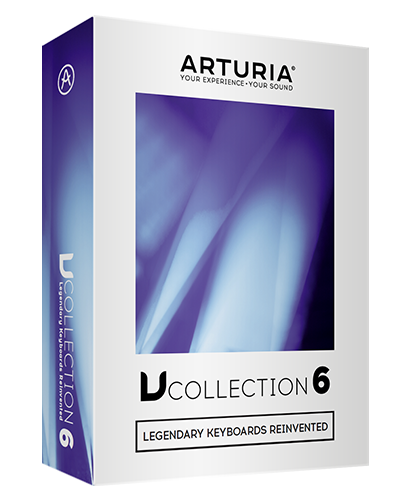 This instrument is also part of the V Collection 6 -your complete dream line-up of the legendary synths, organs, pianos and more that made keyboard history. They're modeled with the most advanced technologies for authentic realism, and enhanced with new creative options. Whether you use it as DAW plugins in the studio or standalone at gigs, V Collection 6 puts the greatest keys of all time at your fingertips for instant inspiration.
Learn More
TAE® Powered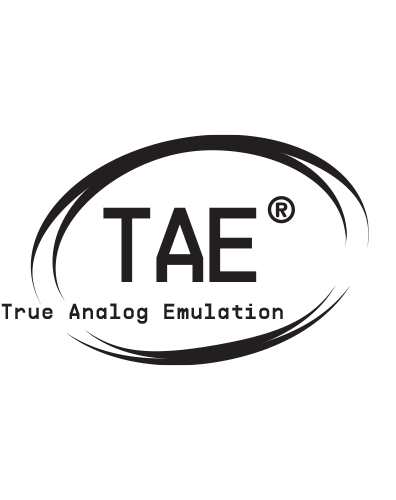 TAE® "True Analog Emulation" is Arturia's exclusive technology that accurately reproduces the defining sonic qualities of analog synthesizers. It recreates the characteristics of analog oscillators in amazing detail, transparency and clarity, as well as the exact properties of the analog filters that give each classic instrument its unique sound. Soft clipping adds even more punch and presence. TAE® is primarily what makes our virtual instruments indistinguishable from the originals.
Learn More
Gallery
Main Features
The original hardware/software hybrid synthesizer
Updated with sounds from the V Collection 6
Over 6500 sounds from some of the best sound designers in the industry
Presets are carefully selected from our V Collection 6 (ARP 2600 V, B-3 V, CS-80 V, Farfisa V, Jup-8 V, Matrix-12 V, Mini V, Modular V, Prophet V, Prophet VS, SEM V, Solina V, Stage-73 V, Synclavier V, Piano V2, Vox Continental V, Wurli V, Buchla Easel V, Clavinet V, DX7 V and CMI V)
Updated browser to find your sound quickly: by Type (Bass, Pads, Leads…), by Characteristics (long, bright, dark…), etc.
Multi mode for creating your own layers, splits and adding effects
Automatic mapping of parameters for Arturia keyboards
Parameters can be mapped easily to other MIDI controllers
Standalone or plug-in operation (VST, VST3, AU, AAX)
Full preset editing available for owners of the full versions of our synthesizers (Mini V, Modular V, CS-80V, Wurlitzer V, etc.)
User interface configures automatically to match your Arturia controller
Awards