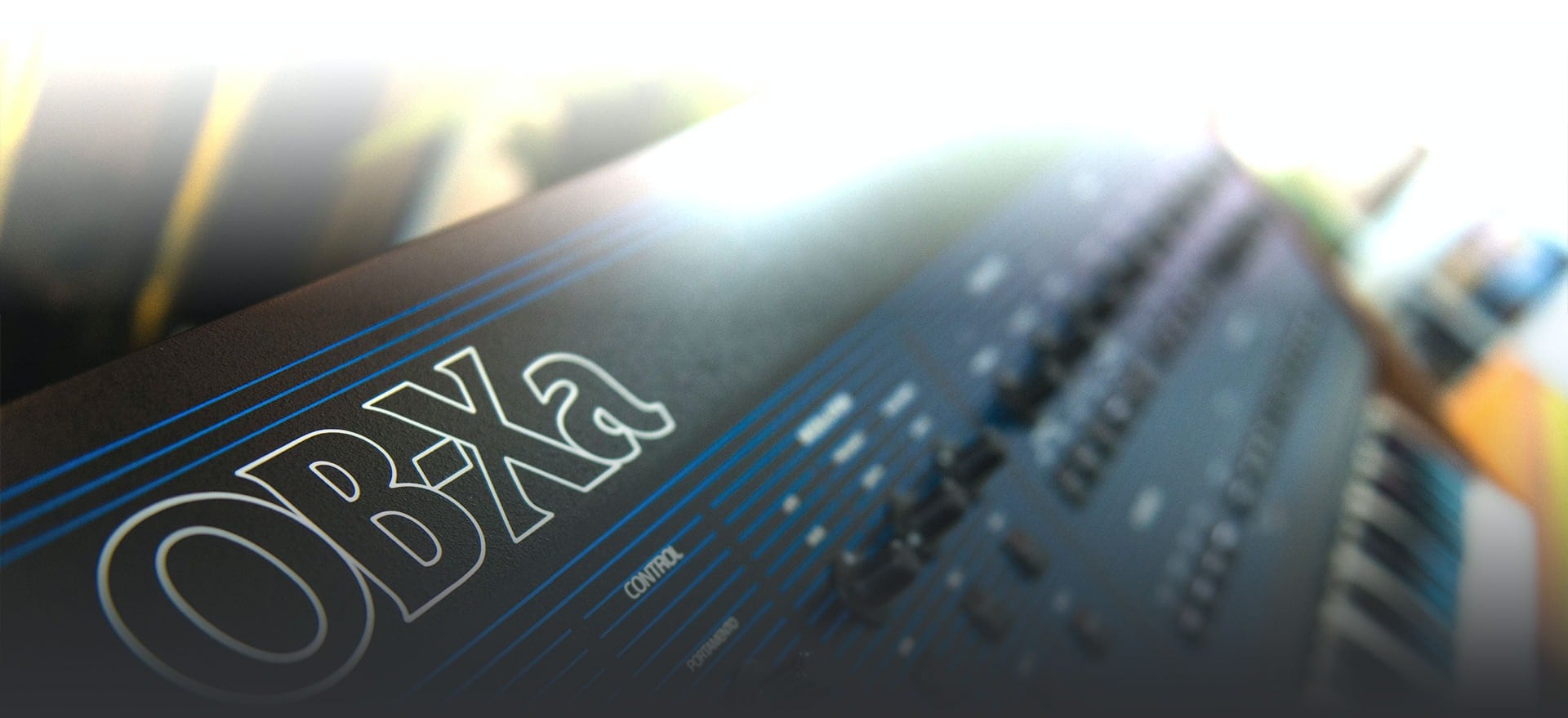 Sound design expertise
The sounds of Analog Lab V aren't just the result of groundbreaking technology and a passion for vintage synths & keyboards - these sounds have been lovingly crafted by experts in the field.
These sound designers, artists, and producers don't just know these instruments inside and out - they know precisely how to make the most out of them. Whether it's exploiting their most famous features, or pushing them beyond their original capabilities, these patches are built to suit every style and inspire at every opportunity.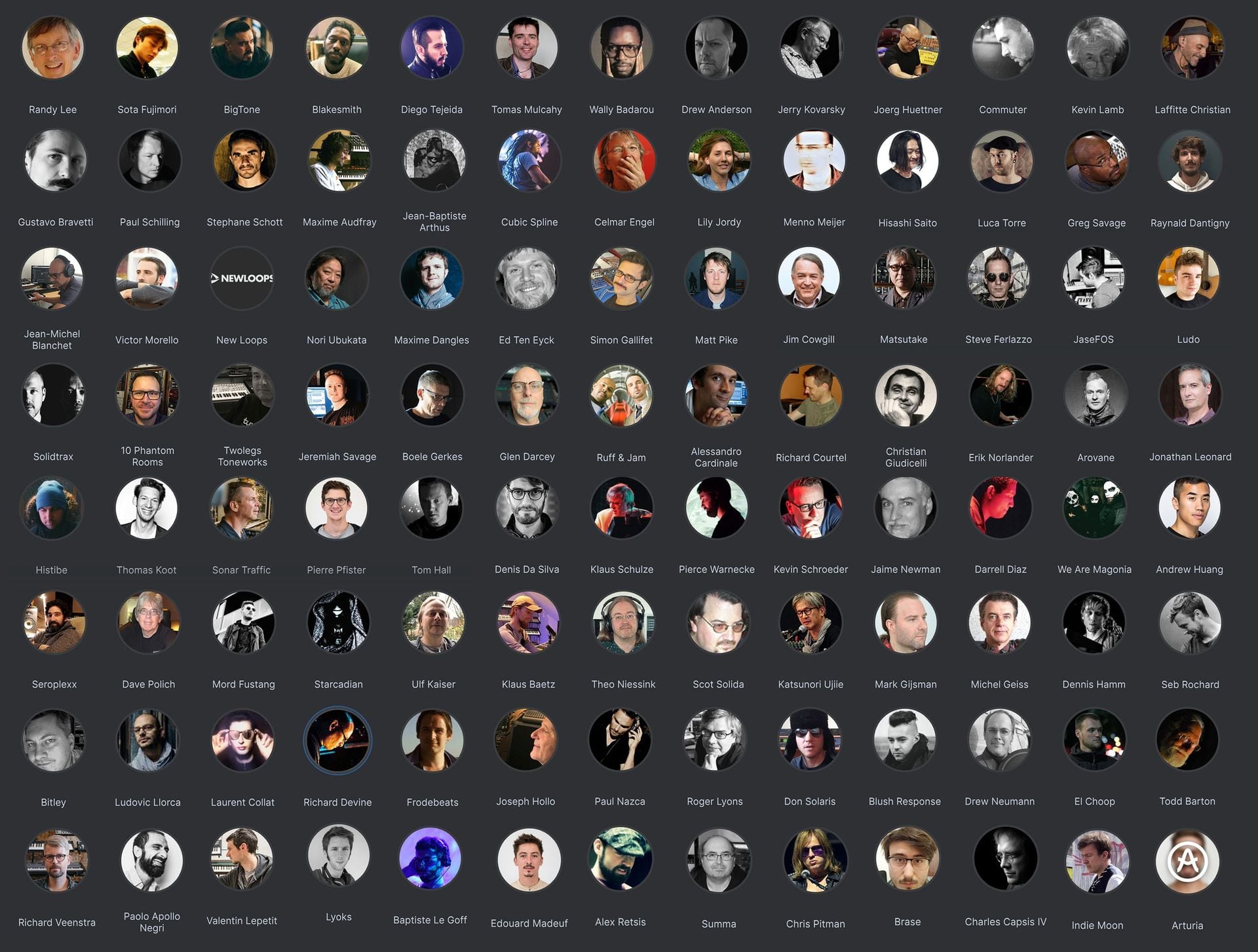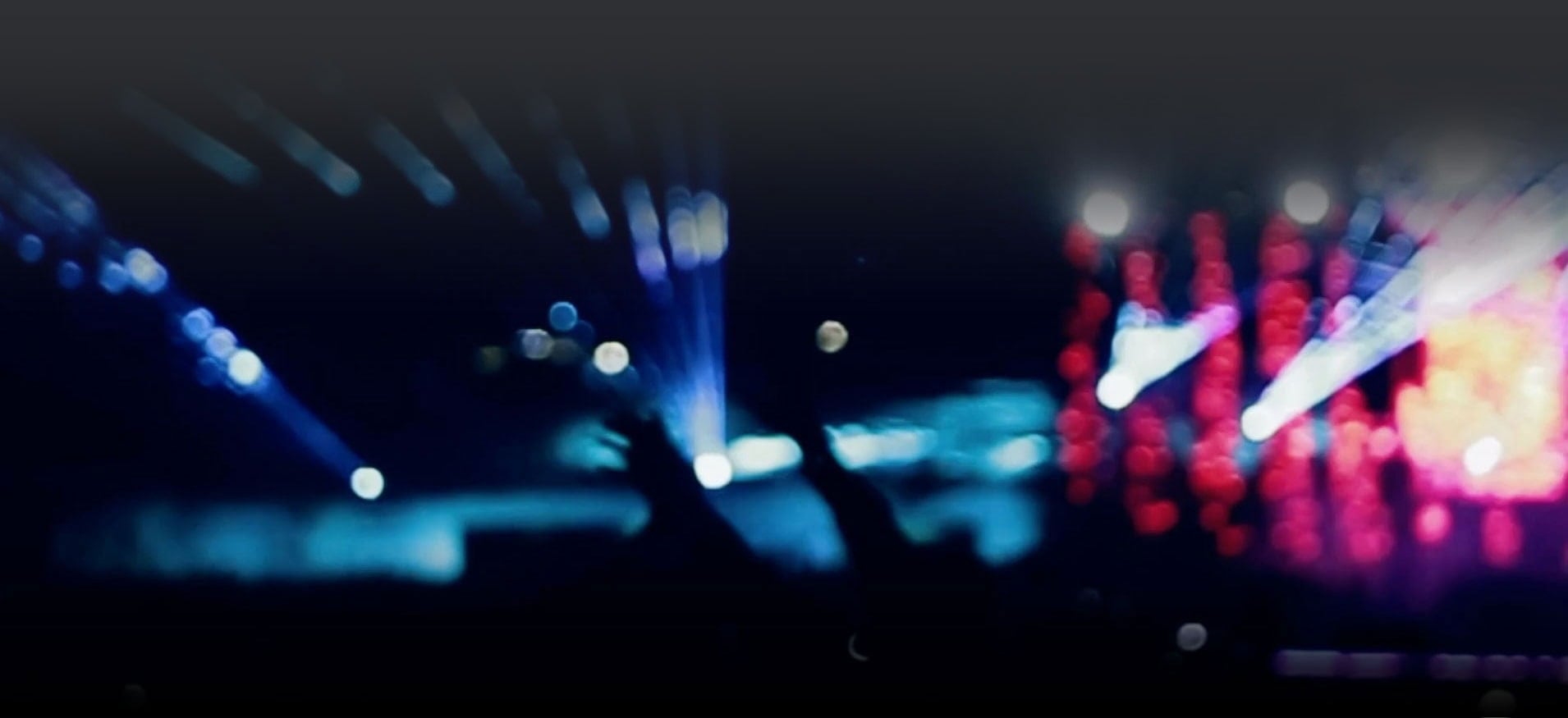 28 keyboards that made history

Analog Lab V gives you instant access to presets from all of V Collection's instruments, in one smart interface. These are the instruments that defined genres, artists, and even decades, and continue to do so - and now they're just a click away.
Pianos - The beauty of hammer on string, meticulously modeled.
Electric pianos - Metallic, funky, soulful, barking, delicate - timeless.
Analog synths - Raw voltage transformed into incredible sound.
Digital synths - Precise detail, unique flexibility, charming character.
Organs - From red-hot to heavenly soft. Pure musical passion.
String machines - Classic, warm, evocative pseudo-orchestral timbres.
A sound for every style
Looking for rumbling trap bass? New wave analog arps? Sizzling funk brass? Skip the menu diving and hone in on the perfect sound with an advanced smart browsing interface that lets you search quickly and intuitively.
Find your genre, or filter by specific instruments, or even your favorite sound designers. Analog Lab V's browser is designed to be totally flexible to keep you on your creative path.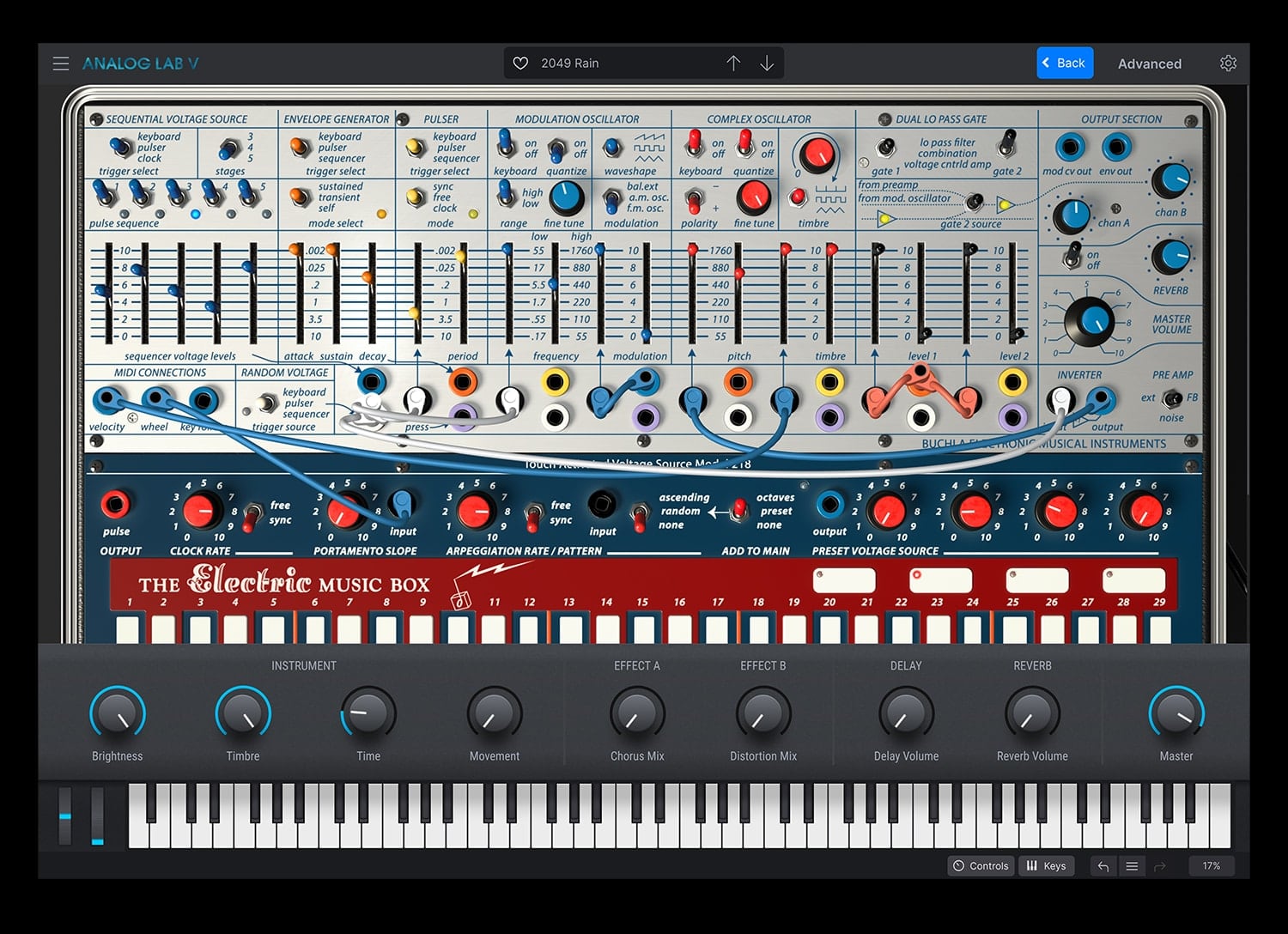 Yours to tweak
More than just factory presets. More than just classic instruments. These sounds are yours to mould, to shape into a sonic form that suits you. And not only that; it's never been easier. Analog Lab V offers simple streamlined features offering multi-axis flexibility so you can go from bright to dark, harsh to smooth, fast to tender - without hesitation.
Below the surface, Analog Lab V combines all the sound engines from our award-winning V Collection instruments - iconic instruments reimagined in software thanks to exclusive analog and physical modeling. Our critically-acclaimed modeling technologies are designed to capture every nuance of the legendary instruments behind V Collection's emulations, down to individual components. Piano strings to pickups, tonewheels to transistors, the results are indistinguishable from their hardware predecessors. TAE®
The exclusive analog modeling technology that makes our virtual instrument emulations indistinguishable from the originals. By accurately mimicking the characteristics of analog oscillators, filters, and soft clipping, we can provide astonishing component-accurate detail and authentic analog charm in equal measure.

Phi®
State-of-the-art physical modeling designed to provide real material depth to our acoustic and electro-acoustic virtual instruments. With advanced mathematical algorithms, our engineers recreate every aspect of the original instruments, down to the finest vibrations - for a response that sounds and feels as tangible as the real thing.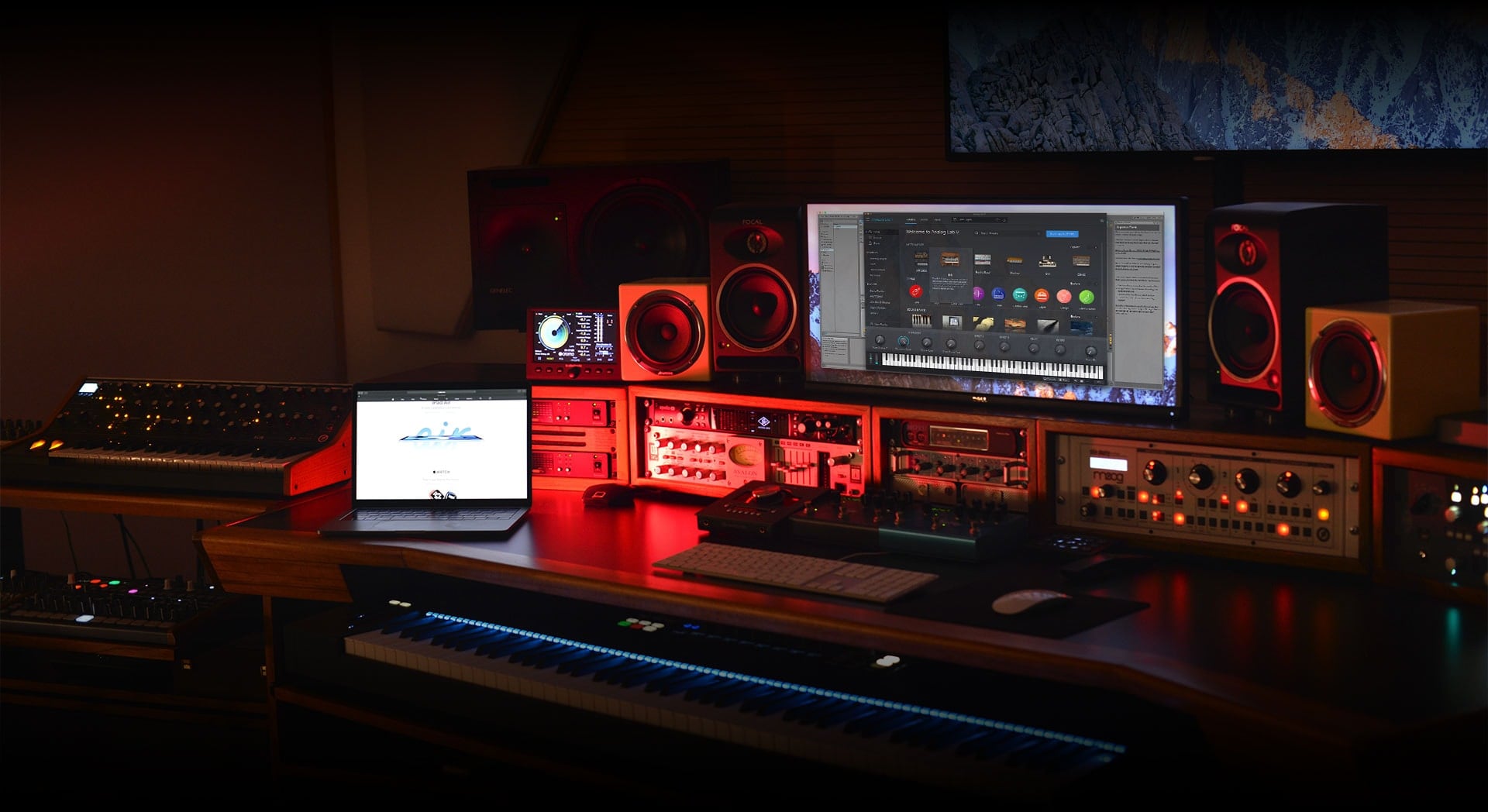 Layers & Multis
Want to play a funky bass with your left hand and a customized twirly Wurli with your right? How about bringing in a layer of strings in with your expression pedal while playing that piano ballad? The Multi feature lets you simply drag and drop to combine any two of your favorite presets in whatever creative way you desire.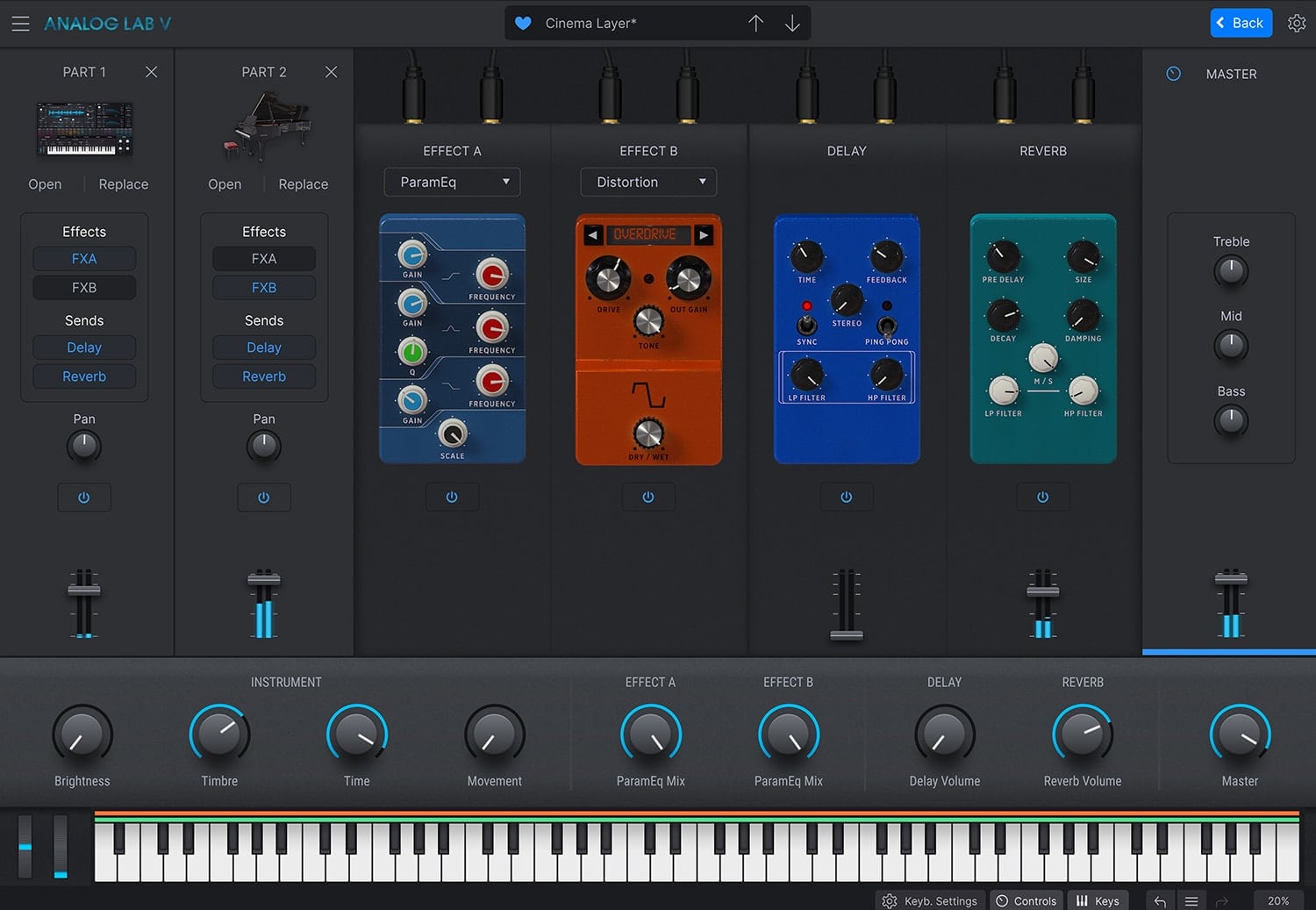 Intuitively explore splits and layers, complete with discrete options for key range, MIDI channels, transposition and response to common MIDI CC messages from controllers like touch, wheels and pedals. You can even save your multi as a preset for when you need it again.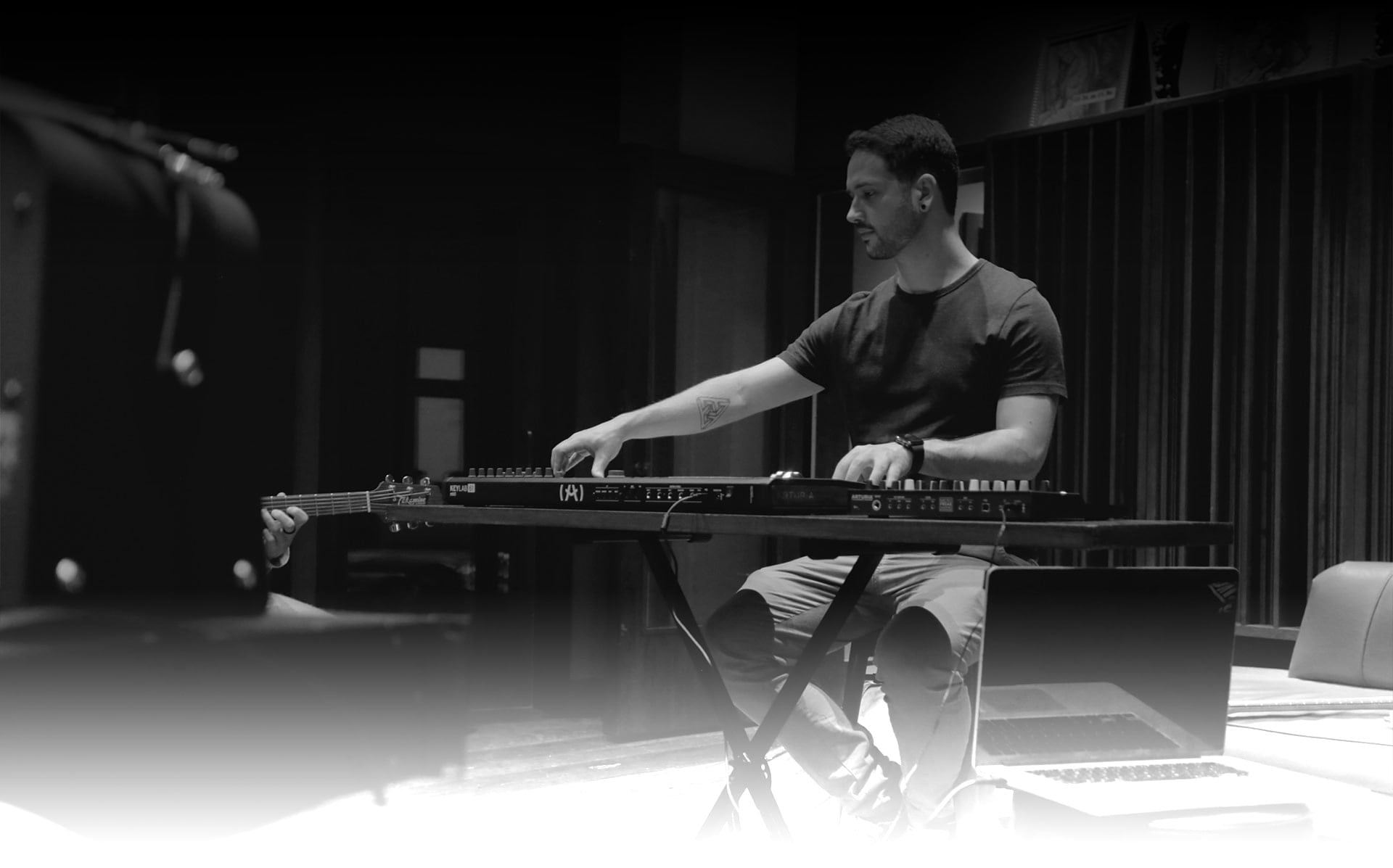 Get on stage
It's one thing sitting in your home studio playing around with sounds, but when you hit the stage, you need to know exactly what to expect.
Analog Lab V features Stage mode, which presents everything you need in one streamlined view - everything is bigger and clearer to give you peace of mind on dimly lit stages. Non-essential toolbars and options are hidden, giving you focused visual feedback so you can concentrate on nailing your performance.
Prepare every sonic component of your show before you even think about stepping on stage. Organize your favorite presets, FX, and mix settings into songs and setlists with drag-and-drop ease.
When you're in the zone, the last thing you need is interruption. Instantly switch to your next cued preset with assigned buttons, and tweak settings on the fly to deliver the dynamics that your set deserves. Let Analog Lab V accompany you on stage, and you'll never look back.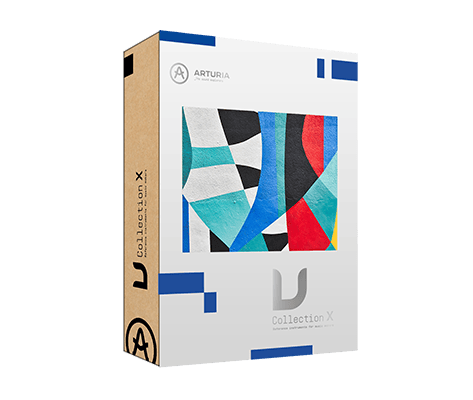 Go deeper with V Collection
If you own V Collection, or any of the instruments within it, you can intuitively explore them via Analog Lab V for a streamlined workflow.
Easily find sounds across your entire collection of Arturia virtual instruments, and if you want to make changes beyond Analog Lab V's simplified interface, a single click will transport you directly to the full instrument. This kind of integration is what Analog Lab V is all about.
Inspiring sounds for every type of music
No matter what kind of music you play, Analog Lab has you covered.
Think about the mainstay keyboard instruments in any genre of music that you write, play or produce—or ever want to—and you'll find the best of those sounds in Analog Lab. Rock. Jazz. Gospel. Top 40. Country. Blues. It's all here, with total authenticity and easy access to tones created by some of the world's top programmers and sound designers.
Whether you're playing hits from yesteryear or creating tomorrow's music, Analog Lab brings you all the sounds you need in one elegant package.
In-App Tutorials
Integrated in-app tutorials guide you through every aspect of the instrument, from individual parameters to tips from our sound designers, so you can focus on the creative stuff. It shouldn't be this easy, but it is!
ASC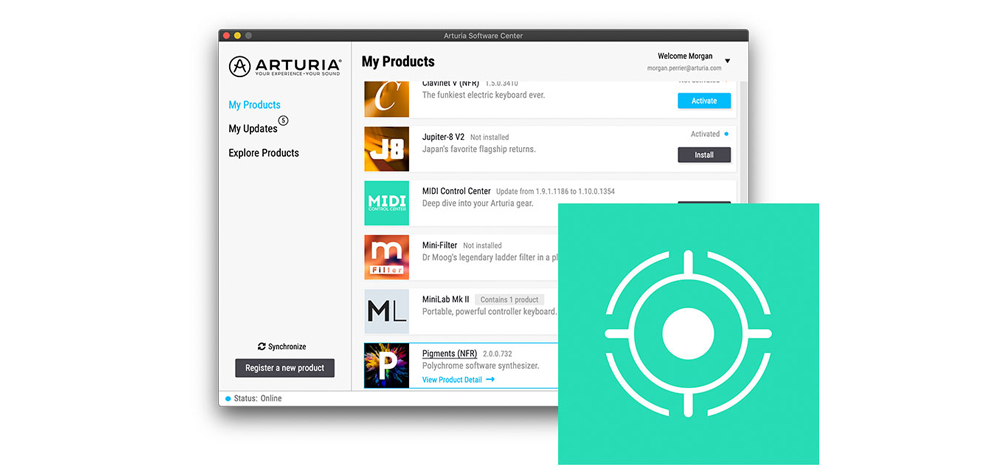 Arturia Software Center lets you download, organize, and update all of your Arturia software titles in one place, as well as manage all of your licenses across multiple devices. Keep it simple.
Learn More
Download the ASC
DAW ready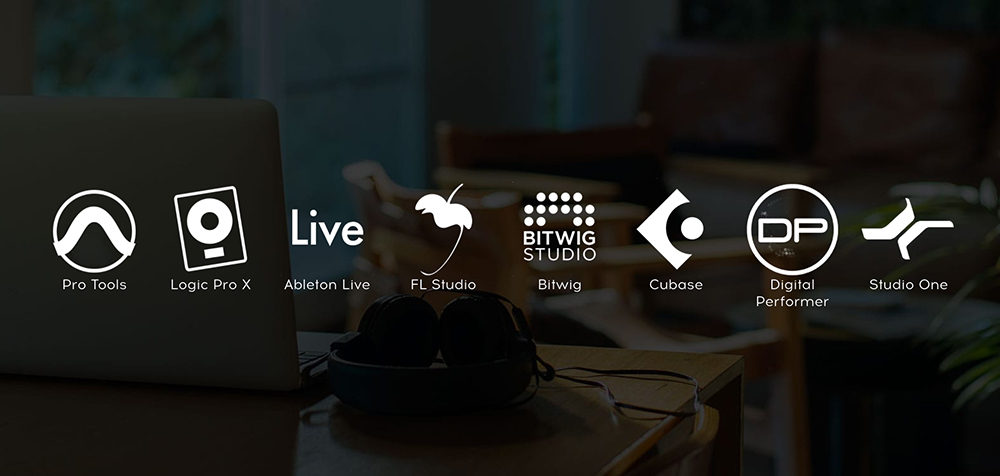 Our virtual instruments and plugins are designed to fit right into your setup without hassle. Whatever your style, you can explore sound while enjoying full compatibility with major DAWS, on both Windows and MacOS.
Preset browser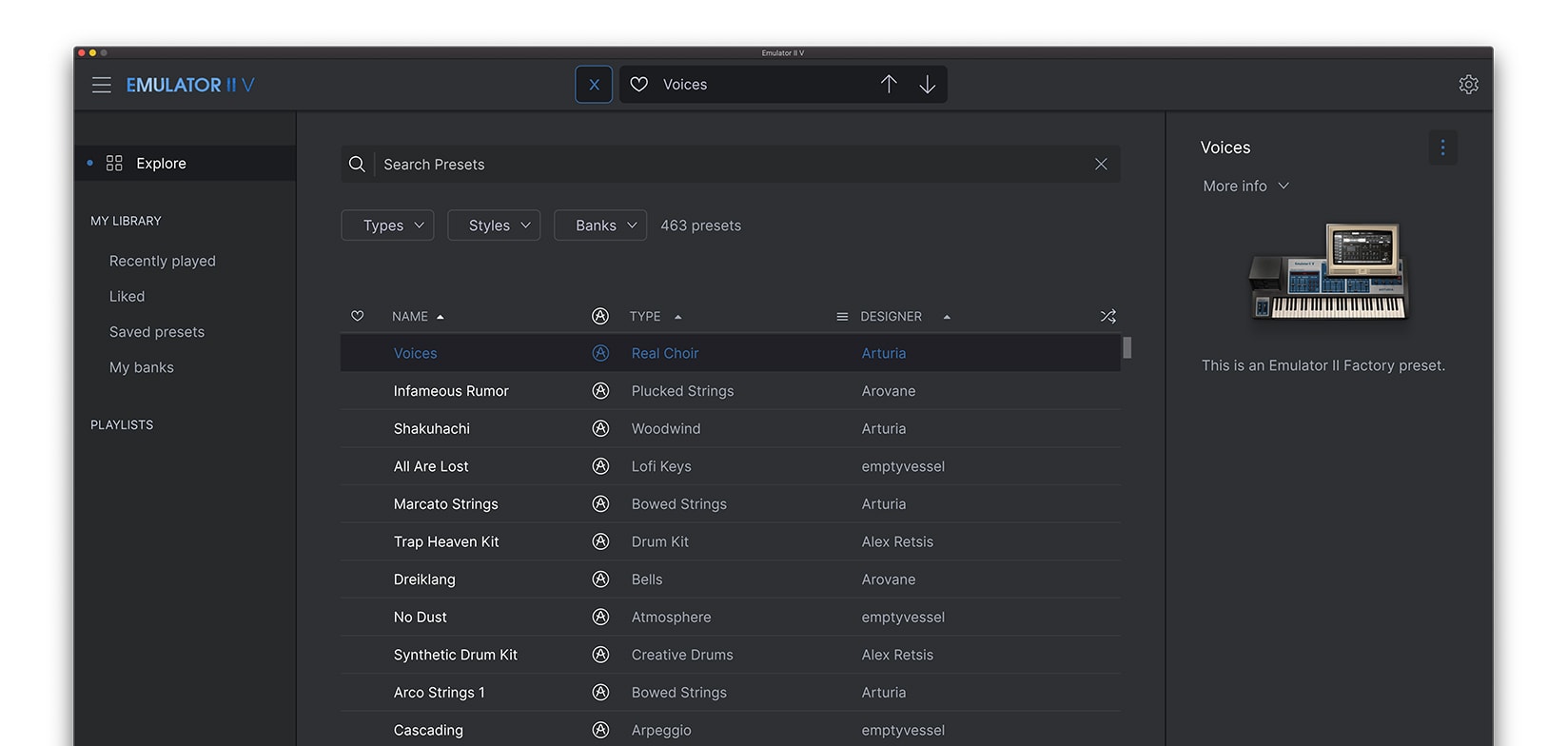 Instantly find the sound that's in your head with intelligent & streamlined preset browsing. Search with keywords, explore by instrument type, musical style, and more - you can even save your favorites to quickly recall later.
Resizable GUI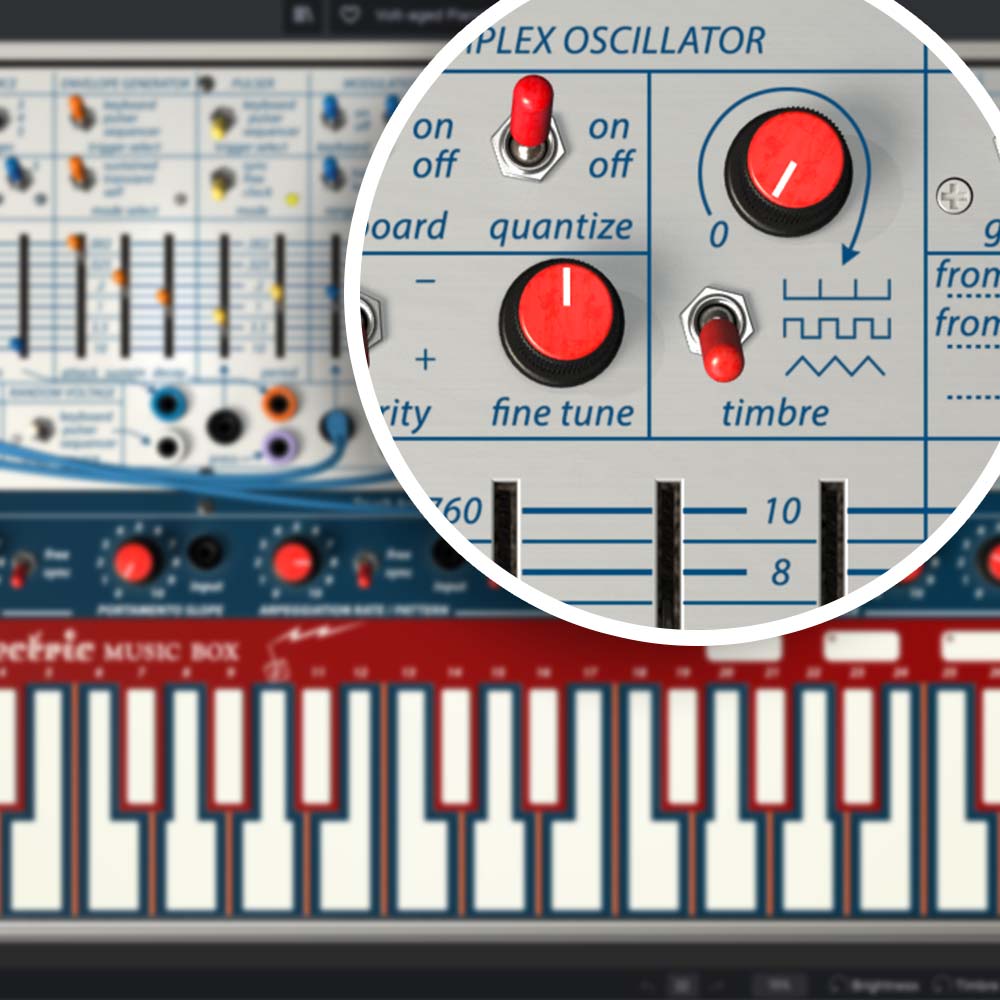 Whether you want the full visual immersion of our classic instrument emulations, or to save precious screen real estate, the interfaces for all of your Arturia virtual instruments can be resized to a scale that suits you.
Perfect integration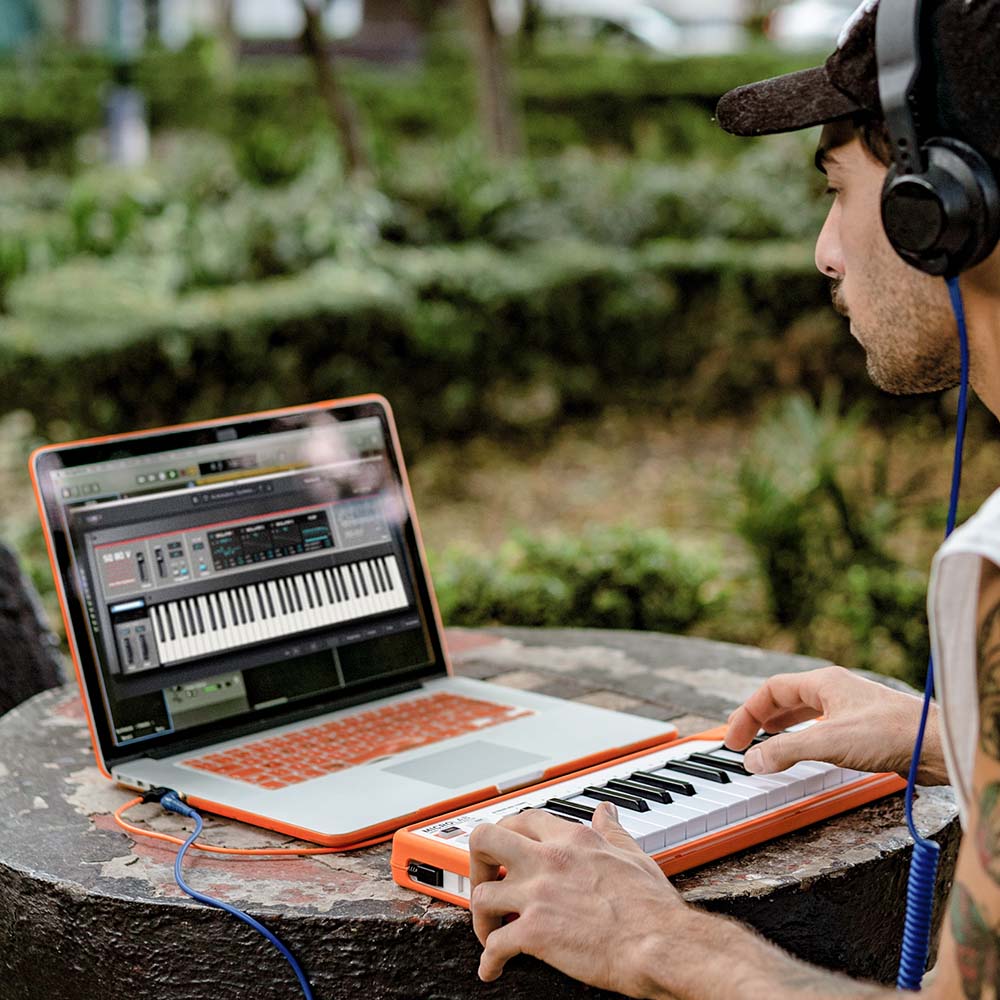 V Collection instruments come seamlessly mapped for the Arturia KeyLab range - but they'll place nice with other MIDI controllers too. Instant sound tweaking macros, easy DAW integration, and standalone operation - adding V Collection to your setup is effortless.
Platform specifications
: Win 8.1+ (64bit) PC: 4 GB RAM; 2.5 GHz CPU.
2GB free hard disk space
OpenGL 2.0 compatible GPU
: 10.13+: 4 GB RAM; 2.5 GHz CPU.
2GB free hard disk space
OpenGL 2.0 compatible GPU
Required configuration
Works in Standalone, VST, AAX, Audio Unit.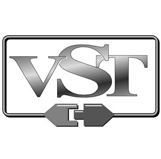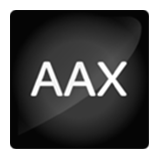 Protection
The software is protected by the Arturia Software Center. You can learn more about it here.
All manufacturer and product names mentioned on this page are trademarks of their respective owners, which are in no way associated or affiliated with Arturia. The trademarks of other manufacturers are used solely to identify the products of those manufacturers whose features and sound were studied during the development. All names of equipment, inventors, and manufacturers have been included for illustrative and educational purposes only, and do not suggest any affiliation or endorsement by any equipment inventor or manufacturer.
Main Features
Over 2000 curated sounds from all the acclaimed V Collection Instruments
Presets are carefully selected from our V Collection (ARP 2600 V, B-3 V, CS-80 V, CZ V, Farfisa V, Jun-6 V, Jup-8 V, Matrix-12 V, Mellotron V, Mini V, Modular V, Prophet V, Prophet VS, SEM V, Solina V, Stage-73 V, Synclavier V, Synthi V, Piano V, Vox Continental V, Wurli V, Buchla Easel V, Clavinet V, DX7 V and CMI V)
Updated browser to find sounds quickly: by Type (Bass, Pads, Leads…), by Style (bright, dark…), by Genre (Ambient, Disco, Techno, …)
New Studio view to add effects and combine 2 instruments (Multis)
Layer Multi sounds or Split 2 Presets across the keyboard
4 new Macro controls on all the sounds for instant sound edition
Automatic mapping of parameters for Arturia keyboards
Parameters can be mapped easily to other MIDI controllers
Stage view allows to perform on a prepared Playlist, using an Arturia keyboard or sending Program Changes from any MIDI Controller
V Collection and Pigments instruments owners can open the full instrument within Analog Lab
Awards