Huge in size and price tag, the CS-80 was a flagship synthesizer of the 1970's. It's unique dual voice layout allowed for rich and full sounds that have not been matched to this day. It was popularized by artists such as Toto, Jean-Michel Jarre, Klaus Schulze, Stevie Wonder, Vangelis, Ultravox and Peter Gabriel, to name a few. Hit song after hit song has turned this synthesizer into a true legend.
More than three decades after its release, the time has come to rediscover a sound that has contributed extensively to the history of music.
Evolution of the species
The original Yamaha CS-80 was probably one of the most expressive synthesizers made.
With its polyphonic aftertouch, separate high pass and low pass filters and large ribbon controller it became the voice of artists like Vangelis and ABBA.
Multi-Mode
The sound of the CS80 makes it standout for pad sounds.
For that cinamatic sound that will stand out in a mix and drive emotion, CS-80 V is the right choice for you.
Press Clipping
"In terms of sound quality, the CS-80V is absolutely divine. It's a first-rate-analog-style synthesizer with a wealth of detuning and modulation possibilities that allow you to cook up truly retro sounds-if that's what you're looking for. On the other hand, thanks to the sequencer, stereo delay and multitimbral aspects of the instrument, the CS-80V can sound as up-to-date as your programming chops will allow. The filters have plenty of bite - so much so that you have to watch for clipping. And I particularly like the implementation of the ring modulator, suboscillator and Touch Response features, which enable you to add weird little subtleties to a sound."
Remix
"Aesthetics and programming considerations aside, there's no doubt that the CS-80V captures the classic analogue sound of the original instrument. The additional features Arturia has added stands the virtual instrument well above the original hardware version. Arturia has taken all the good bits, enhanced them, and created a classy, high-quality synth with great appeal to those with an interest in analogue synthesizers."
Music Tech Magazine
"So just how close has Arturia got to emulating such a classic monster? I think they've done a superb job with just the right balance between faithful re-creation and modern elaboration. [...] The CS-80V is a phenomenal machine."
Future Music
"Overall, the CS-80V is a wonderful sounding synth, capable of producing warm analogue sounds, from fat basses and leads to complex, organic sounding textures that would be ideal for atmospheric film music. It costs a fraction of Yamaha's original."
MacFormat
"The CS-80V is a killer soft synth. It's been over 25 years since the CS-80's introduction, and it remains a sought-after powerhouse to this day."
Keyboard
"A perfectly emulated
ultra-rare synth
that -quite simply- sounds different. There's a place for its smooth strings in every track."
Future Music
"With their much-hyped TAE (True Analogue Emulation), Arturia have tackled the challenge of emulative analogue synthesis, and succeeded in a way that has rarely been matched. "
Computer Music
There is never enough of a good thing
While the CS-80 was wonderful sounding, it was missing some critical modulation routing that a modern synth should have. We added a modulation matrix which has opened up the sound design capabilities to new heights. The new voice modes and arpeggiator breath new life into this classic giving you even bigger sounds than original.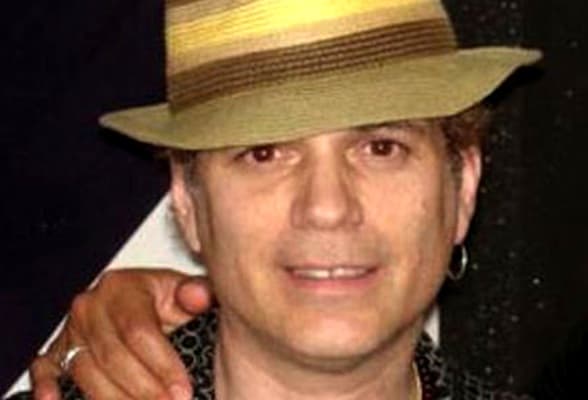 Artists Corner
The CS-80 sounded absolutely amazing and unique, and so does the CS-80V!... The sounds you can get from them are endless.
Randy Cantor
( Producer - Composer )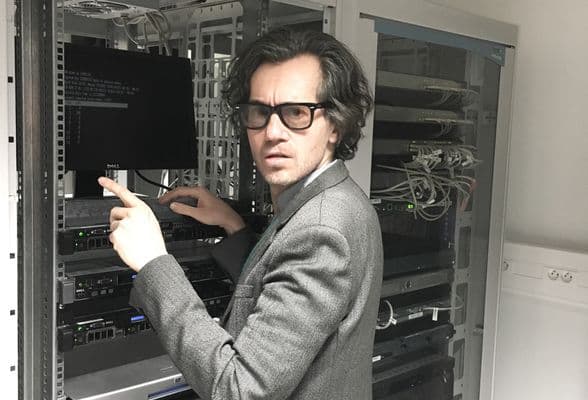 Artists Corner
The CS-80V is the cornerstone of our live shows. We've been long time users of Arturia products especially the CS-80V, we use it onstage indeed. We are really impressed by this software by the way as we own a real CS-80 unit and find the similarities with the software pretty amazing.
Phoenix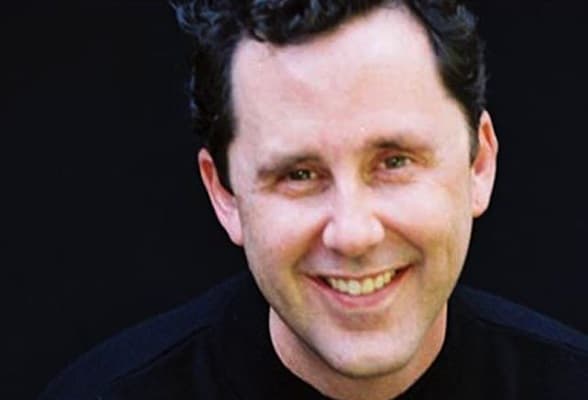 Artists Corner
Arturia has done a remarkable job of capturing the essence of the instrument. It's incredibly authentic. I hear no difference.
John Merchant
( Sound Engineer )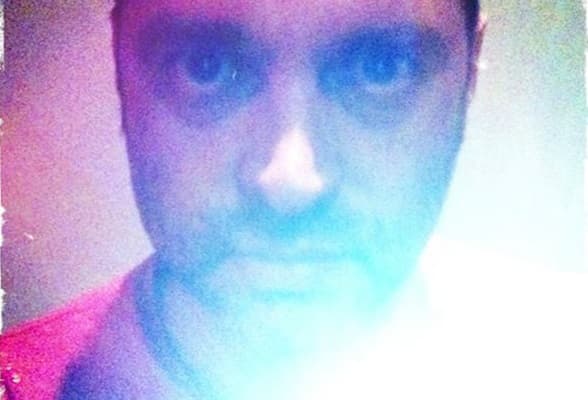 Artists Corner
One of the most appealing things about the CS-80V was the unique sound and shape of its amplitude and tremolo modulation.
Jamie Muhoberac
( Keyboardist )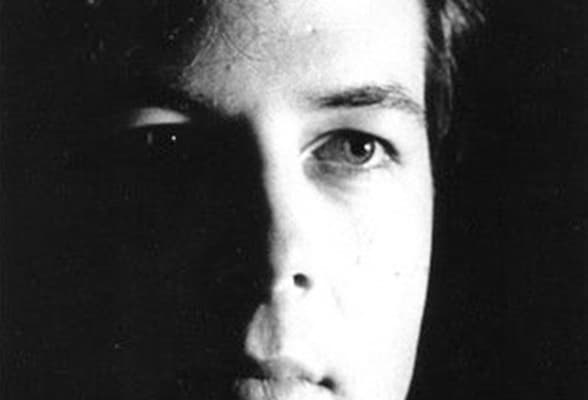 Artists Corner
It has a smooth, detailed sound that you would expect from a real analog synthesizer; with filters that make other digital synths sound gritty by comparison. The CS-80V just sounds great! James Lumb
( Electric Skychurch )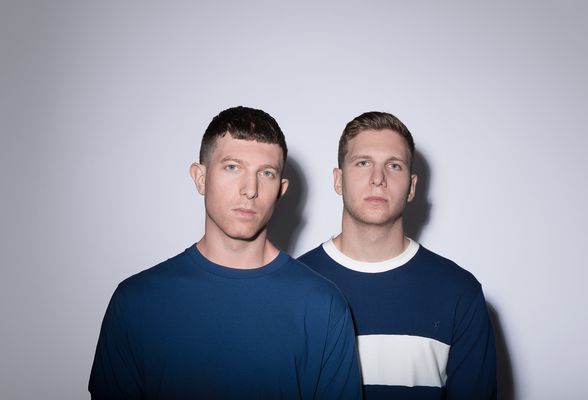 Artists Corner
Over the years, we've used a lot of different VSTs but always kept coming back to a handful we really like and the CS80 V was one of them.
Icarus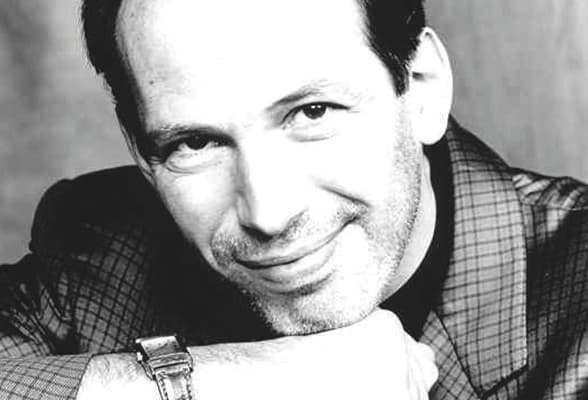 Artists Corner
I just sold my Yamaha GX1 because I have a great remplacement with Arturia's CS-80V.
Hans Zimmer
( Score Composer )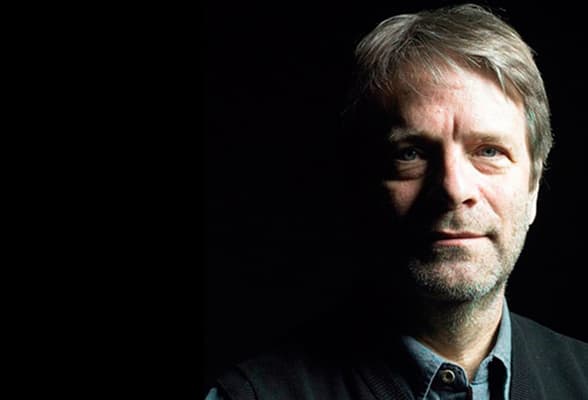 Artists Corner
I reviewed the Arturia CS-80V with some skepticism - as a critical user of the best analog as well as digital processing gear (and permanent fan of the original CS-80 hardware), i am constantly enduring modest programming, often of emulations. Thus, I cannot overstate how thrilled i was, and how deeply gratified I continue to be, with the Arturia emulations. The CS-80V emulation really only fails in one area: the original CS-80 was in constant need of tuning, which was a profoundly tedious chore. I'll take the plug, thanks. same thing for the Mini V. faithfully and flawlessly modeled. and stable!! couldn't live without them now.
George Massenburg
( Producer - Composer )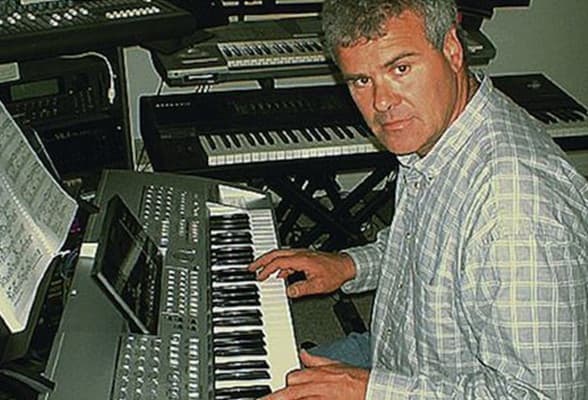 Artists Corner
The CS-80V is like a dream come true, with true classic vintage sounds but with all the latest digital control.
Franck Serafine
( Sound Engineer )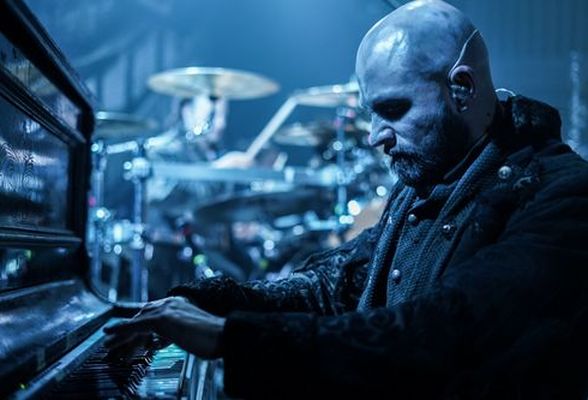 Artists Corner
If you're looking for that retro "sci-fi" sound, it's simply perfect!
Francesco Ferrini
( Fleshgod Apocalypse )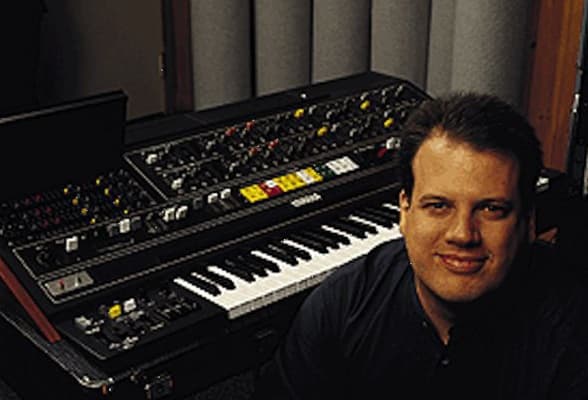 Artists Corner
It has loads of personality and is capable of amazing sounds which are impossible on my real CS-80.
Eric Persing
( Sound Engineer )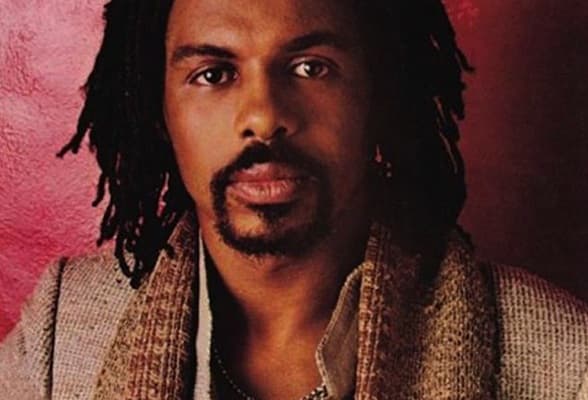 Artists Corner
I love the sound of that plug-in, and so does Stevie Wonder... I recommend it to anyone who wants great vintage sounds. (About the CS-80V)
Edwin Birdsong
( Keyboardist )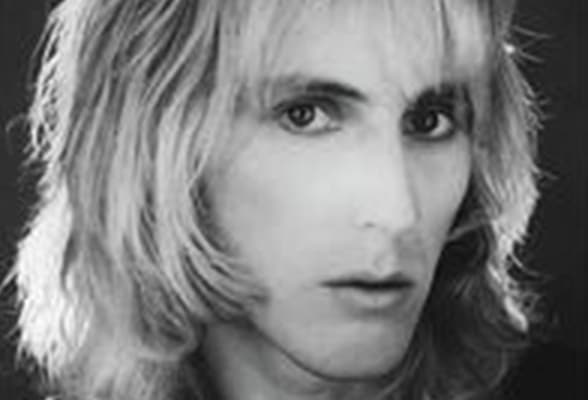 Artists Corner
With the CS-80V, Arturia have done a fantastic job of both replicating this classic instrument and adding new features and extensive programmability.
Eddie Jobson
( Roxy Music - Zappa – UK )
Sound Corner
1889 Paris Exposition
Fabrizio Massara (a.k.a. fab) is a keyboardist/composer/producer. He's a member of Baustelle , alternative pop italian band (two albums released, now signed to Warner Music Italy). He makes (real) love with (virtual) synths when the girls fall asleep...
Aquarium
Adapted from The Carnival of the Animals by Saint-Saens.
Demo
A CS-80V demo song inspired by Vangelis and Eddie Jobson. Big thanks to Mitsuru Sakaue.
CSolo
CSolo is a short composition demonstrating the expressive power of the CS-80V when played with polyphonic aftertouch. The piece uses one preset and was performed in real time. Only reverb was added.
Epic Anthem
Soundtrack made of 11 instances of the CS-80 V. No extra effects, except limiter for mastering. Rikke Lind, Sweden
Clear Water
Here is a short music clip that Glen made using nothing but the CS-80V. It's not a real song, just an audio scribble of an idea he has. It uses 6 tracks of CS-80V, some EQ and some compression.
Jerusalem
Inspired from the choral piece of Chariots of Fire (Vangelis). This cathedral anthem was originally composed by Sir Hubert Parry (1848-1918) in 1900.
Winterhat
Made with 6 CS-80V tracks plus a stereo drum track (recorded live). Reverb and compression have been added to the final mix. Courtesy of Matthew Tyas.
Medley
A quite extensive and various demo piece, showing many ways to play the CS-80V. Pads, strings, some high-register sounds are from the CS-80V. Sequencing and basslines are from the Modular V. Some other percussion and effect plug-ins have been used.
Arturia Software Center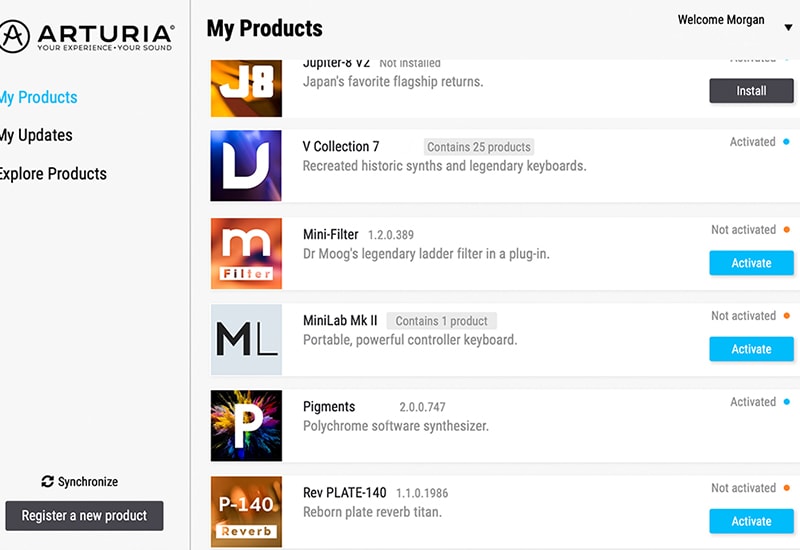 ASC is the central software that elegantly manages all your Arturia software licenses. It activates your licenses and synchronizes them across multiple devices (you get five instances with each instrument license). ASC also notifies you of updates and downloads them. You can even easily learn about new products, download demos versions and purchase the full products. Simple.
Learn More
Download the ASC
Included in V Collection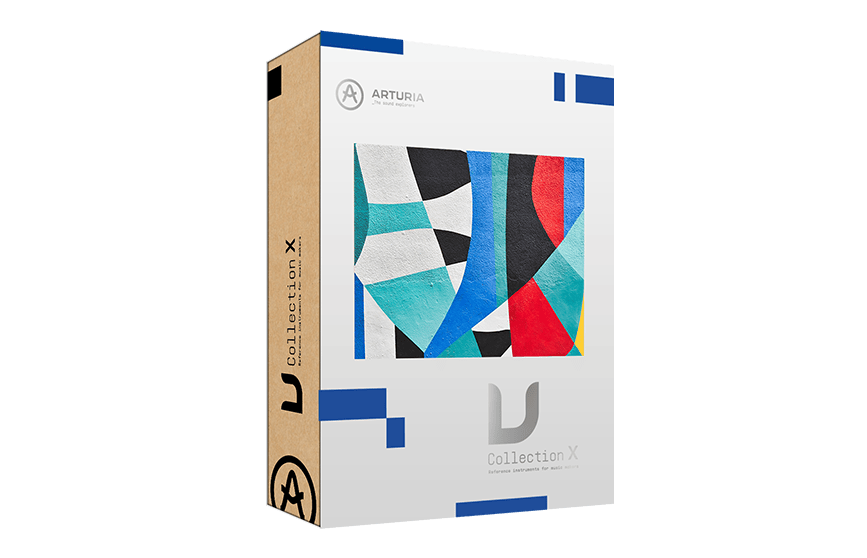 This instrument is also part of the V Collection -your complete dream line-up of the legendary synths, organs, pianos and more that made keyboard history. They're modeled with the most advanced technologies for authentic realism, and enhanced with new creative options. Whether you use it as DAW plugins in the studio or standalone at gigs, V Collection puts the greatest keys of all time at your fingertips for instant inspiration.
Learn More
TAE® Powered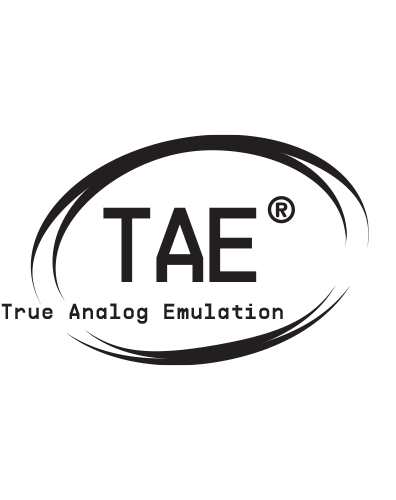 TAE® "True Analog Emulation" is Arturia's exclusive technology that accurately reproduces the defining sonic qualities of analog synthesizers. It recreates the characteristics of analog oscillators in amazing detail, transparency and clarity, as well as the exact properties of the analog filters that give each classic instrument its unique sound. Soft clipping adds even more punch and presence. TAE® is primarily what makes our virtual instruments indistinguishable from the originals.
Learn More
Gallery
Software Specifications
All the original parameters of the Yamaha CS-80:

2 oscillators
4 filters (high pass, low pass)
2 LFOs
4 envelopes
2 VCAs
1 sub-oscillator
1 ring modulator
chorus and tremolo

Digital Delay
Multi Mode: assign a different sound to each of the 8 voices of polyphony!
Modulation Matrix: 13 sources, 38 destinations
More than 500 presets made by some of the world's best sound designers
Polyphonic aftertouch response
1 arpeggiator
Full MIDI controller mapping
Virtual Ribbon controller
Absolutely pure, top quality sound from TAE® analog modeling
Awards