Arturia's modeling expertise comes to the Casio synths that helped define '80s pop.
Japanese electronics manufacturer Casio patented a new form of digital synthesis in 1982 they called phase distortion (PD). After two years of development with input from electronic music pioneers Isao Tomita and Yukihiro Takahashi (Yellow Magic Orchestra, Sadistic Mika Band), Casio unveiled the rack-mounted COSMO PD synthesizer based on their extremely advanced office computer. While Tomita did use it, that first COSMO was never to see the mass market.
When Yamaha's DX7 became the bestselling synth to date almost overnight in 1983, Casio wanted some of that market. Casio engineers were able to leverage their consumer-market experience perfecting LSI (large-scale integration) chips, packaging PD into the much more compact and affordable CZ-101. The first polyphonic synthesizer under $500—only one quarter the price of the DX7—it took off. To keep the price low, the CZ-101 featured only 49 miniature keys. The CZ-1000 quickly followed using the same sound engine, but sporting full-sized keys. Several other models followed, all basically dressed-up variations on the same core PD sound engine.
Casio's success also owed to the fact that their PD synthesis was simpler to program than the DX7's FM technology, while covering some of the same space as both FM and analog. CZ-driven hits included "Walk the Dinosaur" and "Spy in the House of Love" from Was (Not Was) and Jane Child's "Don't Wanna Fall in Love". The synths on Salt –N-Pepa's 1987 hit "Push It" are primarily CZ. Vince Clarke (Erasure, Depeche Mode) employed a stack of eight CZ-101's connected to a computer sequencer. Other Casio artists over the years include Eurythmics, Blancmange, Loverboy, The Thompson Twins, Richard Souther, Moby, Ariel Pink, Junkie XL and Nile Rodgers.
Now our CZ V adds authentically modeled Phase Distortion synthesis to your musical palette—and that's just the start.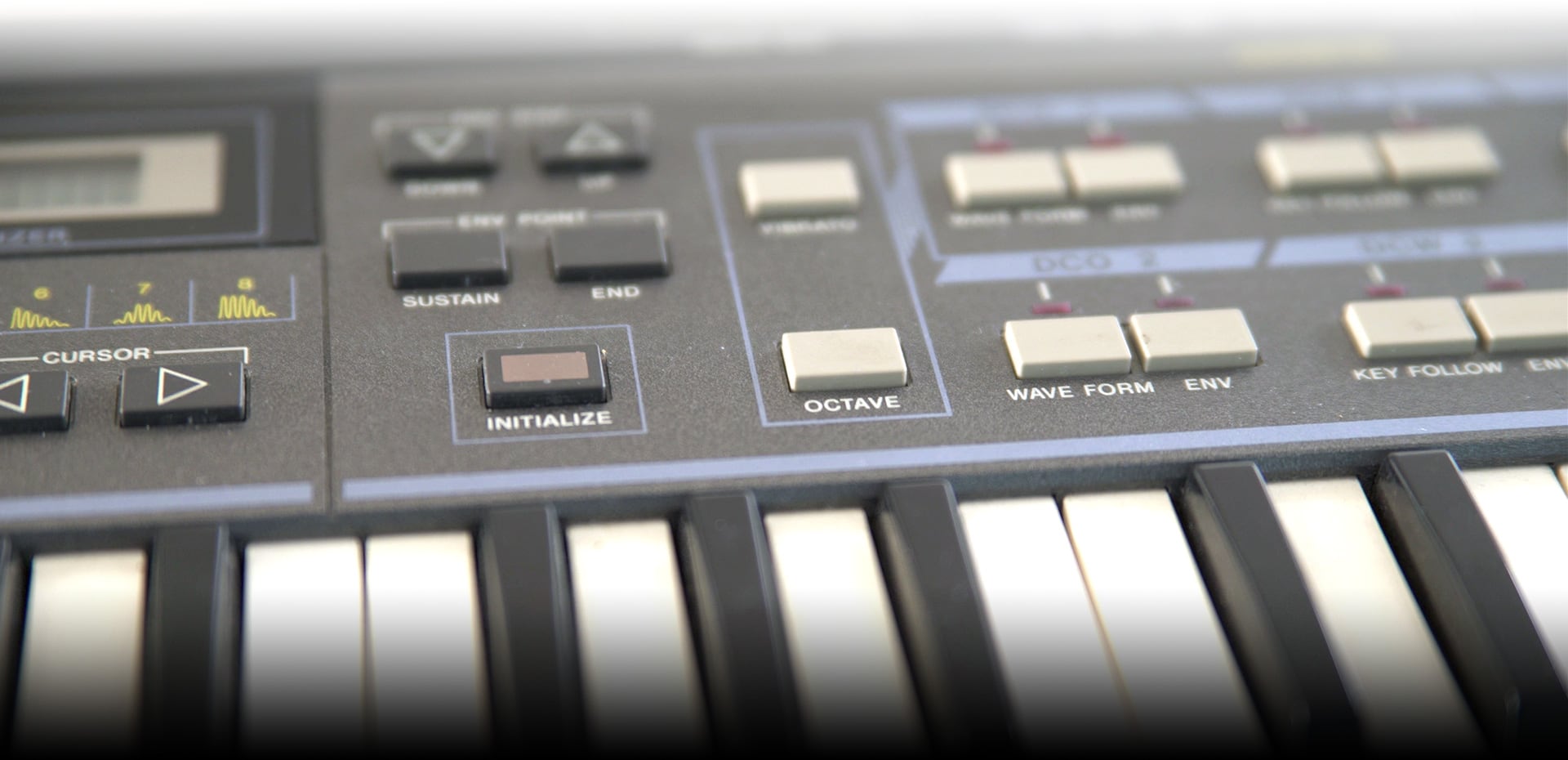 A different kind of digital synthesizer
Our DSP team reverse-engineered the code inside the CZ-series and even modeled the DAC outputs, bringing that authentic '80s Casio sound to your rig today.
Like FM, phase distortion is based on the principel of one digitally controlled oscillator (DCO) modulating another. With PD, however, the time domain of the carrier sine or cosine wave is being altered by the modulating waveform to yield a different overall DCO wave shape. Put another way, if you change the linearity of how a simple sine waveform plays—like speeding up at the beginning of the cycle and slowing down at the end—it's no longer a sine wave. That's the core concept behind phase distortion synthesis.
DCO > DCW > DCA
Each DCO in CZ V lets you select from the 8 original waveforms or draw your own. Some serial combinations of two different waveforms are provided for, resulting in many more possibilities. Each DCO is followed by a corresponding digitally controlled waveshaper (DCW) section, including key follow and an 8-stage envelope generator. This animates the amount of waveshaping from the modulator—and thus the DCO timbre—over time. There's also an eight-stage envelope for DCO frequency, allowing for pitch-change effects far beyond vibrato, trills and lasers. A digitally controlled amplifier (DCA) with its own eight-stage envelope rounds out a DCO>DCW>DCA signal chain roughly equivalent to that of analog VCO>VCF>VCA.
Lines
Like the original, the CZ V has two complete DCO>DCW>DCA signal lines that you can use either singly or in parallel. Duplicate settings in each line allows for a fatter sound given the ability to transpose and/or detune them, while separate settings provide for much more complex timbres. You might, for example, shape a hyper-percussive sound in one line and craft a pad in the other to combine into a compound timbre. Other goodies faithful to the original include a dedicated vibrato section, polyphonic portamento, ring modulation and noise modulation.
Simple Synthesis
Ultimately, the beauty of PD compared to the better-known FM is that there are only four primary things that really control the timbre of each CZ line: the DCO's modulating waveform and the three envelopes. Moreover, changing the parameters in any one of those components doesn't impact the others' influence on the patch. While the unique sonic characters of both PD and FM have made great and distinct contributions to recent music, PD's simpler arrangement can ironically get a lot closer to analog bass, brass, strings and more with a lot less fiddling.
Paging CZ-101… paging CZ-1000…
it's time for your makeovers.
Call us crazy, but we just can't seem to leave a good thing alone.
After awesome modeling, the most important things on our list of improvements were 1/ a much more intuitive user experience and 2/ bringing PD fully into the modern age. Needless to say, we popped the cork on more than one bottle of champagne after wrapping development on CZ V.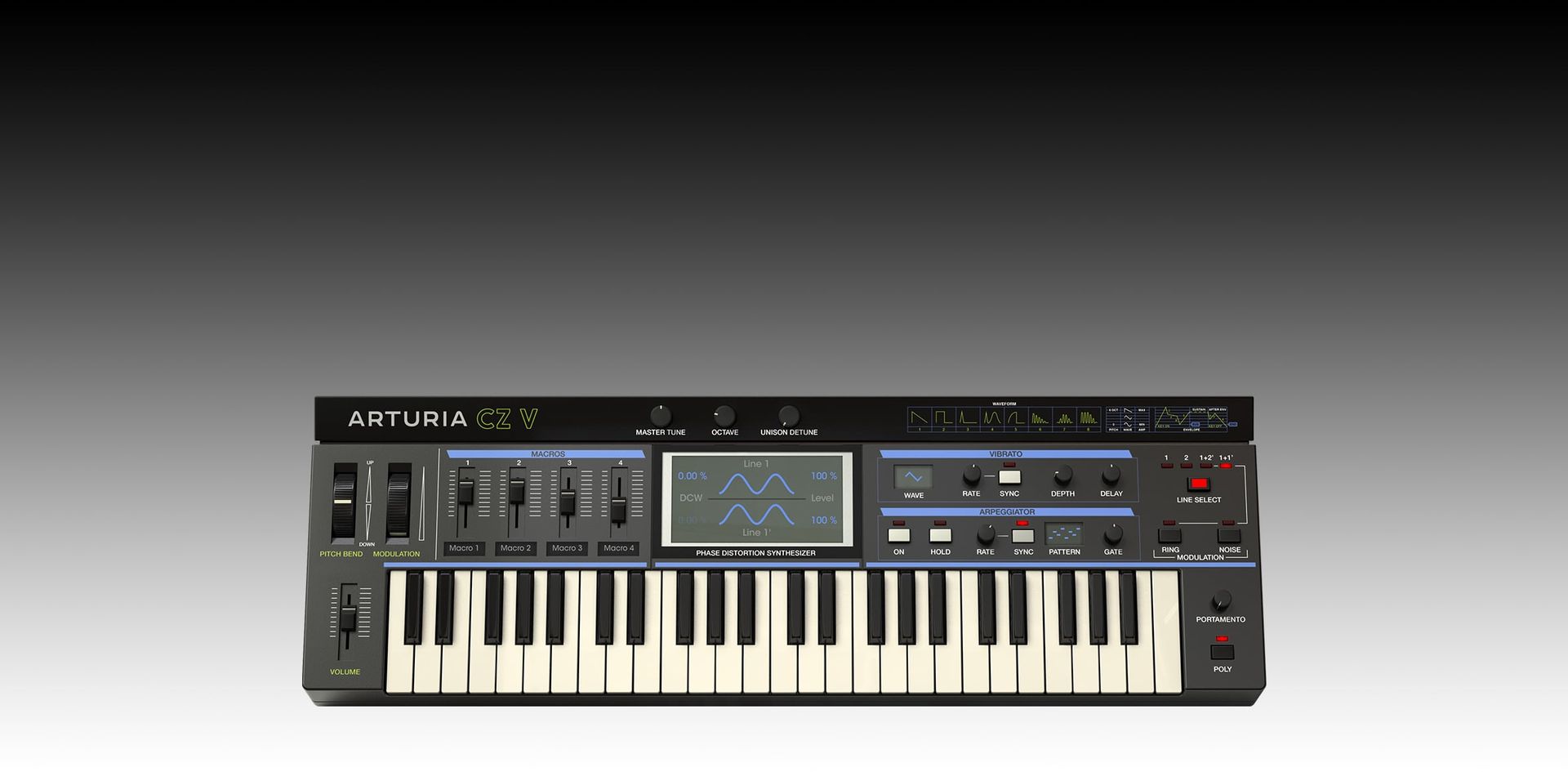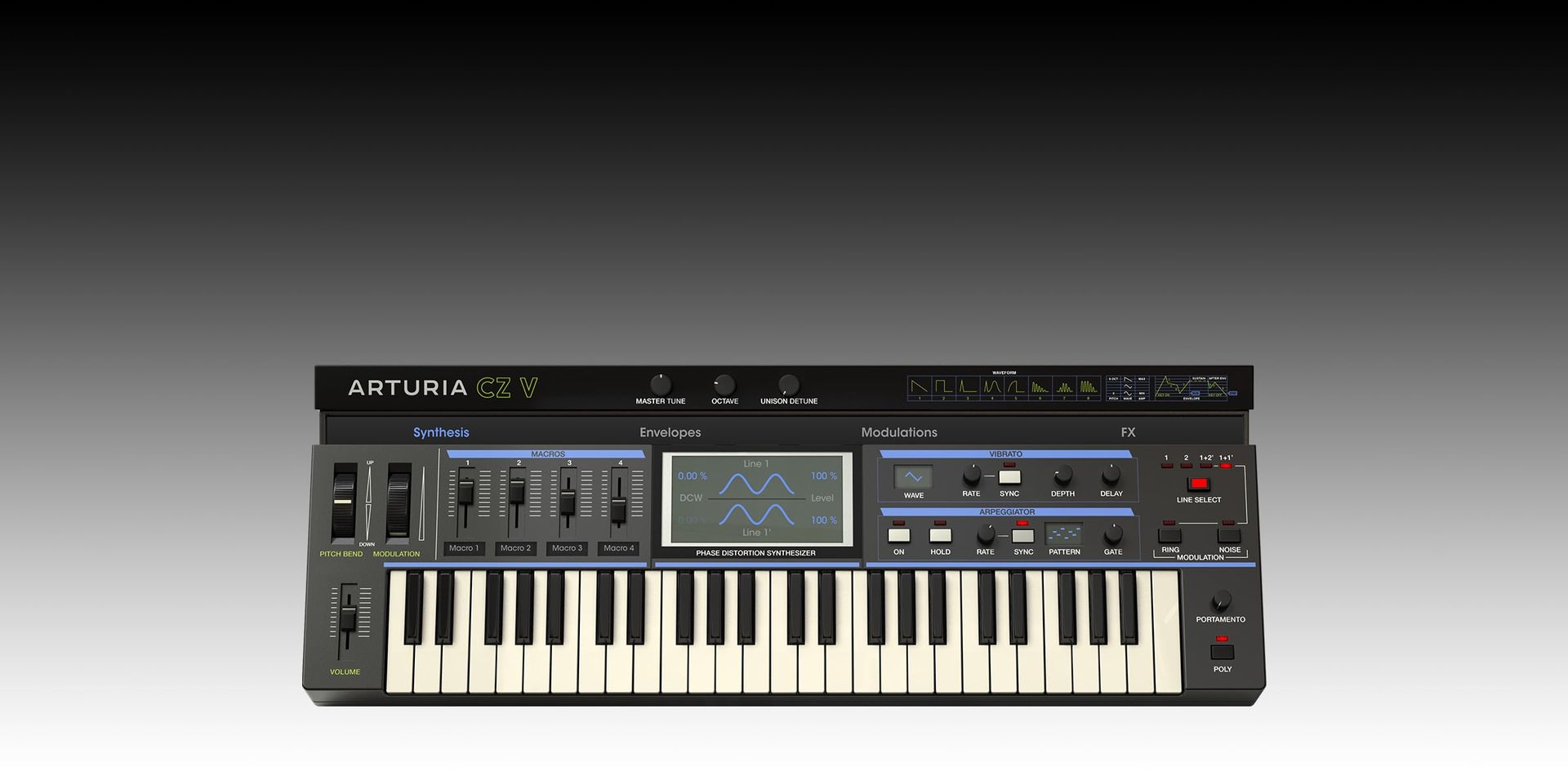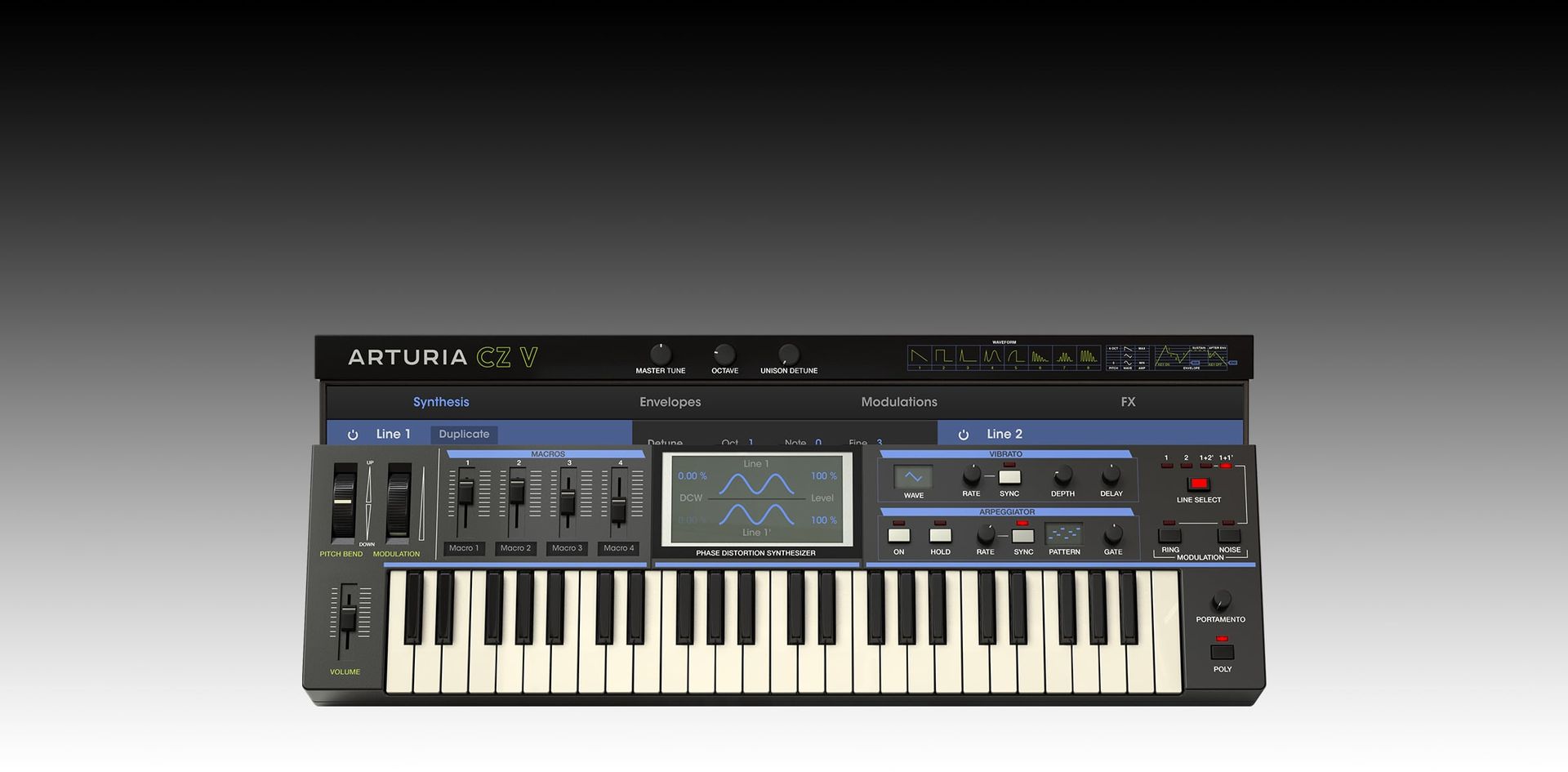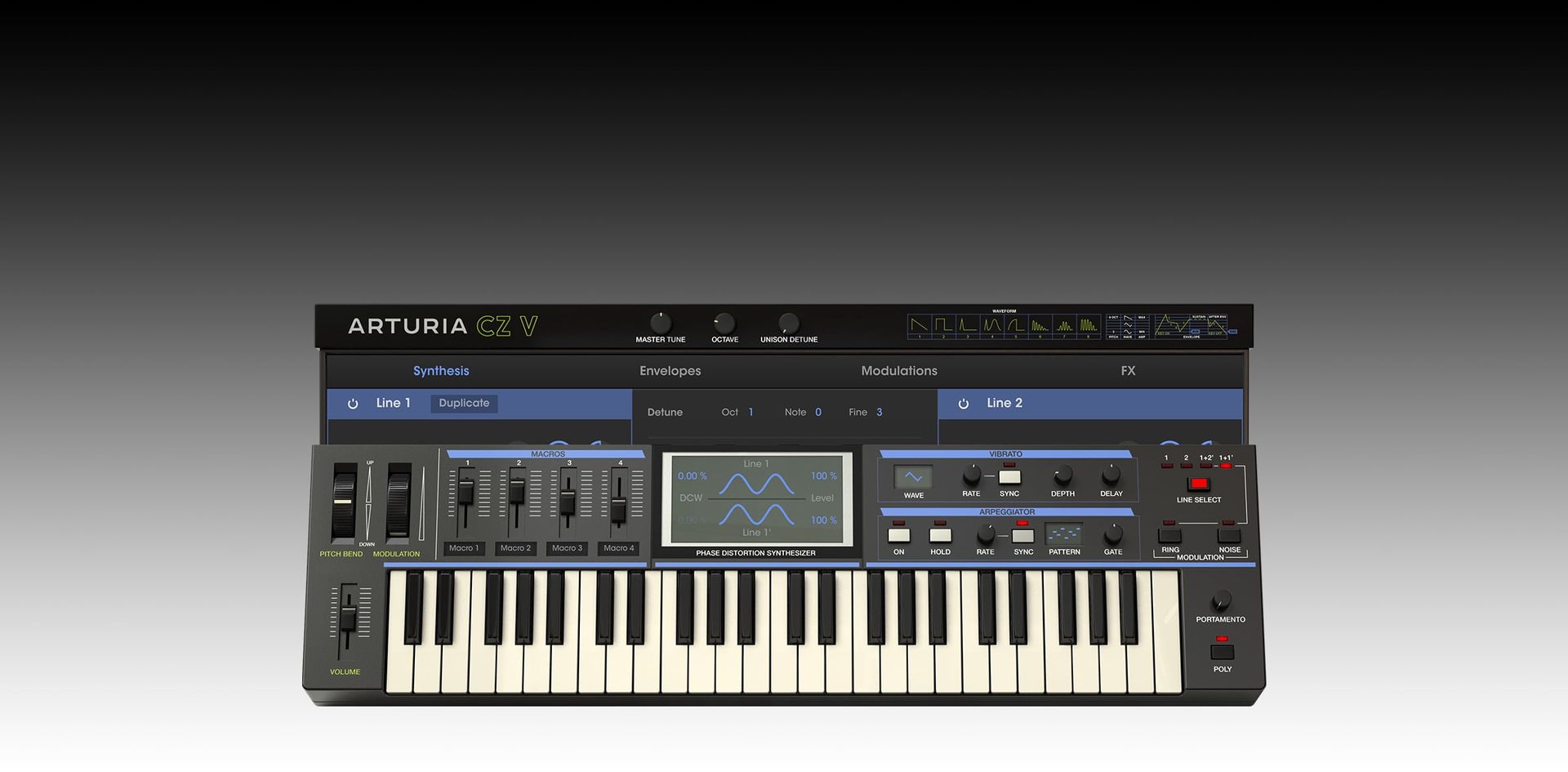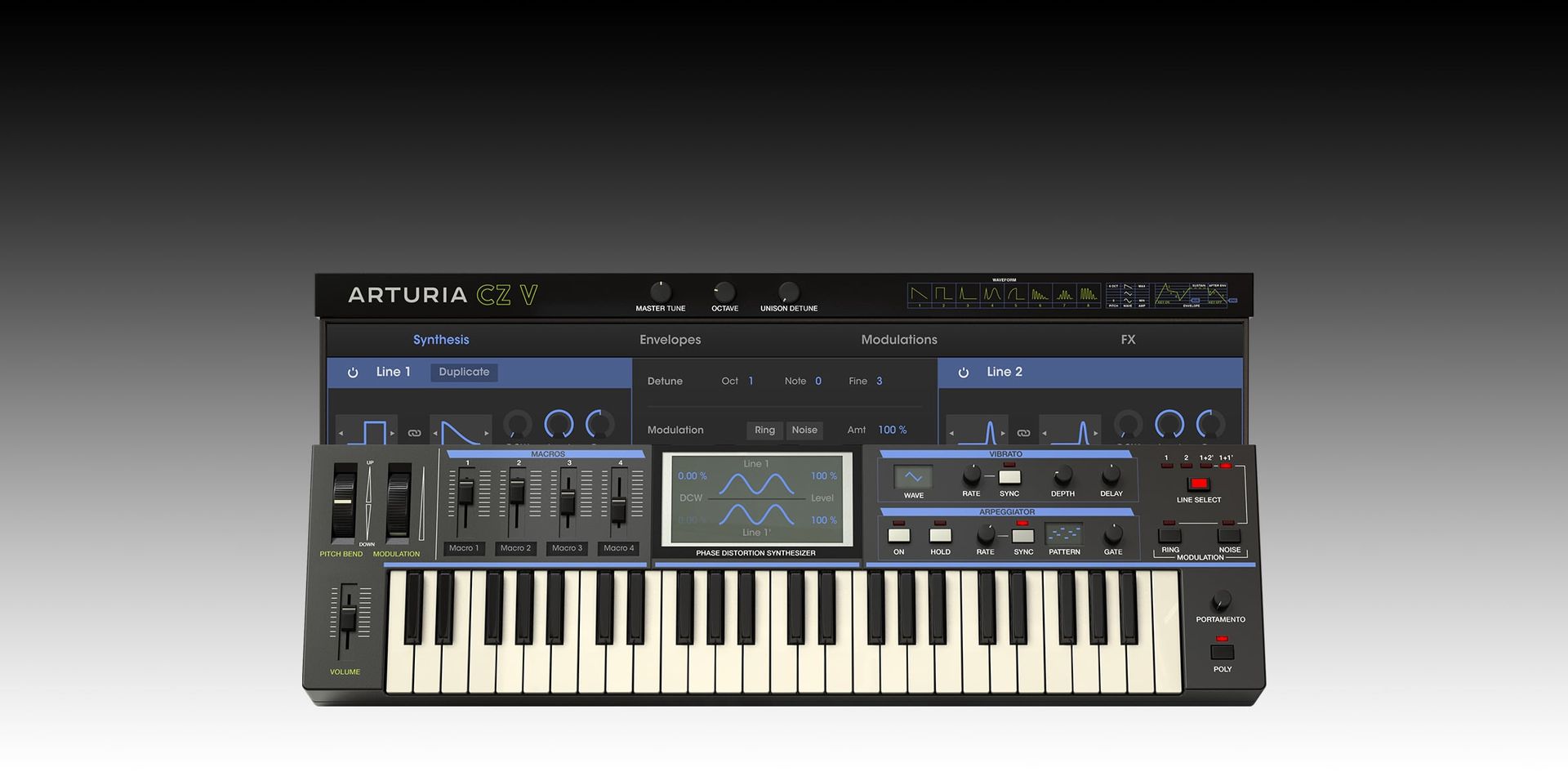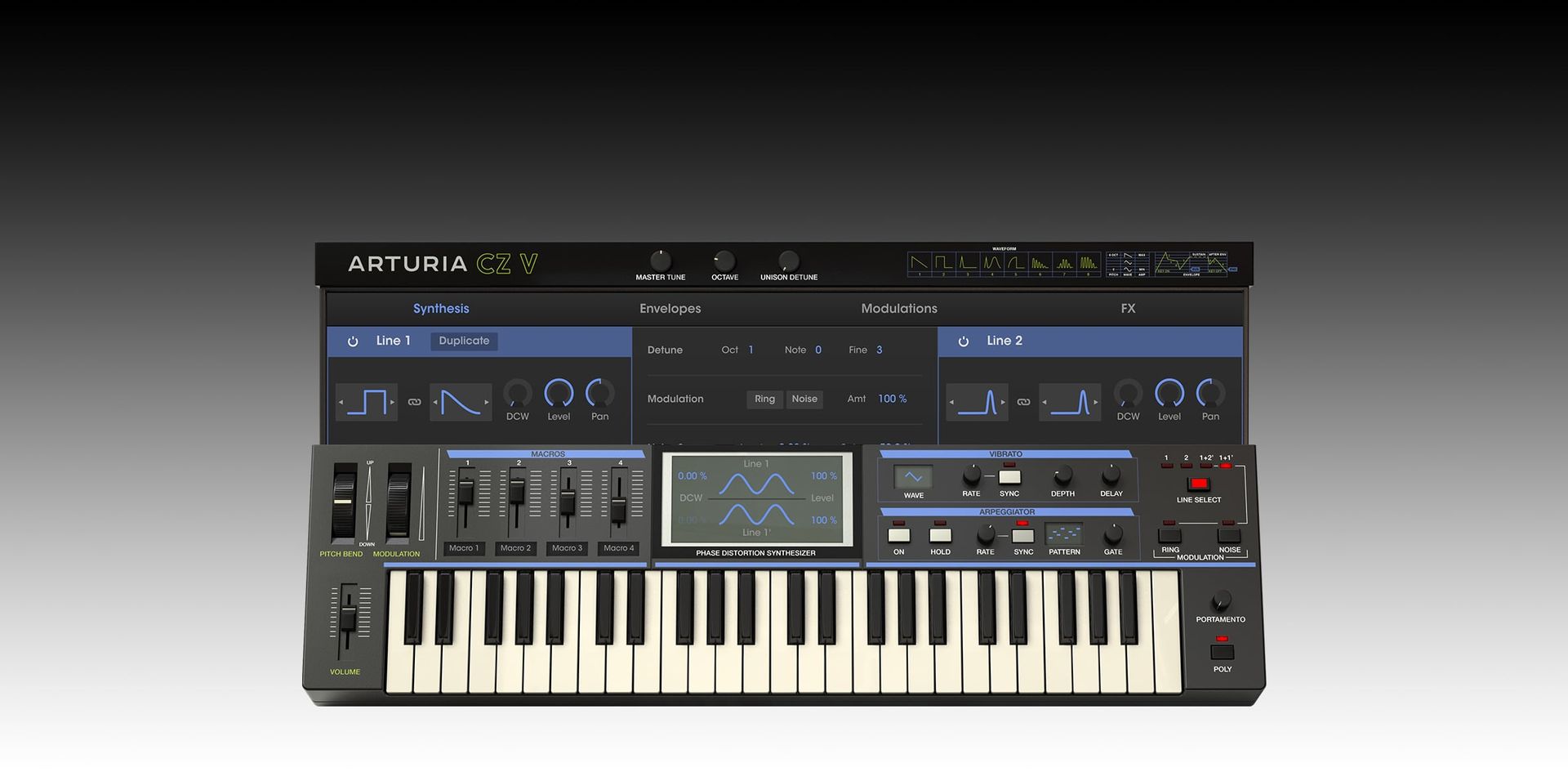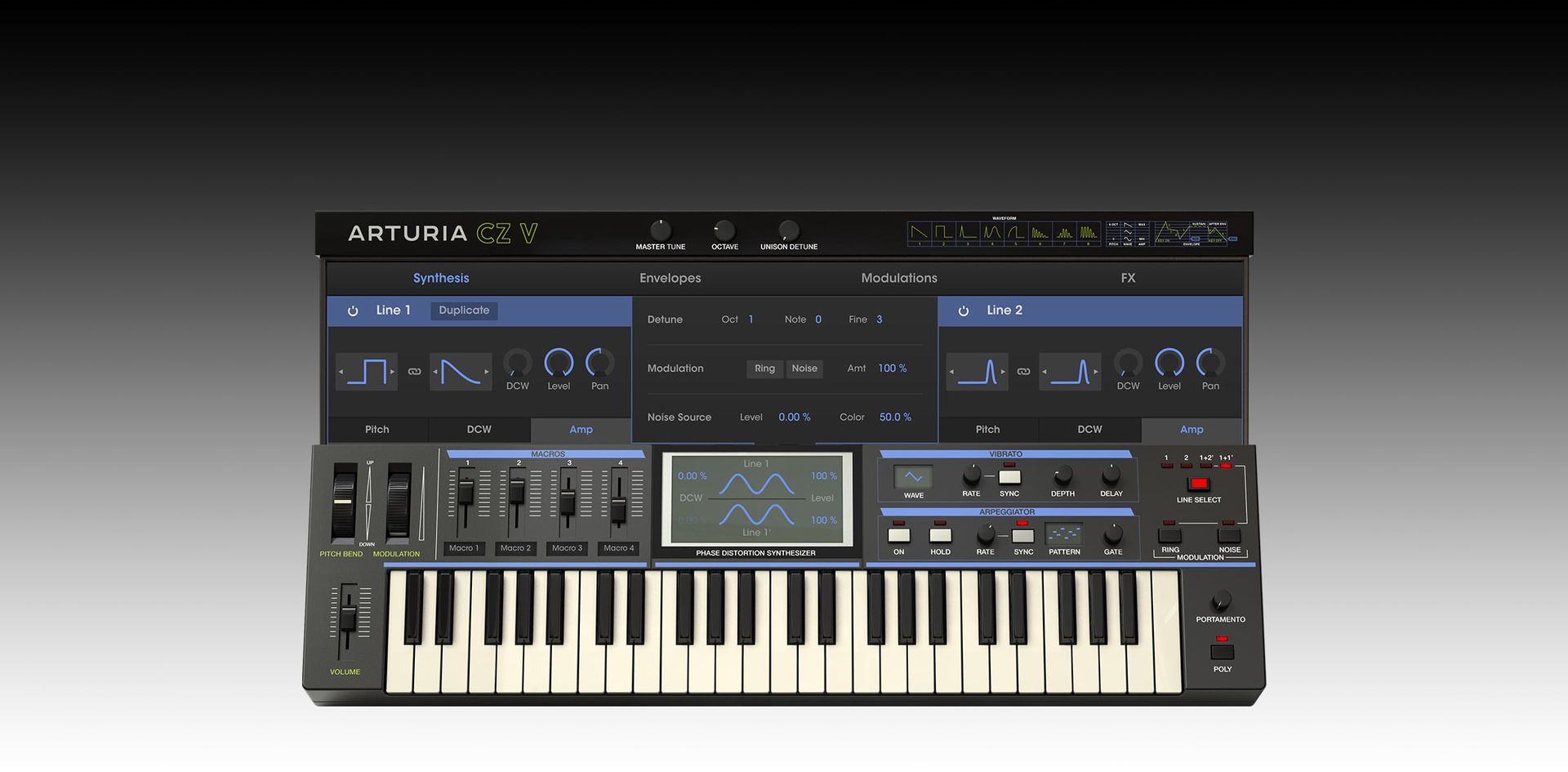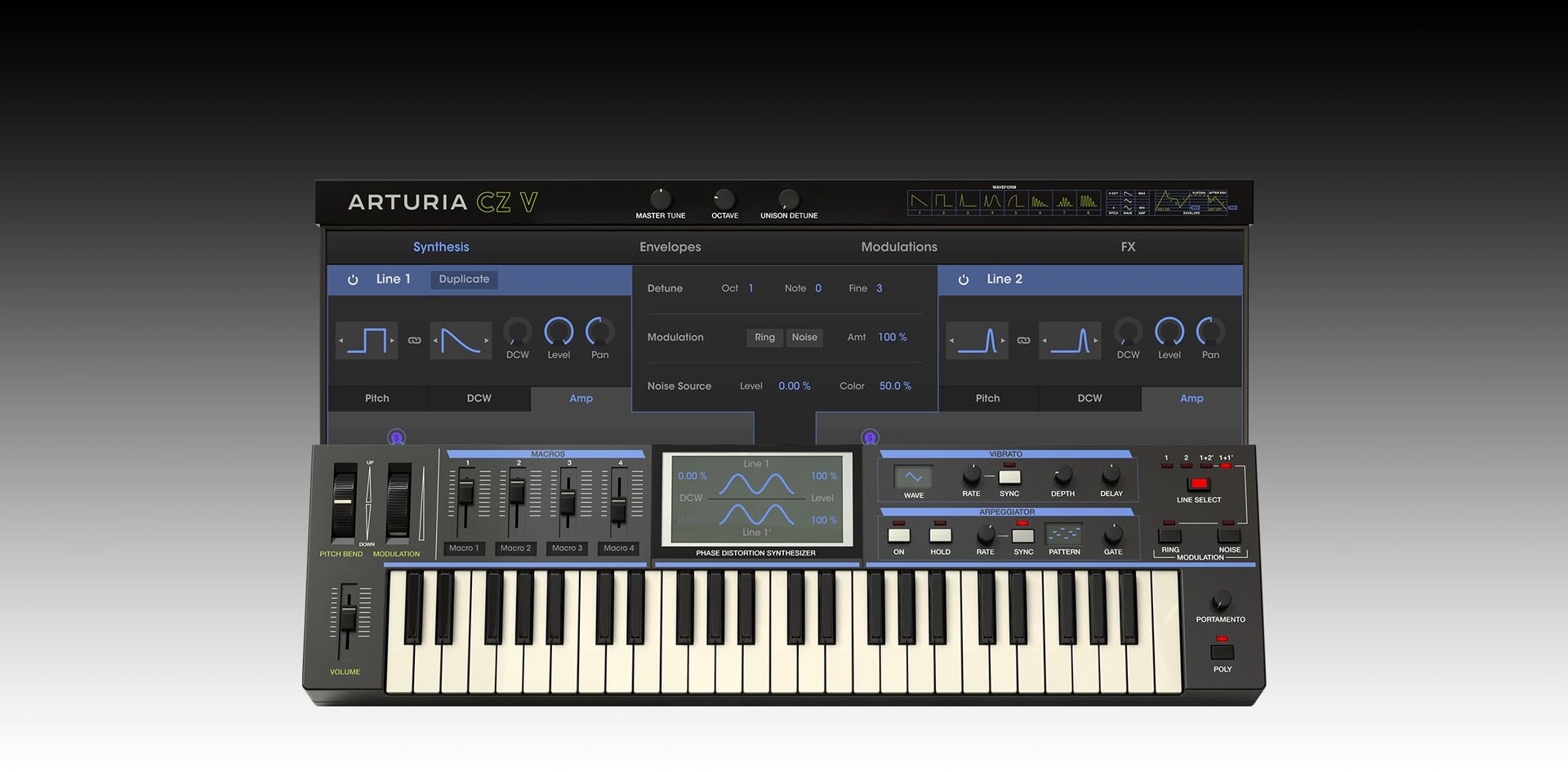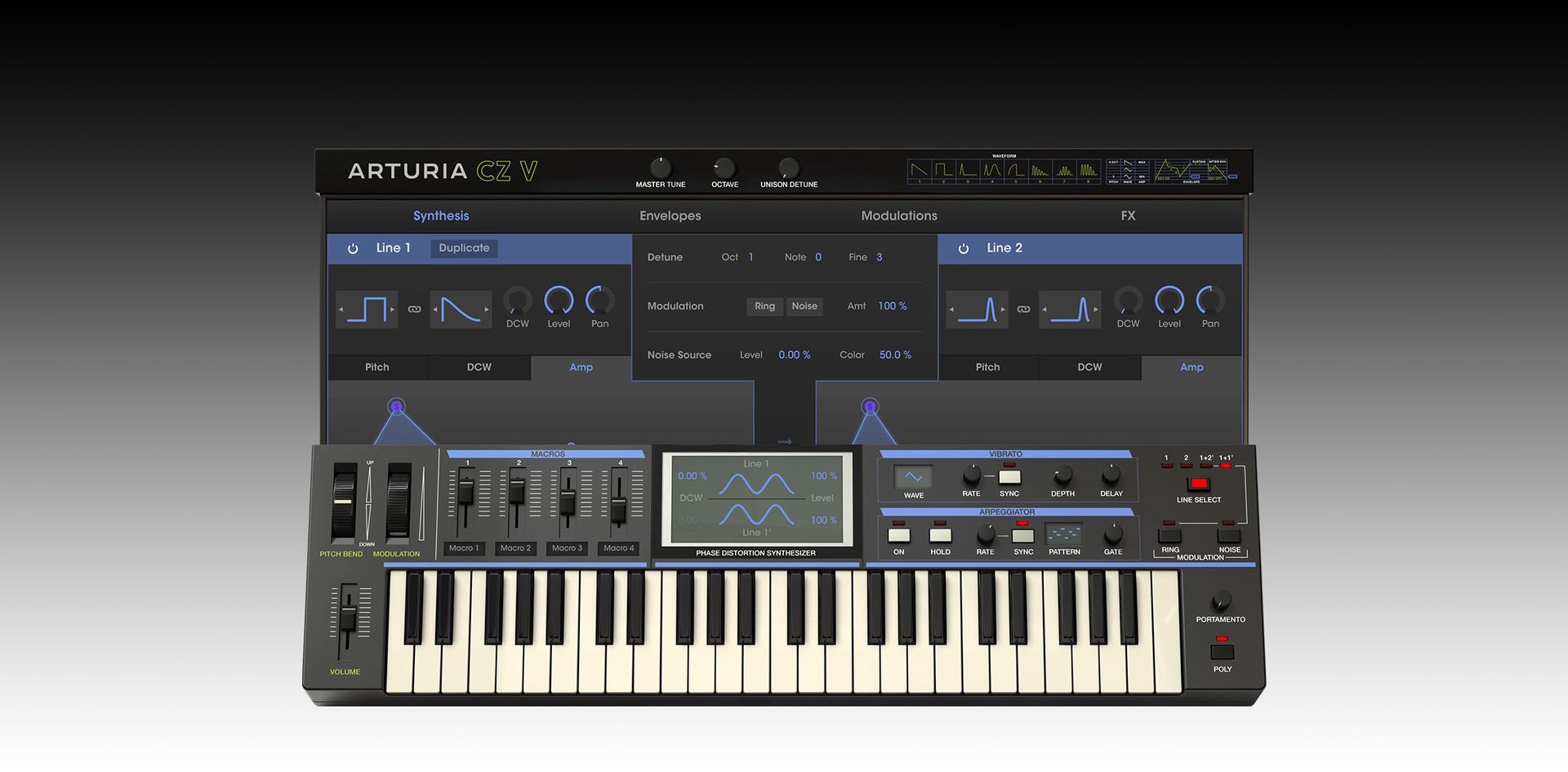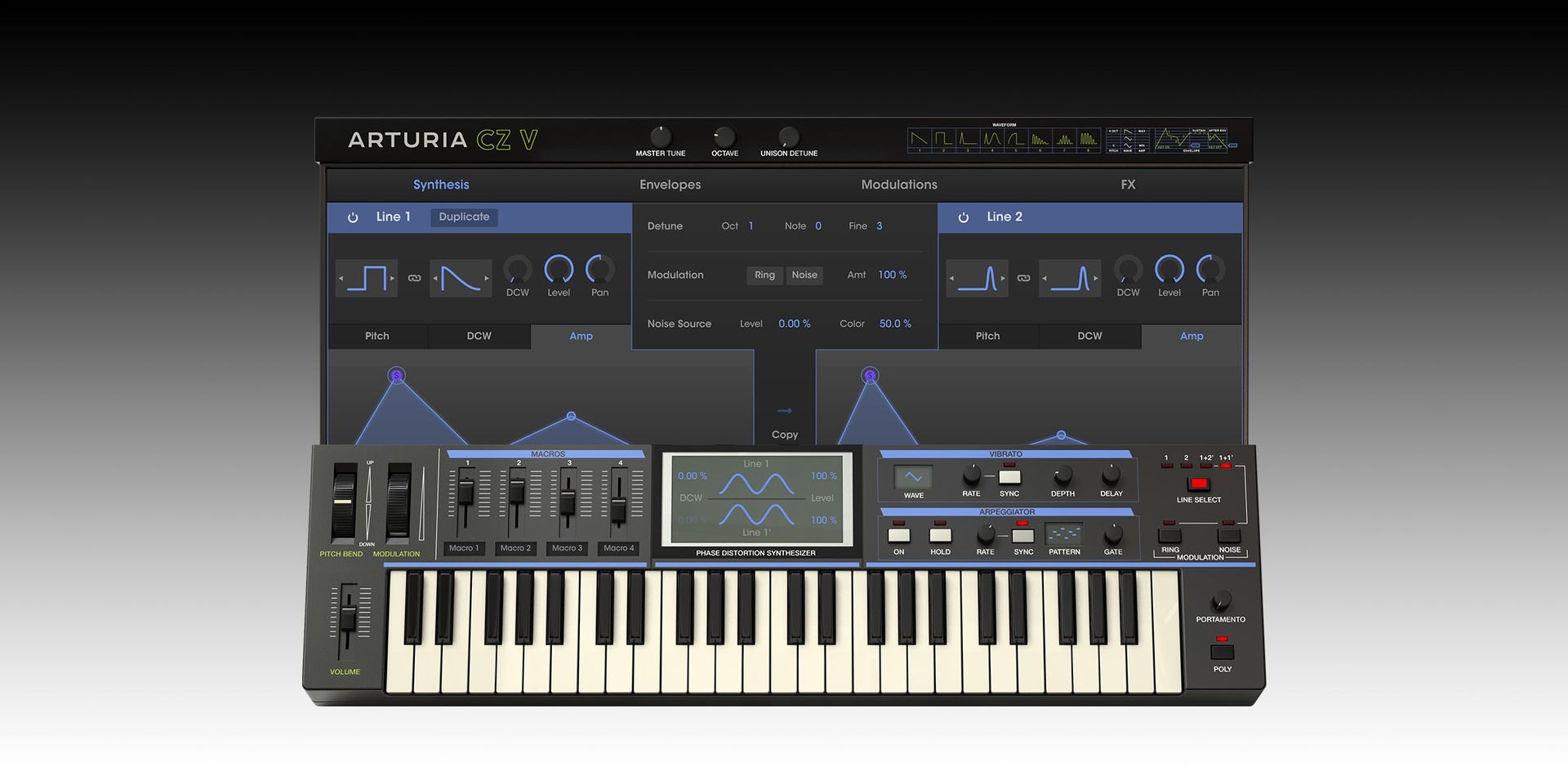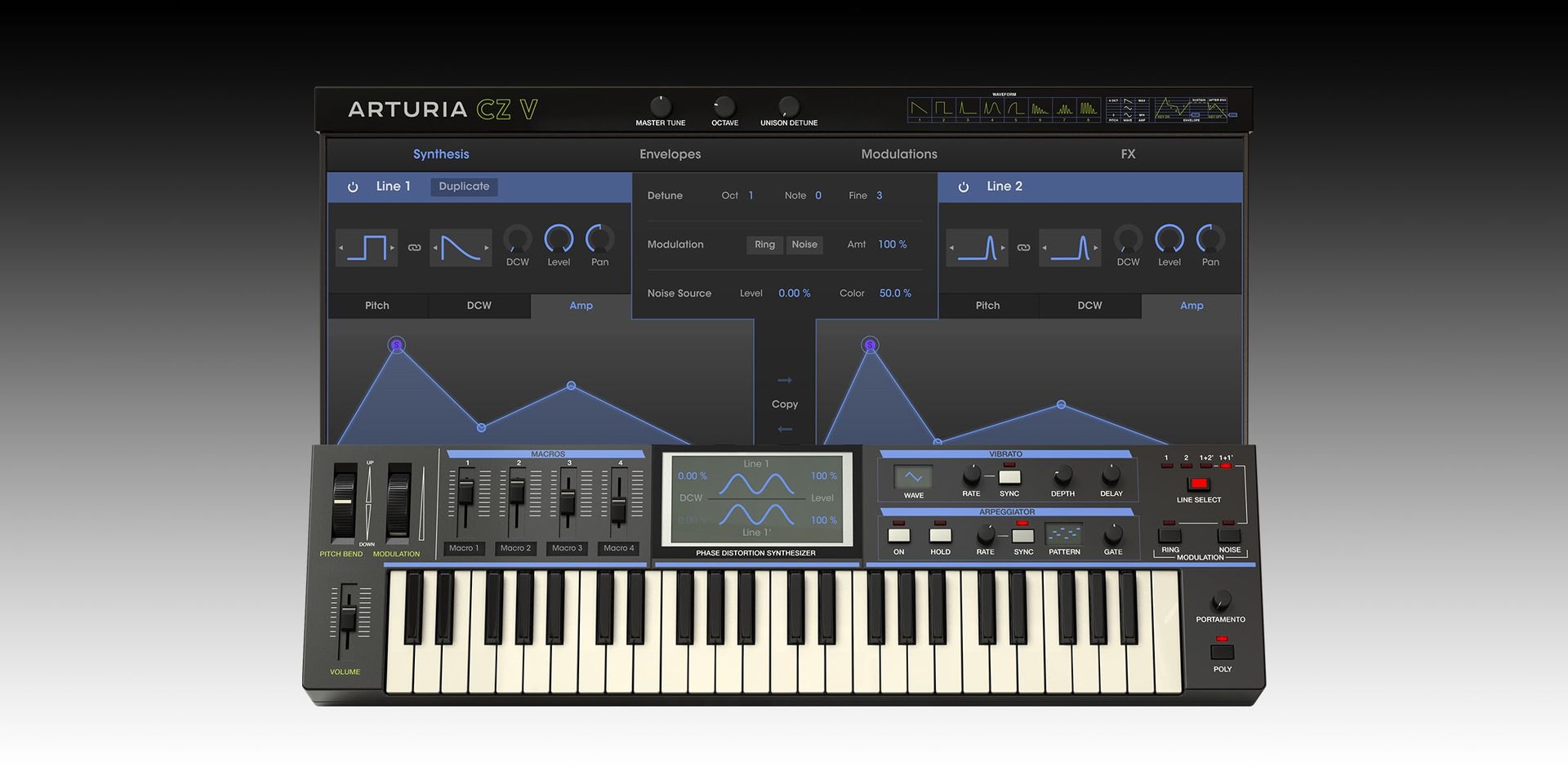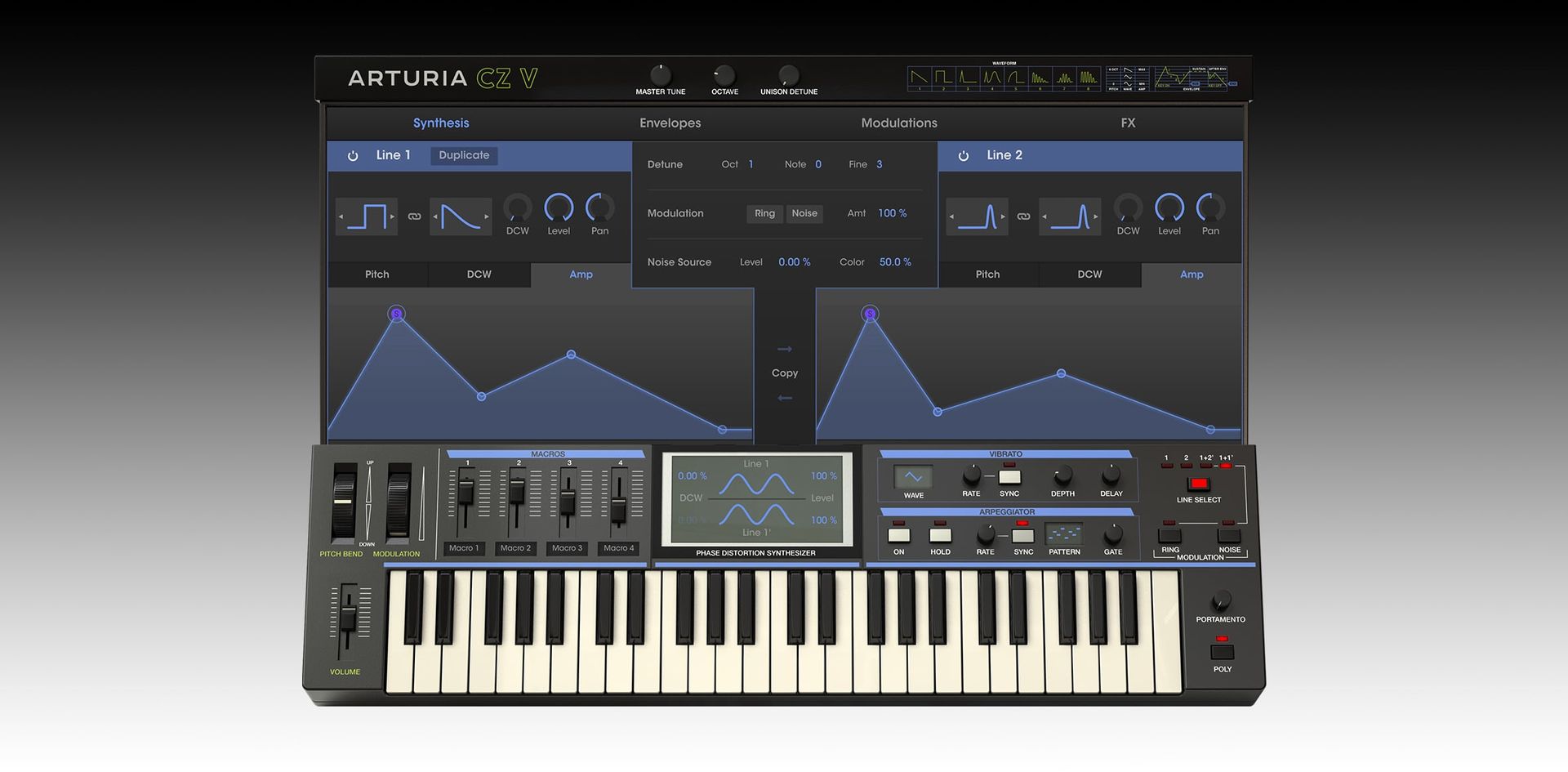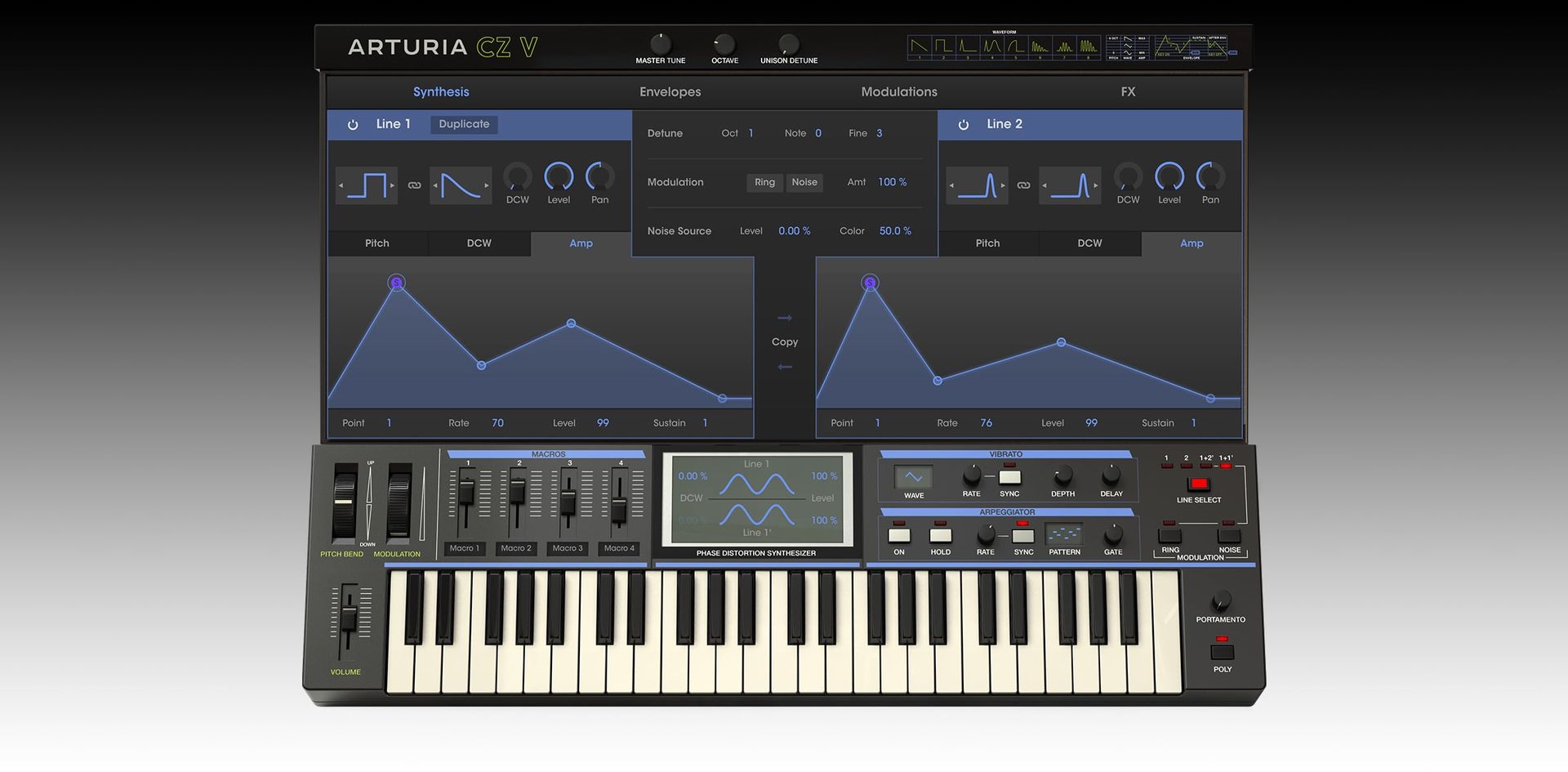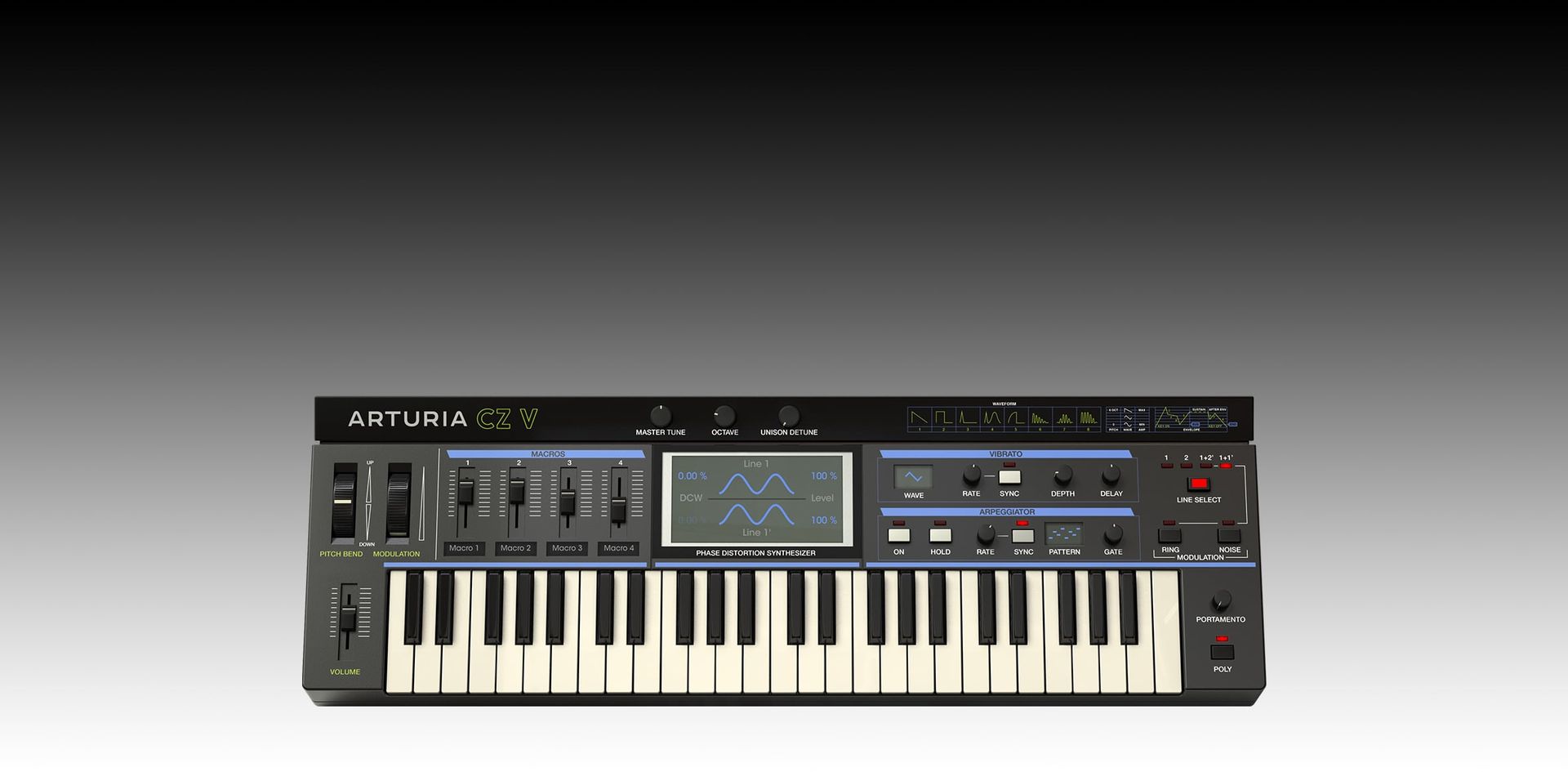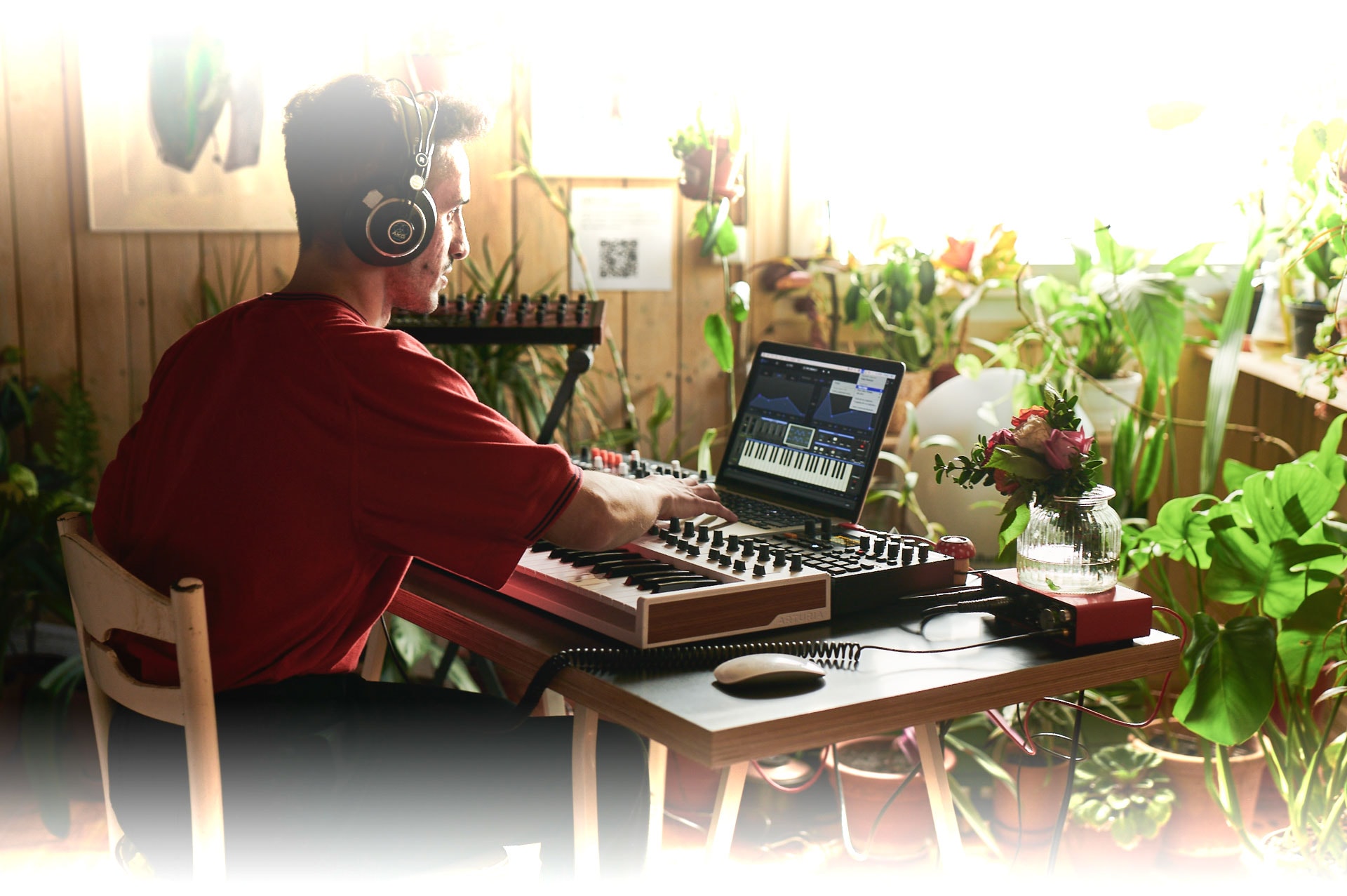 Enhancements
Our major enhancements offer plenty of big reasons to love CZ V. We've also given lots of attention to other details designed to open up your creativity.
Custom phase editor
Easily choose between the 8 waveforms for each line's shape. You can also create your own thanks to the custom phase distortion editor.
More noise options
In addition to using noise for modulation, you can now mix it in as a sound source—complete with coloration from a bandpass filter.
Unison mode
Stack up to 8 voices in unison with a global detune amount for super fat leads and basses.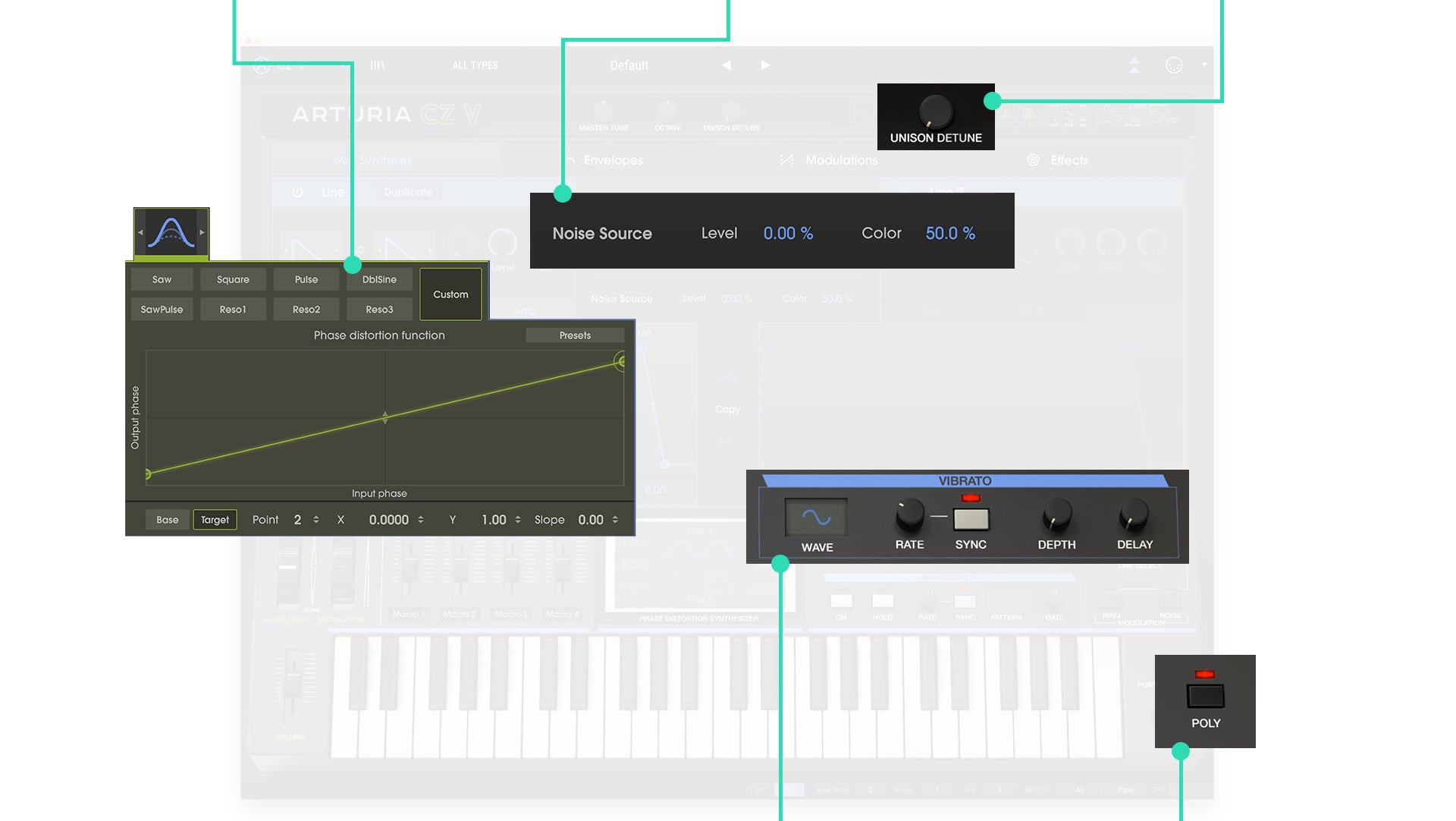 Expanded vibrato section
Use the enhanced vibrato section more creatively with the option to sync to divisions of your host BPM—plus added switch in new sine and sample/hold waveforms.
Expanded polyphony
Play up to 32 voices at once versus the original eight max—depending on the configuration of the patch.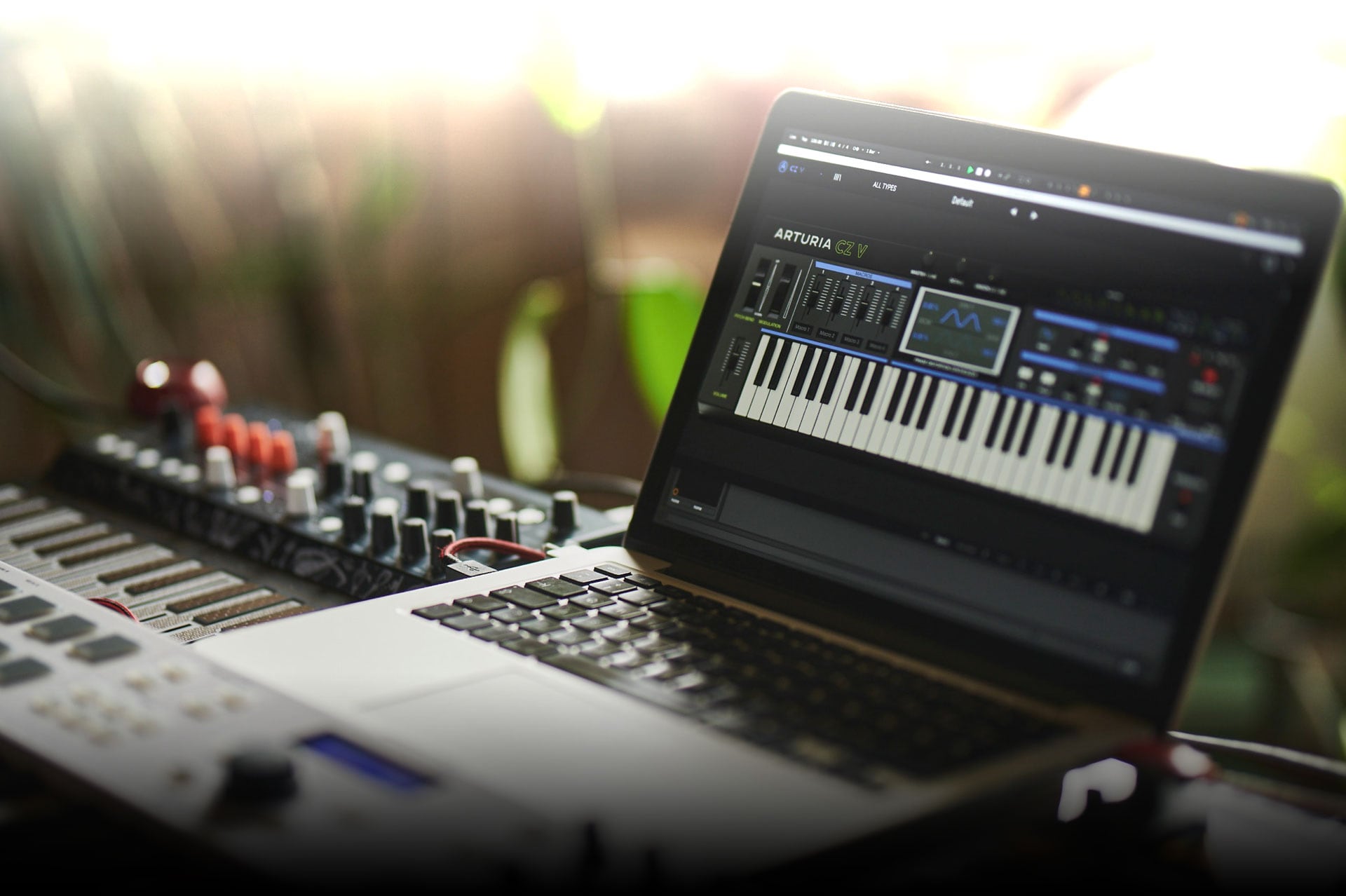 Effects
With CZ V's complement of onboard modern effects, everything you need to round out your sound is built right in.
Outboard chorus units were so popular with early CZ owners that Casio built the effect into their later CZ-3000 and CZ-5000 synths. And so we did it too. We've modeled our own chorus, plus added eight other modern processors—beat-syncable delay, multimode filter, overdrive, bitcrusher and more. Configure the four effects slots as a single chain for line 1 and 2, or as separate two-slot chains for each line. You can even target key effect parameters in the modulation matrix. Want to add the VCF that Casios never had? Just put the multimode filter in your effects chain, choose the filter type, and use the modulation matrix to target its cutoff frequency with one of the new modulation envelopes. Boom!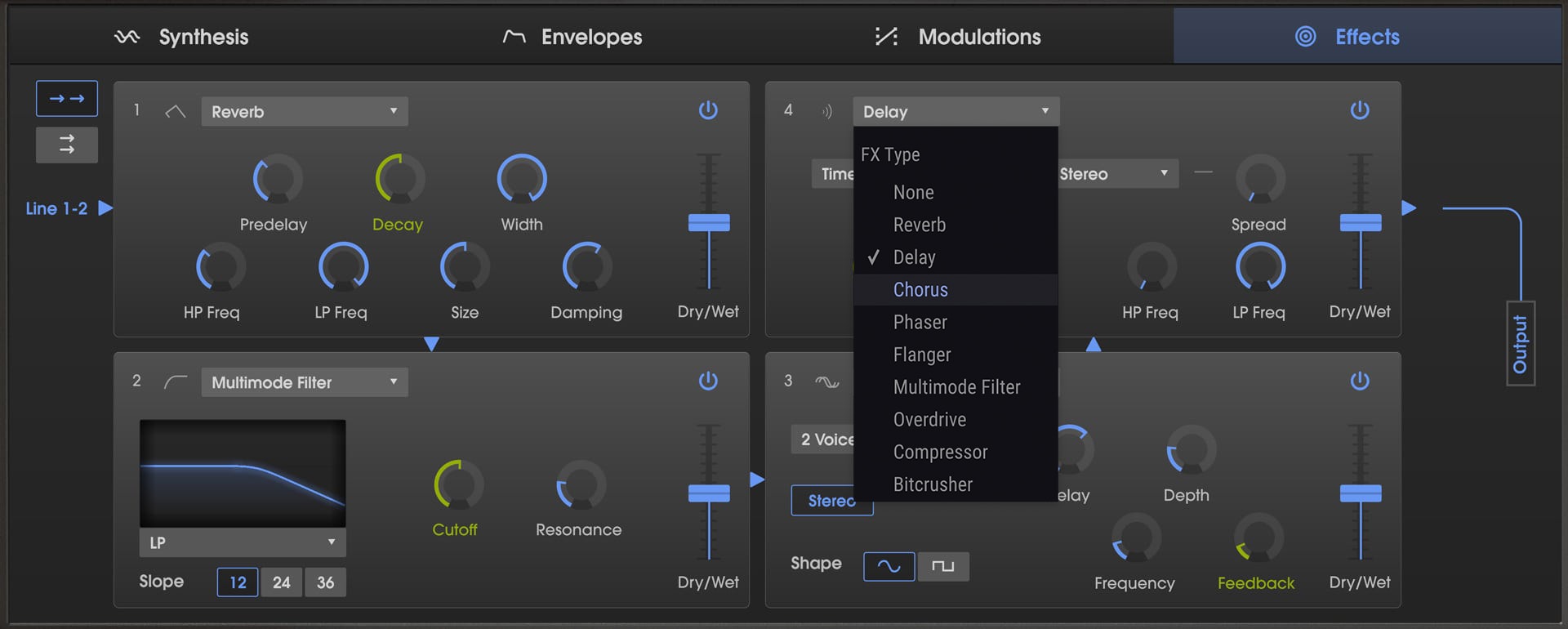 Hundreds of kick-ass presets
CZ V contains more than 450 presets in a huge variety of tones, sounds, genres, and categories.
Thanks to the skill of some of the world's top synth sound designers and the vital, cutting sound of CZ V's synth engine, you can enjoy a huge variety of amazing preset sounds. Use them as they are, or rework them and personalize them to suit your tracks.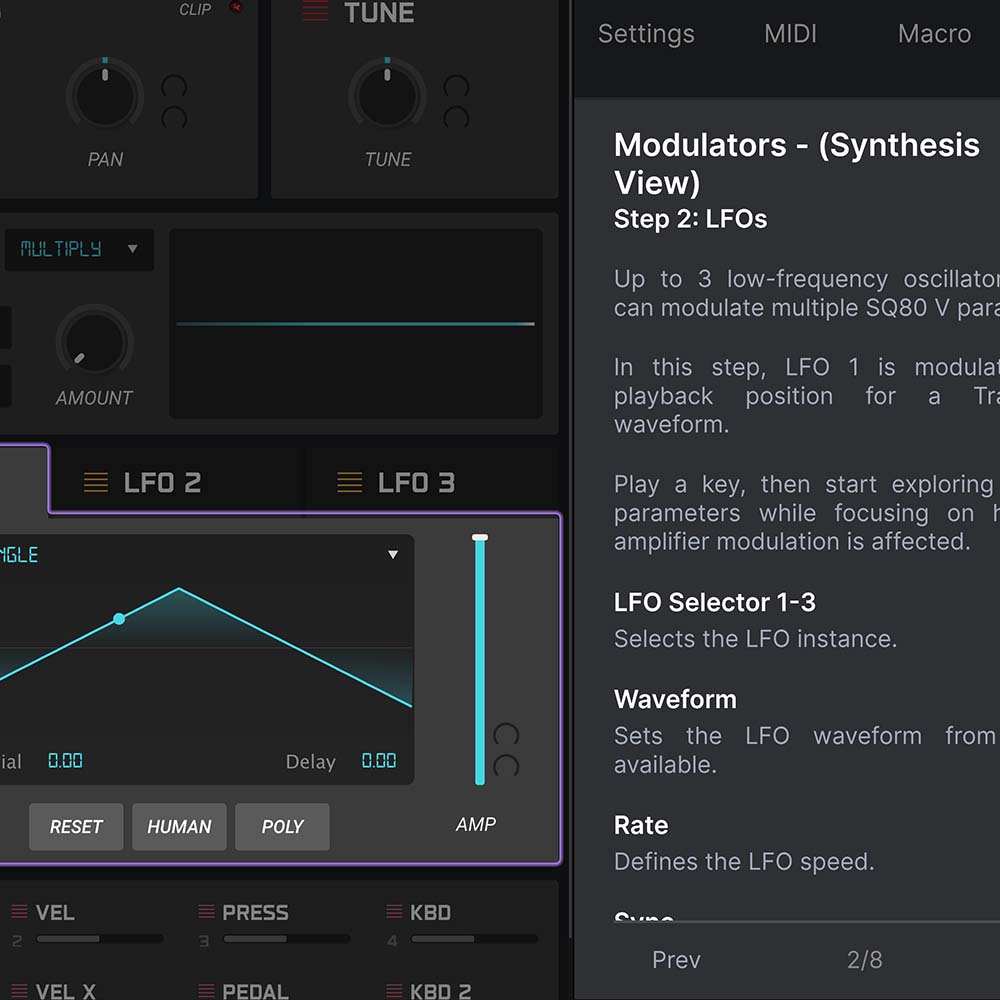 In-App Tutorials
Integrated in-app tutorials guide you through every aspect of the instrument, from individual parameters to tips from our sound designers, so you can focus on the creative stuff. It shouldn't be this easy, but it is!
ASC
Arturia Software Center lets you download, organize, and update all of your Arturia software titles in one place, as well as manage all of your licenses across multiple devices. Keep it simple.
Learn More
Download the ASC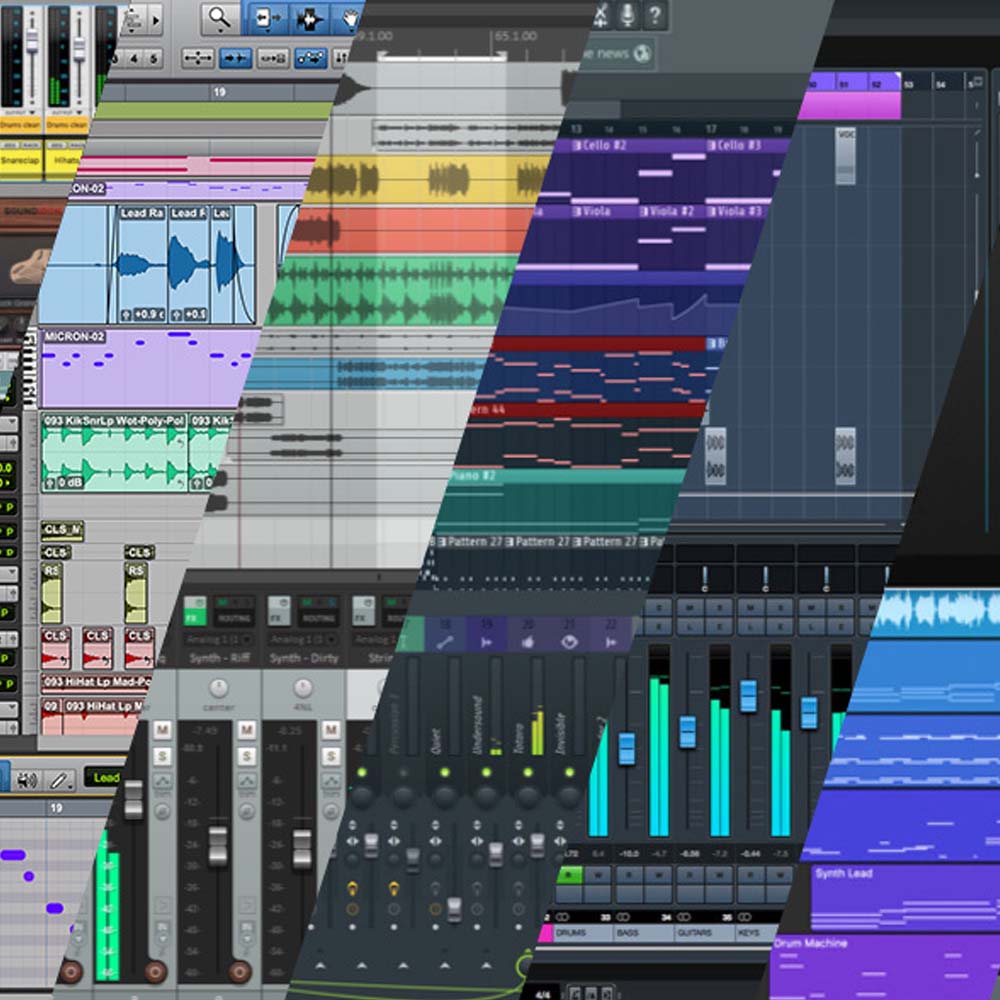 DAW ready
Our virtual instruments and plugins are designed to fit right into your setup without hassle. Whatever your style, you can explore sound while enjoying full compatibility with major DAWS, on both Windows and MacOS.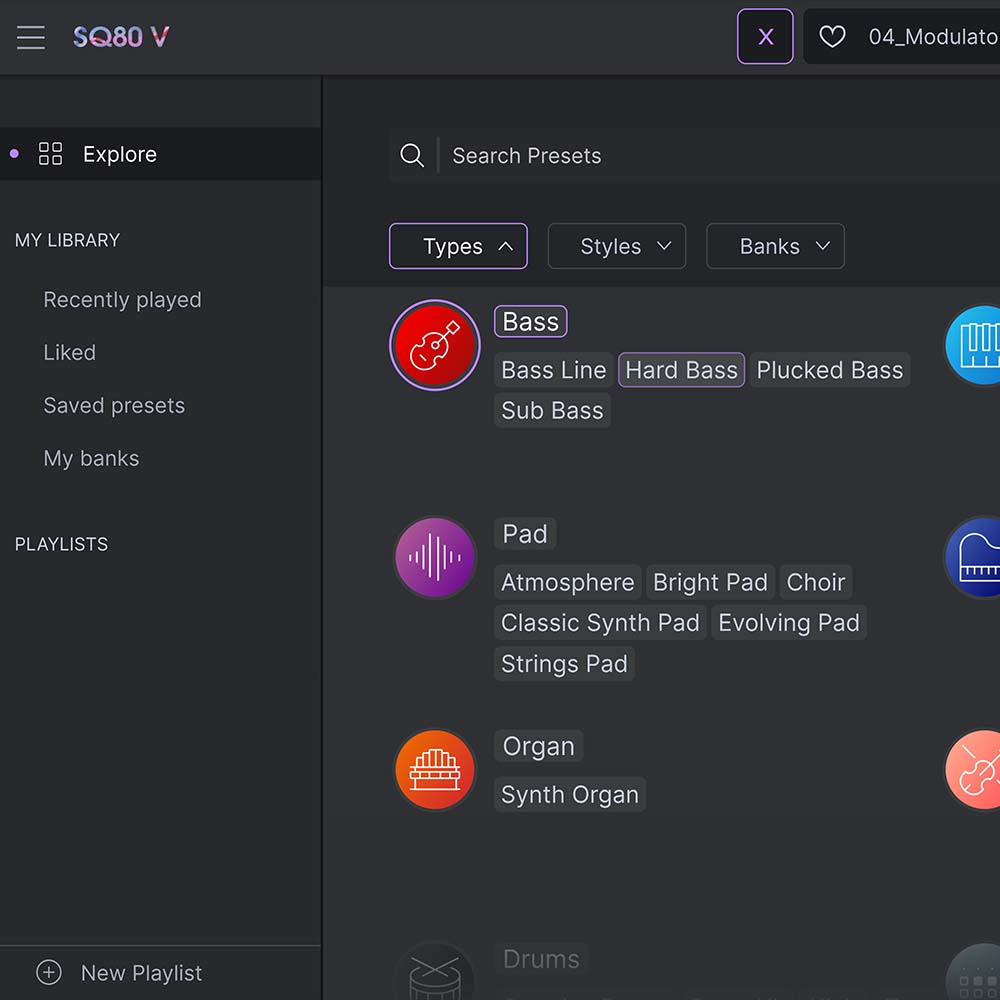 Preset browser
Instantly find the sound that's in your head with intelligent & streamlined preset browsing. Search with keywords, explore by instrument type, musical style, and more - you can even save your favorites to quickly recall later.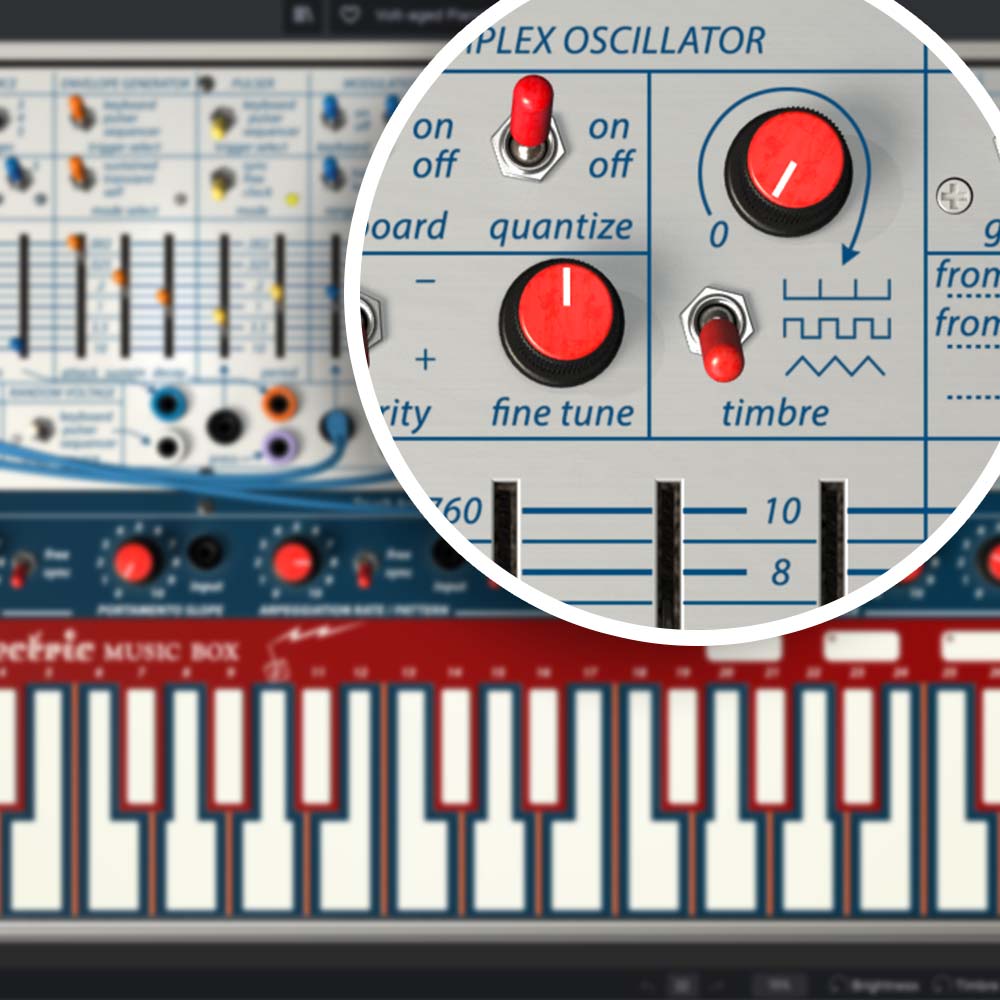 Resizable GUI
Whether you want the full visual immersion of our classic instrument emulations, or to save precious screen real estate, the interfaces for all of your Arturia virtual instruments can be resized to a scale that suits you.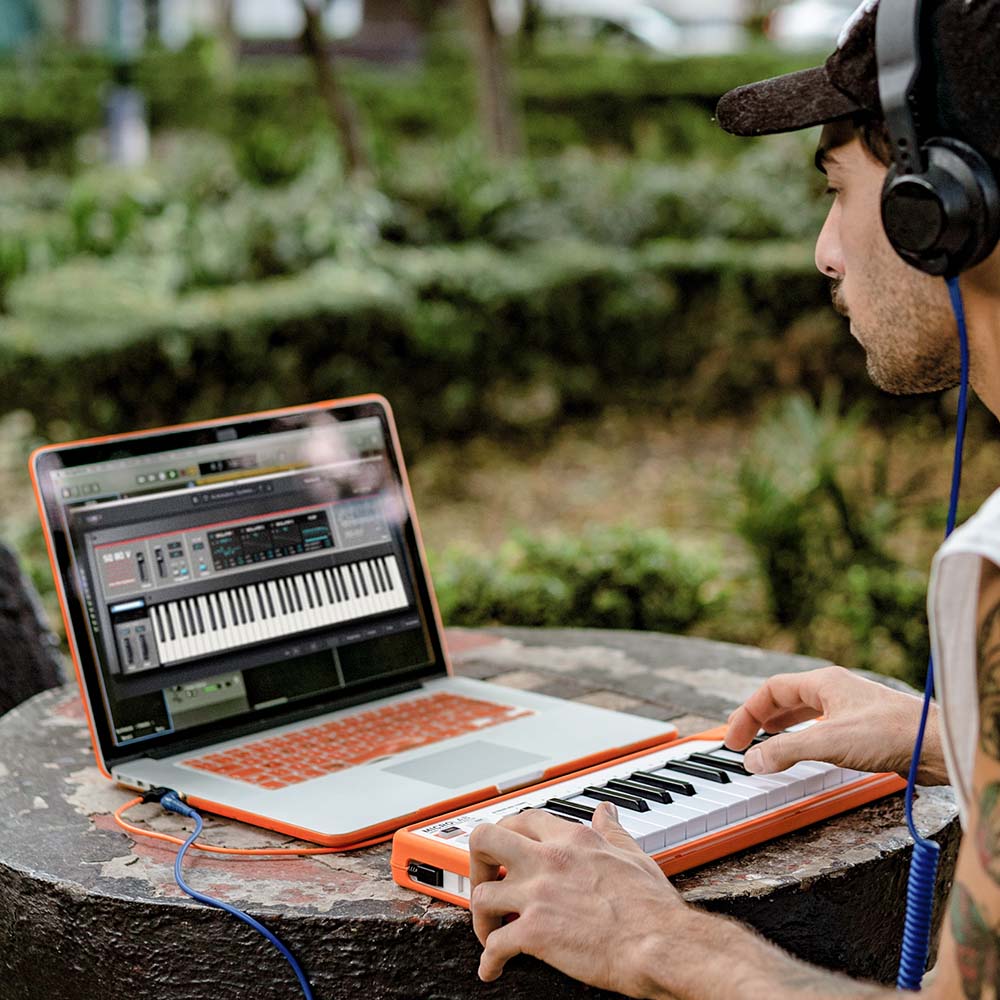 Perfect integration
Instruments come seamlessly mapped for the Arturia KeyLab range - but they'll place nice with other MIDI controllers too. Instant sound tweaking macros, easy DAW integration, and standalone operation.
Platform specifications
: Win 8.1+ (64bit) PC: 4 GB RAM; 2.5 GHz CPU.
2GB free hard disk space
OpenGL 2.0 compatible GPU
: 10.13+: 4 GB RAM; 2.5 GHz CPU.
2GB free hard disk space
OpenGL 2.0 compatible GPU
Required configuration
Works in Standalone, VST, AAX, Audio Unit, NKS (64-bit DAWs only).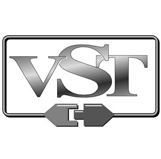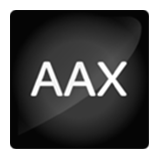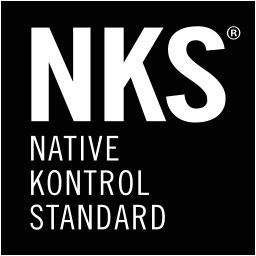 Protection
The software is protected by the Arturia Software Center. You can learn more about it here.
All manufacturer and product names mentioned on this page are trademarks of their respective owners, which are in no way associated or affiliated with Arturia. The trademarks of other manufacturers are used solely to identify the products of those manufacturers whose features and sound were studied during the development. All names of equipment, inventors, and manufacturers have been included for illustrative and educational purposes only, and do not suggest any affiliation or endorsement by any equipment inventor or manufacturer.
Main Features
Two synthesis lines and independent noise source
All CZ-101/CZ-1000 original parameters
8 original waveform and custom waveform editor
Original CZ SysEx import
CZ, DADSR and Multi-Segments envelopes (syncable and loopable) to control pitch, DCW and amplitude
2 Modulation envelopes
4 assignable macros
Advanced modulation matrix
A Sample and Hold module, 2 LFOs with 6 waveforms, 3 sources combinators and an Arpeggiator
4 FXs slots that can be routed in serie or per synthesis line
A synthesis line state viewer for real-time feedback
Emulation of the original CZ DAC
32 voices of polyphony
Up to 8 voices of unison with unison detune
Over 400 factory presets