Bringing back one of the most
popular keyboards of all time.
Working with a mainframe computer at Stanford University in the late '60s, Dr. John Chowning developed a new digital synthesis technology called frequency modulation (FM). In addition to pioneering new sonic territory, it's harmonic complexity and rapid transients promised to be more adept at emulating many acoustic sounds than its subtractive analog predecessor. Seeing this musical potential, Yamaha licensed FM from Stanford in 1973 and patiently refined it as the required hardware could be scaled for marketable application.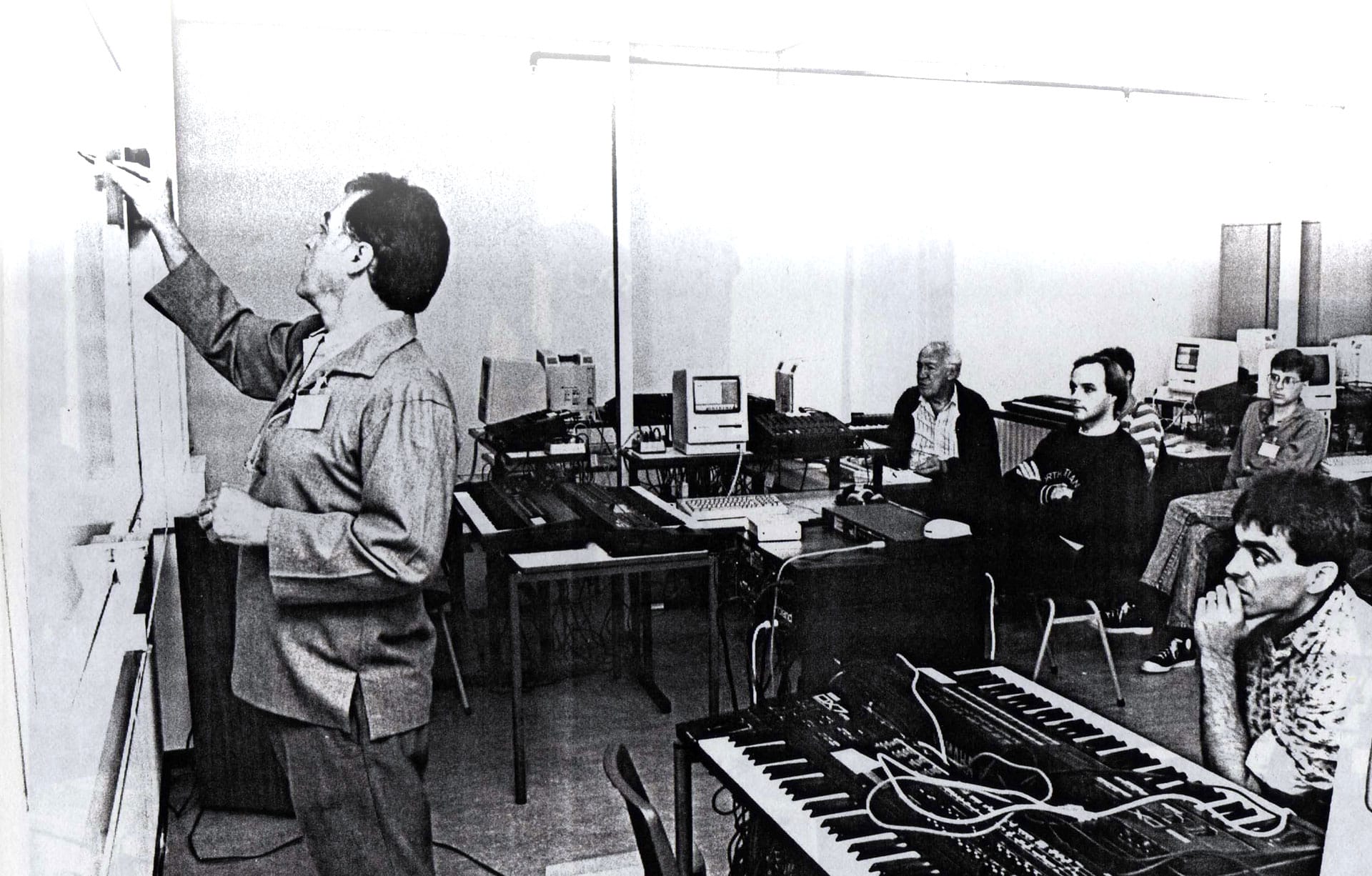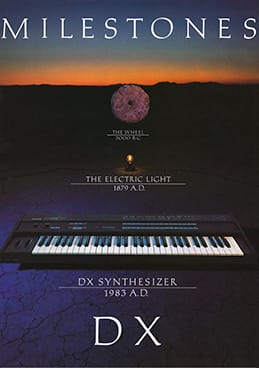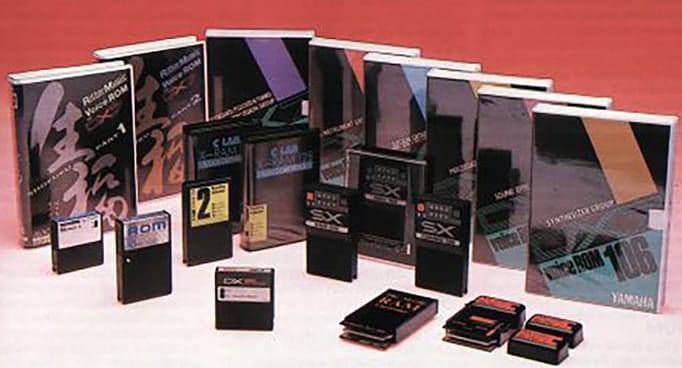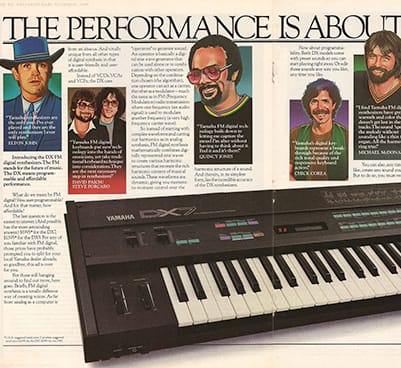 Yamaha's perseverance was rewarded when its 1983 introduction of the DX7 upended the keyboard industry. With a palette of bread-and-butter sounds, a modest price tag, early MIDI implementation and 16-voice polyphony, the DX7 outsold many six- or eight-voice analog polysynths costing significantly more. This made it the first commercially successful digital synthesizer by a landslide, with over 200,000 sold through the rest of the decade. It also spawned over a dozen other FM-based offspring with various improvements, many of which we've also incorporated in the DX7 V.
The DX7 was notoriously difficult to program owing to a seemingly arcane technology and a programming interface that was the opposite of intuitive. The instrument also had only 32 memory locations, which could be supplemented with data cartridges of matching capacity. This confluence resulted in most musicians and producers re-using the limited palette of stock patches or third-party libraries that wound up helping to define the soundtrack of the '80s.
The DX7's iconic pseudo-slapped bass patches rocked the bottom end of chart-toppers like Howard Jones' "What is Love" and A-ha's "Take on Me". Its crystal-clear electric pianos supplanted the bulkier and more temperamental Fender Rhodes on zillions of pop and R&B tunes including Phil Collins' "One More Night" and Steve Winwood's "The Finer Things". The instrument's aptitude for mallet percussion was displayed on tracks like Sting's "Love is the Seventh Wave" and Harold Faltermeyer's famous "Beverly Hills Cop" movie theme. Tina Turner's "What's Love Got to Do With It" is a DX7 tour de force, showcasing it on bass, electric piano, flute and harmonica.
Now you can infuse the sounds that defined '80s hits into your music today.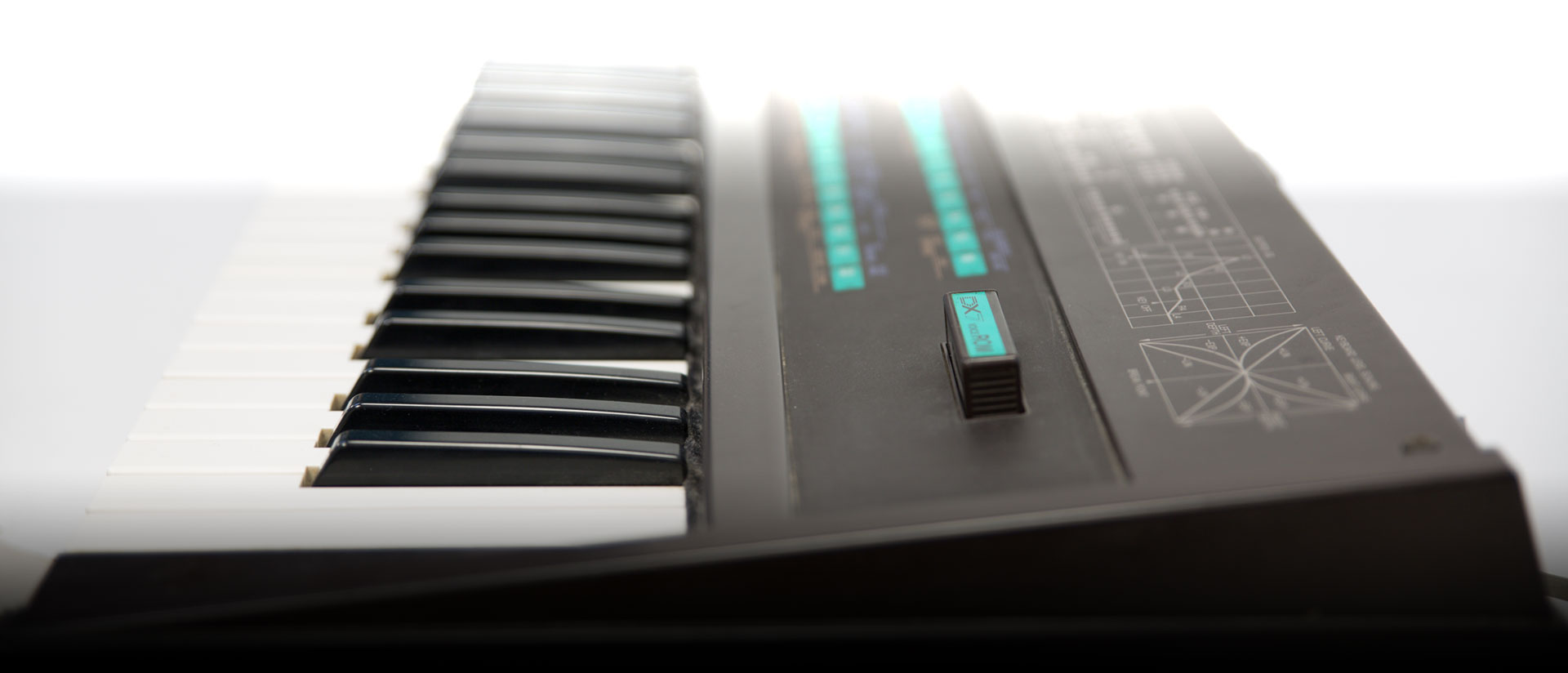 A different breed of synthesizer
Arturia's acclaimed engineering delivers a faithful recreation of the instrument that brought the unique sound of FM digital synthesis to the masses.
At its simplest, FM creates sound by modulating the frequencies of one signal (called the carrier) with those of another signal (called the modulator) at audio rates, resulting in much more complex harmonics. Just as with FM radio, changes to the frequency and amplitude of the modulating waveform can radically alter the sound. Let's dig a bit deeper.

Operators
The DX7 V's six signal generators—called operators—can be used as carriers or modulators. Each operator consists of a simple oscillator with its own frequency and level controls, plus a dedicated envelope-controlled amplifier. In general, the envelope of a carrier operator controls the amplitude of the overall sound over time, while the envelope of a modulating operator changes the timbre. Engaging keyboard tracking further affects operator amplitude over the note range, the most common application being the emulation of how acoustic timbres change with pitch. Maintaining a fixed modulator frequency provides consistent timbre across the keyboard such as you might desire for a mechanical noise such as a guitar pick or adding a consistent formant to the timbre.
Modulation
The timbre of an FM sound is very dependant on the relationship of the carrier and modulator operators. When the modulator frequency is under keyboard control, its frequency ratio to the carrier determines the basic harmonic profile of your sound, with integer ratios producing more recognizable waveforms and the fractional ones typically resulting in more clangorous, inharmonic ones. Modulator amplitudes also affect timbre, with higher frequencies generally yielding brighter sounds. Modulator level can be influenced by a variety of factors including the associated envelope and keyboard scaling.
Algorithms
A selection of 32 algorithms determines the architectural relationship of the DX7 V's six operators as a combination of carrier and modulating waves. These algorithms provide sonically predictable foundations for creating or modifying sounds with vast timbral possibilities. Carriers are connected directly to the audio output chain, combined in much the same way you would select the number of oscillators on an analog synth. The modulator operators affect those carriers in various hierarchies. Some algorithms also provide a feedback loop for either a single operator or a stack of operators, adding anything from a raspier effect to full-blown distortion.
The DX7 V captures all the capabilities of the keyboard that redefined synthesis.
A user interface finally worthy of FM's capabilities
The DX7 V's beautiful, intuitive graphic display makes it easy to understand and control every aspect of the instrument's formidable array of sonic controls.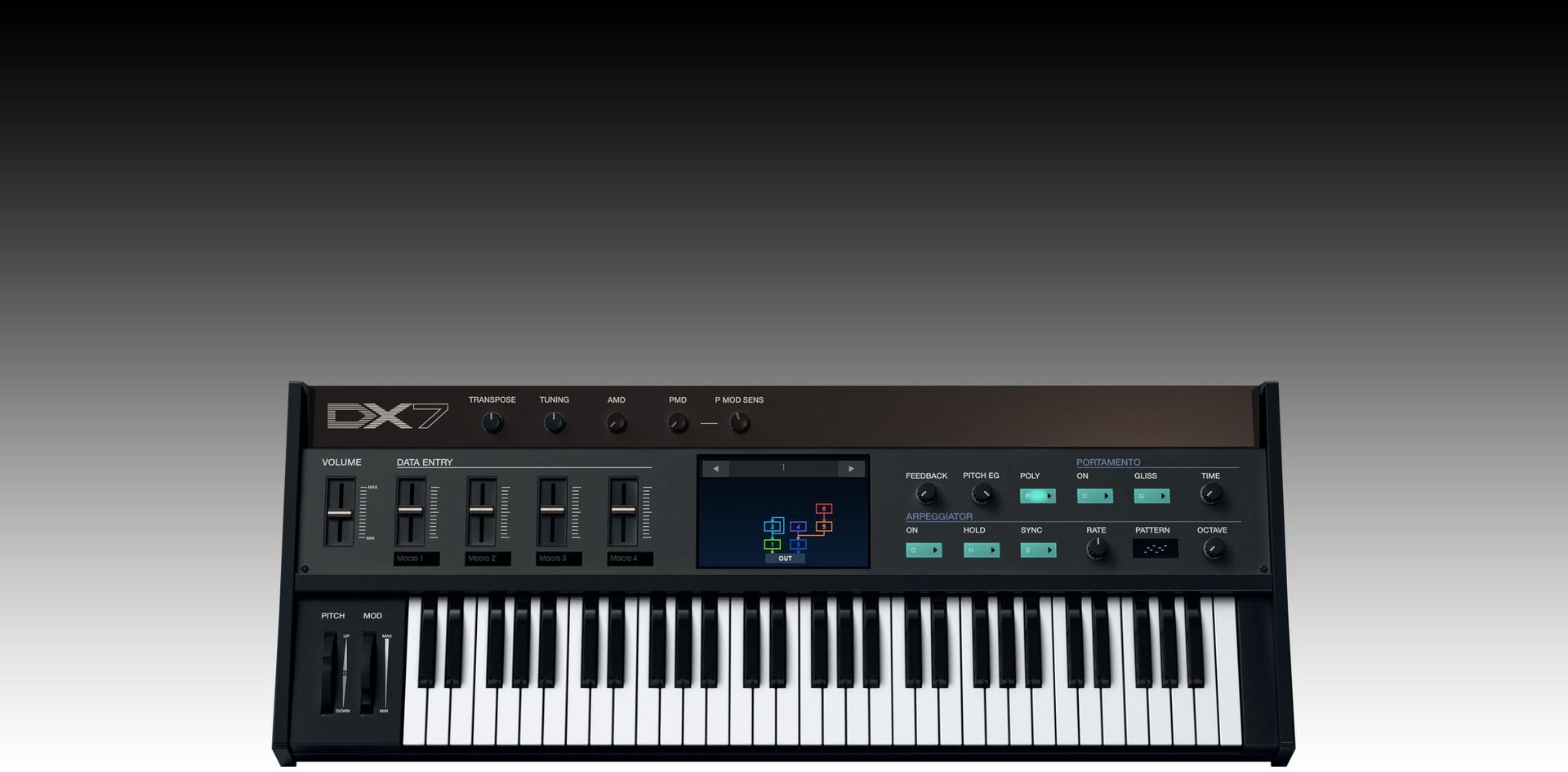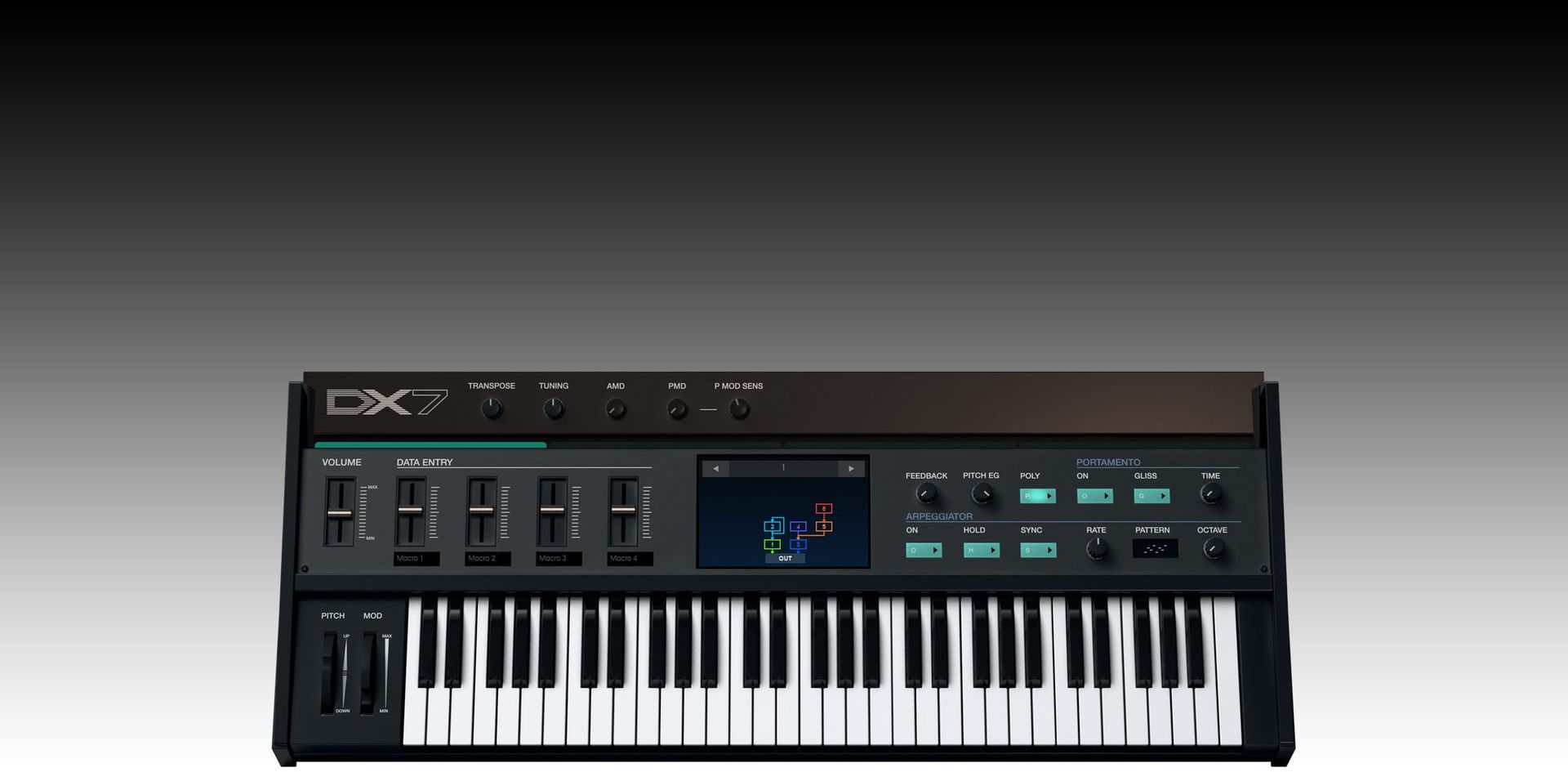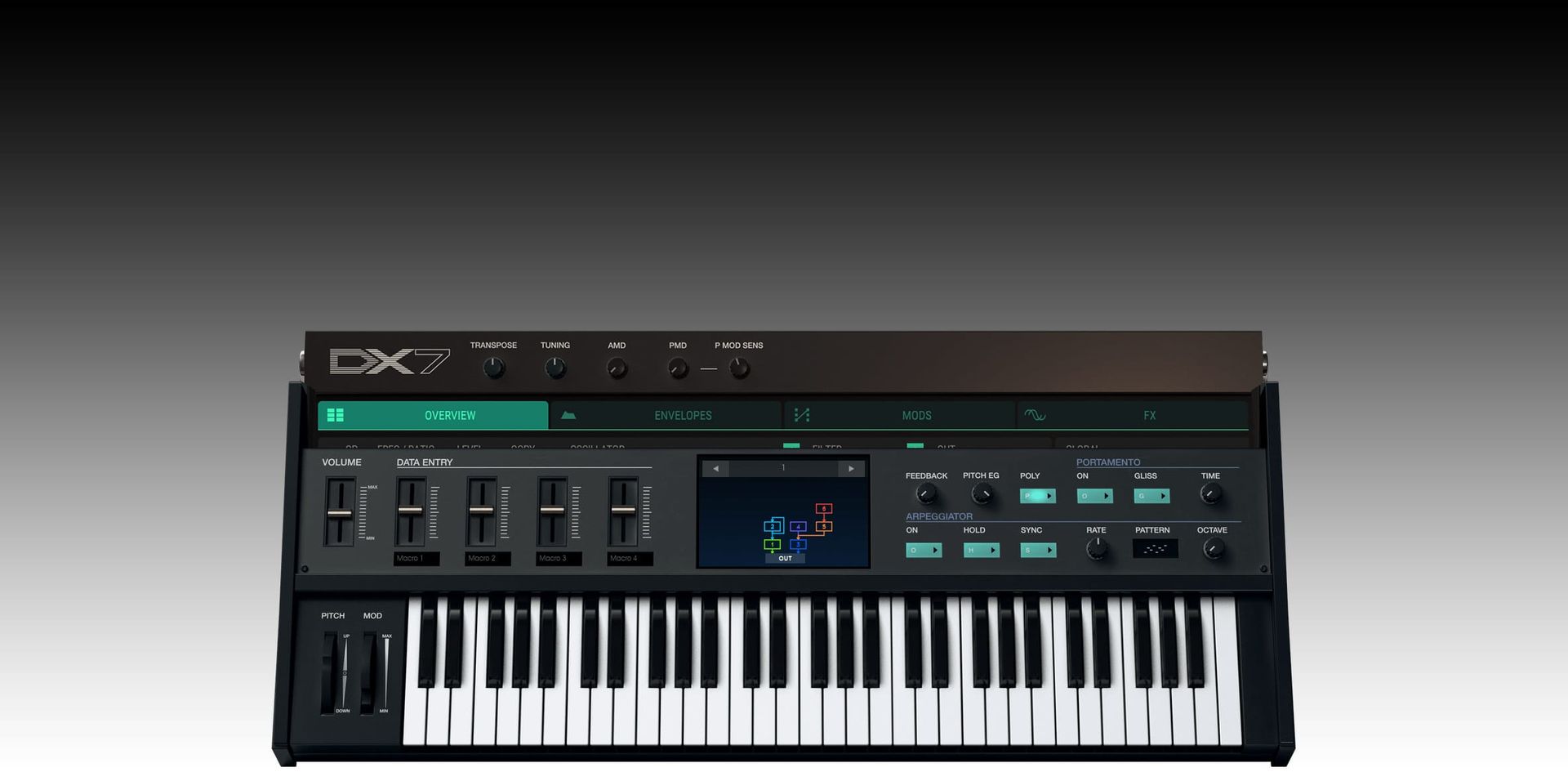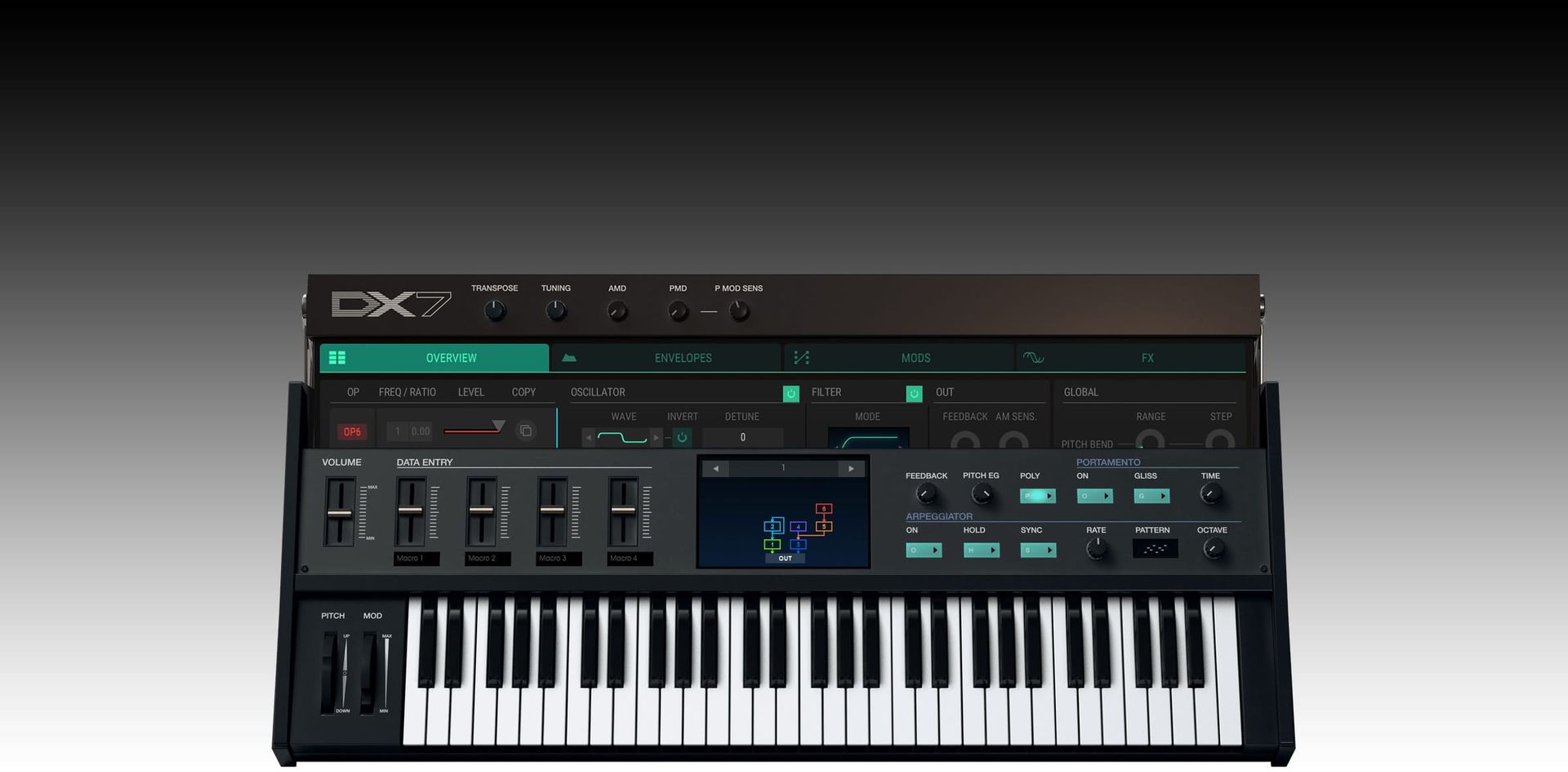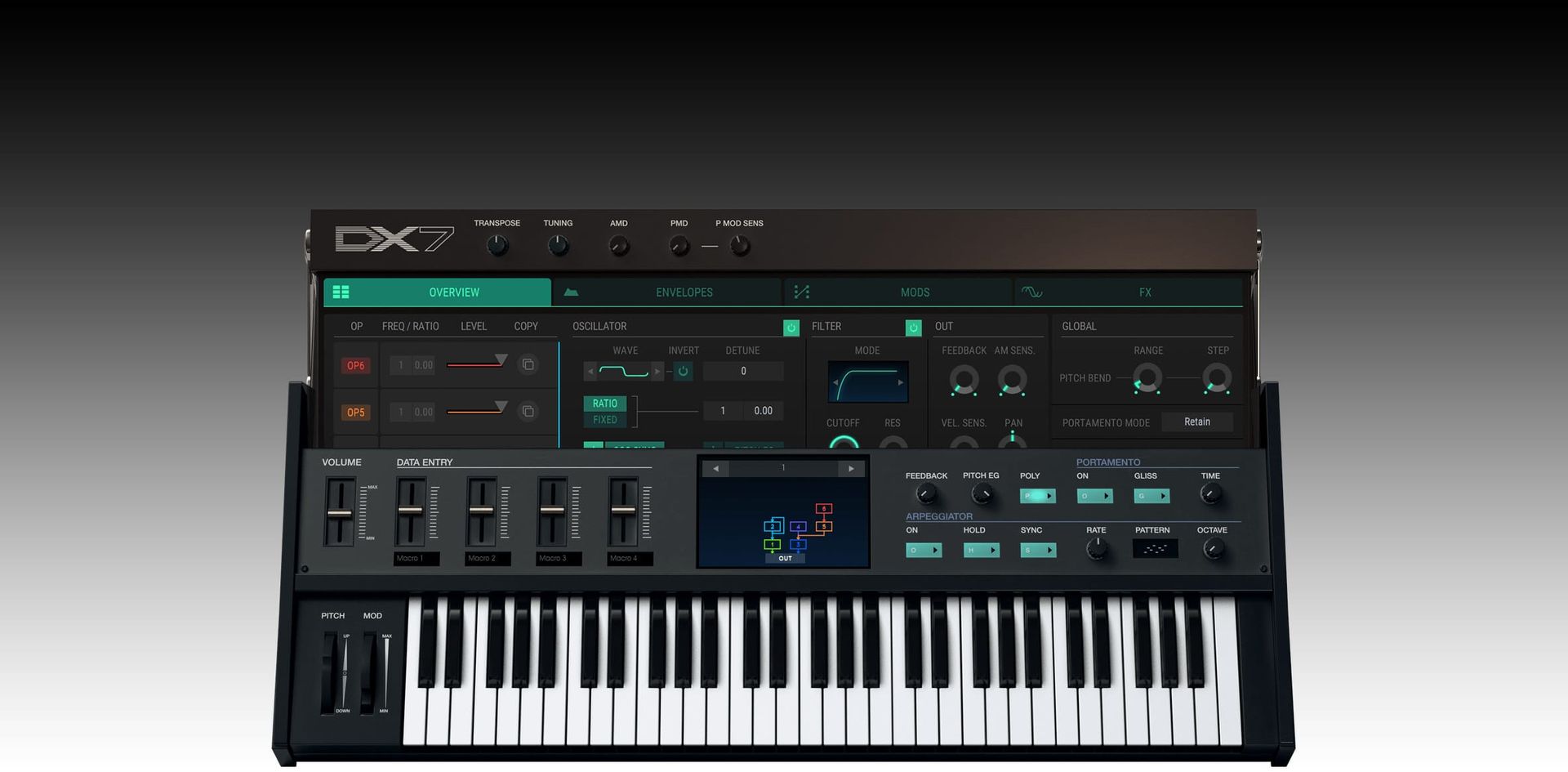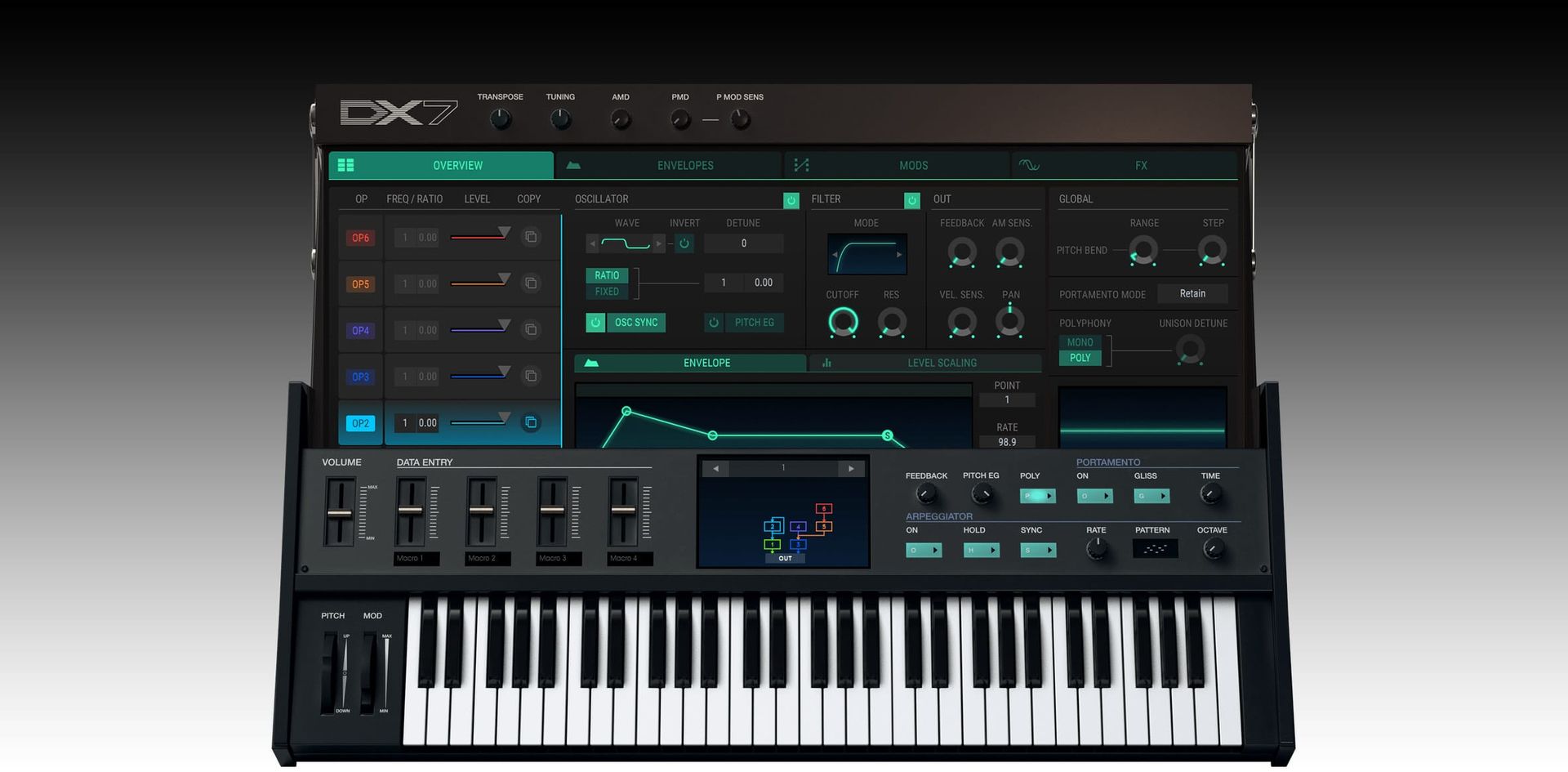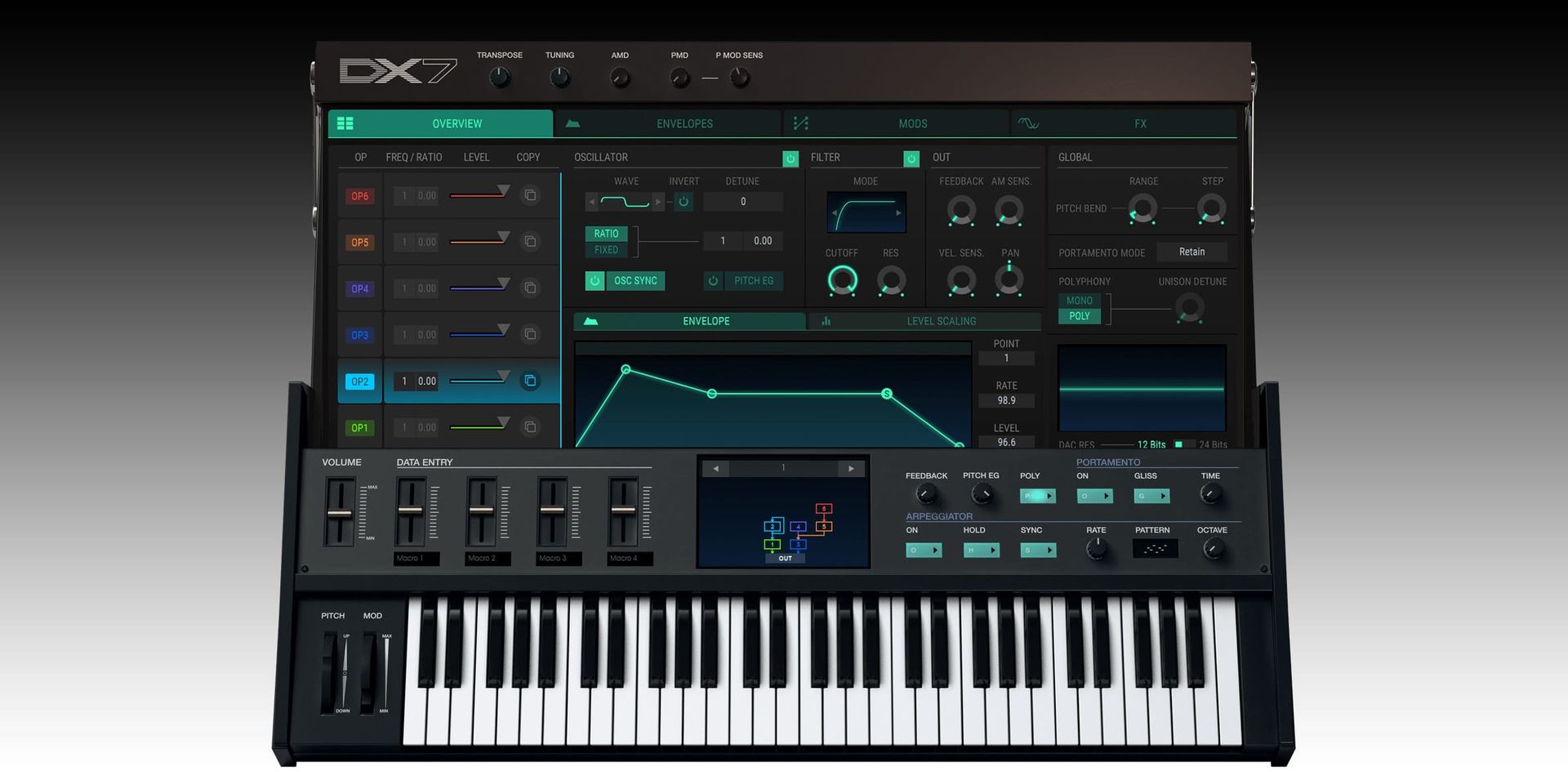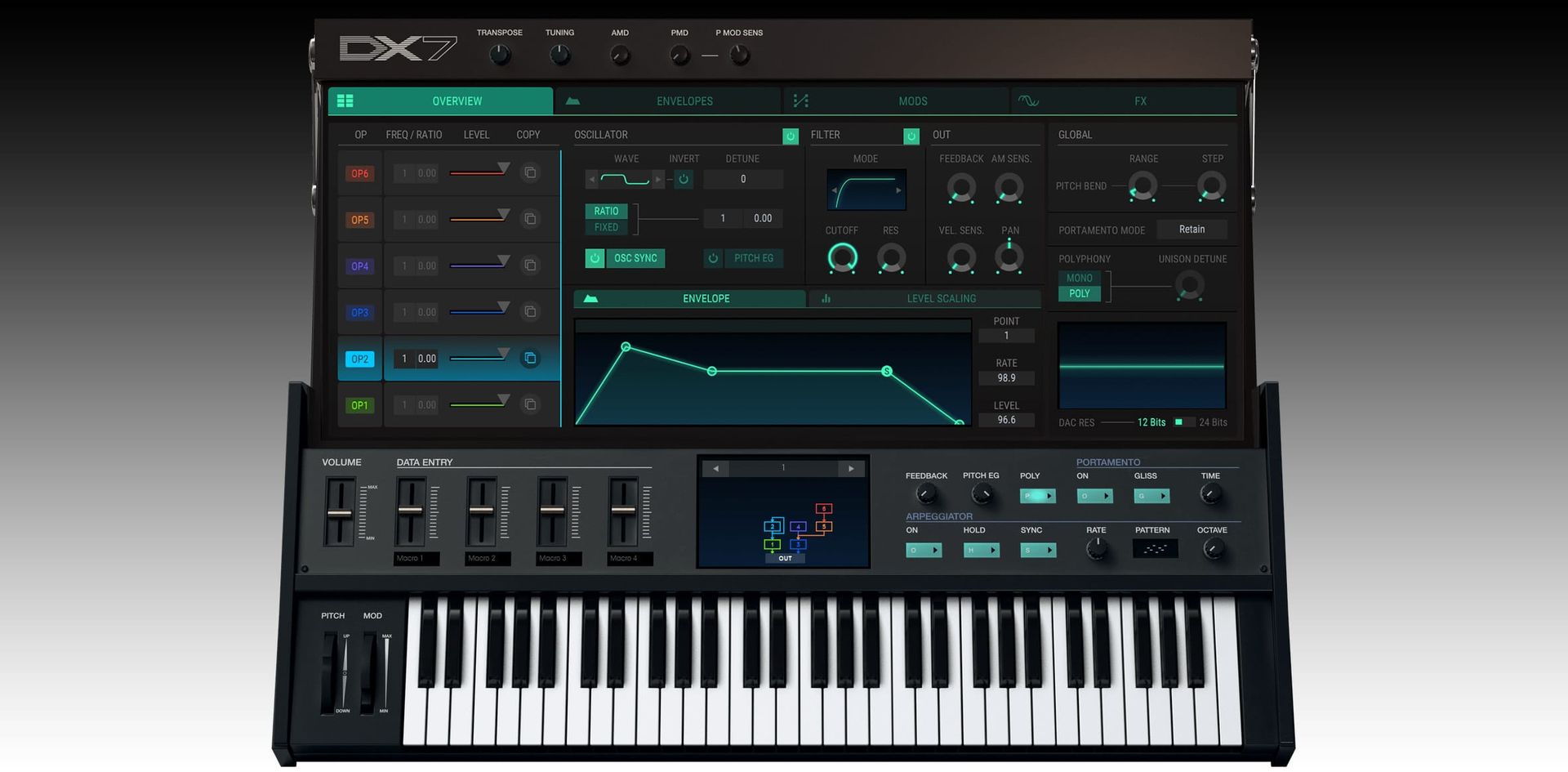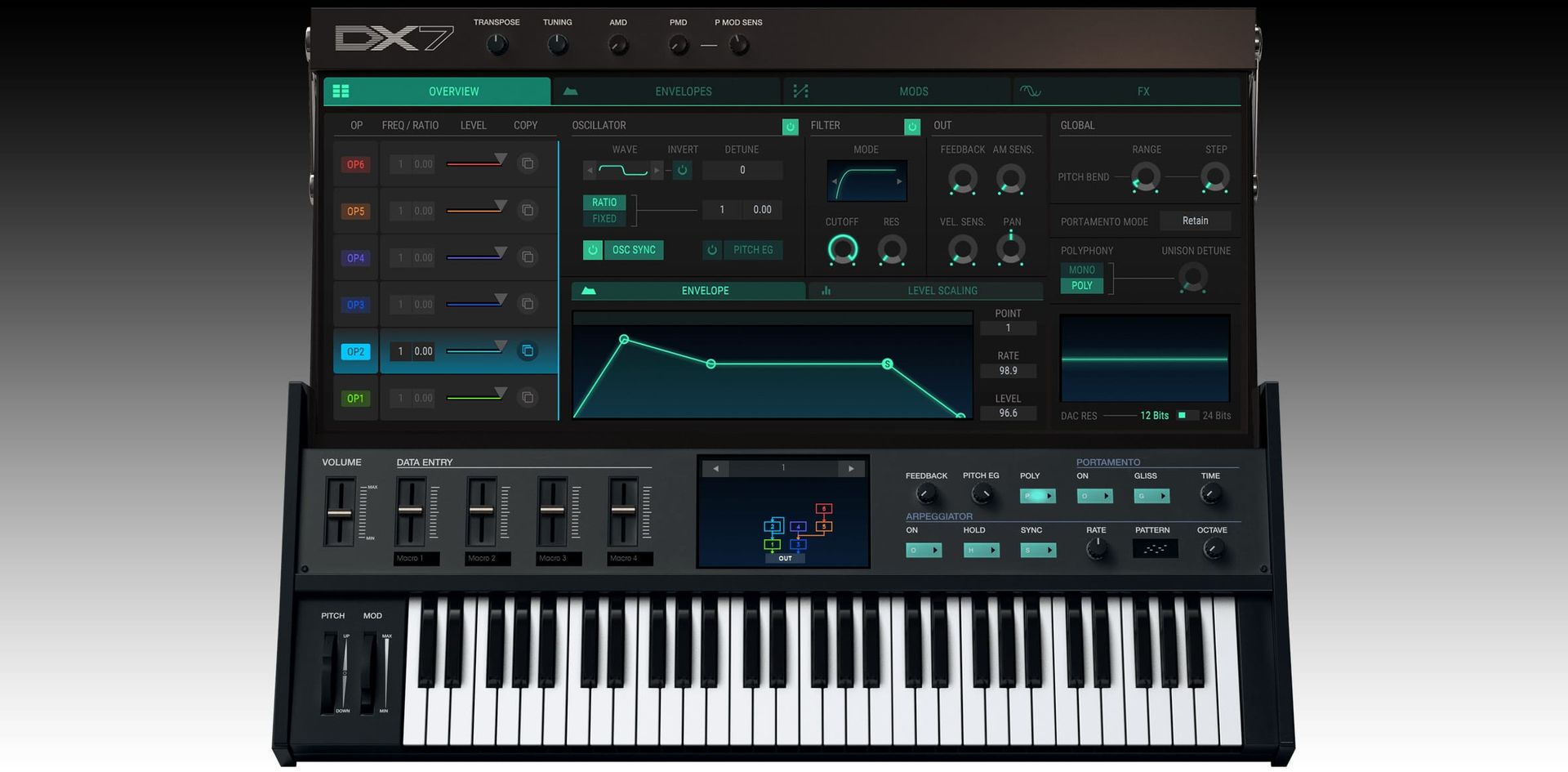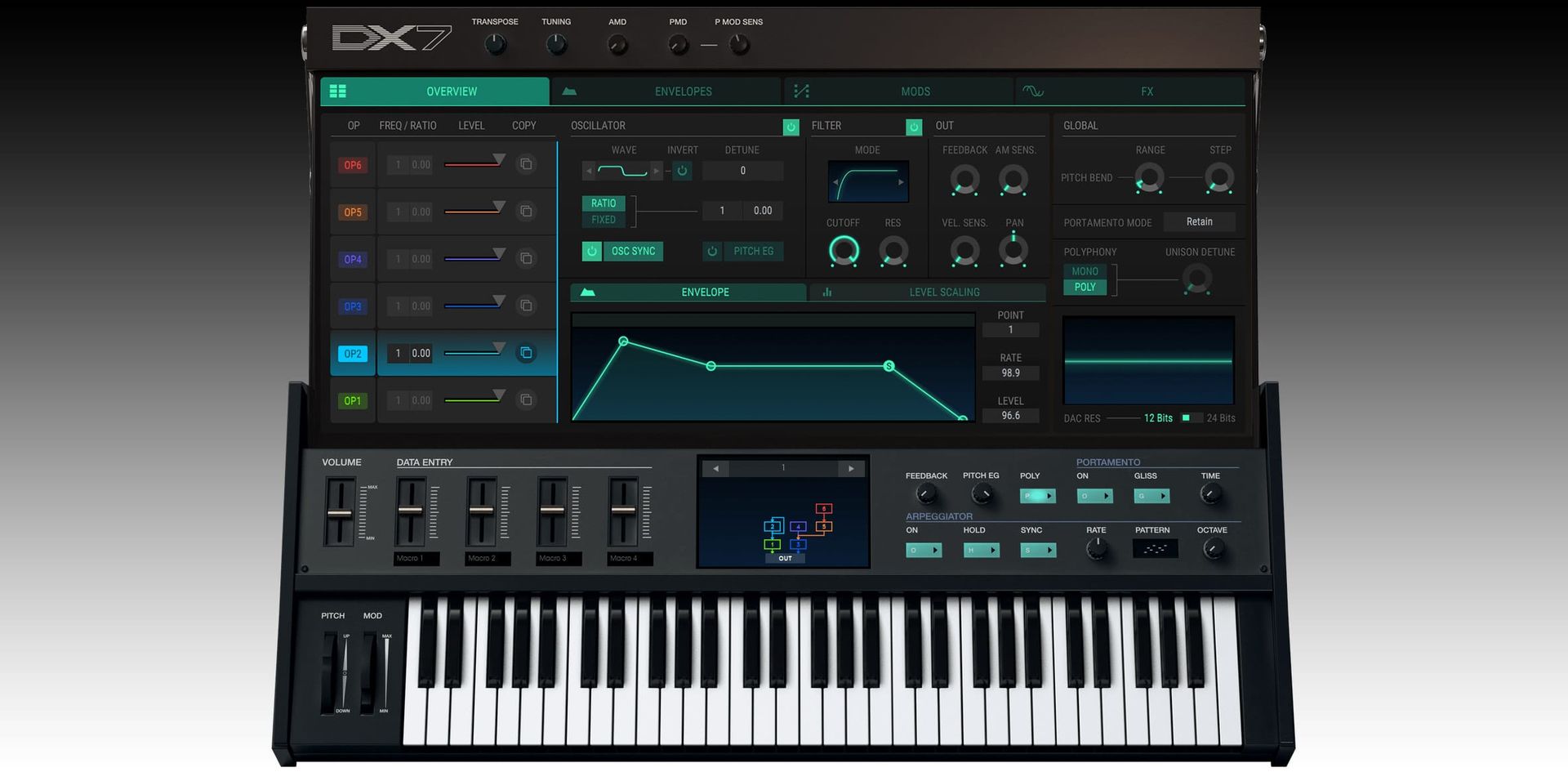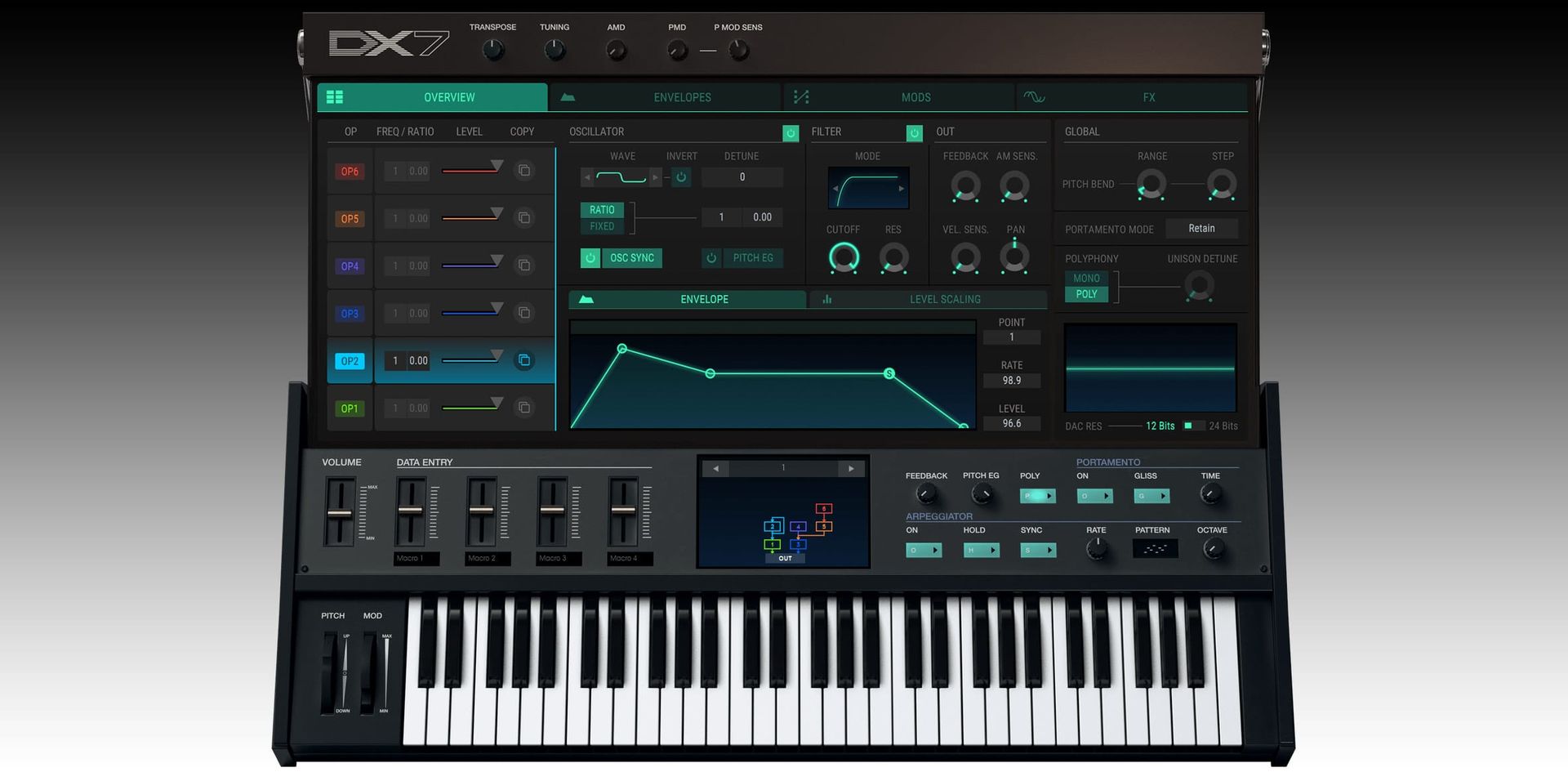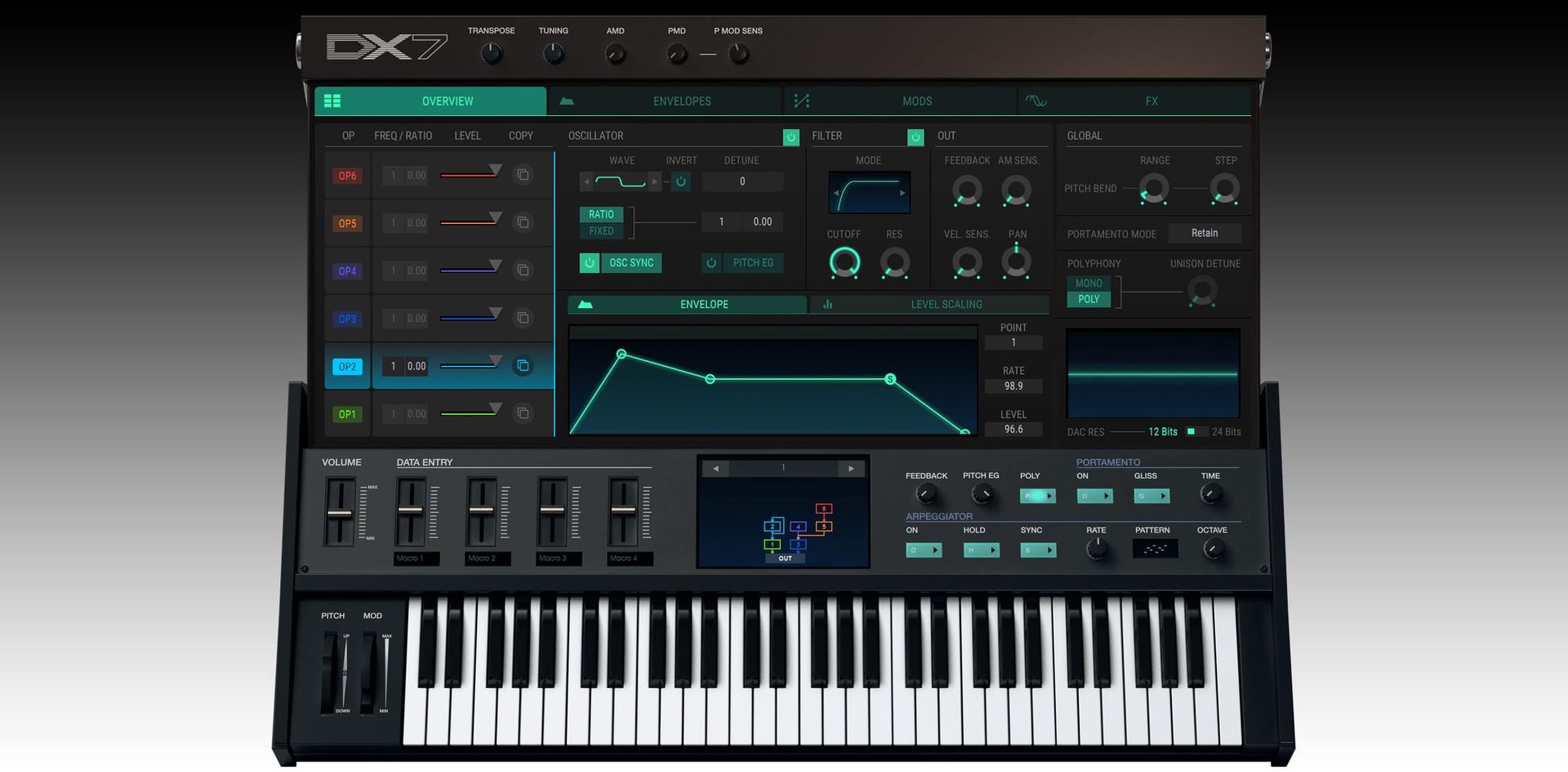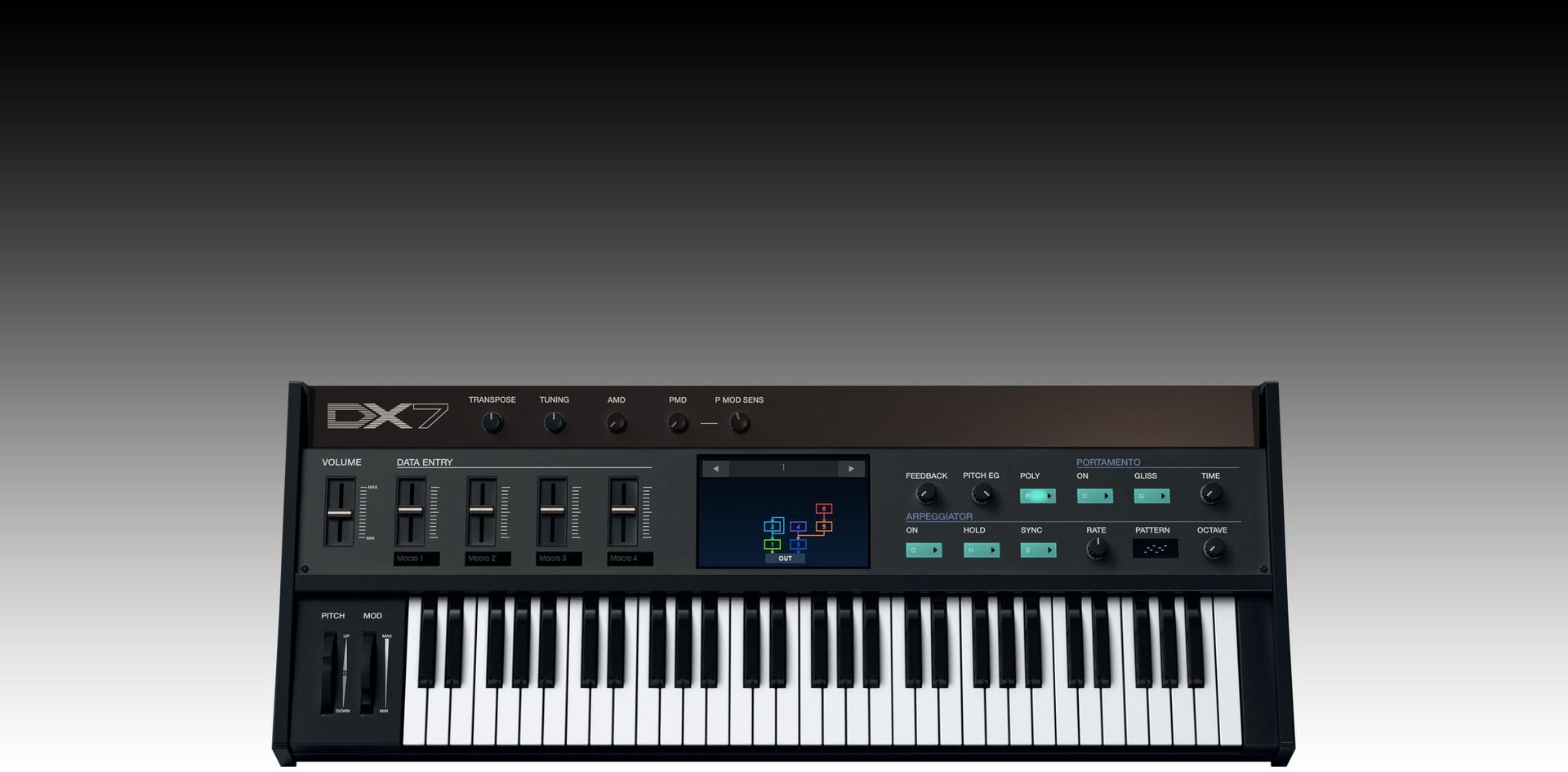 Simple interface
While remaining aesthetically faithful to the original, the DX7 V's basic interface is greatly simplified. Presets have moved to the library, algorithms are selected and intuitively displayed with color-coded operators in a center graphic window, and the detailed programming controls are hidden until they're needed. You'll also find four assignable macro data sliders, plus easy-to-access controls for performance features like the arpeggiator, portamento, glide and transposition.
Advanced interface
One click reveals all the programming goodness you could ask for. You'll find controls for similar parameters grouped on different pages for intuitive access. The Overview page accesses all your operator controls—even an oscilloscope to help visualize your work. The Envelopes page includes overlapping color-coded envelope graphs for all the operators, making it extremely easy to visualize their behavior and relationship. The Mods page has your matrix modulation grid, LFO's, and step sequencer. The FX page is where you combine built-in effects in serial or parallel architecture.
The DX7 V's intuitive user interface is as modern as the additional sonic capabilities Arturia's enhancements bring you.
A whole new palette of sounds
Significant improvements to the sound generating section dramatically expand the sounds you can get with the DX7 V.
Multiple Waveforms
While early FM technology produces a surprising range of sounds using just sine waves as operators, we've expanded the possibilities exponentially with a selection of 25 waveforms per operator. These include traditional and additive waveshapes, plus those from Yamaha's later TX81Z and OPL 2/3 chipsets—exponentially expanding the DX7 V's versatility for both music and sound effects.
Filter per operator
Each operator also features a resonant tri-mode filter (low-, high- or band-pass). One of the many uses of this design is to modulate the filters for a blend of FM and subtractive synthesis—even employing different filters for each carrier to create complex parallel sound chains.
Upgraded output
We've upgraded the audio output from mono to stereo to accommodate the added stereo FX. You can also switch the output DAC resolution to keep the original artefacts supporting the vintage authenticity or to get rid of them for the most pristine audio.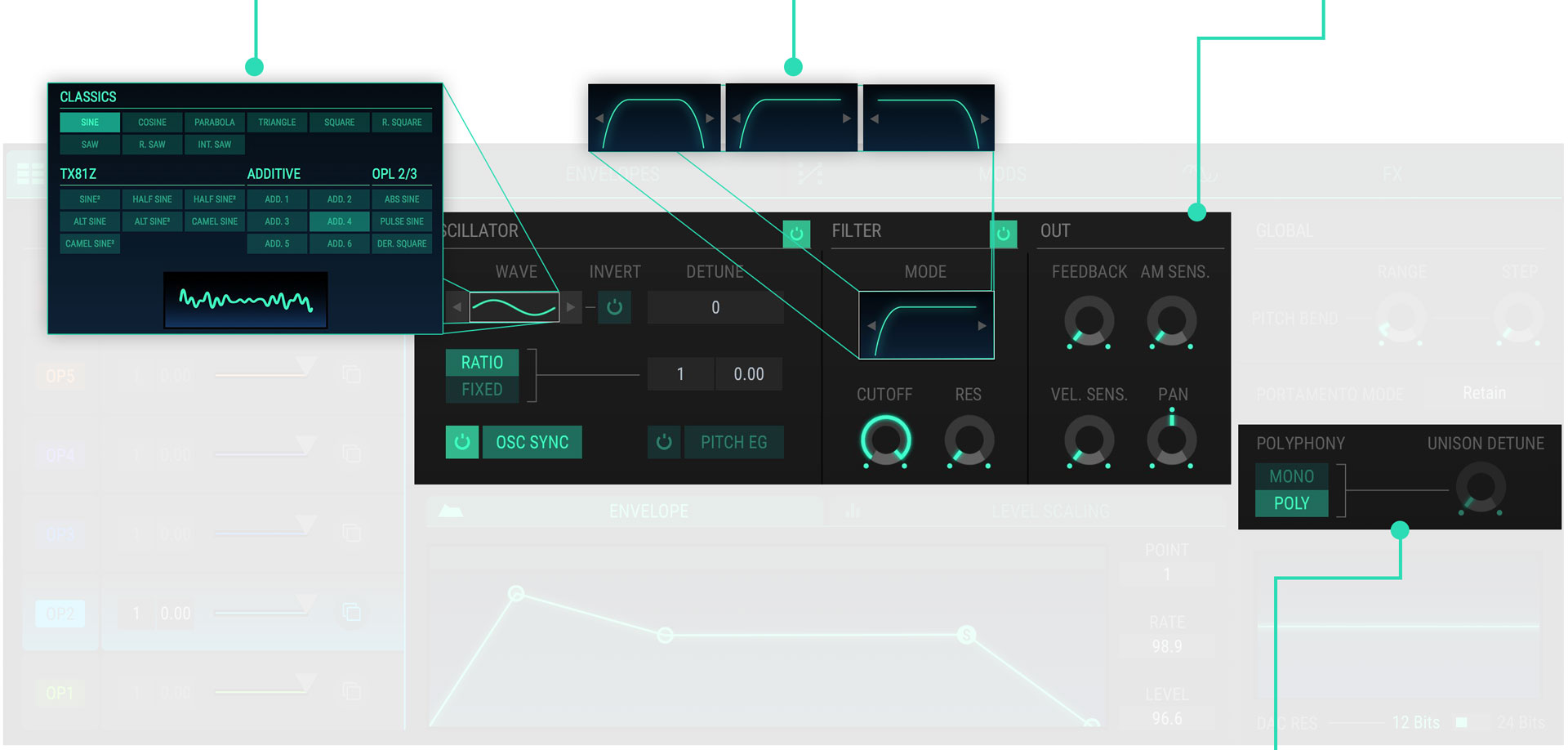 Individual feedback and unison
In addition to the original algorithm-related feedback loop, each operator now integrates an individual feedback loop at your service when you want to get edgy. Furthermore, unison mode complete with detune lets you combine up to 32 voices on a single note for massive leads, basses and more.
Design enhancements lets you easily take the DX7 V where no synthesizer has gone before.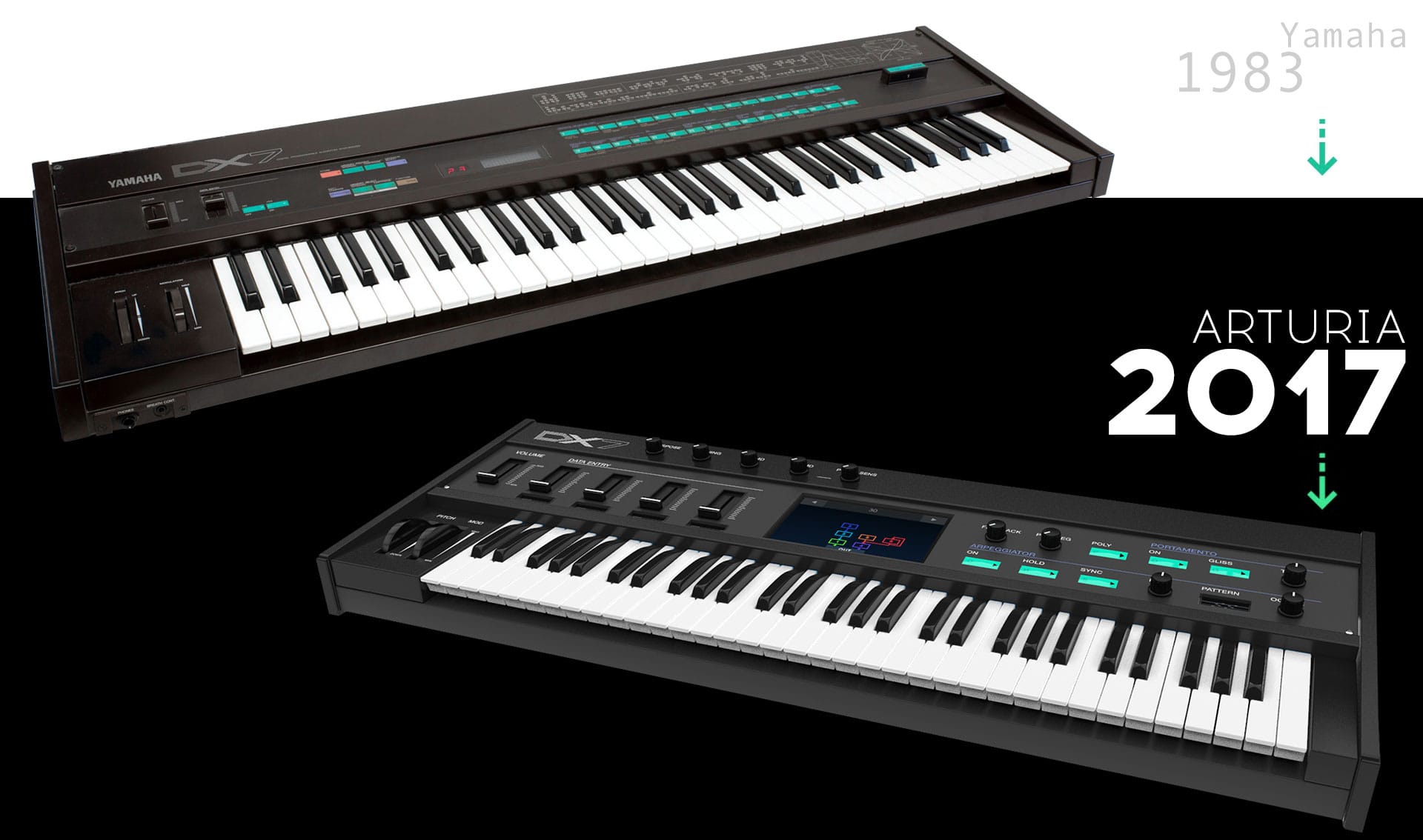 Beyond beyond
Enhanced modulation capabilities and onboard effects make the DX7 V a new instrument in its own right.

Envelopes and level scaling
We've added two independent modulation envelope generators routable to many targets. You can set each one to the original style, a more conventional DADSR, or a new multi-segment envelope (MSEG). MSEGs even let you set loop points and tempo sync—complete with metronomic grid-based editing—great for trailblazing effects in loop- and dance-based music. These new envelope types are also now available for you to apply to the original pitch EGs for additional programming flexibility. You can also switch from the original keyboard level scaling to the modern multi-point keyboard tracking to create dramatically different sounds at specific scale break points.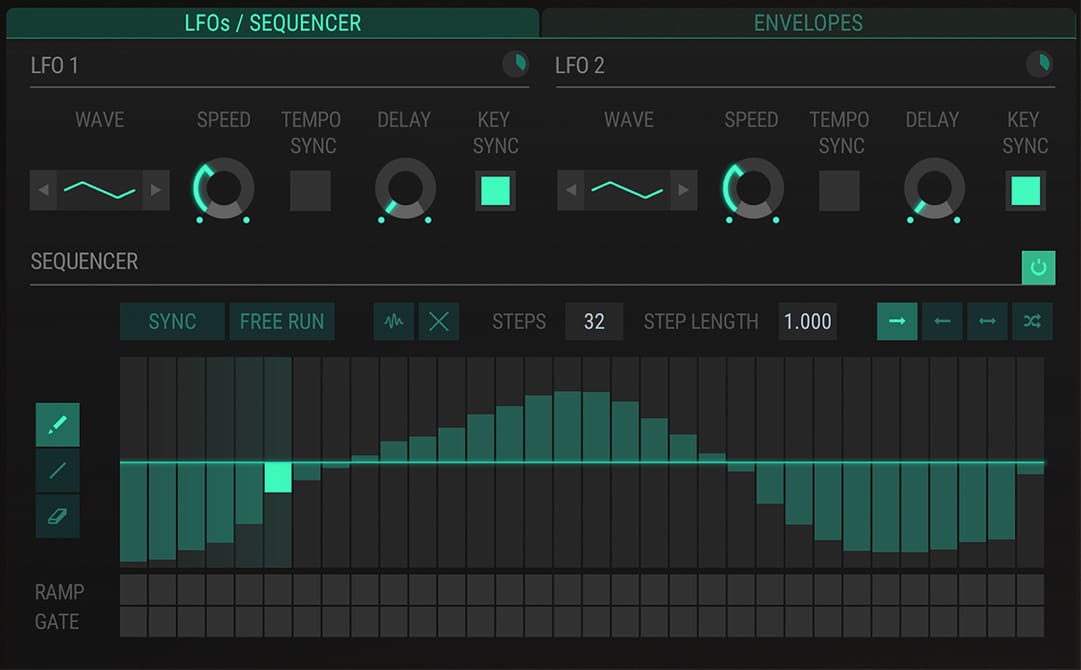 LFOs and step sequencer
The DX7 V gives you not one, but two multi-waveform LFOs—each of which can be synchronized to note triggers and/or tempo to add metronomic energy to your tracks. For example, you might send a square wave to a carrier for a trill and sample-and-hold to a filter—all in sync with your beat. We've also added an extremely flexible step sequencer that let's you infuse metronomic energy into your tracks by routing it to a wide variety of parameters. Apply the sequencer to operator pitch for melodic progressions or parameters like frequency modulation ratio to animate only the sonic textures.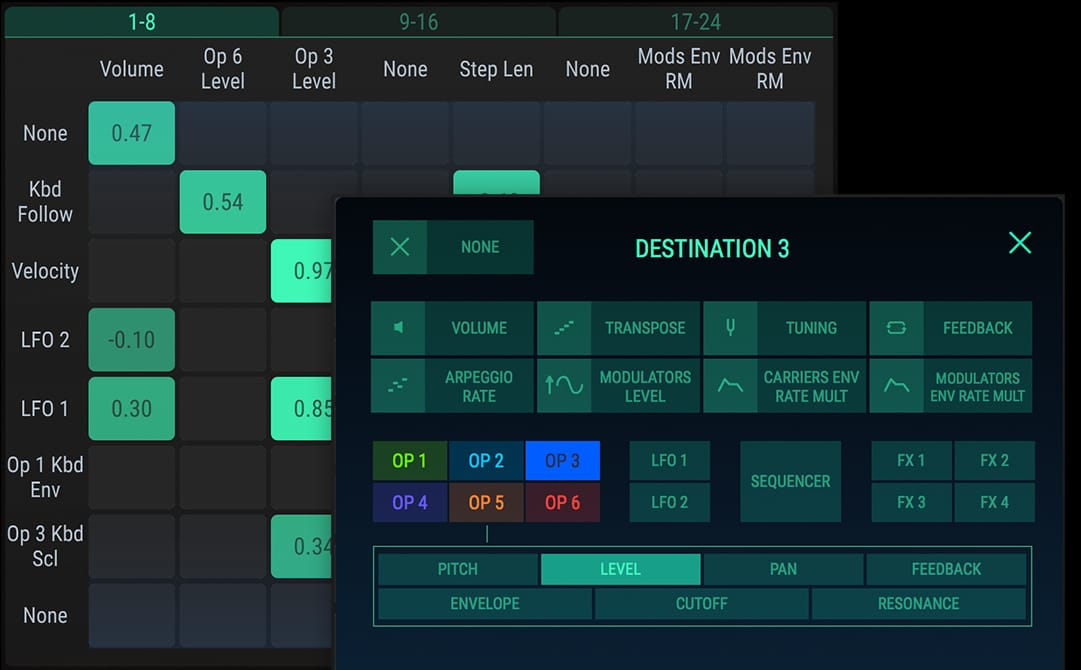 Modulation matrix
The intuitive 8 x 24 modulation matrix puts a whole new world of modulation capabilities at your disposal. Want to route separate EGs to the filter cutoffs of different operators? Go for it. Control the amount of feedback with an EG and LFO at the same time? No problem. In fact, every parameter you can imagine is available in the matrix. You can route up to eight different modulation sources to a single destination, with as many as eight destinations modulated by a given source.

Onboard effects
The original DX7 lacked any on-board effects, leading to the prevalent use of external processing. We've simplified that for you by including a complete suite of custom-crafted effects including analog delay, analog chorus, reverb, distortion, parametric EQ, filters, and more. Better yet, you can either run effects in serial or parallel chains, and blend them into the mix to get just the sound you're looking for.
The new enhancements in the DX7 V simply blow the lid off of what you could previously do with FM synthesis.
Ready to rock right out of the box
The DX7 V's extensive preset library let's you get right to work with go-to sounds—plus inspire you to edit and create your own signature sounds
While we've lovingly added many enhancements, the DX7 V is still compatible with patches from the simpler hardware architecture—and we've included all 128 original factory patches so you'll find all the sounds you know and love. We've also kept a team of world-class sound designers busy creating a ton of new jaw-dropping sounds that take advantage of all the enhanced sound design capabilities we've added. You'll find fresh ideas for just about any kind of music you're into. Edit any of these presets to make them your own. Better yet, start from scratch to embark on endless new sonic journeys. What new sounds will you create? We can't wait to hear them!
Bass
Harmonically rich, bright, biting bass sounds have always been a staple of the DX-7, and the DX7 V builds on that pulsing, throbbing legacy with style.
Pads
DX7 V's versatility really shines with its pads, making it simple and fun to create a lush beds of sound for your tracks.
Sequences
From neon, sci-fi speedways to dark, brooding atmospheres, DX7 V can create powerful, evocative sequences that inspire your creativity, and draw your listeners in.
Keys
The sounds that made the DX-7 a star, the zingy, punchy key sounds have an iconic timbre that instantly transports you back to the 80s. Just add hairspray.
Whether you're choosing from designer presets or creating new sounds nobody has heard before, the DX7 V is the ultimate FM synth you've always wanted.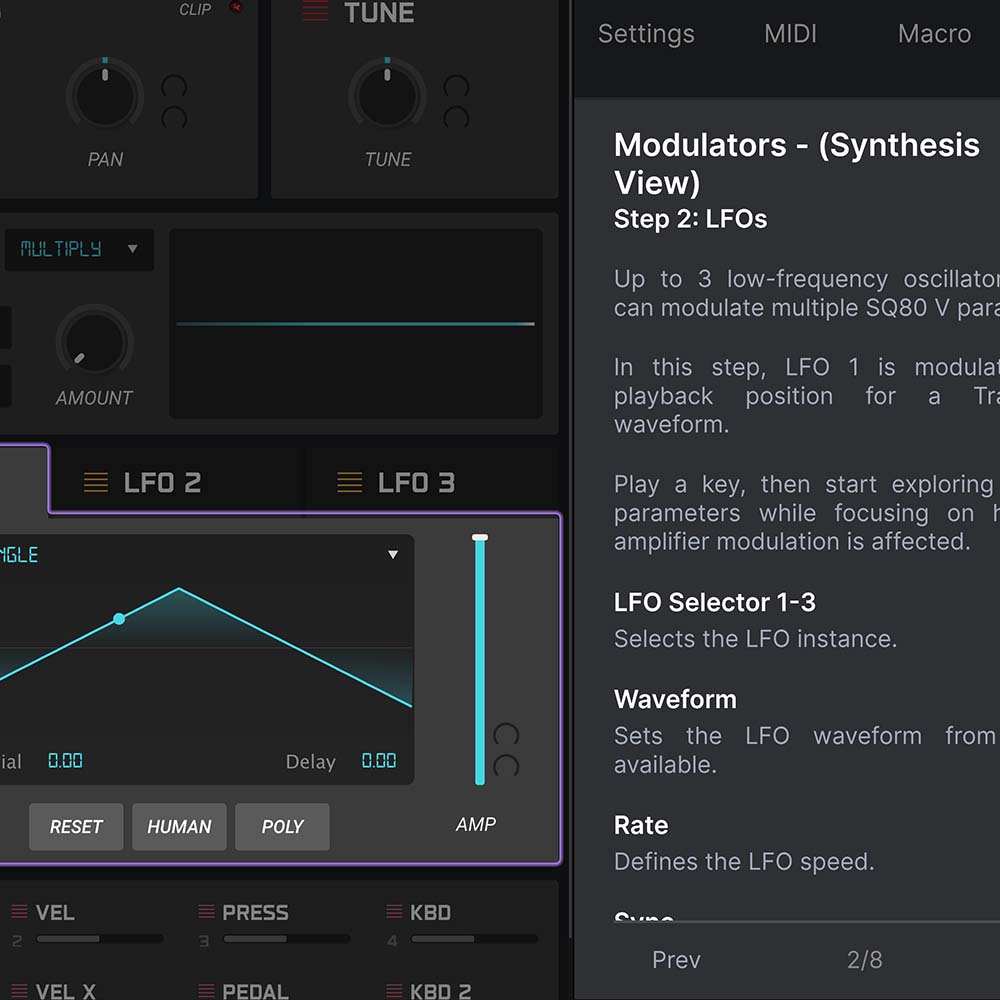 In-App Tutorials
Integrated in-app tutorials guide you through every aspect of the instrument, from individual parameters to tips from our sound designers, so you can focus on the creative stuff. It shouldn't be this easy, but it is!
ASC
Arturia Software Center lets you download, organize, and update all of your Arturia software titles in one place, as well as manage all of your licenses across multiple devices. Keep it simple.
Learn More
Download the ASC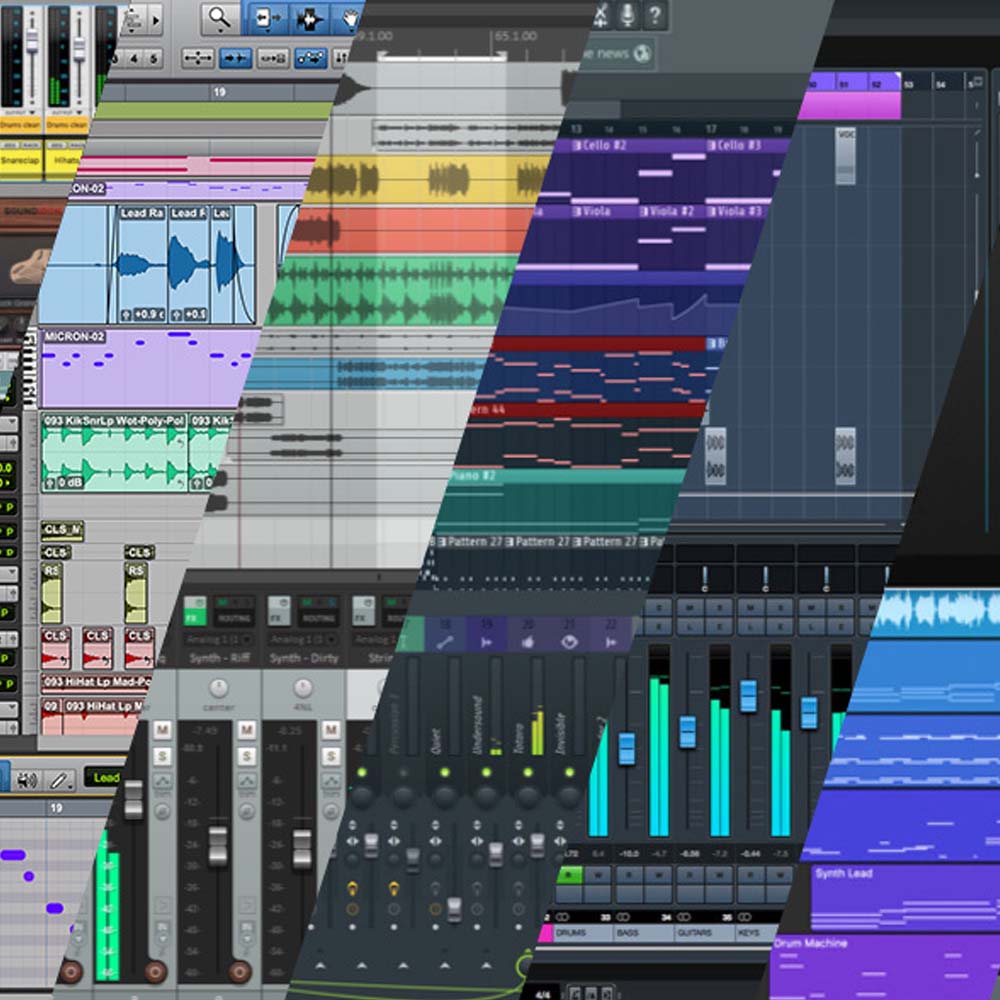 DAW ready
Our virtual instruments and plugins are designed to fit right into your setup without hassle. Whatever your style, you can explore sound while enjoying full compatibility with major DAWS, on both Windows and MacOS.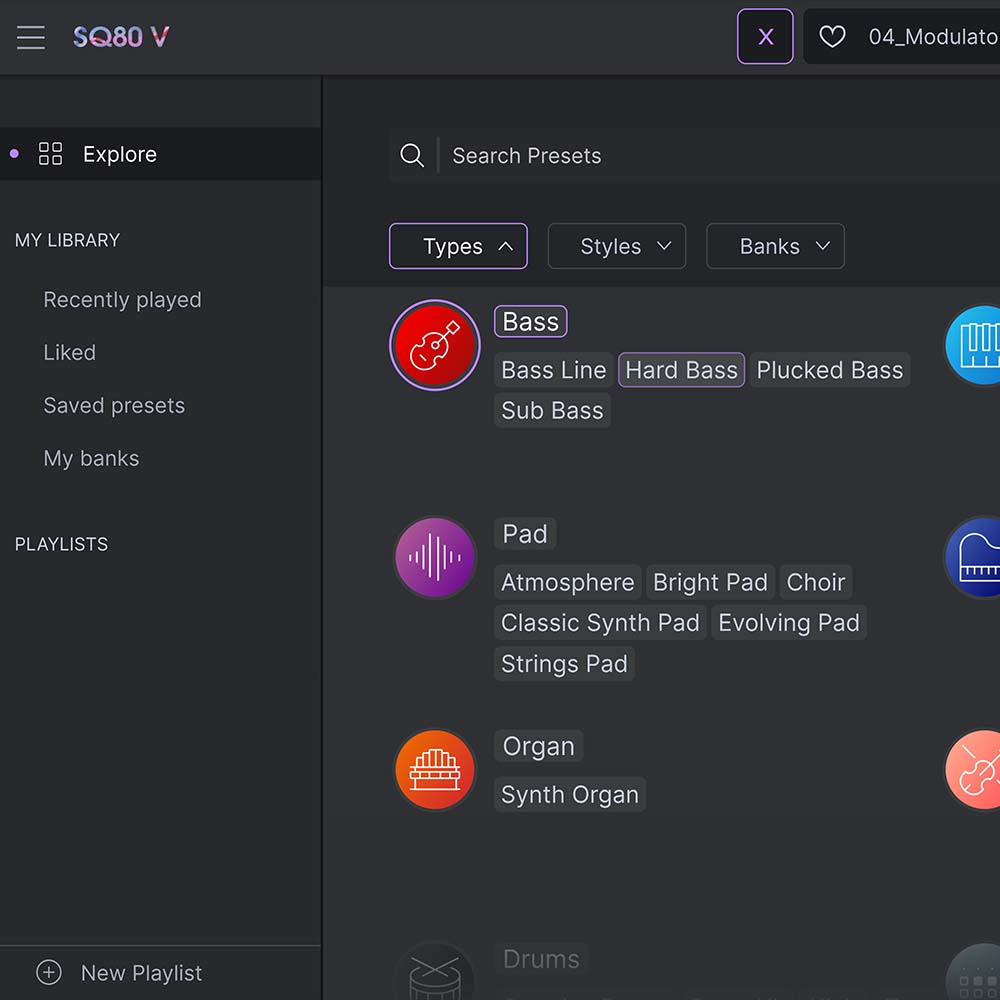 Preset browser
Instantly find the sound that's in your head with intelligent & streamlined preset browsing. Search with keywords, explore by instrument type, musical style, and more - you can even save your favorites to quickly recall later.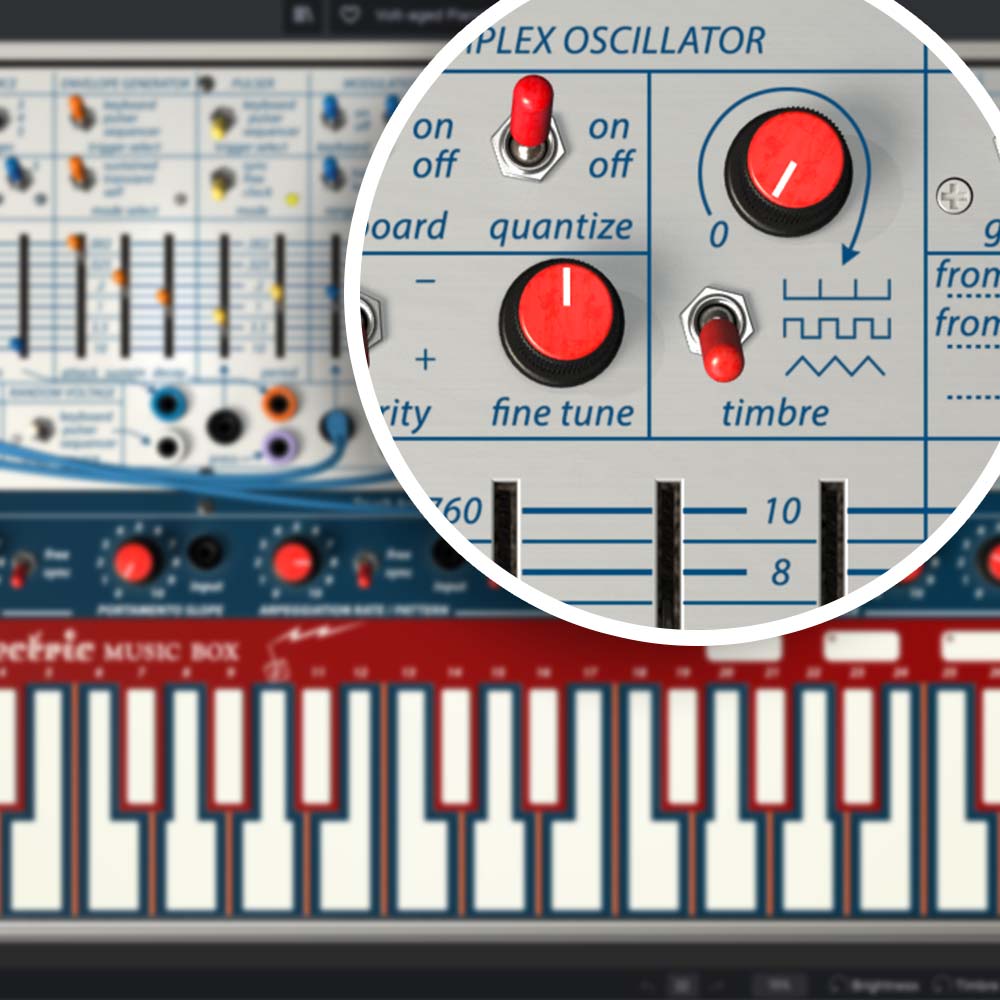 Resizable GUI
Whether you want the full visual immersion of our classic instrument emulations, or to save precious screen real estate, the interfaces for all of your Arturia virtual instruments can be resized to a scale that suits you.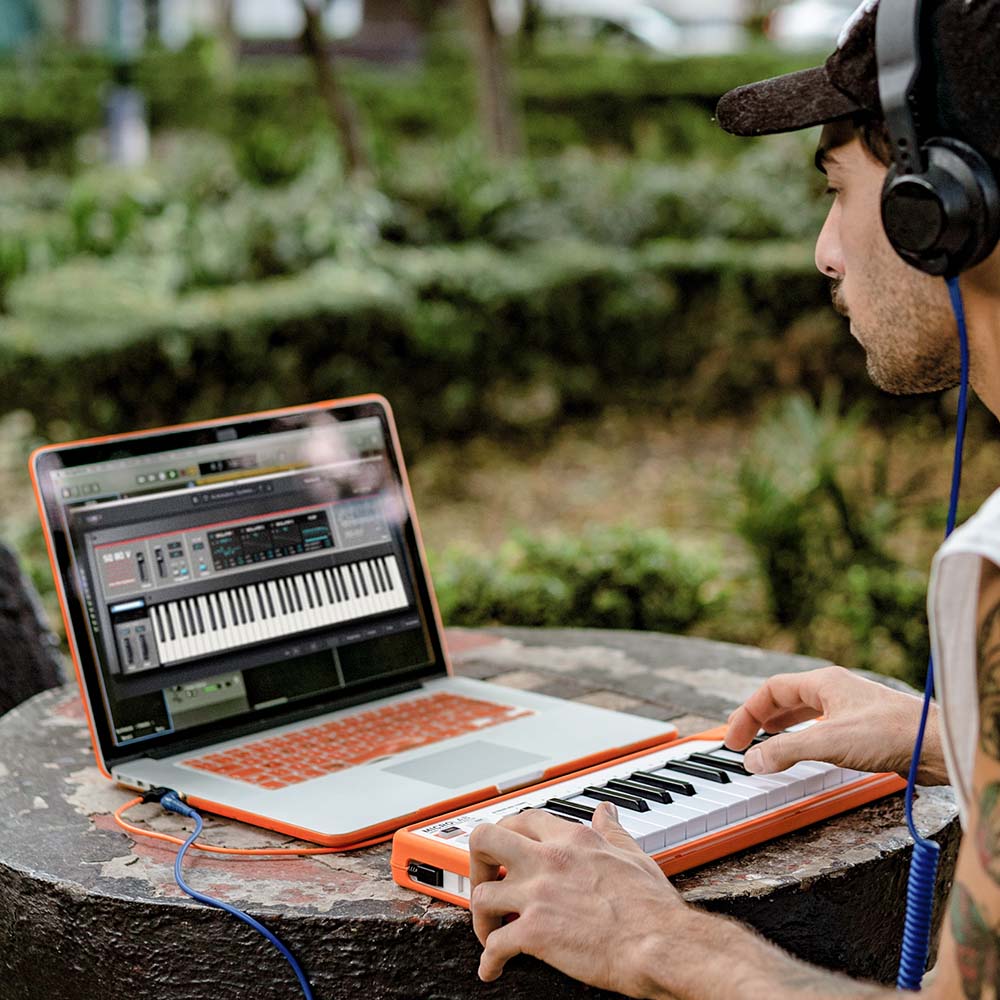 Perfect integration
Instruments come seamlessly mapped for the Arturia KeyLab range - but they'll place nice with other MIDI controllers too. Instant sound tweaking macros, easy DAW integration, and standalone operation.
Platform specifications
: Win 8.1+ (64bit) PC: 4 GB RAM; 2.5 GHz CPU.
2GB free hard disk space
OpenGL 2.0 compatible GPU
: 10.13+: 4 GB RAM; 2.5 GHz CPU.
2GB free hard disk space
OpenGL 2.0 compatible GPU
Required configuration
Works in Standalone, VST, AAX, Audio Unit, NKS (64-bit DAWs only).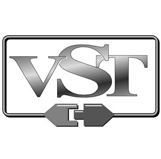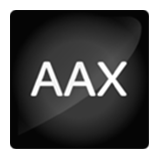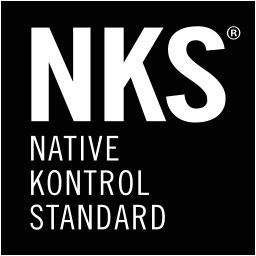 Protection
The software is protected by the Arturia Software Center. You can learn more about it here.
All manufacturer and product names mentioned on this page are trademarks of their respective owners, which are in no way associated or affiliated with Arturia. The trademarks of other manufacturers are used solely to identify the products of those manufacturers whose features and sound were studied during the development. All names of equipment, inventors, and manufacturers have been included for illustrative and educational purposes only, and do not suggest any affiliation or endorsement by any equipment inventor or manufacturer.
Main Features
32 original DX7 algorithm
All DX7 original parameters
Original DX7 SysEx import
25 available waveforms per operators
6 Operators with multi-mode filter and feedback per operators
DX7, DADSR and Multi-Segments envelopes (syncable and loopable) per operators
2 Modulation envelopes
4 assignable macros
Advanced modulation matrix
A step sequencer, 2 LFOs with 6 waveforms and an arpeggiator
4 FXs slots that can be routed in parallel or in serie
An oscilloscope
Vintage and Modern DAC Mode for a proper emulation of the DX7 converter
32 voices of polyphony
4 voices of unison with unison detune
432 factory presets