HISTORY
In the mid '80s the synth world was being shaken up by three forces: the new sounds of the Yamaha DX-7, digital samplers and low cost, stripped-down synths like the Juno 106 and Korg Polysix.
Oberheim®, who had a long legacy of making some of the best-sounding synths, decided there was still a desire and need for a no-holds-barred analog synth. And so the Oberheim® Xpander was released in 1984, becoming an instant classic.
In 1985 Oberheim® released the Matrix-12, the big brother of the Xpander. It used the same voice architecture as the Xpander, adding another 6 voices and a keyboard. Designed by legendary engineers Marcus Ryle and Michel Doidic, the Xpander and Matrix-12 were revolutionary in their time and still are considered the finest examples of analog polysynths ever made.
The near $5000 price tag put it out of reach for all but the famous and wealthy, however. But even at that price there were about 1000 units made, many of which are still in service today.
A FAITHFUL REPRODUCTION
The Matrix-12 V uses Arturia's powerful TAE® engine to reproduce all the details that make the sound of this legendary analog synthesizer.
Oscillators
The two oscillators of the original Matrix-12 were accurately modeled and recreated. All the waveforms are generated using the aliasing-free algorithms of our TAE® technology. Pulse width modulation, noise and the powerful FM features are there, too.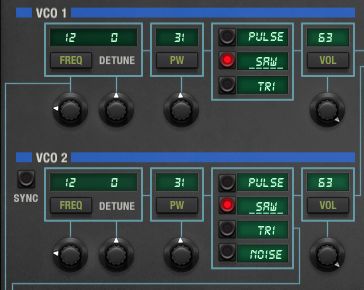 Filters
The Matrix-12 employs a single filter per voice, but provides no fewer than 15 different filter modes. There are four Low Pass and three High Pass modes, plus two Band Pass modes, a Notch filter and a Phase Shift mode. Four other modes are available, each of which combines a 1-Pole Low Pass with other filter modes. This unique selection of filter options is largely responsible for the immense power and scope of the Matrix-12 sound.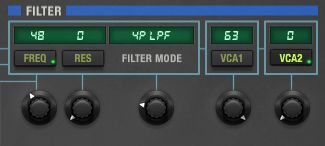 More modulation options = more power
The Matrix-12's legendary "Modulation Matrix" has been recreated in Matrix-12 V as well. Sources include Five Envelopes, five LFOs, 4 Ramp and 3 Track generators, velocity and pressure, etc.; in total, 27 modulation sources can be connected to any of the 47 destinations. This brainchild of Tom Oberheim's is a sound designer's dream, and this dream can finally be yours without having to break the bank!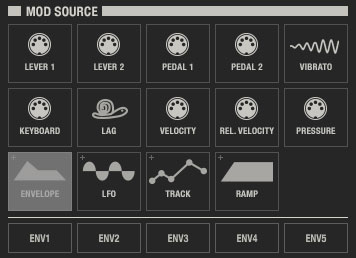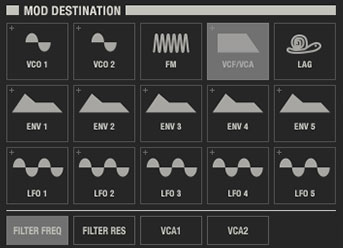 Authenticity with a twist
The Matrix-12 V offers all the features of the original synth, which on their own would keep you busy for years! But on top of that, we added a few cool enhancements:
Effects
Two insert effect slots are provided.
Choose any one of six studio-grade effects for each slot:
Reverb
Chorus
Classic delay
Phaser
Flanger
Analog delay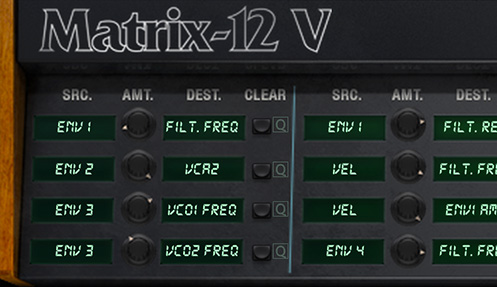 An interface optimized for software
The original Oberheim® Matrix-12, while being fun to program and extremely powerful, was not a great performance synthesizer due to the limited number of controls on the front panel. Our software recreation puts you in direct control over many parameters, and also has a panel that displays all the active modulations contained in your patch.
Single vs Multi
The Matrix-12 V, just like its analog predecessor, is a multi-timbral instrument. In Multi mode, each of the 12 voices can contain a different sound. These sounds can then be split on different zones of the keyboard, individually transposed, played in unison, panned this way and that, and more. The software interface makes this configuration a breeze!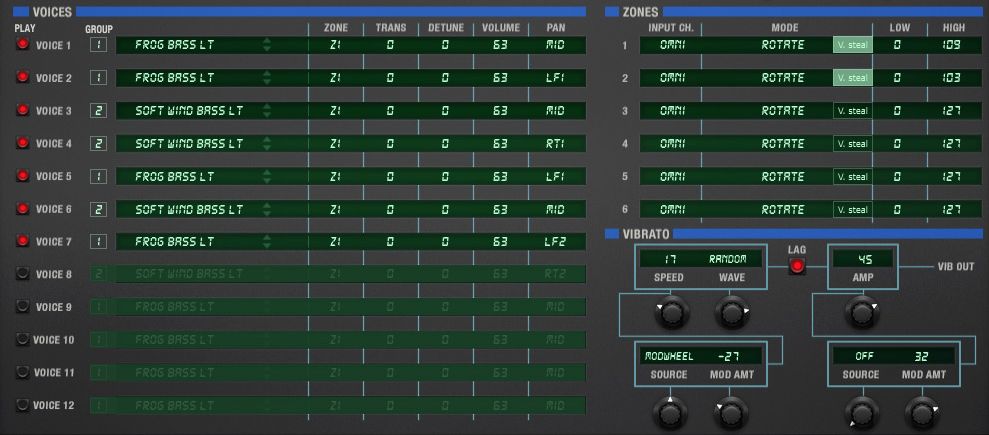 MAKE IT YOURS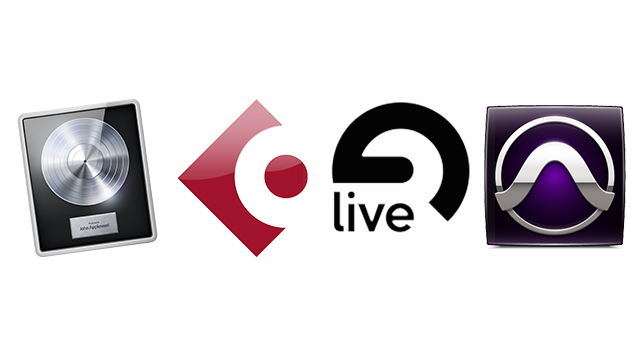 Matrix-12 V is a virtual instrument that can be used as a stand-alone application or as a plug-in within Digital Audio Workstations such as Steinberg Cubase, Digidesign Pro Tools, Ableton Live, Apple Logic Pro X, MOTU Digital Performer, Cakewalk Sonar, and Bitwig Studio, to name a few.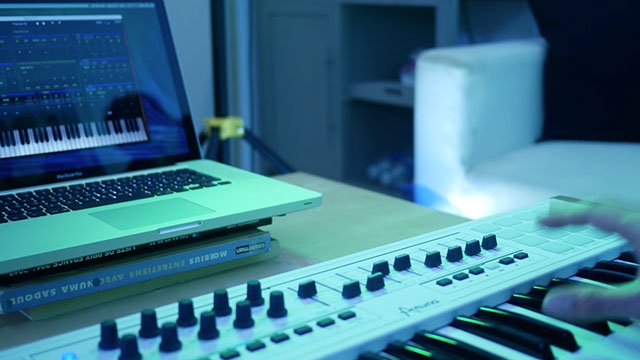 Matrix-12 V is ready to be controlled by any MIDI keyboard. The MIDI mapping is user-customizable so you can map it any way you want to. Nearly every parameter can be mapped, and you can even assign a MIDI control to the Program Chain list to navigate your favorite presets on the fly.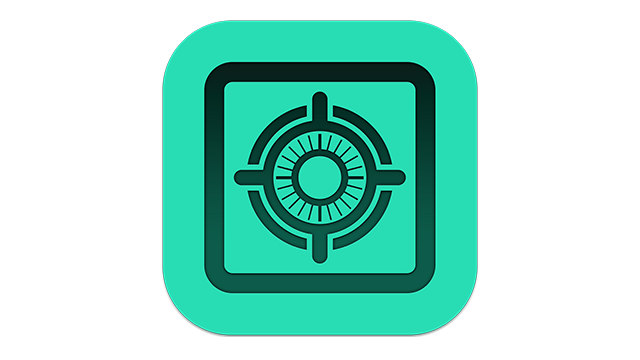 Matrix-12 V authorizations are handled by the Arturia Software Center application (ASC). This means it can be installed on up to 5 computers, activated in a single click, and quickly updated when Arturia releases a new version, all from a single, easy-to-use application.
SOUNDS
Matrix-12 V includes more than 500 presets created by some of the world's most talented sound designers. We also included all the original presets from the Oberheim® Matrix-12 and Oberheim® Xpander!
Basses
The Matrix-12 was most popular for its polyphonic sounds, but it could also deliver powerful monophonic sounds thanks in part to its unison modes.
Leads
The Matrix-12 was most popular for its polyphonic sounds, but it could also deliver powerful monophonic sounds thanks in part to its unison modes.
Pads / Textures
With 12 voices of polyphony and an incredible number of modulation possibilities, Matrix-12 V is the perfect synthesizer for evolving textures and soundscapes.
Sequences
Although the Matrix-12 V doesn't feature a sequencer or an arpeggiator, it excels at monophonic or polyphonic sequences.
Keys
Chords, stabs, analog keyboard sounds, and lots of them!
Sound effects
Again, thanks to the powerful modulation matrix, Matrix-12 V excels at all types of sound effects. It's a bit like having twelve modular synthesizers in one box!
Preset browser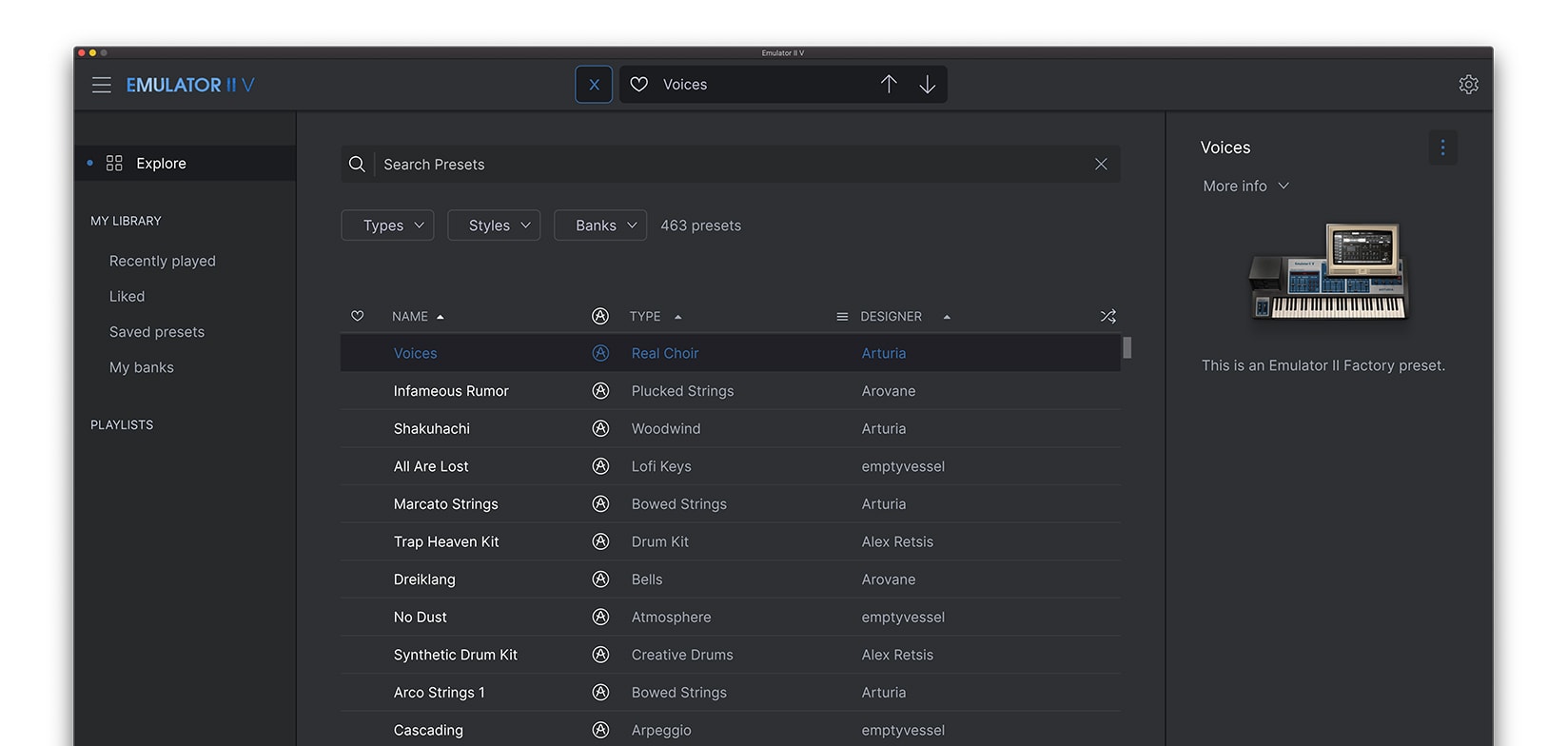 Our redesigned preset browser lets you quickly find just the sound you're looking for.
Search by name or simply select the appropriate tags to dial in on the exact sonic character you're looking for. You can mark and recall your own favorites, enter comments, and set up playlists. There's never been a more intuitive way to manage your library of designer and personal presets.
Resizable GUI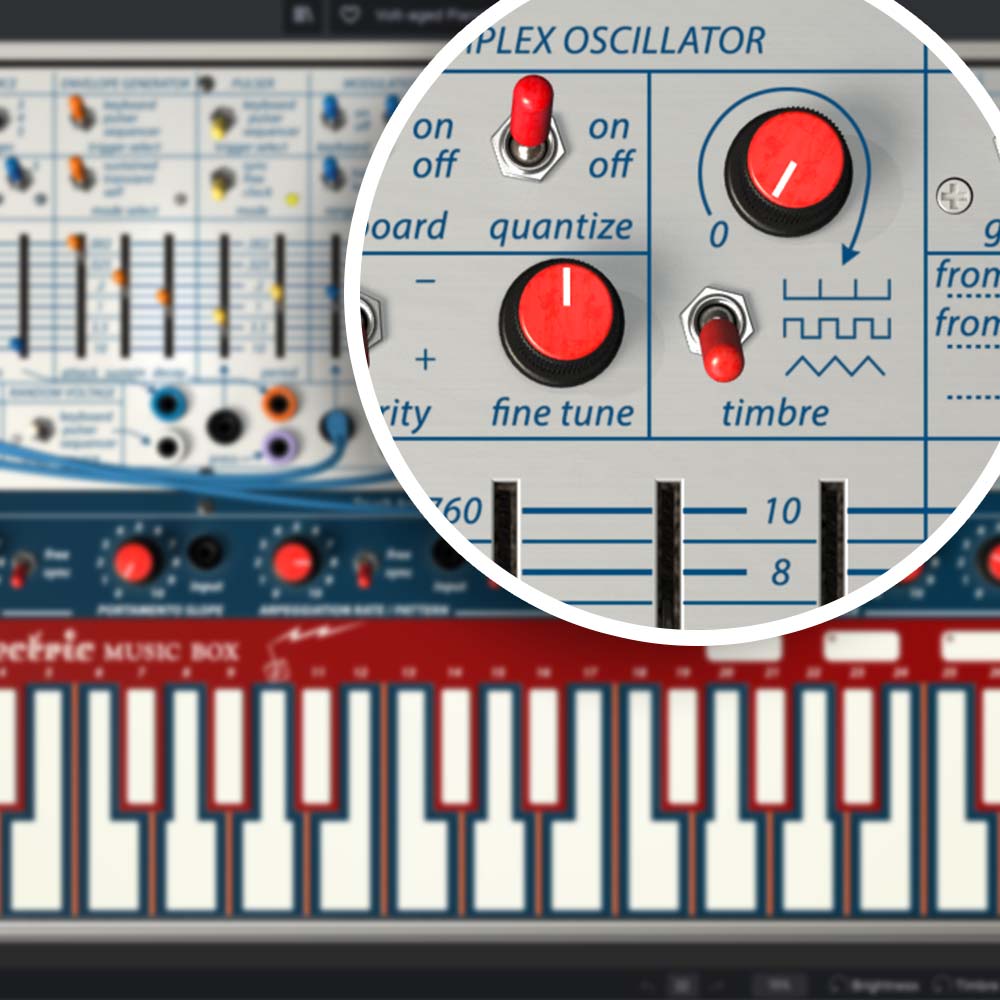 The user interfaces for all your Arturia instruments are now resizable, making it easy to work with any High Resolution screen, UHD or Retina.
You can decide whether you want to fill the screen with awesome graphic reproductions of classic instrument goodness, scale the window down when you're working in a DAW and screen real estate is at a premium, or even zoom for detailed work.
Perfect integration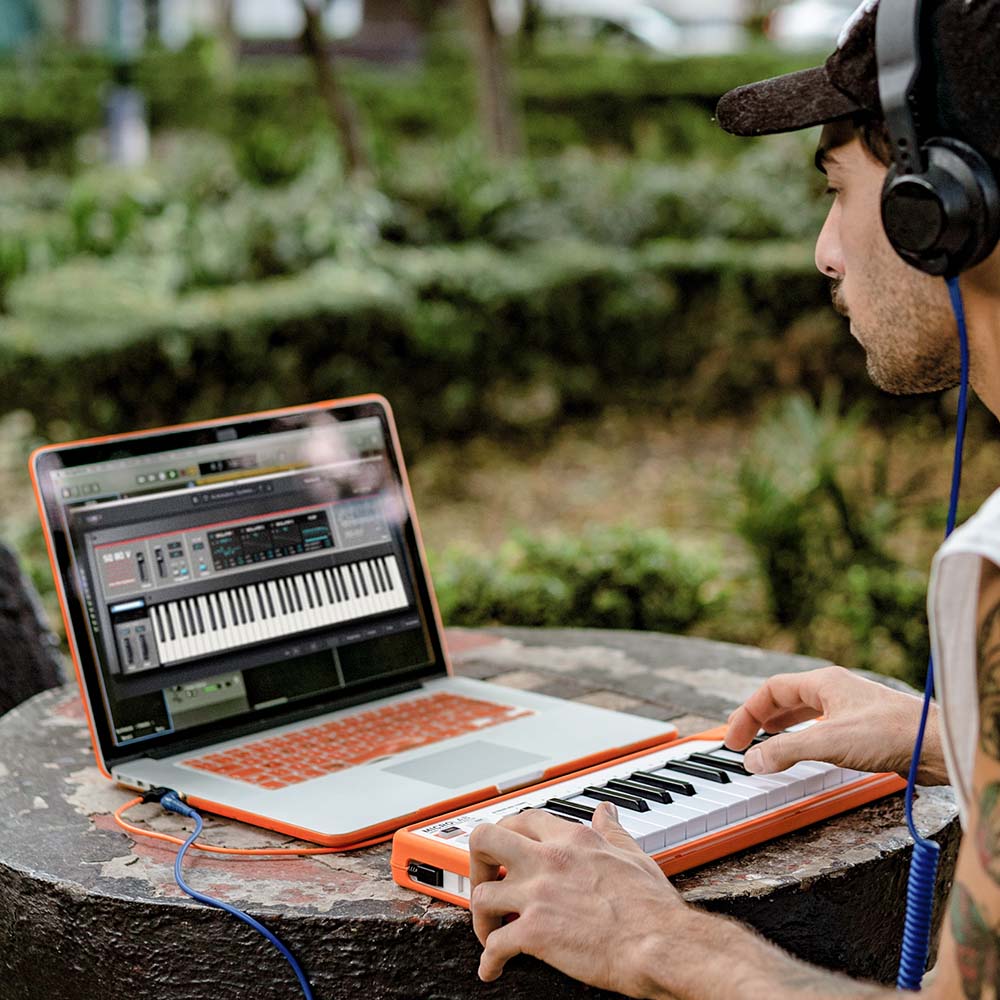 However you play, perform, or create, we've got you covered.
We've made it as easy as possible to use and enjoy the instruments in V Collection 7. They intuitively map with the Arturia KeyLab range, and play nicely with other MIDI controllers too. You can use them in standalone mode, and in your preferred DAW. You can even play notes using your computer's keyboard when you're on the go!
Platform specifications
: Win 7+ (64bit) PC: 4 GB RAM; 2.5 GHz CPU.
1GB free hard disk space
OpenGL 2.0 compatible GPU
: 10.11+: 4 GB RAM; 2.5 GHz CPU.
1GB free hard disk space
OpenGL 2.0 compatible GPU
Required configuration
Works in Standalone, VST 2.4, VST 3, AAX, Audio Unit, NKS (64-bit DAWs only).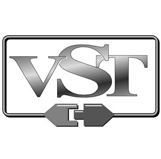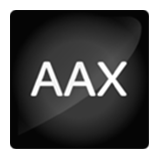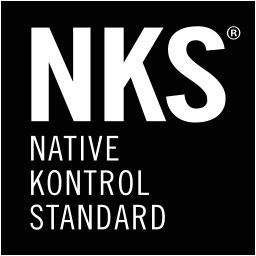 Protection
The software is protected by the Arturia Software Center. You can learn more about it here.
Oberheim® is a registered trademark of Tom Oberheim, which is in no way associated or affiliated with Arturia. All manufacturer and product names mentioned on this page are trademarks of their respective owners, which are in no way associated or affiliated with Arturia. The trademarks of other manufacturers are used solely to identify the products of those manufacturers whose features and sound were studied during the development. All names of equipment, inventors, and manufacturers have been included for illustrative and educational purposes only, and do not suggest any affiliation or endorsement by any equipment inventor or manufacturer.
Main Features
Two oscillators, each offering triangle, sawtooth and variable-width pulse wave with PWM.
Oscillator 2 also function as a white noise generator.
Oscillator 1 or the Filter can be frequency modulated.
Single filter with 15 modes: 4 Low Pass, 3 High Pass, 2 Band Pass modes, Notch and Phase Shift plus four additional "combo" filter modes.
Ultra-powerful modulation matrix with 27 sources and 47 destinations.
Sources include 5 envelopes, 5 LFOs, 4 Ramp, 3 Track generators, Velocity, Pressure, Keyboard follow, and more.
Two insert effect slots with six studio-grade effects available.
12 voices of polyphony like the original instrument
Multitimbral
Works in Standalone, VST, VST3, AU, AAX.
Awards