Days of future passed
The Mellotron earned its place in history and in our hearts. Thanks to our critically acclaimed modeling, Mellotron V will earn a place in yours.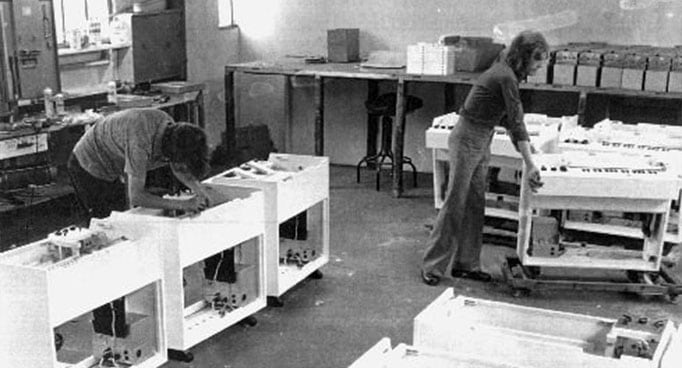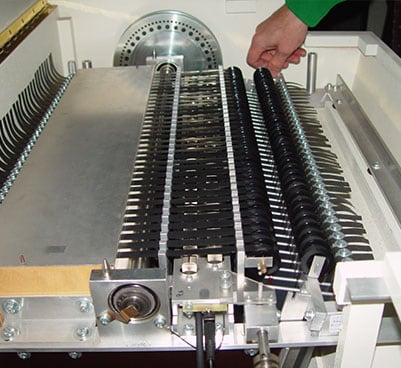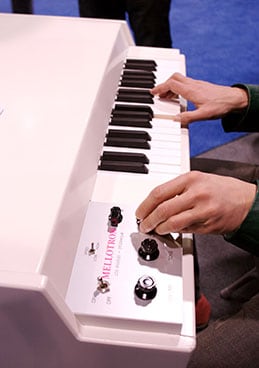 A refinement of Hal Chamberlin's eponymous instrument, the Mellotron was the forbearer of the sampling technology that later revolutionized the way modern music is made. Debuting in 1963 long before digital, this electro-acoustic instrument played back analog tape recordings of single-note performances of real-world strings, brass, woodwinds, choirs and more—one tape, capstan and playback head per key. Depressing a key engaged that note's dedicated mechanism to play back the corresponding pitched recording, while releasing the key caused the spring-loaded mechanism to retract the tape.

Each 3-track tape contained three distinct instruments, with a front-panel knob selecting the desired sound by moving the tape heads. Beyond that, summoning different instruments entailed replacing the entire tape frame. Another limitation, the tapes were only 8-seconds in length, so longer sustains were difficult to achieve.
Originally designed for home music enthusiasts, early models found their way into the spotlight on The Beatles' 1966 "Strawberry Fields". The unique Mellotron sound then appeared on an increasing number of rock recordings, and even helped define the prog rock soundscape. The Moody Blues' "Nights in White Satin". Rick Wakeman's strings on Bowie's "Space Oddity". King Crimson's "In the Court of the Crimson King". "Watcher of the Skies" by Genesis. Yes' "And You and I". And the list goes on.

Keyboardists everywhere went crazy at the idea of an orchestra at their fingertips—though few could afford the equivalent of a new luxury car. Moreover, the unit's excessive tape flutter and limited frequency range yielded a slightly otherworldy interpretation that conjured new creative possibilities.
Along the way, the original home-organ style models gave way to the more stable and transportable model M400 (still 122 lbs/55Kg.), of which about 1800 were made. Mellotrons eventually became extinct as comparatively affordable polyphonic string machines and synthesizers took over the market throughout the '70s and '80s. Yet, even in the age of pristine samples, the Mellotron's idiosyncratic sound was resurrected in later decades on recordings by Oasis, OMD, XTC, Radiohead, and even more recently by the likes of Kasabian, Caro Emerald, Harmonic 33, Eliza Doolittle and Vampire Weekend.
Now with Mellotron V, it's your turn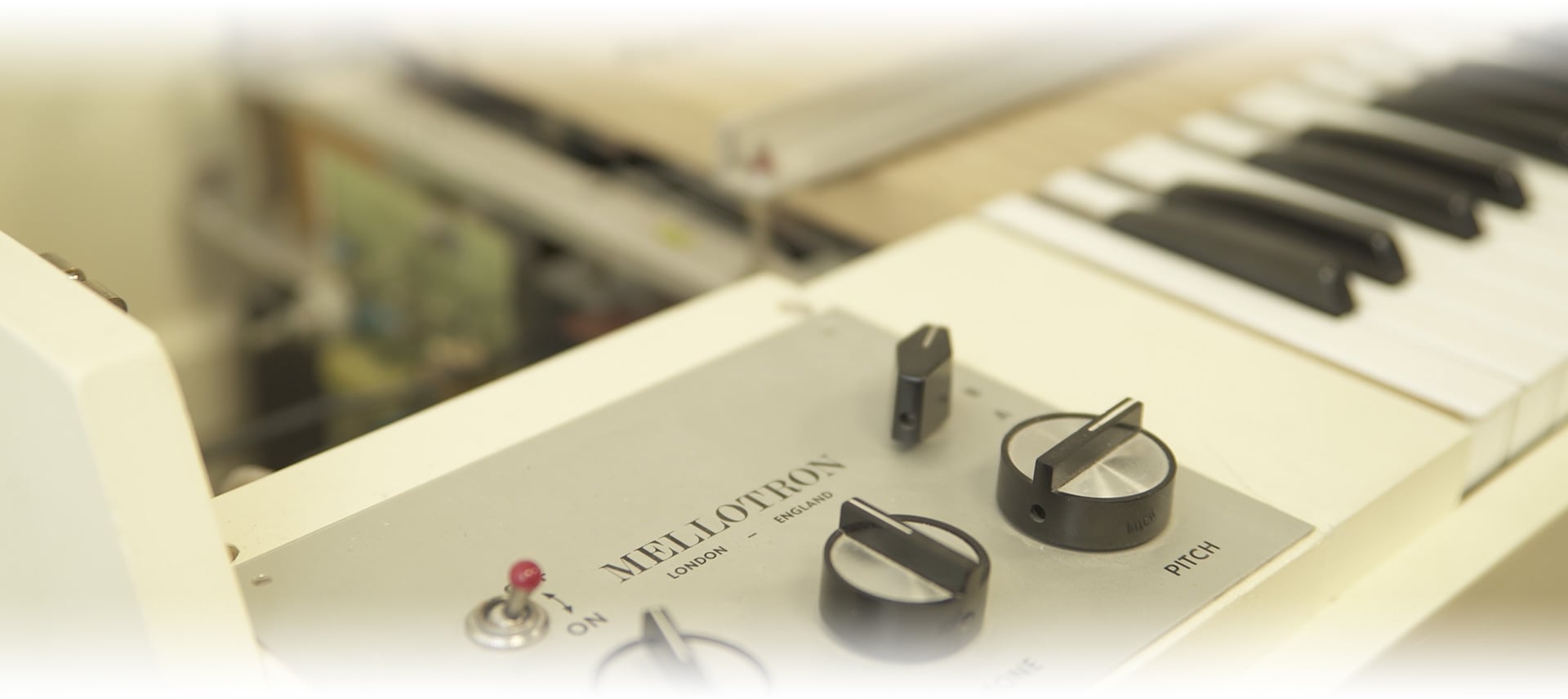 Mellotron V goes way beyond sampling to give you the most faithful reproduction possible.

Faithful modeling
As with all the instruments in V Collection 7, we employed our award-winning modeling technology and skills to virtually reproduce the electro-acoustic Mellotron at the component level. You'll recognize the unmistakable sonic signature of the instrument because we modeled the actual properties of the tape system—right down to the transport and tape heads. That means you can even dial in the amount of tape flutter, tape saturation and mechanical noise you want. We also modeled the preamp and other electronics that gave the originals such a distinctive sound.
World-class sampling
We spared no expense in seeking out cherry Mellotrons and tapes—including the M400 production unit and all its predecessors—and employed the latest sampling technology and techniques to translate and preserve them digitally. You get to play and be inspired by the actual sounds used on all those classic recordings.
Now you can finally mix-and-match all the classic Mellotron sounds any way you want.

Mellotron V is infinitely more flexible than the original. Load any instrument sounds you want from our top-notch library into the three tape tracks in whatever combination you want. Then dial in the mix between of any two adjacent tracks, or use the mod wheel to perform crossfades across all three. You can even set up splits and layers complete with multiple instruments on each track.
Whether in the studio or live performance, Mellotron V gives you even more of the real thing.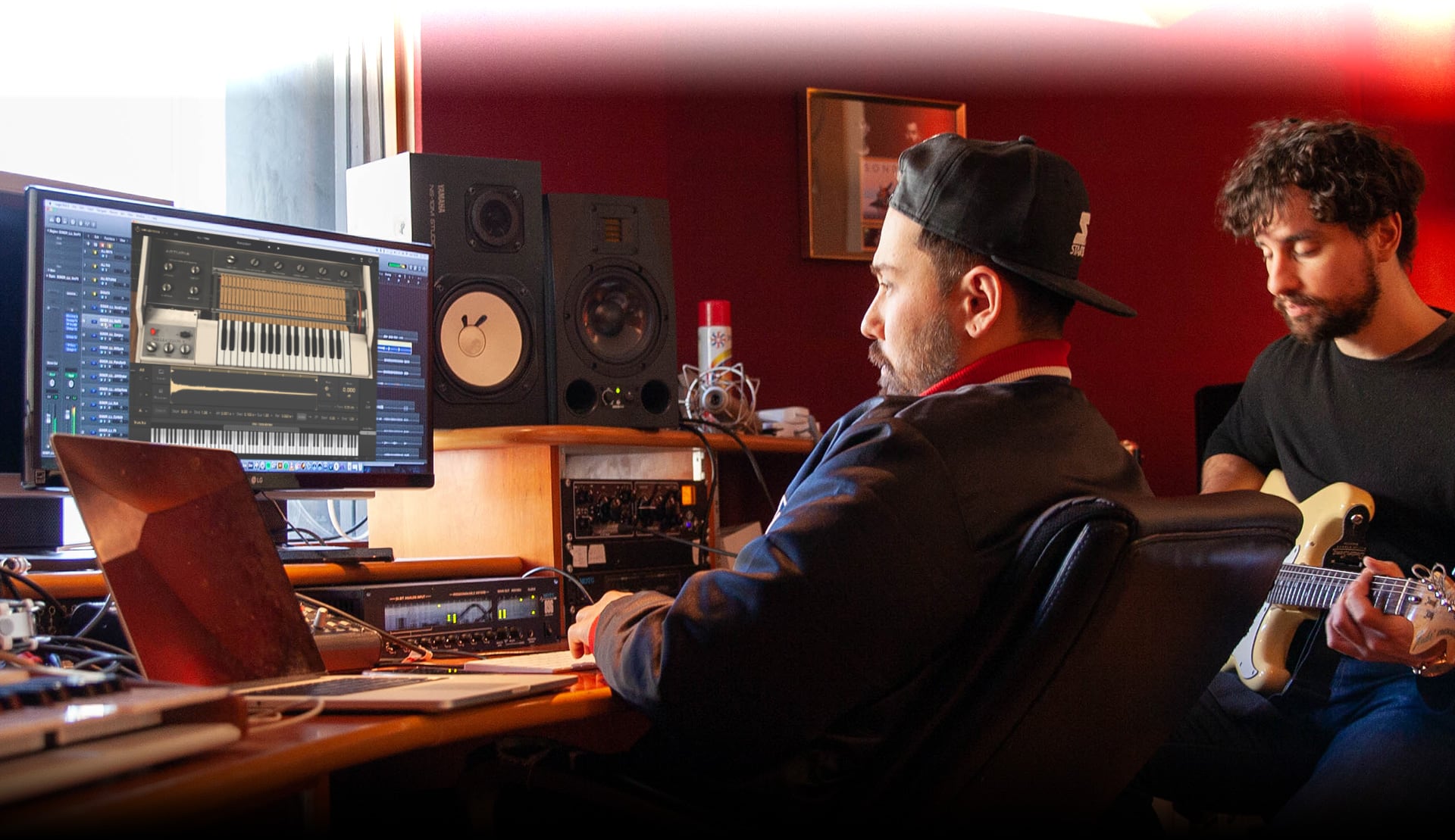 Load your own samples
Like most analog instruments, every Mellotron is different.
So is your Mellotron V.
With Mellotron V, your sounds aren't limited to the original tape library. Load your own samples into any of the three tracks and mix them with any of the iconic stock mid-century sounds. You can even just use your samples alone and let Mellotron V lend its distinctive sonic fingerprint to them for something uniquely yours.
Use the integrated sample editor to customize any instrument, including setting up loops to extend the 8-second limit of the original tapes.
Hod-rodded mods
now stock with Mellotron V
Proprietary modeling technology let us give you custom modifications under the lid that no physical unit has ever seen. Meet the new standard.
Flutter
Dial up the exact amount of tape flutter—from well calibrated to sick.
Tape saturation
Turn up the tape saturation to add some heat.
Mechanical Noise
How much of those keys and capstans do you want to hear?
Noise Floor
Dial in anything from ultraclean to how much electronics noise you want.
Vel > Volume
Where the original keys were basically on or off, you now have MIDI velocity control.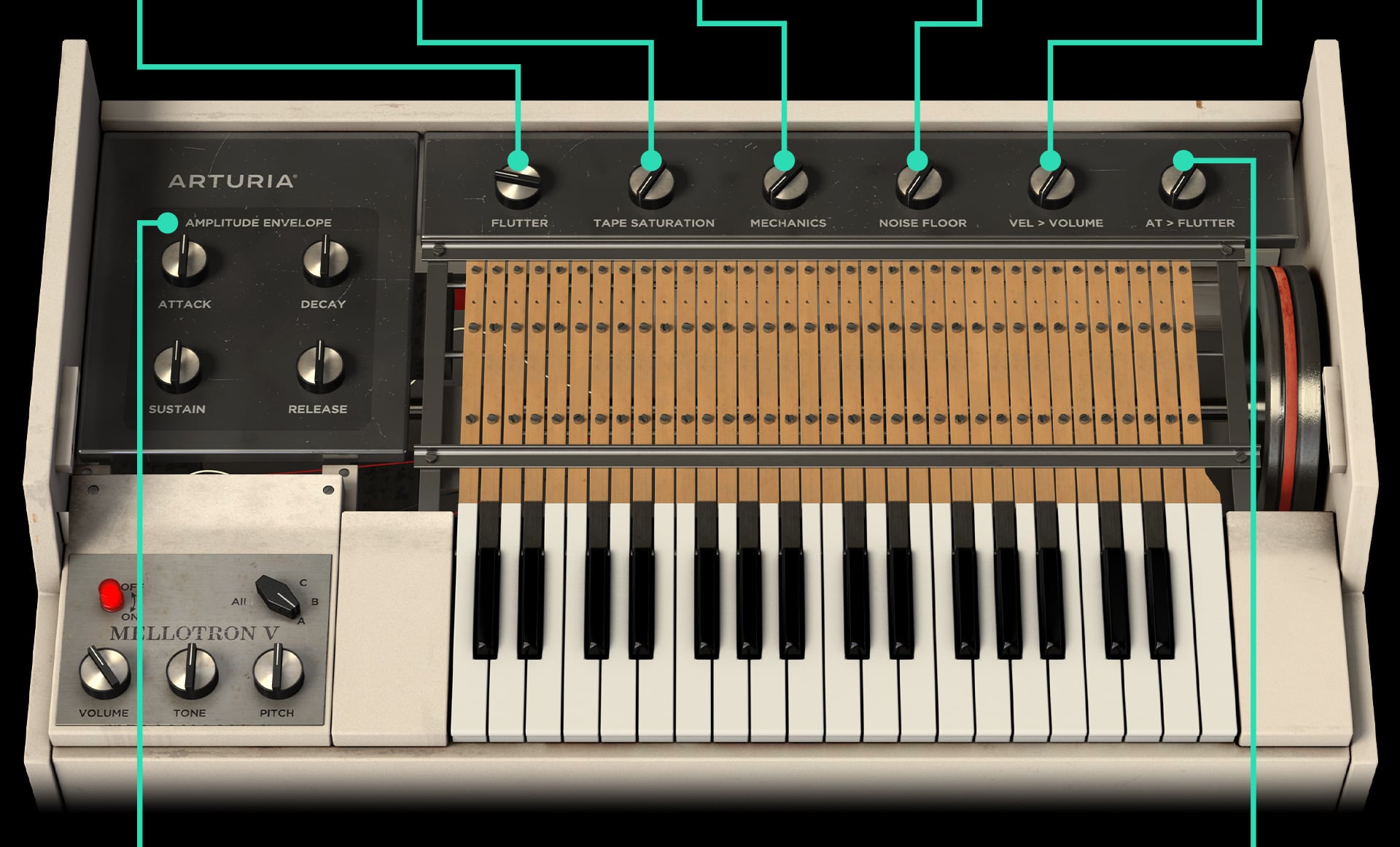 Amplitude Envelope
Shape dynamics in ways that simply weren't possible before.
AT > Flutter
Yep, you can even control the amount of flutter with Poly-aftertouch.
Use built-in FX to sculpt Mellotron V sounds to better fit in your tracks—or mutate them into your own new space oddities.
One click reveals the full-featured FX rack that comes right inside your Mellotron V. Arrange multiple effects any way you want, followed by a virtual guitar amp or rotary speaker, and finish off with your choice of reverb to place it however far out in space you want. It's all great fun to experiment with, and your favorite FX settings are saved right in your patches. Who knows—maybe that overdriven, flanged, rotating underwater triple violin/bassoon combo sound you create will be the new bomb!

Mellotron V doesn't just sound and act like the real thing
it looks and feels like it too.
Our graphic interface faithfully renders the original instrument, including some of the inevitable wear and tear you'd expect in a 50-year old instrument. The inside view where we've stashed the added controls also graphically exposes the inner workings—everything except for the dust. And the look and functionality of the modern customizations we've made are informed by years of making award-winning software instruments.
Playing the Mellotron V is way cool just in itself. The vintage visuals make it a total experience.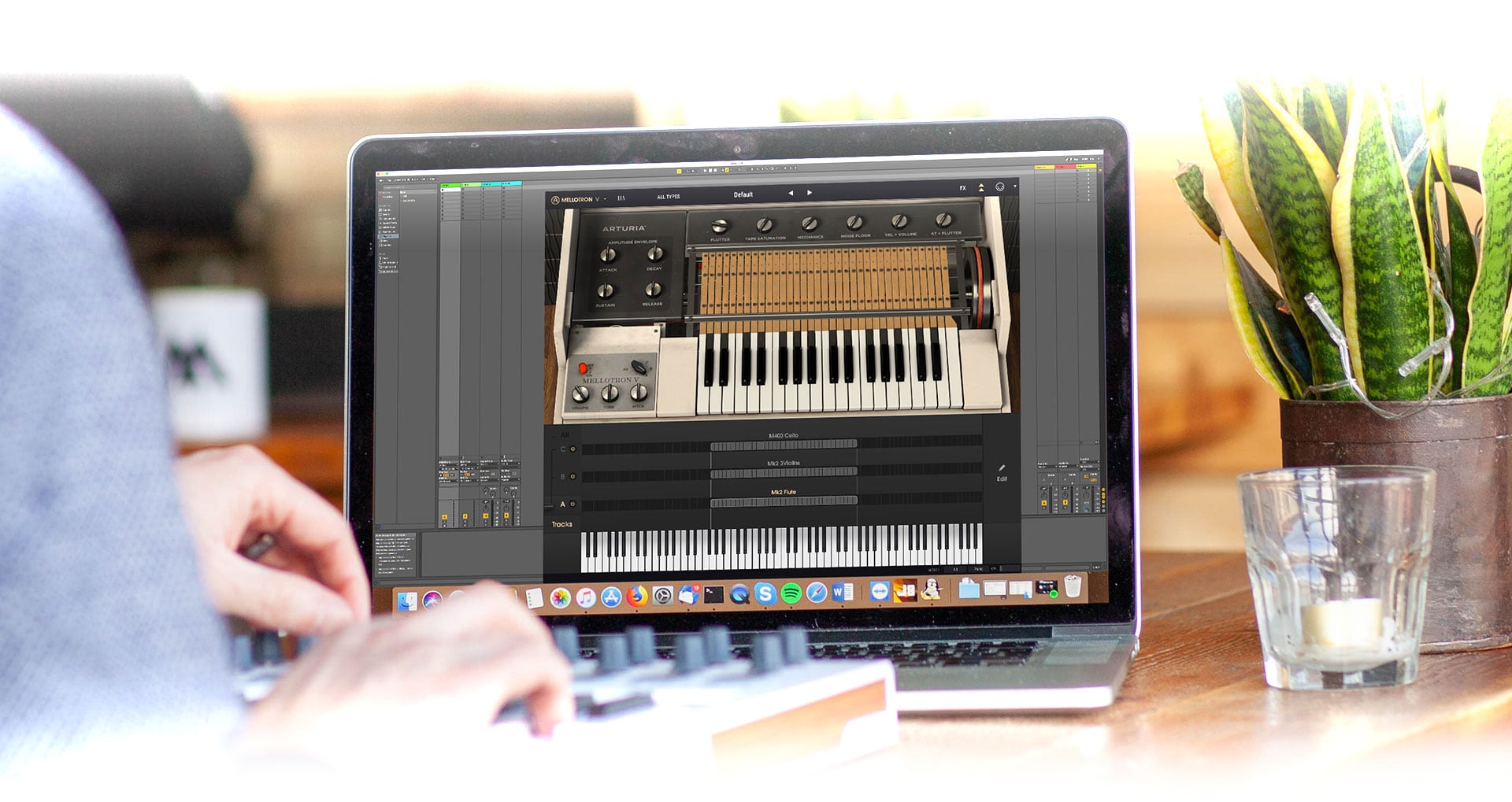 MIDI meets Mellotron V.
MIDI wasn't even a dream in the Mellotron's day. Not only can you play our virtual instrument from any MIDI keyboard, sequencer or DAW, we've added our standard MIDI Learn functionality as well. For starters, we've mapped the A/B/C track selector to your mod wheel to make it easy to perform selections and fades. Add more expression to your performances by mapping this and other Mellotron V controls to any MIDI CC controllers you wish.
All this control is enough to make even vintage Mellotron owners envious.
Classic and quirky sounds
Mellotron V not only contains all the original tape samples, it's packed with inspiring presets too.
Whether you want to relive the glory days of 60s prog and rock classics, play some of the alternative rock hits that pulled the Mellotron back into the limelight, or explore new sonic possibilities, the presets found in Mellotron V will make you smile from ear to ear.
Preset browser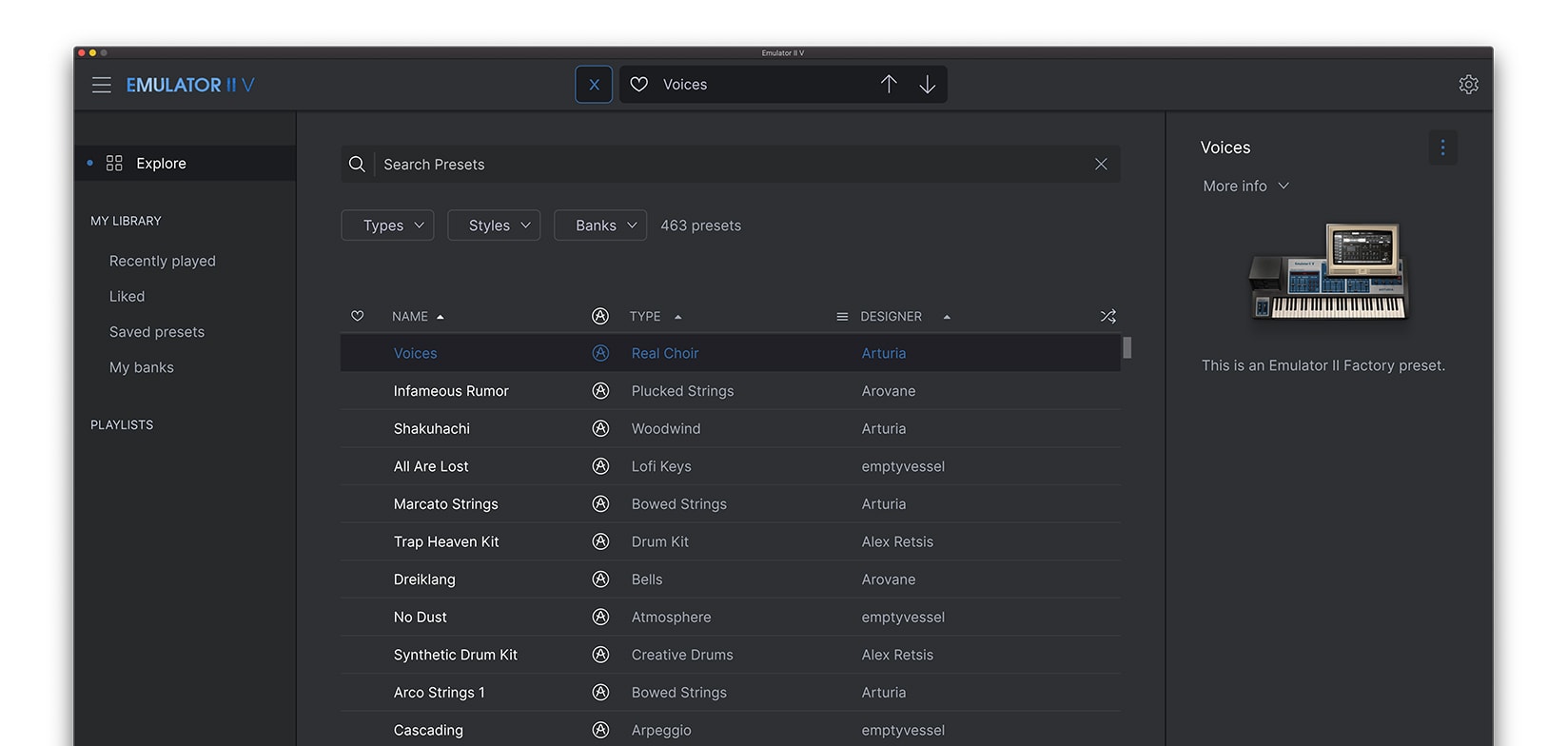 Our redesigned preset browser lets you quickly find just the sound you're looking for.
Search by name or simply select the appropriate tags to dial in on the exact sonic character you're looking for. You can mark and recall your own favorites, enter comments, and set up playlists. There's never been a more intuitive way to manage your library of designer and personal presets.
Resizable GUI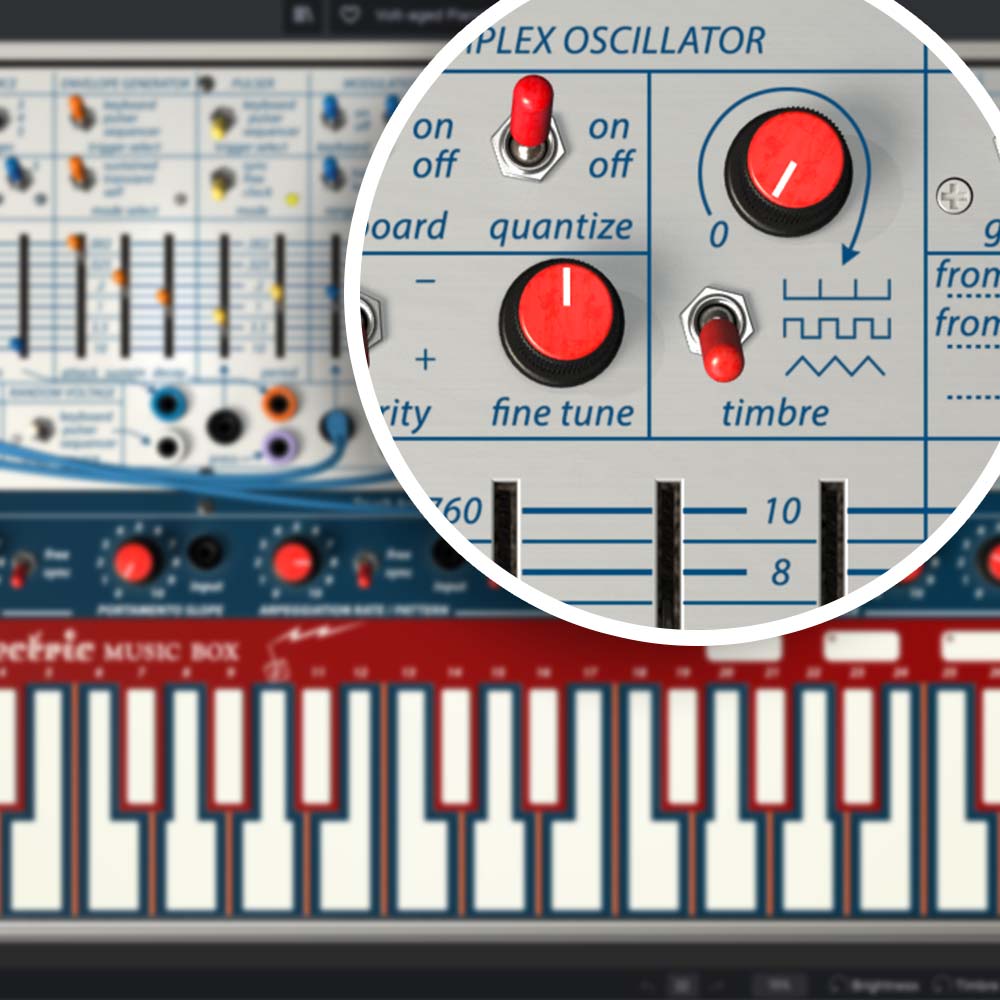 The user interfaces for all your Arturia instruments are now resizable, making it easy to work with any High Resolution screen, UHD or Retina.
You can decide whether you want to fill the screen with awesome graphic reproductions of classic instrument goodness, scale the window down when you're working in a DAW and screen real estate is at a premium, or even zoom for detailed work.
Perfect integration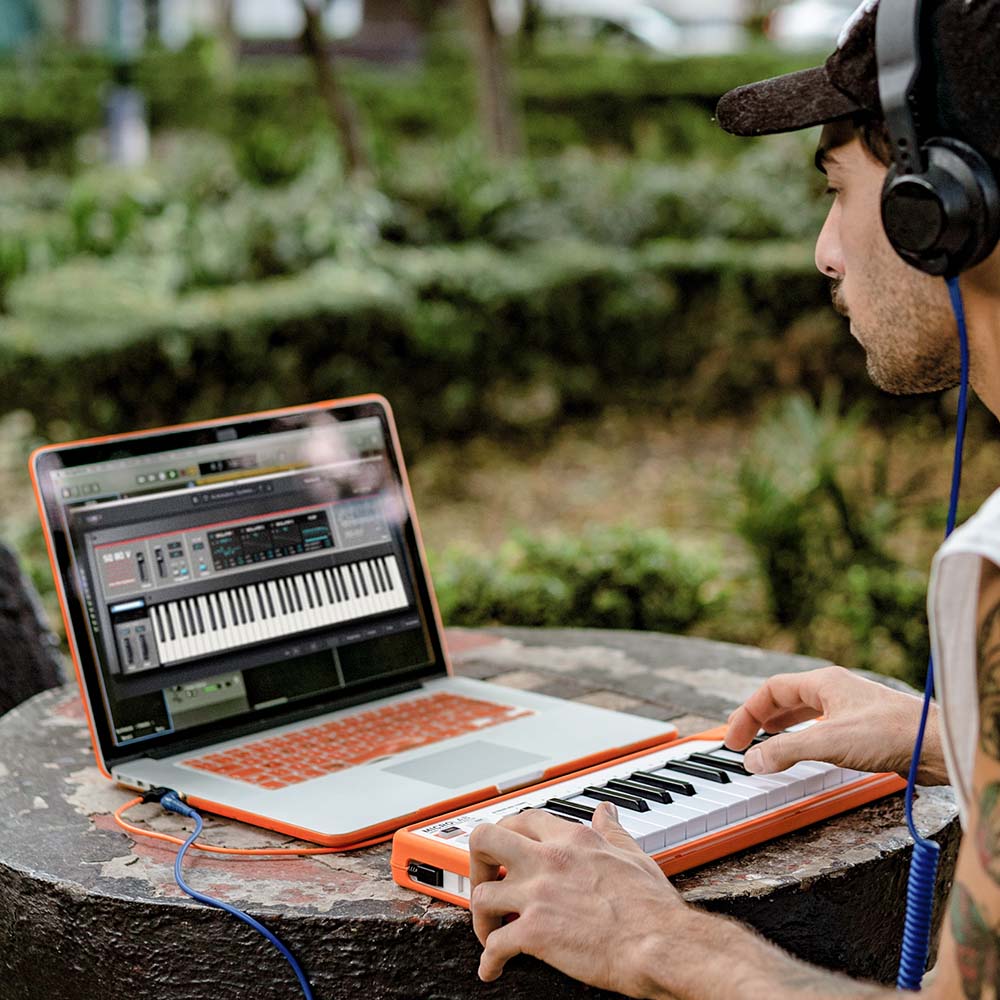 However you play, perform, or create, we've got you covered.
We've made it as easy as possible to use and enjoy the instruments in V Collection 7. They intuitively map with the Arturia KeyLab range, and play nicely with other MIDI controllers too. You can use them in standalone mode, and in your preferred DAW. You can even play notes using your computer's keyboard when you're on the go!
Platform specifications
: Win 7+ (64bit) PC: 4 GB RAM; 2.5 GHz CPU.
3GB free hard disk space
OpenGL 2.0 compatible GPU
: 10.10+: 4 GB RAM; 2.5 GHz CPU.
3GB free hard disk space
OpenGL 2.0 compatible GPU
Required configuration
Works in Standalone, VST 2.4, VST 3, AAX, Audio Unit, NKS (64-bit DAWs only).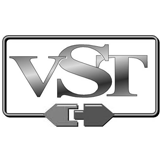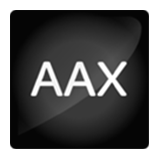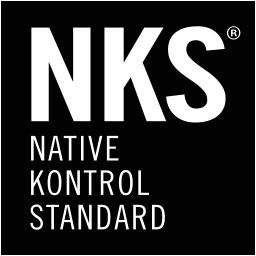 * NKS compatibility currently unavailable
Protection
The software is protected by the Arturia Software Center. You can learn more about it here.
Main Features
65 original tape racks from MKI/MKII/M300/M400 Mellotrons
User sample import: benefit from the Mellotron sound on any sample
3 tracks to select or blend samples
Modeling parameters and modulations: flutter, tape saturation, mechanics noise, noise floor, velocity on volume and aftertouch on flutter
Amplitude envelope and loop controls for each sample
Time stretching on user samples
Dedicated effects pedal board

4 slots with a selection of 10 different effects
1 amplifier simulator (Fender Twin or Leslie)
1 room ambiance

61 presets
Mellotron® is a registered trademark of Mellotron.com

is a registered trademark of Mellotron Inc.

is a registered trademark of Mellotron Inc.