A little bit of history...
Throughout the early 70's, Tom Oberheim quickly gained a reputation as a talented effects manufacturer. His company Oberheim® Electronics notably engineered the Maestro Ring Modulator and Phase Shifter which had a huge success on the US market.
After gaining experience as an official dealer for ARP Synthesizers in Los Angeles, he designed the Synthesizer Expander Module (SEM) with the help of Dave Rossum of E-mu Systems. It made its debut in May 1974 at the Audio Engineering Society Convention in L.A.
The SEM was one of the world's first self-contained synthesizer modules. It was primarily developed as a convenient solution for musicians who wanted to set up sequences without tying up more valuable synths. The SEM also worked very well as an expander to fatten up the tone of other synthesizers like the Minimoog or the ARP Odyssey.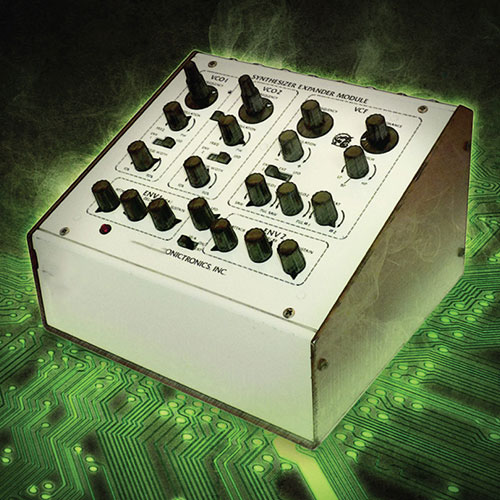 Soon the SEM gained a popularity of its own, thanks to the unique sounds generated by its innovative multimode filter.
Tom expanded upon this success by creating polyphonic synthesizers that were basically combinations of the SEM with a digital keyboard in one carry-case. Besides the OB series, Oberheim® extended its line with popular synthesizers such as the Matrix 6, -12 and -1000.
Sadly, in 1985 Oberheim® Electronics folded. However, the brand name and some of its products were carried forward one company after another. And then to the joy of synth enthusiasts, as of 2009 Tom started producing updated versions of his early synthesizers again.
A faithful reproduction
The original SEM has particular characteristics for which it is loved by many musicians to this day. SEM V brings back the sound and special characteristics in an accurate virtual emulation.
The SEM V modules have been faithfully modeled using TAE® (True Analog Emulation), Arturia's proprietary technology that precisely models the behavior of analog circuits.
And the results speak for themselves: SEM V is a stunningly accurate virtual instrument that delivers the same acoustic properties as the original.
Oscillators :
Like all components of SEM V, we modeled the two oscillators with the utmost respect for the properties of the original circuit. They replicate the exact sawtooth and variable-width pulse waveforms present in the original.
On a control level, the SEM V interface also duplicates the behavior of the dual-concentric knobs for coarse and fine tuning, with a right-click/drag activating the fine adjust mode (as it does for most parameters).
Filter :
The 12dB/octave multimode filter is one of the most remarkable modules in the SEM. In many ways it helped define the sonic identity of Oberheim®, because it shaped a diverse range of sounds that were almost impossible to get on other synthesizers.
SEM V carefully models the four modes of the filter (low-pass, high-pass, notch and band-pass). Our commitment to recreating each detail means that you can either switch to band-pass mode or sweep through the other three modes simply by turning the knob clockwise.
ADS Envelopes and Modulations :
The particular response of the ADS envelopes is accurately reproduced, as are the VCF mixer and all modulation knobs and switches, so you'll be able to nail any of the classic SEM tones.
What we added
Extended functionality
SEM V adds a few tricks to the original model that considerably increase the sonic possibilities and allow the demanding musician to push the boundaries of the Oberheim® sound even farther:
Polyphony and 8 voice multitimbrality inspired by the 2-, 4- and 8-voice models
White Noise, to mix into your etheral pads and FX sounds
Sub-oscillator with sawtooth and sine waves, for added growl and bottom end
A second LFO with sine, sawtooth and square waves for more complex modulations
High-quality, on-board effects: overdrive, stereo delay, stereo chorus
An arpeggiator, for instant basslines and inspiring melodic patterns
Portamento, to enable more expressive playing
New Exclusive Modules
SEM V also provides 3 innovative modules, each with a unique impact on the sound:
Keyboard Follow
With the intuitive Keyboard Follow module you can draw complex modulation curves easily. Up to 6 independent curves can be created, ensuring precise control of the sound from your MIDI keyboard.
8-Voice Programmer
Inspired by the multitimbral capabilities of the 2-, 4- and 8-voice Oberheim®s, the 8-Voice Programmer is a powerful module with which you can make drastic edits on up to 8 SEM V voices.
Unlike the repetitive manipulations on a hardware SEM, the graphic interface of the 8-Voice Programmer makes programming a breeze. Whether you want to play spectral pads or complex sequences, this module will allow you to achieve amazing sonic results in no time.
Modulation Matrix
The SEM V Modulation Matrix offers 8 simultaneous modulation routings which can send 8 different sources to more than 25 destinations.
With its polyphonic capability, arpeggiator, 8-Voice Programmer, Modulation Matrix and effects, SEM V can create an incredible array of sounds while staying true to sonic character and simple interface of the SEM architecture.
What you can do with SEM V
SEM V is a powerful instrument capable of producing a wide range of warm analog sounds.
Reproducing the unique SEM architecture with its oscillator sync, characteristic filter shape and specific envelope response, SEM V is able to generate the fat basses that have made the Oberheim® brand so popular. Thanks to its simple and clever pitch bend and mod wheel routings, it's very easy to produce moving and lively leads.
Its remarkable 12 dB/oct multimode filter is a real blast from the past, and it's an awesome tool in the context of today's electronic music. This unique module can instantly tailor your sound to fat, crisp or spectral textures with every shade of nuance in-between.
And there's more!
The added polyphony and multitimbral capability will allow you to step into a world of deep pads, warm brass and complex sequences, features which were characteristic of the later 2-, 4-, and 8-voice Oberheim® synthesizers.
Your SEM V module basically has the power of 8 SEMs! Thanks to the ergonomic 8-Voice Programmer module, setting each SEM voice is much faster than on hardware, leading to unique sonic results. Combined with the Keyboard Follow and the Modulation Matrix, the expressive capabilities of SEM V have gone far beyond the original.
Sound demo
This ambient track showcases some deep SEM pads and a sequence that derives its crystalline sound from the notch position of the filter. The panning of each voice is unique courtesy of the 8-Voice Programmer, which results in a spacious effect typical of the 4- and 8-voice models. All sounds were produced by SEM V, including the percussion.
Preset browser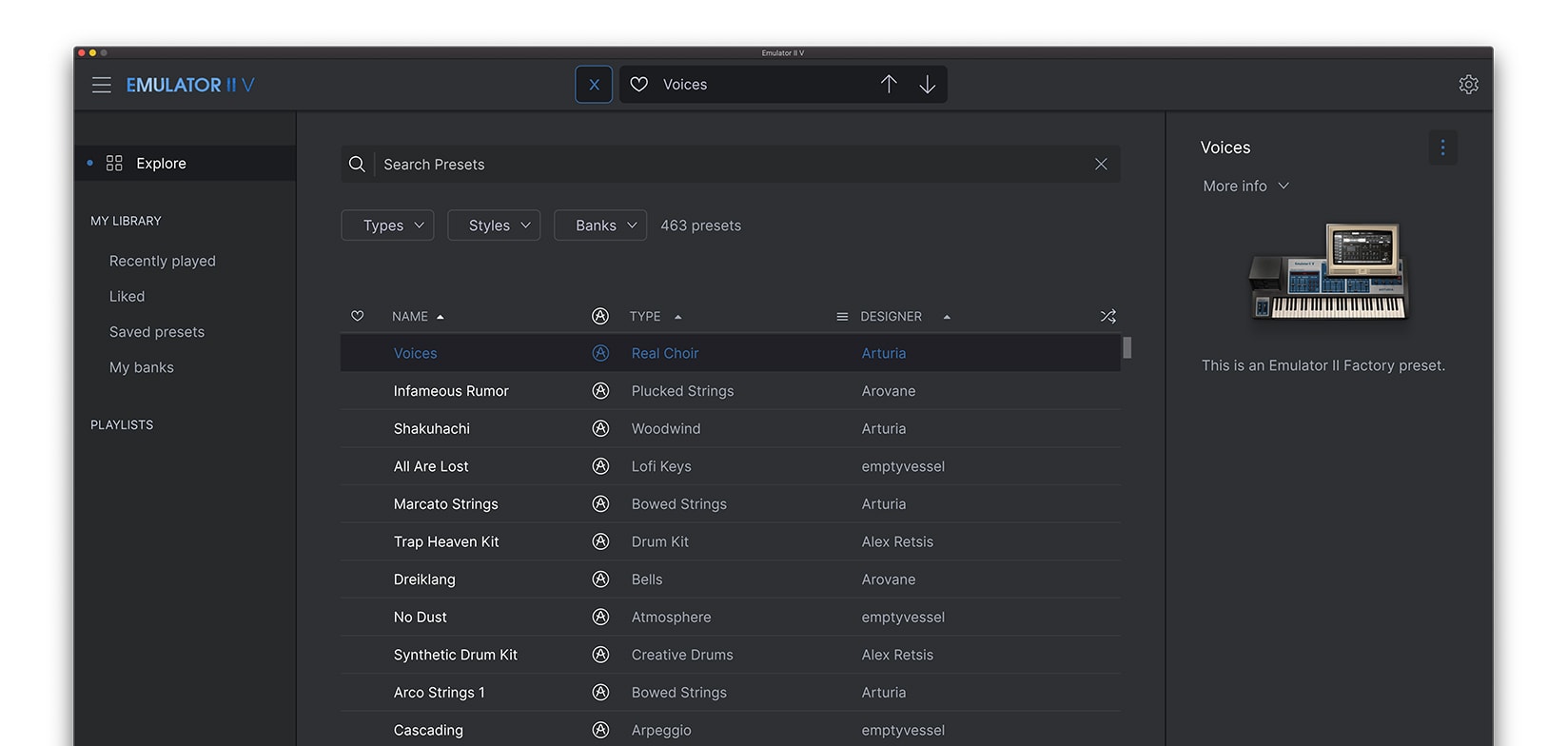 Our redesigned preset browser lets you quickly find just the sound you're looking for.
Search by name or simply select the appropriate tags to dial in on the exact sonic character you're looking for. You can mark and recall your own favorites, enter comments, and set up playlists. There's never been a more intuitive way to manage your library of designer and personal presets.
Resizable GUI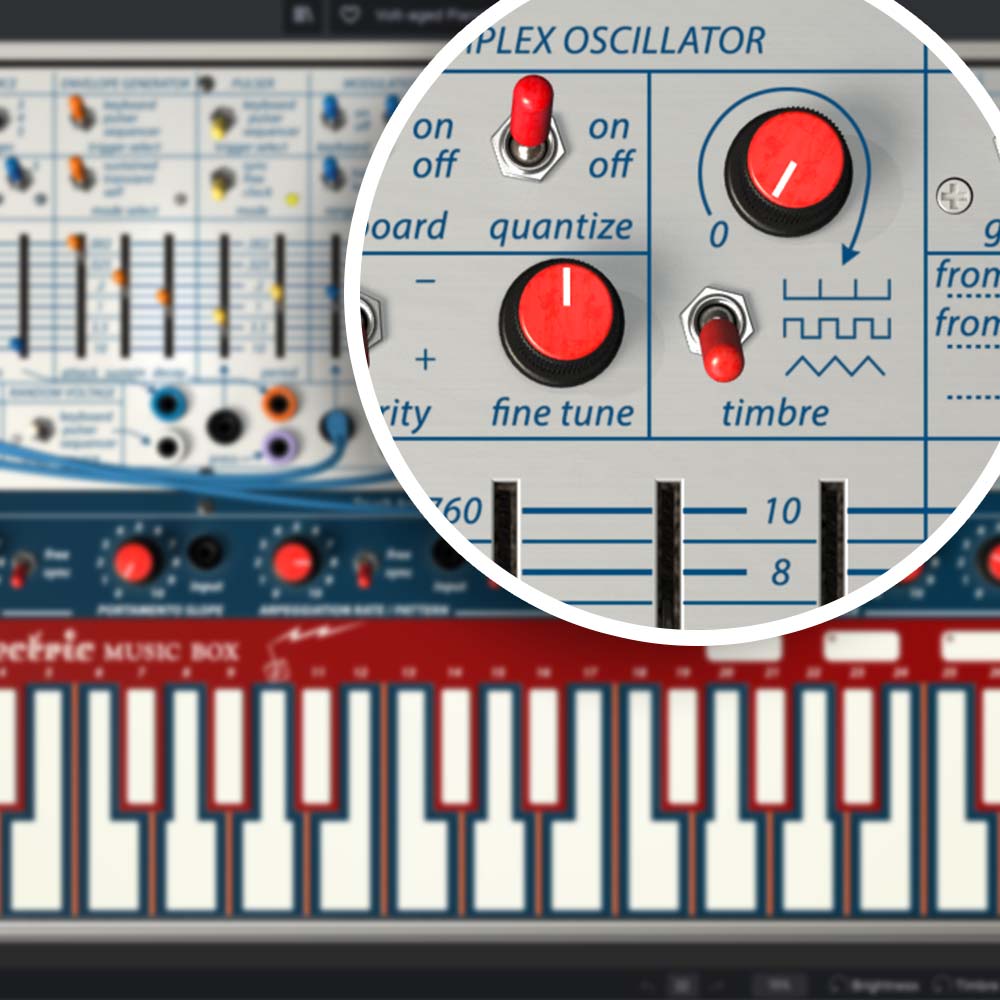 The user interfaces for all your Arturia instruments are now resizable, making it easy to work with any High Resolution screen, UHD or Retina.
You can decide whether you want to fill the screen with awesome graphic reproductions of classic instrument goodness, scale the window down when you're working in a DAW and screen real estate is at a premium, or even zoom for detailed work.
Perfect integration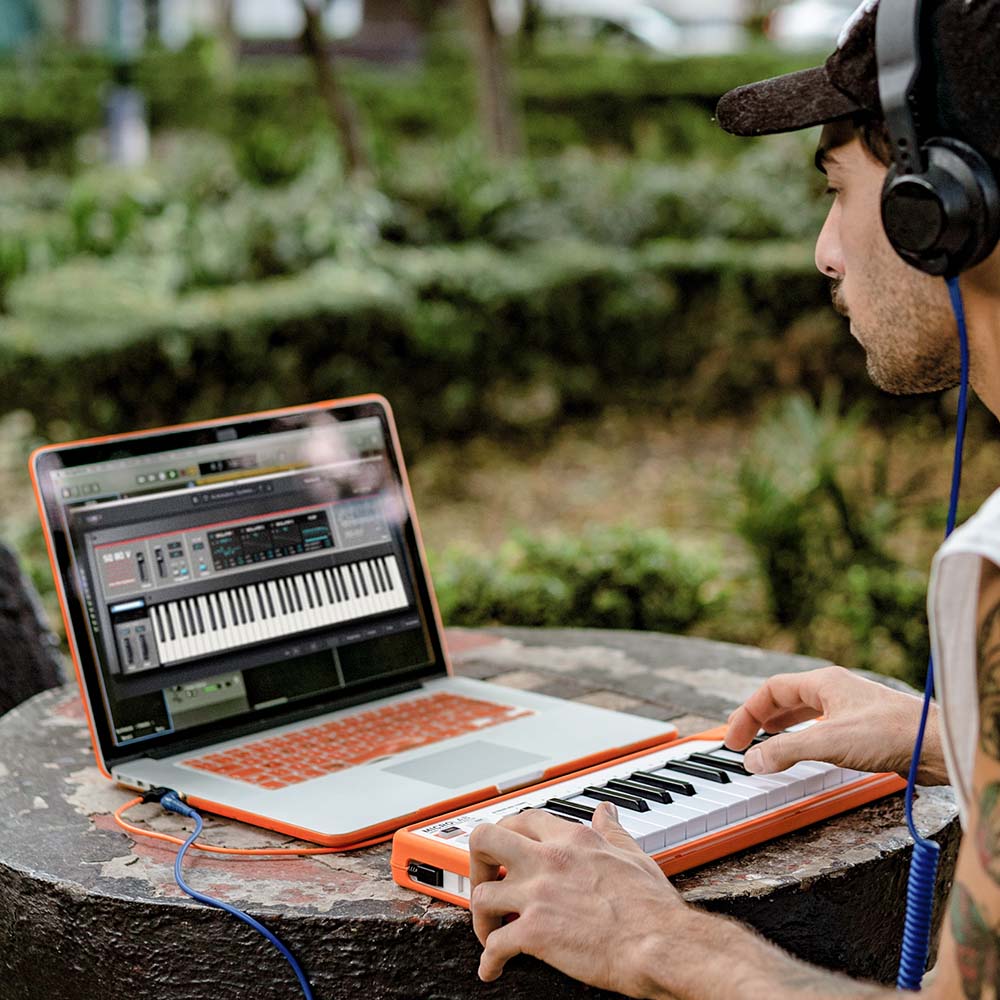 However you play, perform, or create, we've got you covered.
We've made it as easy as possible to use and enjoy the instruments in V Collection 7. They intuitively map with the Arturia KeyLab range, and play nicely with other MIDI controllers too. You can use them in standalone mode, and in your preferred DAW. You can even play notes using your computer's keyboard when you're on the go!
Platform specifications
: Win 7+ (64bit) PC: 4 GB RAM; 2.5 GHz CPU.
1GB free hard disk space
OpenGL 2.0 compatible GPU
: 10.11+: 4 GB RAM; 2.5 GHz CPU.
1GB free hard disk space
OpenGL 2.0 compatible GPU
Required configuration
Works in Standalone, VST 2.4, VST 3, AAX, Audio Unit, NKS (64-bit DAWs only).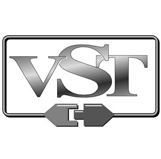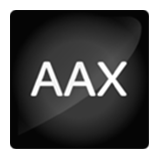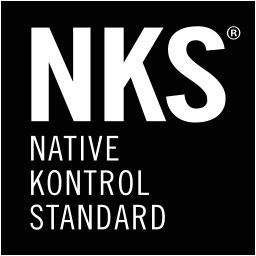 Protection
The software is protected by the Arturia Software Center. You can learn more about it here.
Oberheim® is a registered trademark of Tom Oberheim, which is in no way associated or affiliated with Arturia. All manufacturer and product names mentioned on this page are trademarks of their respective owners, which are in no way associated or affiliated with Arturia. The trademarks of other manufacturers are used solely to identify the products of those manufacturers whose features and sound were studied during the development. All names of equipment, inventors, and manufacturers have been included for illustrative and educational purposes only, and do not suggest any affiliation or endorsement by any equipment inventor or manufacturer.
Main Features
All the original parameters of the Oberheim® SEM : two oscillators, each offering sawtooth wave and variable-width pulse wave with PWM, sine wave LFO, 12dB/oct multi-mode Filter with low-pass, high-pass, band-pass and notch, two ADS envelope generators.
Added functionalities : New LFO, Noise, Sub oscillator, on board effects (overdrive, chorus and delay), Arpeggiator, Portamento.
Polyphony up to 32 and 8 Voice Multitimbrality
New 8 Voice Programmer module
Advanced Keyboard Follow module
Modulation Matrix module
Works in Standalone
Now compatible with iSEM Preset export/import
Polyphony parameter to limit the polyphony of the plugin
20 new factory presets from Ian Boddy
21 new factory presets from Erik Norlander
35 new factory presets from Richard Courtel
11 new factory presets from Kevin Lamb
14 new factory presets from Drew Newmann
"Forward Retrigg" mode for the 8-Voice Programmer (for easy use of sequences using the Arpeggiator)
"Reassign" mode for the 8-Voice Programmer (like in the original one, the SEM V will first use the boards that are not gated in its voice assignment)
Sustain pedal is now active on all systems
Awards