PROPHET 5
The virtual emulation offered in Prophet-V is an exact replica of the original instrument and uses the same subtractive synthesis model. Subtractive synthesis refers to the filtering of sounds in a specific way in order to create harmonically rich waveforms and new timbres. Our reproduction of subtractive synthesis with TAE® guarantees the sound quality of the instrument.
Prophet-V provides all of the original parameters and the 40 original presets of the Prophet 5. The potentiometers or switches associated to those 54 parameters will permit you to create an infinite variety of sounds that were native to the original synthesizer.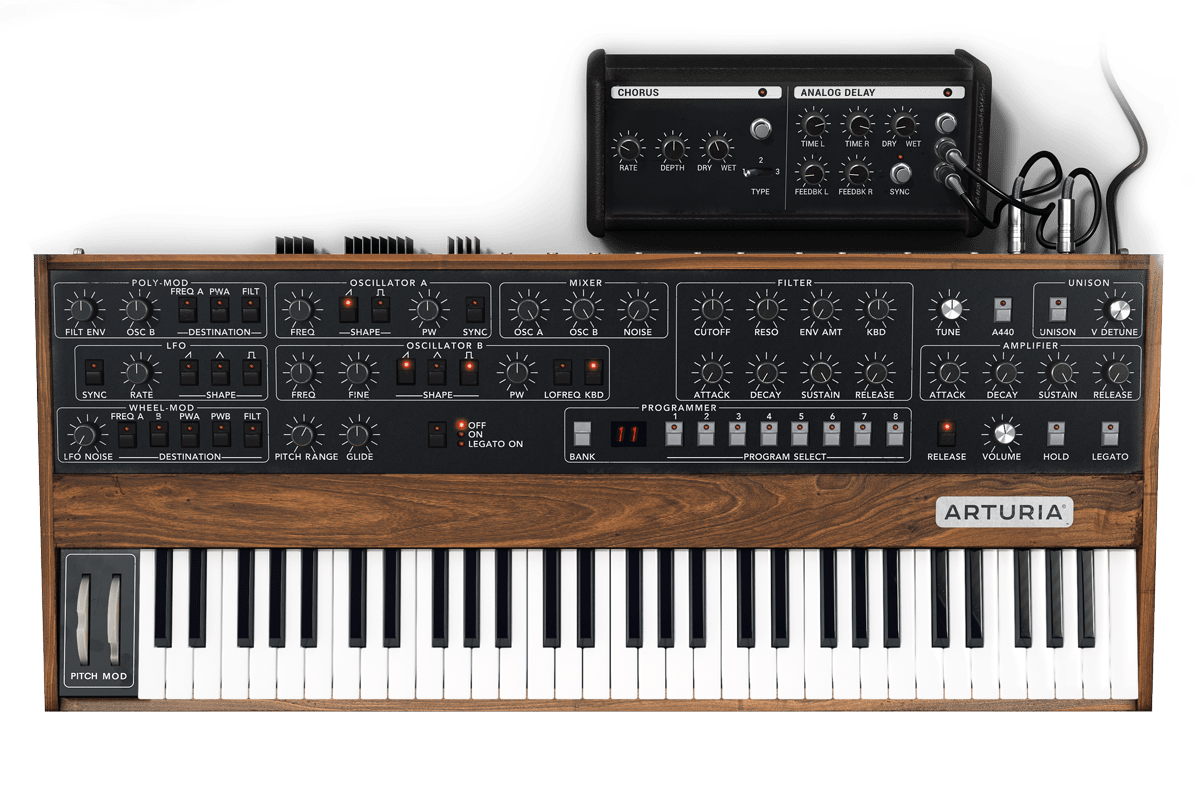 In the Prophet 5 you will find:
Compatibility with the presets of the original synthesizer
2 analog oscillators (TAE® technology)
1 white noise module
1 low pass resonance filter
2 ADSR envelopes
1 LFO
Poly Mod section, which allows you to apply FM to oscillator A and to the filter.
Here are a few sound clips of the Prophet 5 to give you a glimpse of the timbral possibilities:
PROPHET VS
The Prophet VS uses wave table or vector oscillators. In this type of synthesis, the oscillator waveforms are digitally stored in a table which the user can freely select, depending on the texture of the sound that is required. With the VS you can recreate that classic 80's wavetable synthesis sound within your computer.
There are 96 digitally sampled waveforms available. You can use up to 4 oscillators simultaneously and mix them in real time by sweeping the joystick or by creating a 5-point envelope. The Prophet VS brings you a unique sound that has the strength to stand on its own, but at the same time is complementary to that of the Prophet 5.

In the Prophet VS you will find:
Compatibility with the presets of the original synthesizer
4 digital oscillators
1 4-point mixer with joystick
1 multi mode filter (LP, HP, BP, Notch)
1 panaoramic module
2 LFOs
3 5-point envelopes
1 Modulation matrix
Here are a few sound clips with the Prophet VS to give you a glimpse at your musical possibilities:
PROPHET HYBRID
In Hybrid mode we believe we have brought something very special to life. Part of what's great about having a new synthesizer is the unexpected things you can discover with it; those delightful moments of inspired creativity when you stumble across a sound that you weren't looking for.
Hybrid mode provides many such opportunities through a combination of the Prophet 5 and Prophet VS, stacked one on top of the other. This means an entirely new palette of sounds will be at your disposal to mix and blend: the analogue subtractive synthesizer in the Prophet 5 AND the digital wavetable / vector synthesizer of the Prophet VS.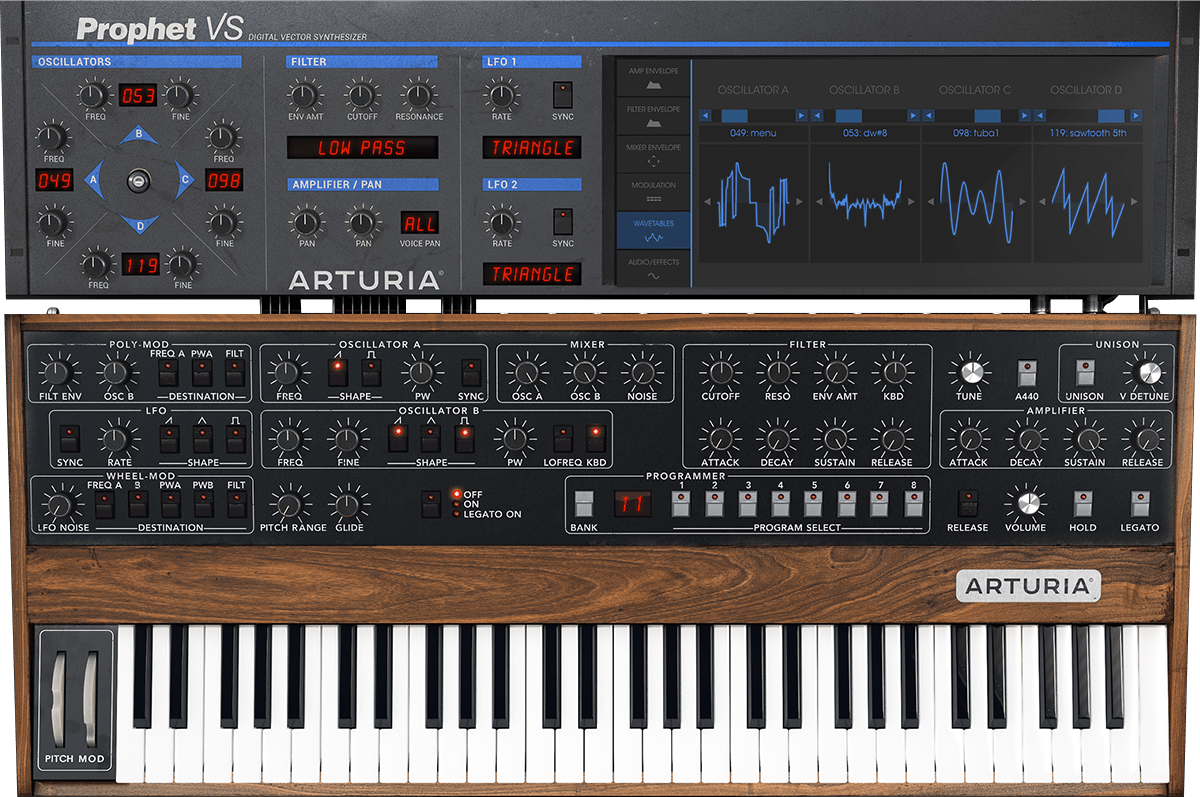 Hybrid mode is made up of all the parameters of both instruments plus:
The audio connection matrix
The audio matrix allows you to activate or deactivate the audio module outputs of the two synthesizers (oscillators, filters, noise generator, etc.). You can connect the filters in series for a unique mix of the two synthesizers, or you can connect the filters in parallel for a fatter sound. This gives you a huge potential for variety in the sound.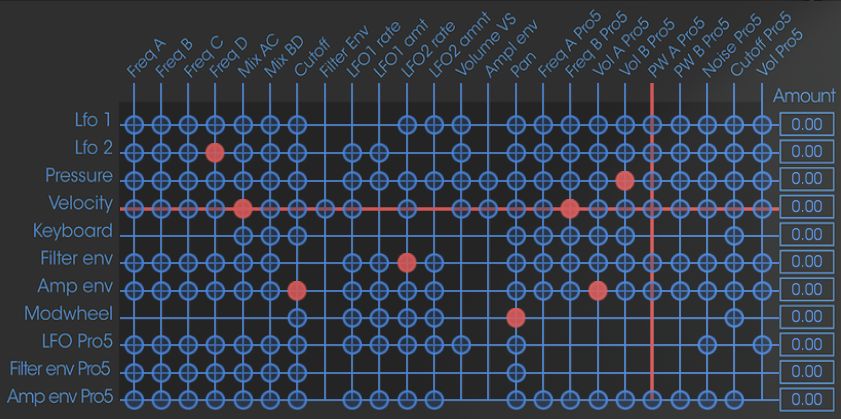 One modulation matrix integrating both synthesizers
The modulation matrix of the Prophet Hybrid allows you to add modulation inputs that would be impossible to add with the Prophet 5 alone. The velocity, aftertouch and all of the other modulation sources present on the Prophet VS are now available to the Prophet 5.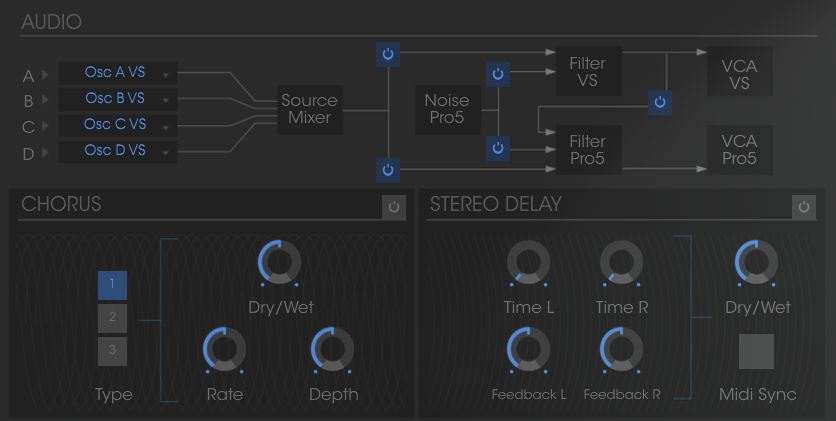 Here are a few sound clips that will help you see the vast potential for creativity in Hybrid mode:
In-App Tutorials
Integrated in-app tutorials guide you through every aspect of the instrument, from individual parameters to tips from our sound designers, so you can focus on the creative stuff. It shouldn't be this easy, but it is!
ASC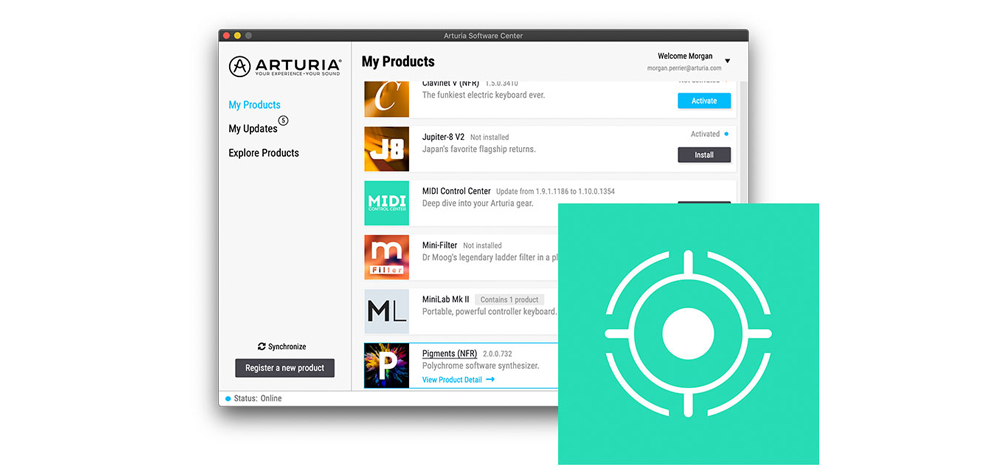 Arturia Software Center lets you download, organize, and update all of your Arturia software titles in one place, as well as manage all of your licenses across multiple devices. Keep it simple.
Learn More
Download the ASC
DAW ready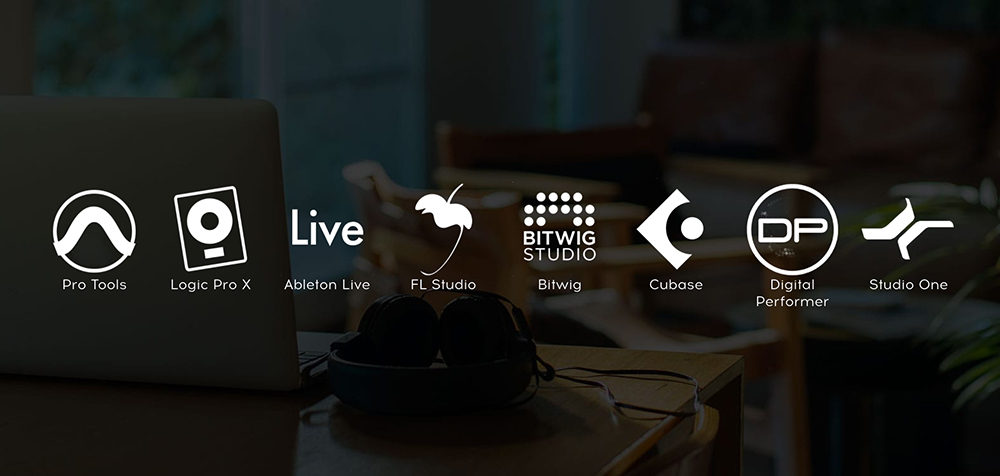 Our virtual instruments and plugins are designed to fit right into your setup without hassle. Whatever your style, you can explore sound while enjoying full compatibility with major DAWS, on both Windows and MacOS.
Preset browser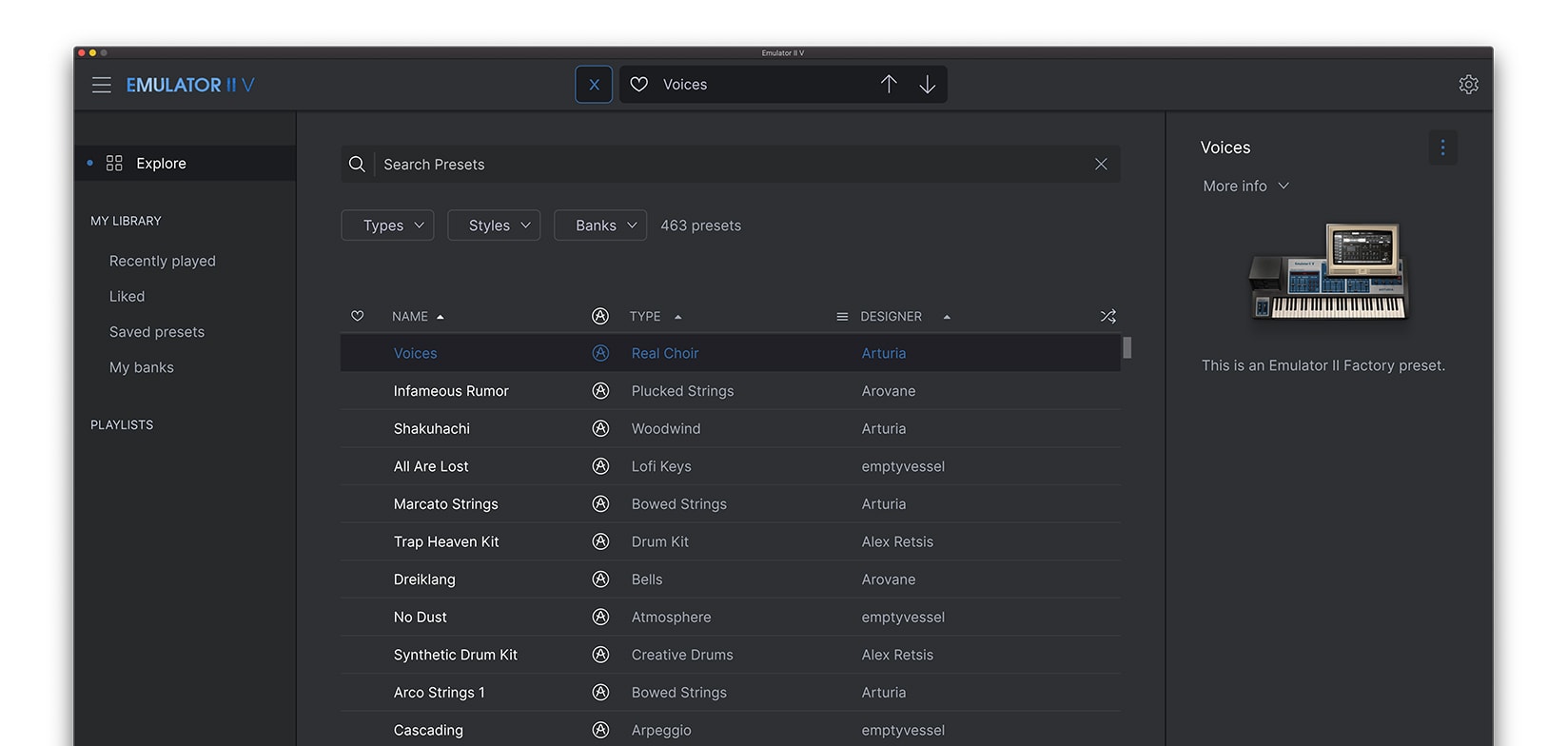 Instantly find the sound that's in your head with intelligent & streamlined preset browsing. Search with keywords, explore by instrument type, musical style, and more - you can even save your favorites to quickly recall later.
Resizable GUI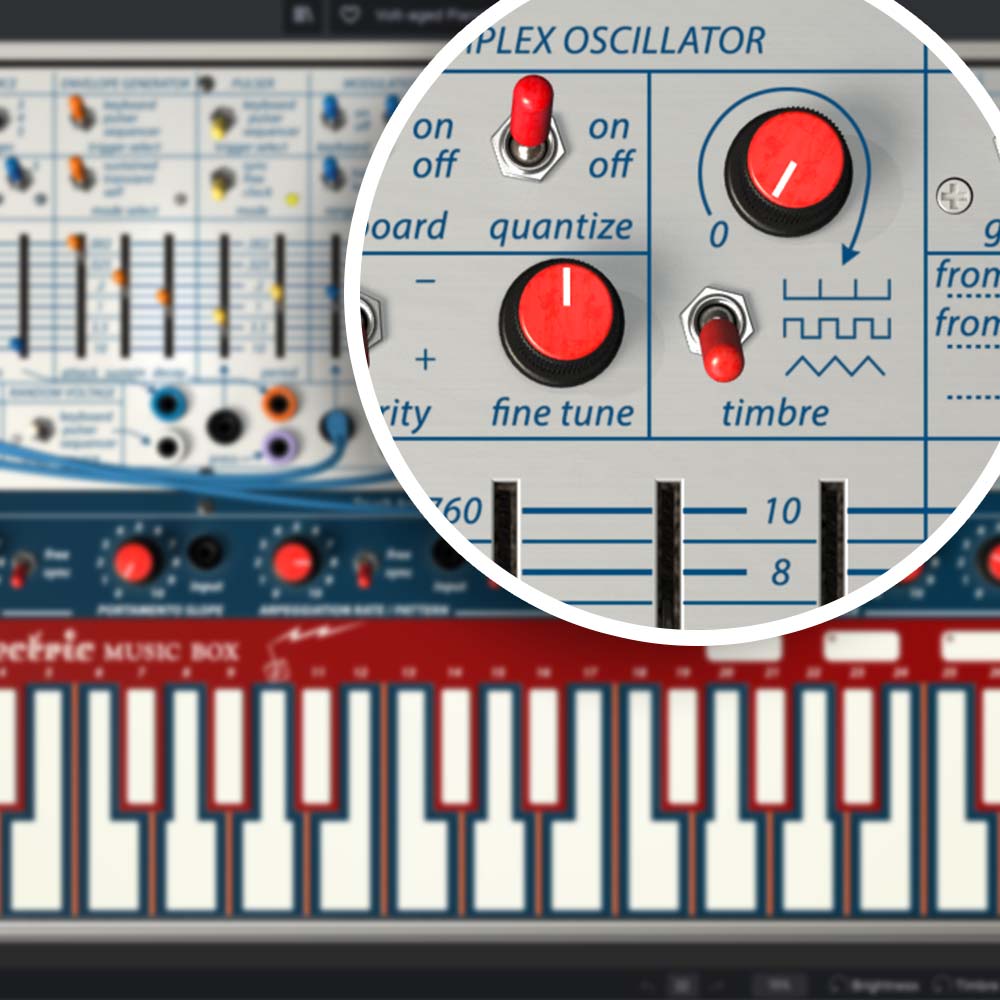 Whether you want the full visual immersion of our classic instrument emulations, or to save precious screen real estate, the interfaces for all of your Arturia virtual instruments can be resized to a scale that suits you.
Perfect integration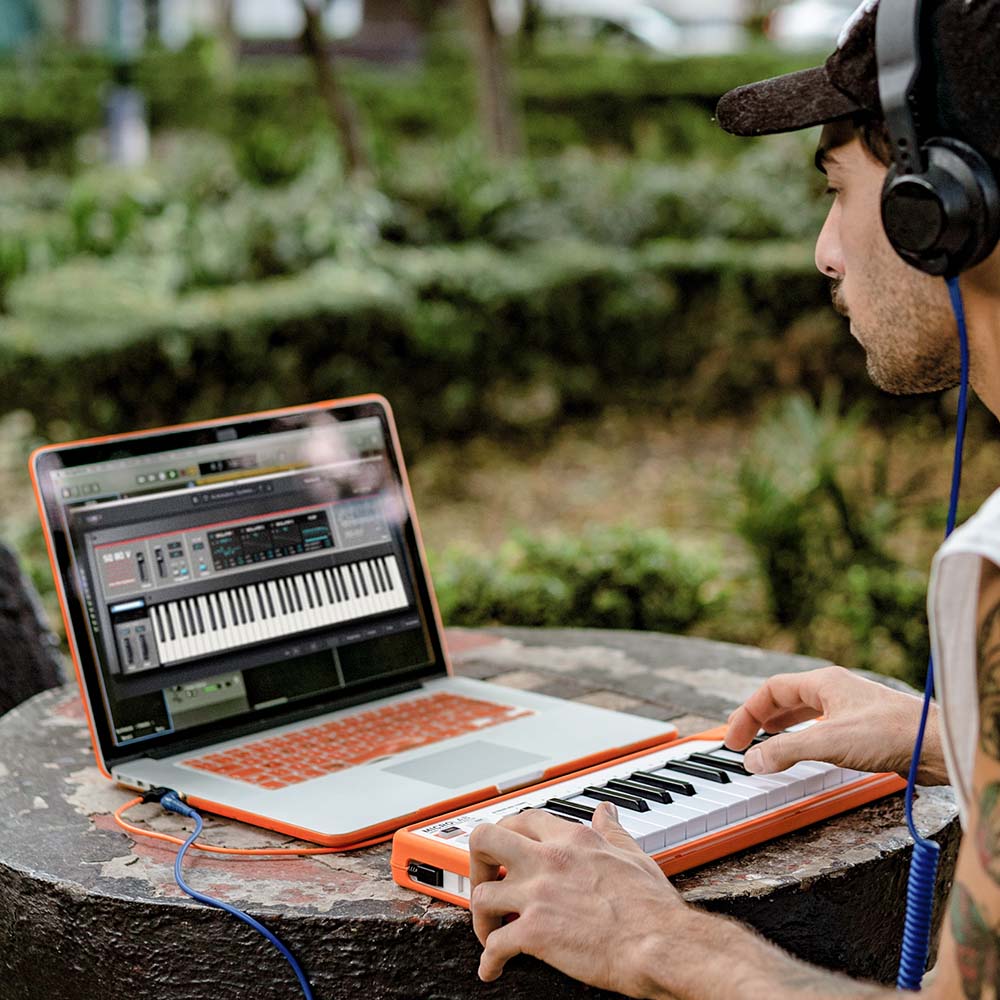 Instruments come seamlessly mapped for the Arturia KeyLab range - but they'll place nice with other MIDI controllers too. Instant sound tweaking macros, easy DAW integration, and standalone operation.
Platform specifications
: Win 8.1+ (64bit) PC: 4 GB RAM; 2.5 GHz CPU.
2GB free hard disk space
OpenGL 2.0 compatible GPU
: 10.13+: 4 GB RAM; 2.5 GHz CPU.
2GB free hard disk space
OpenGL 2.0 compatible GPU
Required configuration
Works in Standalone, VST, AAX, Audio Unit, NKS (64-bit DAWs only).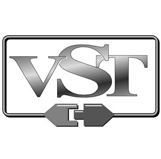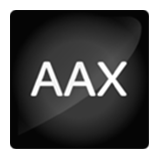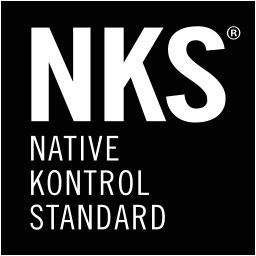 Protection
The software is protected by the Arturia Software Center. You can learn more about it here.
All manufacturer and product names mentioned on this page are trademarks of their respective owners, which are in no way associated or affiliated with Arturia. The trademarks of other manufacturers are used solely to identify the products of those manufacturers whose features and sound were studied during the development. All names of equipment, inventors, and manufacturers have been included for illustrative and educational purposes only, and do not suggest any affiliation or endorsement by any equipment inventor or manufacturer.
Main Features
Three synthesizers in one: Prophet 5, Prophet VS, Prophet Hybrid
All the original parameters of the Prophet 5 and Prophet VS
New audio connection matrix
New modulation matrix switch for the 2 synthesizers
New Chorus and Stereo delay effects
More than 400 presets created by talented musicians and synthesizers specialists
Compatibility with the Presets of the original synthesizers
No aliasing from 0.1Hz to 16kHz
Calculated precision : 64 bits
Sample Frequency : until 96 kHz
Compatible with a MIDI keyboard
2 analog oscillators for the Prophet 5
4 wavetables oscillators for the Prophet VS
Capacity to synchronize Osc2 on Osc1 for the Prophet VS
1 Mixer with joystick and automation envelope for mixing the 4 oscillators of the Prophet VS
1 resonating low pass filter for the Prophet 5
1 multimode resonant filter for the Prophet VS
3 LFO that can be synchronized with the tempo of the host sequencer
5 envelopes: 2 ADSR; 3 5 point envelopes
Polyphony of 2 to 32 voices with the unison possibility
Audio quality and purity as in the original Prophet 5 and VS
Awards