EMS' analog legacy meets
Arturia's legendary modeling
When designer David Cockerell and his London-based EMS (Electronic Music Studio) released their tabletop VCS3 synthesizer in 1969, it made waves as a significant departure from the larger, more expensive modulars that preceded it. The company soon replicated their electronic design in even more portable plastic-suitcase versions, the Synthi A and Synthi AKS. The latter added a sequencer controlled by a membrane keyboard and was the starting point for our modeling process.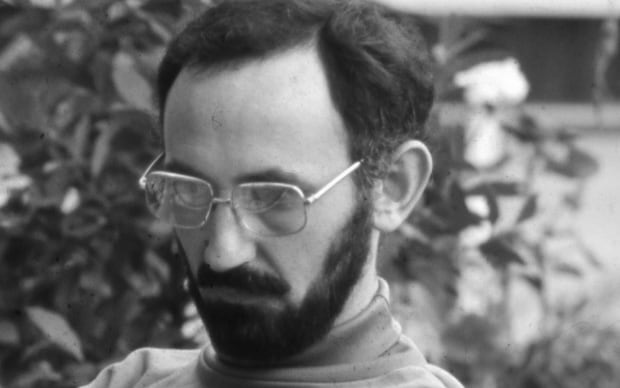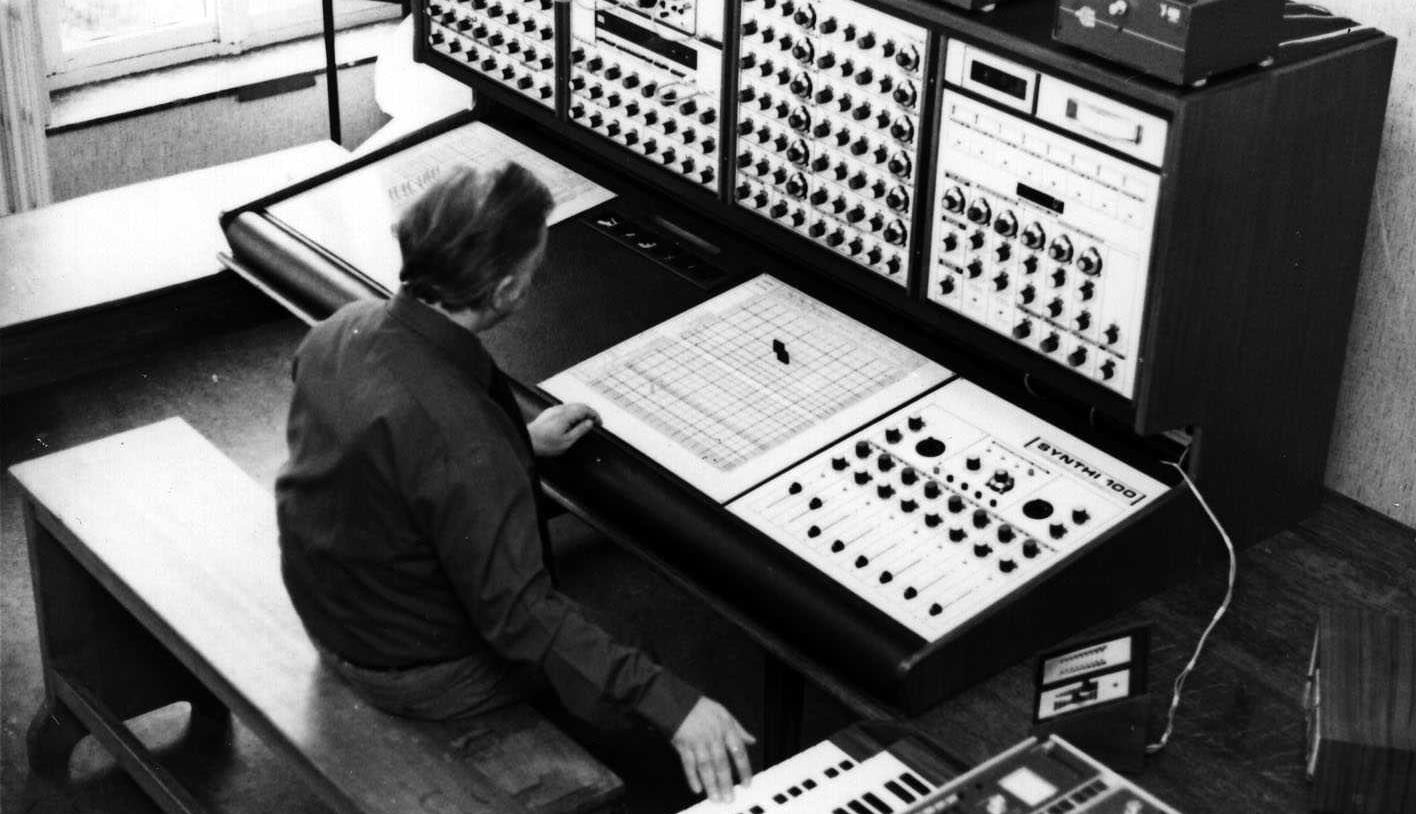 The secret to the compact nature of EMS' designs was in replacing inter-module patch cables with a small patch matrix. Inserting pins into the matrix made the desired component connections, with signal strengths determined by the resistors incorporated into the selected pins. This pioneering matrix design also added versatility and eliminated the messy and potentially confusing "spaghetti" cable effect.

Synthi components were also different from others that were becoming the norm in subtractive synthesis. Each of three VCOs allowed for mixing two waves, complete with waveshaping. VCO 3 topped out at 500Hz to provide more fine-tuned control for LFO, FM or low-end audio. The 3-pole diode ladder VCF was continuously variable between low-pass, band-pass and self-oscillation, adding to the unique sound. The envelope shaper featured a built-in VCA and cyclic retriggering mode, thereby freeing up components for other purposes. The matrix's ability to route unique signals to two separate outputs provided for complex stereo timbres. Many of these components could be driven to edgy saturation, as well.
This design lent itself to psychedelic rock and sci-fi effects as much as melodic use. Pete Townsend processed a Lowrey organ through a VCS3 to create the iconic keyboard part driving The Who's "We Won't Get Fooled Again". Pink Floyd's "The Dark Side of the Moon", Alan Parson's "I Robot" and Jean-Michel Jarre's "Oxygène" are signature examples of EMS synths at work. Roxy Music invited a young Brian Eno to join the band after seeing him tinker with a VCS3 for just a few minutes. BBC studios even employed EMS synths for years, perhaps most recognizably on Dr. Who soundtracks.
Needless to say, our V Collection wouldn't be complete without bringing you Synthi V.

Hear it come alive
When it comes to recreating analog synths, sampling only gets you snapshots. You want the full experience.
That's why we deployed the award-winning modeling technology we've developed for other synths like our Buchla Easel V to recreate every component of the Synthi AKS. Your patches deliver exactly the same sounds as you would get from the original hardware. All the subtleties of every small turn of the knobs—including that creamy overdrive when pushing the gain stages—are there for your enjoyment and exploration.
Why just settle for samples when you can have the real thing?
We didn't just update the Synthi AKS. We gave you a whole new instrument.
Synthi V goes light-years beyond the original and all the way into uncharted sonic territory. Just click the magic button and a whole new panel pops open that let's you inject modern electronic music functionality into this already awesome analog sonic playground. With Synthi V, you get the best of both old and new worlds.
Function generators
We've designed in five bi-polar digital function generators, each of which you can route to pretty much any and every parameter on the instrument. Each can be variable length with up to 16 points, with controllable slopes per segment and optional quantization. You can even loop them and sync them to your host. That means you can use these function generators as anything from envelopes on steroids to wild LFOs to crazy step sequencers. The only question is what kind of audio mayhem you're going to make with them.
Joystick paths
Like the original EMS family, Synthi V's front panel features a joystick allowing separate X- and Y-axis routings to the various control inputs provided in the patch matrix. Synthi V's added Joystick panel vastly extends routing possibilities to control virtually anything in the analog signal path independently from either axis. Want filter resonance on one axis and ring mod level on the other? Yep… you can do that. You can even get as crazy as you want by using the onscreen X/Y pad to draw or randomly generate multi-point joystick moves that fire when you trigger them manually and/or looped to tempo. Deep.

On-board effects
Artists have routinely run the EMS family through outboard effects—so we decided to build them right in. In addition to the original spring reverb, you now have a modern reverb as well, complete with pre-delay, size, MS mic mix and more. Digital delay, analog delay, chorus, flanger, phaser, overdrive, compressor, parametric EQ and bitcrusher are all full featured and waiting to transform your signature Synthi V sounds into something even more unique.
Advanced matrix modulation
Picking up where the original EMS patch matrix left off, our added digital matrix lets you target every Synthi V parameter imaginable—and with total control over positive or negative signal strength. Route new control sources including keyboard, velocity, aftertouch and mod wheel to one or more knobs for a tour de force in expressive performance options. This section also includes a new dedicated LFO and step sequencer you can use as control sources. You can even set up four groupings of complex modulation assignments to use in the matrix modulation or as custom pins in the Synthi patchbay.
Modern step sequencer
While the EMS keyboard sequencer is very useful, we've exponentially enhanced the concept by adding a modern step sequencer available in the new modulation matrix. Specify up to 32 steps, draw or drag the bi-polar values of the sequence, set your rate, step length and more. Then use the modulation matrix to independently set the amount of the sequencer's influence on any targets you want. Want 13 steps modulating your envelope decay and reverb amount in sync to your host's 1/16 notes? You got it!
Dedicated LFO
Now you don't have to decide whether to give up VCO 3 as a modulation source, thanks to the new dedicated LFO awaiting you in the modulation matrix. Choose from all the waveforms you'd expect and select either a free-running speed or syncing to a host timing interval of your choice. Then use the modulation matrix to assign the LFO in specific amounts to one or more targets. This extra LFO takes your Synthi V explorations to a whole new level.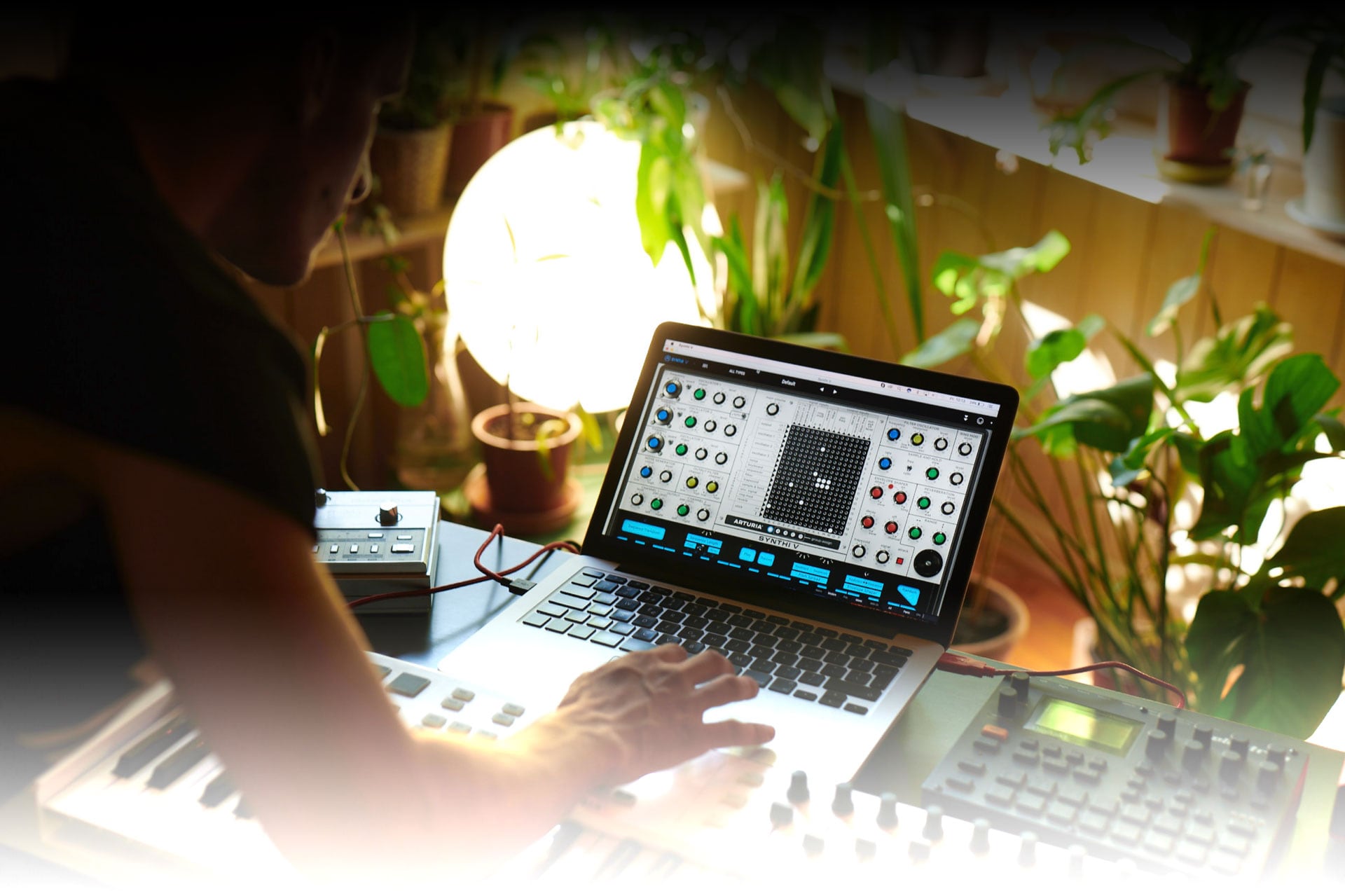 We added even more small modifications that add up to big differences.
EMS users in particular will appreciate that we've gone to lengths to make less overt improvements to the original design. Even if you've never touched the hardware before, rest assured that these mods will make your sonic explorations more fruitful and enjoyable.
VCO quantize
Flip these switches to lock VCO frequencies to semitones.
VCO sync
Hard sync VCO 2 to VCO 1 to get that unique tearing harmonic sound.
Independent waveform outputs
Now all three VCOs have separate output patch points for each waveform
Polyphony
Synthi V turns the original monophonic design into a polysynth with up to four voices, opening up a whole new dimension of uses in your tracks and performances.
Sample/hold function
Route randomization to various components, either free running or in sync with your host DAW tempo.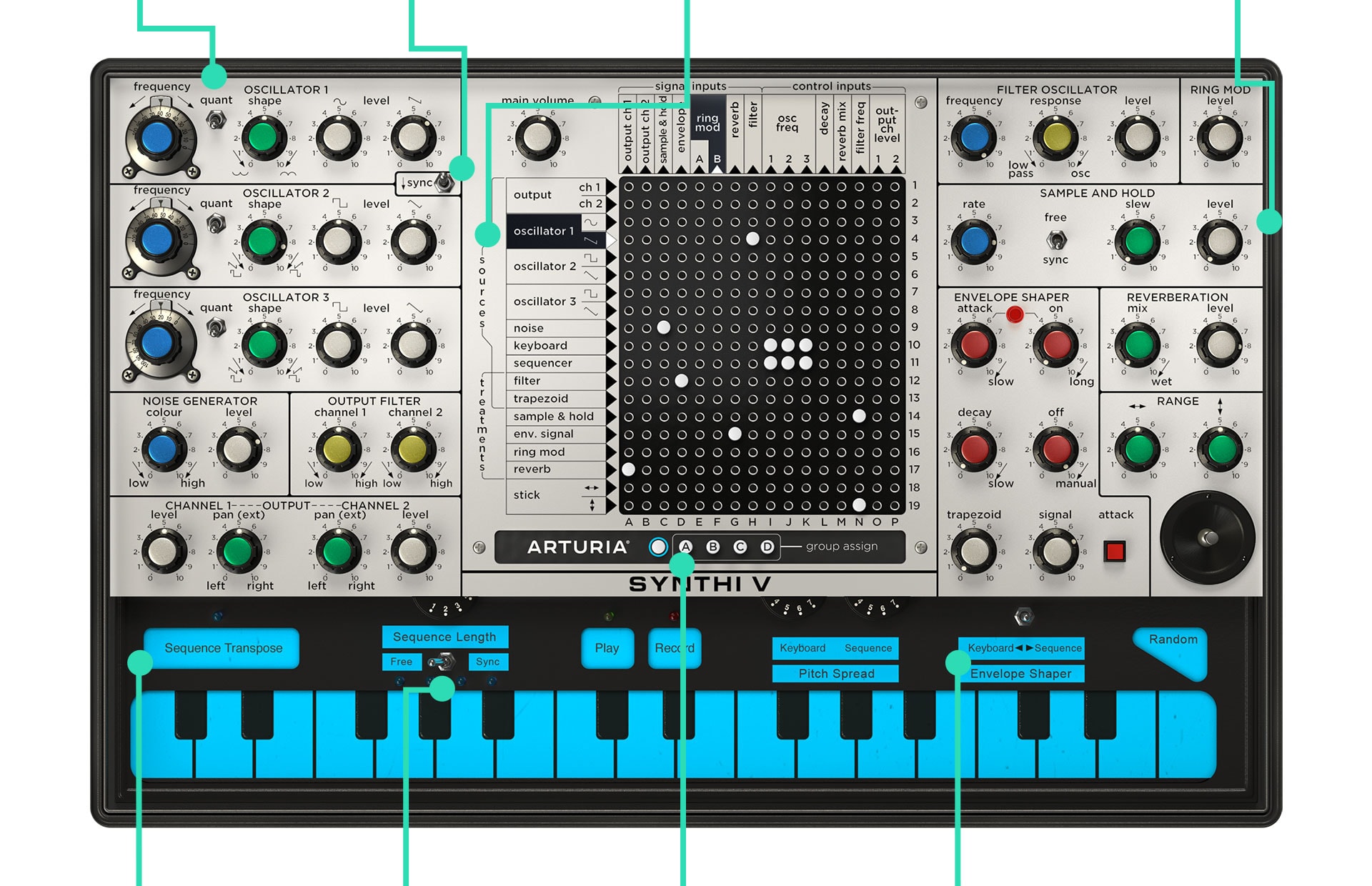 Sequencer voltage
Assign the legacy sequencer pitch voltage to control other components in the patch matrix.
Sequencer sync
Optionally sync the legacy sequencer to your host DAW.
1-click, 4 pins
Click on a patch point to pin with a choice of four different signal strengths.
Keyboard voltage
Route the keyboard control voltage to influence other targets via the patch matrix.
MIDI Learn
Use our MIDI Learn feature to assign and perform the joystick functionality with the MIDI continuous controller of your choice, such as your mod wheel.
Beyond beyond
Immerse yourself in an experience that's both realistic and intuitive
As you've come to expect from all our V Collection instruments, Synthi V looks and feels as good as it sounds. We've replicated the legacy features and styled the new front-panel mods so faithfully that you'll quickly forget you're working with a virtual instrument. When you toggle open the panel with our thoroughly digital additions, you'll feel right in the cockpit with its intuitive modern interface.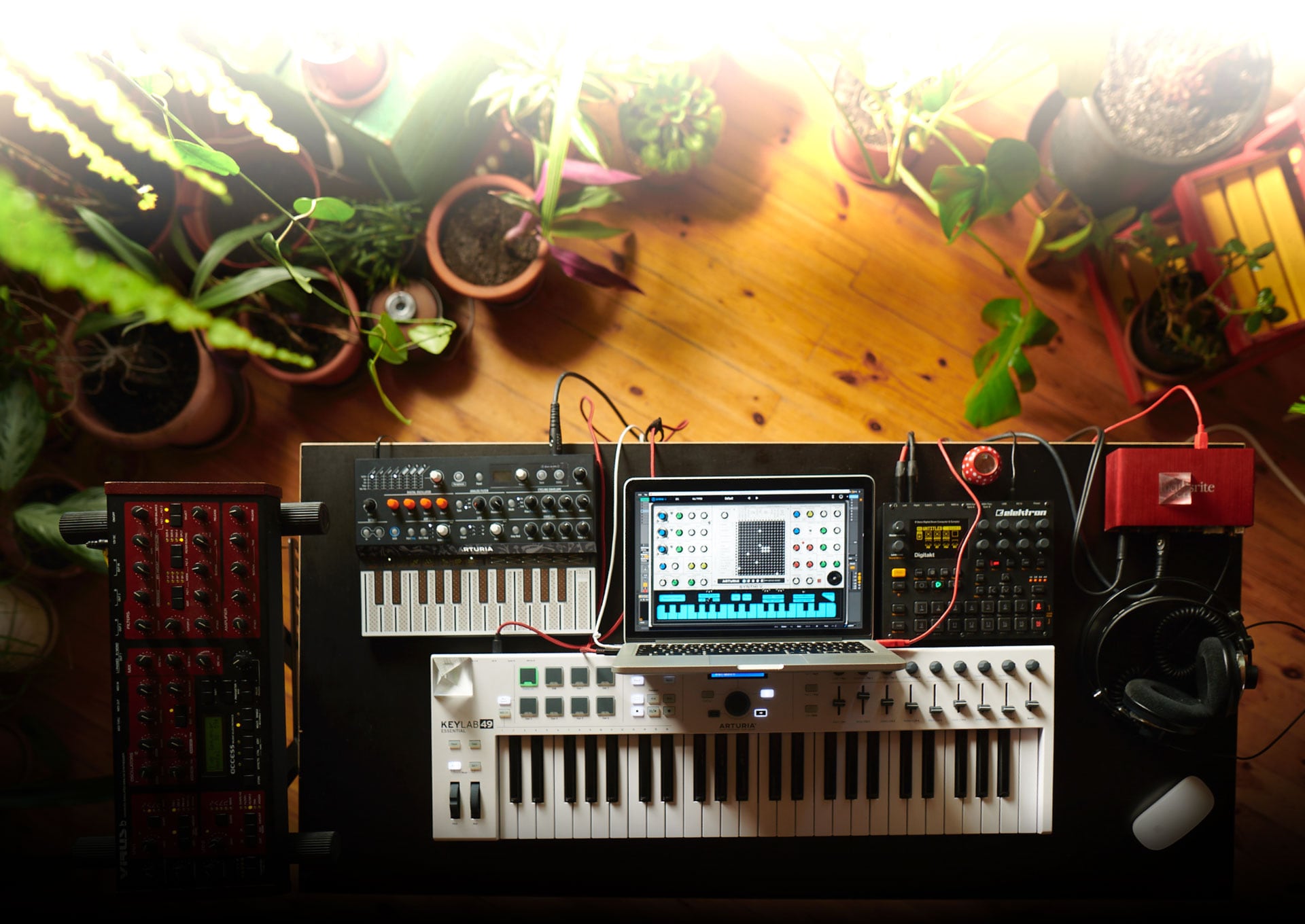 Weird and wonderful presets
The bizarre nature of the original has been brought to life with hundreds of presets.
A sound designer's dream, our acclaimed sound team have created over 300 presets for you to enjoy and explore, ranging from straightforward vintage synth sounds to mind-boggling sequences and sound effects, as well as dreamy, textured pads.
In-App Tutorials
Integrated in-app tutorials guide you through every aspect of the instrument, from individual parameters to tips from our sound designers, so you can focus on the creative stuff. It shouldn't be this easy, but it is!
ASC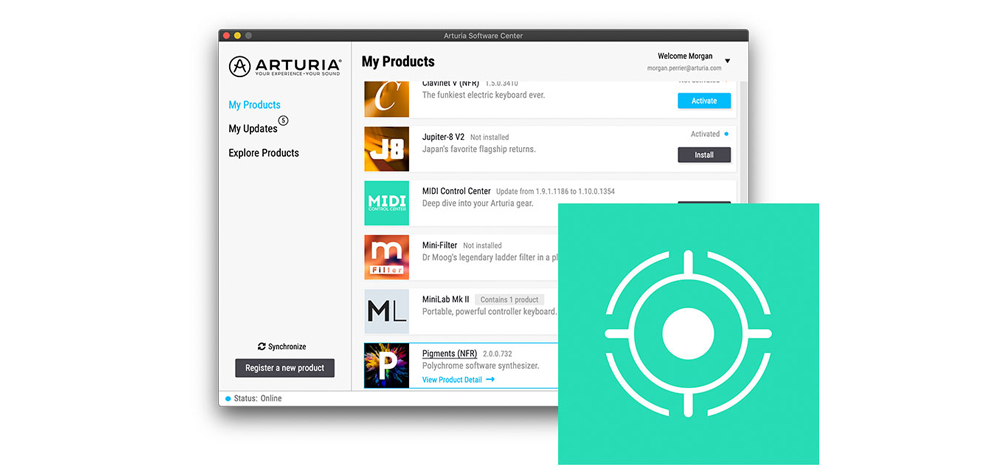 Arturia Software Center lets you download, organize, and update all of your Arturia software titles in one place, as well as manage all of your licenses across multiple devices. Keep it simple.
Learn More
Download the ASC
DAW ready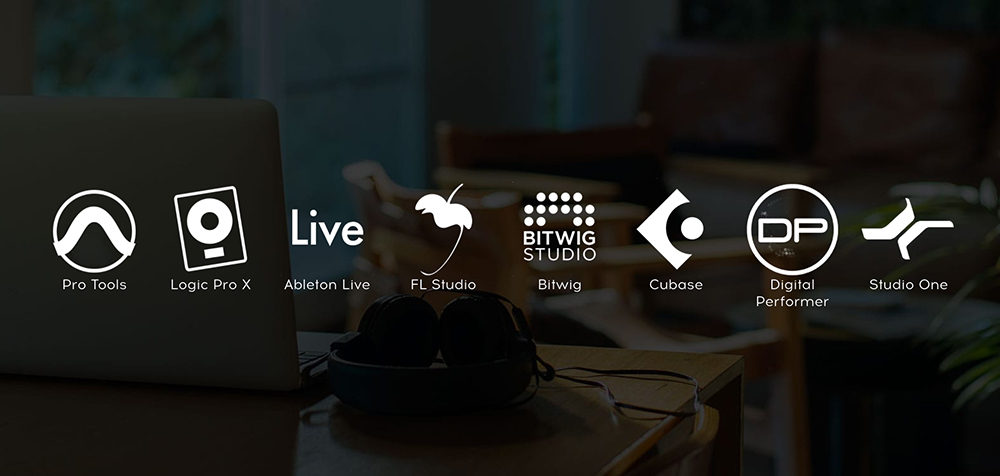 Our virtual instruments and plugins are designed to fit right into your setup without hassle. Whatever your style, you can explore sound while enjoying full compatibility with major DAWS, on both Windows and MacOS.
Preset browser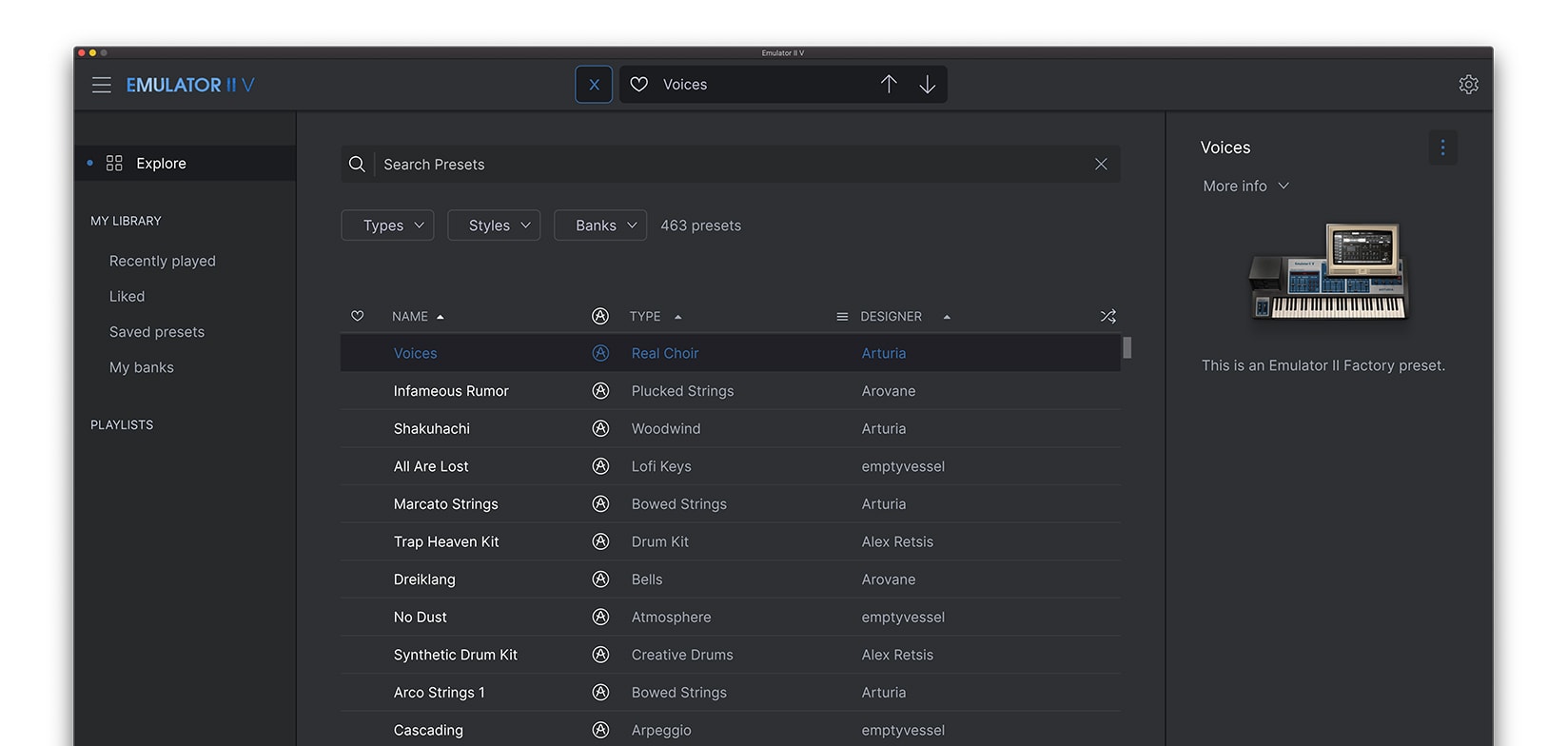 Instantly find the sound that's in your head with intelligent & streamlined preset browsing. Search with keywords, explore by instrument type, musical style, and more - you can even save your favorites to quickly recall later.
Resizable GUI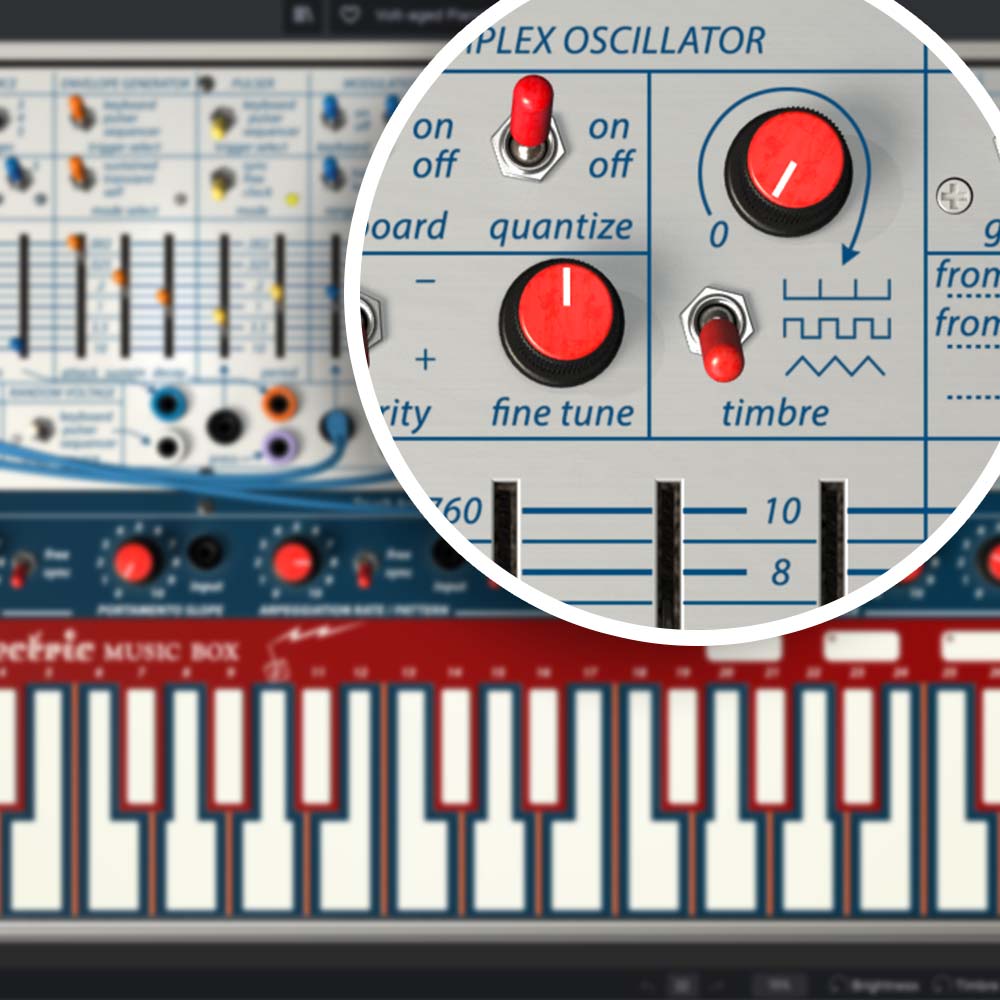 Whether you want the full visual immersion of our classic instrument emulations, or to save precious screen real estate, the interfaces for all of your Arturia virtual instruments can be resized to a scale that suits you.
Perfect integration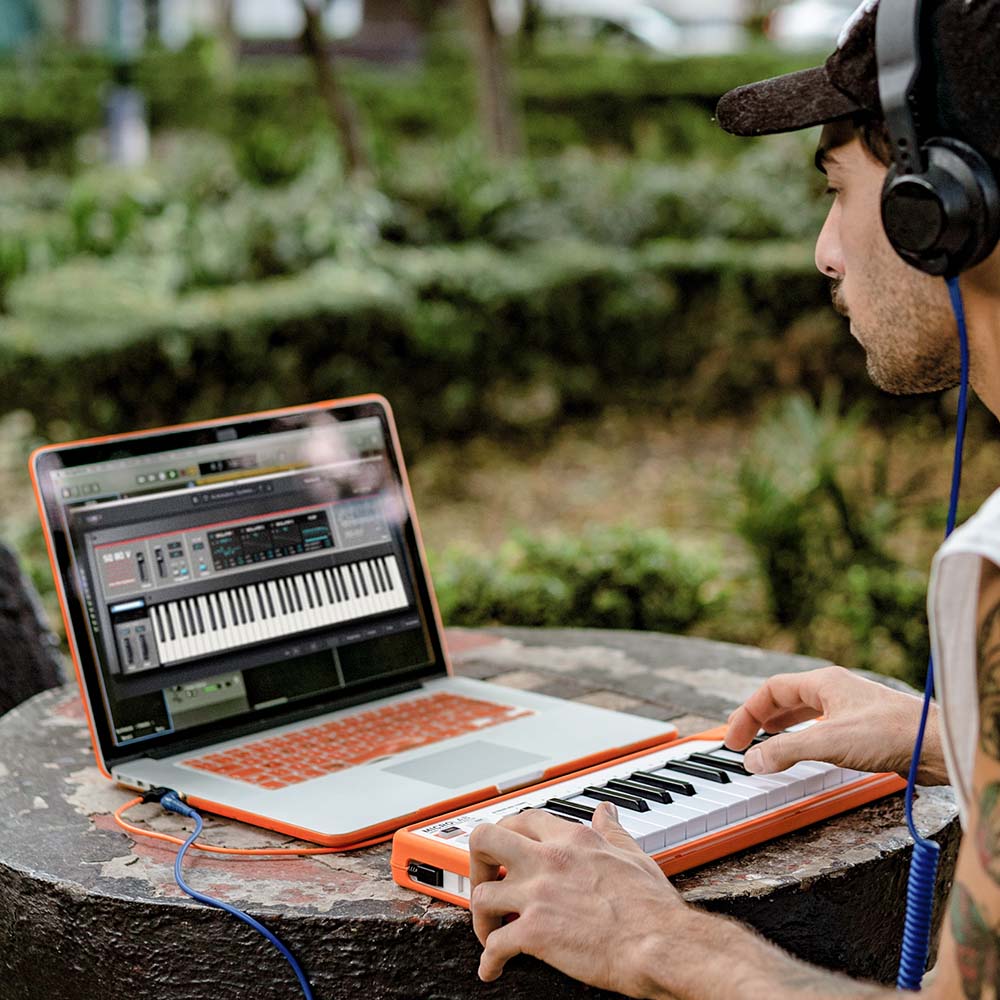 Instruments come seamlessly mapped for the Arturia KeyLab range - but they'll place nice with other MIDI controllers too. Instant sound tweaking macros, easy DAW integration, and standalone operation.
Platform specifications
: Win 8.1+ (64bit) PC: 4 GB RAM; 2.5 GHz CPU.
2GB free hard disk space
OpenGL 2.0 compatible GPU
: 10.13+: 4 GB RAM; 2.5 GHz CPU.
2GB free hard disk space
OpenGL 2.0 compatible GPU
Required configuration
Works in Standalone, VST, AAX, Audio Unit.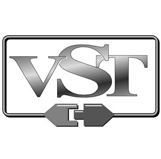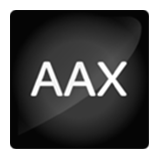 Protection
The software is protected by the Arturia Software Center. You can learn more about it here.
All manufacturer and product names mentioned on this page are trademarks of their respective owners, which are in no way associated or affiliated with Arturia. The trademarks of other manufacturers are used solely to identify the products of those manufacturers whose features and sound were studied during the development. All names of equipment, inventors, and manufacturers have been included for illustrative and educational purposes only, and do not suggest any affiliation or endorsement by any equipment inventor or manufacturer.
Main Features
A component-level model of the EMS Synthi AKS
3 oscillators with waveform mix, noise generator, 18 dB/oct resonant filter, output section with spring reverb modelling
Modular architecture, allowing to route signals in unexpected ways
Ring Modulator, loopable Envelope Shaper, 2 axis Joystick and Sample and Hold modules for advanced modulations
Original keyboard sequencer module with sync to DAW tempo
2 matrix behavior modes: modern and vintage for cross-talk simulation
5 assignable voltage functions to create multi-point envelopes and LFOs synced to DAW tempo
Advanced joystick automation module for modulating parameters in a 2D space
Matrix pin amounts modulations possibilities (with 4 independent groups)
10 effects, Reverb Phaser, Flanger, Chorus, Overdrive, Delay, ...
Up to 4 voices of polyphony
Over 250 factory presets