THE ART OF SOUND DESIGN
V Collection 8 is a marvel of music technology, but even the best-sounding synth and keyboard models would be dull without the incredible work and imagination of their sound designers.
Veterans of the industry and young upstarts alike, for more than a decade we've worked with some of the most talented musicians, producers, and sound designers around to create sounds that both honor the past, and help you create the future. On this page, we pay tribute to the amazing men and women who helped create the signature sounds of our V Collection instruments, and give you an insight into their creative process.
10 Phantom Rooms
Alessandro Cardinale
Alex Retsis
Allert Aalders
Anthony Gonzales
Baptiste Le Goff
Barry Jamieson
BigTone
Bitley
Blakesmith
Blush Response
Boele Gerkes
Brendan Perry
Celmar Engel
Charles Capsis IV
Chris Laurence
Chris Pitman
Christian Giudicelli
Christian Laffitte
Clay Duncan
Clement Bastiat
Clement Chaumeil
Commuter
Cubic Spline
Darrell Diaz
Dave Polich
Don Solaris
Drew Anderson
Drew Neumann
Ed Ten Eyck
Edouard Madeuf
Erik Norlander
Frank Greiner
Frodebeats
Geoff Downes
Germain Marzin
Gingold
Glen Darcey
Greg Cole
Greg Savage
Gustavo Bravetti
Hisashi Saito
Histibe
Ian Boddy
Indie Moon
Jaime Newman
James Bernard
James Thompson
Jamie Muhoberac
JaseFOS
Jean-Baptiste Arthus
Jean-Michel Blanchet
Jeremiah Savage
Jim Cowgill
Jörg Hüttner
Joseph Hollo
Katsunori Ujiie
Ken Flux Pierce
Kevin Lamb
Kevin Schroeder
Klaus Baetz
Klaus Peter Rausch
Klaus Schulze
Kurt Kurazaki
Laurent Collat
Lily Jordy
Lotuzia
Luca Torre
Ludovic Llorca
Mark Gijsman
Mateo Lupo
Matsutake
Matt Pike
Max Fabio
Maxime Audfray
Maxime Dangles
Meli Anthos
Menno Meijer
Michel Geiss
Mord Fustang
New Loops
Nori Ubukata
Paolo Apollo Negri
Paul Nazca
Paul Schilling
Paul Steinway
Paul&Peter Schilling
Pierce Warnecke
Pierre Pfister
Plughugger
Randy Lee
Raynald Dantigny
Reek Havok
Rich Rozmarniewicz
Richard Courtel
Richard Devine
Richard James
Richard Veenstra
Roger Lyons
Ruff & Jam
Sato Fujimori
Scot Solida
Sergio Martinez Lu
Seroplexx
Silicon Sound
Simon Gallifet
Solidtrax
Sonar Traffic
Sota Fujimori
Stephan Muesh
Stephane Schott
Steve Ferlazzo
Summa
Sylvere Letellier
Takashi Odanaka
Tasmodia
Ted Perlman
Teknotanz
The Circuit Symphony
The Solos
Theo Niessink
Thomas Koot
Tim Conrardy
Tobias Menguser
Todd Barton
Tom Hall
Tomas Mulcahy
Torben Hansen
Ulf Kaiser
Uwe Zahn
Valentin Lepetit
Vangelis Vargas
Victor Morello
Vincent Travaglini
Wally Badarou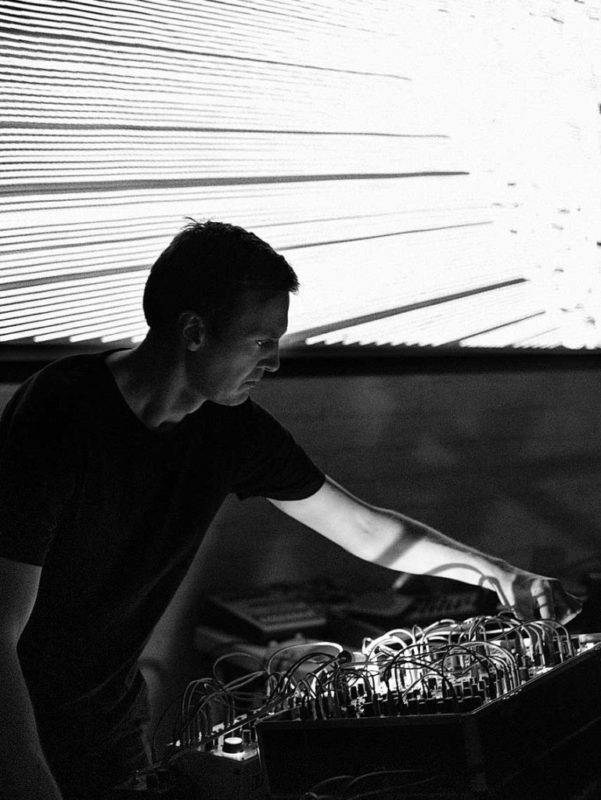 Tom Hallon Jup-8 V
The new Jup-8 V plugin from Arturia is incredibly versatile.
Tom Hall is an Australian audio/visual artist, residing in Los Angeles. Hall's practice is an ongoing exploration into peripheral space and time, inspired by environments and non-linearity found in the everyday. Hall uses multiple approaches to reference these spaces through algorithms, sound, and imagery, developing hybrid audio-visual environments and temporal sonic adaptation.
It captures some of that classic warmth from the hardware as well as the grit, and the addition of the advanced controls and sequencer make this a very capable instrument for a large variety of music.
To be honest my approach to sound design is broad and often shaped by how I feel. On days I set out to produce something more subdued and ambient, other days more aggressive and percussive.
Down Not Out
My personal favorite preset is 'Down Not Out'. To be honest I was going for dark but as I pushed deeper into this preset I couldn't believe the movement I was able to achieve - I particularly like the ebb and flow of the harmonics.
There's actually not really any special back-end tweak to this preset, most of the movement is achieved through the modulation on the front panel, much like the original hardware.
Nori UBUKATA on DX7 V
The DX7 V offers huge improvements on the original
Nori Ubukata is a veteran synthesist and sound designer, and was involved in creating sounds for the original DX7. Inspired by the soundtrack for "A Clockwork Orange", Nori went on to become a professional musician, specializing in synths, and composed music for TV-CM. After his years at Yamaha, Nori moved to France where he now works as a freelance musician, sound designer, and all-round synth guru.
From my experience with the original, FM synthesis is a familiar tool for creating sounds. The DX7 V offers two huge improvements on the original, firstly that it's so much easier to operate, letting you set specific values, and secondly that it sounds much, much cleaner. There is less aliasing and noise compared to the original.
I suppose I'm in a unique position when it comes to creating sounds for the DX7 V. I like to think that I'm just trying to make my original sounds even better than they were by using the additional features. Like transforming sketches into full, finished paintings.
Additive Piano
When working on sounds for the "Shoufuku ROM" of the DX7 II, I found that FM+ additive approach was a really effective way of creating synth piano sounds. To get the best effect at the time, I would have needed to use 12 operators. Unfortunately, the original DX7 only featured 6. Because of the new architecture inside DX7 V, my original ambitious ideas can become a reality.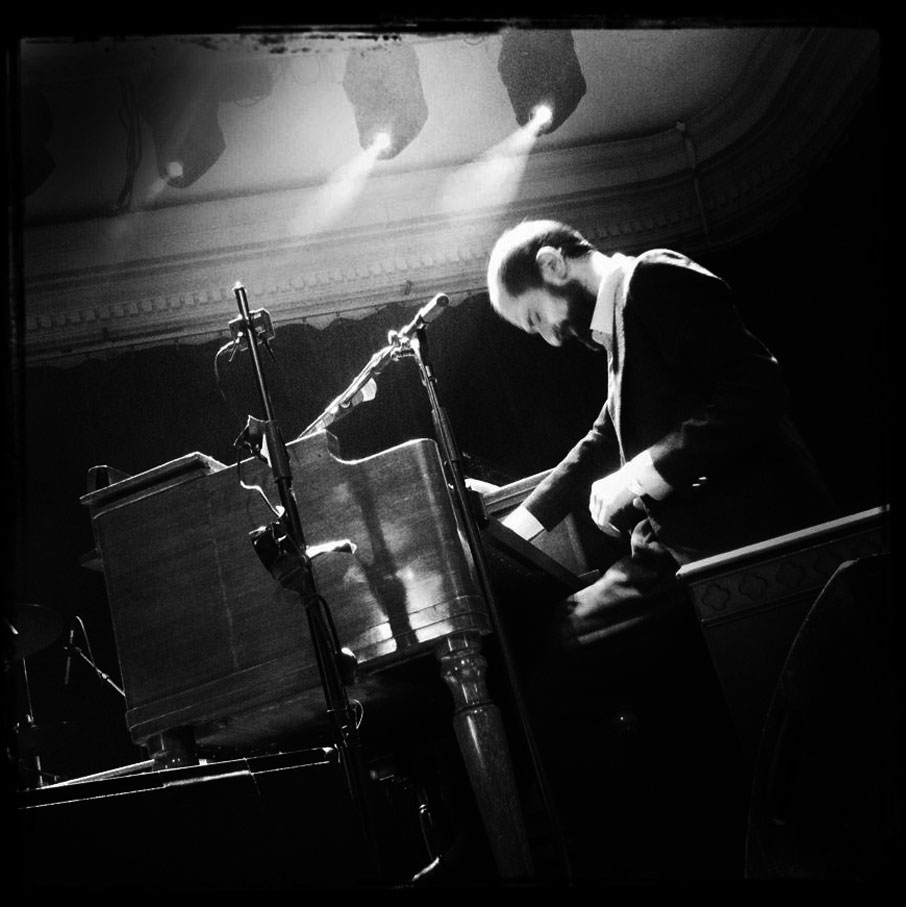 Psychedelic Sally
It's a pretty simple preset, upper manual uses a single drawbar (4') together with second percussion (normal volume, slow decay), which is an old trick to enhance the percussion sound. Using the envelope on the upper manual I made a slow decay and this, together with the strong percussion sound, made the preset pretty psychedelic, something perfect for '60 style lounge music.
Paollo Apollo Negri on B-3 V
It can turn even seemingly mundane things into incredible sounds.
Paolo Apollo Negri is a performer and recording artist, organ player for Italian acid jazz act Link Quartet, and a busy session player. A true vintage keyboard expert, he has played on over 300 albums, including 4 solo releases under his own name. One of the most experienced organ and classic keys players around, Negri has performed all over the world.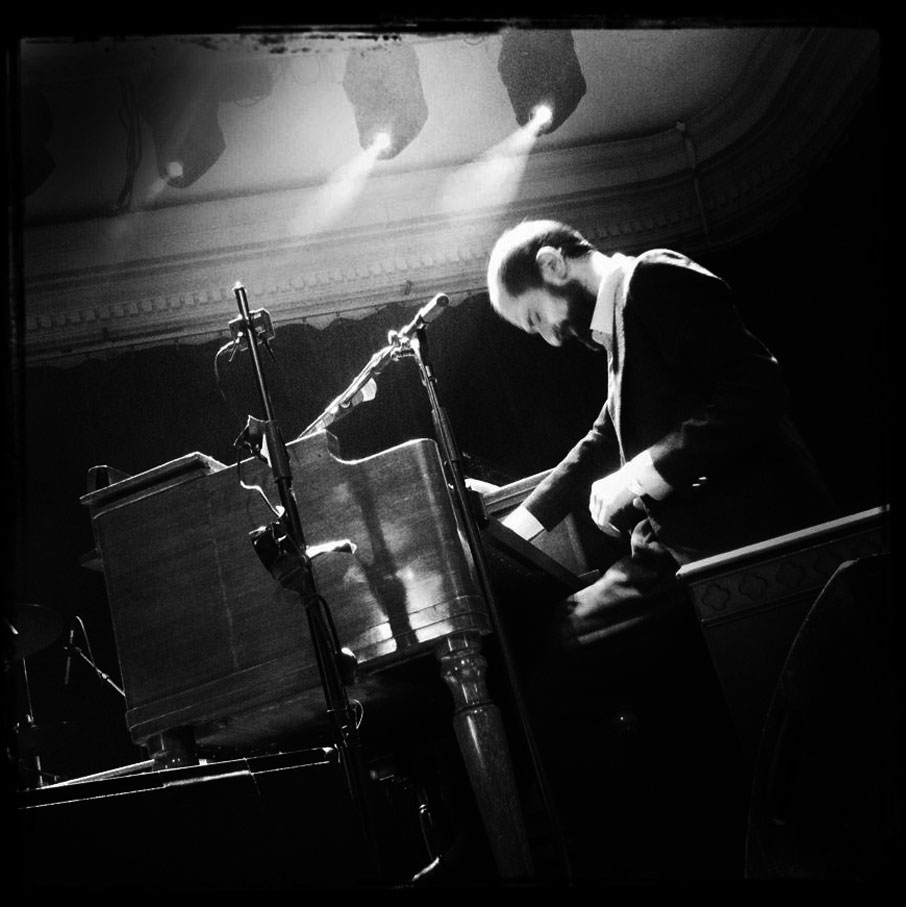 I really love the new version of the classic B3, the sound engine has been strongly improved and if you close your eyes now you feel like you're playing the real beast! The add of the pedalboard, the possibility to choose over different Hammond classic models and the new pedal rig really made this new instrument to shine.
I kept a simple guide line, the basic idea was to reproduce the sounds I used on the original instrument in the making of the latest Link Quartet albums, this is why, in the sound library, you will find some presets named over some of our best known songs. On the other side I have tried to experiment with the extra features of the B3-V2 creating some experimental sound which I hope will help to innovate and expand the classic Hammond organ palette.
The preset I like the most is "Psychedelic Sally". I made it from scratch the first day I had the V2 at my disposal. I wanted to investigate the new features and see if I could create something unique with the new version. The result is a very peculiar sound where the classic Hammond tone is still recognizable but, at the same time, is transformed in something new that just couldn't have been possible on the original one.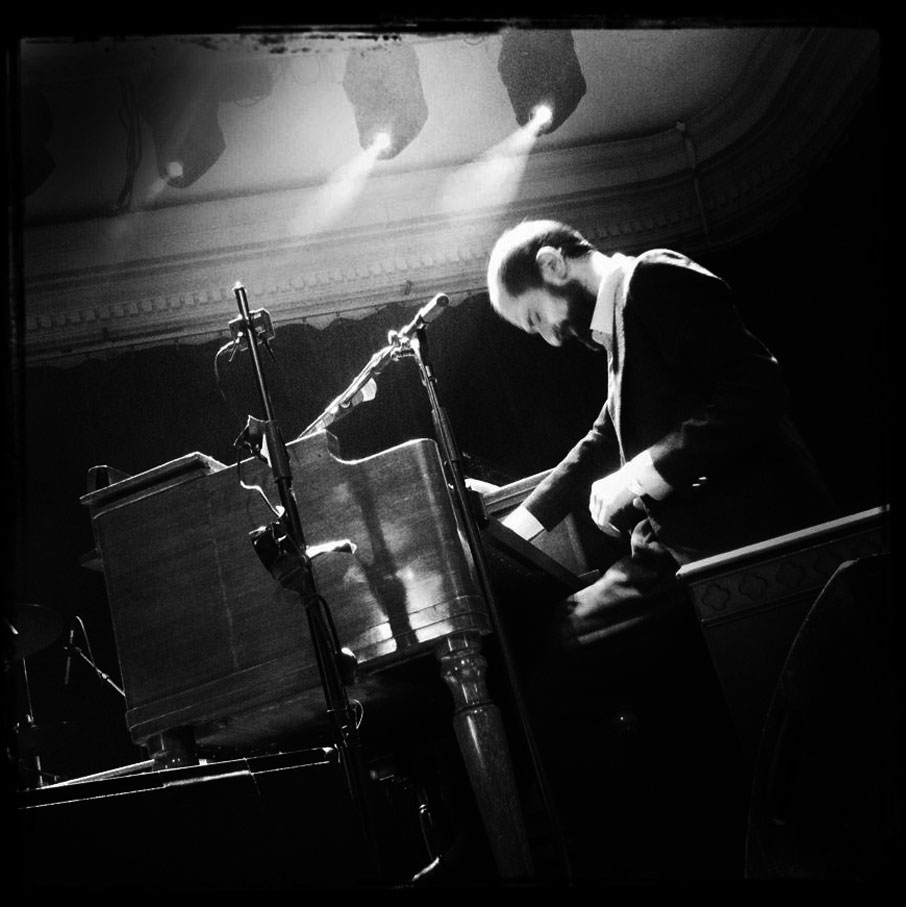 Psychedelic Sally
It's a pretty simple preset, upper manual uses a single drawbar (4') together with second percussion (normal volume, slow decay), which is an old trick to enhance the percussion sound. Using the envelope on the upper manual I made a slow decay and this, together with the strong percussion sound, made the preset pretty psychedelic, something perfect for '60 style lounge music.
Jean-Baptiste Arthus on CMI V
The CMI V is a powerful sound design virtual instrument
Jean-Baptiste Arthus has been a resident Arturia sound designer since 2014, in charge of creating factory presets and soundbanks for all the Arturia instruments. On top of his relentless creativity at Arturia HQ, he also performs live under the guide 55h22 using exclusively modular systems.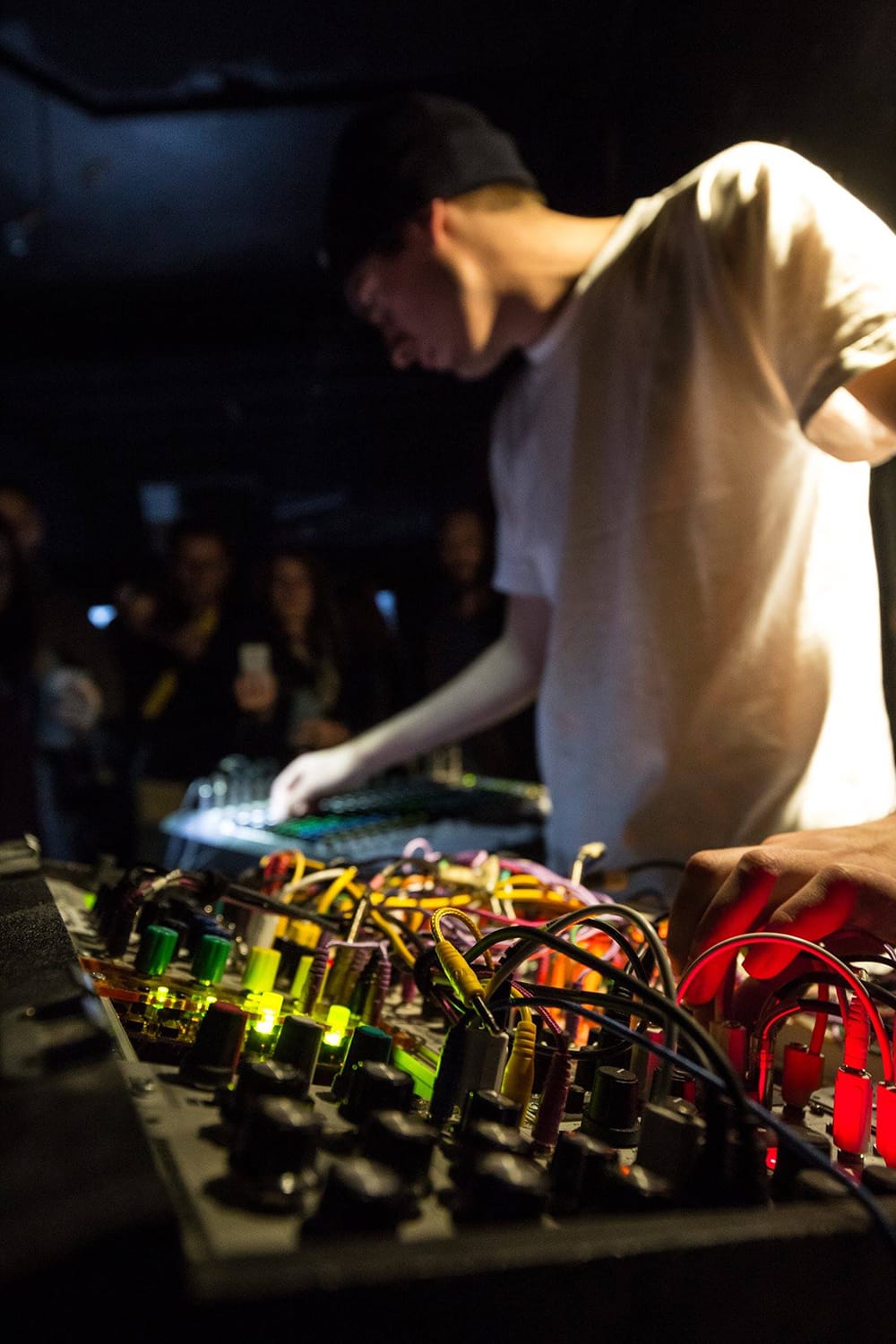 It is noisy, it's a natural bitcrusher, you can put any sample in and at the end have something totally different. The spectral synth, that is a new added feature, is an easy way to use the additive synthesis without too much programming. It also opens up more possibilities for modulation.
When the software was in development, I was afraid that the CMI could be quite limited, but now it's real and has three synthesis modes, I'm blown away. I still haven't finished exploring it at! I thought that it would only be useful for smashing samples, but I've spent most of my time on the synthesis mode.
Big Space Keys
On this preset, I was experimenting with the Spectral synth mode; it was one of my first patches. Backward/Forward looping gives that reversed delay affect, I'm using the sawtooth wavetable and the new reverb we added within V Collection.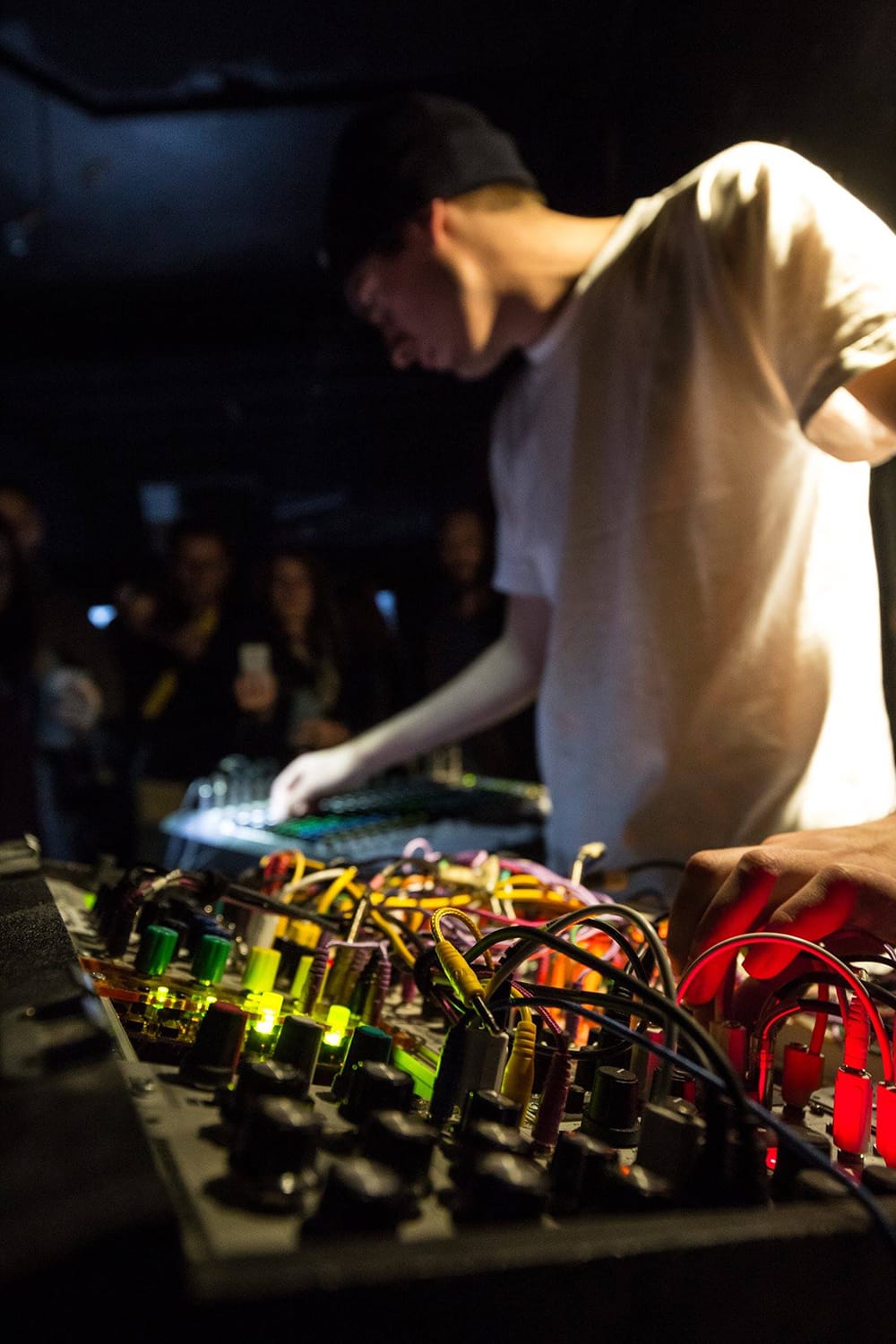 Montgomery Birds
My favourite preset is ​Montgomery Birds. ​This is a lush pad sound paired with a field recording of morning birds I recorded in my hometown of Montgomery, Wales. I took an experimental approach here importing in a field recording and not expecting it to be musically 'useful'. I designed a pad sound using the Vocoder V's synth section and when layered with the field recording it sounded great. Of course some modulation and effect processing was necessary to smear them both together. I really love this preset. There's something to be said about hearing the birds from your hometown in a musical context. I know that to anyone else these birds aren't so special, but I hope they enjoy the preset regardless.
El Choopon Vocoder V
It's strong, bright, and emulates that thick analog sound accurately.
Harvey a.k.a. El Choop is a UK-based producer and sound designer best known for making deep, dubby techno - but he also loves to produce electronic music in all its forms. His latest project was released on London label Ornate Music, and he's known for his monthly Oil City residency on Bloop London Radio, where he showcases the hottest unreleased electronic sounds.
The synthesizer section of the Vocoder V is seriously impressive. It's interesting to have a sample's envelope trigger the synth, and when you have it set to 50/50 dry wet (vocoder/synth) you get a balanced blend of sampling and vocoder synthesis which can be a powerful hybrid of sounds.
As I'm learning a new instrument or piece of software I try not to have a specific sound in mind, this is so I can let my curiosity lead me and, hopefully, get results that I wouldn't usually get. It's only when I've used an instrument for a good few hours that I can then have a sound in mind and work to it. With the Vocoder V I loved making generative sequences from dropping similar sounds in each of the sample playback slots and launching them randomly.
For instance, I imported in 4 C notes from a 303 style acid synth, each with varying timbres and lengths. Then I set the sequence mode to random so each time the Vocoder V was fed a MIDI note an acid note would be launched randomly. The result of this is a seemingly genaritive 303 acid line that is reorganised each time it sequences. I then paired this with the Multi Mode Filter within the effects section and applied some LFO modulation to make it morph and change like a real 303 would.
Montgomery Birds
My favourite preset is ​Montgomery Birds. ​This is a lush pad sound paired with a field recording of morning birds I recorded in my hometown of Montgomery, Wales. I took an experimental approach here importing in a field recording and not expecting it to be musically 'useful'. I designed a pad sound using the Vocoder V's synth section and when layered with the field recording it sounded great. Of course some modulation and effect processing was necessary to smear them both together. I really love this preset. There's something to be said about hearing the birds from your hometown in a musical context. I know that to anyone else these birds aren't so special, but I hope they enjoy the preset regardless.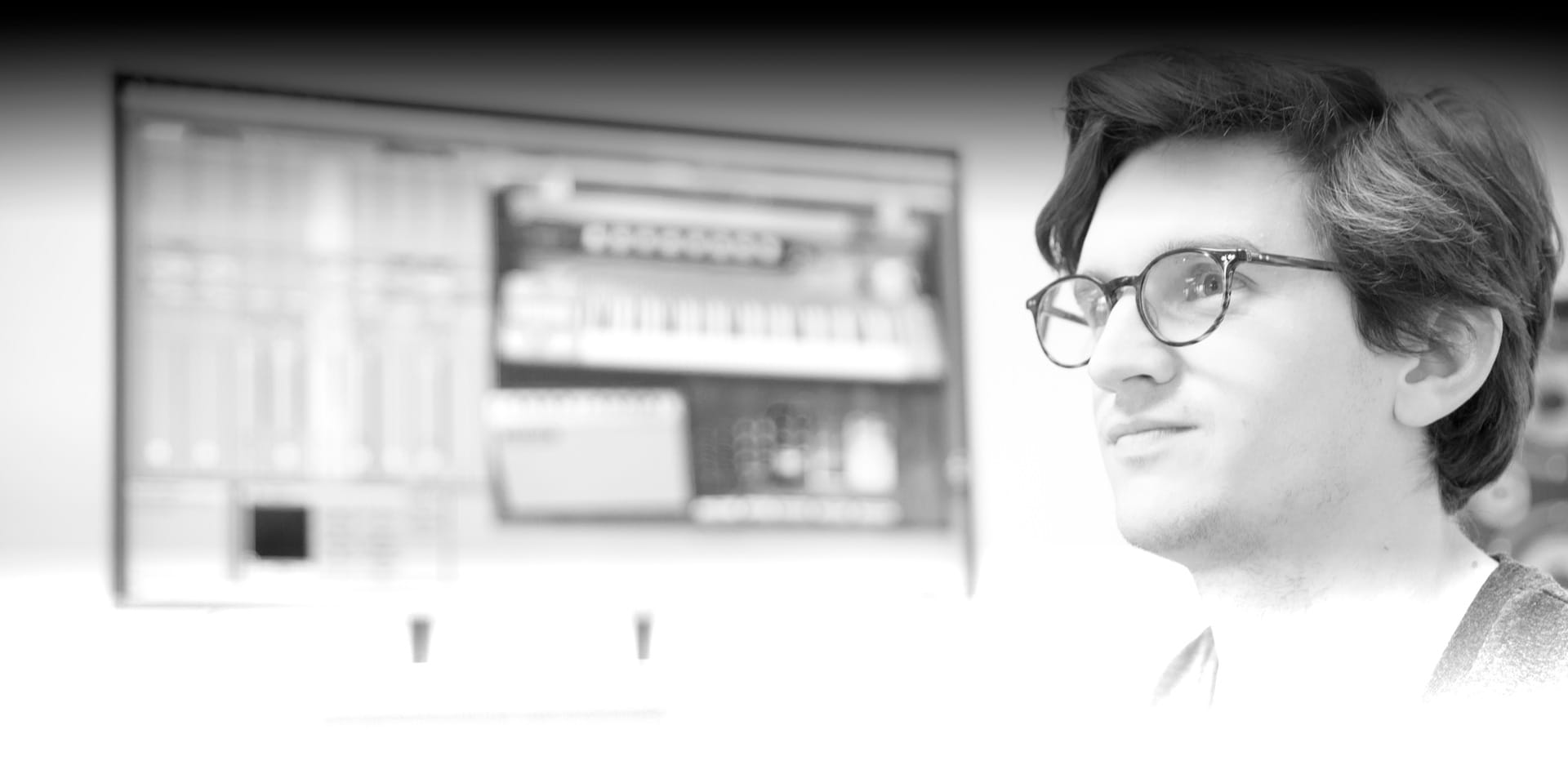 Pierre Pfister on Clavinet V
More than just "Superstition"
Pierre Pfister is a software developer and keyboard specialist at Arturia. Coming from a classical piano background, his passions weave between classical, jazz, and house music, always emphasizing on the sound of the pianos and the electric keyboards which he loves to play live, either solo or in his band. In the last few years, he's been involved in the development and sound design for many core physically modelled Arturia instruments, including Piano V, Stage 73 V and Clavinet V.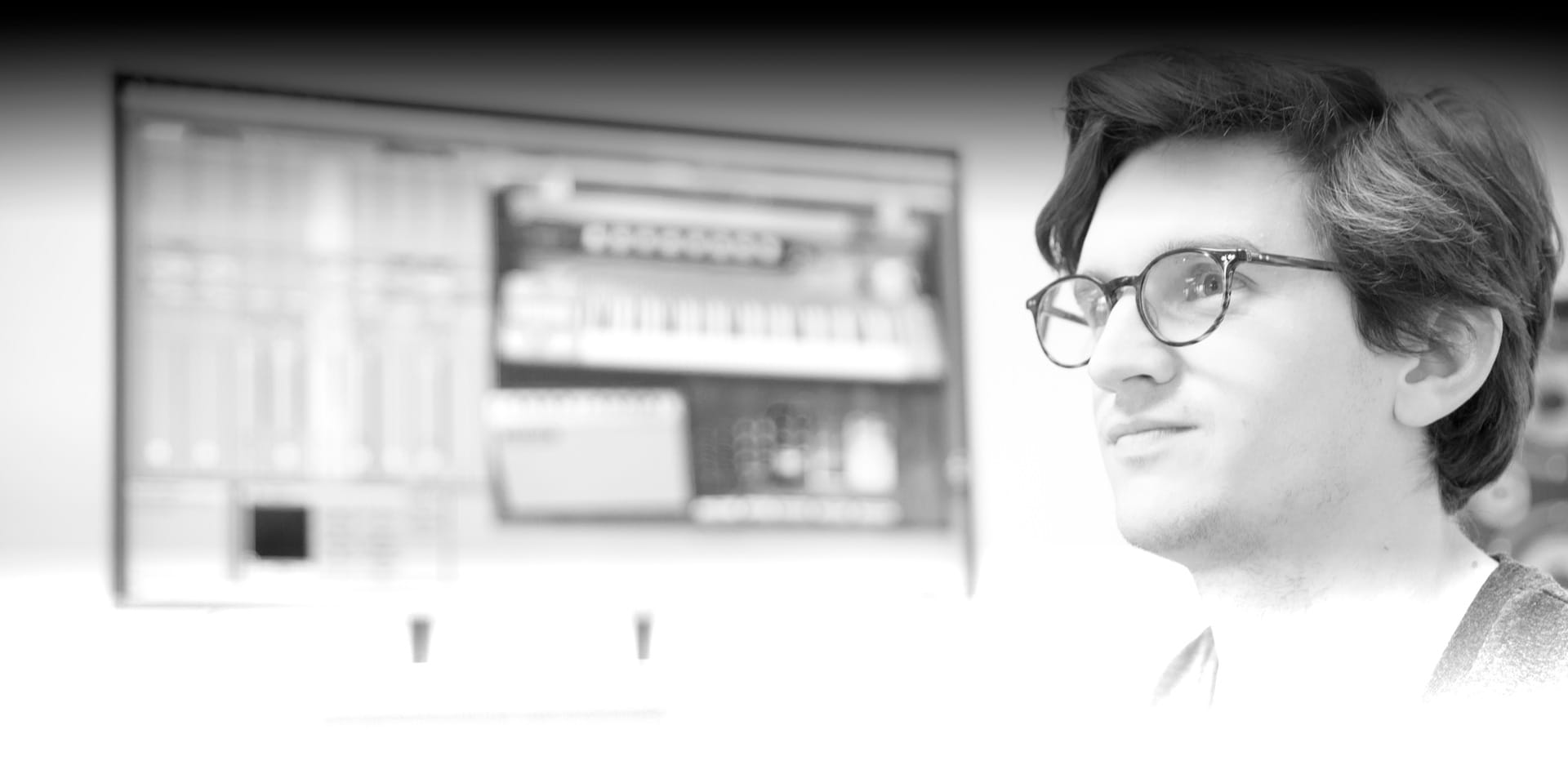 What I really love about the clavinet is that it has such a unique and clearly identifiable sound to it, but it's still extremely versatile. Most people just think of "Superstition" when we say the word Clavinet, but it can also be much smoother as in the track "Liquid Love" by Roy Ayers, where the Clavinet has such a heart-warming tone.
My main goal with the sound design I've made on this project was to get as close as possible to the real Clavinet I had sitting next to me. I spent weeks doing A/B testing in and tweaking our model to give the user the best feeling of hitting the keys of the real thing. All the details in the sound of this instruments, all the little quirks and weird noises that we have been analysing and reproducing inside our plugin have been in the centre of my work.
Funk AD
The Funk AD preset is one of the few presets where I decided to add a personal touch to the faithful and clean sound of the clavinet I designed. Therefore, I just played for hours, recorded tracks, tweaked the Clavinet V, and I came up with this powerful and versatile sound. It's basically the sound I use when I want to play some clavinet parts with my band.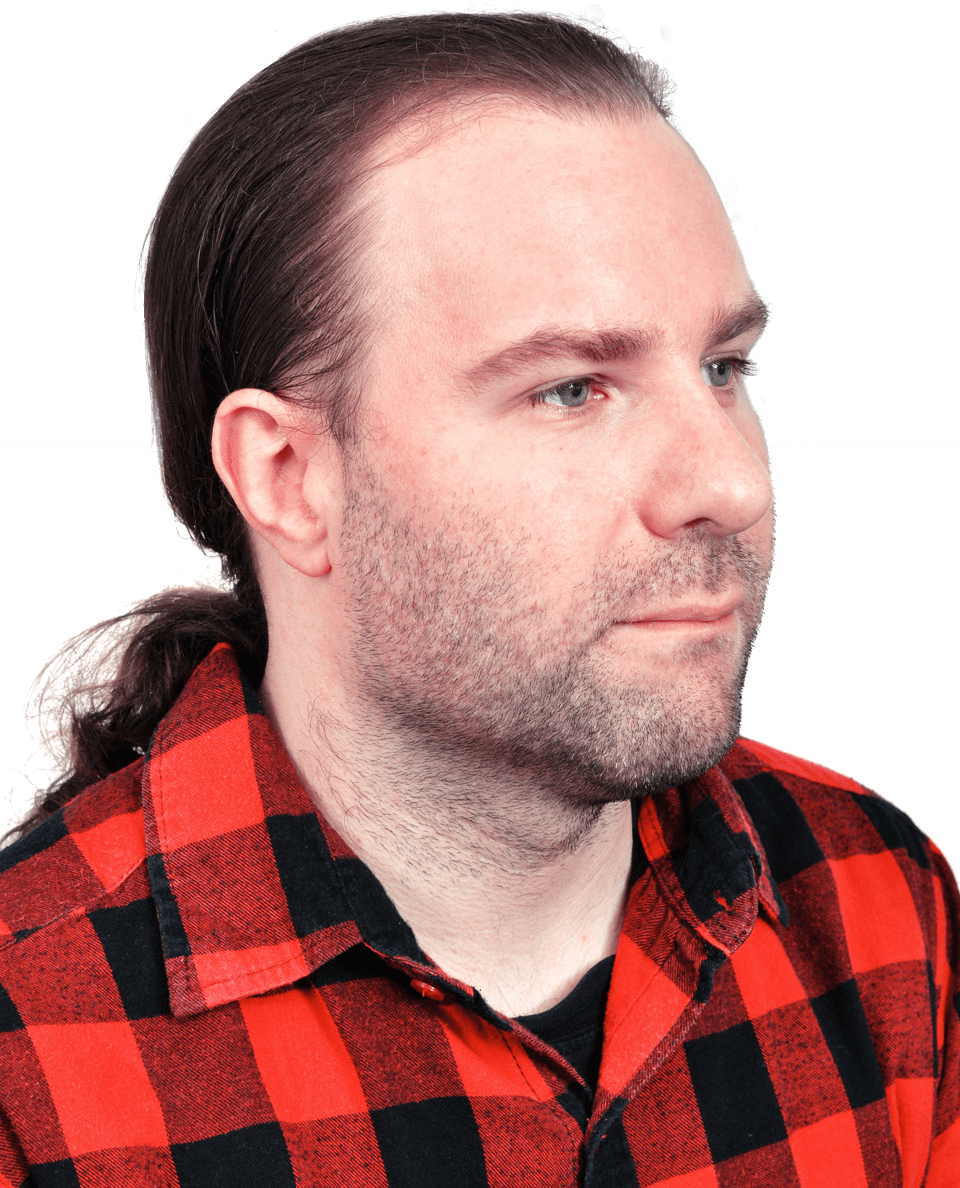 Mark GIJSMANon Emulator II V
My name is Mark Gijsman, and I'm a sound designer and producer from the Netherlands. I've been programming synthesizers for quite a while - my latest projects include sound design for the Elektron Digitone, UVI Falcon, Korg Monologue and effects programming for the Indonesian company GFI Systems. I've also done sound design work for Yamaha, Nonlinearlabs, Akai Pro and, of course, Arturia.
I've always loved the Emulator sound, the gritty nature of the instrument is so appealing! The Arturia Emulator II V has that same character. It's strength lies in the fact that it's very musical - no matter what you sample, the Emulator II V gives it that sparkle. Being able to layer 8 samples at once to program complex textures makes it a serious sound design tool. The voice FX feature is something special as well, every sample can have it's own reverb, delay or chorus - this is great for huge pads and drum kits.
I am a big fan of digital synthesizers from the late '80s and early '90s. The soundscapes and pads from that era are fantastic. These are the types of sounds I wanted to program with the Emulator II V - as a homage to the great sounds of the past!
Amazonian
My favorite preset is Amazonian Vibes, it has that '90s rompler sound. This sound is created from scratch, the Emulator II V is able to layer 8 different samples. This is a great way to create complex textures and pads.
Simon Gallifet on CZ V
Simon Gallifet is a Music Producer and sound designer who has been involved in many projects in close cooperation with ARTURIA.
As a multi-instrumentalist he has been playing drums since the age of 5 and learned classical music theory at university. He has been actively involved in sound design and electronic music production for 12 years.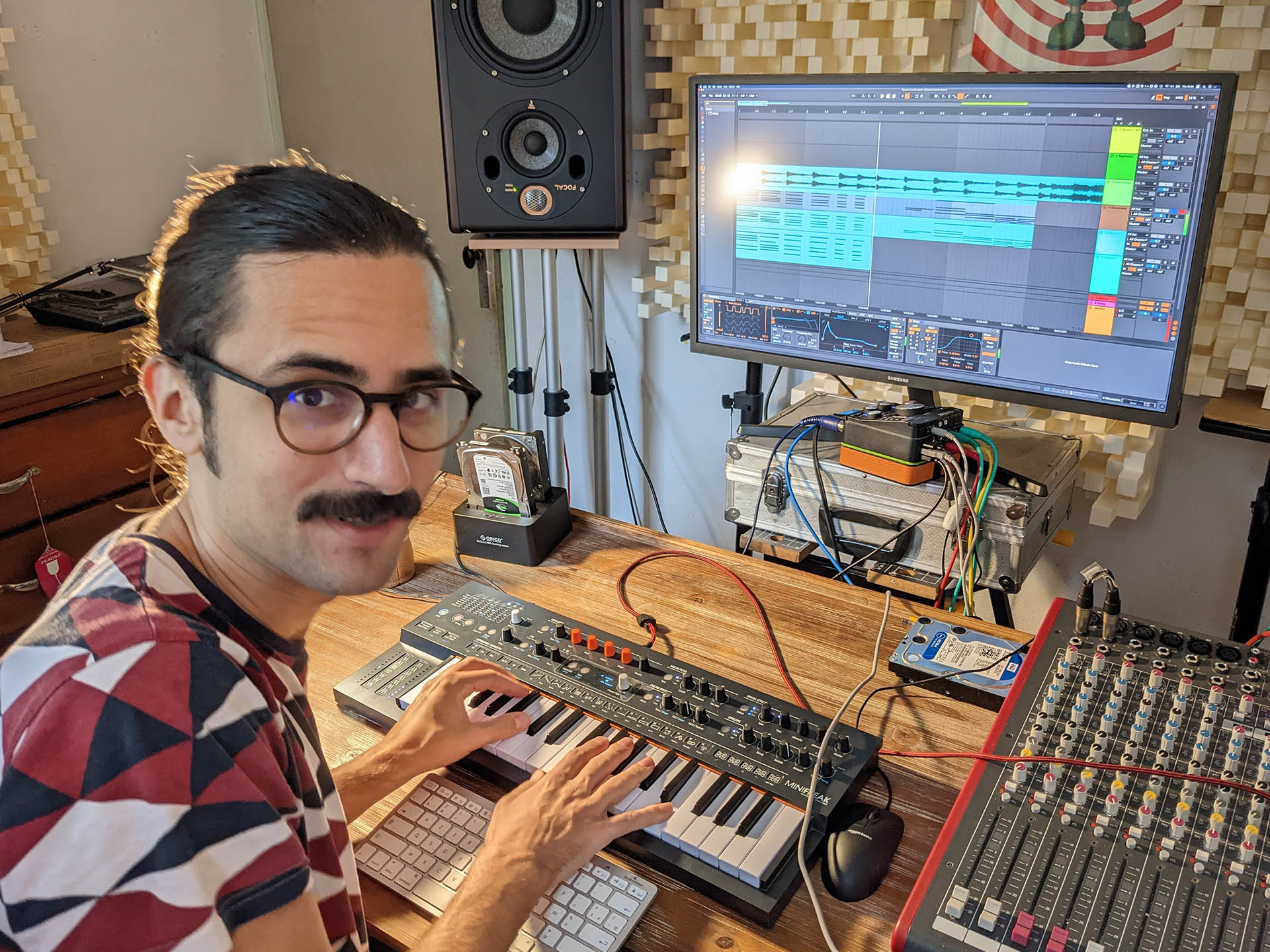 Our brain is accustomed to hearing the imperfection and irregularity that it takes pleasure to correct. The original CZ synthesizer is typically the kind of digital synthesizer that sounds too smooth for me. Fortunately, Arturia developers have extended the functionality of the CZ synth by adding additional modulations such as "Sample and hold" LFOs, MIDI synced and Looped envelopes as well as a wide spectrum of audio effect. All these features allow me to take advantage of phase distortion synthesis with the possibility of giving it more warm and lively features.
Final Boss
I made this preset for Arturia's CZ V promo video. Part of the drive was meant to show that CZ V has the potential to create more "modern" sounds, so I created this drum'n'bass sound by trying not to fall into the cliché of the ternary wobble.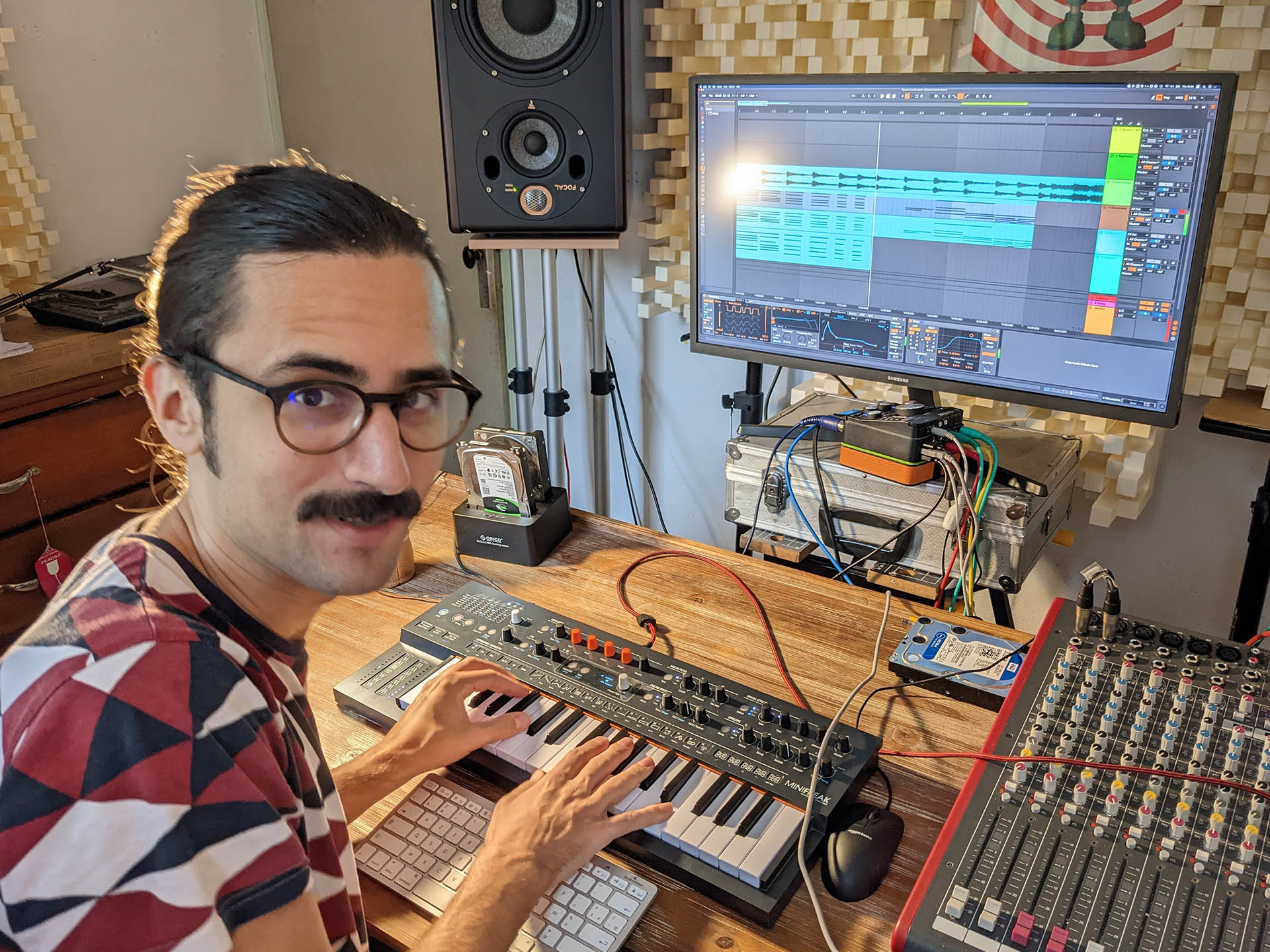 Thibault Morel on Synthi V
I love the patch bay.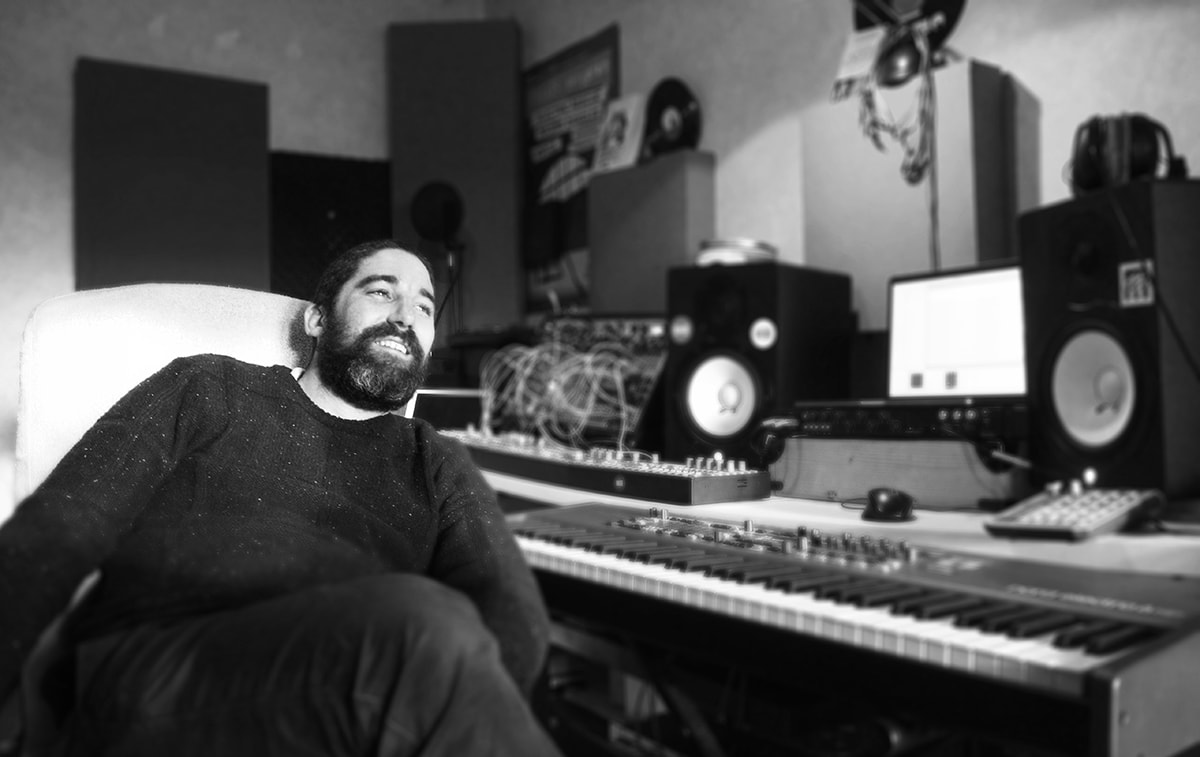 Thibault Morel comes from an acoustic environment, he plays guitar, trumpet, drums, piano, clarinet. Eclectic, he performs solo and in groups, in various styles. He started to play live under the nickname Mr Woofer, a reggae/dub project. Today he's got several new live projects, ranging from techno to electronica, a duo with a singer, and a solo piano project.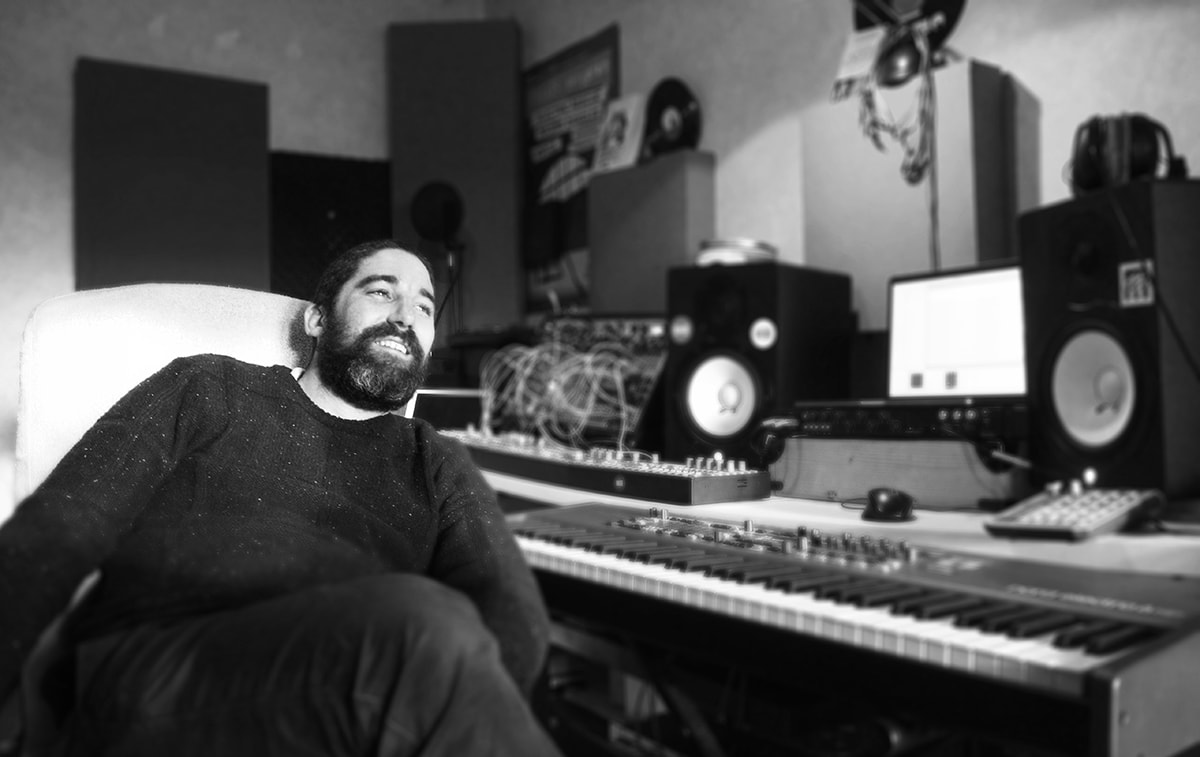 I think this matrix is the principal strength of Synthi V. I used to work with modular synths and it looked really familiar to me. Of course, the sound of the oscillators are really, really fat. You can easily reproduce every kind of sound, from classic bass and lead sounds to some of the weirdest noise and effects I've ever heard.
When I first opened Synthi V, I instantly wanted to create drones and sound effects. After using it for a while, I discovered it was also capable of really nice leads, basses, and old-school arpeggios. I always started by creating a sequence using the integrated 4 step sequencer, then I created my sound. Sometimes "sample and hold" did it for me. Functions are an incredible tool too, I loved playing around with the modular ADSR, and here it really adds another dimension to the classic Synthi sound!
Thomy
It's fat and clear at the same time with lots of harmonics, and this joystick that slowly detunes OSC2 and opens the VCF is just amazing to twist! For me, you could almost use this patch to create an entire track!
Lily Jordyon Jun-6 V
I was immediately charmed by Jun-6 V's powerful simplicity. Before I started making presets on Arturia's recreation, I was already a big fan of the classic Juno sound - so I may be a little biased!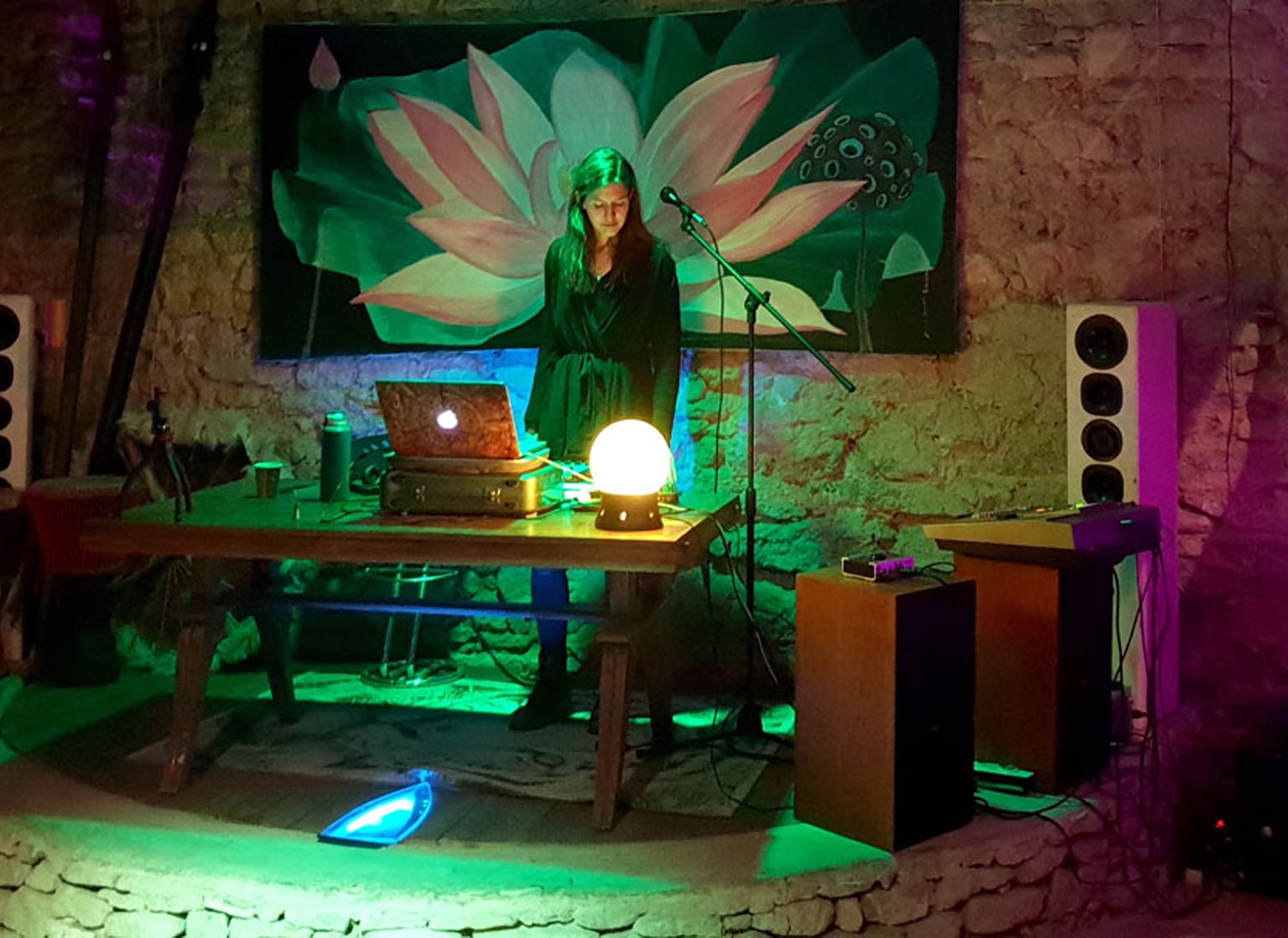 But I can safely say that this synth has so much hidden potential and astonishing modulation capabilities, in proportion to its user-friendly minimalistic design. It's no wonder that it's a favorite of so many artists, as it takes very little time to get accustomed to it and start making excellent patches.
Afterglow Pad
This pad sounds so unbelievably huge, like there's some stereo enhancing plugin added to it - except it's all Juno, with delay and reverb being modulated by LFO2 and ENV2! I love the mod wheel's effects: it thickens the sound into a wild, windy soundscape using only the resonance. Very effective for setting a sci-fi or mystical ambience.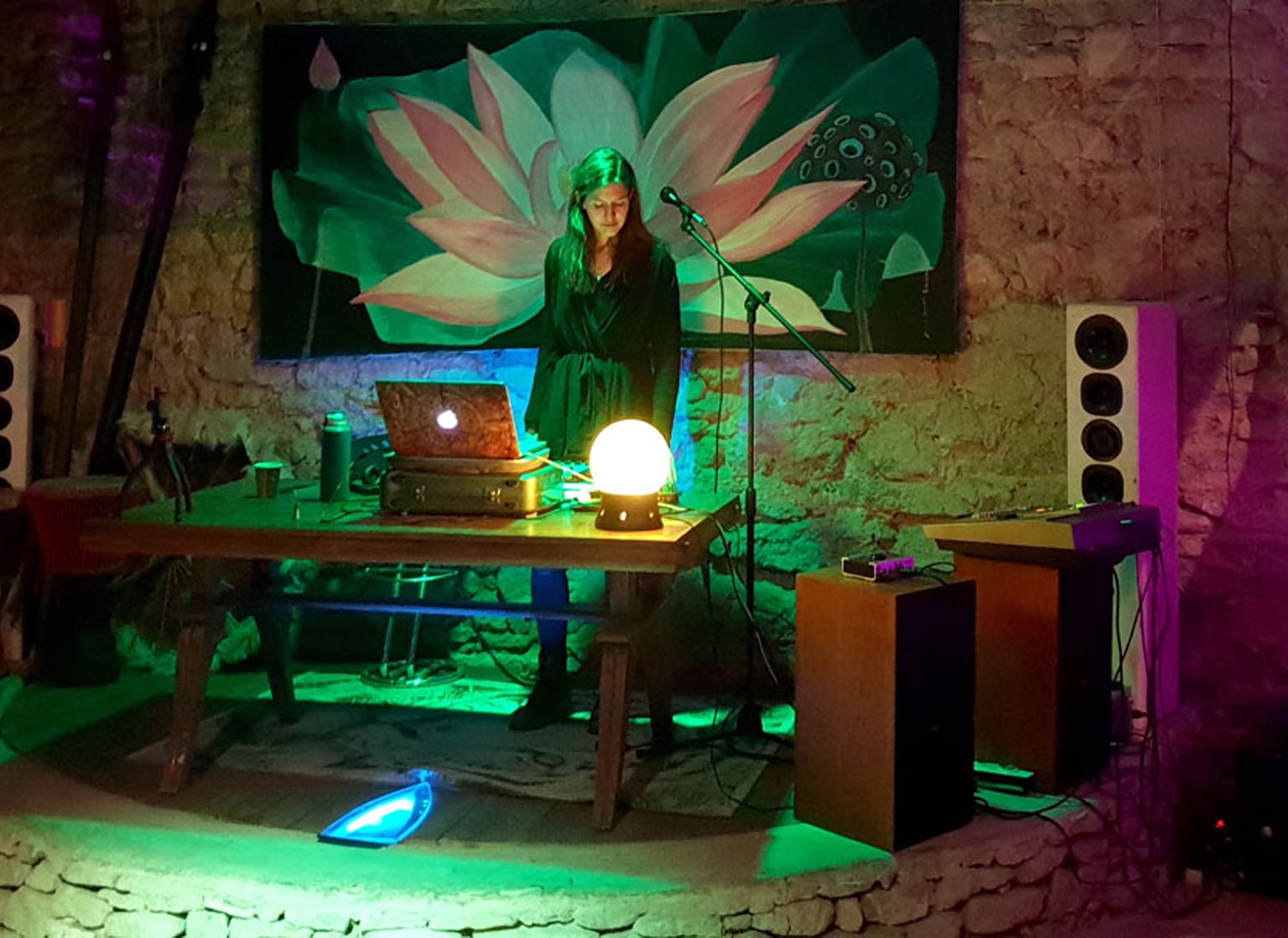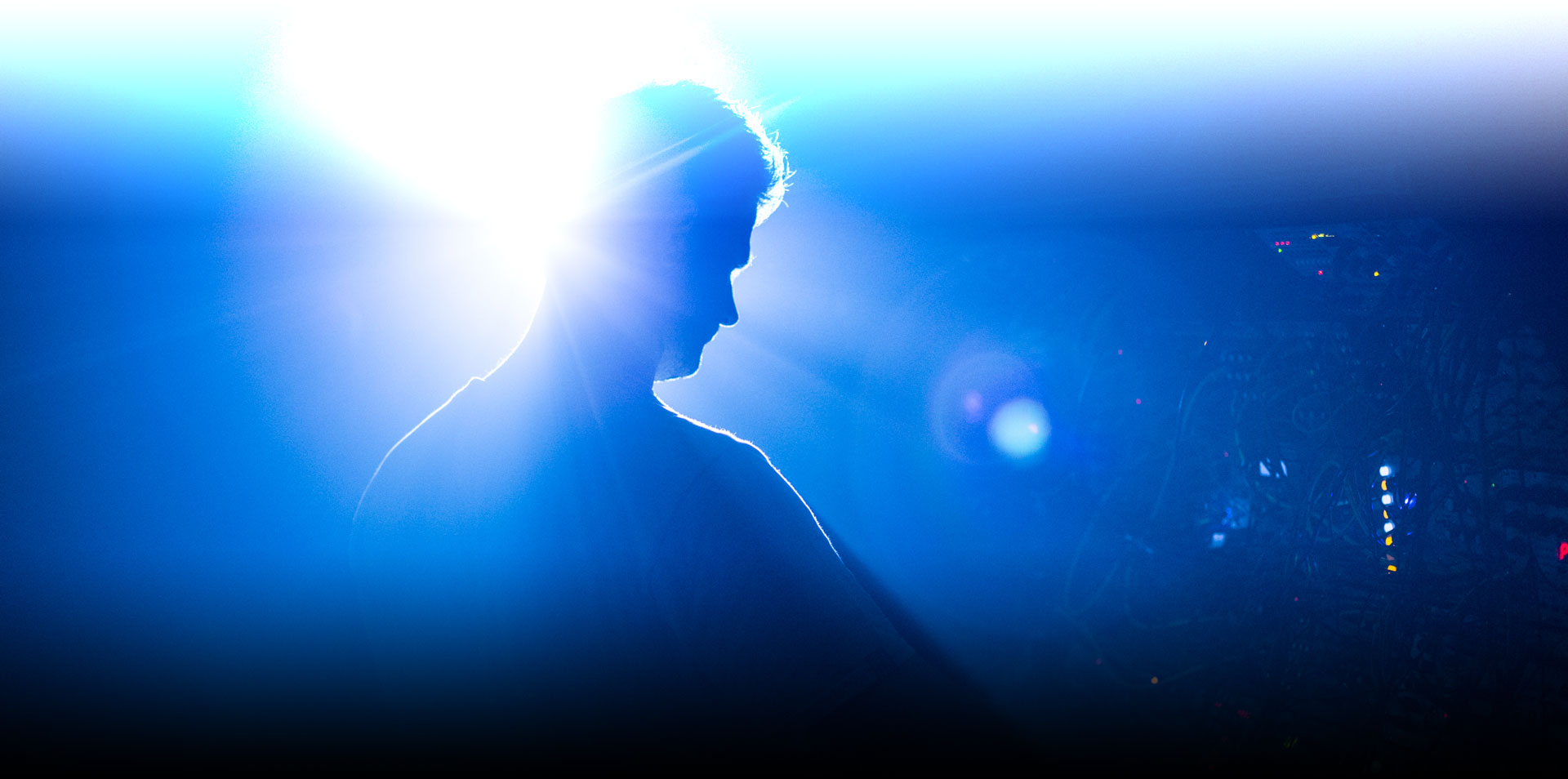 Maxime Dangles on Buchla Easel V
I get exactly the same kind of result with real analog hardware.
Maxime Dangles is an electronic music producer from Valence in the south of France. Starting his professional music journey a decade ago with a KOMPAKT release, and working with techno label SRYPTÖM today, Maxime is also involved in several creative projects, including Möd3rn, DNGLS, and a solo live modular electronica act. Although hardware is his main love, he's been an avid follow of Arturia's V Collection since version 3.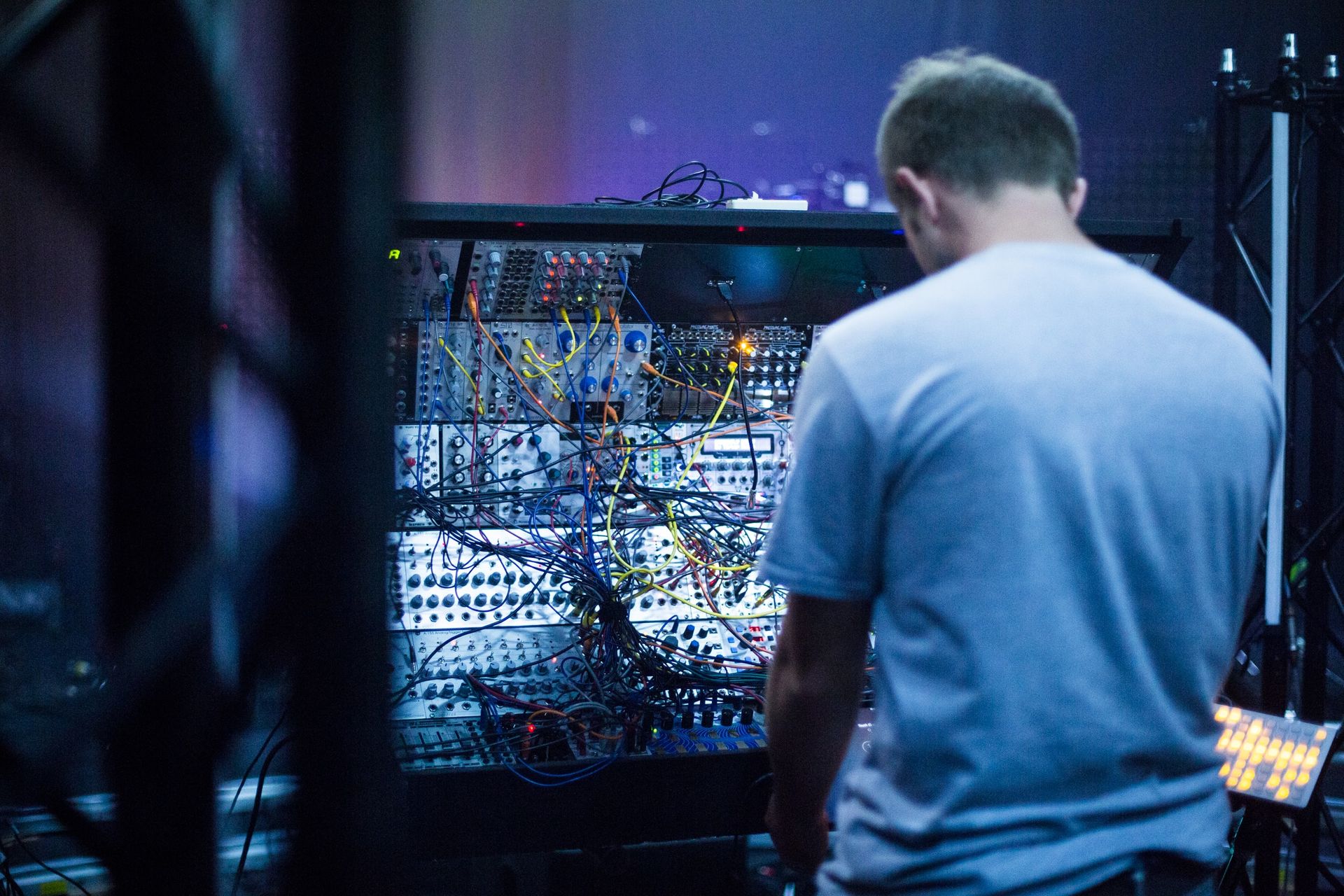 Buchla architecture is quite far removed from any other synth. It forces you to spend a bit of time on this to understand all the feature of the synth, which is important because this is a really open and powerful synth! I love the dual LPG, it's rare in the VST world. The "Left Hand" functions really makes it incomparable with other synths. I feel like it's the perfect, natural extension of my Eurorack system.
My knowledge from using modular synth systems sure came in handy! I didn't approach this as an expert on the Music Easel, so I use the "Left Hand" in every preset to have the most interesting sound I can. The possibility of polyphonic sound is something I like a lot, so I did some presets with this idea in mind. I've been impressed by the FM and AM, and I get exactly the same kind of result with real analog hardware.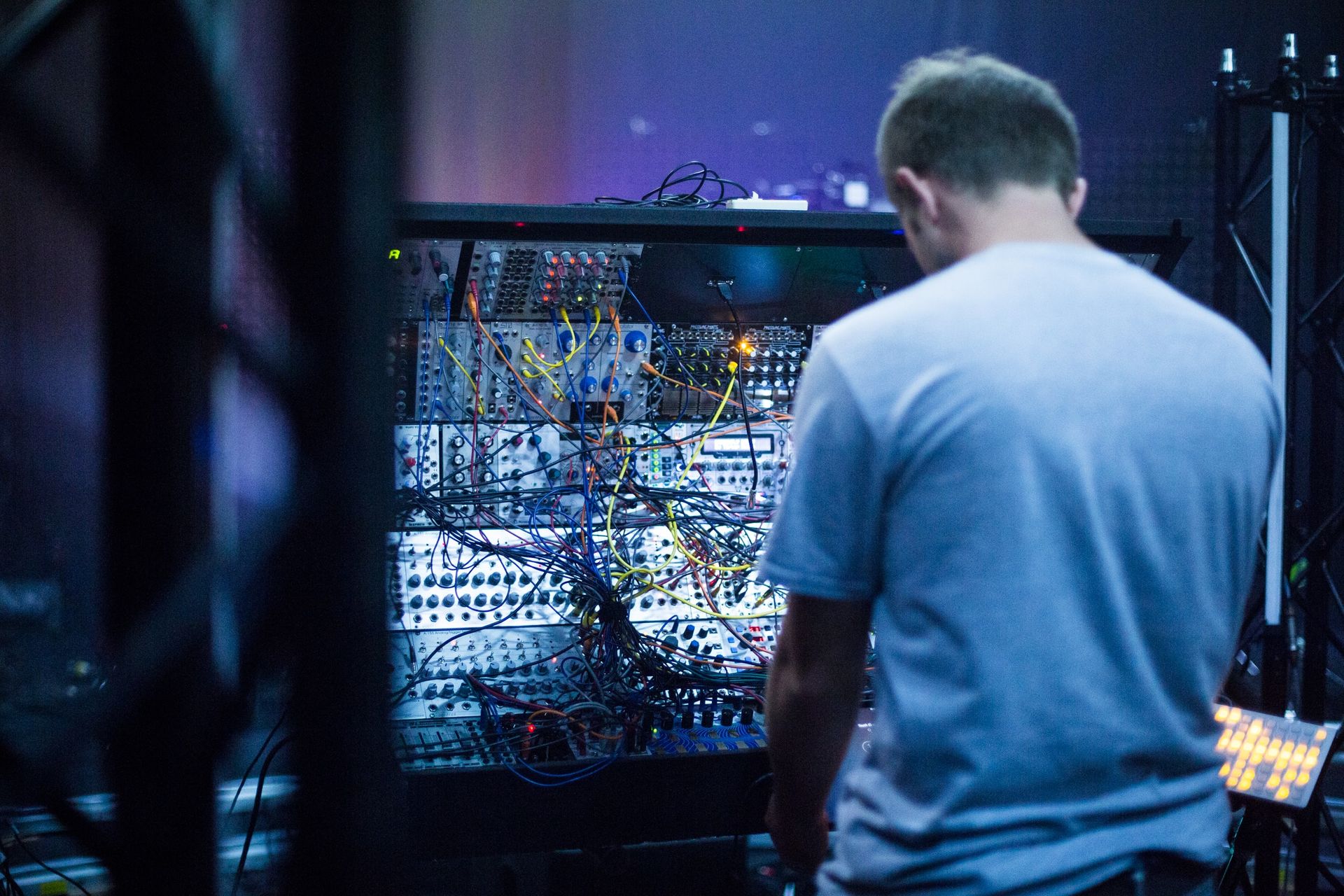 Trompef
It's the result of an experimental approach, like most my work! I never have a precise idea when I start creating. So it was the same for this bank. The multiple possibilities help me a lot on this approach.
I did a sort of FM sound at first and with the help of the Left Hand I morphed the FM sound to a more playable and clean sound. I use the same kind of sound in my DNGLS live act, and it sounds like FM bells at first, and then morphs into to a brassy trumpet sound in the end. I love this preset! It's not the most beautiful sound, but it's a good example of the power of the synth.
Boele Gerkes on Mellotron V
No doubt this particular Arturia plugin will become a winner.
Boele Gerkes is a Dutch musician, producer, and sound designer who has been fascinated by synthesizers since the mid-70s. He's owned and played countless analog, digital and hybrid synthesizers - including a real Mellotron - and for the last 40 years and has been professionally testing and creating presets for various synth companies.
Pitch fluctuations, audio dropouts on worn out tapes, the weird frequency characteristics, amplifier distortion: imperfection is what makes the Mellotron so adorable because imperfection created its character.
Arturia has done a great job in collecting a very broad sound palette of instruments for Mellotron V. Tapes that were recorded decades ago in the sixties and seventies. No, you can not do a lot of modulation like on most synthesizers, but you really don't need to, because the modulation is already there on those tapes.
Being involved in sound design for this project was a joy. Arturia added a big Swiss army knife by putting together a lot of useful and great sounding stompbox-style effect pedals. The ability to mix two or three tapes within a preset is another great enhancement. When Arturia asked me to do a few demo's I was amazed how easy it was to come up with melodies and structures. This instrument forces the user to play it.
Final Frontier
I made this patch "Final Frontier" because I could create this beautiful ambient sound with a Mellotron tape (Wine Glass) without actually sounding like a Mellotron. There is nothing wrong with a Mellotron sounding like a Mellotron of course, but this particular preset was fun to make because the plugin let you go unique ways. In this case by setting up the sound with three times the same tape, panned differently, by using the effect stompboxes and by setting a VCA envelope that would not be possible on the original.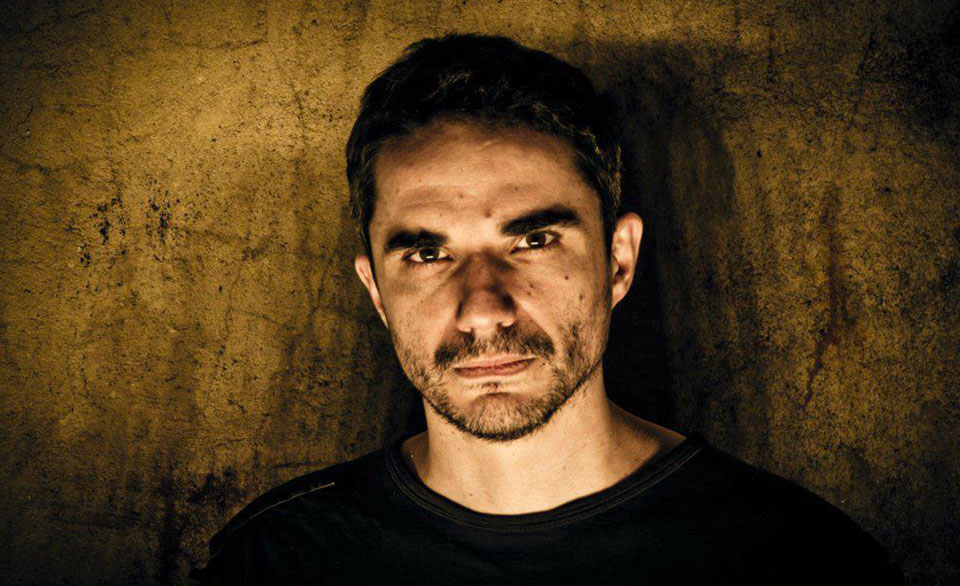 Hypno Play
For this sound, I wanted to create a small sequence on 5 steps with the sequential voltage source, set to control the complex oscillator, the oscillator modulation then adds a nice low-end sound. The particular color of the Buchla Easel V reverb completes the sound.
Stéphane Schott on Buchla Easel V
Its tone really conjurs feelings of the 60s and 70s
Stéphane Schott is a French composer and executive producer working in television, music editing, for video game studios, and many other private-sector companies at national and international level. On top of this, Stéphane still finds time for his first passion: sound design. He has worked as a composer and designer for Arturia for many products, including V Collection 4, 5, and 6, Spark 2, and MiniLab MKII.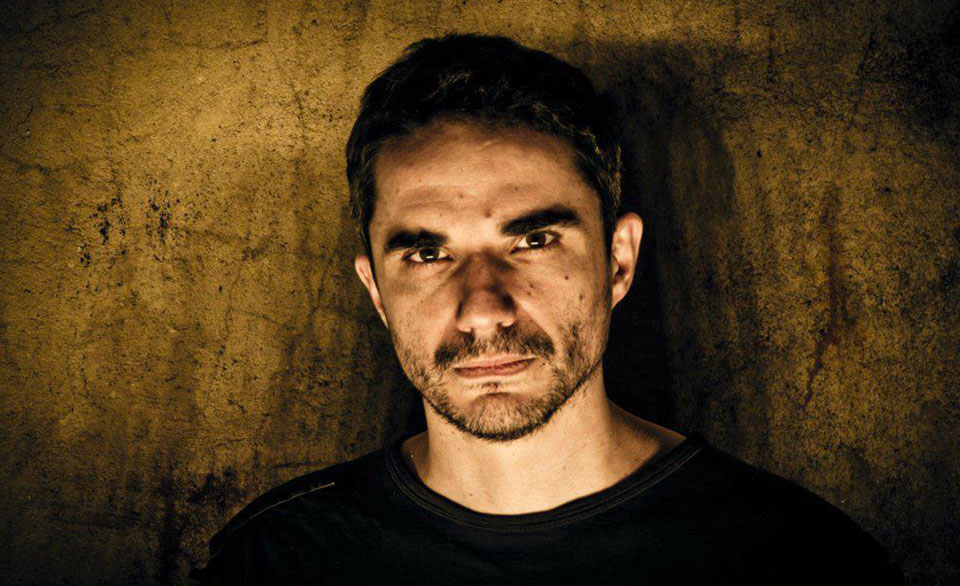 One of the first strong points of the Music Easel is the sound! It really stands out from all that we used to see in virtual instrument and it will perfectly complement the rest of the instruments in V Collection. Its tone really conjures feelings of the 60s and 70s, and reminds me of the sound effects that we hear in the piece "Psyche Rock" by Pierre Henry. The visual aspect and ergonomics really help you to become inspired, and the simulation of the spring reverb sounds incredible. I also really like the Gravity section, which is well in the spirit of the instrument.
In my work of sound design, I create a lot of FX sounds, a lot of sequences, and bass sounds. Indeed, between its Sequential Voltage Source, the big sound possibilities of the modulation oscillator and complex oscillator, the semi modular environment, and Gravity, the music Easel offers a lot of possibilities.
Hypno Play
For this sound, I wanted to create a small sequence on 5 steps with the sequential voltage source, set to control the complex oscillator, the oscillator modulation then adds a nice low-end sound. The particular color of the Buchla Easel V reverb completes the sound.
Dave POLICHon Jup-8 V
I think it is the best sounding Jupiter emulation currently available!
I've been a professional sound designer for Yamaha, Arturia, Korg, Roland, Sequential, Native Instruments, and many others for many years, going back to my first sound designer gig for Yamaha in 1991. I've been playing keyboards since I was eight years old, and learned synth programming on my very first synth which was a Minimoog I bought back in 1977. I've owned or played just about every hardware synthesizer or electric keyboard ever made, including Hammond organs, Rhodes and Wurlitzer electric pianos, Yamahas, Oberheims, Prophets, Rolands, Korgs - you name it, it's been at my house one time or another.
The aspect of Jupiter 8 V4 that most surprised and excited me was the sound..first, it sounds vastly better than Arturia's previous Jupiter 8 V versions. Second, I used a Jupiter 8 back in the 80's, and Jupiter 8 V4 sounds like the real Jupiter 8 that I remember..you never forget that sound.
Different Waze
For the 'Separate Ways' preset (which I titled 'Different Waze') you need two sawtooth oscillators, each tuned to the same range, and detuned enough so that you get this glossy shimmering tone. Then you have to create a filter envelope that closes the cutoff frequency, similar to the way a piano's filter envelope closes down, in time with the song's tempo, and you have to tune the filter resonance so that it is 'shiny' and 'juicy' in the same way as the sound on the original record. The amplifier envelope has to have a high level of sustain, though, unlike a piano which only has decay, so you can play lead lines with the sound as well as comp chords. The opening synthesizer riff for the Journey song is the most memorable part of it, it instantly tells people what song it is, and therefore you need to mimic the envelopes exactly...which I was easily able to do with Jup-8 V.
I wanted to recreate as many of the "famous" vintage Jupiter-8 sounds as I could. You know, most people would ask, 'Can you play Duran Duran songs on the Jup-8 V?' The answer is yes! I set out to program an arpeggio preset that would work for Duran Duran's song 'Rio', which is probably their most well-known use of the synth, and I feel I nailed the sound for that. Another 'famous' Jupiter-8 vintage sound is the one Jonathan Cain of Journey had for the hit song 'Separate Ways'. I was able to recreate that sound exactly on the Jup-8 V.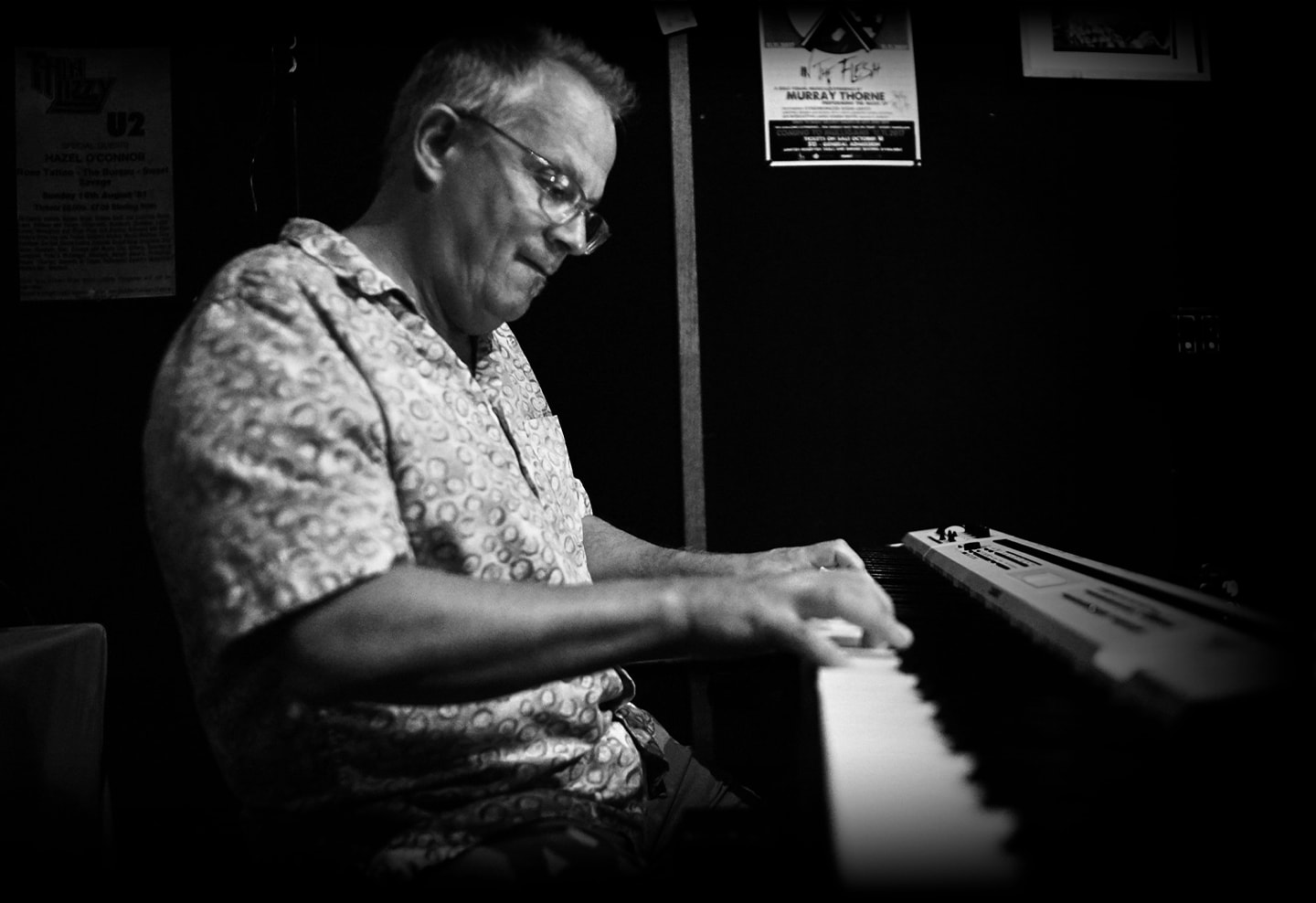 Natural Aggressive Tone
I was attempting to create a very real and natural sound based on my long experience with the instrument (I've owned a 1972 Stage and a 1978 MK1 Suitcase, both of which I worked on extensively). I wanted to recreate a very "hot" sound that could break up nicely when played aggressively (hence the title!). So I worked with the pickup distance, and hammer hardness to get that extra "bite". The dynamics of the sound were also important for me. For the demo I tried it out with a variety of effects and variations in the voicing of the model (tine noise, pickup distance and alignment, damper noise etc.) and it just "works" for getting a wide range of great sounds.
Jerry KOVARSKYon Stage-73 V
I can get into the very DNA of the instrument to shape it how I want to.
For more than 30 years, music industry veteran Jerry Kovarsky has worked as brand manager, product manager, marketing director, product developer, and product demonstrator for Korg, Ensoniq, and Casio. An accomplished keyboardist, synthesist, and author of Keyboard for Dummies, Jerry passionately advocates for making music with keyboards through his writing about technology and keyboard musicianship for numerous outlets, including Electronic Musician Magazine and Yamaha's music blog site.
The vocabulary of Rhodes sounds is very wide; from the early felt hammer sound of the late '60s up through the amped sound of a Stage, and on to more clanky and prominent tine sounds. There is no one sound that is universally agreed upon, and I enjoy at least 6-7 very different approaches to the instrument. So I sought to chase them all down, referencing my favorite recordings for guidance.
Paul Nazca on CMI V
It's powerful, and the automations are easily assigned.
Paul Nazca is an electronic musician from Arles, France, owner of Scandium Records, and lover of music making machines.
The main strength of the CMI V is that everything is very legible and user-friendly – the interface is well-designed. The FX are particularly powerful and the automations are easily assigned.
I worked on my own machines to produce the sounds I used to create the presets. Once these sounds had been generated, I integrated them into CMI V, which let me layer up to 8 sounds in each slots.
Aragor Planet
I didn't really have a specific sound in mind when I started working on producing the presets, I just started stacking the sounds in the slots and seeing what the results were. I decided to work on the basis of both long and short aggressive sounds. "Aragor Planet" is one of the richest presets I created, layering 5 different sounds. This preset is also atmospheric and strange, it sounds like something that goes round and round.
Thomas KOOT on CZ V
Thomas Koot is an electronic musician from the Netherlands. He spends half of his time as a professional DJ playing with live musicians, the other half as an acoustic fingerstyle aficionado. He is a former sound design teacher at the ArtEZ University of the Arts, and created sound for Native Instruments, Fabfilter and Arturia's own heavyweight Origin synthesizer.
Just as with analog synths, the rawness and imperfections of early digital synthesizers give them an unmistakable character. Like the original CZ series, the CZ-V provides sounds with real character, it has a vintage feel, but in a completely different way than an analog synthesizer.
Hackers Glockenspiel
I like to push this digital feel to its limits, as with the 'Hackers Glockenspiel' preset. It might not be a pleasing sound, but I really like the intensity.