Step back in time
The VOX Continental was originally created by the Jennings Musical Instrument (JMI) company in 1962. JMI had been in the organ business since the '50s, mostly making home and church organs. There were a number of models all based on the Continental that were released with various feature differences. The Continental, Super Continental, Jaguar, Corinthian, Baroque and the 300 were the different models. The 300 was the most advanced with the equivalent of a Continental on the lower keyboard and an expanded Continental on the upper with different drawbars.
In about 1967 Tom Jennings was fired from his own company after a buyout. He then started up the Jennings Electronic Instruments (JEI) company and began making his own organs again. These organs were based on the Continental 300 but further expanded with more drawbars on the upper keyboard, and expanded percussion section, added Tremolo and spring reverb as well as some TONE presets.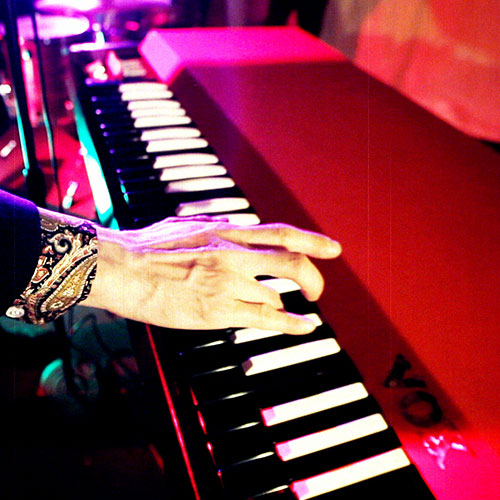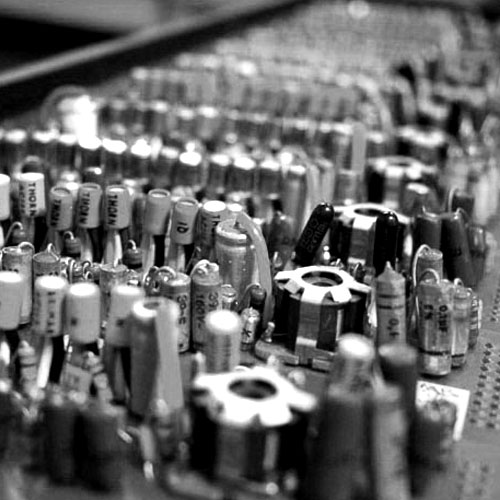 The sound of the VOX organ caught on fast and it became a staple of the British invasion sound of the Animals, The Beatles, The Zombies and more. It was used heavily on classic songs such as The Animals' "House of the Rising Sun", The Doors' "Light my Fire", Iron Buttterfly's "In-A-Gadda-Da-Vida" and many more.
In the late '70s and early '80s the VOX regained prominence in New Wave music and the Two Tone ska movement with bands like Madness and Elvis Costello. It has made yet another comeback in the alt rock of the '90s and beyond with bands like Stereolab, the Horrors, Artic Monkeys, and Mondo Topless.
Still a classic and in great demand, the prices of VOX organs have climbed in response to their limited availability. But our VOX Continental-V software brings this iconic instrument back to life, placing it within the reach of the modern musician with even the most modest budget.
Rebirth of Cool
We started by modeling the circuit designs of the classic and rare VOX Continental 300 dual-manual organ and captured every nuance of the original, right down to the key contact timing and background noises. This gives you all the smooth mellow tones and that cutting hard tone that the VOX was known for.
We didn't stop there, however; we also acquired a rare Jennings J70, which Tom created after he left VOX. We then added a Jennings J70 mode to the voice engine. So you get not just one, but two ultra-rare organs with VOX Continental V.
And then in typical Arturia fashion we took the VOX way beyond what it has ever been able to do. We added an Extended mode that gives you a full complement of drawbars on both the upper and lower manuals, and then added a third tone drawbar based on what we think a VOX would sound like with a SAW wave as a base tone. With VOX Continental V you can create sounds the original organs could never have made.
This is all possible because of our TAE ® modeling technology, which recreates the analog circuitry of the manuals and pedals of the VOX in stunning detail.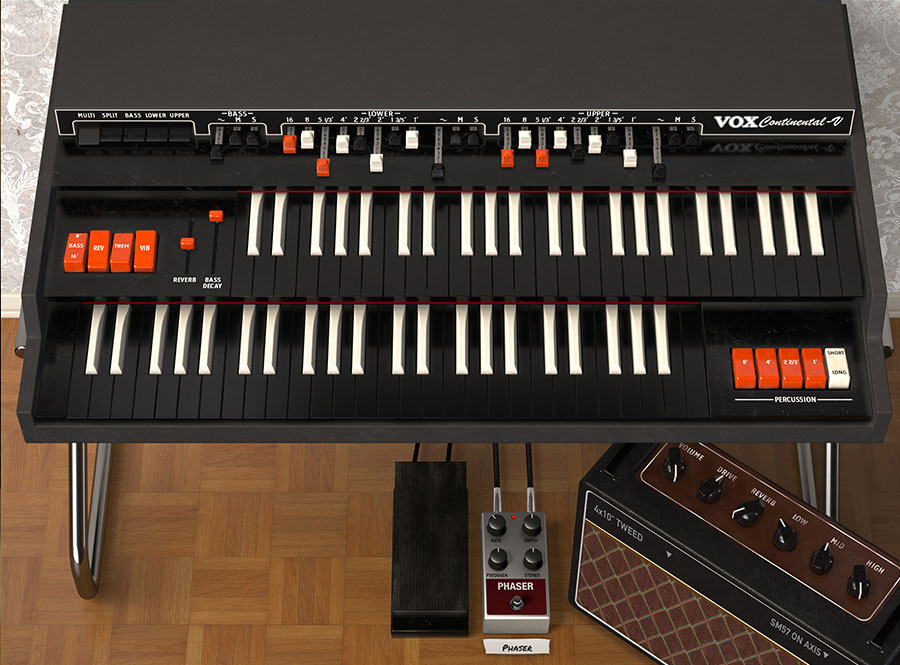 Effects that Affect
We included a number of effects that you can use to modify your sounds. VOX Continental V includes a collection of vintage stomp boxes that will distort, flange, delay and add all kinds of tones and textures to your sounds.
Feed the output either directly to the speakers or your DAW, or first run it through a classic guitar amp or Leslie speaker. The guitar amp has multiple cabinet and mic models so that you can simulate a great number of sounds, from a clean sound like The Monkees' "I'm a Believer" to the aggressive sounds of Iron Butterfly's "In-A-Gadda-Da-Vida" and beyond.
We also added a convolution reverb that will give realistic reverb sounds based on the impulse responses of several classic spring reverbs.

All hands on board
With two keyboards and a set of bass pedals you might be asking yourself, "How am I going to control all of that?"
It's simple: We added a set of panel switches that allow you fast and easy access to multiple play modes. There are three main methods:
Select the part you want directly with the UPPER, LOWER or BASS tabs.
Choose SPLIT mode, set your split points in the preferences and play each part from one keyboard.
The MULTI tab puts each part on its own MIDI channel, so you can switch from one to the other with your master keyboard or assign tracks on your DAW to particular parts.
One cool trick is to assign the mode tabs to external MIDI controls so you can switch between them during a live performance.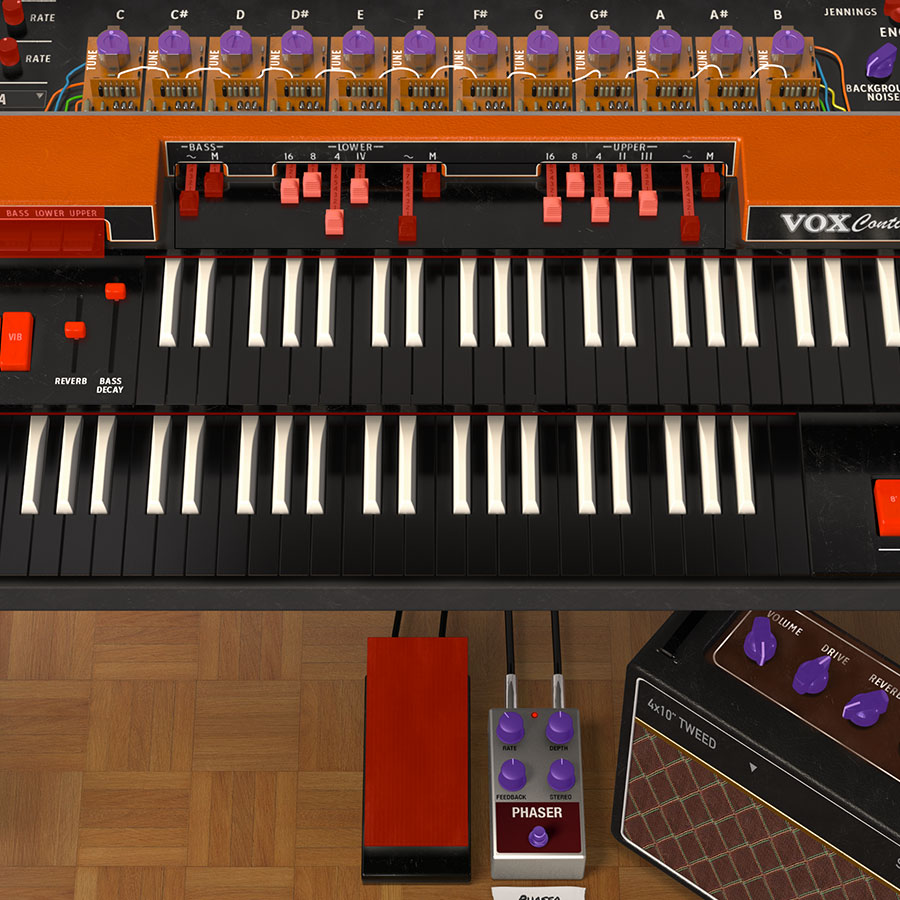 The VOX is alive, with the sound of music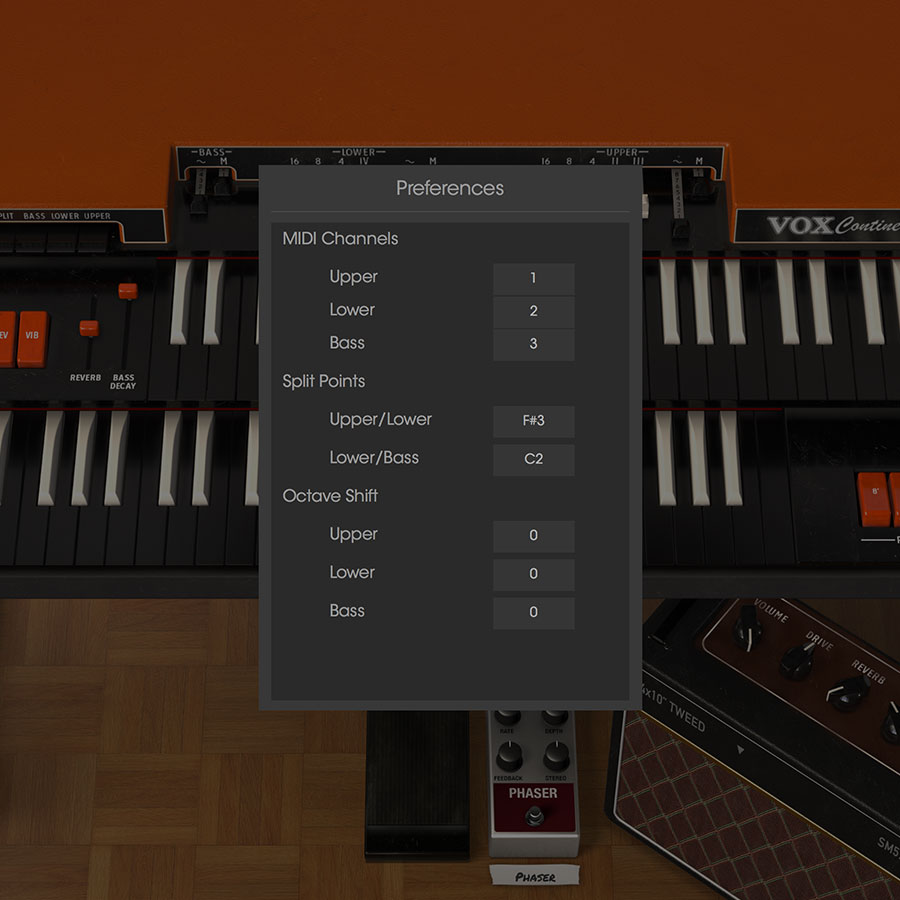 VOX Continental V includes over 100 presets, and among them you will find a wealth of classic VOX sounds and some that are out of the ordinary but highly musical. (Did you know a VOX makes a great string ensemble?) And there are still more that are, shall we say, adventurous.
The Classic bank has sounds that will light your fire or make you cry at least 96 tears. By the time you get to the end of this bank you will say "I'm a believer!" Seriously, this bank is full of sounds that mimic the classics and more. We also have a bank where we've recreated the factory settings that were recommended in an original booklet for the VOX.
Then there are the Bizarre and FX banks if you're looking for some trippy, psychedelic sounds. Far out, man.
And of course VOX Continental-V is designed so you can easily alter these sounds or make your own sounds as well.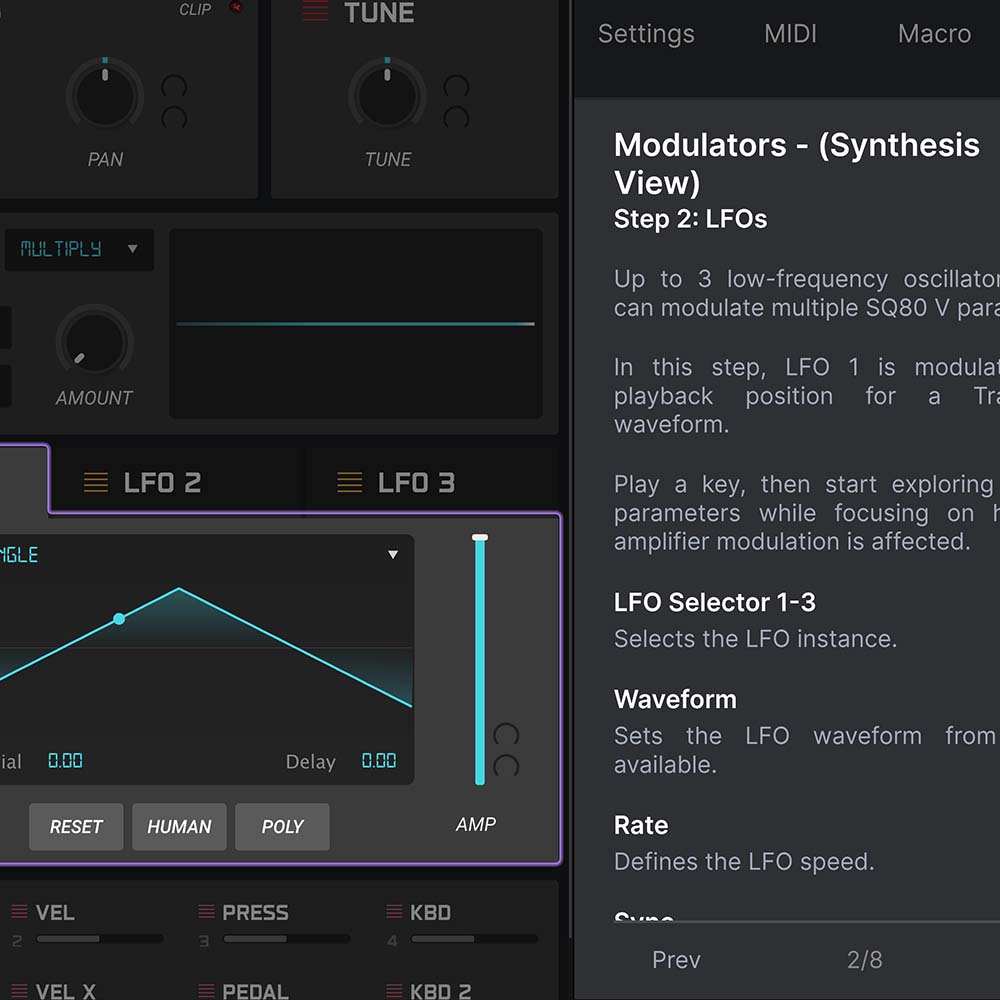 In-App Tutorials
Integrated in-app tutorials guide you through every aspect of the instrument, from individual parameters to tips from our sound designers, so you can focus on the creative stuff. It shouldn't be this easy, but it is!
ASC
Arturia Software Center lets you download, organize, and update all of your Arturia software titles in one place, as well as manage all of your licenses across multiple devices. Keep it simple.
Learn More
Download the ASC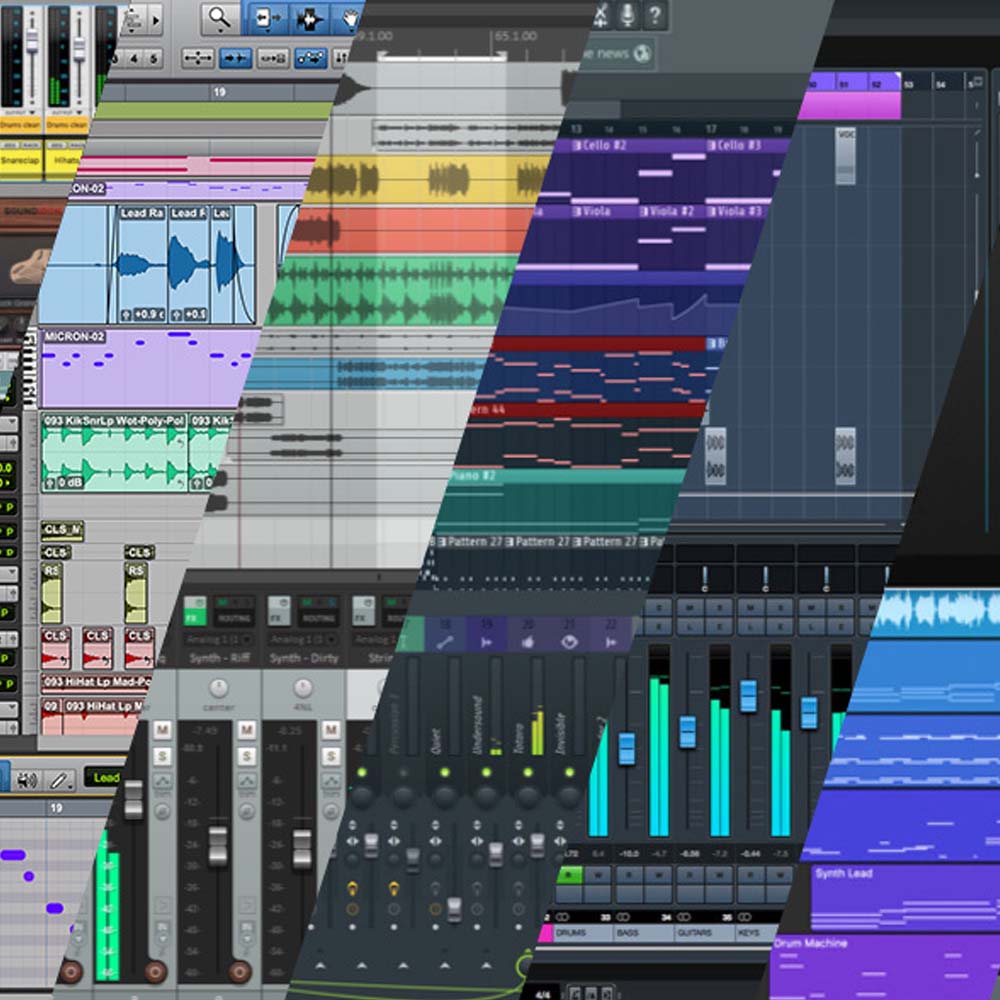 DAW ready
Our virtual instruments and plugins are designed to fit right into your setup without hassle. Whatever your style, you can explore sound while enjoying full compatibility with major DAWS, on both Windows and MacOS.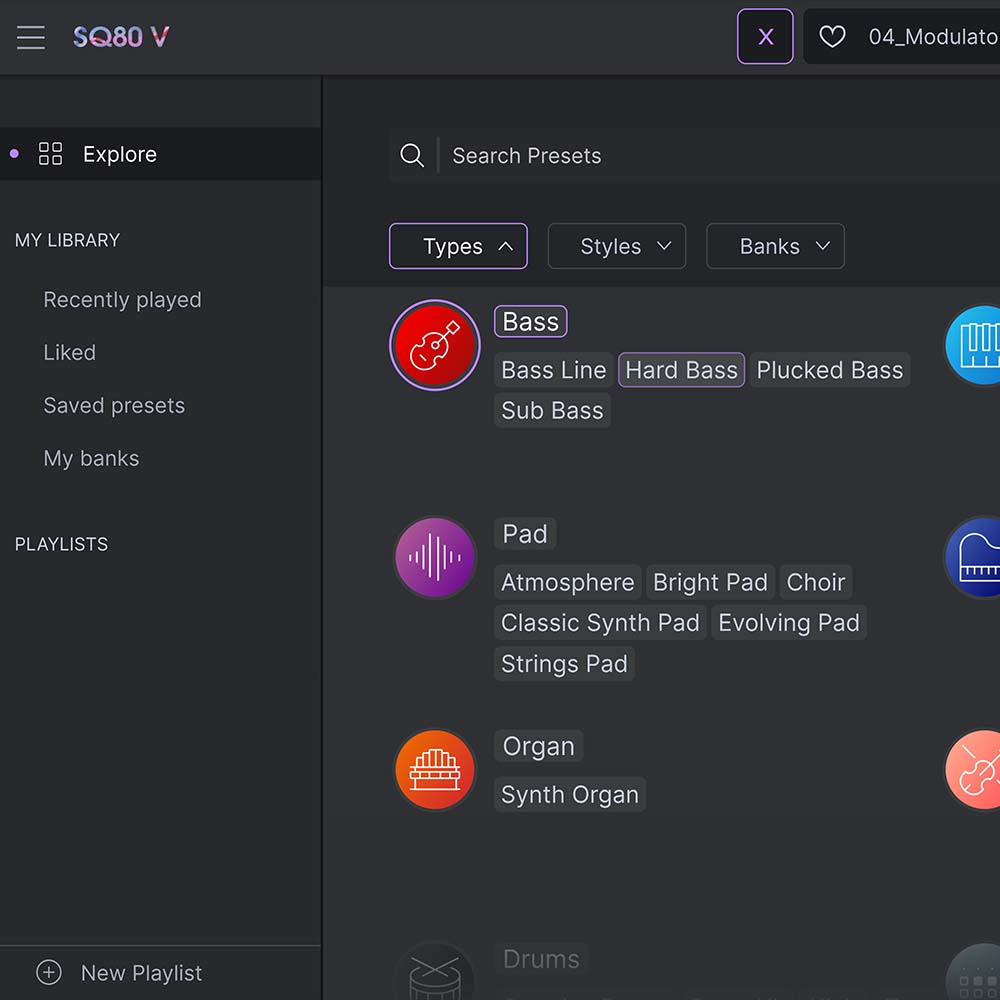 Preset browser
Instantly find the sound that's in your head with intelligent & streamlined preset browsing. Search with keywords, explore by instrument type, musical style, and more - you can even save your favorites to quickly recall later.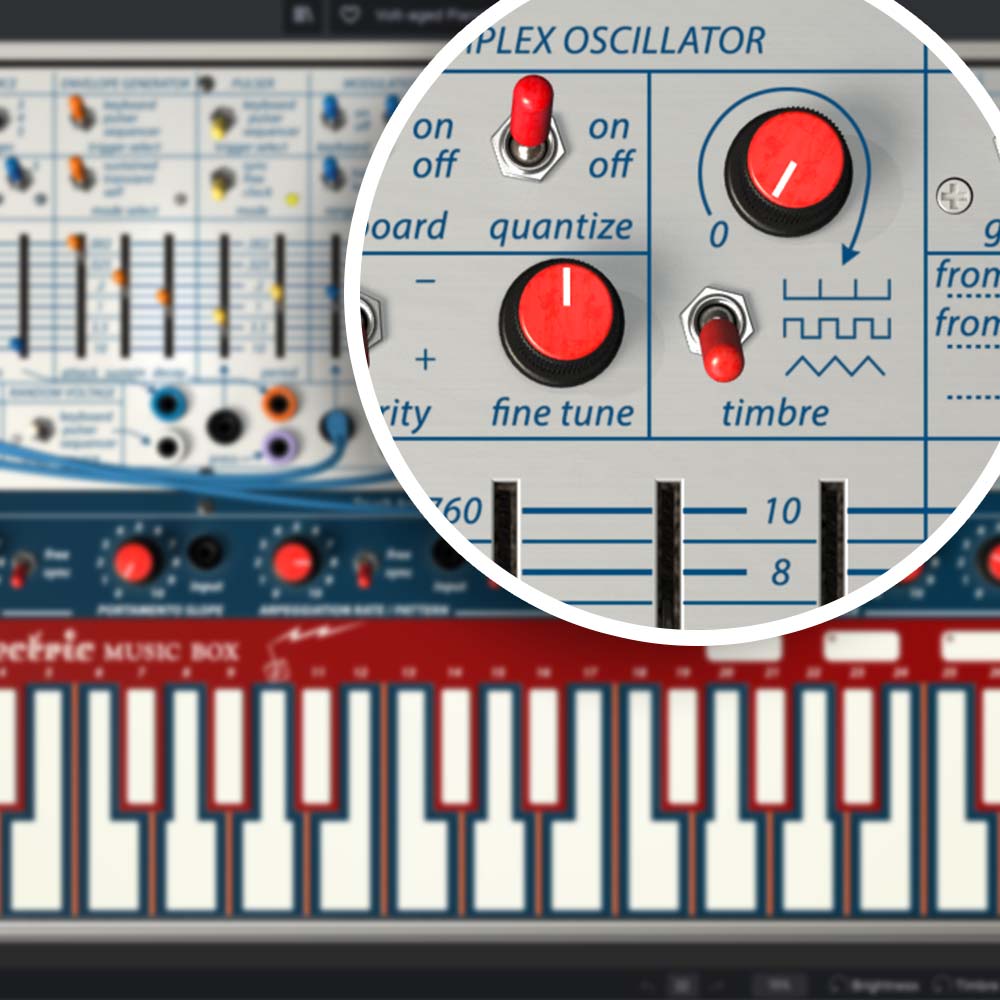 Resizable GUI
Whether you want the full visual immersion of our classic instrument emulations, or to save precious screen real estate, the interfaces for all of your Arturia virtual instruments can be resized to a scale that suits you.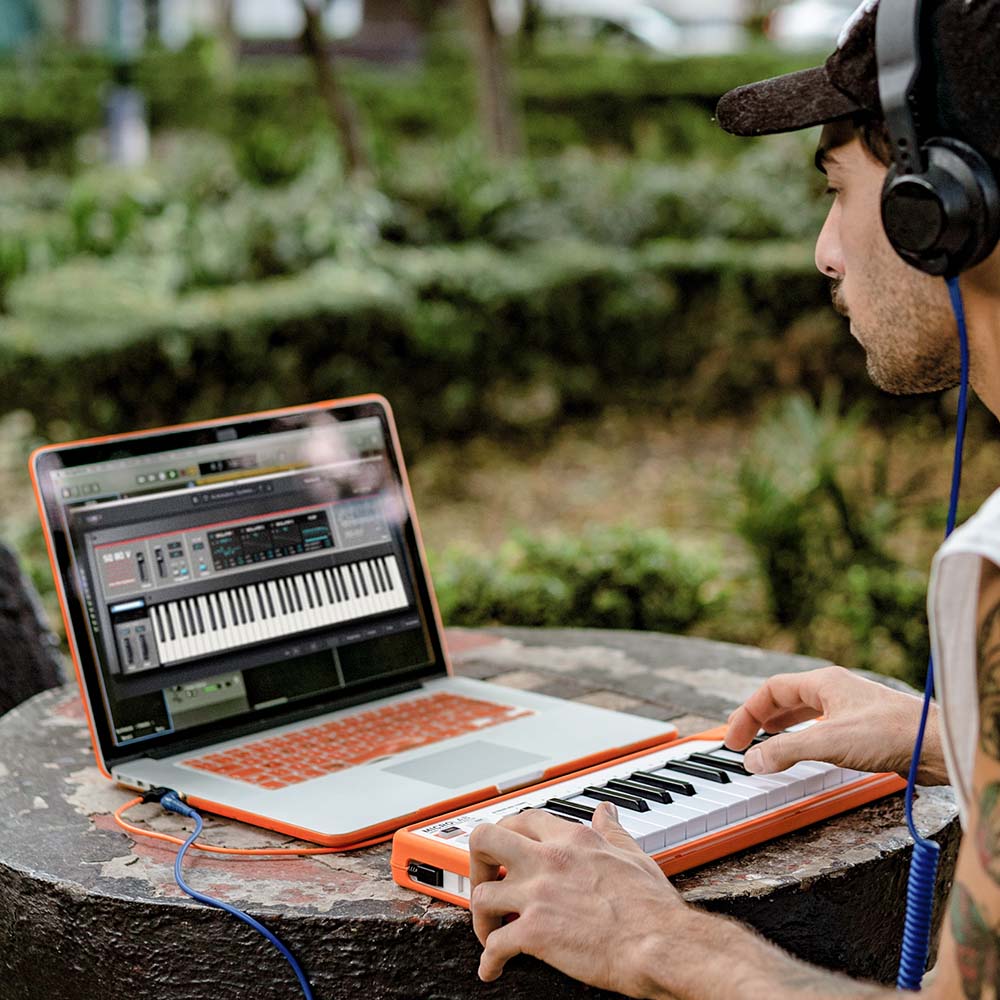 Perfect integration
Instruments come seamlessly mapped for the Arturia KeyLab range - but they'll place nice with other MIDI controllers too. Instant sound tweaking macros, easy DAW integration, and standalone operation.
Platform specifications
: Win 8.1+ (64bit) PC: 4 GB RAM; 2.5 GHz CPU.
2GB free hard disk space
OpenGL 2.0 compatible GPU
: 10.13+: 4 GB RAM; 2.5 GHz CPU.
2GB free hard disk space
OpenGL 2.0 compatible GPU
Required configuration
Works in Standalone, VST, AAX, Audio Unit, NKS (64-bit DAWs only).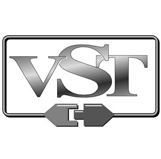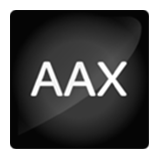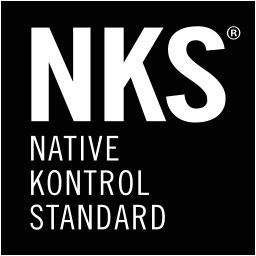 Protection
The software is protected by the Arturia Software Center. You can learn more about it here.
All manufacturer and product names mentioned on this page are trademarks of their respective owners, which are in no way associated or affiliated with Arturia. The trademarks of other manufacturers are used solely to identify the products of those manufacturers whose features and sound were studied during the development. All names of equipment, inventors, and manufacturers have been included for illustrative and educational purposes only, and do not suggest any affiliation or endorsement by any equipment inventor or manufacturer.
Main Features
Physical Modeling of the VOX Continental 300.
Added models of the ultra rare Jennings J70.
Extended mode allows for more controls and more sound possibilities.
Includes classic stompbox-type modeled effects.
Modeled Guitar Tube Amp and Rotary Speaker outputs for vintage live sound.
Extensive MIDI mapping of pedals, effects and sound engine parameters.
Modeled amplifiers: *Fender Deluxe Reverb Blackface, Fender Twin Reverb Blackface, Fender Bassman, Marshall Plexi, Leslie Speaker.
Modeled microphones: *Shure SM57, Sennheiser MD 421, Neumann U 87.
Convolution reverb with custom classic spring reverbs.
Advanced Features
Dual manual VOX 300 emulation
Jennings J70 voice engine mode
Classic red/orange VOX skin or UK VOX/Jennings grey skin
Upper manual, lower manual and bass pedal sections
Complete MIDI mapping
Multiple output effects processors
Supports MIDI splits or independent channels per manual
Tight integration with Arturia Keylab MIDI Controller keyboards
VST, VST3, AU, AAX and standalone versions.
EXPANDED mode :

Adds a full compliment of drawbars for each harmonic
Adds a new waveform drawbar on each section
Vibrato, tremolo, reverb, overdrive and more effects
Leslie™ and guitar amp simulator outputs
Expanded percussion section with short and long decay times

OPEN mode :

Allows for individual tuning of each pitch like a real VOX
Increase or decrease the key contact timing (simulates older key contacts)
Switch between the VOX 300 circuit emulation and the updated Jennings J70 engine.
Increase or decrease the background noise bleed that older VOX/Jennings have.