This product is no longer available in our web store, please check the dealer locator to find an Arturia dealer next to your location
Find your dealer
Its 100% analog audio signal path features a VCO wave mixer, the classic Steiner-Parker multimode filter, and numerous analog innovations such as the Metalizer, Ultrasaw, and the Brute Factor™. Boasting complete MIDI, CV and USB connectivity, MiniBrute is right at home with your computer or your vintage synths, making it the ideal companion to deliver a pure analog blast anywhere you go.
Press A Key & It Plays A Little Melody
The new step sequencer takes a great synth and makes it incredible
The sequencer can do more than just play back your sequences, though. You can create new musical phrases out of your existing ones by flipping the playback modes, gate timing and swing settings in real time from the front panel. The new sequencing functions are a creative force multiplier for inspiring new musical ideas and creating exciting live performances.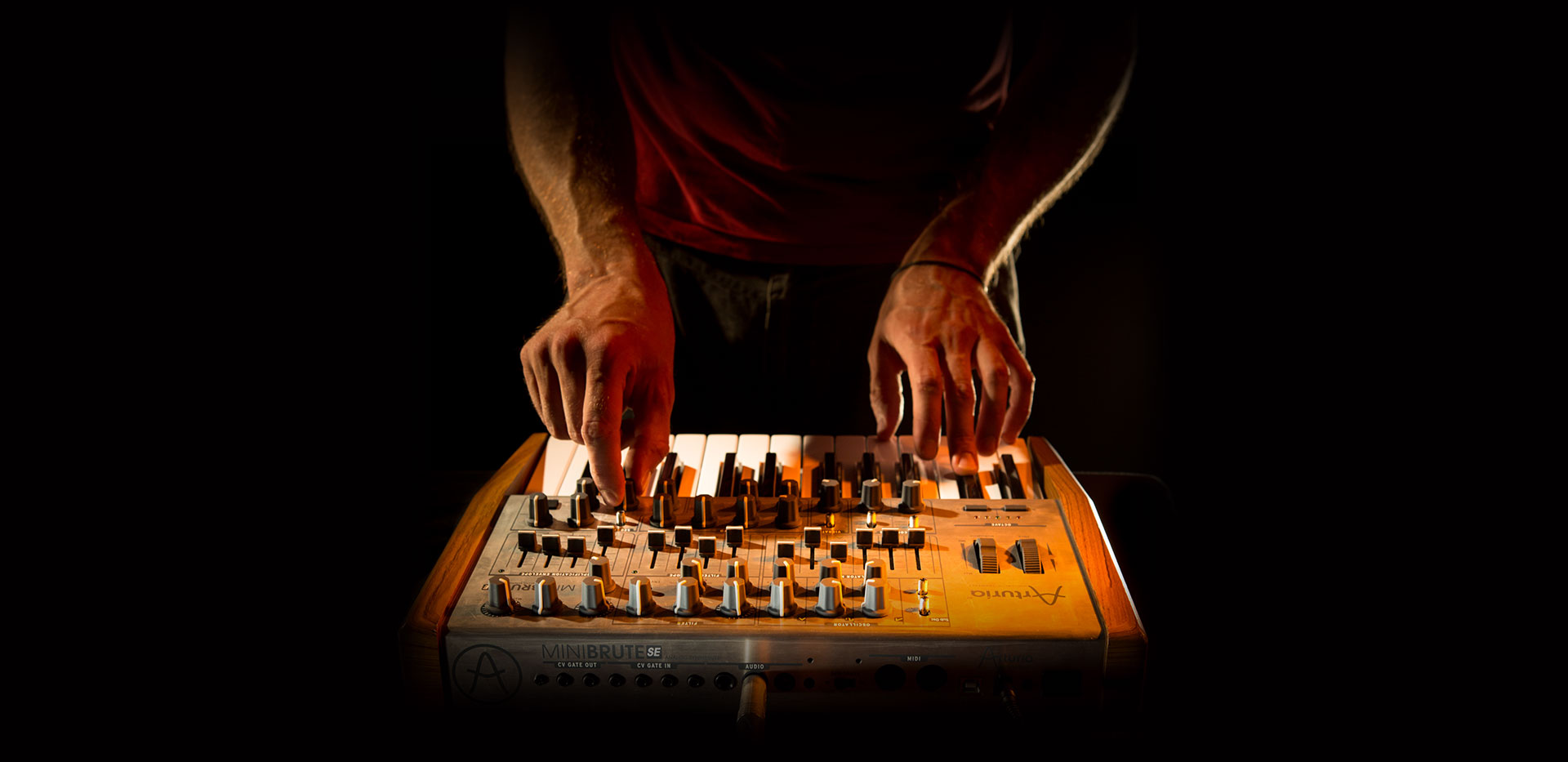 Bring the Fun
In a world dominated by hardware with too few controls and endless navigation in tiny LCD screens, MiniBrute brings back the fun with a true hands-on approach to synthesis.
You want it louder? Grab the volume knob and crank it up. You want it brighter? Grab the filter cutoff knob and crank it up. You want your sound to grow fangs and snarl like a beast? Grab the Brute Factor™ knob and CRANK. IT. UP. It's that easy! No factory presets, no buried menus to deal with. MiniBrute is just honest and true analog synthesis.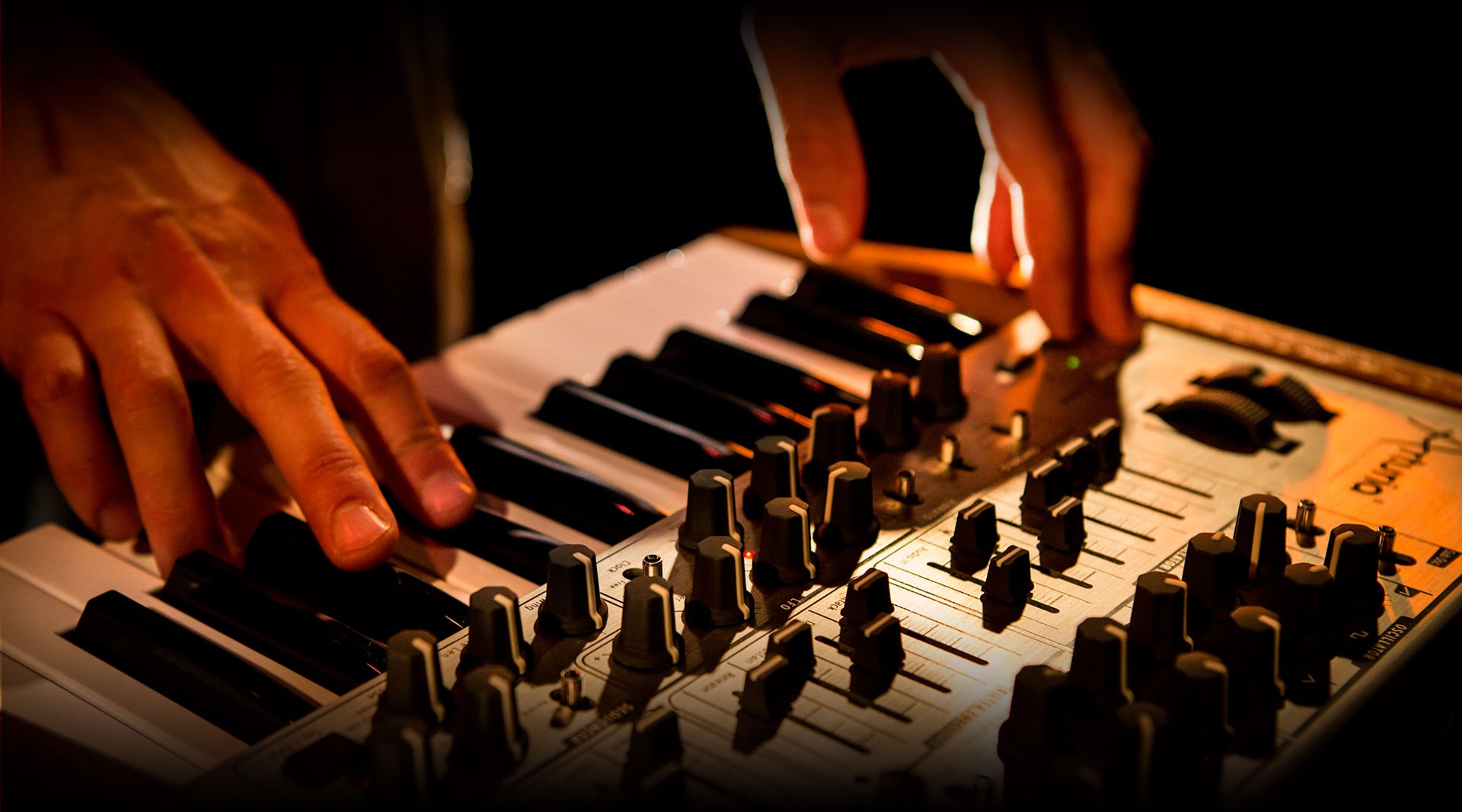 Press Clipping
"It's a decidedly 'old school' instrument, however, with every function having its own control"
Sound On Sound
"Are we crazy for giving a monosynth an Editors' Choice Award in the 21st century? We'd be crazy not to, because the MiniBrute is packed with features, built like a tank and, most importantly, sounds fantastic."
Electronic Musician
"This real analog monosynth looks and plays like the love child of an ARP Axxe and an Octave Cat. The filter from the rare Steiner-Parker Synthacon has an aggressive sound you won't find elsewhere and the arpeggiator is wicked decent. Be warned: if you use the MiniBrute just for Dubstep, we will find you."
Keyboard
"Innovative new parameters make this analog synthesizer outstanding. The 100% analog routing, the Steiner-Parker filter, the Brute factor,... all aspects of the MiniBrute are extremely powerful. I used this synth for some time while reviewing it. I turned each knob and never felt the need for additional effect. In the end, I did not want to return the demo unit."
Keyboard Japan
"More fun that a SH-101, equipped with a filter that surpasses more expensive vintage models, available at a very reasonable price, the MiniBrute should meet with success that will be very well deserved."
KR Home-Studio
"With MiniBrute, you can enjoy designing sounds. And if it is your first synth, you will learn true synthesis. This unit looks simple and small, but it is heavy and built with high quality."
Sound Designer (Japan)
"I used the MiniBrute live with Denki Groove. The big, fat, powerful sound coming from this real analog beast filled the Yokohama arena extremely well. The chassis is solid and makes the MiniBrute ideal on stage."
Sound Recording (Japan)
"MiniBrute offers you a good value quality - price on its options"
Future Music
"A great little synth, which manages to pack a lot of punch into its modest frame. The final word on MiniBrute is that we're seriously considering buying one - though we might have to wait for the 'PolyBrute' should Arturia decide to make one!"
Future Music
"The MiniBrute combines 21st-century amenities like USB MIDI and the festival-friendly Ultrasaw waveform with vintage tools like the Steiner-Parker multimode filter, arpeggiator, and a thoroughly nasty feedback circuit in its signal path"
Beatport
"For features and sound, the MiniBrute is the new bang-for-buck leader among desktop analog monosynths"
Keyboard
"Between its brilliant simplicity and modest price tag, the Arturia MiniBrute is one of the most accessible pure analog synthesizers available"
Music & Musicians
"For more than 40 years, 'the Mini' referred unambiguously to a single synthesizer, and it wasn't French. The fact that this may no longer be true suggests that Arturia are on the way to achieving something quite extraordinary."
Future Music
"The first on the market, affordable, analogue, keyboard-equipped monosynth to be released since the days of the legendary Roland SH101"
Sound on Sound
"Arturia has truly managed to stuff a beast of a synth into a small package. Minibrute delivers a robust sound with fiercely unique attributes, and a bass response that will kick you in the pants"
Toneluster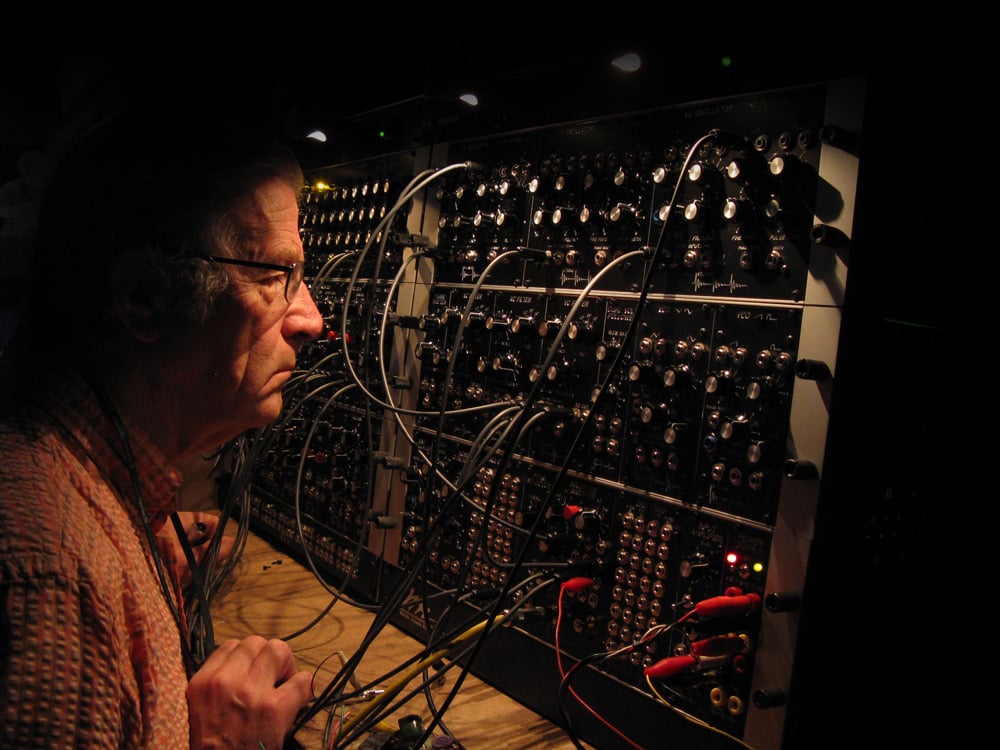 Brutal Analog
The MiniBrute SE features the same great pure analog design as the original MiniBrute. Its analog VCOs provide a pure warm analog sound that can be soft and subtle or hard and brutal. MiniBrute SE offers our complex and versatile oscillator design that can sound as classic or as wild as you can imagine. Add to this monster tone generator an amazing Steiner-Parker filter, and that gives the MiniBrute SE its unique character.
With the added Brute Factor™ in the filter section, you have a lethal combination that will put your speakers through their paces. Add the 2 wide-range LFOs, 2 envelopes, pitch bend, mod wheels, aftertouch and the new step sequencer - and you have a synth with a lifetime of sound design inside it.
Hands-On Heaven
Forget about tiny LCD screens, being lost in menus and sub-menus, and trying to remember double functions and complex procedures. MiniBrute brings back the fun and the immediate hands-on experience of synthesis.
When you want things to shake, grab the Sub Osc slider and bring it on. When you want it to sizzle, grab the filter knob and open it up. And when it's time to unleash the beast, grab the Brute Factor™ knob and turn it loose! It's that easy.
1. Oscillator/Sub:
Sawtooth, Pulse, Triangle waves with unique modifiers. Ultra Saw makes for huge sounds, Metalizer adds complex harmonics to the triangle wave. Sub Osc will rattle the house.
2. Steiner-Parker Multimode Filter:
Beefy filter with Low Pass, High Pass, Band Pass, and Notch modes. Resonance can be pushed into self oscillation.
3. Brute Factor™:
The Brute Factor™ can add subtle drive effects to full blown intermodulation havoc.
4. Two 4 Stage Envelopes:
ADSR Type Envelope generators with a fast/slow mode allow for the sharpest attacks or for extra long release times.
5. Sequencer:
You get 6 sequencers
6.Two LFOs:
The main modulation LFO supplies 6 waveforms and can run in sync to the Arpeggiator. Bipolar modulation destinations allow for an amazing variety of sonic possibilites. The Vibrato LFO allows for trills and standard vibrato.
7. Performance Controls:
Mod Wheel & Aftertouch destinations, Glide and Pitch Bend amounts can all be set.
8. Keyboard with Aftertouch:
25-note keyboard with velocity and aftertouch. Octave buttons allow a range of 6 octaves."
9. Oscillator Mixer:
Allows for mixing the levels of the suboscillator, the individual waveforms of the main oscillator, the noise generator and the external inputs.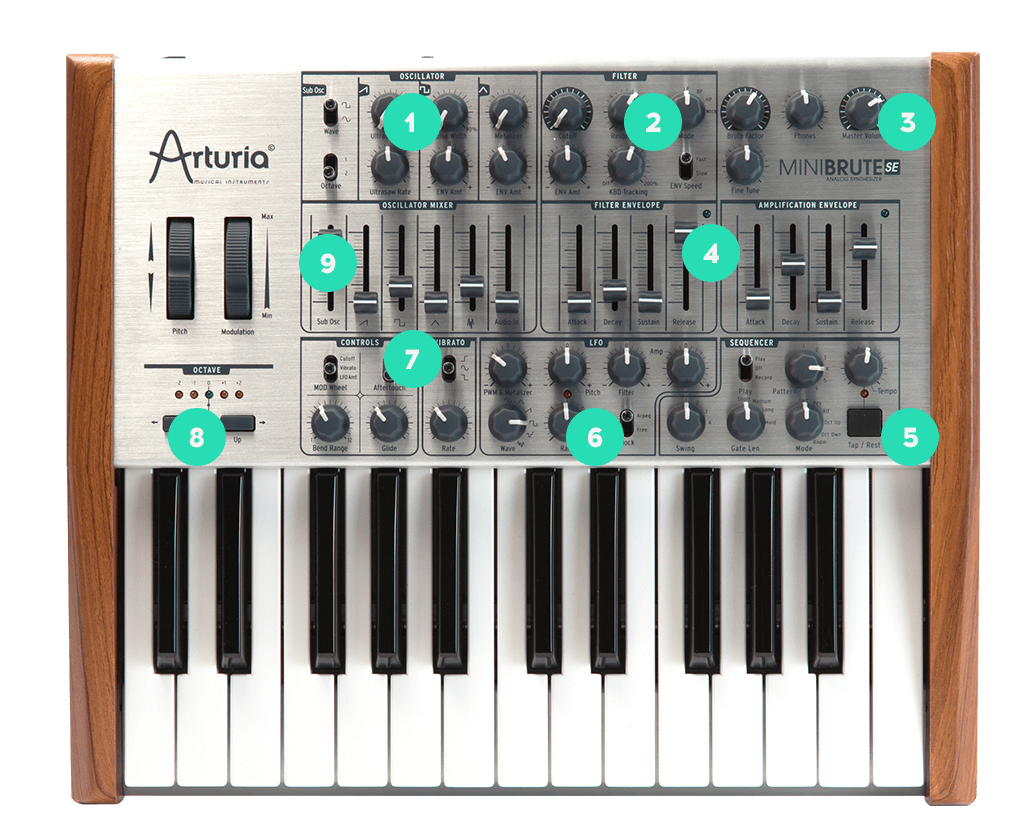 10. CV Gate In/Out:
Connect MiniBrute with your vintage analog gear.
11. Audio In/Out:
Process audio through MiniBrute; connect it to your favorite audio devices.
12. MIDI In/Out:
Connect and sync MiniBrute to any DAW or hardware MIDI equipment.
13. USB In/Out:
Control MiniBrute from your DAW or use it as a master keyboard.

Artists speak about MiniBrute SE
I used the Mini Brute a lot on my latest remixes. It is a great synthesizer, with a quite rough sound, which is a great complement for other synths that I have with a more rounded tones. The well proportioned Metalizer can get beautiful harmonics and create a unique sonic palette.
Yan Wagner
( DJ/ Producer )
Artists speak about MiniBrute SE
The MiniBrute is a truly amazing synth, maybe small in size, but impressive in its possibilities. All its features make it a unique synth, combining power and originality, a must!
The Hacker
( DJ/ Producer )
Artists speak about MiniBrute SE
Thanks arturia for making this one brutally analogue - no presets but loads of fun on stage with this serious instrument.
Stimming
( DJ/ Producer )
Artists speak about MiniBrute SE
I'm impressed by how different this synth sounds from anything else I have heard. It's fun to play with and doesn't need much processing to stand out in a busy mix.This is definitely a new Classic. Bravo Arturia !
Stefano Ritteri
( DJ/ Producer )
Artists speak about MiniBrute SE
Music does not come that quick - but with the MiniBrute it really does - its such an amazing synth to play - and makes you want to keep playing it.
Passion Pit
( Producer - Composer )
Artists speak about MiniBrute SE
Arturia did a great job of implementing my classic filter design into the MiniBrute. It's nice to see my design being brought back to life in a quality product.
Nyle Steiner
( Sound Engineer )
Artists speak about MiniBrute SE
Arturia has created a keyboard which will re-introduce the world to analog sound on steroids... Definately what the new generation needs.
No ID
( Producer - Composer )
Artists speak about MiniBrute SE
It has this kind of dirty sound that I like. The more inspirational for me is that Arturia chose the word brute. This is what i need, a brutal machine.
Jean-Benoit Dunckel
( Air )
Artists speak about MiniBrute SE
I've tested the MiniBrute and I find it really good, it is simple in usage as well as in the sounds provided that are basic and effective. MiniBrute allows for specific sounds quickly without going through a complex modulation.
Gesaffelstein
( DJ/ Producer )
Artists speak about MiniBrute SE
MiniBrute, My new best friend. 100% inspiring analog sound and unlimited creative possibilities.
Citizen Kain
( DJ/ Producer )
Sound Corner
Dub Demo
This track shows a wide variety of modern bass sounds you can get with MiniBrute, namely using the LFO and Brute Factor.
Happy House
This house track showcases the metalizer effect on the triangle wave which nicely brings an edge to the mix.
Audio In Demo
In this example, a drum loop is processed through MiniBrute's Filter and VCA circuit using the audio input while playing a classic acid-style bass.
Gallery
Main Features
Monophonic synthesizer
100% Analog Audio Signal Path
Full Function Step Sequencer :

6 sequences with up to 64 steps each
4 swing setting
6 Playback modes
4 Gate timings

Steiner-Parker 2 pole Multimode Filter (Low Pass, Band Pass, High Pass and Notch)
Voltage Controlled Oscillator with Sub-Osc (Square, Sine, -1 & -2 oct)
Oscillator Mixer (Sub, Sawtooth, Square, Triangle, White Noise, Audio In)
Signal Enhancers :

Pulse Width Modulation
Ultrasaw generating shimmering sawtooth waveforms
Metalizer bringing extreme triangle harmonics

Brute Factor™ delivering saturation and rich harmonics
LFO1 with 6 waveforms (Sine, Triangle, Sawtooth, Square, Random Square, Random Sine) and bi-polar modulation destinations (to PWM & Metalize, Pitch, Filter, Amplifier)
LFO1 clock syncable to Arpeggiator (Arpeg, or free).
LFO2 with selectable rate and 3 vibrato modes (trill up, trill down, sine)
Two ADSR Envelope Generators with selectable slow/fast speed (from 1 millisecond to more than 10 seconds)
Keyboard Tracking on the VCF Cutoff
25 note semi-weighted keyboard with aftertouch (assignable to Cutoff or Vibrato amount)
Mod Wheel (assignable to Cutoff, Vibrato, or LFO amount)
Pitch Wheel (with selectable bend range)
Octave selector from -2 to +2 octaves
External Analog Audio Input
CV In/Out controls: Pitch, Filter, Amp
MIDI In/Out with 5 pin DIN connectors
USB MIDI In/Out
CV Gate source selector (Audio/Hold/Keyboard)
1/4" Audio Output and 1/4" Headphone Output
Tempo knob
Tap tempo
MIDI Sync
Brushed Aluminium Enclosure
Wood side panels
12V DC 1A power
Awards