KeyLab under the hood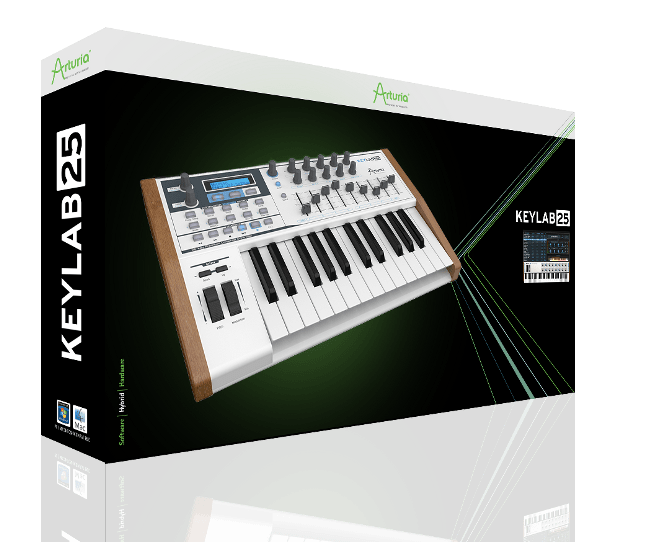 This rugged and lightweight 25-key keyboard will fit perfectly into any professional setup: with semi-weighted keys, velocity and aftertouch, it offers a big keyboard feel in a small package. It goes head-to-head with the big boys, though, with 10 assignable encoders, 9.45mm faders, 10 assignable switches, and plenty of connections on the back panel (USB, MIDI in/out, and sustain).
This premium controller is a perfect match for the included Analog Lab software. Its pre-assigned controls make this the ideal solution for plug-and-play sound creation. Simply connect KeyLab 25 to Analog Lab and you can put your mouse away, enjoying the same workflow you would have with a traditional hardware synthesizer.
The combination of KeyLab 25 and Analog Lab provides in-depth access to the synth parameters, which enables you to customize the huge library of presets to your needs. The innovative Multi mode provides layer/split functions and a Chord mode, so you can play several sounds at the same time while adding professional-grade effects.
And since KeyLab 25 is a USB class-compliant controller, it's compatible with any other software and can be customized to your setup using our MIDI Control Center software.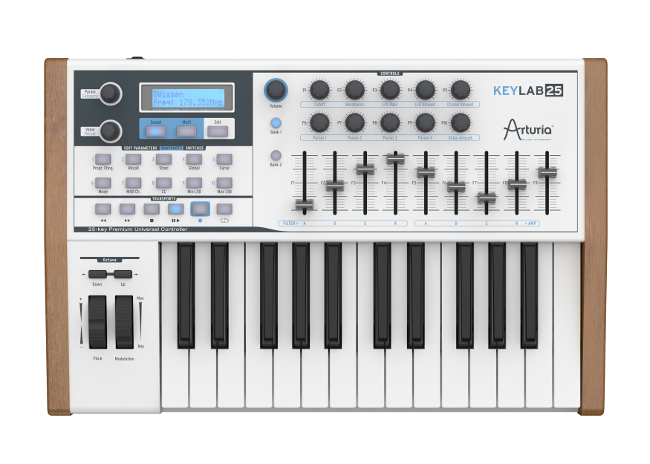 Professional grade USB MIDI Controller
KeyLab 25 is our new compact 25-key USB MIDI Controller. It's entirely preassigned to work with the Analog Lab software, so it's ready out of the box to give you immediate and in-depth control over your sound. But KeyLab 25 is also a Universal MIDI controller, so it's compatible with any third party-software and hardware. Remapping the controls is simple with the included MIDI Control Center software.
1. MIDI In/Out
Connect your favorite MIDI hardware via the MIDI In and Out ports
2. Control inputs
Input connectors for adding expression pedals, a sustain pedal and a breath controller
3. USB 2.0
USB MIDI class-compliant operation for direct connect to your computer or iOS device (camera connection kit required)
4. Optional DC power
Optional DC power input allows use as a standalone controller

5. Pitch and Mod Wheels
Ergonomically-designed pitch bend and modulation wheels
6. LCD screen for easy editing
LCD display allows for easy editing and instant feedback of parameters and presets in Analog Lab
7. Two banks of 10 encoders
Two banks of 10 assignable encoders for use with your favorite plug-in or DAW
8. Two banks of 9 faders
Two banks of 9 faders gives you plenty of options for control. Inverse drawbar mode for use with organ plug-ins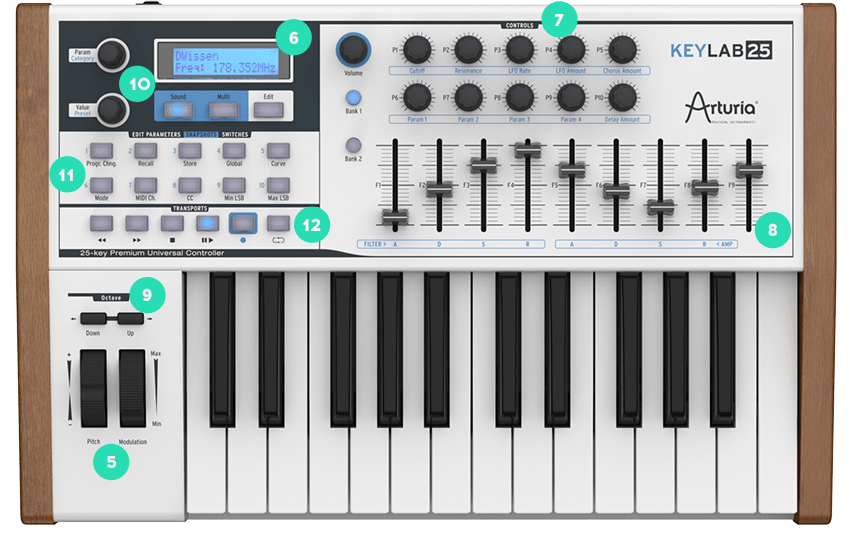 9. Octave Transpose buttons
Octave transpose buttons allow you to shift the keyboard range up or down
10. Direct controls for Analog Lab
Tight integration with our Analog Lab software gives you the feel of a hardware synth but with the power of software.
11. Assignable buttons
10 assignable buttons for instant recall of your favorite Analog Lab sounds and quick control of your favorite DAW
12.Transport Controls
The transport controls can send MIDI Machine Control messages for hands-on access to your DAW.
MIDI Control Center
Our MIDI Control Center software allows you to edit the controller parameters quickly and easily. With an intuitive graphical interface and a 1:1 screen image of your hardware, you can tailor the controls of your KeyLab controller to match the settings of your favorite plug-ins and DAWs.