KeyLab under the hood
The KeyLab 88 keyboard controller is made for performance and maximum expression. Designed with the modern musician in mind, the KeyLab 88 is the perfect companion for the professional musician who uses a laptop or an iPad®.
This premium controller features a hammer-action keybed from Fatar and is a perfect match for the included Analog Lab software. Pre-assigned controls make this the ideal solution for on-the-spot sound creation. Simply connect KeyLab 88 to Analog Lab and you can put your mouse away, enjoying the same workflow you would have with a traditional hardware synthesizer.
KeyLab 88 offers a new depth of control over your favorite synthesizers and software. Its Multi mode allows sounds to be split and layered, its many controls can be configured for practically any MIDI purpose, and its great-feeling pads are ready to launch clips, play chords, sweep a filter, or let you take an impromptu drum solo!
And since it is USB class-compliant, KeyLab 88 is compatible with any other music software you own.
More than just another keyboard
The foundation of the KeyLab 88 is its high-quality, hammer-action Fatar keybed, created to give you the response and feel of a fine acoustic piano. Then we added transport controls to work with your favorite DAW, along with plenty of assignable knobs, sliders, and buttons to give you hands-on control over all the most popular plug-ins and devices. To top it off we included 16 of the best velocity- and pressure-sensitive drum pads on the market.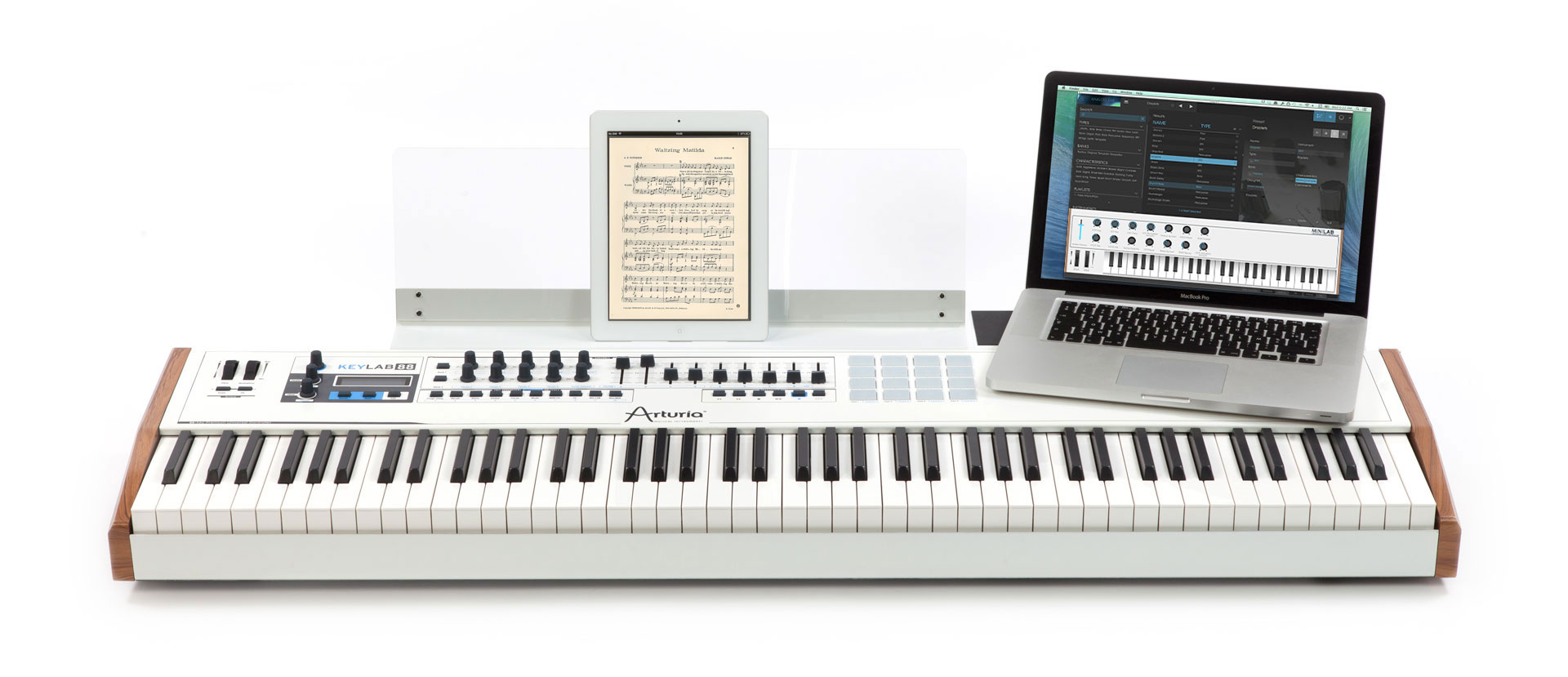 Mission Control
We understand the needs keyboard players have, and with an 88-note keyboard in your workspace you still need to have access to the creative devices you use. So we expanded the real-world usability of the KeyLab 88 with some simple but exceptionally useful features.
First, we included a removable music stand that can not only hold your favorite fake book of 10,000 songs, but also double as an iPad stand. Whether you prefer landscape mode, as when using your favorite iOS synths and DAWs, or portrait mode for sheet music apps, the KeyLab 88 can accommodate your needs.
We also provide an extension shelf for the right rear section of the KeyLab 88, which creates a large work surface for placement of your laptop or a small synth (like a MicroBrute) right on top. This gives you unsurpassed access to the devices you need without resorting to other stands or awkward working solutions.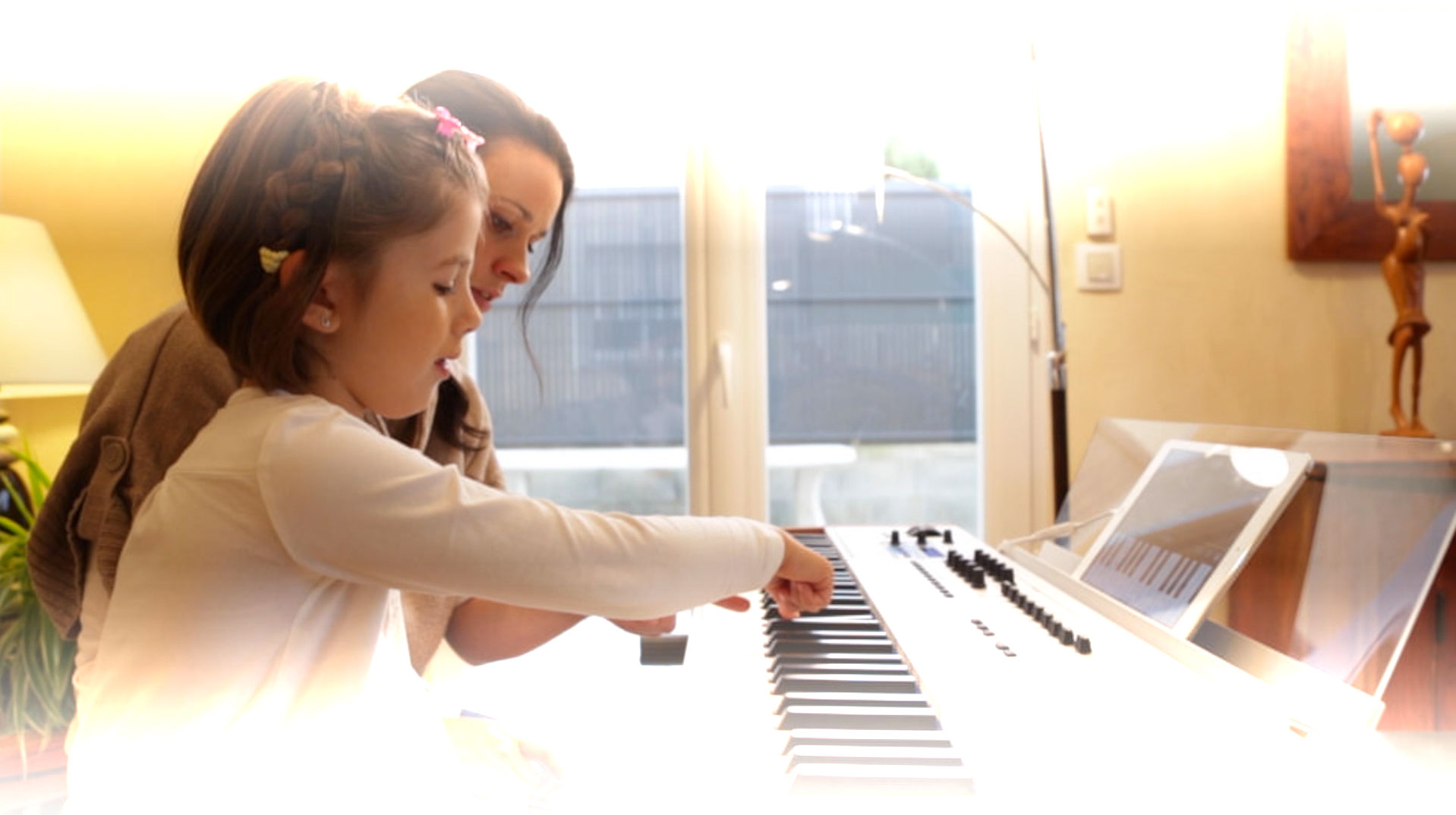 MIDI Control Center
Our MIDI Control Center software allows you to edit the parameters of each KeyLab preset quickly and easily. With an intuitive user interface and the Arturia hardware shown on the screen, you can tailor the controls of your KeyLab 88 to match the settings of your favorite plug-ins and DAWs.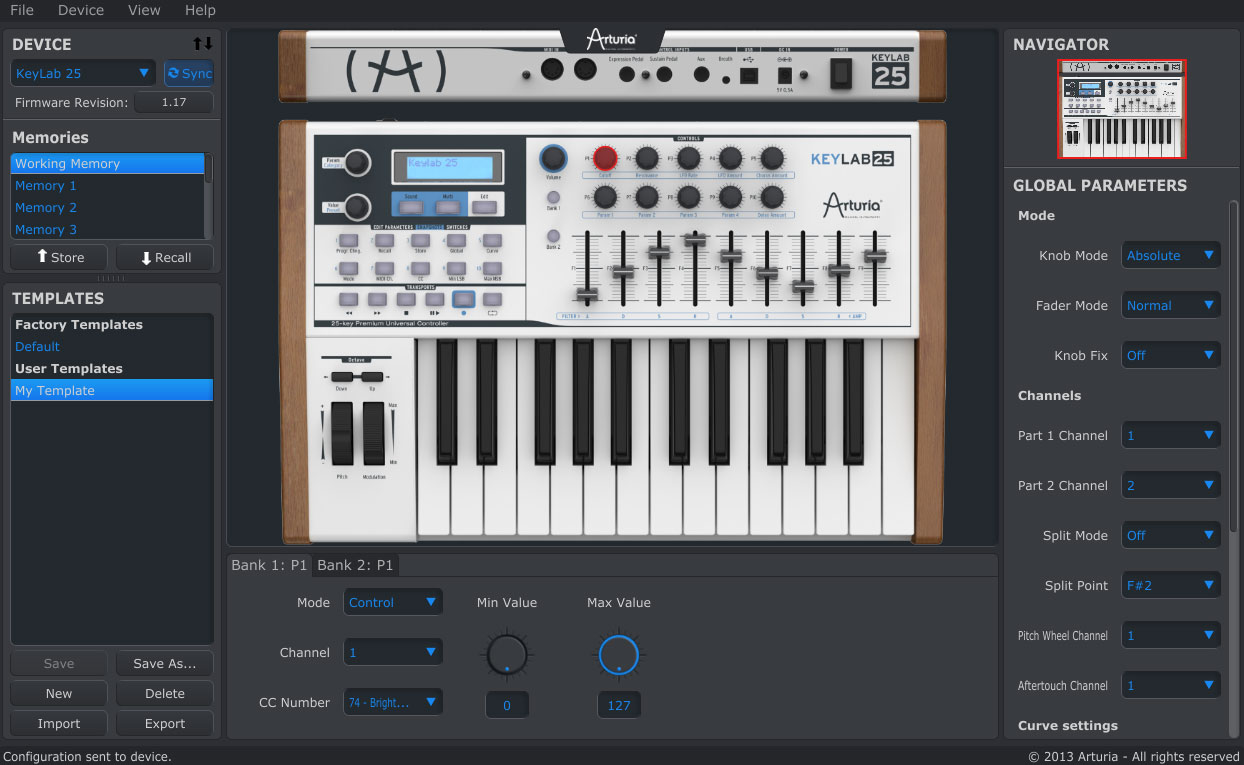 Analog Lab 2 Included
Imagine conveniently having all the keyboard and synth sounds you need for a gig or session all in one place on your computer. No racks. No stacks.
Analog Lab 2 gives you streamlined tag-based access to 5000+ of the hottest presets from our award-winning V Collection of 17 faithfully modeled legendary classic keyboards—including combinations and effects. Each preset automatically maps the most important sound parameters to your KeyLab or MiniLab for intuitive tweaking and performance control, and you can easily custom map to any controllers via the MIDI Learn feature. You can even save the presets you need for a gig into a playlist to step through during your sets. Analog Lab 2 is also the command center for all your V Collection keyboards, giving you full editing access to any full instruments you own.
Everything you need for creativity and inspiration is right here in Analog Lab 2.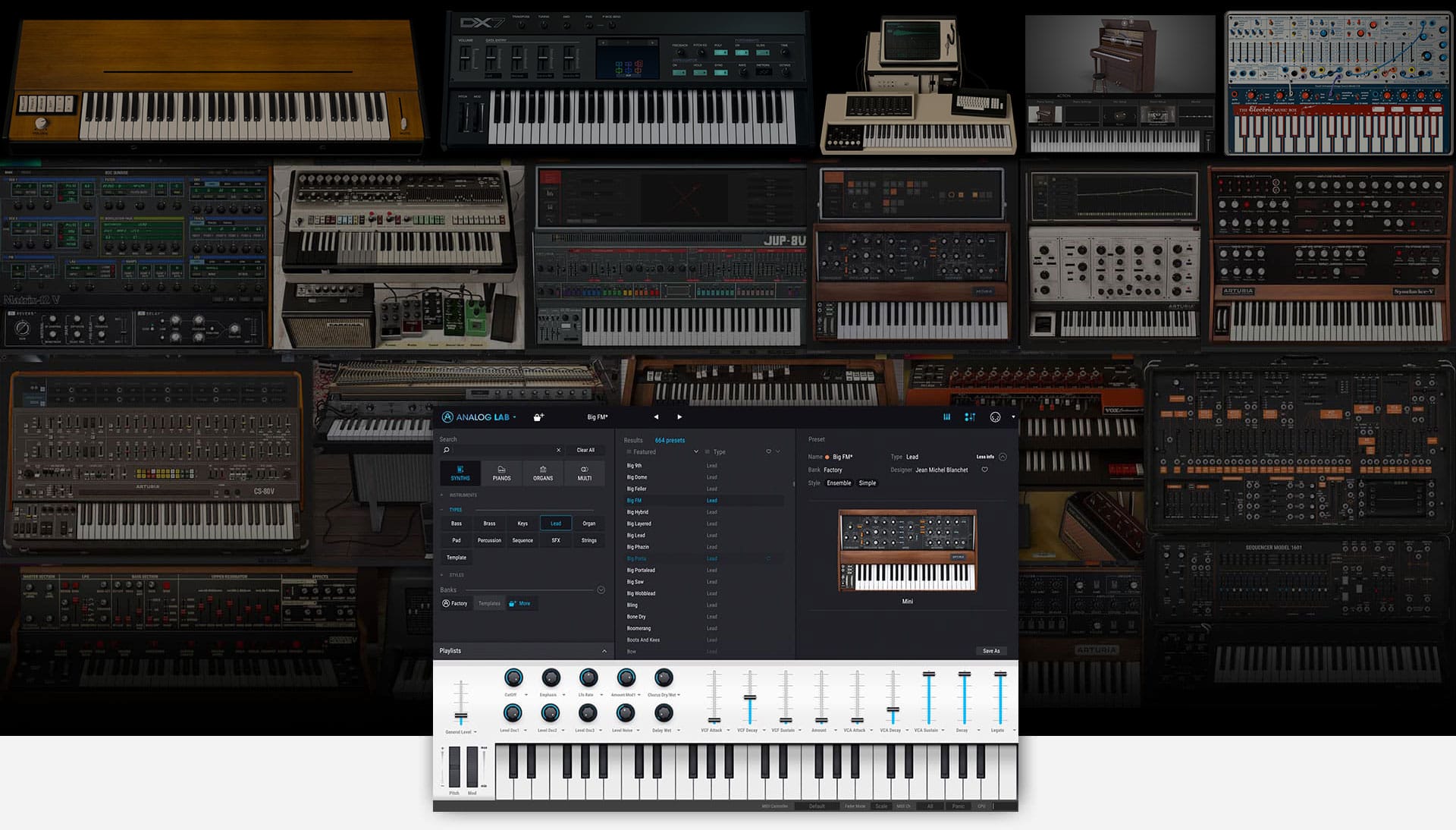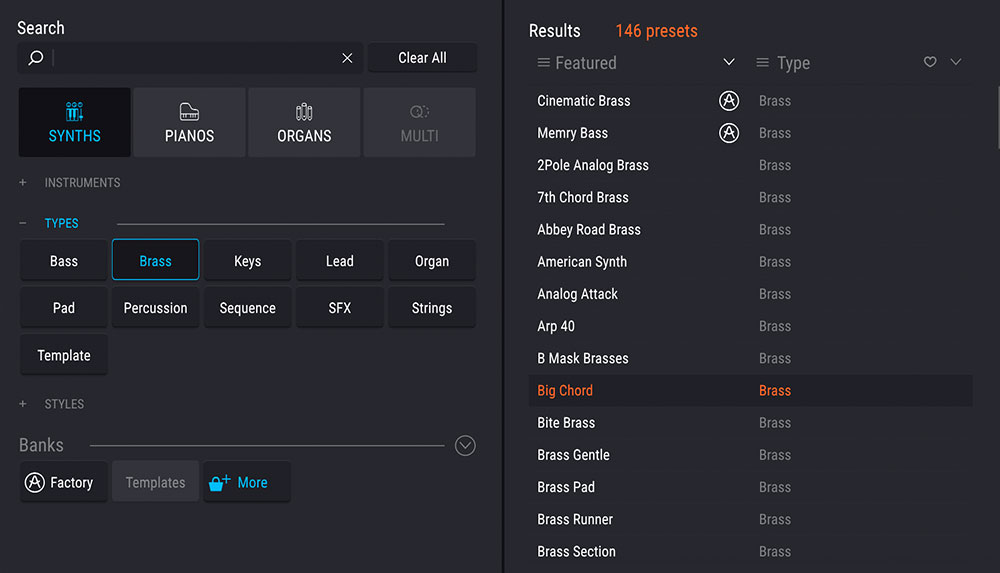 Find and recall your favorite sounds instantly
With Analog Lab 2's sleek new browser, you can always find just the right sound. Simply click tags to filter your extensive sound library by Types, Characteristics, Instruments and more. Need a fat, funky bass? Just click that combination of tags to get a short list from the across the entire library—or limited to just the virtual instruments you select. Click to designate your favorites for instant recall later. Use Playlists to line up just the sounds you need for gigs or sessions, then access or step through them with MIDI program change mapped to your preferred buttons or pedal.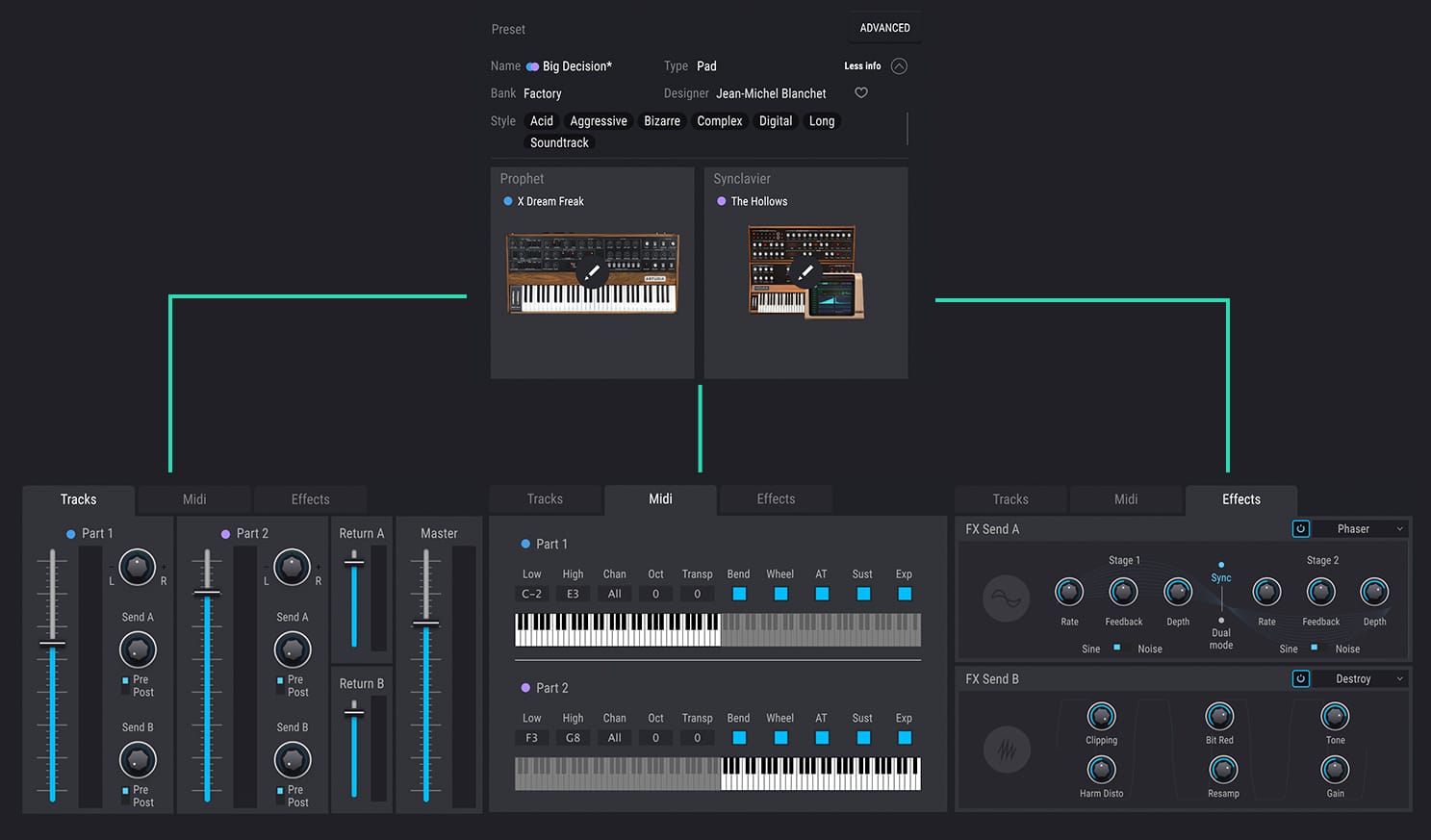 Split, layer and add effects
The Multi feature lets you simply drag and drop to combine any two of your favorite presets into splits and layers, with complete control over how each performs. You also get a complete array of 17 classic effects that take these already incredible sounds beyond the call of duty—everything from standards like chorus, delay, reverb and overdrive to exotics like bit crunching and vocal filters. You can even add different amounts of discrete effects to the two instruments in your Multi patches to add a whole new dimension to your sound. Of course, all your Multi and effects settings are saved right with your patches for instant recall.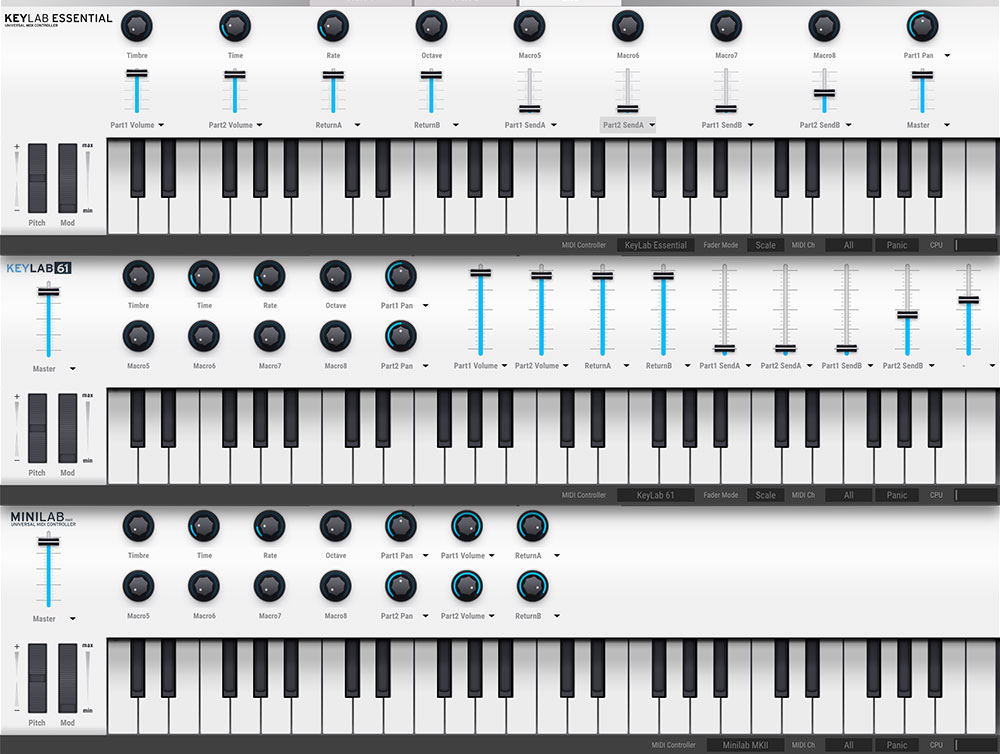 Already set up for your favorite hardware
Analog Lab 2 presets surface the most common controls you might want to get your hands on to tweak your sound or control live—like the drawbars on a B-3 V or the filter controls of a Matrix-12 V. They're even mapped automatically to the most logical controls on your KeyLab 61 keyboards. With Multi patches, you even get macro control so that a single controller can affect parameters on two different patches at once. The MIDI Learn feature makes it as simple as click-and-touch to assign any hardware controller to any surfaced parameter in an Analog Lab 2 patch for total expression. TAE® powered sounds
Arturia synhtesizer models are based on our proprietary True Analog Emulation® Technology. The Mini V, Modular V, CS-80 V, ARP 2600 V, Jup-8 V, Prophet V, Prophet VS, SEM V, Matrix-12 V, Solina V, B-3 V, Vox Continental V, Farfisa V . These TAE® powered sounds offer unparalleled audio quality.
SOUNDS
Electro Multi
Sébastien Rochard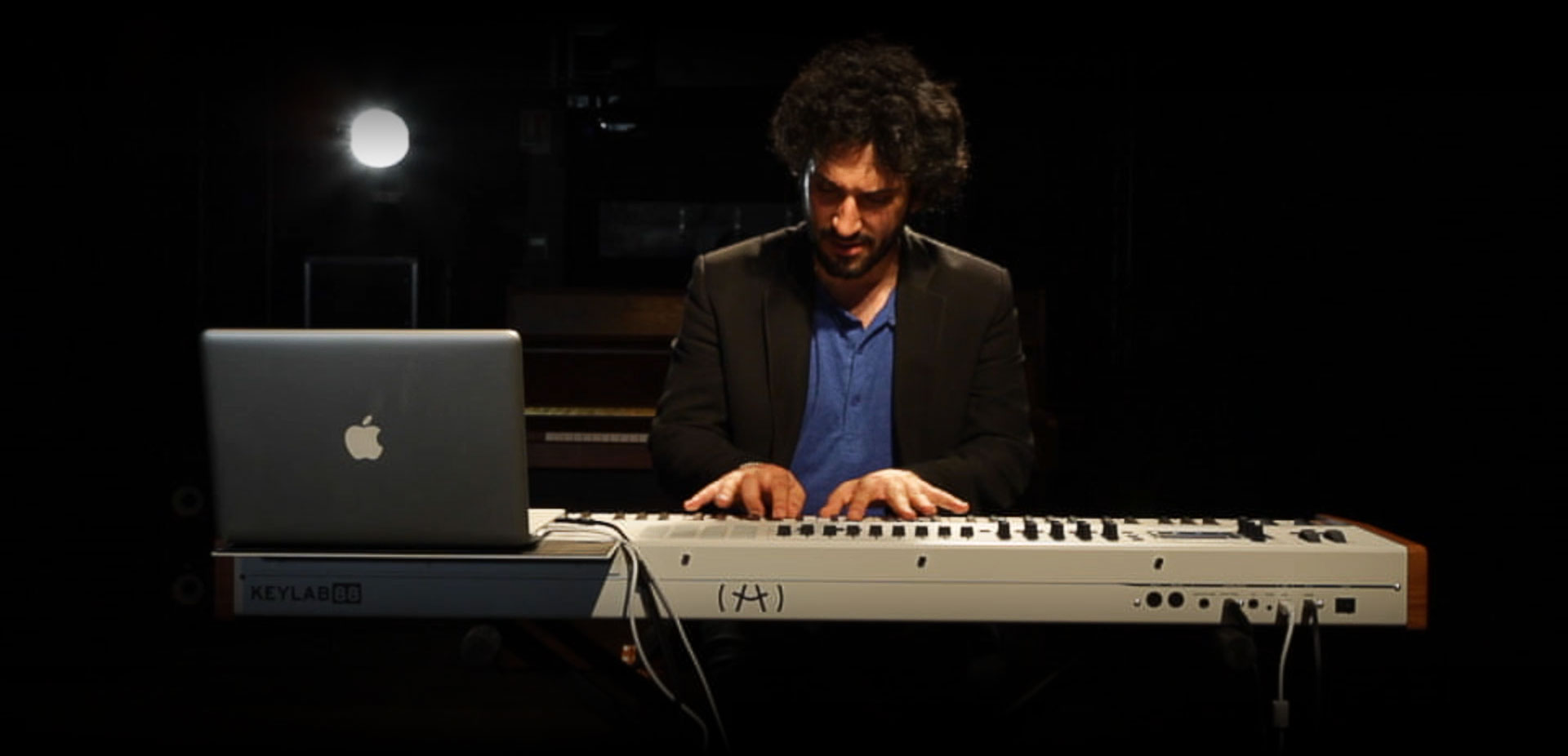 Hardware Specifications
Keyboard : 88 note hammer-action Fatar keybed with velocity and aftertouch.
Controls : 2 clickable encoders, 6 transport switches, 1 modulation wheel, 1 pitch bend wheel, two banks of 10 encoders, two banks of 9 sliders, 1 volume encoder, 10 assignable switches and 16 backlit pads with velocity and pressure sensitivity.
Connectors : MIDI in & out, USB, Sustain pedal, Expression pedal, Aux footswitch, and Breath controller.
High quality aluminum and wood construction.
32-digit LCD screen.
Functions as a universal MIDI controller.
Use with Analog Lab or with any other MIDI software.
Product dimensions : 129.5/35/11 cm - Net weight : 13 Kg
Main Features
Includes Analog Lab with 5000 synth sounds
All presets are carefully selected from Arturia's virtual synths. These TAE® powered sounds offer unparalleled audio quality.
Quickly filter the presets according to your criteria: by Instrument, by Type (Bass, Pads, Leads, etc.), or by Characteristics (long, bright, dark, etc.).
In-depth Preset editing available for owners of Arturia synthesizers (mini V, CS-80 V, etc.). Edit your sounds on the original instruments within Analog Lab.
Straightforward editing, with a complete array of parameters for tweaking sounds, directly assigned to the controls of the KeyLab 88.
Awards