When it was released, the original DBX 165A® was a compressor unlike any other.
Rather than the more traditional vacuum tube, it used a solid-state VCA to create its compression effect, and cutting-edge RMS dynamics detection. It also sounded great, which is the important thing!
These days, it's getting harder and harder to find working originals, but their legendary sound-shaping power is still highly sought-after. Now, thanks to Arturia's advanced TAE® modelling, you can enjoy using this fabled compressor in your DAW, on as many channels as you want, and with advanced features only possible through software.
Unlike the more common DBX 160, the 165A® sported several unique features that made it a "must have" for studios looking for tight, punchy percussive sounds. Known as the "Over Easy" compressor, its auto attack-decay detection made great compression simple, its harsh peakstop limiter added a touch of vintage filth when things really hit hard, and its unique compression sound gives even extreme settings a natural feel.
If you're looking for an easy-to-use compressor with character, you'll love Comp VCA-65.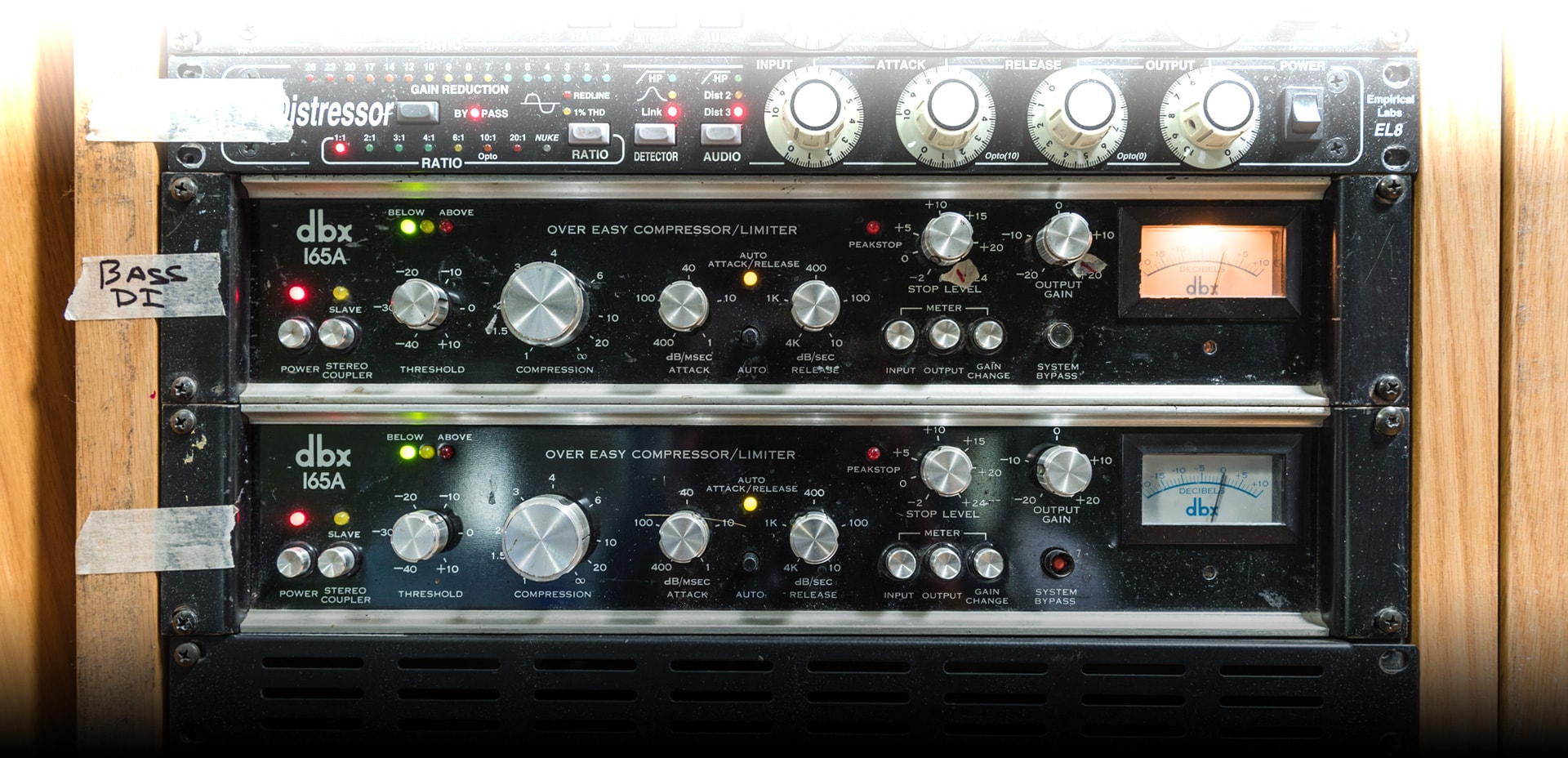 What's so special about Comp VCA-65?
Spice up your loop
Lifeless loops getting you down? Let this reborn iconic hardware VCA energize and fatten up your beats!
click on FX to hear the effect!
Tame those guitar amps!
Clean and subtle compression from Arturia's Advanced side chain EQ will let you tame the attack of this electric guitar while retaining its body.
click on FX to hear the effect!
Your drum's best friend
Comp VCA-65 is a real prizefighter for drums, adding life and toasty crunch to your drum bus.
click on FX to hear the effect!
Add vintage distortion when limiting
Add some analog dirt with the mighty VCA-65 Peakstop limiter, and blend in with the original track using included parallel compression.
click on FX to hear the effect!
Beauty and the Grit
The Comp VCA-65 characteristic grit, pushed to the extreme, combined with the power of M/S processing, adds strong character to this airy piano track.
click on FX to hear the effect!
Sounds great on drums, percussion, and bass
"Over easy compressor" by name and by nature! Hear a simple snare through the gentle hands of Comp VCA-65.
click on FX to hear the effect!
Every nuance, and quirk that made the original DBX compressor so sought-after has been perfectly recreated in software.
Through careful analysis and painstaking research everything from the biting "crunch" of the peakstop to the fluid "over easy" knee is here. It's just like having the original compressor in your DAW, but revamped with some powerful new abilities.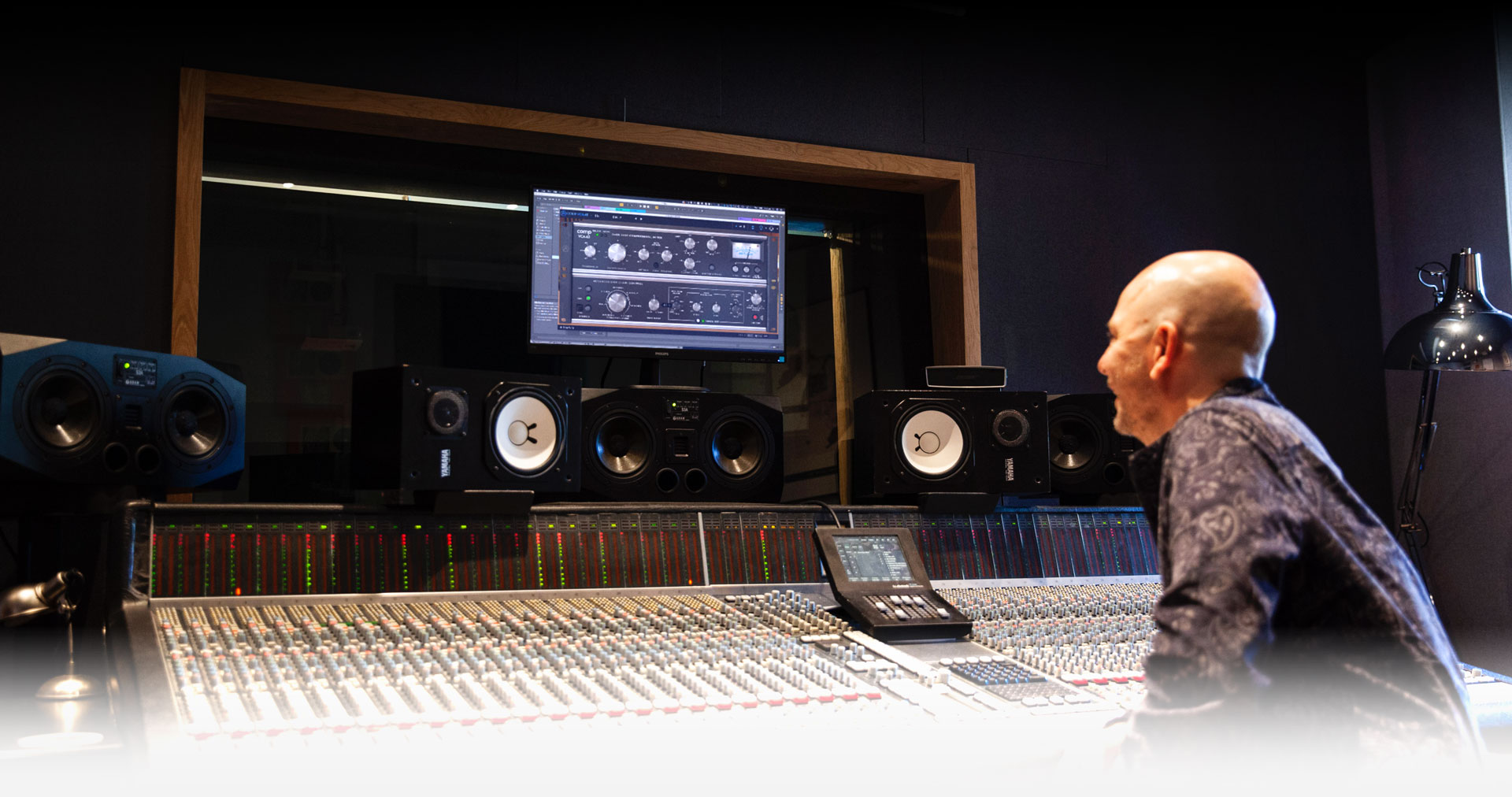 Vintage tone, modern features
As incredible as the original compressor was, music production has moved on since the 70s.
Just because the technology has changed, it doesn't mean we have to leave these classics behind. When recreated this compressor, we included several contemporary features with modern producers in mind.
The top panel of the interface gives you access to all of the original controls. You can click to expand the plugin to and access its advanced, new features.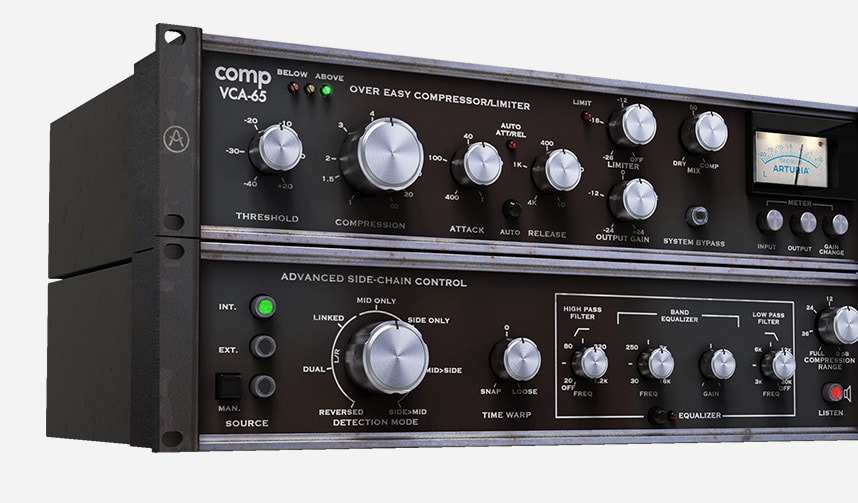 Push the button
Last, but certainly not least, Comp VCA-65 includes a "manual" mode for the sidechain. When this mode is engaged, you can trigger the side chain with the virtual button to see how it reacts, and automate it in your DAW so you can get total control without even needing an input audio source.
Let's do the Time Warp
Because we're working in the digital domain, it's easy to introduce a couple of milliseconds of pre-delay without you even noticing. The "Time Warp" function lets you take advantage of this, so you can get creative with your placement of the compression envelope as it engages and releases. This is a dream come true for experimental producers and sound designers!
The "S" Word
The sidechain includes an integrated SSL®-style EQ, letting you hone in on particular frequencies of the sidechain signal that activates the compressor. One easy, effective use for this is to use the EQ to boost the sibilance of a vocal, and let the sidechain act as a highly customizable de-esser.
Pretty exciting, right? We're glad you love compressors as much as we do! Why not try it out for yourself? You can download a free trial of the Comp VCA-65, use it in your own setup with your own audio, and fall in love with it first hand.
Half a century of hit-making tone,
right in your DAW
Push hard for that saturated, soft-clipping sound that cuts through any mix; get the tonal balance just right at the input stage; add vintage analog warmth in your mastering chain; use the in-built mid/side processing to enhance your whole mix.
Compatible with all major DAWs, now you too can enjoy the harmonic push, subtle overtones, and tone-shaping power of the most iconic studio gear ever made. Main Features
Virtual recreation of famed classic VCA compressor
Original electronic path accurately modeled, including VCA and transistors, using Arturia's state-of-the-art TAE® analog modeling
Original fast attack & release parameters with Auto mode
Original Peakstop limiter
Original variable ratio form 1:1 to 1:oo
Additional Arturia's creative side-chain features:

External side-chain source to trigger the compressor to an external source
Playful manual pad to manually trigger the compression
7 creative detection mode, including M/S processing
Time warp function with look ahead or delay added to your side-chain path
Advanced Side-chain EQ
Compression range parameter to limit the amount of gain reduction applied, with 0dB position for FET-76 with no compression/distorsion only sound
Monitor Side-chain signal directly

Dry/wet Mix knob for parallel compression
Switchable Analog VU meter with 3 calibrations mode (-18dBFs, -12dBS, -8 dBFs)
Analog clipping LED indicator
Comprehensive set of presets
A/B comparison setting
Integrated tutorials and unique dynamic preset tips
Resizable window
State-of-the-art TAE® analog modeling
Platform specifications
: Win 8.1+ PC: 4 GB RAM; 2 GHz CPU.
1GB free hard disk space
OpenGL 2.0 compatible GPU
: 10.13+: 4 GB RAM; 2 GHz CPU.
1GB free hard disk space
OpenGL 2.0 compatible GPU
Required configuration
VST 2.4 (64-bit), VST 3 (64-bit), AAX (64 bits with PT 11), Audio Unit (64-bit), NKS* (64-bit DAWs only).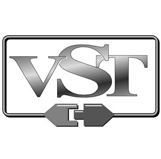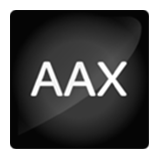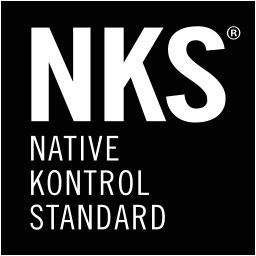 Protection
The software is protected by the Arturia Software Center. You can learn more about it here.
*NKS compatibility coming soon
All manufacturer and product names mentioned on this page are trademarks of their respective owners, which are in no way associated or affiliated with Arturia. The trademarks of other manufacturers are used solely to identify the products of those manufacturers whose features and sound were studied during the development. All names of equipment, inventors, and manufacturers have been included for illustrative and educational purposes only, and do not suggest any affiliation or endorsement by any equipment inventor or manufacturer.