Arturia's Delay MEMORY-BRIGADE takes the creative, dark BBD analog echo from the pedalboard, and puts it in your DAW, free from the worries of spilled drinks, dead batteries, and whether or not it's "true bypass".
From tight slapback delays to never-ending feedback noise, the "bucket brigade" offers so many creative options, and as a software plugin, you can use it on anything you want - not just guitars.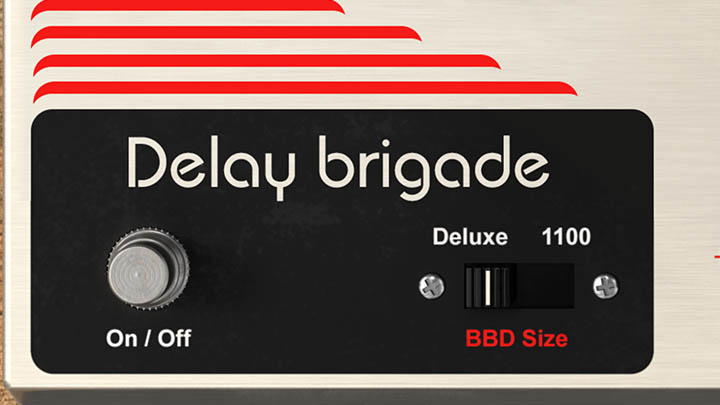 Filtered tone
The perfectly dark, lo-fi tone is a BBD signature sound, and perfectly recreated.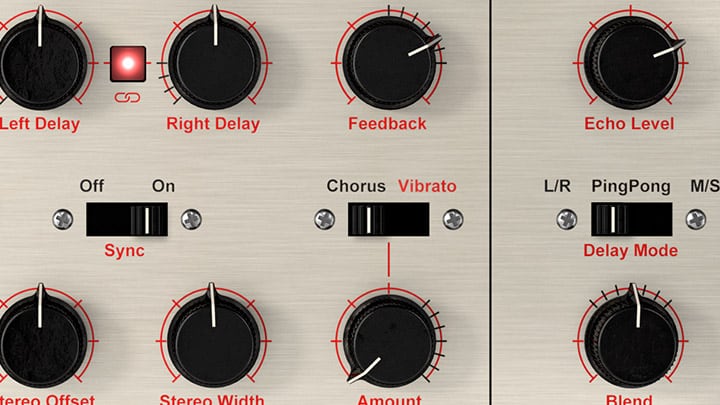 Frantic feedback
Aggressive, swarming feedback that you can creatively control.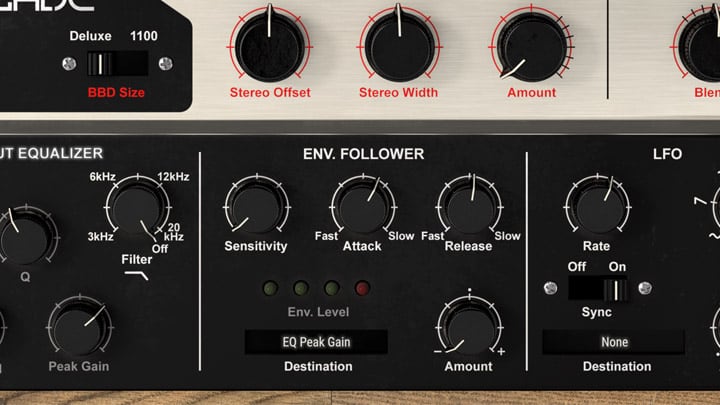 Modern features
Hugely powerful, cutting-edge abilities give this classic a new lease of life.
Delay MEMORY-BRIGADE is Arturia's love letter to the legendary BBD - or "bucket brigade device" - that created a revolution in time-based modulation effects. During the 70s, more and more audio effects turned to the compact, reliable BBD technology to create chorus and flange effects, but it really shined in creating an iconic, filtered lo-fi delay sound that's still loved by musicians and music lovers to this day.
One of the first, and certainly the greatest BBD delays was the Memory Man, and the slightly redesigned Deluxe Memory Man created by effects pioneers Electro-Harmonix in the mid-70s. Guitarists and record engineers loved its unique sound: a dark, filtered bark that was worlds apart from traditional tape delays. We based the Delay MEMORY-BRIGADE on this legendary pedal, so you can enjoy its driven feedback and "rusty" tone in your own productions.
Using our exclusive TAE® and Phi® modelling technologies, we have analyzed many classic BBD circuits that made this effect so famous, and created an authentic, analog-sounding tribute to these vintage legends.
The legendary Electro-Harmonix pedal has been used by countless famous and influential musicians for over half a century, from guitar royalty to experimental producers alike. It's graced the pedalboards of Dave "The Edge" Evans, Omar Rodríguez-López, Dave Grohl, Joe Perry, and Eric Johnson. It's essential to the production of electronic artists like Tobacco and KiNK. It's adored by contemporary visionaries like Jack Conte and Feist. How will you use this awesome BBD?
Add some lo-fi space to your guitars, give your vocals some vibrant slap back, or give your whole mix a subtle dark vibe. You're free to use and experiment with this iconic delay any way you like.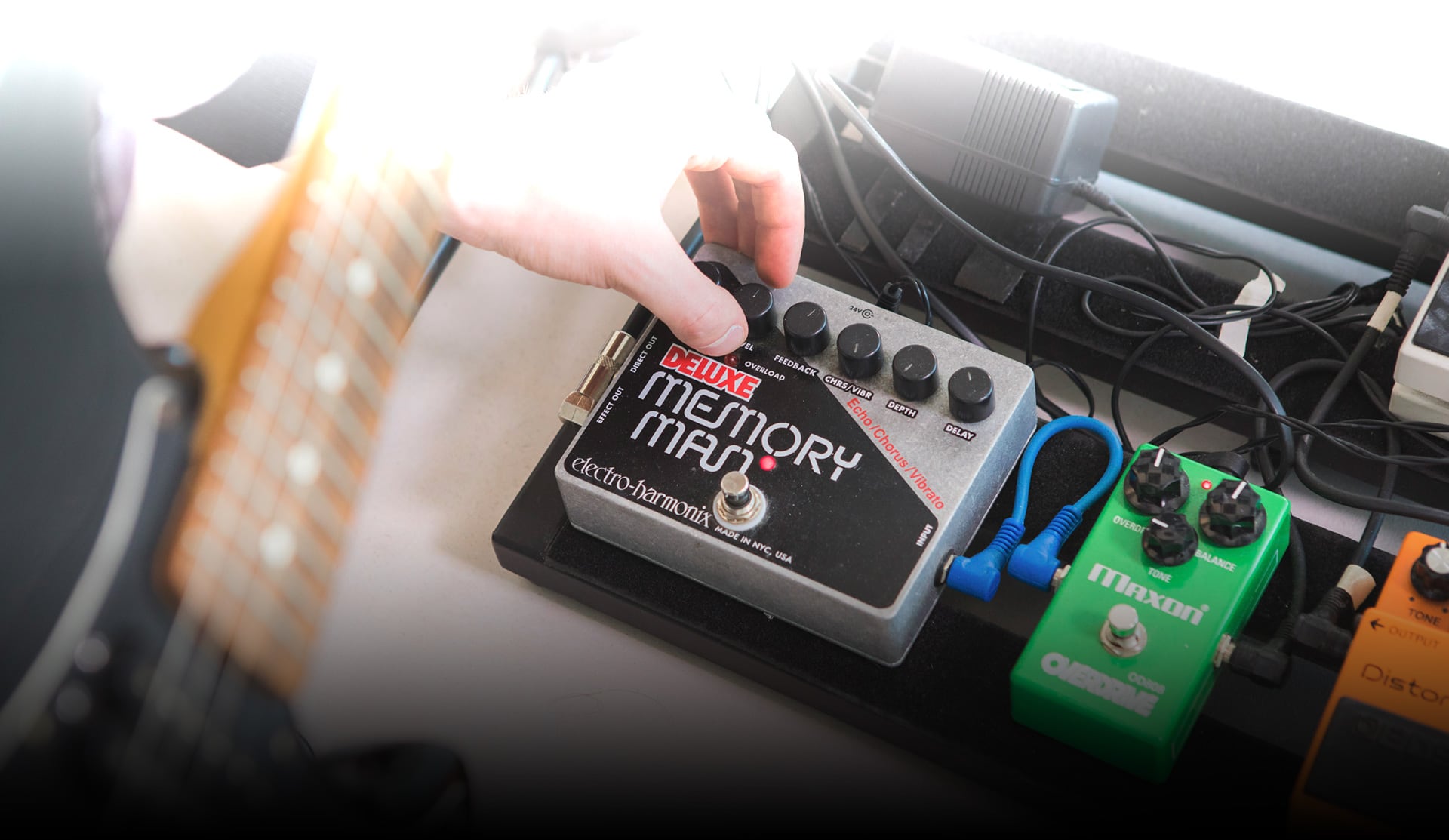 What makes Delay MEMORY-BRIGADE so unique?
Give your guitar "The Edge"
The big, in-your-face echo that guitarists loved is right here in full modeled analog glory.
click on FX to hear the effect!
Play the feedback
You can really "play" your feedback with huge, cacophonous delays, mangled by adjusting the delay time.
click on FX to hear the effect!
Echo, chorus, vibrato
The super-tight delay times that BBD delays allow make them perfect for creating gorgeous chorus tones, too.
click on FX to hear the effect!
Saturated "Overload"
The analog crunch from overloading the input of the original pedal brings out toasty harmonics in bass and percussion.
click on FX to hear the effect!
New Features
Modern sounds and abilities exclusive to our software recreation.
Random delay time
Thanks to the new, tasy modulation abilities, you can easily make sounds like this: using the LFO to manipulate both delay times.
EQ modulation
This sound uses random modulations on the LFO to zip the EQ's peak frequency around all over the place, easily done in this powerful plug-in.
Stereo Vibrato
The new stereo controls let you add bit width to your sound, just like in this electric piano example. Instant space and air.
Delay MEMORY-BRIGADE isn't simply a carbon copy of an old pedal, it's a monument to the classic BBD delays that shaped music as we know it.
We analyzed the old circuit diagrams, we studied the wiring and components of famous models, and we recreated the most desirable aspects of the vintage effect to give you the best sounding BBD experience ever found in software.
Filling up the bucket
While we could have simply made our recreation and called it a day, we wanted to make Delay MEMORY-BRIGADE a timeless, inspiring effect that traditional musicians, and modern producers alike would love. We've included some powerful, optional extras to this awesome effect.
Saturated tone
Crank the input to get that sweet lo-fi crunch, perfect for making drums toasty.
Accurately modelled controls
If you owned the original, you'll feel right at home, but now you can sync to your DAW!
Balancing act
Make sure your delay and your dry signal play nicely together with each other.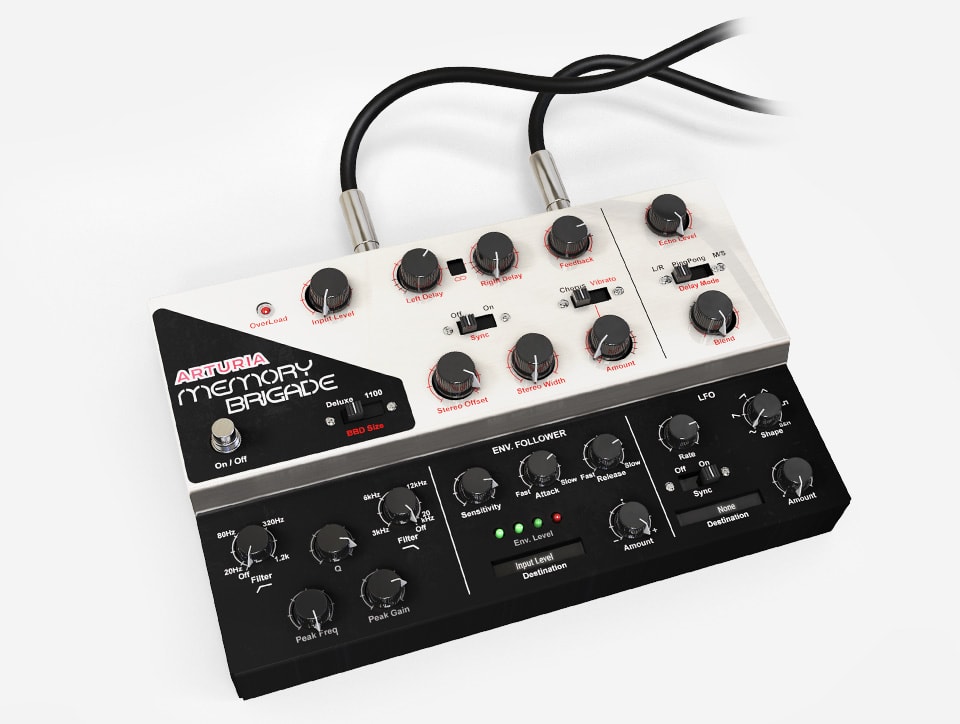 Refine with EQ
Cut out unwanted frequencies from your delay, and boost the best bits with a powerful integrated EQ.
Self-modulating power
Use the incoming signal itself to modulate any of the parameters of the delay!
Advanced modulation
The integrated LFO can be assigned to modulate any parameter you want, even with randomness.
Explore the iconic sound of a BBD delay now!
Want to try it out for yourself, on your own tracks? You can! You can try out Delay MEMORY-BRIGADE to experience it first hand.
Half a century of hit-making tone,
right in your DAW
Push hard for that saturated, soft-clipping sound that cuts through any mix; get the tonal balance just right at the input stage; add vintage analog warmth in your mastering chain; use the in-built mid/side processing to enhance your whole mix.
Compatible with all major DAWs, now you too can enjoy the harmonic push, subtle overtones, and tone-shaping power of the most iconic studio gear ever made. Main Features
Virtual recreation of the classic Analog Bucket Brigade Delay
Accurate modeling of the electronic circuits and BBD behavior, thanks to our TAE® technology
Features the original and longer delay size, with Chorus and vibrato modulation
Choose between 3 delay types (Left/Right, Ping Pong or Mid/Side)
Processing in stereo with independent repeat time
Possibility to sync repeat rates to the host tempo
Stereo tools to control spatial width
Input equalizer with lowpass, highpass and peak filters, to shape the sound entering the unit
Enveloppe follower for dynamic modulation and rythmical effetcs
Additional LFO with 16 possible destinations
Resizable window
Integrated tutorials
Platform specifications
: Win 8.1+ PC: 4 GB RAM; 2 GHz CPU.
1GB free hard disk space
OpenGL 2.0 compatible GPU
: 10.13+: 4 GB RAM; 2 GHz CPU.
1GB free hard disk space
OpenGL 2.0 compatible GPU
Required configuration
VST 2.4 (64-bit), VST 3 (64-bit), AAX (64 bits with PT 11), Audio Unit (64-bit), NKS* (64-bit DAWs only).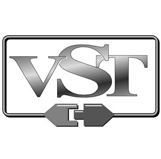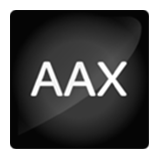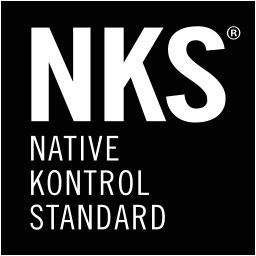 Protection
The software is protected by the Arturia Software Center. You can learn more about it here.
*NKS compatibility coming soon
All manufacturer and product names mentioned on this page are trademarks of their respective owners, which are in no way associated or affiliated with Arturia. The trademarks of other manufacturers are used solely to identify the products of those manufacturers whose features and sound were studied during the development. All names of equipment, inventors, and manufacturers have been included for illustrative and educational purposes only, and do not suggest any affiliation or endorsement by any equipment inventor or manufacturer.