SANTERIA

DRUMBRUTE GOES AFRO-CUBAN
Discover one of the infinite facets the DrumBrute can take.
DrumBrute user, live performer, travelling musician and multicultural-inspired artist, Antoine Miniconi introduced us to his creative approach and to the reason he chose the Arturia Analog Drum Machine as the center of his setup.
Can you introduce yourself ?
"I' m Antoine Miniconi, a French percussionist. I've lived in Cuba for 7 years where I dedicated myself to learning and playing animist Afro-Cuban music, mostly with a group called « Los Chinitos ». Now I'm working on a project made up of electronic live performance where my experience in Cuba is one of the central parts, where electronic music and sacred rhythms, normally unknown to no-initiated people, meet. "
Drum Patterns Pack
Antoine Miniconi created an atypical pattern pack by blending traditional Afro-Cuban rhythmic influences, electronic music spirit and the analog sounds of DrumBrute.
The 26 rhythmic patterns it contains will let you build progressions taking advantage of the pattern chaining feature.
Get inspired by this unique mixture of spiritual-inspired flows and resolutely modern pulse.
Download Patterns Pack
Afro-Cuban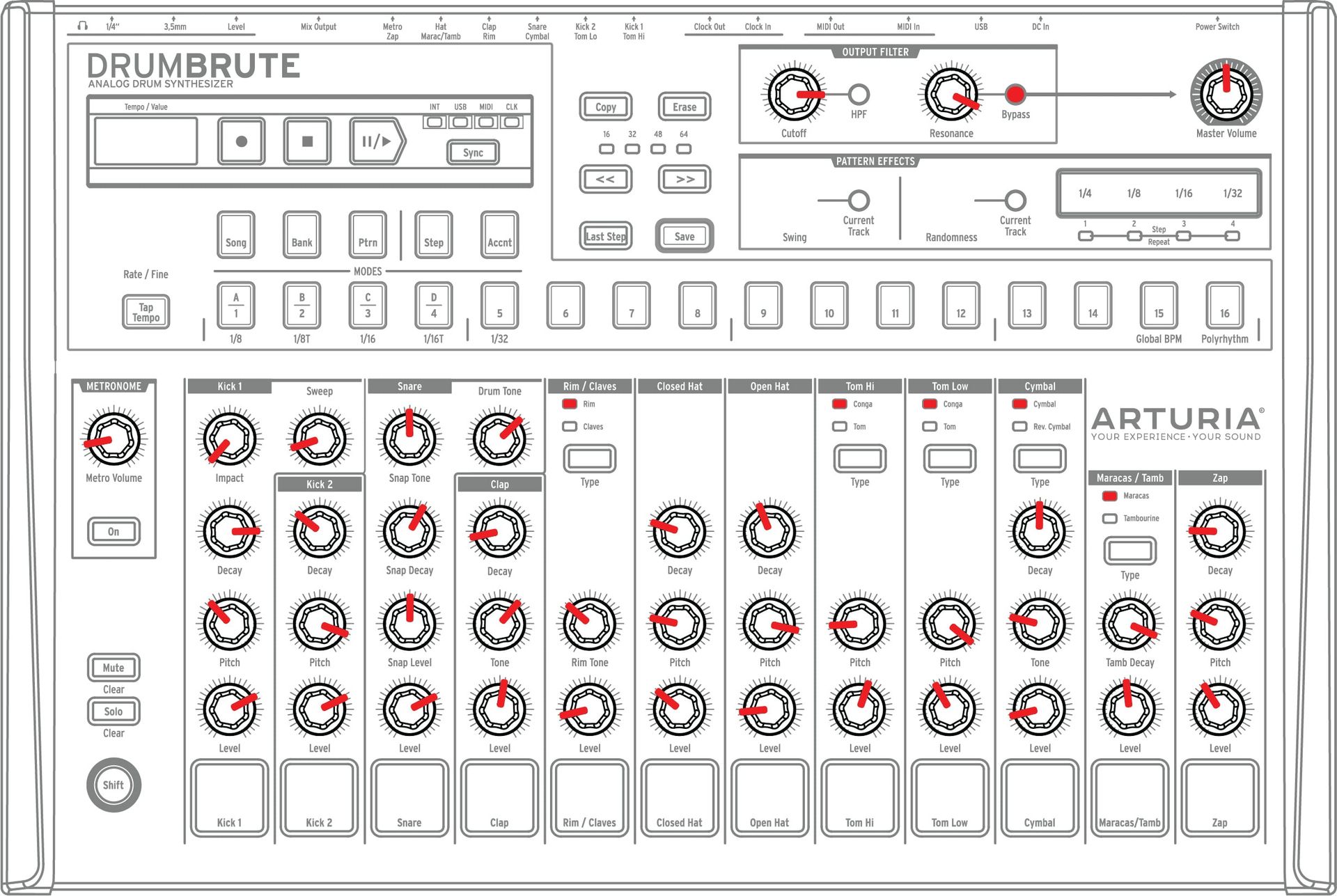 How did you start to play music?
"I started when I was a teenager, living in South of France. We were a group of friends, percussion lovers, and after taking some African percussion lessons, we formed a band and began playing every weekend. Playing in front of the public was a revelation to me, and it was the moment that I decided that I wanted to dedicate myself to music. "
How would you describe your music to someone who would never have listened to it before?
"Afro-Cuban music is one component of the animists religious ceremonies. In these particular moments, the instruments are there to « follow » the choir of the religious people, who are there to spiritually purify themselves, singing and dancing. It is really complex music, but the people there know it and understand it, they have been hearing it since their childhood. At some moment, trance and possessions are present, and it is because of the music. The instruments are always percussion, one singer and the choir of the people. There are thousands of songs that are in different African languages, and the musicians follow the songs that have specifics rhythms and breaks. "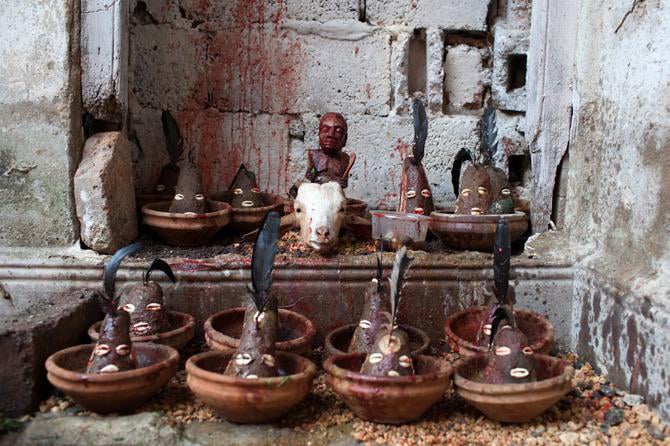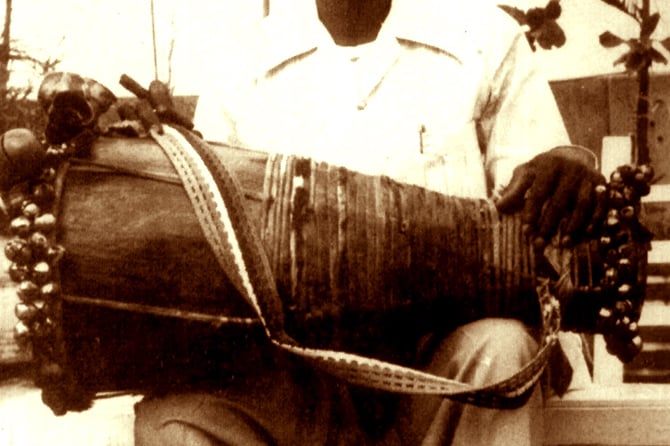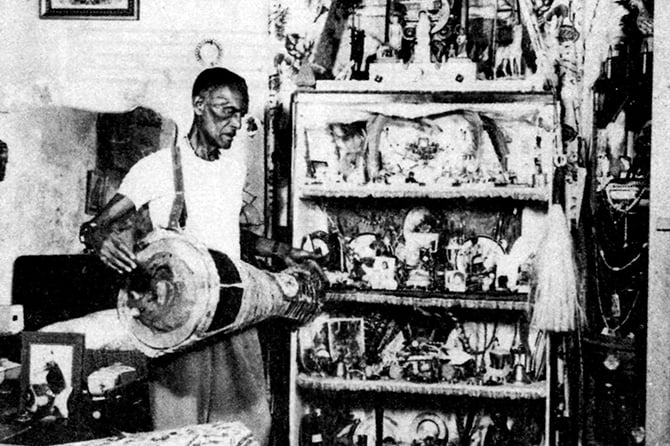 With the Afro-Cuban influences, what flavor does it bring to your music?
"I was musically born in Cuba, thanks to the « Chinitos » familly, and it happened in the ceremonies, playing with them. So my rhythm background isn't Afro-American like most of us in Western countries, it's Afro-Cuban. I have hundreds of rhythms in my head that have nothing similar in our culture. They have their own aesthetic and improvisations, and they reveal a great variety of emotions and feelings. My music will be deeply influenced by that at different levels, like proper rhythms of course, but also in the structures of the tracks, the breaks, the sounds and so on. "
How would you explain these differences from a rhythmic perspective?
I would say that the main differences would be:
- that the rhythmic accents are almost always syncopated. Most of our music has its accent on the second and fourth beats, these are the typical snare hits. Those accents do not exist in Afro-Cuban music, but there is a lot of syncopated ones.
- there are plenty of rhythms with binary and ternary notes at the same time. I mean that typical Afro-Cuban music can perfectly have one instrument playing a binary rhythm, and another instrument playing a ternary one! There are also rhythms that have both cadences mixed in the same loop.
- there is a huge repertory of ternary rhythms, and that the use of semi quavers is omnipresent in the ternary rhythms. In western countries, we feel ternary rhythms like « round », or a « TA KA TA - TA KA TA - TA KA TA » feeling. In Cuba, ternary is played also with semiquavers, and it gives a great variety of possibilities. I've actually used a lot of these for the track « Debut », that is present in the video.
Typical Afterbeat Rhythm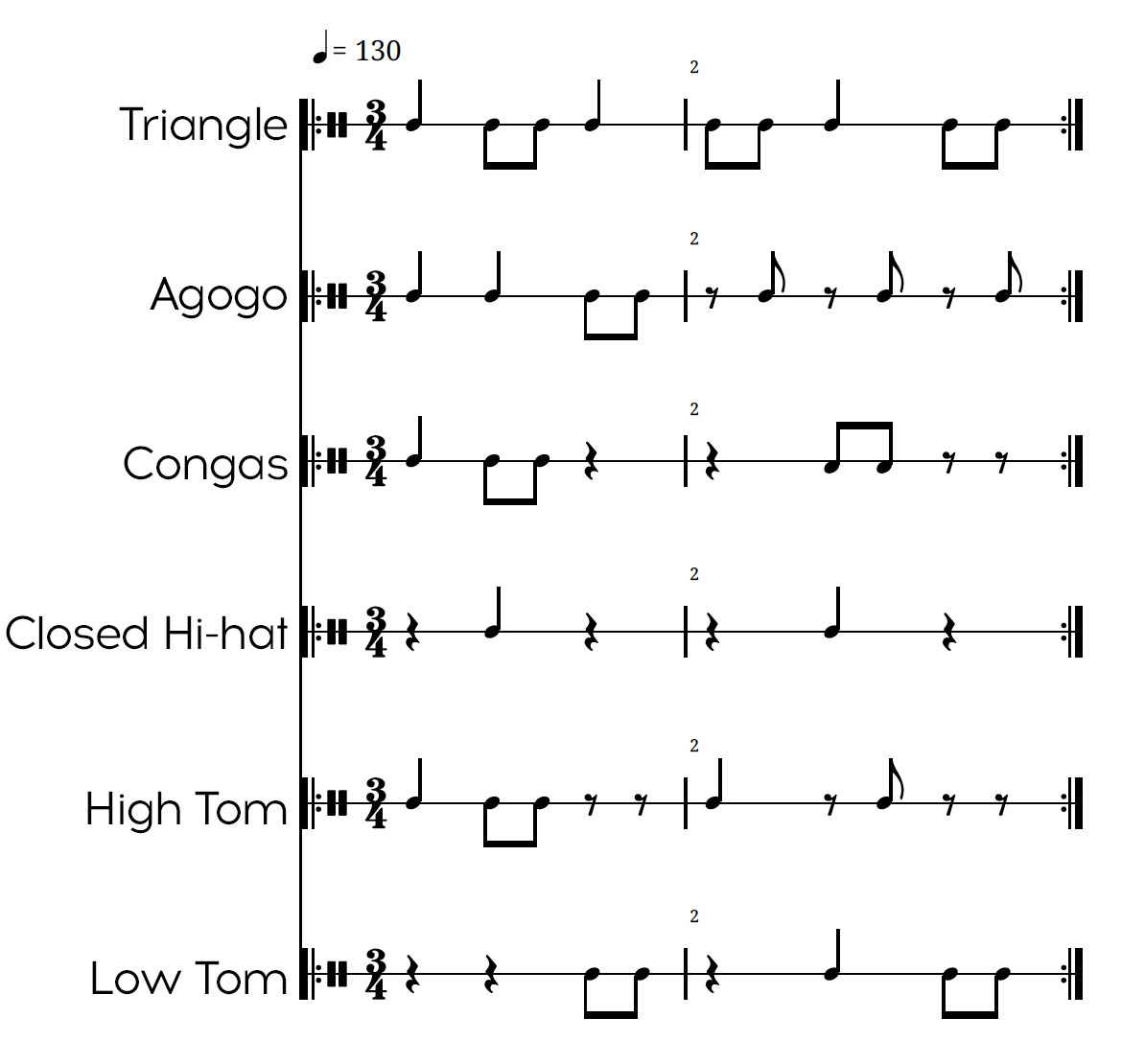 Afro-Cuban Rhythm
You integrated DrumBrute into your setup. Why did you choose it as your main drum machine?
"What made me choose the DrumBrute is the sound of course, I was impressed by the coherence between all the sounds. The sounds also have a sharpness that reminded me the drums I've learned to play, so a lot of ideas came at once when I first used the DrumBrute. I also like the pads that have a nice response when played. Being a percussionist, I'm always very rigorous and exigent on how pads react to the fingers."
Do you use it along with acoustic drums in some of your projects or only separately?
"Until now I've used the DrumBrute only for electronic production and performance. But, luckily, my friend Manley Lopez from the « Chinitos » family is currently in Mexico City, where I live. I've been thinking of developing a performance where he would be playing the drums, and where I would be performing live with the DrumBrute. That would be fantastic! "
Can you tell us few words about your current and upcoming projects?
"As mentioned before, I'm working on a live performance, doing an interpretation of what I've learned in Cuba. I didn't expect to have such positive feedback from the public, so I've decided to work on a more complete and longer version, to do a mastering of the tracks and release them in the next few months. The name of the project is ASTO."