Emika
A live show that's out of this world
Emika - the avant-garde musician, producer, and songwriter - took her live performance to the Zeiss-Großplanetarium in Berlin for a truly unique performance. Arturia's KeyLab MkII controller was at the heart of the setup .
The reason why this show is ultra-special is because we have this huge, beautiful dome, and we decided to create this show with 360 degree visuals. We're also working in stereo and surround sound.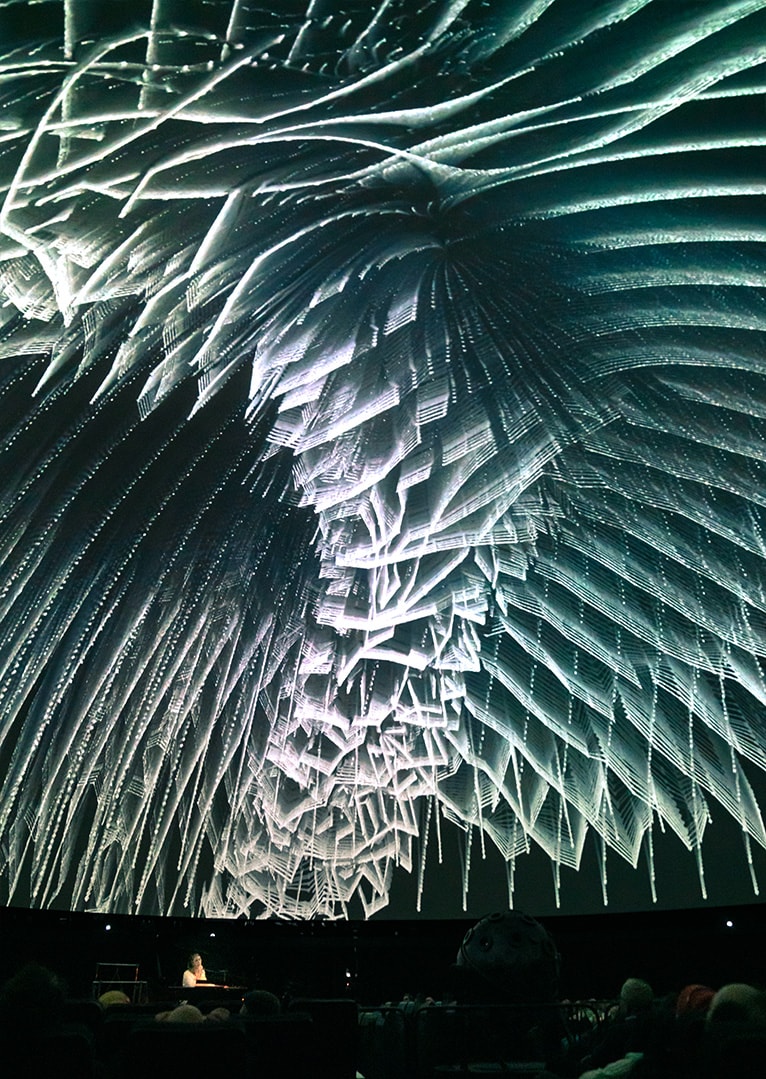 "A visualization of the soul of the music"
Performing music to totally reactive 3-dimensional projections in such a grand setting would be a dream come true for many musicians, but this immense project took incredible dedication to pull off.
I started making music when I was a kid, I would go to piano lessons and they would try to teach me how to play Beethoven, but I was always coming home and playing my own music to the television, turning the volume down and playing my own tracks over it. Afterwards I got really into sampling and 4-track cassette recording and mixing beats and classical music together. Then I got into singing and influenced by the Bristol scene like Portishead and Massive Attack. My first release was with Ninja Tune.
Although Emika became a skilled pianist thanks to her lessons and burning drive to create, the instrument she chose to focus on was the recording software itself. Shaping sounds, twisting samples, layer upon layer, and performing rather than simply hitting the "play" button.
I decided to switch to sound design and synthesis, because I felt this world was very free and there are many possibilities with this technology.
To bring her music to the impressive stage of the Zeiss planetarium, Emika uses an Arturia KeyLab MkII controller keyboard: an all-in-one control solution that lets you control your DAW, send signals to other audio gear, play virtual instruments with keys and pads, mix on the fly, trigger samples, and change patches all at once.
I'm using the KeyLab 49 MkII, running with Ableton, that allows me to be truly musical
The KeyLab MkII feels like home; it's a keyboard but it also works as a controller. I have volume control for the synths and FX that I route for the piano. I also control all of my FX sends via foot pedals.
It's a keyboard, a mixer, a controller, and I have all my trigger pads where I trigger my beats and loops, from the pads