Hot Chip
Happy accidents with Pigments 3
Hot Chip
Happy accidents with Pigments 3
Over the course of their two-decade career, London-based synthpop outfit Hot Chip have found themselves increasingly deeply woven into the perpetual tapestry of British electronic music. As their multi-instrumentalist frontman, Alexis Taylor has played a pivotal role in creating their distinctly infectious sound - we caught up with him in London to discuss new projects, the power of creative differences, and the joy of Pigments' happy musical accidents...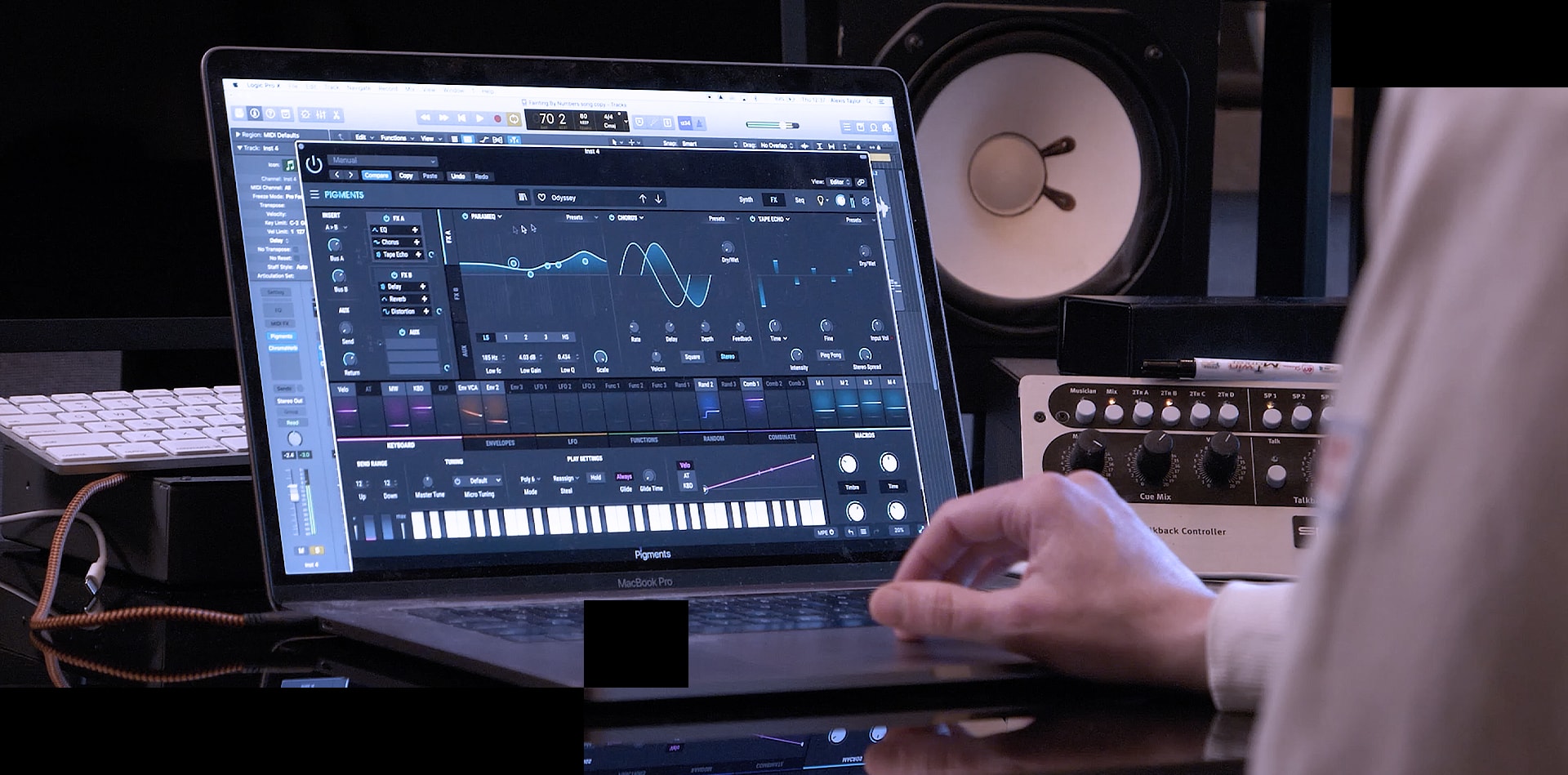 A catalog full of ecstasy
Hot Chip's discography demonstrates their totally fluid musical identity. Their sound is, and always has been, an expressive melding pot of classic samplers, analog synths, electric guitars, disco grooves, spoken word - the list goes on. Their diverse sound is, as Alexis points out, the result of an open-minded approach.
With our band Hot Chip, we tend to be quite relaxed. What's good about it is that we like the music that each person listens to, but they're not always identical. Someone's always bringing something different.
Each member of the band doesn't just bring something new to the table; they're a prolific bunch. Beyond Hot Chip's 7-album catalog, there's a plethora of side-projects, solo ventures, and collaborations. For Alexis' latest project with techno producer Justus Köhncke, Fainting By Numbers, he took Pigments for a spin for some sonic inspiration.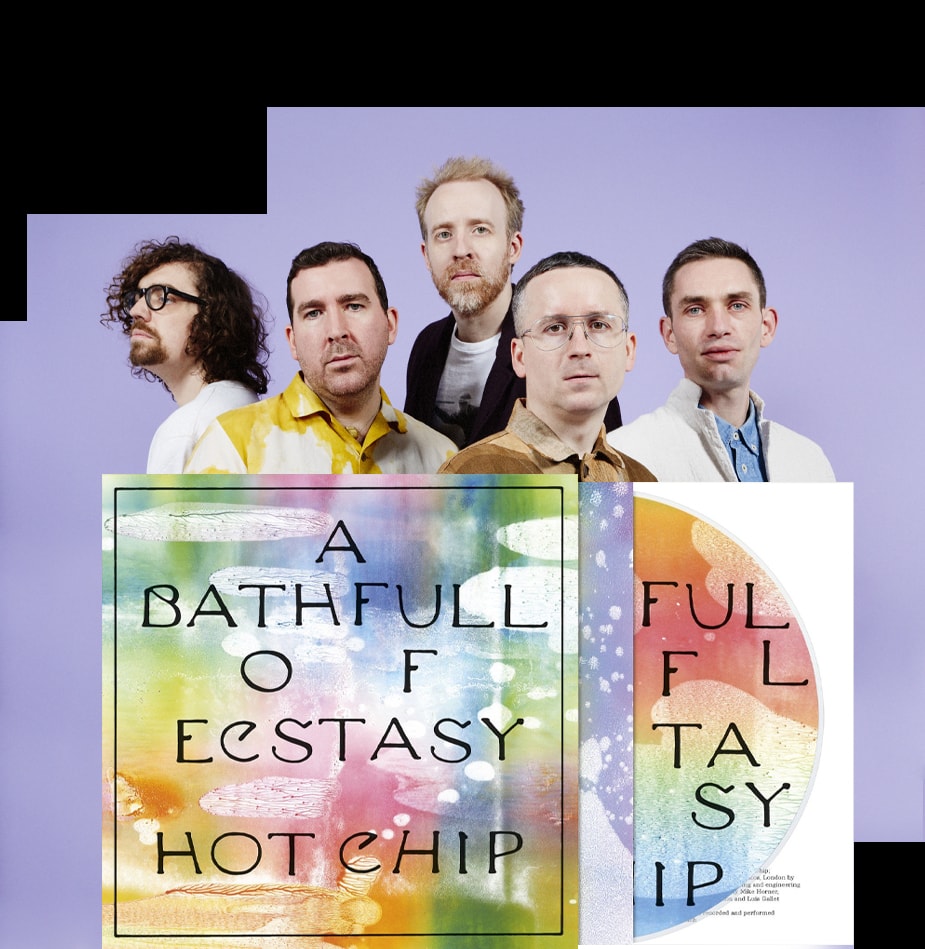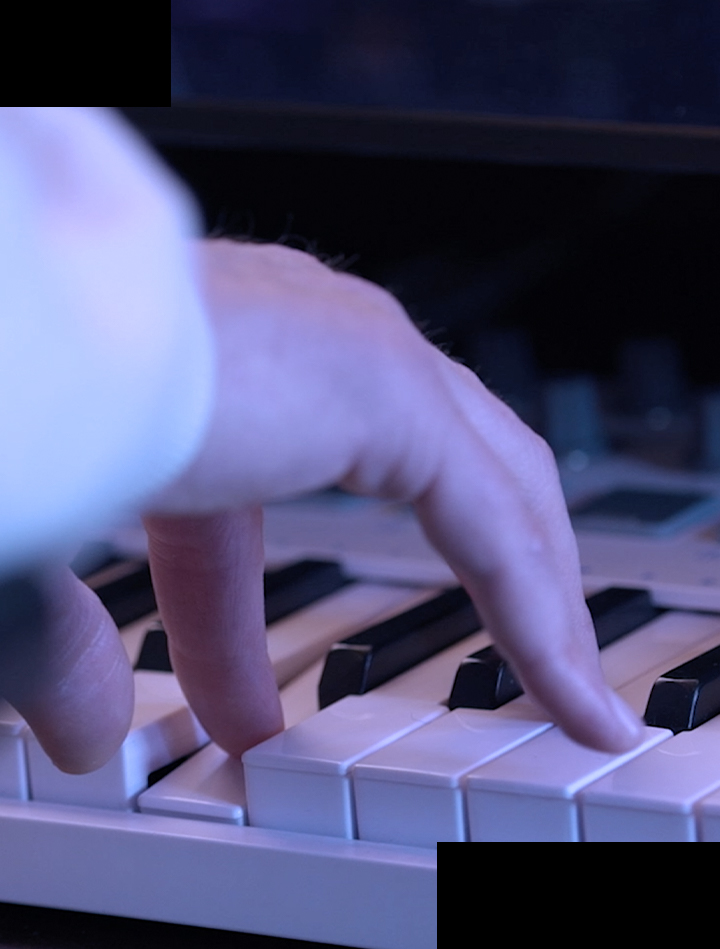 Unexpected results
Music and lyrics; regardless of which comes first, Alexis emphasizes the importance of making them compatible. But he also understands that in searching for that compatibility, in trying to nail a musical vibe to match the words, you might end up somewhere entirely new.
With Pigments, exploration is the aim of the game - but it allows you to find new sonic territory without ever losing your way.
When making the song, it's important to me that the atmosphere created by the instruments resonates with the mood and the feel of the lyrics - but I'm also quite keen to explore sound and to take things away from their starting point… to see whether you can make something more abstract sounding by removing certain elements that you'd normally rely on.
As mentioned earlier, Alexis and the band try to keep their approach relaxed and their musical experimentation enjoyable. This ethos also happens to be at the core of Pigments' design; a powerful instrument that's fun to use, no matter what tweaks you make or which sounds you're looking for.
It's helpful to be able to play around - that's what I enjoy in music making. Whilst there might be a serious vibe to some of the music I make, music making has to be playful. That's always been there in Hot Chip.
Further to this, the joy of playing with something new often leads you to a new creative place. Alexis notes that if an instrument is unfamiliar to you, it may deliver results that are unexpected, in a good way. And if it's easy to use, then it might well lead the way - and what's the harm in that?
I often get inspired by a synthesizer I'm using - and sometimes not knowing my way around a synth can mean I have happy accidents with what I'm coming up with. So far in using Pigments it's very helpful in immediately giving you something quite playful to work with.
Alexis on Pigments
Alexis was kind enough to sit down with us in the studio for a free-running session of sonic experimentation; cue a tour of how he's using Pigments to suit his own personal style, his favorite features, and a few pointers along the way.
With Pigments I have lots of options available to me to do things which are surprising - to get into a more granular synthesis world, or to just mess with the parameters of sound and experiment.
Chords become sequences
By running a MIDI chord sequence through Pigments' advanced sequencer, Alexis constructs a rhythmic component that quickly changes the feel of the piece.
I've been trying this chord progression but sending it to the sequencer in Pigments… By bringing in this sequencer from Pigments it's adding rhythm to the track that isn't there in the original chords I played. This is polyrhythmically bringing something which gives movement and takes it away from being a classic soul ballad.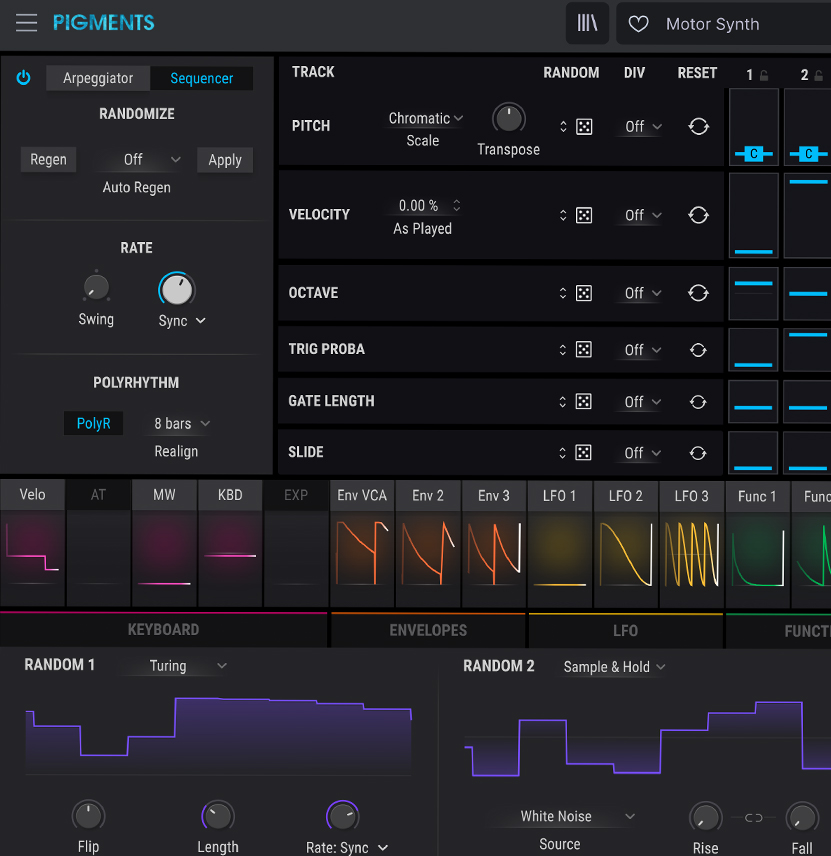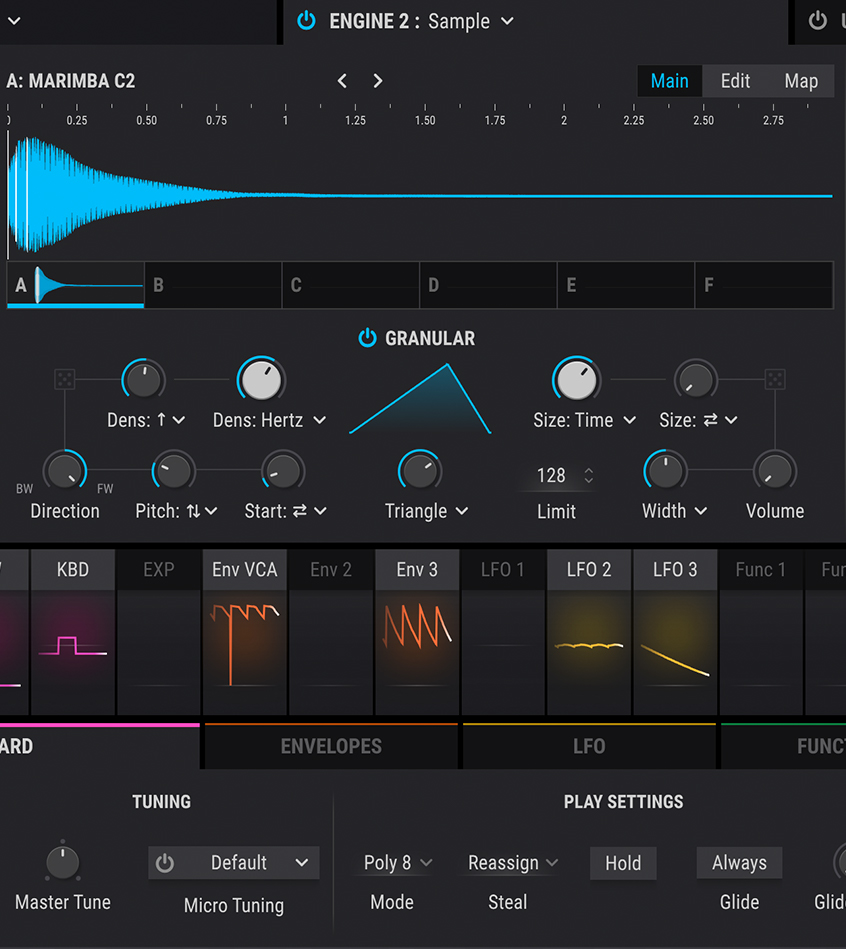 Using Pigments' Granular engine
Granular synthesis lets you take any sample and turn it into a totally unique musical texture. With a simple tweak of just the pitch controls, your sound can quickly become far more detailed, colorful, or in Alexis' case, a little rougher around the edges.
I'm messing with the pitch a little bit here - to me it brings some drama to the sound, rather than everything being too pleasing.
A unique sound
Sometimes there's no better feeling than playing with a new instrument and finding new sweet spots. Pigments' preset library alone presents an array of sounds that are quite unlike anything else - for Alexis, that can be the key that unlocks a creative flow.
I was working on a pad sound, and straight away it was kind of grainy in sound and not like any other synths I've been using. It was bringing a kind of rhythmic clock to the track in a way that I could mess with… it was just throwing ideas my way.

Hear the rainbow
Observing Alexis's immersion in Pigments' is truly a privilege. Seeing what a musician held in such high esteem can create with a few minor tweaks is inspiring in itself. It's a clear demonstration of how his playful, open-minded approach guarantees musical gold - with a little help from Pigments' proverbial rainbow of sound along the way.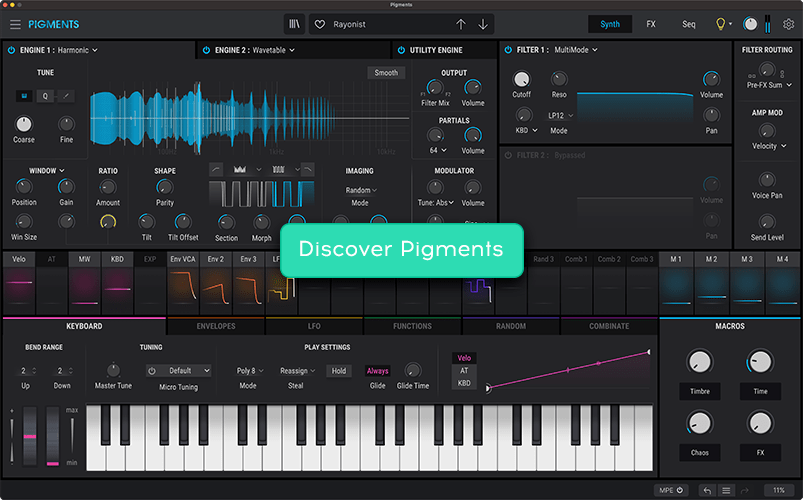 It's going to be a great asset to people who are very into synthesis and working in textural sound and maybe doing film soundtrack work, but it might also be great if you're making a more dance-style track and you want a more subby bass sound.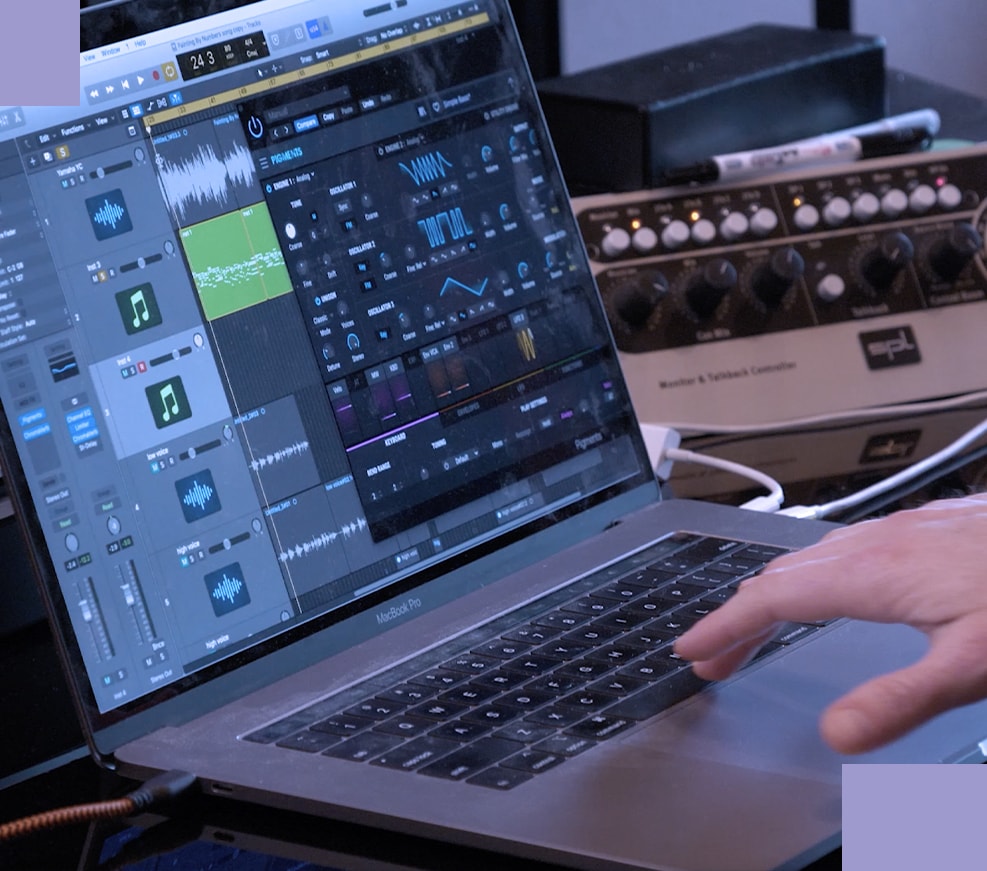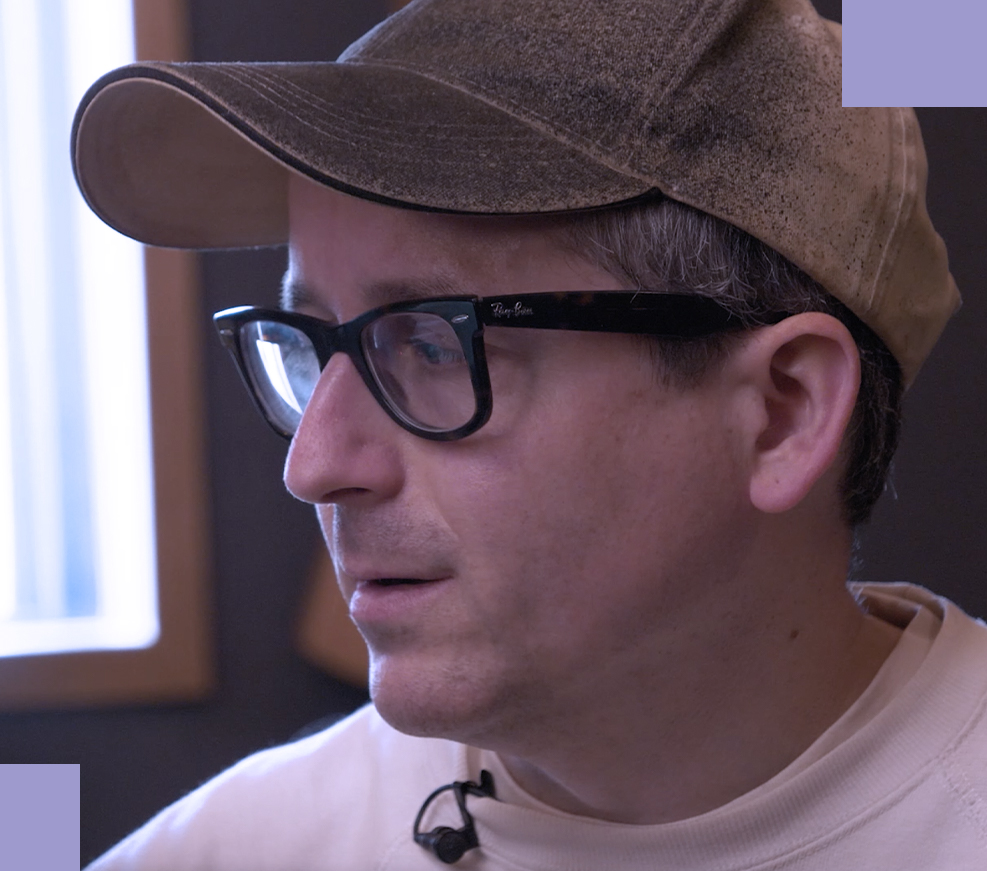 There's lots to explore.