ANALOG LAB 2
ULTIMATE KEYBOARD SOUND COLLECTION
5000 sounds from 17 instruments - New preset browser
Analog Lab 2 gives you the best of 17 instruments that made music history,
all in one convenient place.
As an owner of an Arturia instrument you are entitled to a special offer on Analog Lab 2!
All of your favorite go-to sounds at your fingertips
Imagine conveniently having all the keyboard and synth sounds you need for a gig or session all in one place on your computer. No racks. No stacks.
Analog Lab 2 gives you streamlined tag-based access to 5000+ of the hottest presets from our award-winning V Collection of 17 faithfully modeled legendary classic keyboards—including combinations and effects. Each preset automatically maps the most important sound parameters to your KeyLab or MiniLab for intuitive tweaking and performance control, and you can easily custom map to any controllers via the MIDI Learn feature. You can even save the presets you need for a gig into a playlist to step through during your sets. Analog Lab 2 is also the command center for all your V Collection keyboards, giving you full editing access to any full instruments you own.
Everything you need for creativity and inspiration is right here in Analog Lab 2.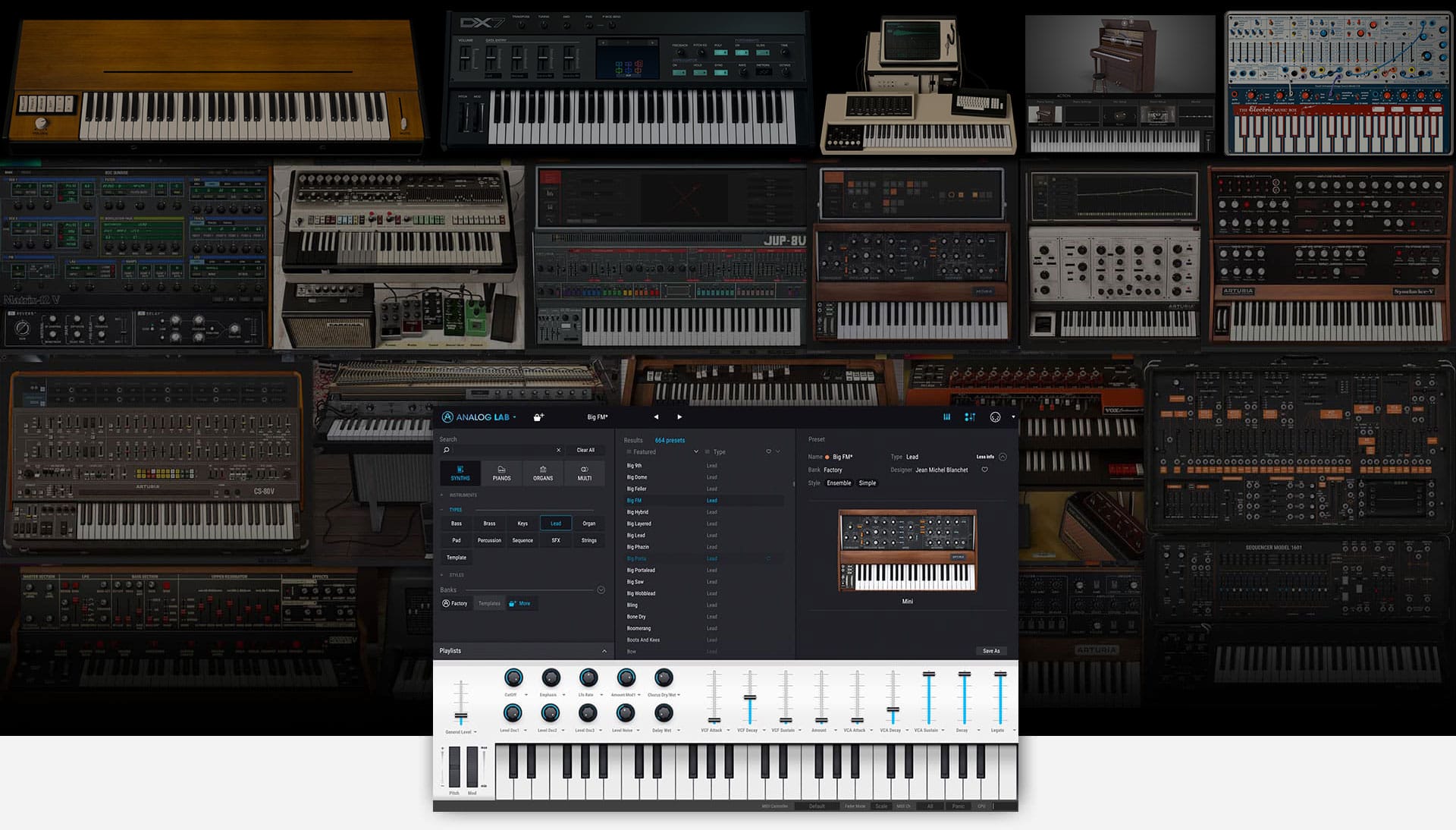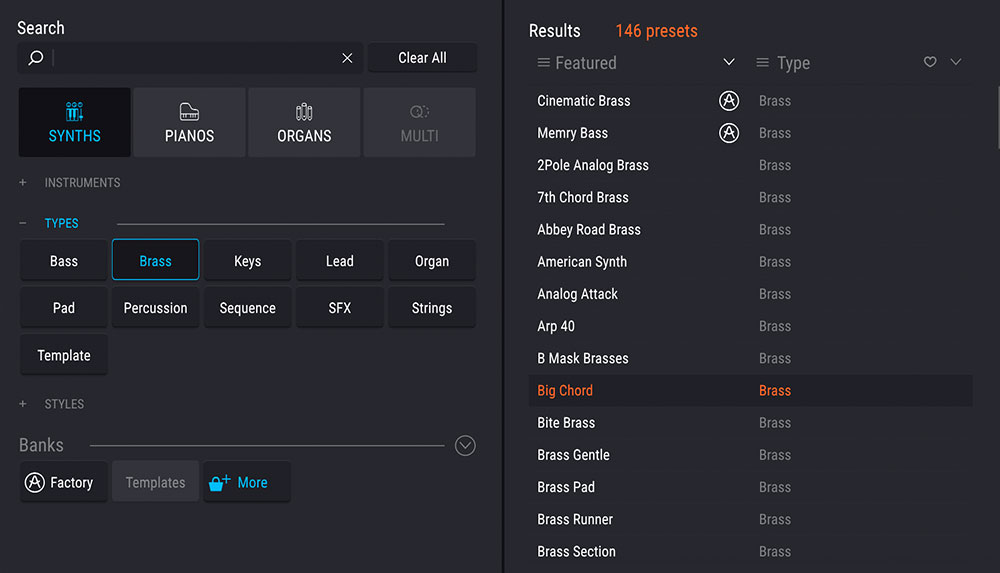 Find and recall your favorite sounds instantly
With Analog Lab 2's sleek new browser, you can always find just the right sound. Simply click tags to filter your extensive sound library by Types, Characteristics, Instruments and more. Need a fat, funky bass? Just click that combination of tags to get a short list from the across the entire library—or limited to just the virtual instruments you select. Click to designate your favorites for instant recall later. Use Playlists to line up just the sounds you need for gigs or sessions, then access or step through them with MIDI program change mapped to your preferred buttons or pedal.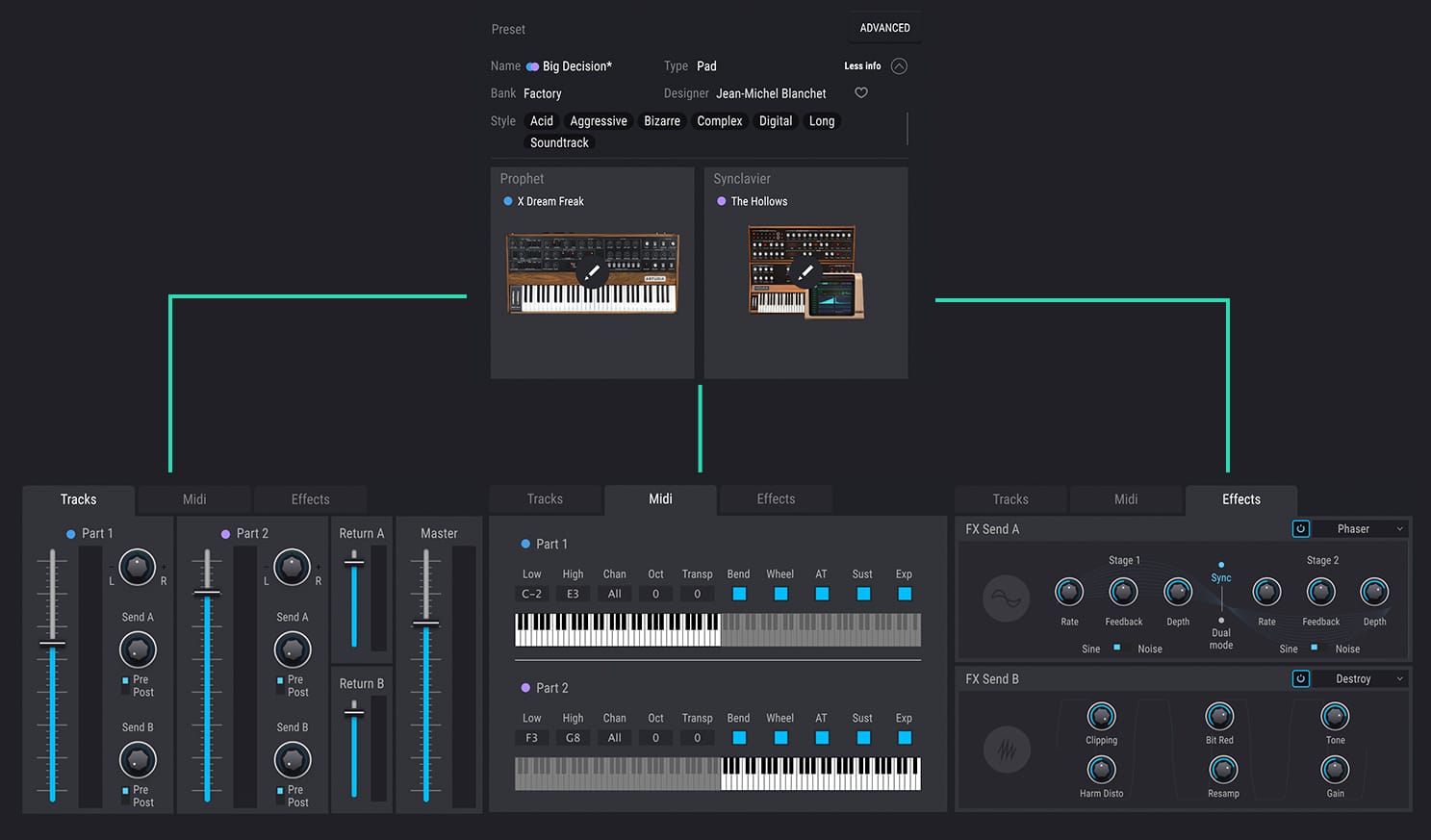 Split, layer and add effects
The Multi feature lets you simply drag and drop to combine any two of your favorite presets into splits and layers, with complete control over how each performs. You also get a complete array of 17 classic effects that take these already incredible sounds beyond the call of duty—everything from standards like chorus, delay, reverb and overdrive to exotics like bit crunching and vocal filters. You can even add different amounts of discrete effects to the two instruments in your Multi patches to add a whole new dimension to your sound. Of course, all your Multi and effects settings are saved right with your patches for instant recall.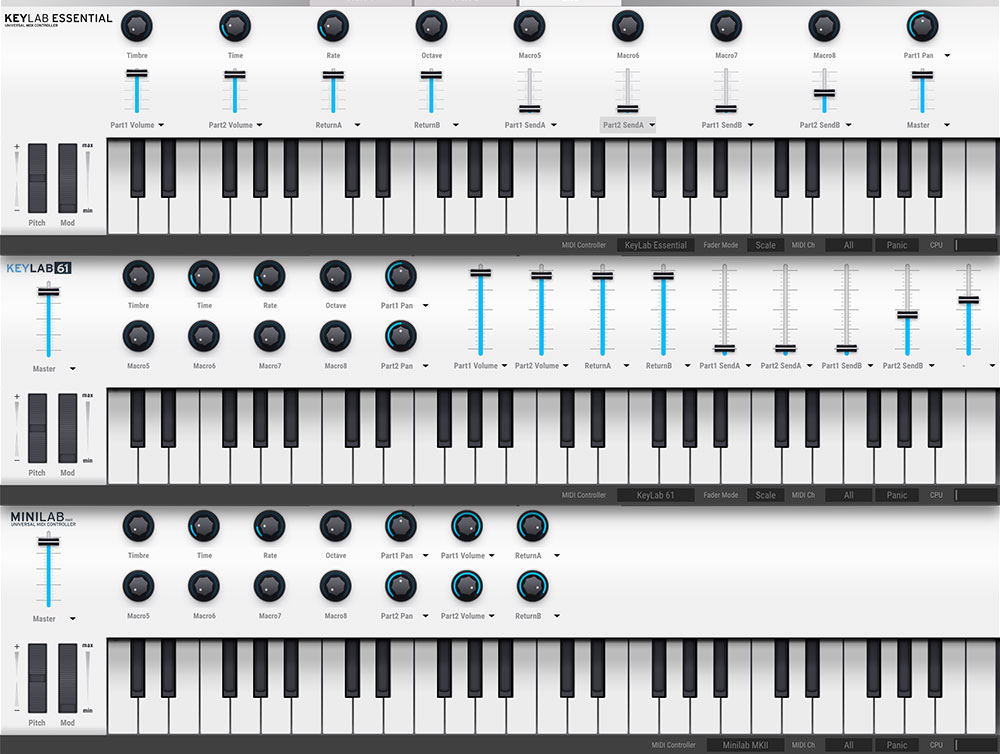 Already set up for your favorite hardware
Analog Lab 2 presets surface the most common controls you might want to get your hands on to tweak your sound or control live—like the drawbars on a B-3 V or the filter controls of a Matrix-12 V. They're even mapped automatically to the most logical controls on your KeyLab 61 keyboards. With Multi patches, you even get macro control so that a single controller can affect parameters on two different patches at once. The MIDI Learn feature makes it as simple as click-and-touch to assign any hardware controller to any surfaced parameter in an Analog Lab 2 patch for total expression.
Sounds from the legends
Analog Lab 2 offer you sounds from our virtual recreations of 17 historic keyboards including our latest releases.
FAQ
What can I do if I don't know the login and password to My Arturia account?
You should follow this link: www.arturia.com/lostpassword/
Will I still benefit from other offers, such as an upgrade to the V Collection 5 if I download Analog Lab 2
Yes you will. These offers are valid until June 30.
Can I still use the previous version of Analog Lab after I have installed Analog Lab 2?
Yes. You can still use the previous versions of your instruments after installing any software in the V Collection 5.
Do I get the complete version of Analog Lab 2?
Yes. The product you get with this offer is the FULL and complete version.