Description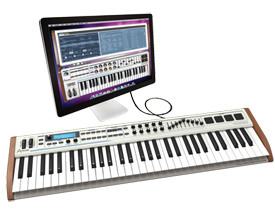 The Laboratory is the Analog Experience taken to a whole new level. Tweak any of the thousands presets directly in the Analog Laboratory software. Or you can open the preset with the Analog Classic synthesizers that you own, for full editing capability.
Create splits and layers in The Laboratory for live performance, and trigger any of the included loops from the touch pads for one-of-a-kind live performance.
With a feature-rich 61-key MIDI keyboard controller the possibilities are only limited by your imagination.
Main Features
Includes Analog Laboratory with 4300 synths sounds and 200 scenes.
All presets are carefully selected from the Arturia Classic Synths (Mini V, Modular V, CS-80V, ARP 2600 V, Prophet V, Prophet VS, Jupiter-8V, Oberheim SEM V and Wurlitzer V). These TAE® powered sounds offer unparalleled audio quality.
Quickly filter the presets to your requirements: by Instrument, by Type, and by Characteristics.
Edit sounds directly using selected parameters within Analog Laboratory.
Straight-forward editing, with a complete array of parameters for tweaking sounds : Filter and LFO sections, 4 Key Parameters differing for each preset, Chorus & Delay mix, 2 ADSR envelopes, 4 pads.
In-depth Preset Editing available for the owners of the Arturia Classic Synthesizers (Mini V, CS-80 V, etc.).
200 Scenes organized by musical genres offering complete live sets, including : loop assignment to pads, splitting and layering of two synth presets and advanced arpeggiation patterns.
Hardware Specifications
Keyboard : 61 keys with velocity and channel aftertouch
Controllers : 2 encoders with select, 11 standard encoders, 9 sliders, 22 switches, 4 touch-sensitive pads, 1 modulation wheel, 1 pitch bend wheel.
Connectivity : Midi in & out, USB, Sustain pedal, Expression pedal, Aux pedal, Breath controller, High quality aluminium and wooden case
Also functions as a universal MIDI controller
Press Clipping
True Analog Emulation
TAE is True Analog Emulation - Arturia's exclusive technology which accurately reproduces tone, waveshape, tuning and other detailed characteristics of an analog synthesizer
Photo gallery
{gallery}ael61{/gallery}