ALI STATON

Big Studios, Big Artists, Big Sounds
Photos by York Tillyer
BIOGRAPHY
Ali Staton is a mixer / producer / engineer based at the legendary Real World Studios, conceived by Peter Gabriel. We learn from Ali to find out his approach to working with various artists and his different roles.
"Being a producer and mix engineer requires different skills."
There is a degree of overlap between the roles, so one informs the other. When producing, you are generally more intimately involved with the project and artist and so it's a fuller commitment. With some of the mix work I do I'm not involved in the recording and so I bring an objective, impartial ear to the project, sometimes it helps to have that distance and bring out elements in the mix that may have been overlooked.
"Working on Tricky's 'Maxinequaye' album was one of the first projects I did as the in-house engineer at Island Records' Studio in London. I was involved towards the end of the album production; recording and mixing a few tracks as well as the 'The Hell EP' with Tricky vs The Gravediggaz."
"Tricky had a unique approach and I was happy to follow his lead. I had no preconceptions going in and on occasion the sessions were completed by the 'seat of our pants' but that edginess it what stands the test of time."
"On Madonna's Sticky and Sweet tour I had the role of programmer."
"I worked on The Confessions Tour, The Sticky & Sweet Tour and various promo, TV and awards events that Madonna did over a period of a few years. It's a fairly pressured environment as you can imagine so you really have to be on top of your game. Madonna pushes everyone who works with her to strive to do their best. I had quite a steep learning curve initially having never been involved in any live concerts prior to that. Madonna and her MD Stuart Price put together an amazing team so I'm very grateful for the opportunities and experiences that allowed me to develop my skills and knowledge as part of such a big touring project."
"I love synths. I love sounds. V Collection is perfect."
The Solina V is a definite favourite, much used on the current Turin Brakes album 'Lost Property' often sitting alongside the real string section but providing another worldly texture. I also love the Farfisa V, having the ability to tweak the sounds with the included stomp boxes is amazing. Hearing the CS-80 V has prompted me to get my hands a ROLI Rise25 soon to make the most of the aftertouch and ribbon aspects of the patches.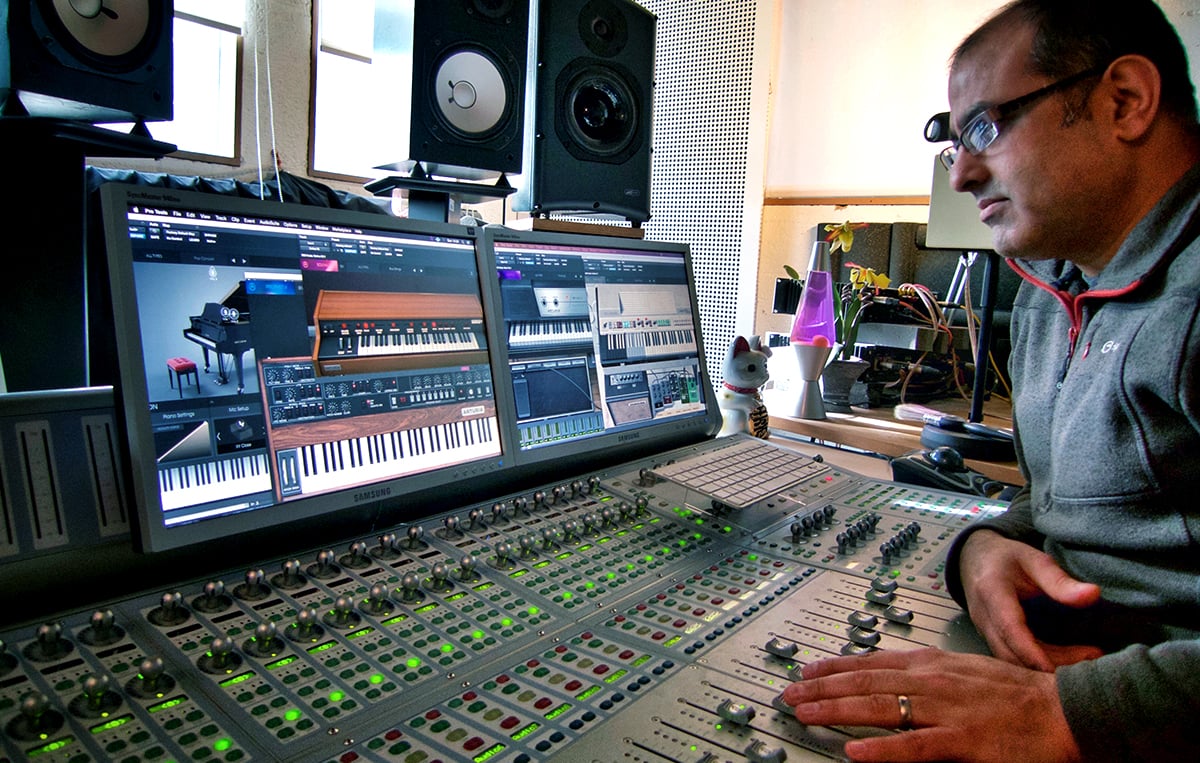 I work at a few studios and sometimes on the road too, so having access to a variety of sounds is paramount.
The Neptunes, Lamb, and La Roux; they each have a different approach.
My role certainly changes between the various artists that I've worked with. With Lamb for example I have worked predominantly as a mixer on their albums. On the debut we worked at Ridge Farm Studios on a Neve VR60, I mixed most of the album there.
On the song 'Gorecki' I also recorded the strings which sounds like a massive section but was basically two cellos played by the wonderful Chainsaw Sisters layered over and over. That album was recorded and mixed off 2" tape, so it involved setting up a number of slave reels for the many cello overdubs, which were all eventually bounced down to some stereo groups on the 48 track mix reels running on synced Studer A800 tape machines. It was also the first time I was asked to provide stems of the mix elements for the band to use in their live shows.
I still from time to time work on tape, the last two Turin Brakes albums were recorded that way in The Coach House at Rockfield Studios. There is a focus and clarity that comes from limiting yourself, delivering the performance without the net of the 'undo' button. There's no simple copy and paste option and you need to express the ideas on the lean 24 tracks, no fat. It's a discipline that can work very well if you commit to it.
But wait, there's more.
I have a number of studio projects coming up and some more live shows with Richard Ashcroft (of The Verve) both in the UK and abroad.