Providing 17 distinct, fully analog drum and percussion instruments with an intuitive sequencer, massive connectivity, a two-mode Steiner-Parker filter, and dynamic performance controls, DrumBrute will take your beat production to the next level.
Create energetic and exciting drum beats with a single, user-friendly device. With its vast sonic potential and smooth workflow, DrumBrute meets and exceeds the expectations of demanding musicians. Bridging the gap between inspiration and technology, DrumBrute offers punchy analog drum sounds, advanced 64 step / 64 pattern sequencing possibilities and ultra-effective performance controls.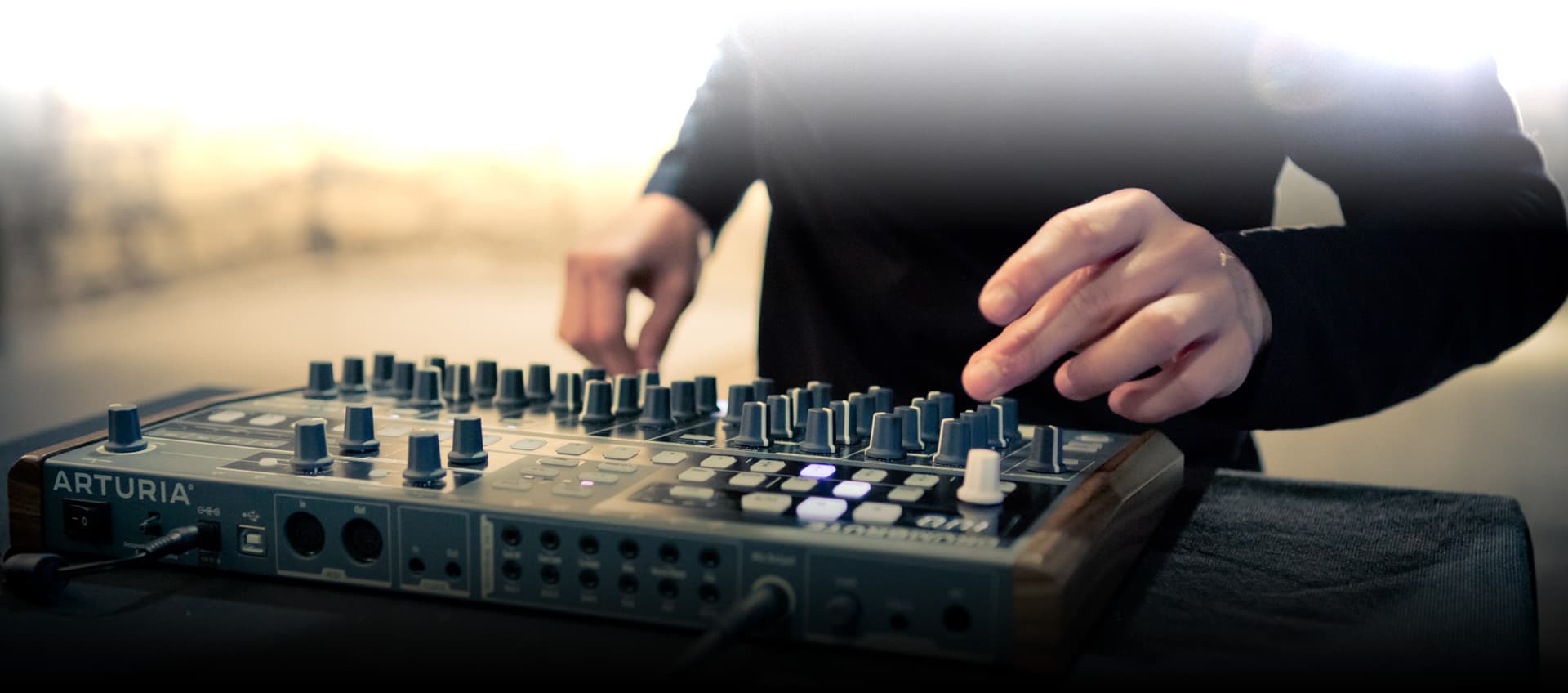 Strike the First Blow
Create your perfect kit using the best analog sounds
Every single one of the seventeen drum & percussion parts is 100% analog, and carries the savage DNA of the Brute synth family. DrumBrute is fully polyphonic, so all of its sounds can be played simultaneously and twisted by the nasty two-mode 12dB Steiner-Parker filter.
Soft, sharp, pure, trashy, or devastating... DrumBrute lets you create an exciting, personal sound palette that will electrify your music.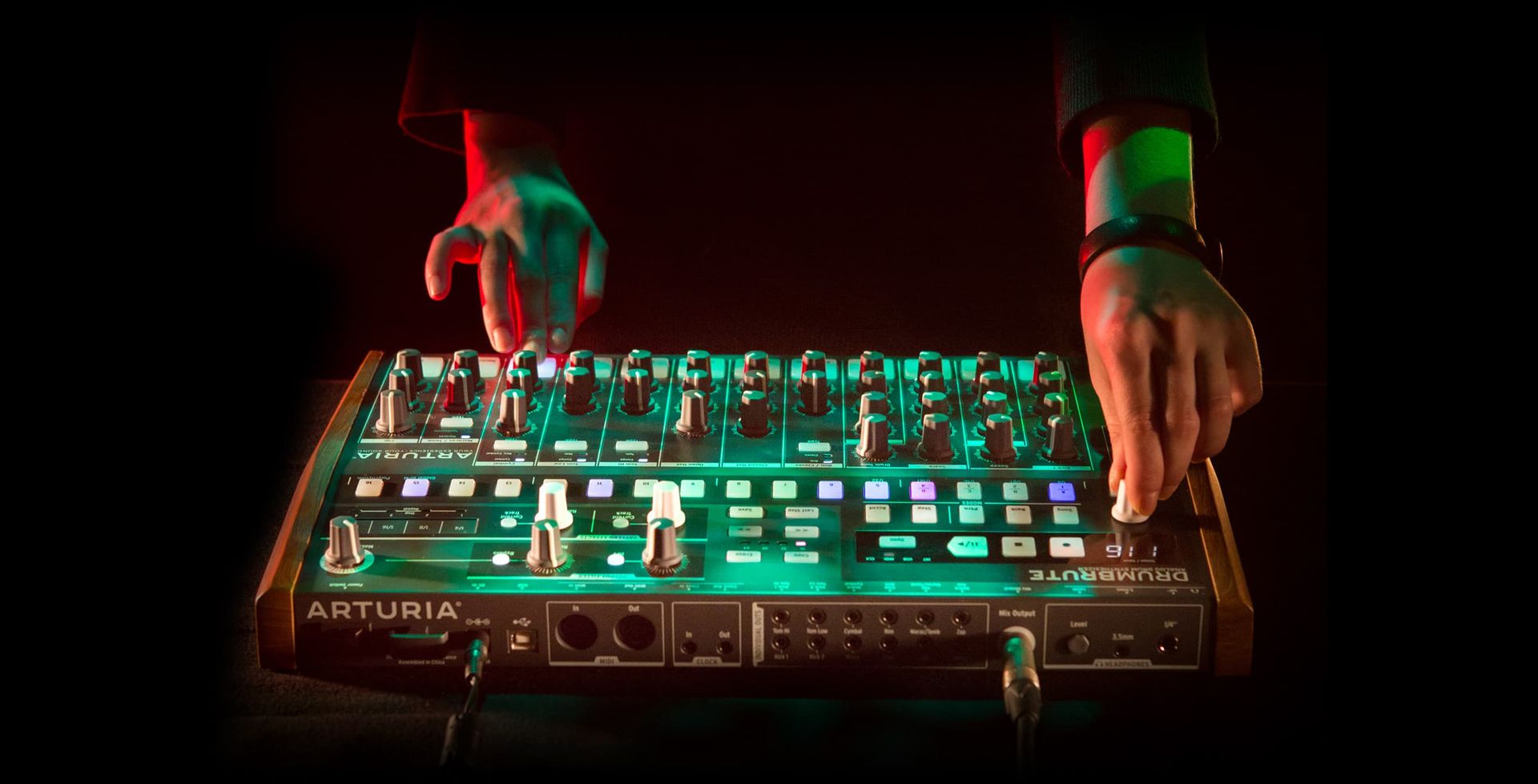 Press Clipping
"Arturia DrumBrute Analog Drum Machine puts classic analog drum sounds in your hands. It then goes even further, to give you the tools to play around with these sounds, creating just about any style or pattern you can think of."
429 Records
"A characterful analogue drum machine with some uniquely creative sequencing tricks up its sleeve "
Future Music
"The DrumBrute is a lot of fun to use, it is refreshing to see a more affordable machine that has a sound of its own."
Music Tech Magazine
"The Drumbrute deserves to be as successful as its predecessors. It's a very neatly designed product that's easy to use on the surface and full of useful features once you get deeper."
Resident Advisor
"With the DrumBrute, Arturia have created what many of us have desired for years and have done it in their own particular style. Highly recommended."
Sound on Sound
"This instrument brings back the joy of creating beats in a way that more generic devices can struggle to do. "
Ask Audio Mag
"With its 17 rich, fully analog per-cussion sounds, the DrumBrute has all the poten-tial of a future classic of the stage and studio. "
Electronic Musician
Absolute Rhythm Mastermind
Big sounds without the big budget
A collection of 17 distinct analog drum instruments; an advanced 64-step drum sequencer with song mode; a polyrhythmic, step-repeat glitch machine; a performance powerhouse and sequence looper. DrumBrute is all of this. It can also act as your creative hub, as its vast connectivity allows you to output different sections of your mix separately, and connect to all your existing studio & performance gear with USB, MIDI, and Clock I/O.
More than the sum of its parts, DrumBrute combines the technical perfection of studio gear with the excitement of a playable instrument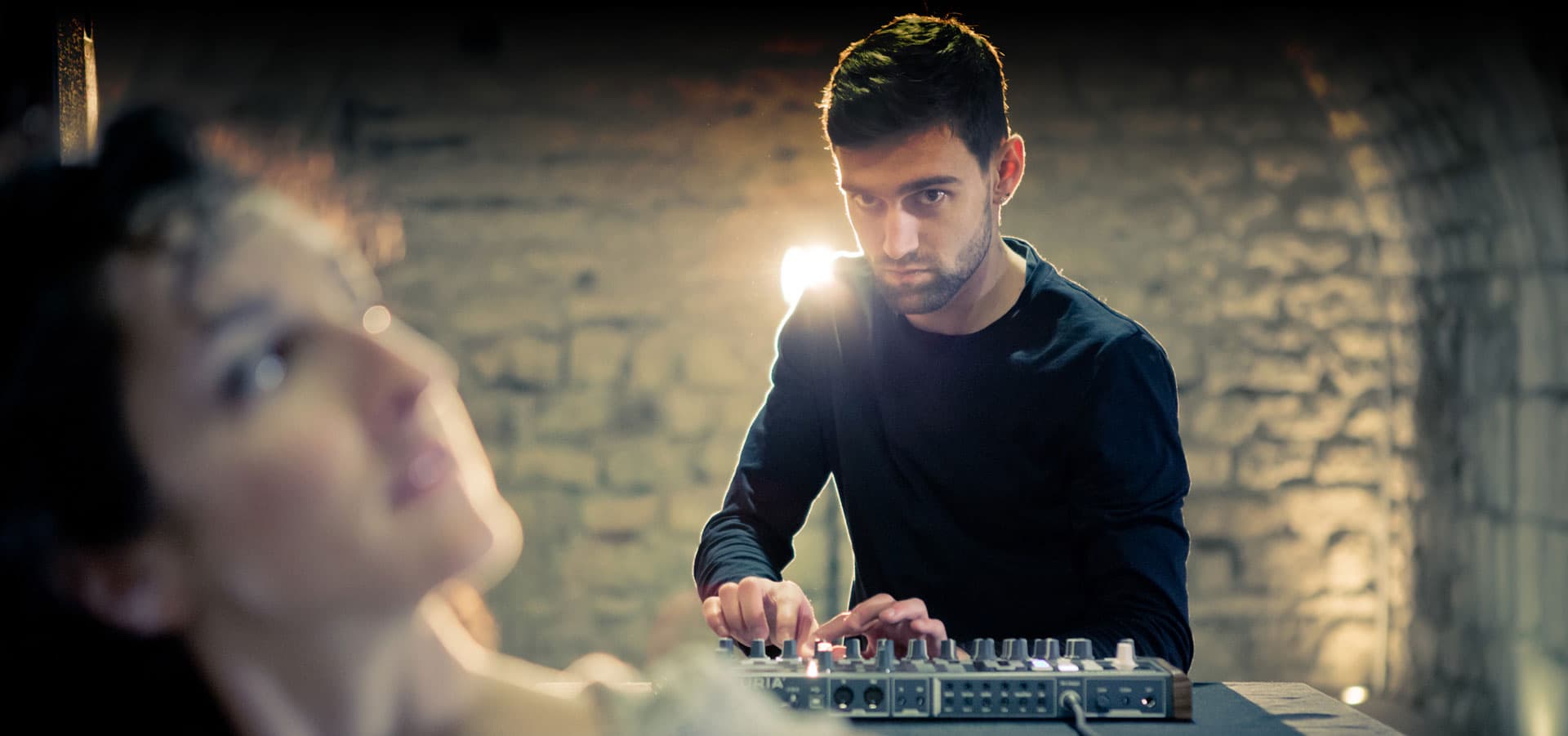 The most important aspect of any instrument is its sound. Here are some examples of how DrumBrute performs in a variety of different styles and genres.
Thanks to its fully analog architecture, DrumBrute's sounds can be tweaked and modified to suit your taste, helping you achieve the perfect tone for your track.
Sound Corner
House 117
House pattern recorded in one take directly from the master output of the DrumBrute. No dynamics or EQ has been used here.
Musicvideo Extract#1
Audio clip extracted from the DrumBrute introduction movie. Every part has been recorded separately using the individual outputs. Soft compression and EQ have been applied to each tracks.
Musicvideo Extract#2
Audio clip extracted from the DrumBrute introduction movie. Every part has been recorded separately using the individual outputs. Soft compression and EQ have been applied to each tracks.
NCP086
One shot recording from the output of the DrumBrute through the Glue compressor from Ableton for some coloration. Two Jup-8 V, one Synclavier V and one Ableton Operator track for the synth part.
Techno 137
Techno pattern recorded in one take directly from the master output of the DrumBrute. No dynamics or EQ has been used here.
Dreamlike
Ethereal, dreamlike beat. All drum sounds and performance are coming from the DrumBrute. Additional melody is played by Mini V3 .
Soft Dropts
Slow groove using a pattern recorded with quantization off. DrumBrute is recorded from the main mix, slighly compressed and distorted, and uses a touch of reverb. Mini V and Matrix-12 V chords to accompany the beat.
Invocation
Breaked drumbrute pattern with tension created by silence. Audio recorded directly from the master output. Compression and reverb have been added to the track.
RollTheHat
Hip Hop / Trap rhythm made with three instruments of the Drumbrute, Kick2, Snare and Closed Hat.
DB BBOYTECH1.mp3
Direct out of the mix output with no additional processing. Hiphop beat with occasional low pass filter and looper. Kick and snare tuned and decay adjusted occasionally.
DB BBOYTECH2.mp3
Direct out of the mix output with no additional processing. Hiphop beat with occasional low pass / high pass filter and looper throughout.
Hit with your Instinct, Beat with your Heart
Workflow on overdrive
Every feature and detail in DrumBrute has been designed to amplify your creative flow. Producing? DrumBrute makes shaping your sound and building your rhythmic patterns a breeze. Performing? DrumBrute gives you massive connectivity and vital control. Every function is immediately accessible from the front panel. No dropdown menu, no waste of time.
More playing, less planning
Let's take a closer look at what DrumBrute has to offer...
1. 17 Pure analog drum sounds
All analog, all the time. Two flavors of kick drums, wide-ranging snare and clap settings, two hi-hats with separate tone and decay controls, and more. The DrumBrute offers a wider sound palette than any other analog drum machine on the market.
2. 64 patterns with up to 64 steps
Easily create your own patterns by using the STEP and ACCENT buttons or play them in real-time from the pads. The looper lets you instantly modify your beat and create real-time pattern effects, making this the perfect performance drum machine.
3. 16 Songs
Make your own song by chaining up to sixteen patterns.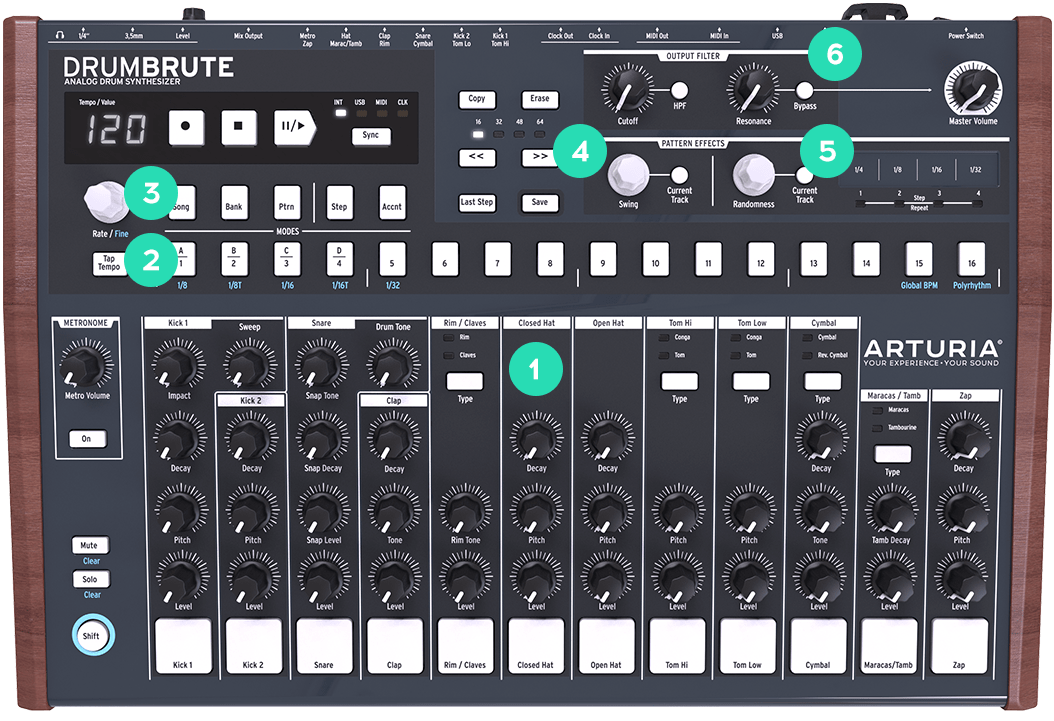 4. Swing
Swing can be global or per drum. This gives your music a feel and groove that will light up the dance floors.
5. Randomness
Randomness can be applied to all instruments globally or to individual tracks. This ranges from adding small variations to change the feel, to huge variations generating crazy, random patterns for more experimental music.
6. Output filter
The Steiner-Parker filter on the output allows you to create interesting sweeps and do on-the-fly tricks like dropping out the bass and emphasizing the highs, ready to kick in the low end at a moment's notice.
7. Sync to the world
DrumBrute can sync to external MIDI devices, vintage sequencers using DIN sync, modular synths with 1PPS clock and to a computer via USB. The DrumBrute is made to be the rhythm center of your production setup.
8. Headphone outputs
3.5mm and 1/4" outputs allow you direct connection with any kind of headphone.
9. Individual outputs
You can listen to and mix all your drums via the MIX output or you can remove them from the mix by connecting to the individual outs. This allows for external processing of each sound.

10. Connectivity
With USB, MIDI, and our trademark clock & DIN sync I/O, you can connect to almost any device on the market today.
11. Power input
12V DC input powers the amazing sound of this drum machine. The strain-relief T-bar will prevent your DrumBrute's power from accidentally disconnecting.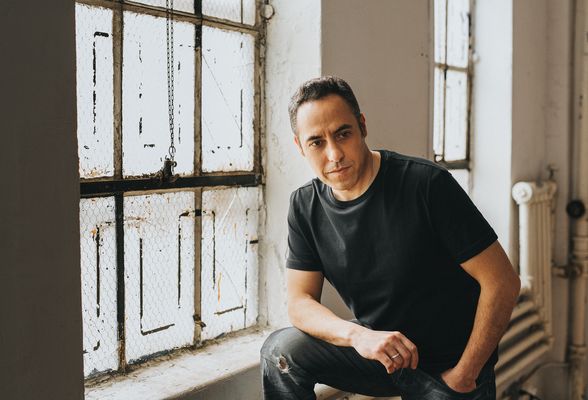 Artists Corner
I just love this thing, it has so much attitude. It's like a great retro-sounding drum machine.
Tom Salta
( Composer )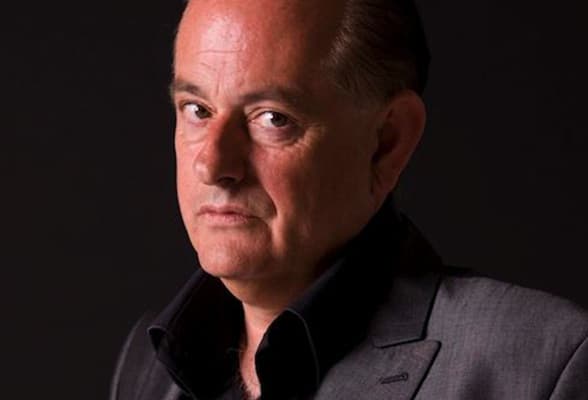 Artists Corner
The DrumBrute is an awesome machine – I am using it on new Heaven 17 and BEF albums. It is so good to have an instrument where every sound can be manipulated to fit the bill – in fact the functionality is as good as any drum machine I've ever used (including my previous favourite the original Linndrum). I would recommend it highly as an essential and intuitive songwriter and producer's tool.
Martyn Ware
( Producer - Composer )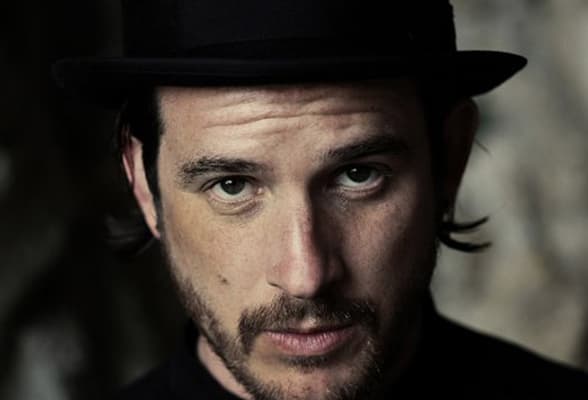 Artists Corner
"It's incredible, it's a great product, congrats!"
Luciano
( DJ/Producer )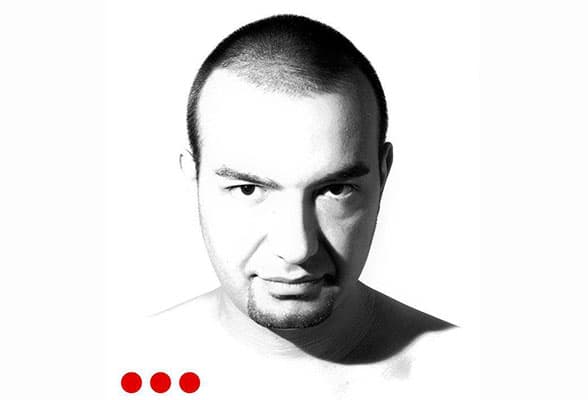 Artists Corner
"That's the dirtiest sound I've heard in a long time, and that's a compliment"
Kink
( DJ/Producer )
Artists Corner
"I give this The Brutalicious Drum Machine of 2016!"
Keith Harris
( Producer - Composer - Will.I.Am, Madonna )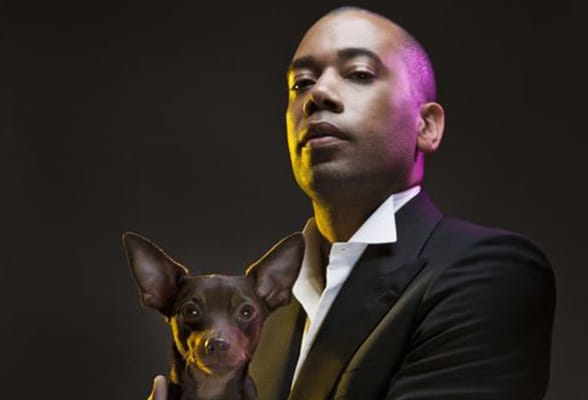 Artists Corner
"Wow..It's easy to program, I think it's great""
Carl Craig
( DJ/Producer )
Gallery
Main Features
17 pure analog drum sounds

Kick 1, kick 2, snare, clap, hi-hat 1, hi-hat 2, conga hi, conga low, tom hi, tom low, maracas, rimshot, clave, tambourine, cymbal, reverse cymbal, zap.
Wide-range controls allow for many new and unique sounds.
2 different flavors of kick drums
Our unique analog Reverse Cymbal

64 patterns with up to 64 steps each
Separate accent per drum
Song mode for chaining patterns
Pattern effects

Swing that can be global or per instrument
Randomness per instrument for generating variations.
Pattern Looper for beat repeat functions

Steiner Parker output filter with bypass
Multiple sync options

Internal
MIDI
Clock
1PPS, 2PPQ, DIN24, DIN48

USB MIDI interface
Mix audio output (unbalanced 1/4" jack)
Individual audio outputs (unbalanced 3.5mm jacks)
Headphone output with both 3.5mm and 1/4" jacks
Create polyrhythms

Each drum track can be a separate length.
Awards