Gut-Busting Drums
Zero-compromise analog drum machine.
Whether for step-sequenced beat making, real-time sound tweaking, or finger drumming performance, DrumBrute sets a new precedent for ergonomics, sequencing, editing, and pure sonic power.
DrumBrute will surprise even the most hardcore analog fans, opening up exciting new avenues of sound creation using its heavy kicks, punchy snares, lightning hi-hats, and shimmering cymbals.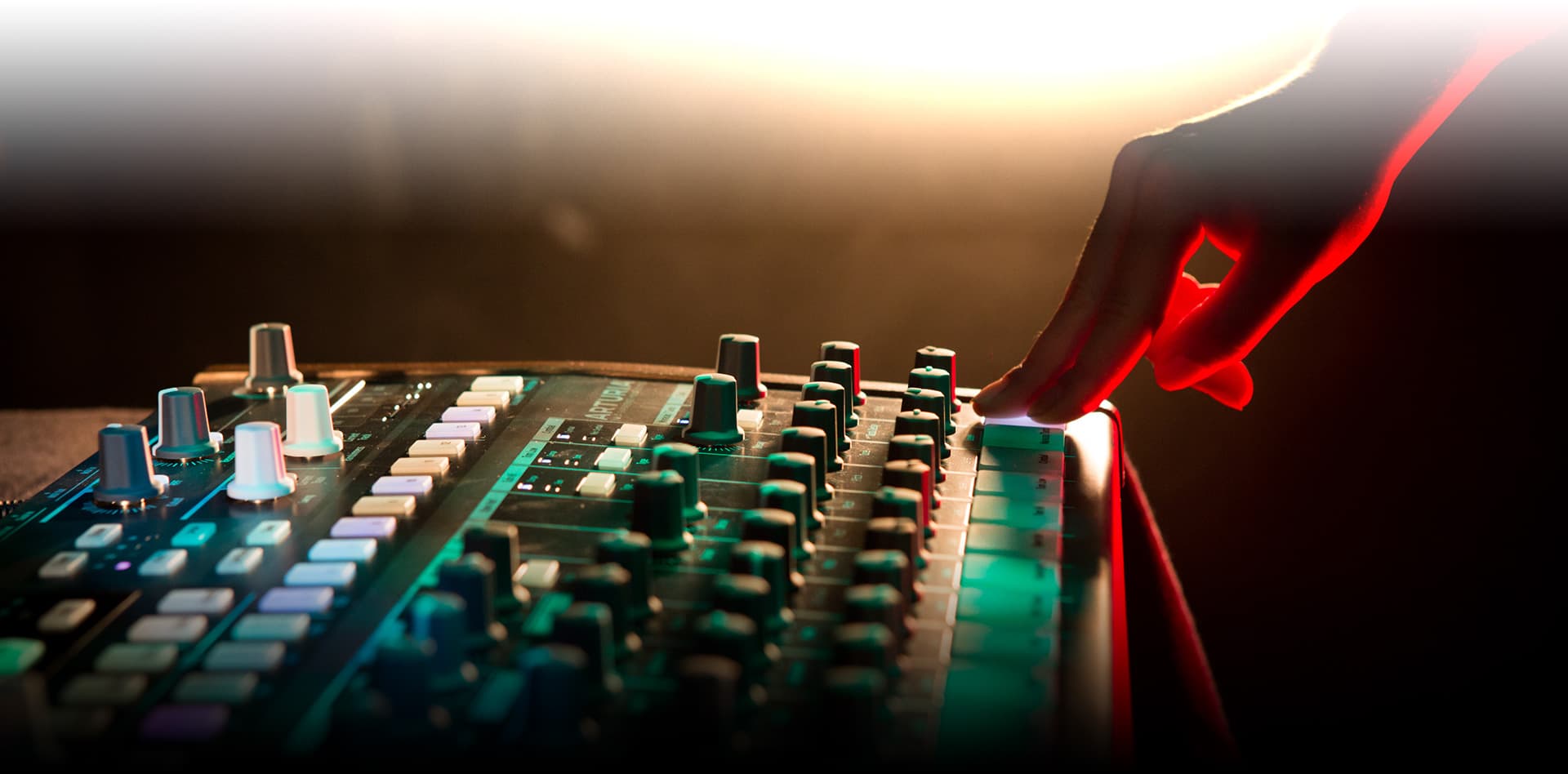 Invoke The Sound
The key to your dance floor anthem.
DrumBrute's core is made of seventeen 100%-analog drum and percussion instruments, so whatever drum sound you are looking for, DrumBrute has the solution. Any genre, style, or mood can be created with ease. As it's made of independent modules, the sound triggering circuitry allows for full polyphony, meaning that all the instruments can be used simultaneously for an unrestricted creative experience.
Among the 17 drum sounds, you will find re-imagined legends like 808 and 909 kicks, old-school rim, claves and clap, as well as incredibly usable, modern sounds like snappy & aggressive snares, cutting "zap", as well as the first ever analog reverse cymbal sound.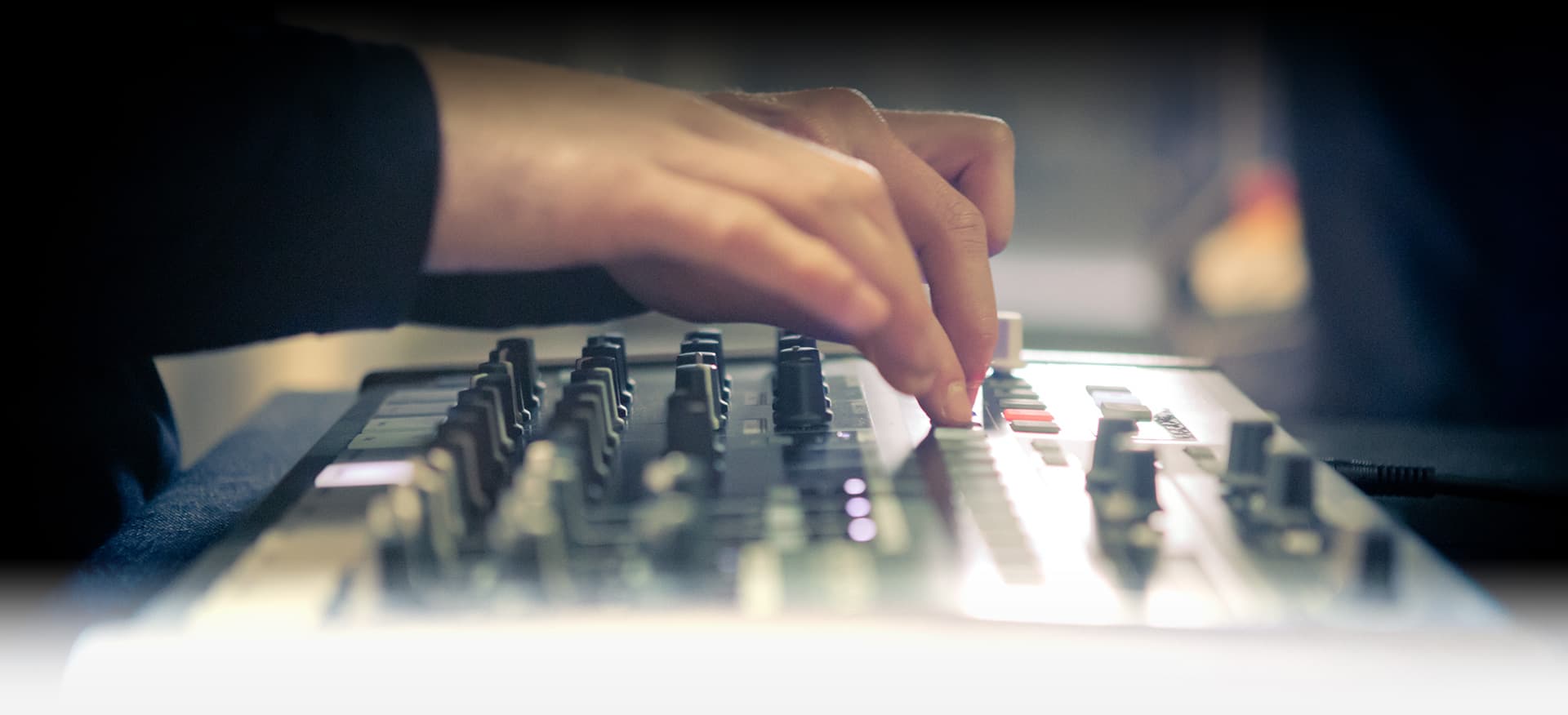 Instrument Parameters
Is there anything more instinctive than tweaking the parameters of an analog instrument? We didn't think so. DrumBrute lets you adjust the tonal quality of each individual drum using 24 parameters, and mix your levels to perfection. Creating your perfect beat is a simple and natural process. Want a chilled, slow-motion atmosphere? Lengthen the decays, lower the pitches and give your kick a lazy sweep. Crave a nasty, cutting beat? Raise the snap level and the pitches, and tighten up the decay.

Kick 1
Level, Pitch, Decay, Impact, Sweep
Kick 2
Level, Pitch, Decay

Snare
Level, Snap Level, Snap Decay, Snap Tone, Drum Tone
Closed Hi-Hat
Level, Pitch, Decay
Open Hi-Hat
Level, Pitch, Decay
Cymbal
Level, Tone, Decay
Reversed Cymbal
Level, Tone, Decay
Maracas
Level, Tamb Decay
Tambourine
Level, Tamb Decay
Steiner Parker Filter
The beating heart of a drum machine, the soul of a synthesizer
DrumBrute integrates a remarkable two-mode Steiner-Parker filter which allows you to create really dynamic, interesting effects. The filter can be set to low-pass mode, high-pass mode or bypassed entirely. The cut-off and resonance controls let you get really hands on, giving you huge scope to shape the sound of your drums. Add depth to your beat, emphasize its tone, make it dirty, and animate it with live sweep effects.

The sound of DrumBrute is not what you get, but what you make with it
Step Sequencer
The built-in advanced step sequencer is one of the most important aspects of DrumBrute.
The focus on workflow was taken to the extreme: 16 highly reactive step buttons so you never miss a beat; individual & global swing parameters to add feel; randomness controls that transform your pattern from unpredictable to completely chaotic… all with a simple and intuitive interface.
Based on our award-winning BeatStep Pro sequencer, this 64-step sequencer goes even further by implementing exciting new features.
Swing
The swing level starts at 0% and is then progressively increased.
The swing feature shifts one step over two which is perfect for getting a groovy feel. This parameter can be applied separately for each instrument or globally.
Randomness
Randomness is first only applied to the maracas and then to every instruments
The Randomness factor, that can be individual or global, can transform your pattern from unpredictable to completely chaotic by giving to each step a certain probability to be played or shut.

Unquantized Recording
This demo uses the unquantized recording to create flams and an overall unstable feel.
The DrumBrute step sequencer allows you to record without quantization. By responding to the exact timing of your performance, you get more organic results.
Polyrhythm
Five instruments appear progressively. Each one has a different pattern length which create never-ending looping/rhythm variation.
Lose yourself in an endless, evolving sequence by using DrumBrute's polyrhythm feature. This lets you assign different pattern lengths for each instrument, creating an effect of perpetual motion.
Step Repeat
Focus on the hi-hat pattern to hear the powerful fills you can create with this feature.
The exclusive step repeat feature lets you subdivide a step in 2, 3 or 4 sub-steps, allowing to breathe life into your fills without changing overall resolution for your patterns.
Accents
The accents are used to turn this linear pattern into a hip-hop snare march
Drawing inspiration from classic vintage drum machines, we also added an accent feature which gives certain hits additional emphasis, giving your pattern a more dynamic feel.
Roller
Hi-hat is played using the roller and then recorded and looped.
The roller allows you to accelerate the creation of your pattern by repeating a sound at a given interval (1/4, 1/8, 1/16 or 1/32) to fill certain step of your pattern.
No matter your style, no matter the genre, DrumBrute delivers.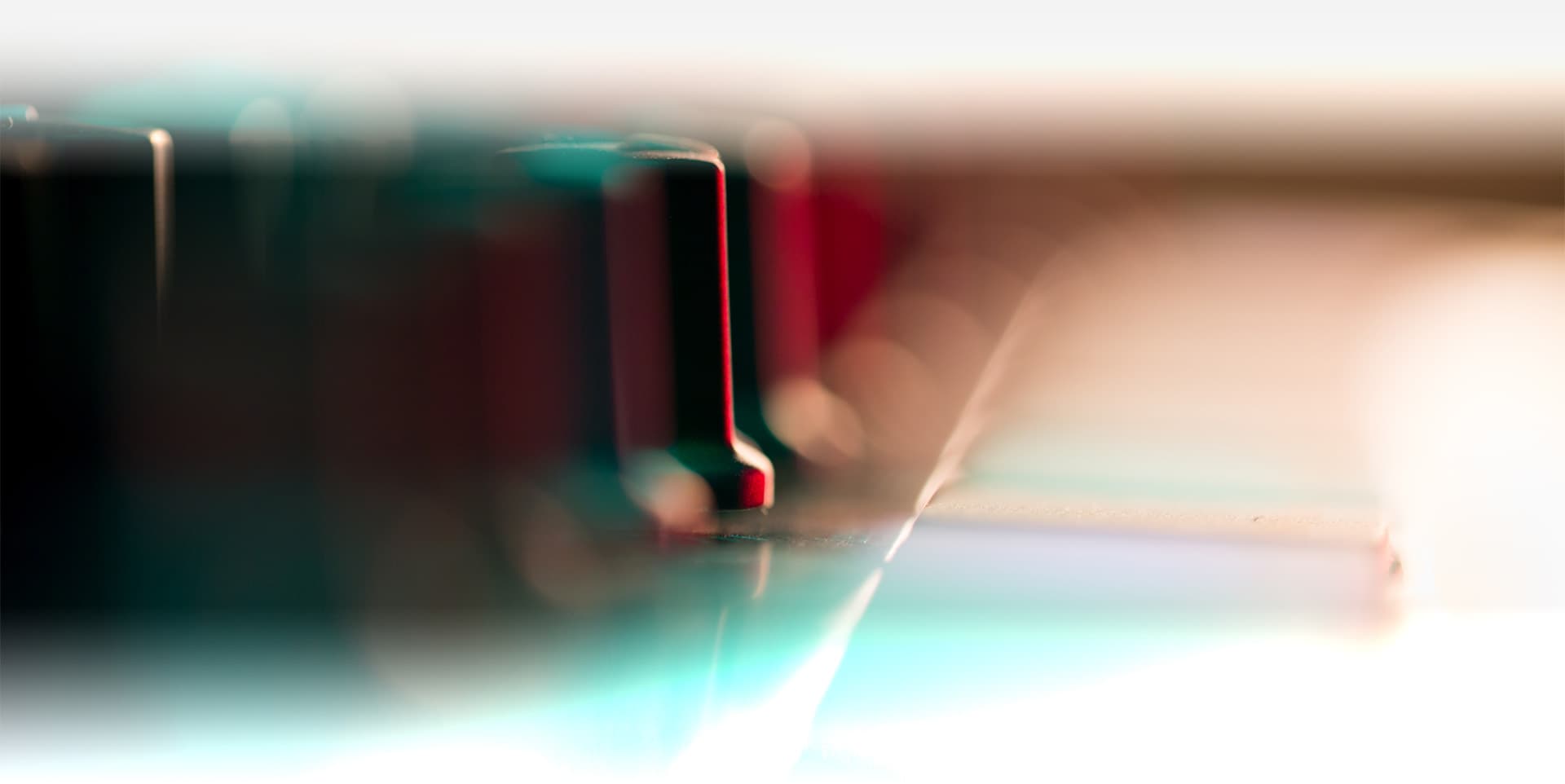 Establish Contact
This is the true meaning of the word "connection"
DrumBrute offers amazing connectivity options, letting it fit into practically any set-up. Want to process each drum sound individually or record multi-track audio? Use DrumBrute's 12 discrete instrument outputs. Want to synchronize your vintage analogue gear, DAW software, or connect to your bandmate's modular system? DrumBrute features comprehensive MIDI, Clock and USB integration. We've even included both standard sizes of headphone socket so you don't have to waste time looking for adapters.
DrumBrute is the backbone of your creativity.

Perform The Ritual
Don't miss the moment.
On stage, performance is paramount. To create powerful, meaningful music you need an instrument that's intuitive and easy to use, an instrument that offers unparalleled ergonomics and highly effective features. This is the principle that led each aspect of DrumBrute's design.
Say goodbye to navigating drop-down menus and cycling through screens: DrumBrute puts a dedicated panel for every control, parameter and feature right at your fingertips. Just like a traditional instrument, once you learn your way around, you'll be able to create music with your soul, rather than your brain.
Looper
In this demo the looper is used for creating straightforward breaks as well as short rushes in the pattern.
The looper uses the ribbon control to repeat a given part of your pattern (from 1/4 to 1/32) to add an edgy, glitchy feel to breaks and build-ups
Song Mode
The song mode automates the chaining of the pattern to let you focusing on the performance and live sound tweaking.
The song mode allows you to create up to 16 unique compositions, each chaining up to 16 patterns from the 64 that can be saved through the 4 banks of the DrumBrute memory.
DrumBrute blasts away all obstacles between you and your music.
Box contents
DrumBrute unit
Power supply
Size & weight
Instrument size : 16.46 x 10.87 x 1.58 inches (418 x 276 x 40mm)
Instrument weight : 5.69 lbs. (2.58 Kg)
Main Features
17 pure analog drum sounds

Kick 1, kick 2, snare, clap, hi-hat 1, hi-hat 2, conga hi, conga low, tom hi, tom low, maracas, rimshot, clave, tambourine, cymbal, reverse cymbal, zap.
Wide-range controls allow for many new and unique sounds.
2 different flavors of kick drums
Our unique analog Reverse Cymbal

64 patterns with up to 64 steps each
Separate accent per drum
Song mode for chaining patterns
Pattern effects

Swing that can be global or per instrument
Randomness per instrument for generating variations.
Pattern Looper for beat repeat functions

Steiner Parker output filter with bypass
Multiple sync options

Internal
MIDI
Clock
1PPS, 2PPQ, DIN24, DIN48

USB MIDI interface
Mix audio output (unbalanced 1/4" jack)
Individual audio outputs (unbalanced 3.5mm jacks)
Headphone output with both 3.5mm and 1/4" jacks
Create polyrhythms

Each drum track can be a separate length.
Awards