KeyLab is a one-stop solution to creating music, convenient enough for new users to enjoy straight out of the box, but with features that experienced producers will love.
KeyLab Essential gives you everything you need to start creating, performing, tweaking, editing, and releasing your music: a keyboard to perfect your part; a virtual studio to record your ideas; a vast array of sounds to fire your creativity; and controls to fine-tune your sound. Arturia live at the forefront of music tech world, and we have created the KeyLab Essential to strike the perfect balance between powerful features, incredible sounds, durable construction, and inspiring design, all at an irresistibly affordable price tag.
Essential by name, essential by nature. This KeyLab is about to redefine the focal point of your studio.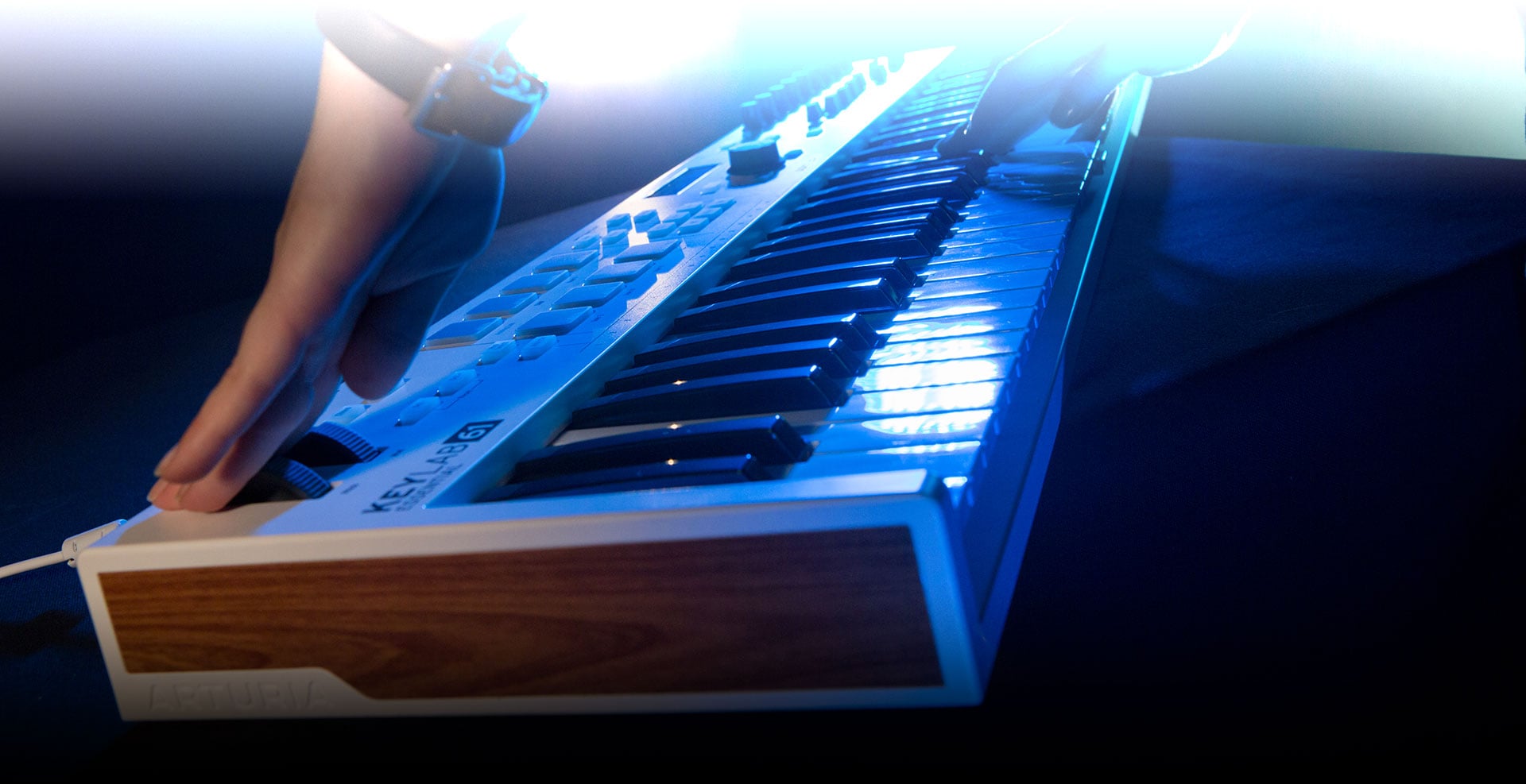 Everything in its right place
Designed to make the process of creating music as fun and barrier-free as possible, each component, function, and design element of the KeyLab Essential is a tribute to you.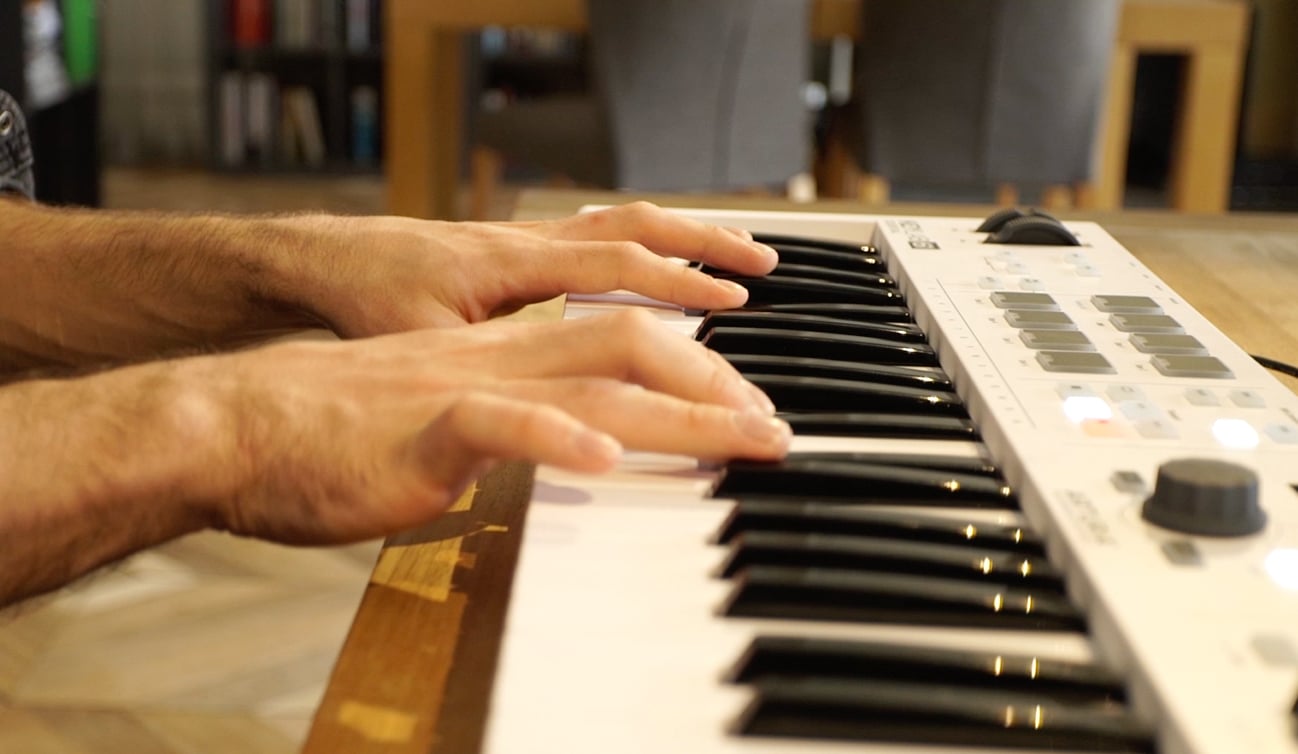 Quality playing surface
The durable, smooth-action keys will capture every nuance of your performance. You can shift the keyboard using the dedicated octave switches, get creative with your performance using the pitch bend and modulation wheels, and make use of the optional sustain pedal. A chord feature is also included to save a chord and then to play and transpose it with a single key press.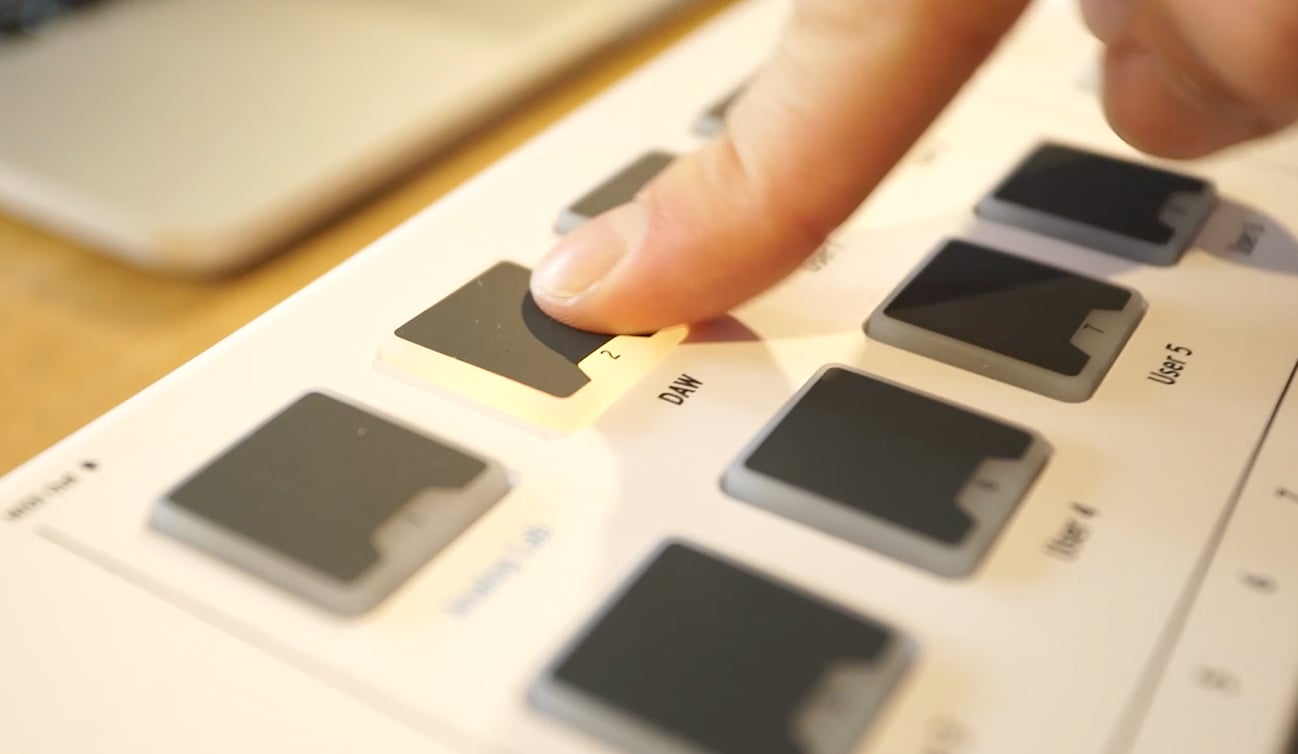 8 multi-purpose performance pads
Versatile and space-saving, the bank of dynamic, RGB back-lit pads features switchable modes, letting you punch in awesome drum rhythms and percussion patterns, while also letting you select your favorite mapping options to control Analog Lab, your DAW, or any other software or hardware you create maps for.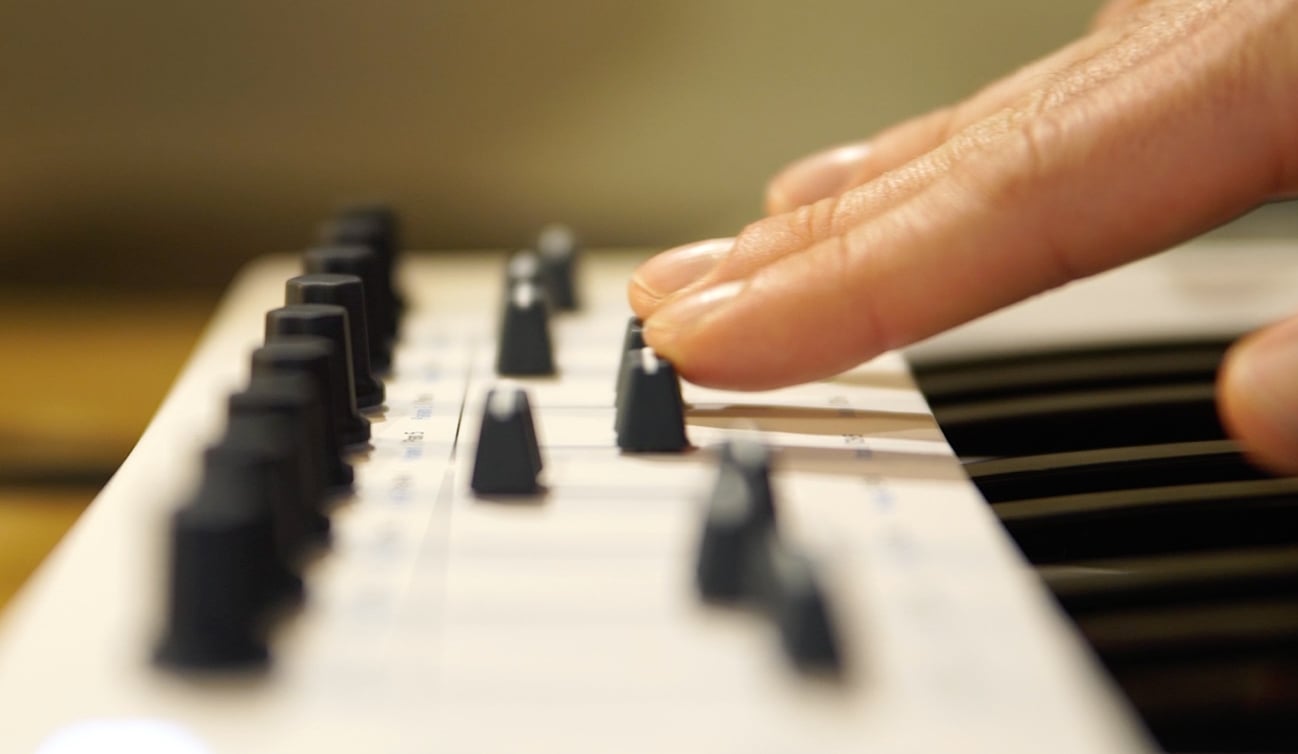 Rotary knobs & faders
Adjusting the panning and level of 8 channels at a time could not be more natural than with the automatically mapped knobs and faders. And if your creativity requires more tracks to fully express, no problem, two switches are there to move back and forth across your whole mix. Using the Analog Lab dedicated memory they will give you a direct control of the parameters of your Arturia virtual instruments.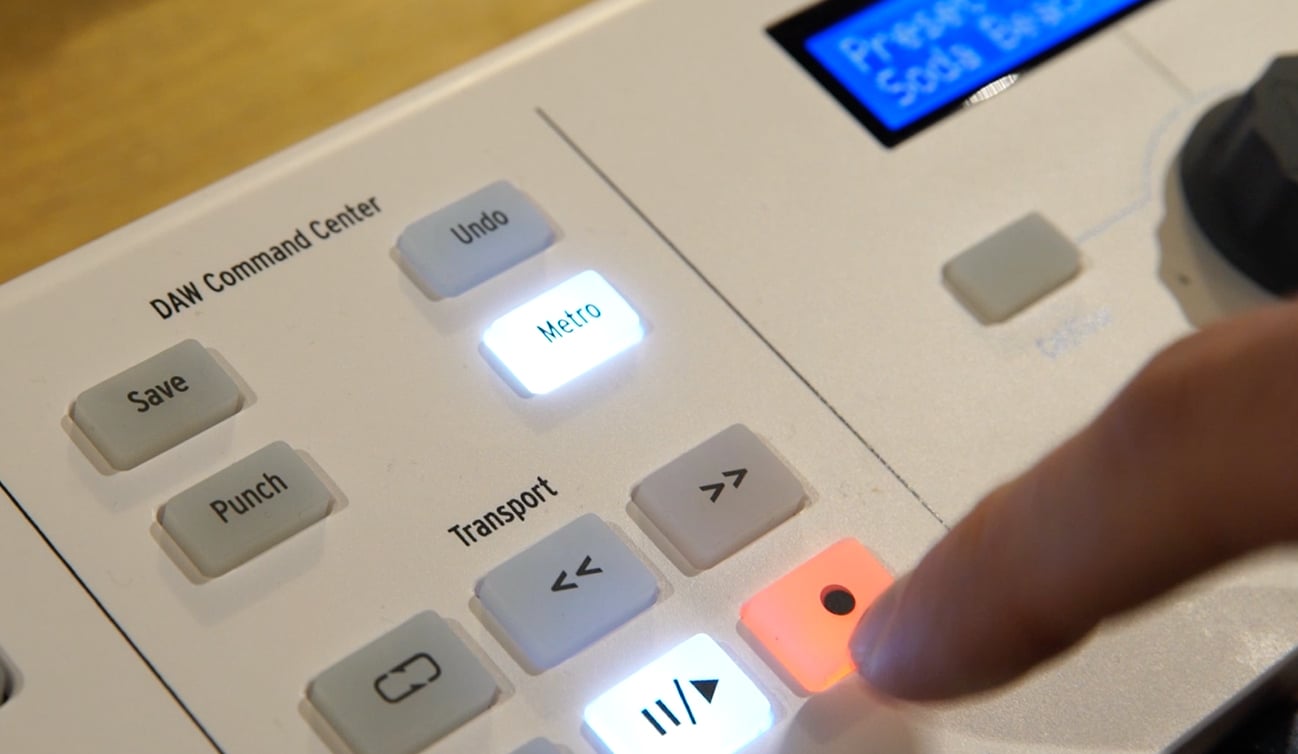 DAW Command Center
MCU/HUI enabled DAW Command Center lets you totally master your creative environment. This great little control hub lets you play, pause, stop, record, toggle your metronome, and fast travel around your project. Take a break from the screen and focus on the music.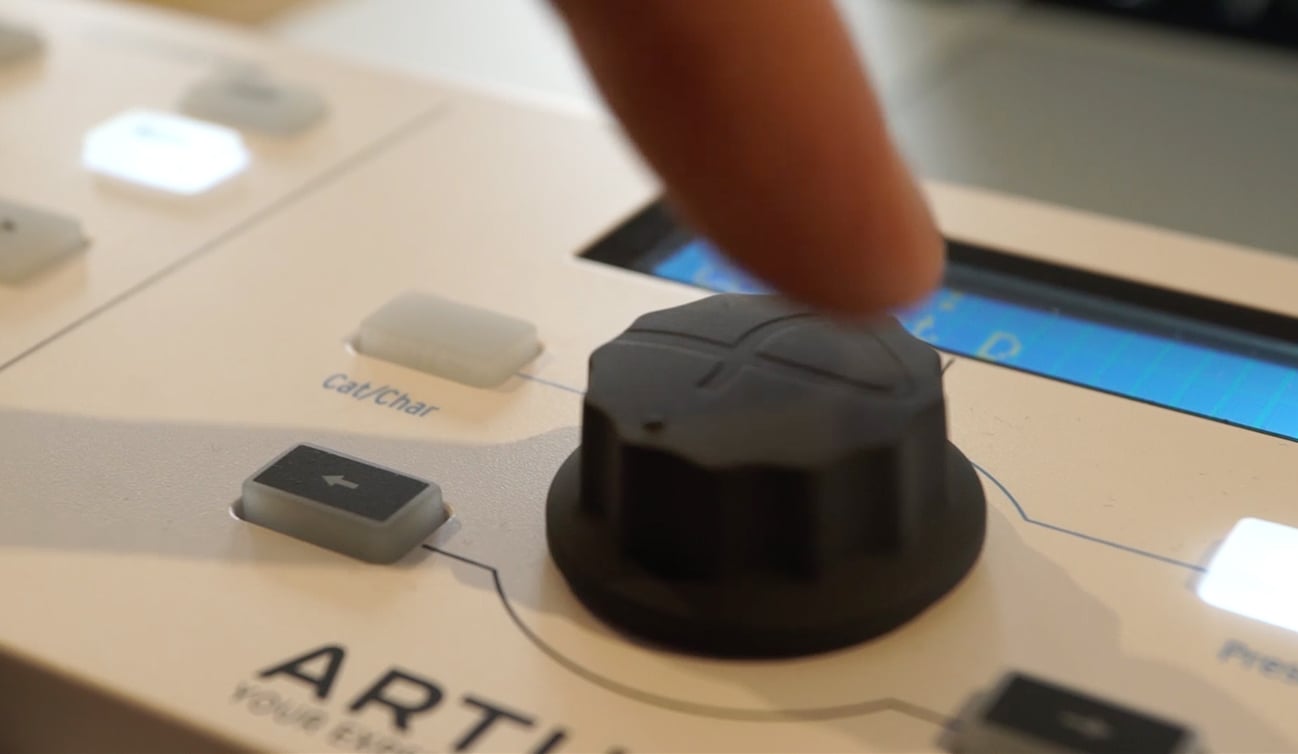 Extras
KeyLab Essential packs a smart and effective twin-line LCD display to let you know the right info when you need it such as your presets and parameter info. In user memories, you can even customize the label it displays for each knob and fader. Just underneath is the preset remote for Analog Lab and all the other Arturia instruments. Your mouse will maybe miss you, not the opposite.
KeyLab Essential makes your musician life easier, your creative work more effective, and your track more mind blowing than ever.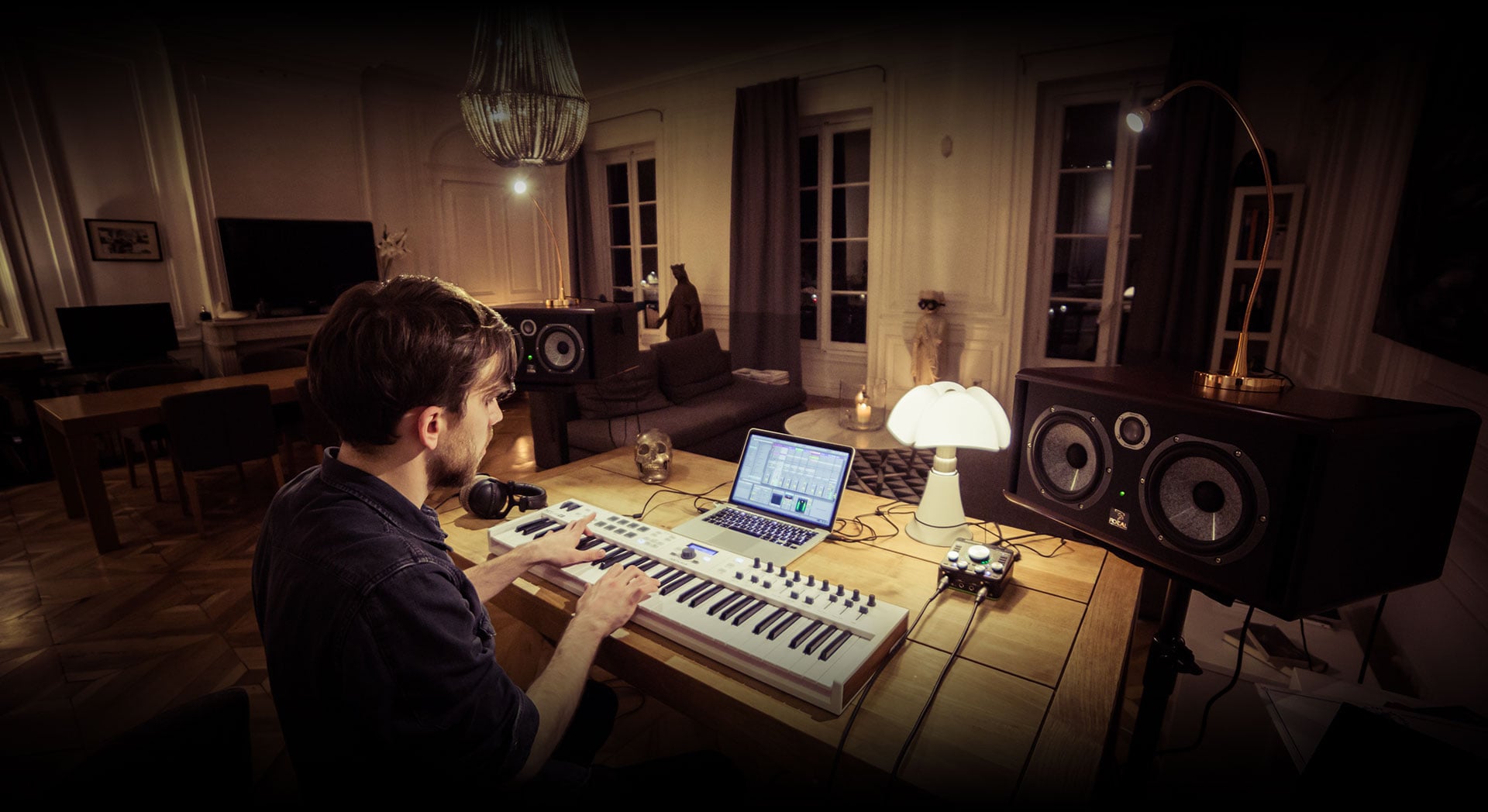 Analog Lab included
Imagine conveniently having all the keyboard and synth sounds you need for a gig or session all in one place on your computer. No racks. No stacks.
Analog Lab gives you streamlined tag-based access to 6500+ of the hottest presets from our award-winning V Collection of 17 faithfully modeled legendary classic keyboards — including combinations and effects. Each preset automatically maps the most important sound parameters to your KeyLab Essential for intuitive tweaking and performance control, and you can easily custom map to any controllers via the MIDI Learn feature. You can even save the presets you need for a gig into a playlist to step through during your sets.
The fiery leads, voluptuous pads, vivid sequences and abyssal basses of Analog Lab will let you discover the keyboard addict that is within you.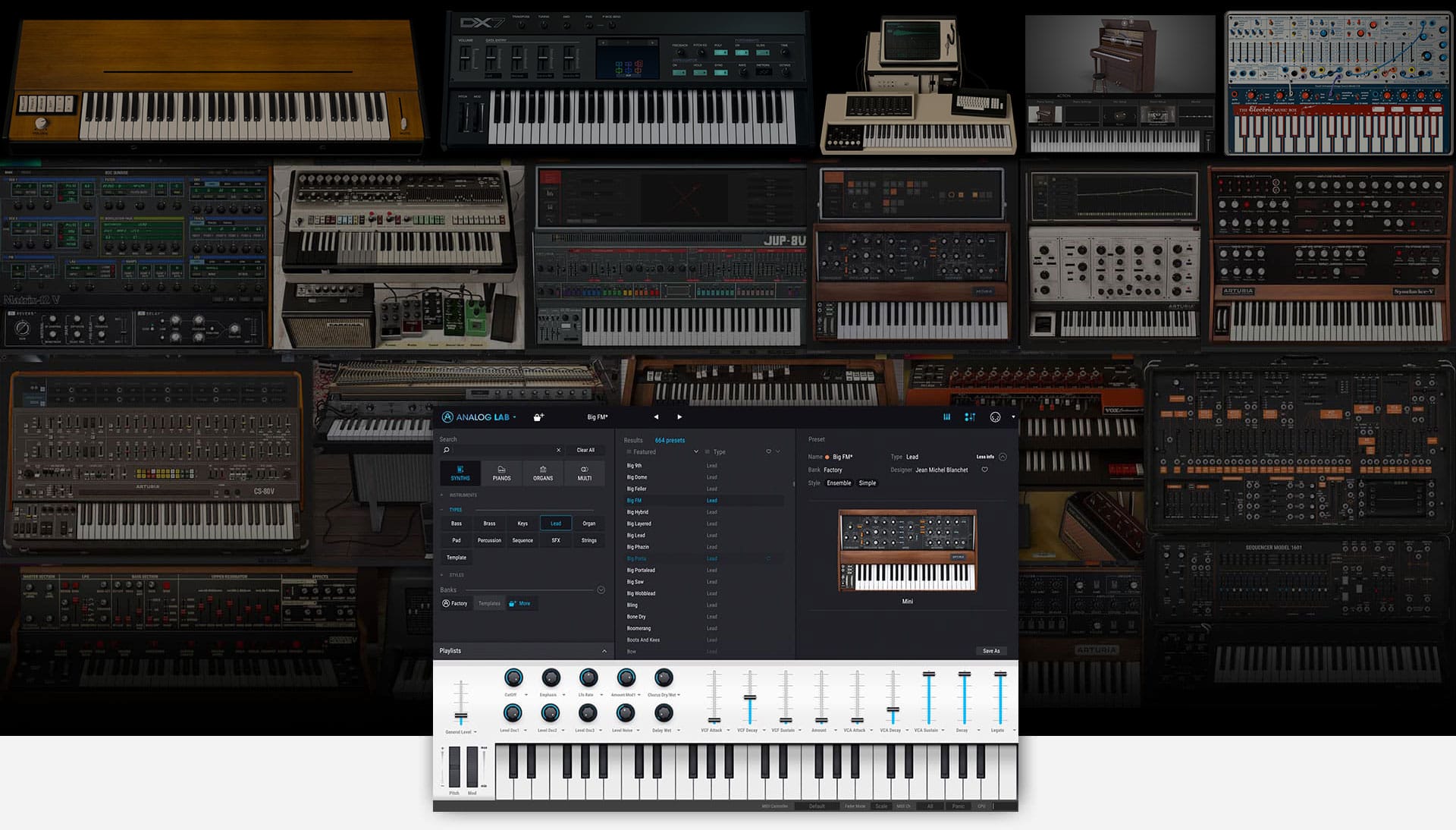 More incredible software
KeyLab Essential comes with a veritable treasure trove of high quality music software.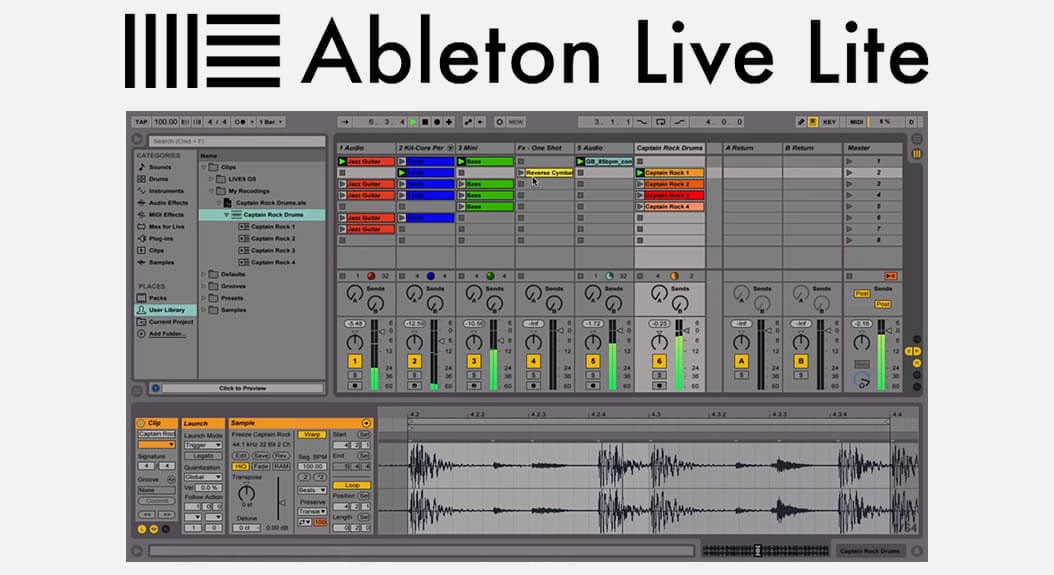 Your very own recording studio
An introduction to the world of Ableton Live, a high-powered software suite used by top producers, DJs, performers, and remixers. Track your ideas, layer your sounds, apply effects, warp your audio, and take full control of its in-built drum machines and software effects to create full, complete tracks.
Best of all, Live Lite is fully compatible with KeyLab Essential, with every knob, fader, and pad automatically assigned to the most important features. Use the DAW Command Center to intuitively control playback without using your mouse of keyboard, letting you stay focused on the task at hand.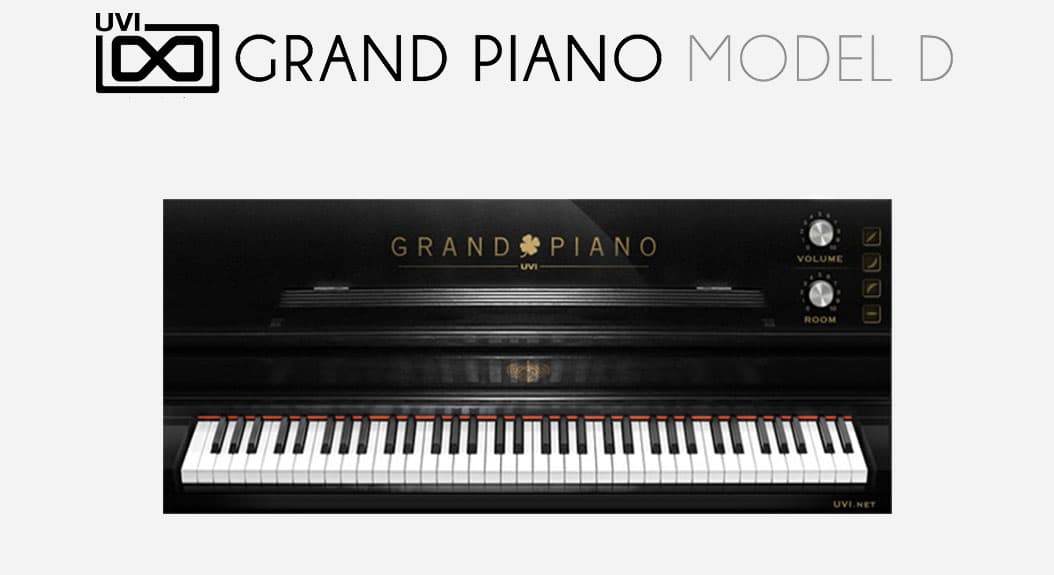 A stunningly sampled piano legend.
Straight from the world's greatest concert halls and recording studios, KeyLab Essential also includes an exquisitely recreated Steinway Model D grand piano, sampled in exquisite detail, ready for you to play, and free of charge.
By its richness of its tone and its accuracy, the illustrious Model D has delighted the most demanding piano virtuosi, sublimating the greatest pieces in the music history. It could do wonders in your tracks.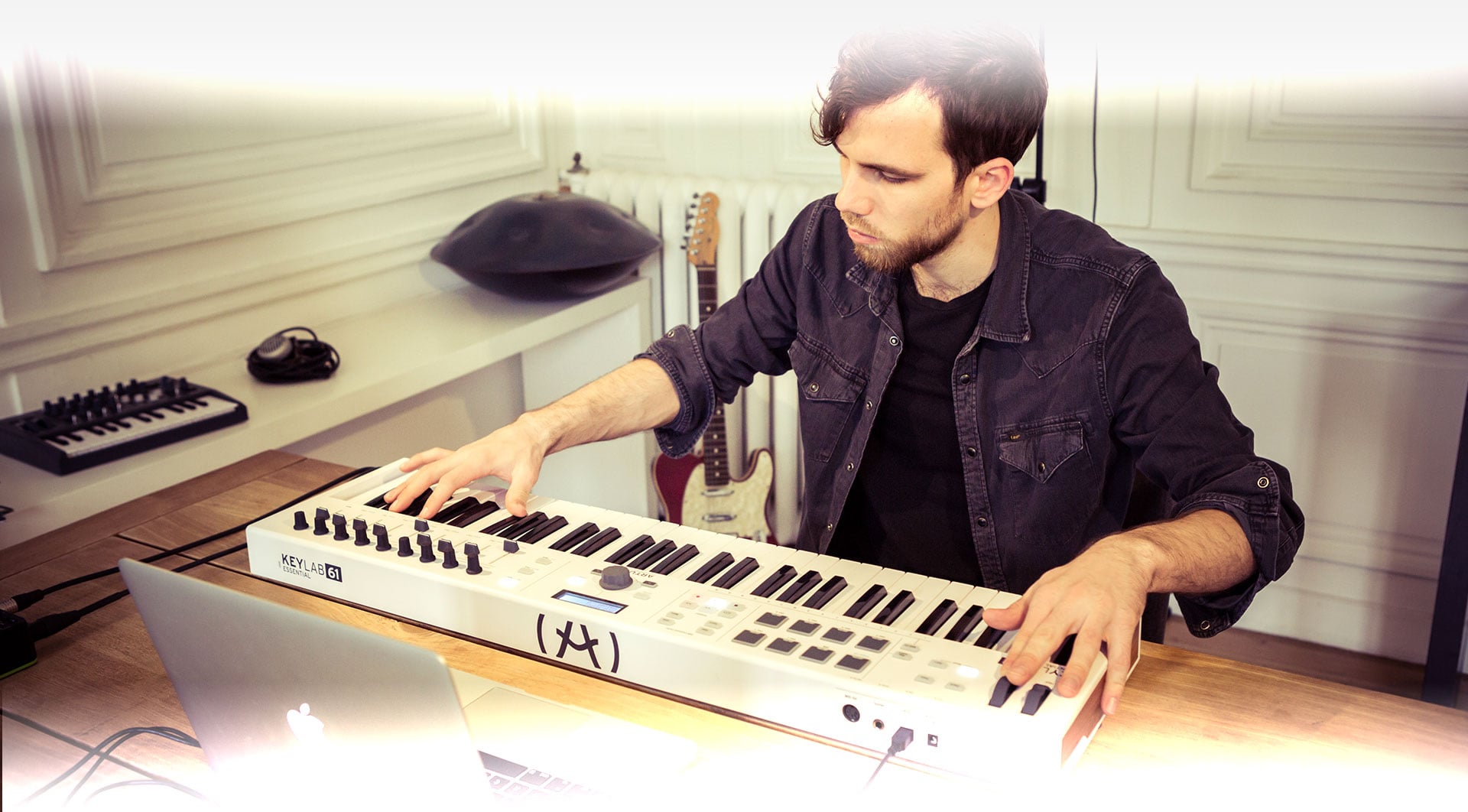 Designed with you in mind
KeyLab Essential is forward-thinking, modern hardware with incredible flexibility. As a creator, focus on creating. Constraints? Compatibility? We already took care of this.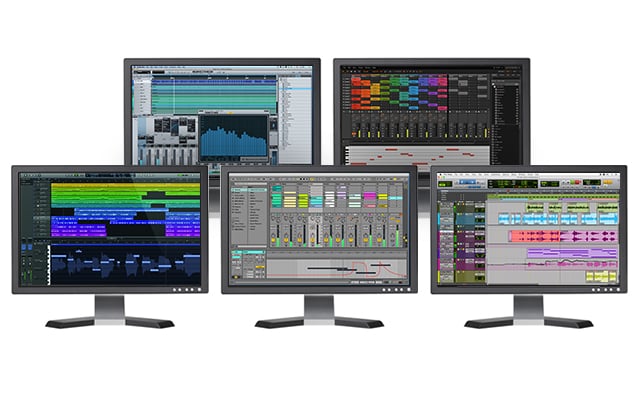 Blending power with simplicity, and functionality with connectivity, our designers have created a controller that can truly become the backbone of your studio. KeyLab Essential's DAW Command Center uses both MCU and HUI protocols: two popular data languages that let hardware instruments and DAWs communicate with each other. This means that you'll be able to go beyond the potential of standard MIDI and use its transport controls no matter what recording software you use.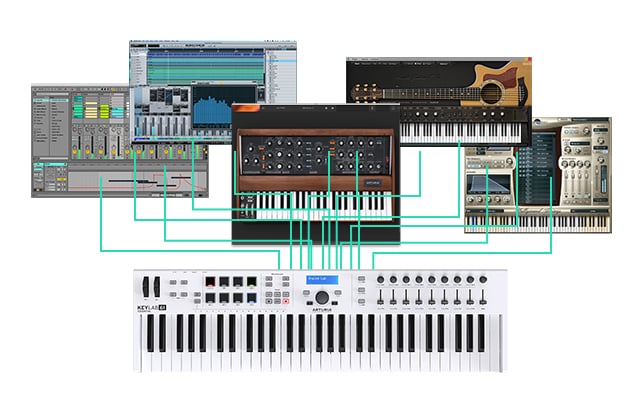 Used alongside the Arturia MIDI Control Center, you are able to create your own unique MIDI mappings, and save up to 6 of them to KeyLab's internal memory. Using this functionality is a great way of tailoring the controls to match the settings of your favorite plug-ins and the rest of your audio environment.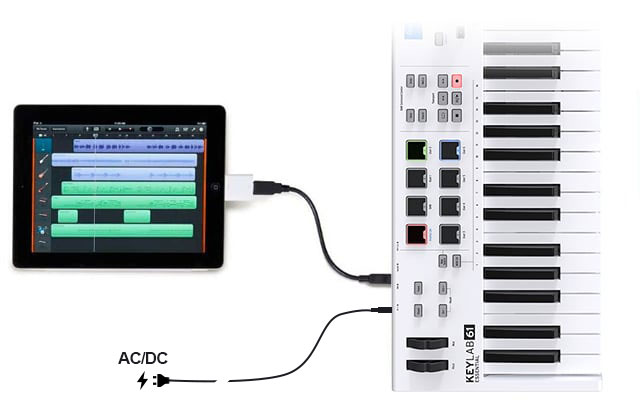 KeyLab Essential is a class-compliant MIDI controller, meaning you can control DAW apps and virtual instruments on your iPad by using a Lightning to USB "Camera Adapter", and on your Android devices using USB.
"I can't do that" isn't a phrase KeyLab Essential understands. With this controller at your side, anything is possible.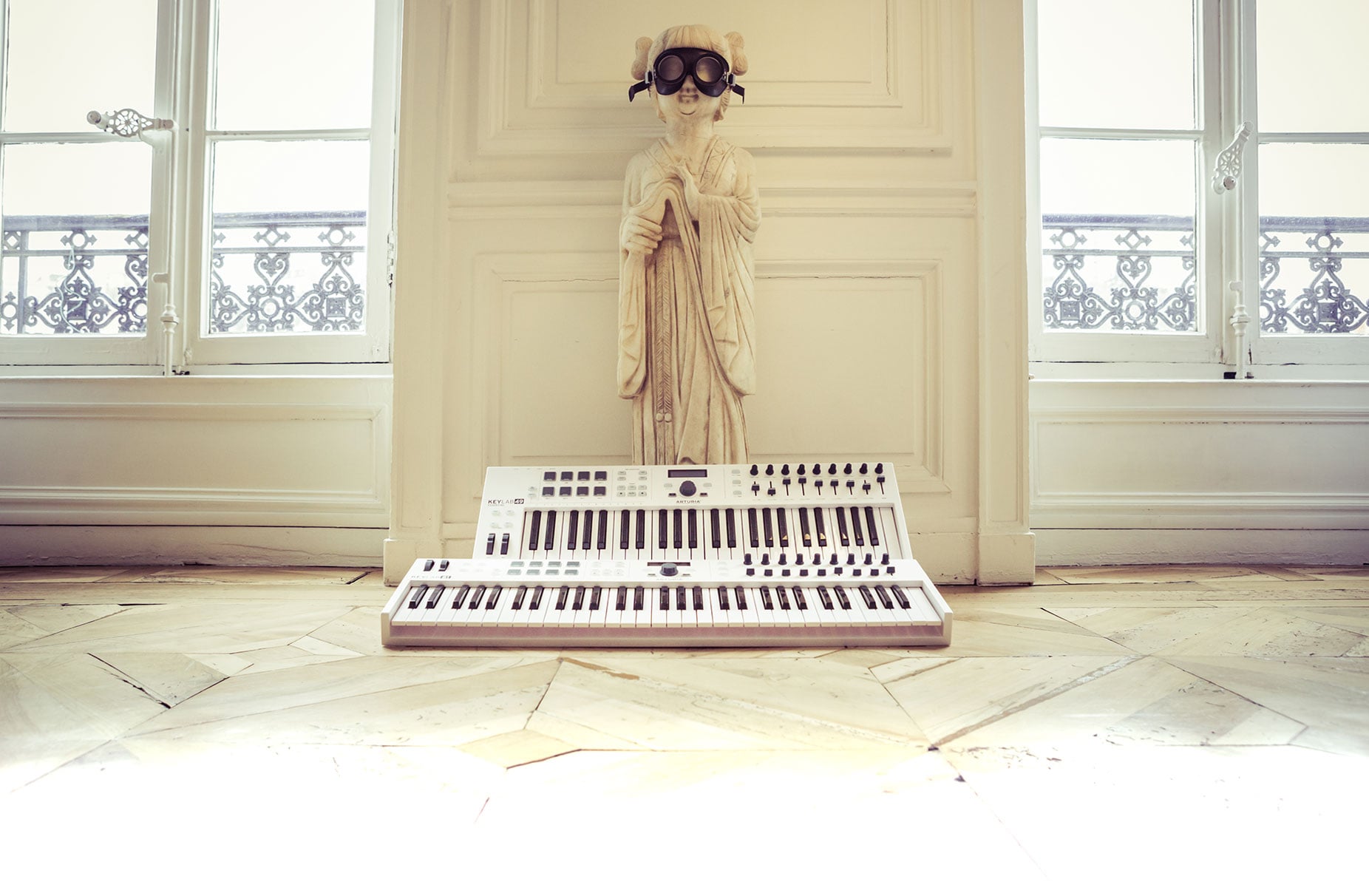 Toughness you can rely on
Durable, yet stylish, KeyLab Essential is designed to withstand the demands of live performance while retaining Arturia's iconic, ergonomic design.
We listened very carefully to our community of musicians, producers, and performers, and created a controller keyboard to suit each of their needs. Dynamic and sensitive enough to capture the nuance of every performance; tough enough to withstand life on tour; and with a streamlined, sleek format. KeyLab Essential delivers incredible functionality, but not at the cost you could expect for this level of quality.
KeyLab Essential will go the distance, ignite your creativity, and make the process of music-making easy and fun.
Platform Requirements
Analog Lab
: Win 7+ PC: 4 GB RAM; 2 GHz CPU.
2GB free hard disk space
: 10.10+: 4 GB RAM; 2 GHz CPU.
2GB free hard disk space
Works in Standalone, VST 2.4 (32-bit and 64-bit), VST 3 (32-bit and 64-bit), AAX (32 bits with PT 10.3.8, 64 bits with PT 11), Audio Unit (32-bit and 64-bit).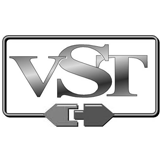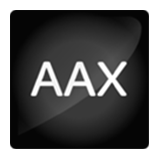 The software is protected by the Arturia Software Center. You can learn more about it here.
Ableton Live Lite
: Win 7+ PC: 4 GB RAM; 2 GHz CPU.
3GB free hard disk space
1024x768 display,
DVD drive or broadband internet connection for installation
: 10.8+: 4 GB RAM; 2 GHz CPU.
3GB free hard disk space
1024x768 display,
DVD drive or broadband internet connection for installation
UVI Grand Piano Model D
: Win 7+ PC: 4 GB RAM; 2 GHz CPU.
3GB free hard disk space
: 10.7+: 4 GB RAM; 2 GHz CPU.
3GB free hard disk space
Works in Standalone, VST, AAX, Audio Unit.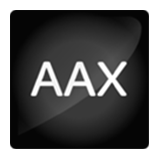 FREE iLok account - not necessarily an iLok dongle, just a free account Internet connection for the license activation
Size & weight
Instrument size : 34,7 x 9,7 x 2,9 inches (882 x 248 x 76 mm)
Instrument weight : 7,2lb (3,3Kg)
Main Features
Software Specifications:

Includes Analog Lab software with 6000 synth sounds
Includes Ableton Live Lite
Includes UVI Grand Piano model D

Hardware Specifications:

61 keys with velocity
Controllers: 1 clickable encoder, 9 encoders, 9 30mm faders, 6 transport switches, 4 command switches, 1 modulation wheel, 1 pitch bend wheel, 8 touch and pressure-sensitive pads
Connectivity: MIDI out, USB, Sustain pedal
Functions as a universal MIDI controller
Twin-line LCD screen
MCU/HUI control compatibility
Chord Play mode

Perfect Analog Lab integration:

Select sounds, browse presets, switch parts, smart-assigned controls.
Standalone or plug-in operation: VST, VST3, AU, AAX.
Over 6,000 TAE® powered preset sounds from Arturia's award-winning V Collection

Ableton Live 9 Lite - record, layer, and edit your sounds to create a finished song.
UVI Grand Piano Model D - Sample-based software recreation of Steinway classic.
Compatible with all major Digital Audio Workstation: Pro Tools, Logic Pro X, FL Studio, Bitwig, Cubase, Ableton Live, Digital Performer, Studio One *
* All product names, trademarks and registered trademarks are property of their respective owners.
Awards