Providing one of the most comprehensive controller experiences in the music industry, KeyLab MkII has been designed to give you unprecedented levels of control while still being ergonomic and simple to use.
The original Arturia KeyLab made waves by giving musicians and producers in-depth command of their MIDI environment, while KeyLab MkII streamlined its functionality by giving you instant access to the features you use most often. KeyLab MkII is the best of both worlds: giving users deep control over their recording and performing environment while being streamlined, easy to master, and fun to use.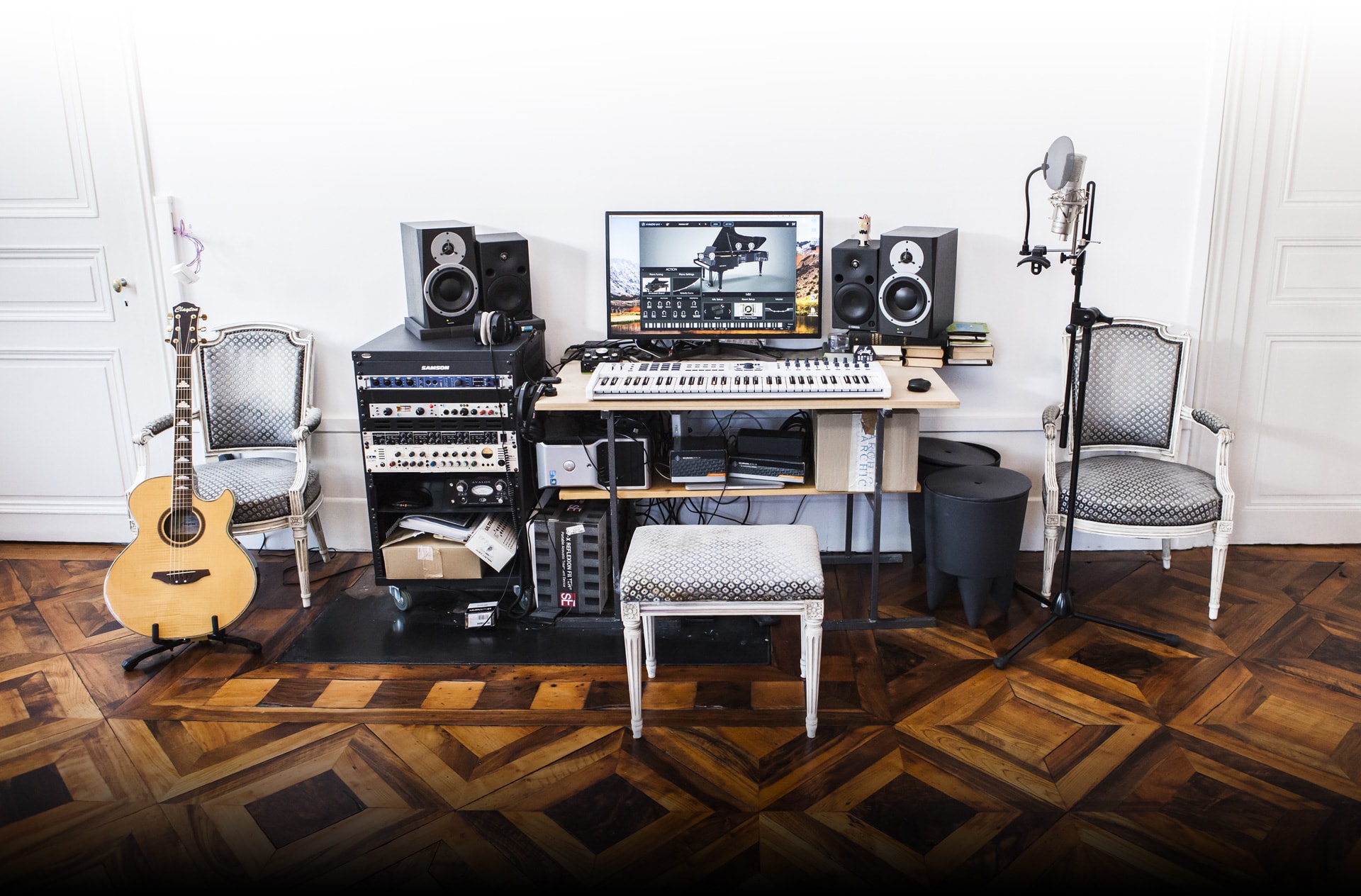 Workflow that works
When you're in the creative zone, you need music tools that encourage you.
Every aspect of KeyLab MkII has been carefully crafted to keep distractions to a minimum, and provide time-saving shortcuts that will keep your mind in the game. KeyLab MkII features three distinct modes that you can instantly switch between for insanely efficient workflow.


Analog Lab Mode
It's Analog Lab mode gives you ultimate control over this powerful included software, automatically mapping KeyLab MkII's controls to specific functions and parameters within Analog Lab. The Category buttons let you immediately refine your search for the right sound, while the jog wheel gives you precise control over preset browsing and selection. The Live button can be used to activate Split mode and set the split point. Choose from three layers of definable controller assignments and Macros within a Multi, giving you the ultimate hands-on Analog Lab experience to bring the sound of those iconic vintage synths and keyboards to life.
DAW Mode
The DAW mode quickly switches control to elements within your recording software. In this mode, the central jog wheel lets you move the playback cursor; the Next and Prev buttons let you shift focus on tracks by 1 or 8 channels at a time; the faders and knobs control the track levels and pan; and the Track Select buttons let you focus on particular tracks, letting you use the extensive DAW Commands on specific tracks.
User Mode
The User mode lets you decide how KeyLab MkII works. Quickly choose one of the 10 User maps using the jog wheel, and practically every button, knob, fader, and pad on KeyLab MkII will react exactly as you choose. Using the full-featured Arturia MIDI Control Center, you'll be able to assign any MIDI CC function you desire to any control you wish, as well as set the minimum and maximum values to make sure you're always hitting the sweet spot. Do you use Massive, Serum, or Omnisphere? Create a map just for them! In a mixing session? Create a map to control your effects and audio busses. Mastering? Get hands on, tactile control of every sensitive parameter in your multiband compressors, EQs, and limiters. You can even use a single map to control your favorite parameters in multiple effects and instruments at once!
DAW Commands
Not only does KeyLab MkII offer thorough DAW control using the industry standard Mackie HUI data language, it also features 10 presets for some of the most popular recording software titles out there. To keep your session free of guesswork, KeyLab MkII also provides you with 6 magnetic DAW overlays, so you'll know exactly what every button does in your recording environment.
This controller includes overlays for Ableton Live, Logic Pro X, Pro Tools, Cubase, Studio One, Reaper, as well as standard Mackie and HUI setups.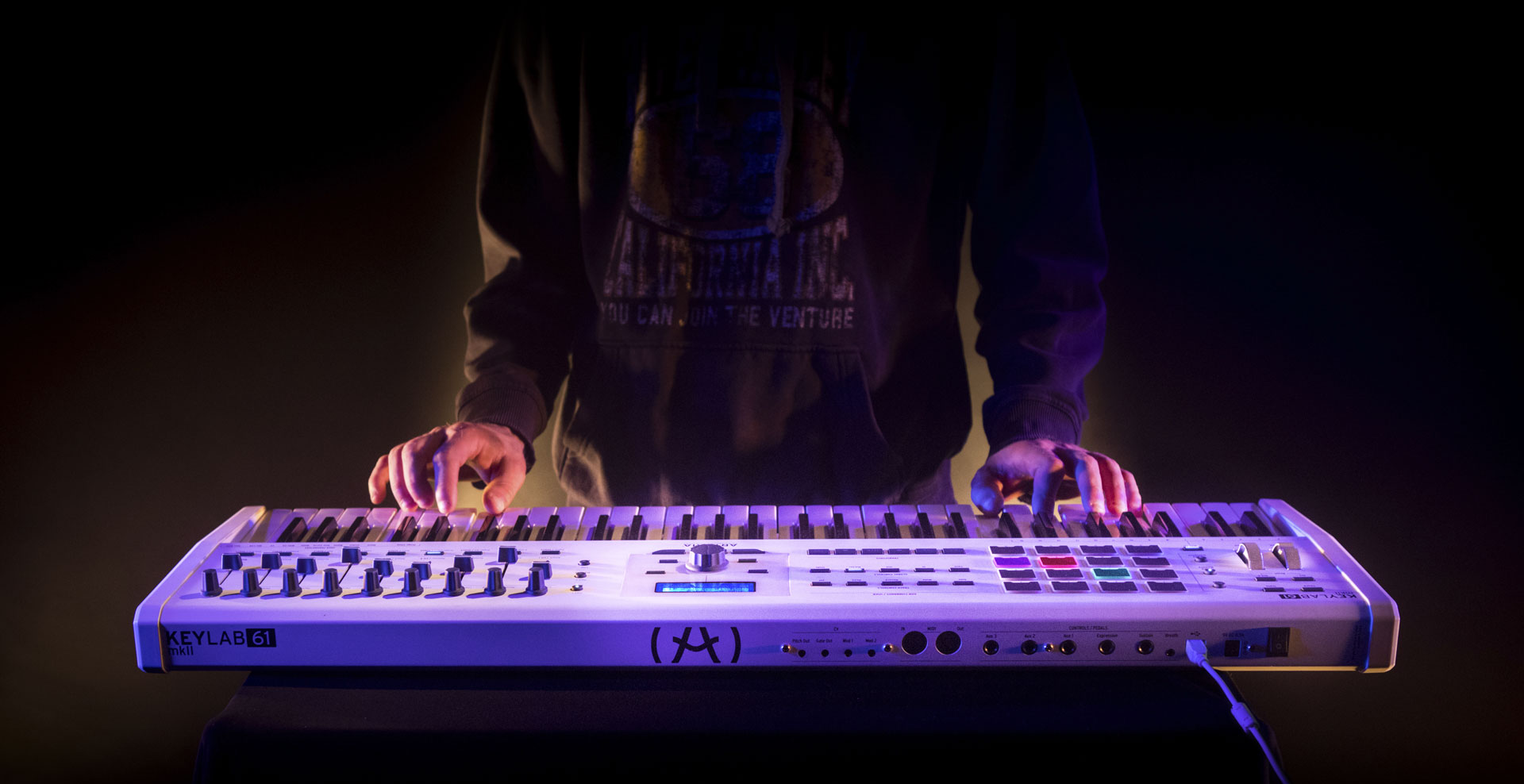 Analog Lab included
Analog Lab gives you the best of 21 instruments that made music history, all in one convenient place.
Analog synthesizers. Digital synthesizers. Acoustic pianos. Electric pianos. Organs. Strings machines. With the best of 21 vintage instrument reproductions on tap, Analog Lab lets you transcend time and style by arming you with everything from the most iconic sounds of the past to modern sound designs that are cutting edge today. Whether you're composing, recording or performing, over 6500 sounds cover every song, genre, mood and ambience you can think of—no programming required. Use it standalone or with your favorite DAW.
Unleash the sonic power of keyboard history's greatest hits for your musical adventures.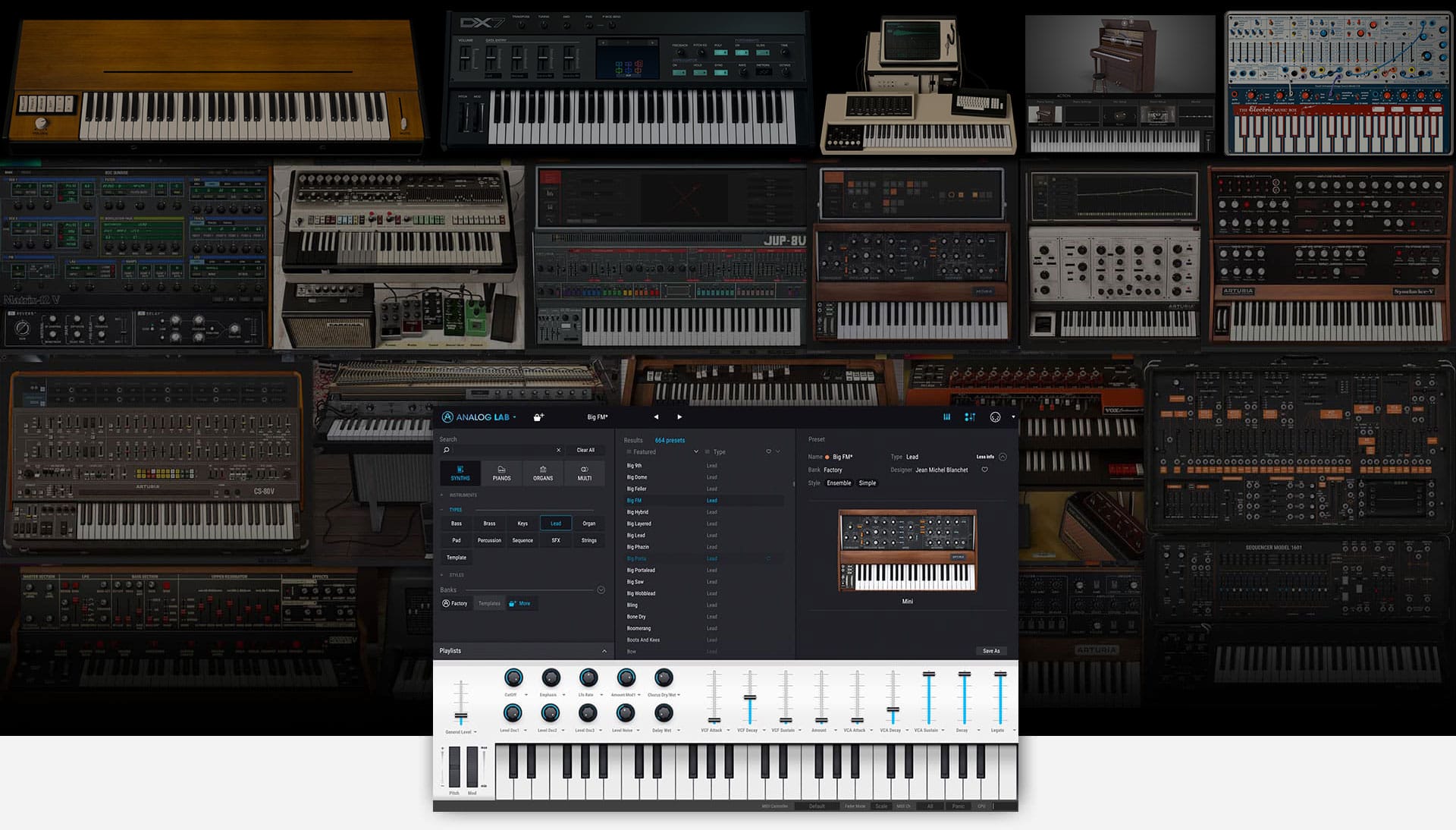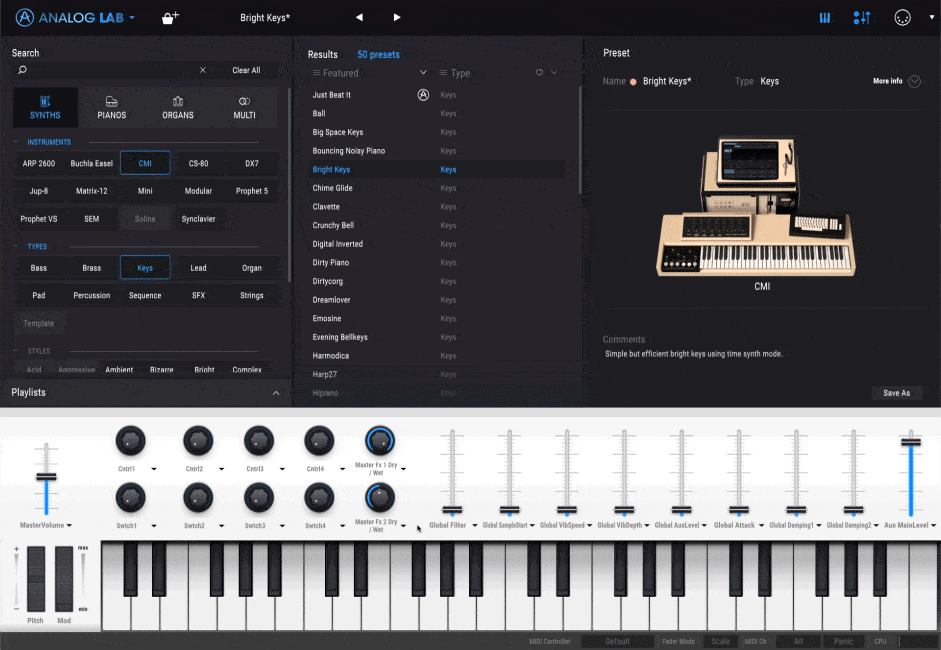 More incredible software
KeyLab MkII comes with a veritable treasure trove of high quality music software.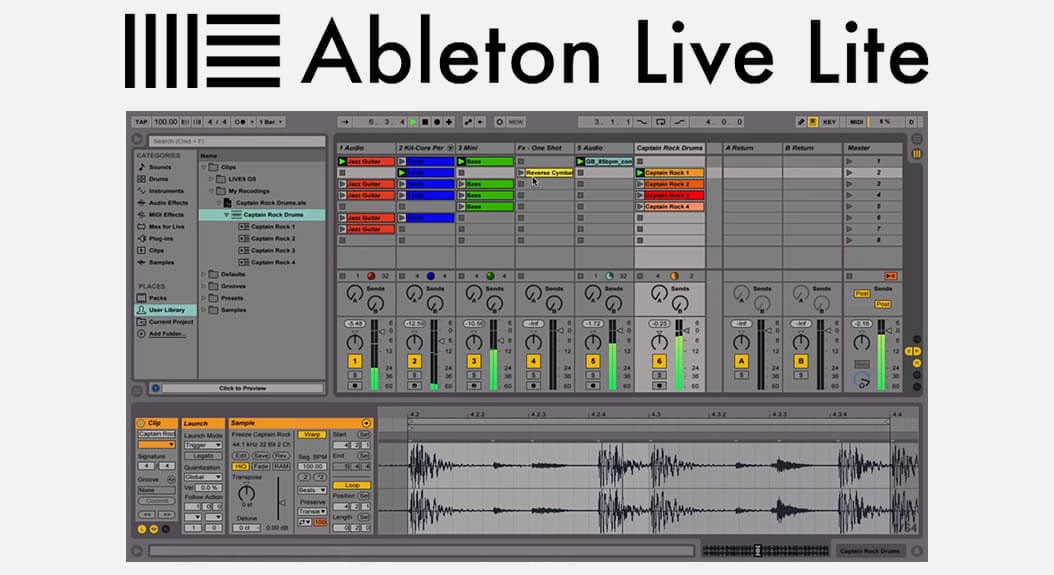 Your very own recording studio
An introduction to the world of Ableton Live, a high-powered software suite used by top producers, DJs, performers, and remixers. Track your ideas, layer your sounds, apply effects, warp your audio, and take full control of its in-built drum machines and software effects to create full, complete tracks.
Best of all, Live Lite is fully compatible with KeyLab MkII, with every knob, fader, and pad automatically assigned to the most important features. Use the DAW Command Center to intuitively control playback without using your mouse of keyboard, letting you stay focused on the task at hand.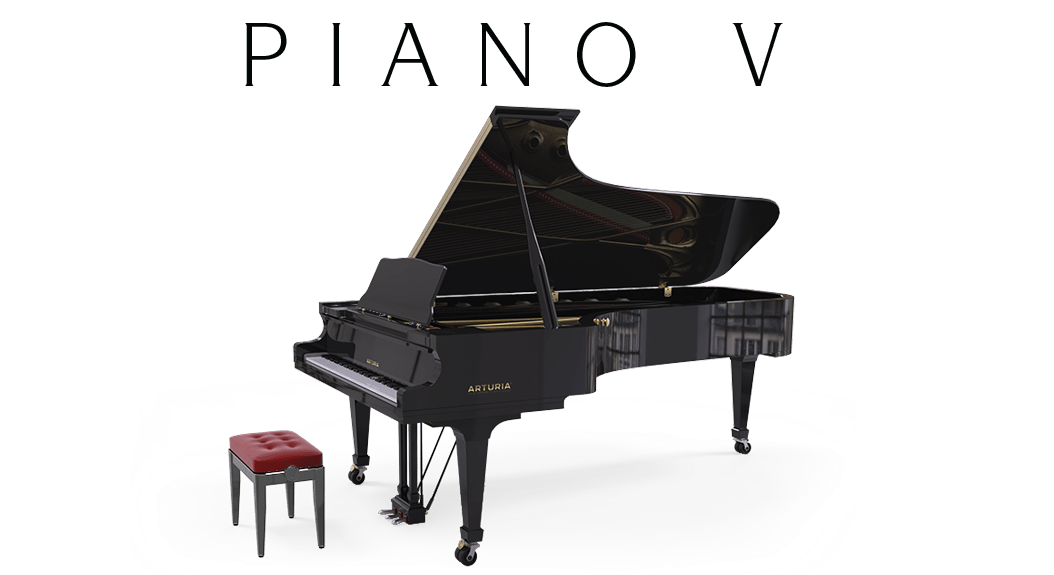 An essential instrument for any songwriter's sound palette.
Letting you make full use of KeyLab MkII's expressive keybed, Piano V is a comprehensive piano software suite that uses the power of Arturia's Phi physical modelling to recreate legendary acoustic pianos. Put the sound of a legendary German concert grand in your tracks, or use a contemporary Japanese model to add some bite. There's even more esoteric instruments made possible through the magic of physical modelling like glass and metal, and every instrument features full control of multiple parameters to hone the sound of your ideal instrument.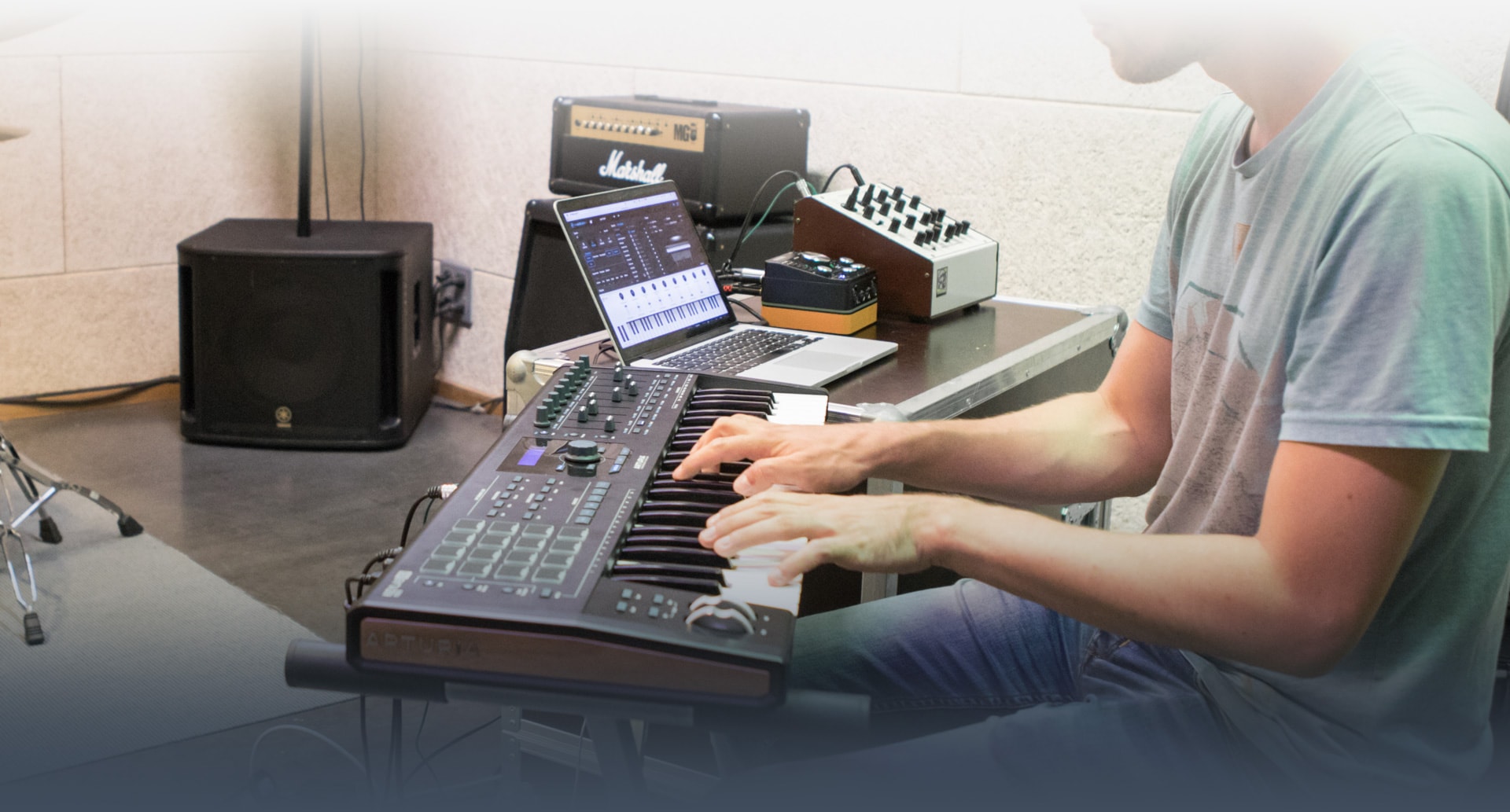 Modular control
Lovers of vintage synth gear and modern Eurorack modular, we have something special in store for you.
KeyLab MkII's modular options let you unite the worlds of MIDI and CV / gate like no other controller out there, and give you huge scope for integrating your modular gear with your DAW.
The rear panel includes five control voltage connections: Pitch Out, Gate Out, 2 Mod Outs and CV In. The CV outputs can be used to send control voltages and triggers to a modular synthesis system, while the input can be used to receive incoming control voltages and turn them into MIDI data that in your DAW. The voltage range can quickly be defined using the quick access "User Edit" mode, or through the free, dedicated hardware hub Arturia MCC.
Thanks to this connectivity, KeyLab MkII can interface with practically any kind of music-making technology, letting you use external modulation sources for plug-in instruments in your DAW, like Analog Lab. You can also start to integrate your modular setup into your software projects by sending perfect, automated data to your modular gear. This level of control is what KeyLab MkII is all about.

Performance master
KeyLab MkII's RGB-backlit, touch and pressure-sensitive pads are not only the perfect surface for finger-drummer or triggering samples, they will also open up exciting new ways of performing with chords. The pads can be used in 3 different modes: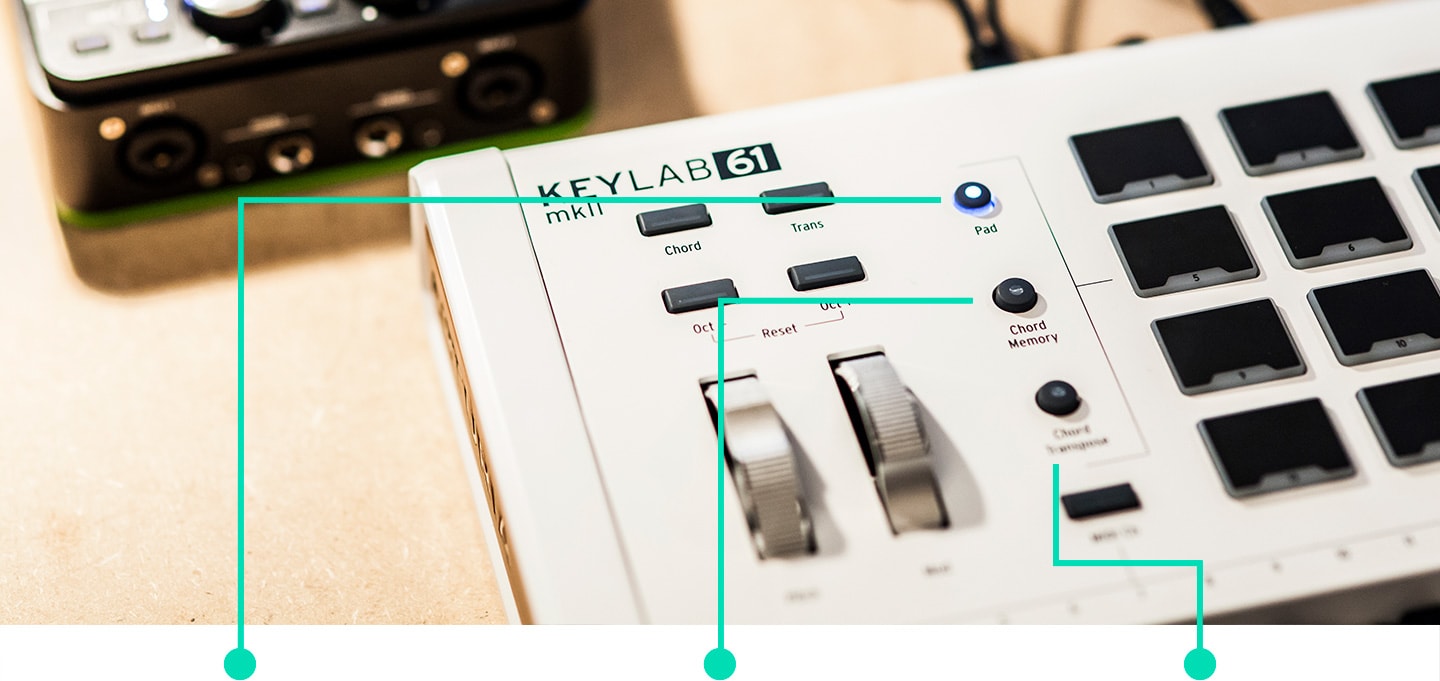 Pad Mode
The Pad mode is used to send MIDI notes or CC data, depending on how you've assigned it in the MCC. The dynamic, high-quality pads are great fun to perform and record percussion, and the colours can be assigned to specific pads to make it clear what type of sound, sample, or loop you're triggering.
Chord Memory
KeyLab MkII's Chord Memory mode lets you store up to 16 unique chords, each containing up to 6 notes. This can be easily be set using the controller itself, or the Arturia MCC. Using this mode, you'll be able to trigger chords with your left hand and play a melody on the keyboard with your right hand. You'll be able to enjoy some factory preset chords straight away, too!
Chord Transpose
The Chord Transpose mode is a little more advanced, letting you trigger chord shapes selected by the pads when playing notes on the keyboard. The note selected is played as the route note, and the pad you choose builds the chord around it. The creative potential this gives you is huge, letting you experiment with harmonic overtones in your polyphonic lead sounds, create evolving, drifting pads, and much, much more.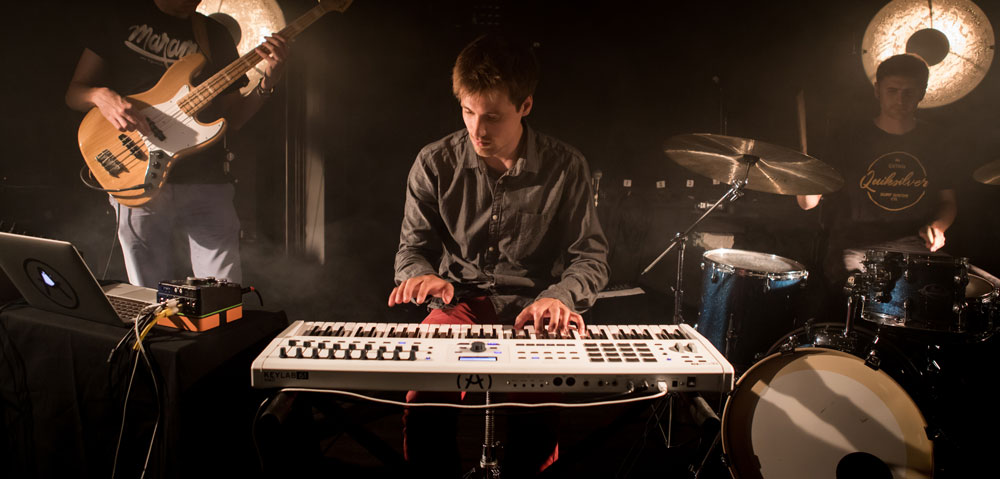 Tour-ready
KeyLab MkII isn't just a luxurious statement piece for your studio, it's been built to withstand the rigors of live performance and last you a lifetime. Housed in a rugged aluminium chassis, and furnished with robust fixtures, KeyLab MkII is ready to perform show after show, gig after gig, and give you the dependability you need to be confident in your performance.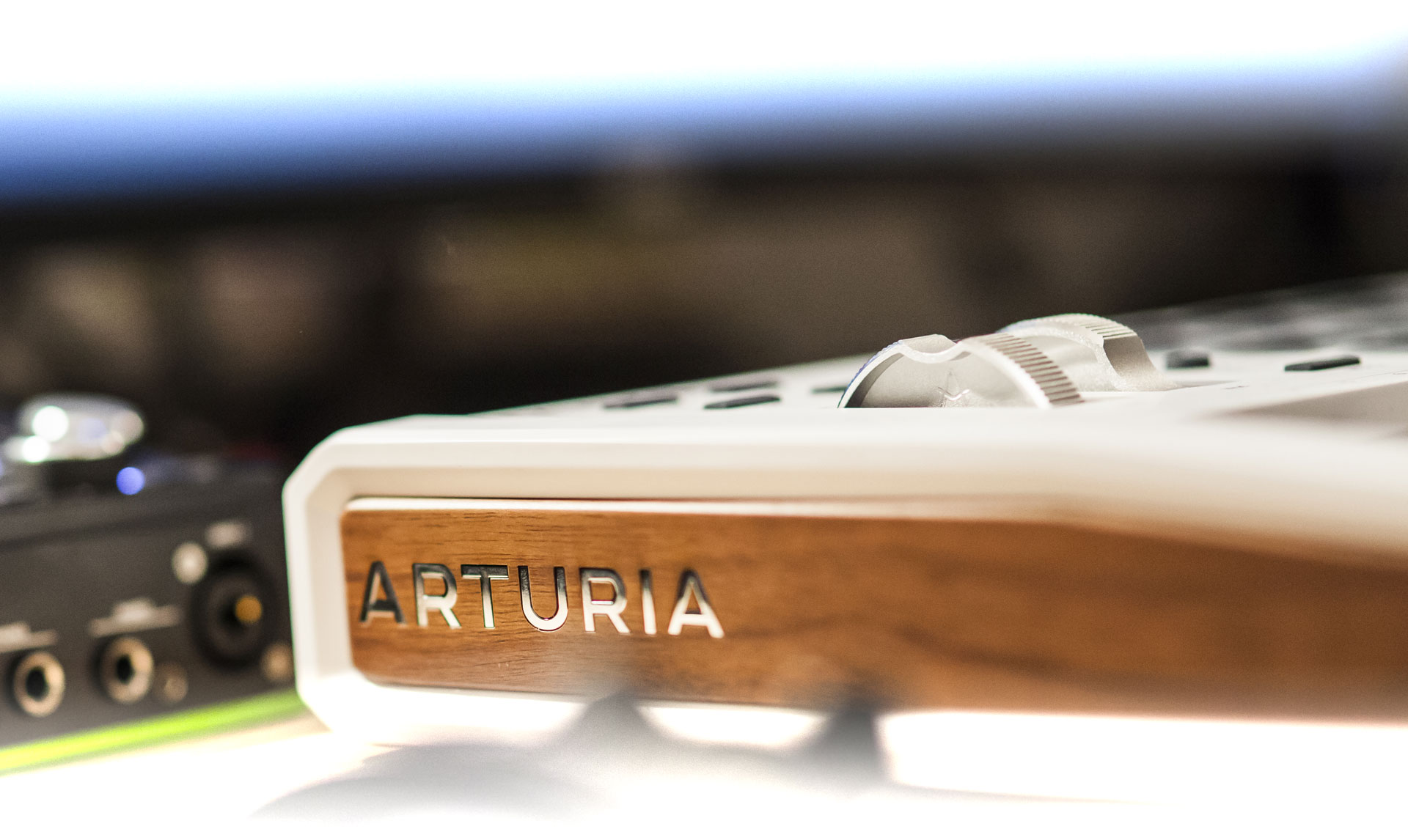 Ultimate expression
KeyLab MkII doesn't just offer comprehensive control, it's also a joy to play, and creates an intuitive bridge between your creativity and your computer music environment.
The fantastic Arturia Pro-Feel keybed has a gorgeous semi-weighted action that's fast enough synth lead solos and organ sweeps, but tactile and responsive enough for traditional piano players to really appreciate the quality. Sportin the same keys as Arturia's flagship hardware synthesizers MatrixBrute and MiniBrute 2, you'll love playing on arguably the most luxurious synth-action controller on the market.
KeyLab MkII's back panel sports a wealth of pedal inputs too, and can be geared up to offer unmatched control in the studio and on stage. On top of the usual sustain and expression pedal inputs, you'll also find three - yes, three - auxiliary pedal inputs that can be assigned in the Arturia MCC. Maybe you'd like to control amp gain, tremolo speed, and keyboard balance when you're using an organ VST instrument like you'll be able to find in Analog Lab 3? No problem. If you're a guitarist who uses amp simulation on stage, can you imagine how incredible it would be to be able to have dedicated pedals for your wah, volume, and reverb levels? Whatever custom creative setup you can imagine, KeyLab MkII can make it happen.
Main Features
Software Specifications:

Includes Analog Lab software with 6500 synth sounds
Includes Ableton Live Lite
Includes Piano V

Hardware Specifications:

49 & 61 key options available, each with high quality keybed with velocity
16 RGB-backlit performance pads
Control bank with 9 faders and 9 rotary knobs
Control modular equipment with 4 CV/Gate outputs, controlling pitch, gate, and modulation

Seamless integration with all Arturia software instruments
Presets for multiple DAWs, with magnetic overlays for controls
Huge connectivity, including expression, sustain, CV/Gate, MIDI, USB and 3 assignable auxiliary pedal inputs
Perfect Analog Lab integration:

Select sounds, browse presets, switch parts, smart-assigned controls.
Standalone or plug-in operation: VST, VST3, AU, AAX.
Over 6500 TAE® powered preset sounds from Arturia's award-winning V Collection

Ableton Live Lite - record, layer, and edit your sounds to create a finished song.
Piano V - Twelve different world-class pianos meticulously crafted using our critically acclaimed modeling technology.
Compatible with all major Digital Audio Workstation: Pro Tools, Logic Pro X, FL Studio, Bitwig, Cubase, Ableton Live, Digital Performer, Studio One *
Available in Black or White
Platform Requirements
Analog Lab
: Win 7+ PC: 4 GB RAM; 2 GHz CPU.
2GB free hard disk space
: 10.10+: 4 GB RAM; 2 GHz CPU.
2GB free hard disk space
Works in Standalone, VST 2.4 (32-bit and 64-bit), VST 3 (32-bit and 64-bit), AAX (32 bits with PT 10.3.8, 64 bits with PT 11), Audio Unit (32-bit and 64-bit).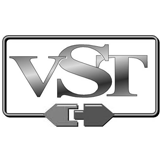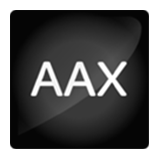 The software is protected by the Arturia Software Center. You can learn more about it here.
Piano V
: Win 7+ PC: 4 GB RAM; 2 GHz CPU.
2GB free hard disk space
: 10.10+: 4 GB RAM; 2 GHz CPU.
2GB free hard disk space
Works in Standalone, VST 2.4 (32-bit and 64-bit), VST 3 (32-bit and 64-bit), AAX (32 bits with PT 10.3.8, 64 bits with PT 11), Audio Unit (32-bit and 64-bit).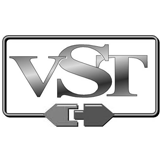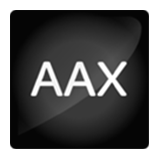 The software is protected by the Arturia Software Center. You can learn more about it here.
Ableton Live Lite
: Win 7+ PC: 4 GB RAM; 2 GHz CPU.
3GB free hard disk space
1024x768 display,
DVD drive or broadband internet connection for installation
: 10.8+: 4 GB RAM; 2 GHz CPU.
3GB free hard disk space
1024x768 display,
DVD drive or broadband internet connection for installation