Firmware Update v1.1
The producer's choice, fine-tuned.
Total expressive control, unparalleled value. MiniLab MkII lets you create instant music right out the box - and we want to make sure that you're getting the most out of it.
This free update makes MiniLab MkII's interface and workflow more intuitive, tactile and precise than ever - so you can focus on your creative process. Here's what's included:
Update your Firmware

Improved control accuracy
Responsive controls are crucial to inspiring music creation. We've adjusted MiniLab MkII's knobs to be more accurate and sensitive to subtle tweaks - capture every detail of your sound.

Enhanced Pitch Bend
The Pitch Bend touch strip is an essential expressive component. We've made it even smoother than before, with greater note accuracy, for effortless slides and bends.

Configurable pad backlighting
RGB feedback on MiniLab MkII's pads has been refined. Pads remain backlit even when not in use, and you can disable individual LEDs without creating new templates.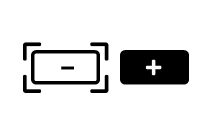 Octave button feedback
We listened to your feedback and changed the Oct- & Oct+ pad LEDs to be fixed rather than flashing. This makes octaves easier to track and the interface less distracting during your performance or session.
Step into the lab
MiniLab MkII is designed to elevate your performance, music product, and sound design to new heights.
Every element has been designed to enhance your creative experience. Beautifully playable mini keys, responsive and durable performance pads, wiggle-free rotary knobs - all wrapped up in a compact, ergonomic, rugged design.
Let's take a closer look at what makes the MiniLab MkII tick...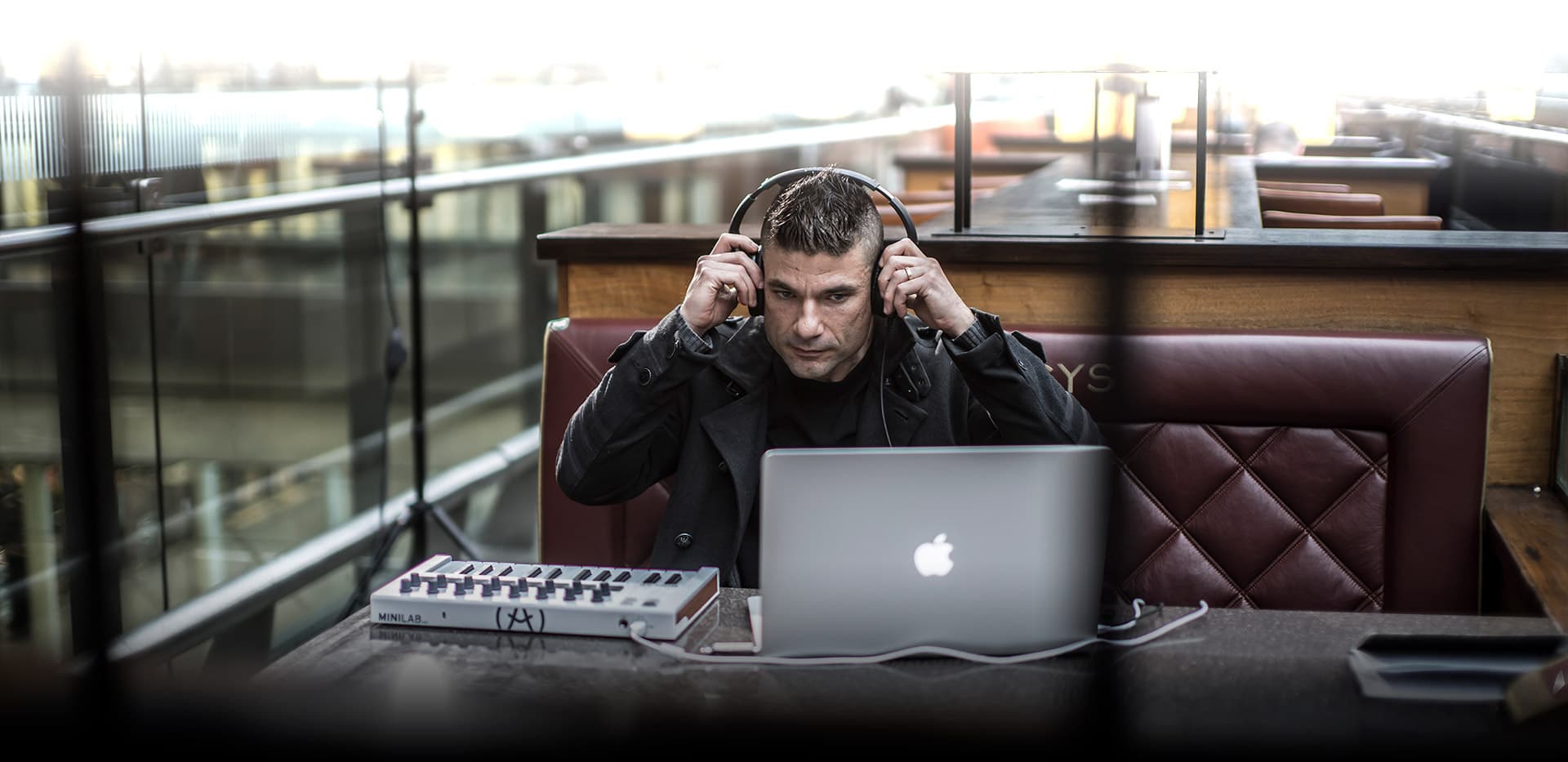 Compact controller, enormous potential
Specially designed to make the most out of its small profile, MiniLab MkII sets a new standard in the portable controller world.

The accessible pads are velocity and pressure sensitive which will give your drums a great, dynamic feel. The pads also feature RGB backlighting to help you clearly identify whether you're launching clips in Live, triggering drum sounds, or tweaking presets in Analog Lab. You can also switch between 2 different internal pad banks, enabling a full 16 drum sounds or audio clips.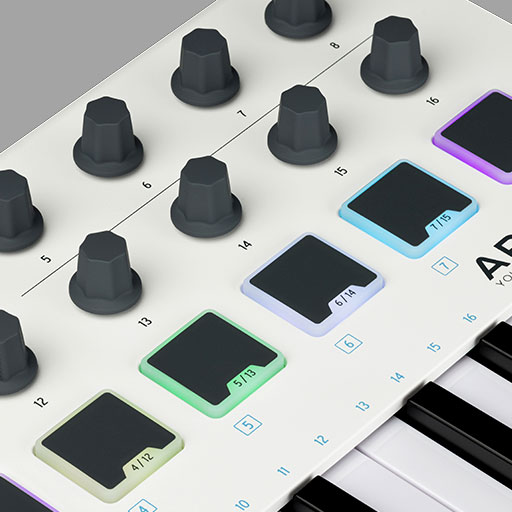 A number of interface design appointments make MiniLab MkII the professional's choice. Easily switch the keyboard octave up and down for full range access using the dedicated buttons; add a pitch bend or modulation using the ultra-responsive capacitive touch-strips; and plug in a sustain pedal to capture that authentic keyboard performance.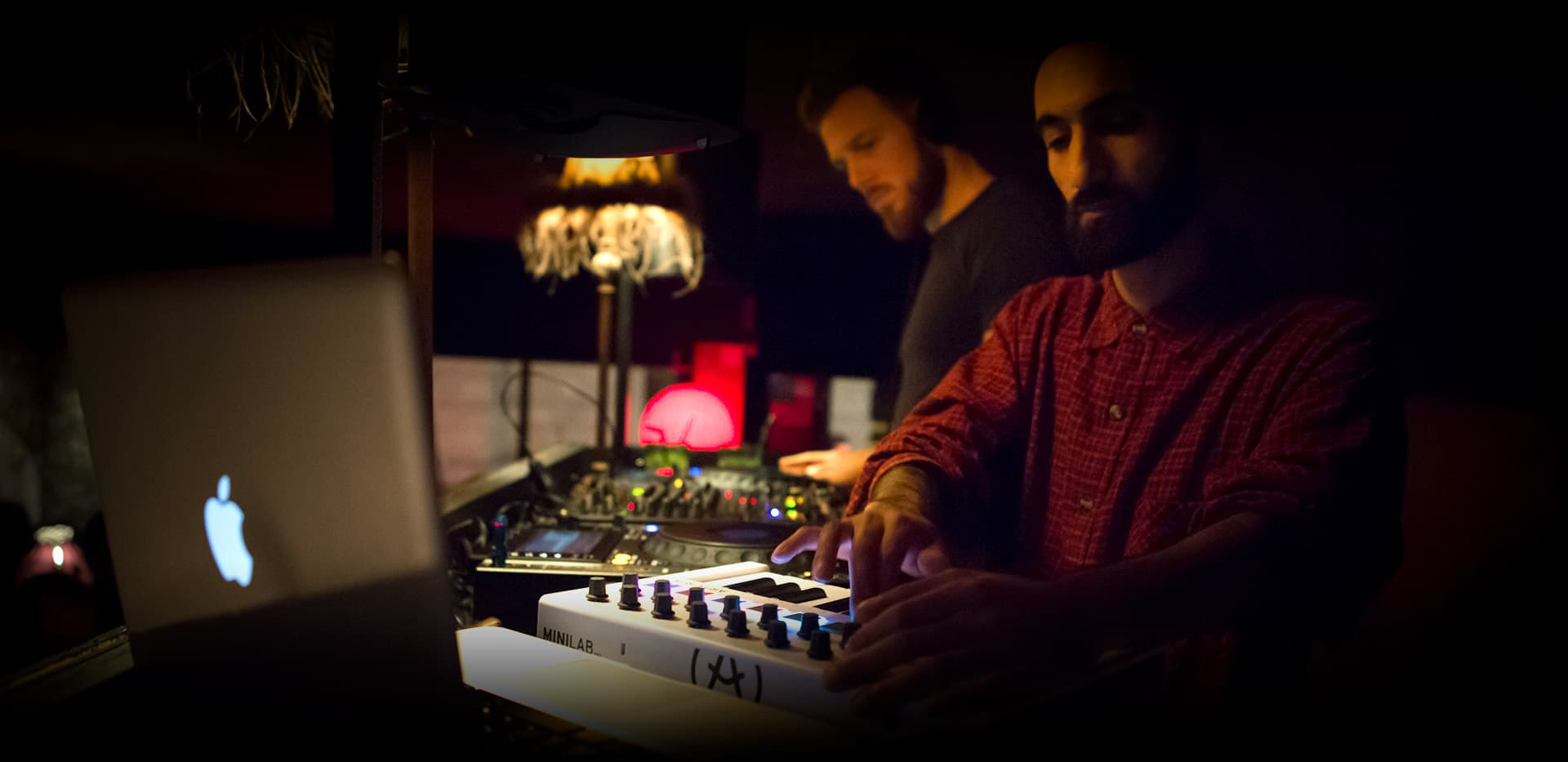 Analog Lab Intro included
Imagine conveniently having all the keyboard and synth sounds you need for a gig or session all in one place on your computer. No racks. No stacks.
Analog Lab Intro gives you streamlined, tag-based access to hundreds of the hottest presets from our award-winning V Collection. You'll be spoilt for choice with 17 faithfully modeled legendary analog synths, digital workstations, organs, string machines and pianos. Each preset automatically maps the most important sound parameters to MiniLab MkII for intuitive tweaking and performance control, and you can easily custom map to any controllers via the MIDI Learn feature. Everything you need for creativity and inspiration is right here in Analog Lab Intro.