JT DALY
Nashville Nights to Title Fights
JT DALY
Nashville Nights to Title Fights
Composer, producer, and musician JT Daly is used to getting his hands dirty in the studio. Now, he's taken on yet another challenge – creating music for ESPN Films' Peabody and Emmy award-winning 30 for 30 series, "Chuck & Tito."
After years recording and touring in Nashville-based band Paper Route, multiple Grammy-nominated producer has been keeping himself busy.
Doing the Paper Route
Writing songs with Paper Route was different every time. The best songs usually came from one of us bringing in an idea and we'd pull it apart and then piece it back together. It was the easiest way we could get something that sounded unique to us - but also was a song. We always tried to keep it so it could be deconstructed down to just a single instrument and the voice.
Writing with Others
That's always the goal, to have fun, it should never feel like a chore. Recently I've spent some time with Arlie (Nathaniel Banks) and have been just blown away with what he has to say- both melodically and lyrically. He is an incredible talent. I'm in LA now with Lynn from PVRIS working on her new album. I love writing with her, and she is a very visual artist and person. There is an aesthetic to everything she does with that band. So if I pull up a drum beat with some chords and tell her to imagine a music video where she's falling in slow motion through the sky… she knows how to approach the vocal melody. We can use almost our own language. It's a special thing when you can understand another artist like that. It helps hunt down the appropriate emotion or feeling.
Like any extensive synth software it might seem daunting, but the Analog Lab was effortlessly incorporated into my creative process. It's never been too taxing on my CPU or hard to use. I don't find myself sifting through 200 decent sounds to find the thing I'm looking for. It's very user friendly and sounds outstanding. It can be used with ease from the surface, or you can "open the hood" and discover the breadth of what the software offers.
Chuck & Tito
The movie is about the two UFC legends Chuck Liddell and Tito Ortiz and how their relationship evolved from friendship to enemies. Micah Brown, the director of the film, reached out to me and asked if I would create the music, and I could tell from just one conversation with him that he was going to make something great. He wanted to explore the psychology of why fighters fight and also why we're drawn to watching it. The one thing that stood out to me was how at the peak of these fighters careers they were almost superheroes, and that's how I wanted to approach the music. Even though it's a documentary, I wanted to treat the score as more of a feature film. Both main characters have 'theme songs' there are some movements that repeat in different styles or on different instruments. I had my engineer (Josh Lovell) sample the sounds of the fights and training. We spent a little over a month just building a catalogue of things to pull from. Then I sort of just locked myself in the studio with the film. The initial cut had 37 original pieces in it. When I started it I had a few friends who had done projects similar tell me it would be one of the hardest things I would have ever done……. and they were definitely correct. It takes a lot of time with all of the edits to the film etc. It was also the first time where I've had to make music that wasn't for me. Whether or not it was stylistically "my thing" or not didn't matter. I had to create something that assisted in telling this story. That was the only thing that mattered.
Building the Sounds
There was one month where I had to travel as I was working on the film and figured I could keep writing by just bringing a MIDI controller and my laptop. A few of the songs I was working on seemed pretty special so when I came back to my studio I opened them up and went to replace the MIDI sounds. I noticed that the only tracks I couldn't beat or replace were the Arturia Analog Lab sounds. I own some of the keyboards the software is replicating and I couldn't even tell the difference. Nothing felt too thin or cheapened. This was kind of early on in the process and from that point on it was in every song. One other huge factor for me was
I could recall sounds with ease and adjust them in no time with each edit of the film. This saved me hours.
I used the CMI, Prophet 5, and the DX7 a lot. The preset options are pretty stellar but the most important thing to me is that it never seemed daunting. Too many options can be crippling to me sometimes. I like to be forced into thinking creatively. If my choices are infinite I rely too much on them. I never had that issue with Analog Lab. It always felt inspired.
Golden Beats
DrumBrute Impact; this machine is insane. I can't talk about it enough. It is so warm, so punchy, so easy to use. It has become a staple in my studio. The pitch control on the kick can turn it into a bass. I used that a lot. And it's fun to play. I know that might sound elementary, but it's so important. The way the pads feel and react is musical. You can perform with it.
You can perform with it.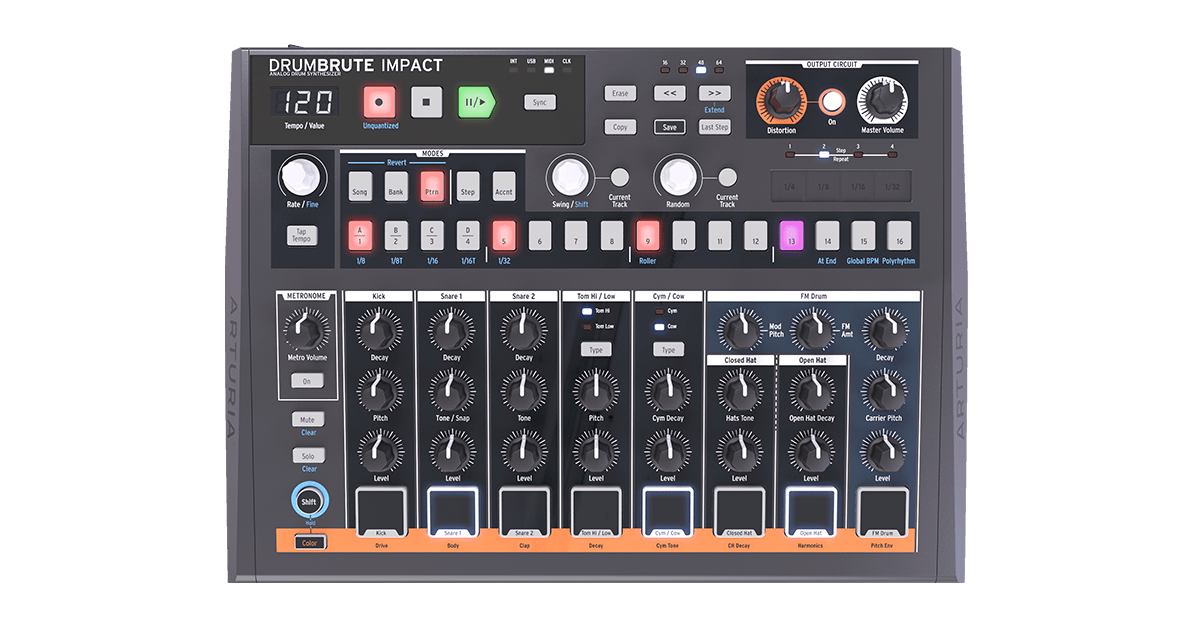 Thank You, Next
I actually have a project coming out early next year that I'm really excited about. My dream album. More info coming soon.