Riccardo Damian
Breaking down pro mixing tips with a Grammy-winning engineer
Riccardo Damian
Breaking down pro mixing tips with a Grammy-winning engineer
Riccardo Damian is a Grammy-winning engineer and producer who's worked with international and British artists, such as Lady Gaga, Miley Cyrus, Mark Ronson, Sam Smith, Jorja Smith, Sampha, and many more. We picked Ricky's brains in his London home studio on how he utilizes FX Collection 2 to reach a flawless, smooth sound in post production.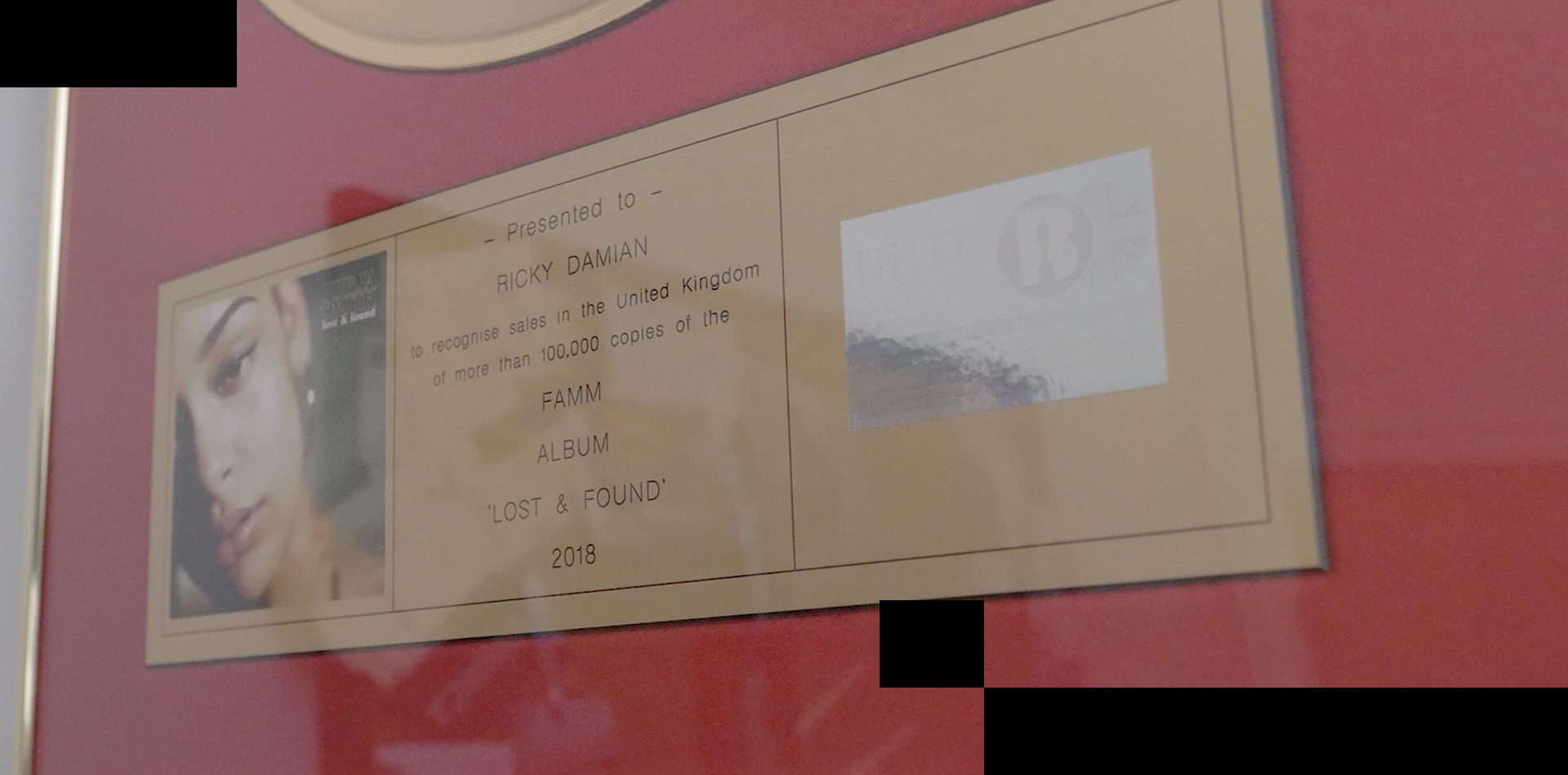 From medieval to analog to digital
Italy is full of beautiful gems - but for Ricky, a solid analog studio was the real lottery win. That's exactly what he's found near Treviso in northeast Italy, where he grew up:
There's a very beautiful private studio there, it's like a big complex in the middle of the countryside with a few control rooms and a big live room, analog desk, tape machines, a lot of Neumann mics, old dbx compressors, 1176s, 78s, all beautiful and vintage. That was the first time I visited a real studio.
Being initiated into the world of music with purely analog tools is a blessing in disguise.
I think the benefit of growing up with analog is you have to use your tools efficiently, especially when you're using tape. You just can't f*ck up, you know? You have to get your sound as good as possible at the source, and you have to EQ, process, and compress to tape. The world of plugins is amazing because at the time, I would have one 1178, that's it. Then I think - okay, where do I use this beautiful machine? What priority do I give to different elements to have it? Now I can have as many as my computer handles, and that's beautiful.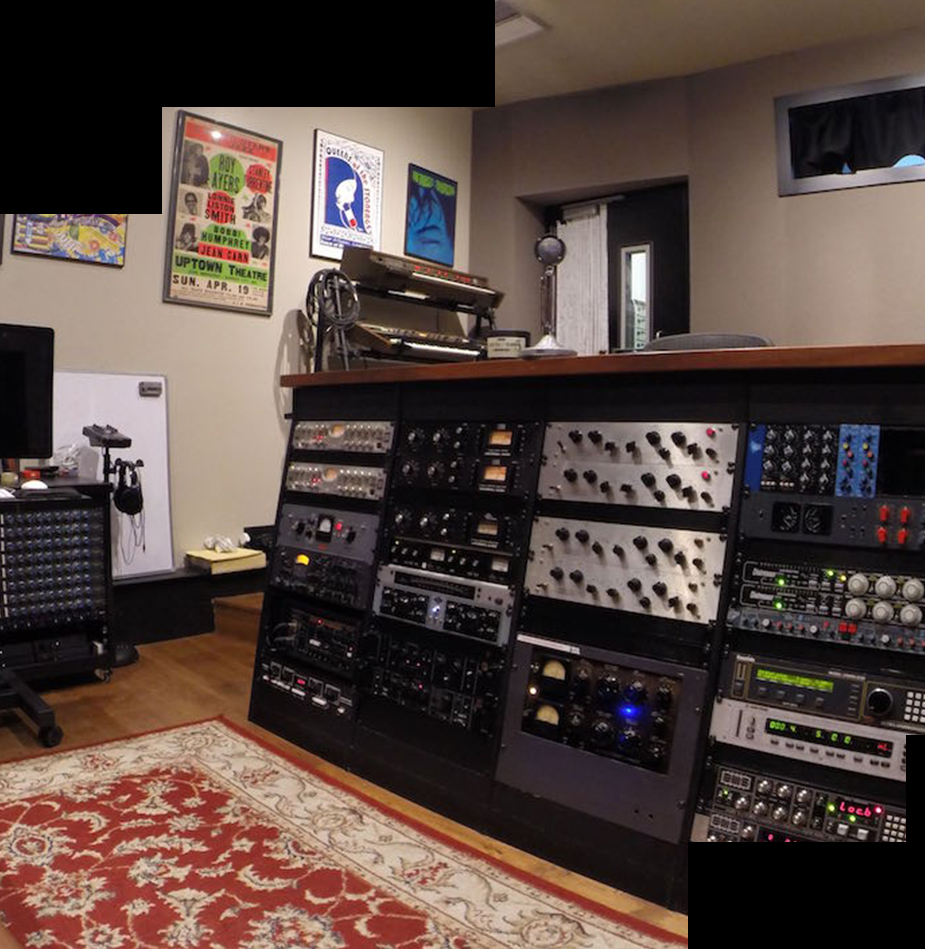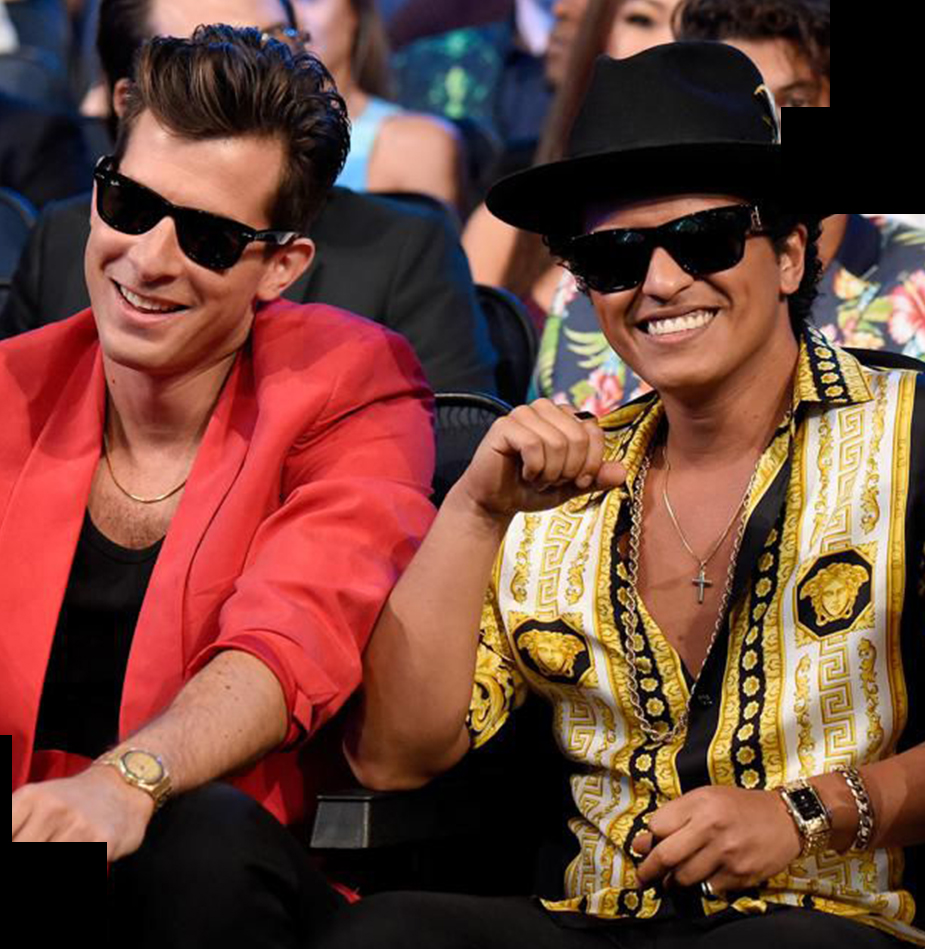 Wordless dialogue
Ricky has worked with Mark Ronson for the past 8 years, starting in 2014. He shares how, over time, they developed an intuitive way of communicating:
It's been a process, it's been an evolution as well, I think we built together an unspoken way of working. And you get to a point when you're working with somebody for so long, you don't even talk anymore, you know what the other person wants and vice versa.
When it's time to record, the two got into an efficient habit as well. They usually have a lot of gear at disposal, and if they don't, they try to recreate it. But the process stays similar - for Ricky, this means walking into a room and thinking ahead:
I know Mark's sounds, I know what he likes and what he doesn't like, what he's likely to want to do, regardless of the session.
Mixer hat on
To dive deep into the power of the FX Collection, Ricky's deconstructed a song by his band Bob and the Apple.
This is a mix I had done in 2017 that I revisited using specifically Arturia plugins, and they're great. Now, my producer hat is off and my mixer hat is on, and I think - what do I need to do to make this smooth?
He lets us in on his mixing secrets and shares he usually begins his mixing process with drums and then moves on to vocals. The drums for this track were recorded with a lot of analog processing, so he's added COMP VCA-65 on the kick and snare.
The reason why I love it is that you get a really crazy attack, going pretty long with it, but then also stop it with a peak stop. In a way, it just brings it all together more, and this helps me control that part of the transient that I don't really need.
He then splits the snare track in two, with one of them being the heavily gated attack controlled by the COMP VCA-65, the other a full body snare. On the snare bottom, he usually uses a COMP FET-76 - 'and it just works.'
EQ SITRAL-295 comes into the mix too, and on the Bus where all the drums and reverbs go in, the next step is
manipulating that with some Neve (PRE 1973), because that's always good. I'm just helping out the few frequencies that bring out the elements I want.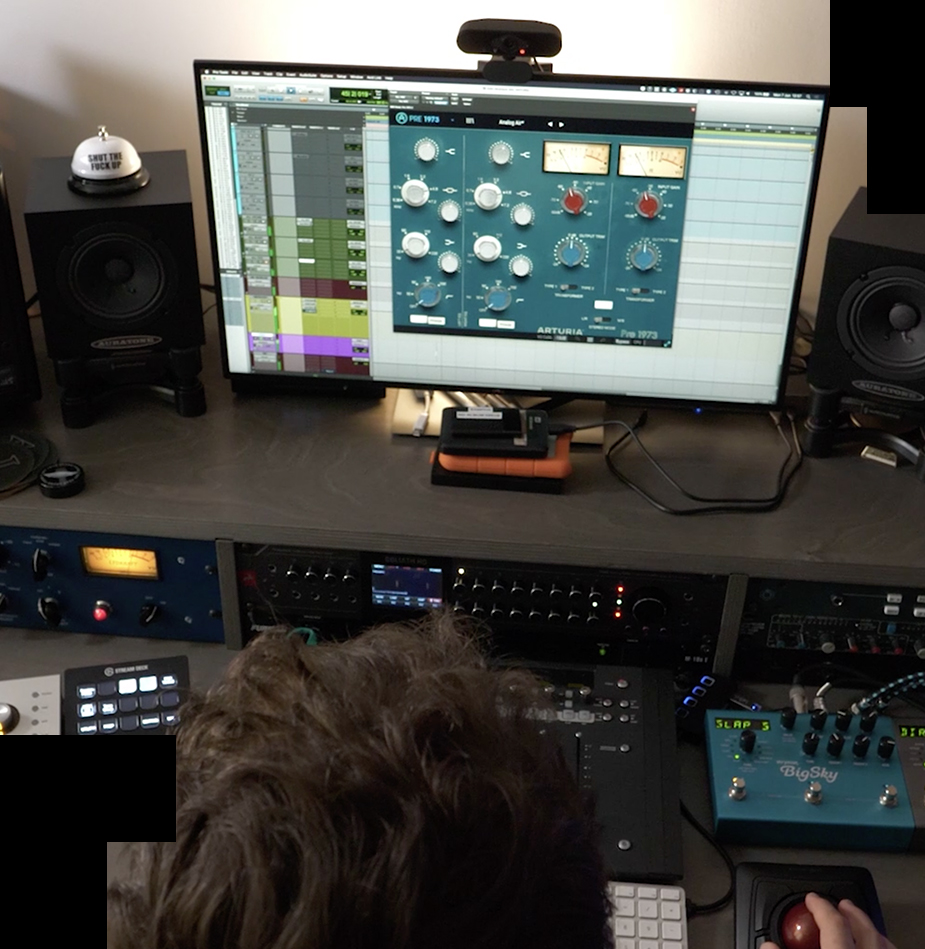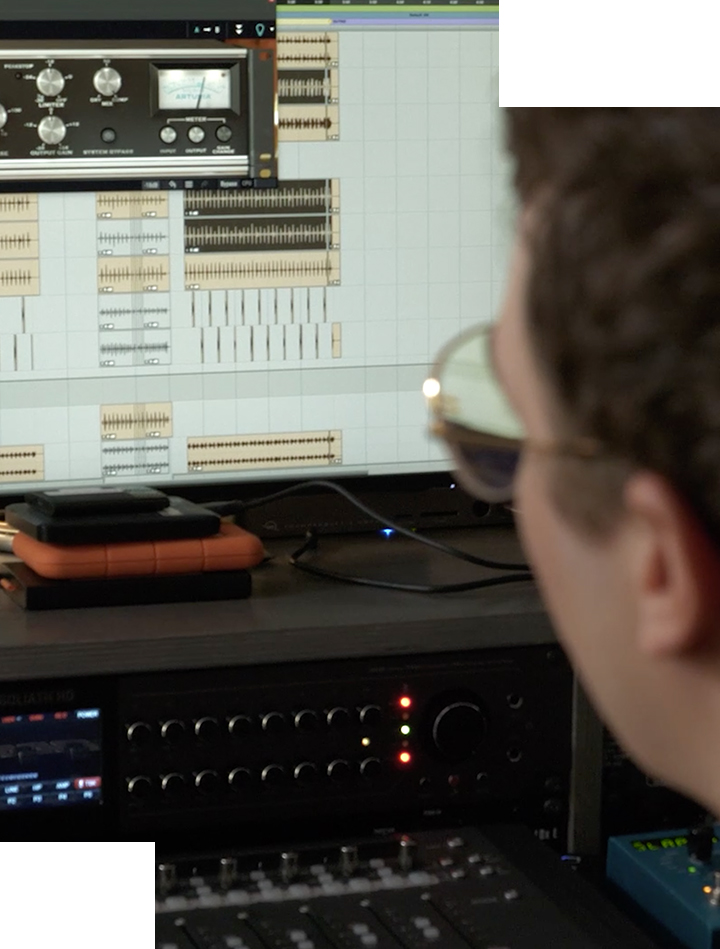 Treasure chasing
FX Collection is filled with treasures, and the only thing you need to do is dive straight into it to find them.
When I want to try and get a vibe, I scroll through the presets, find something that sounds great, and don't even look at the name, it doesn't matter.
In this case, it was the Drum Bus. He then always tweaks the presets afterwards.
May the Bus FORCE be with you
Ricky then brings up Arturia's original plugin, the Bus FORCE, a powerful parallel processor with four distinct modules: Filter, EQ, Compressor, and Saturation. The culprit this time is the Extreme Pumping preset.
I go into the beautiful Bus FORCE, which is doing quite a lot: my dry pass is going straight to the clipper, and the clipper is on the output, affecting the whole thing.
He says that for this mix, that's perfect because the clipper serves to get rid of the transients, reaching a soundscape with loudness without destroying it.
Starting with the clipper off, he then begins work on the power compressor:
This compressor is nuts, it actually has the nuclear logo here, like it's radioactive. You can really destroy things, but in a very beautiful way.
To get a parallel sound, he uses the EQ and the compressor, leading to a
super squashy sound with a very fast attack and release. The last thing I do is listen to the saturation level, which is a whole other level that you can then take a split from at every point of the chain - so, it's pretty nuts.
He then finds the sweet spot with a bit of crispiness on the high end, and lastly, adds the clipper.
True audio freedom
The beautiful Rev INTENSITY now enters the track:
I just felt like I wanted to give it a little bit more of a gated reverb vibe, so it sounds great. But what the Function screen does is unbelievable. You can basically have whatever wave you decide to have
- choose from Default, Peak, Pump, Sharp Decay, Slow Rise, Step Sequencer, and Triangle - 'and you can apply that to parameters.
Ricky wanted to create a difference between the first snare, the second snare, and the beat.
For that, I'm having more decay on the first hit and less decay on the second hit, and that's basically modulating my decay, which I think it's f**king amazing.
FX Collection shines as a crossover of modern technology and audio capabilities, leading to a true liberation of the mixing tools.
You know, this is the beauty of the digital. You would never be able to do this with an analog unit, or even with a digital hardware unit, unless you're there programming and punching in - it's so easy.
Slapping the bass
The next thing to adjust is the bass track, one of Ricky's favorite things in the mix. He's added the COMP TUBE-STA,
and honestly, this is really helping out. It felt a bit discontinued in terms of dynamics and frequencies on its own, whereas as soon as you put the song on, it's glued in.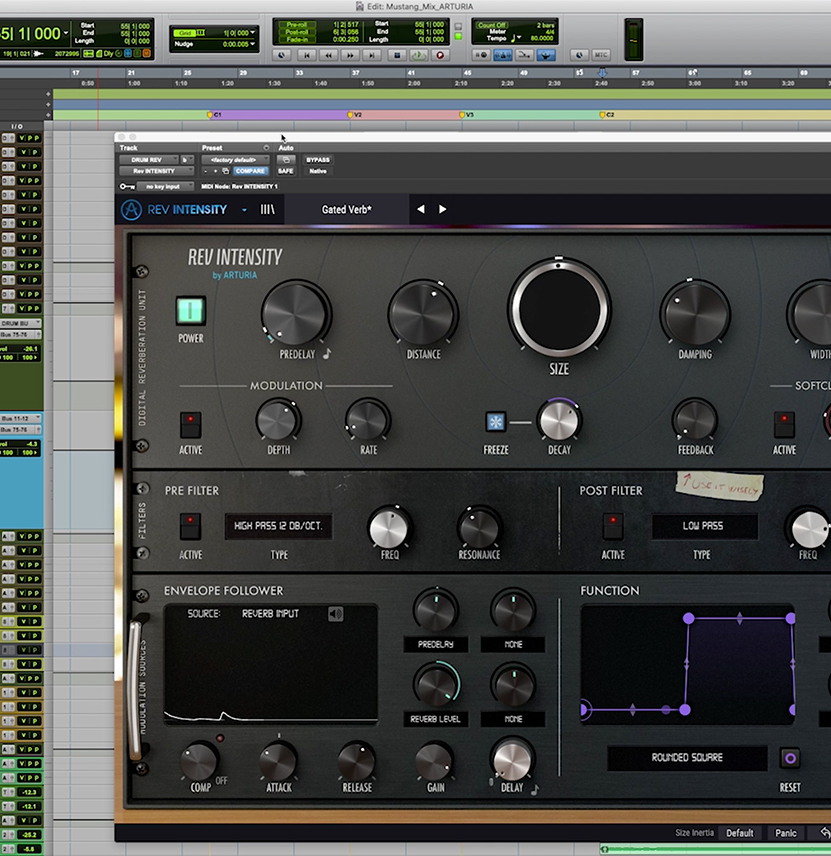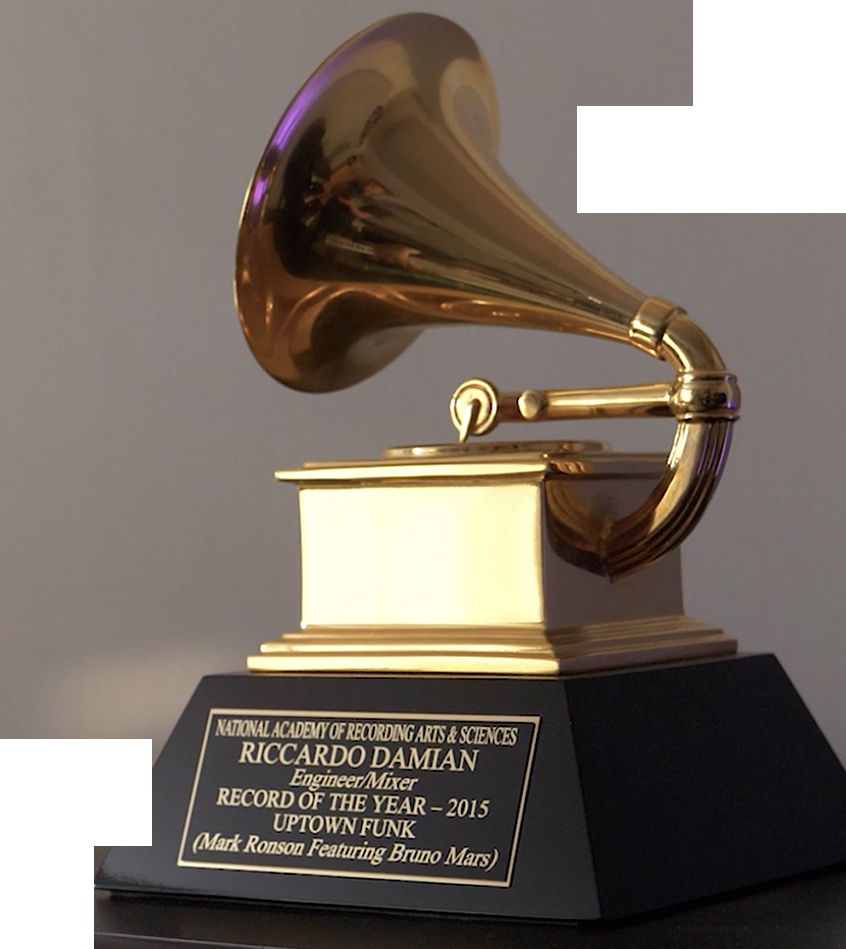 Uptown Funk
Recording Uptown Funk was Ricky's first gig, a feat that ultimately earned him a Grammy for 'Record of the Year'.
I think that sound specifically is a song that came up on tour when Bruno and his band were jamming. At that time, Mark and Bruno were working together a lot, in studios or live, so a song for Mark was bound to happen.
He wouldn't even call it a collaboration,
it was just two great geniuses making music.
He described the process of the whole song as 'very natural' based on good musicianship, taste, and sound. Ricky's done all the drum processing for this song, recording samples with a LinnDrum and running them through tape, varying the speed of it to get to a higher speed recording. Afterwards, the sound was brought down to its original speed, making the sound fatter by bringing down the fundamentals and the overtones.
When it comes to the structure of this composition, it's quite simple. But when something's right, it hits the spot easily:
Even when you dissect the multi track, there's only a handful of things - one bass, one drum kit with a bunch of samples, then there's a bunch of guitars that Mark played. And when you put Bruno Mars on top singing, you know you're in for a treat. He's an amazing performer, amazing singer - it's just so energetic.
Weapons of choice
For the guitar section, PRE TRIDA was the go-to choice.
I wanted a bit of width, a bit more shaping.' Finding the Wide MixBus preset was 'again, one of those happy accidents. It did exactly what I needed, which was to spread it and make it brighter.
To add more movement, Ricky combined CHORUS DIMENSION-D and FLANGER BL-20, adding a dimension that works really well in mono:
It really makes a difference in the mix.
With two guitar tracks present to create the stereo sound, he used a CHORUS JUN-6 on the second one instead of a flanger as that sounded too 'metal' for the song. Using two different plugins on the two layers of the guitar track is so 'they don't blur in the middle.'
Another star of the show is the FILTER MINI:
You can do amazing things with FILTER MINI, I use it for the specific Cutoff Frequency.
Flicking through presets like Used Speaker, Just an Env Follower, Ballad, or Beatchopper leads Ricky to say:
There's some amazing stuff here, I really recommend it. This stuff really works, you know - it gets crazy.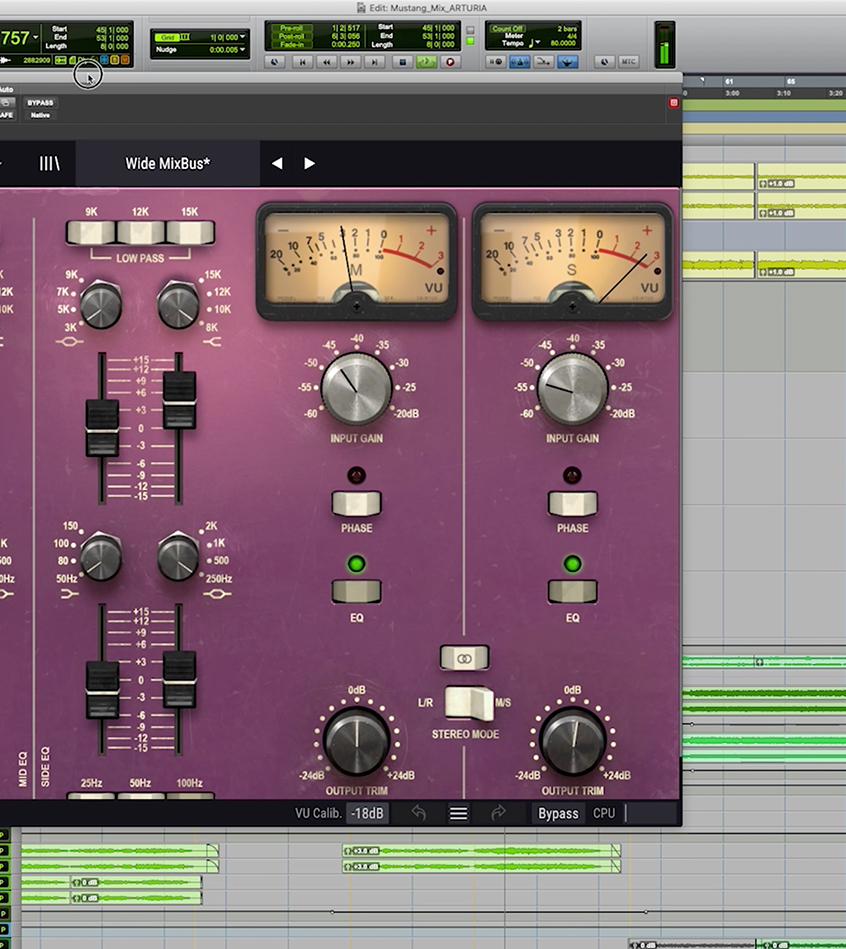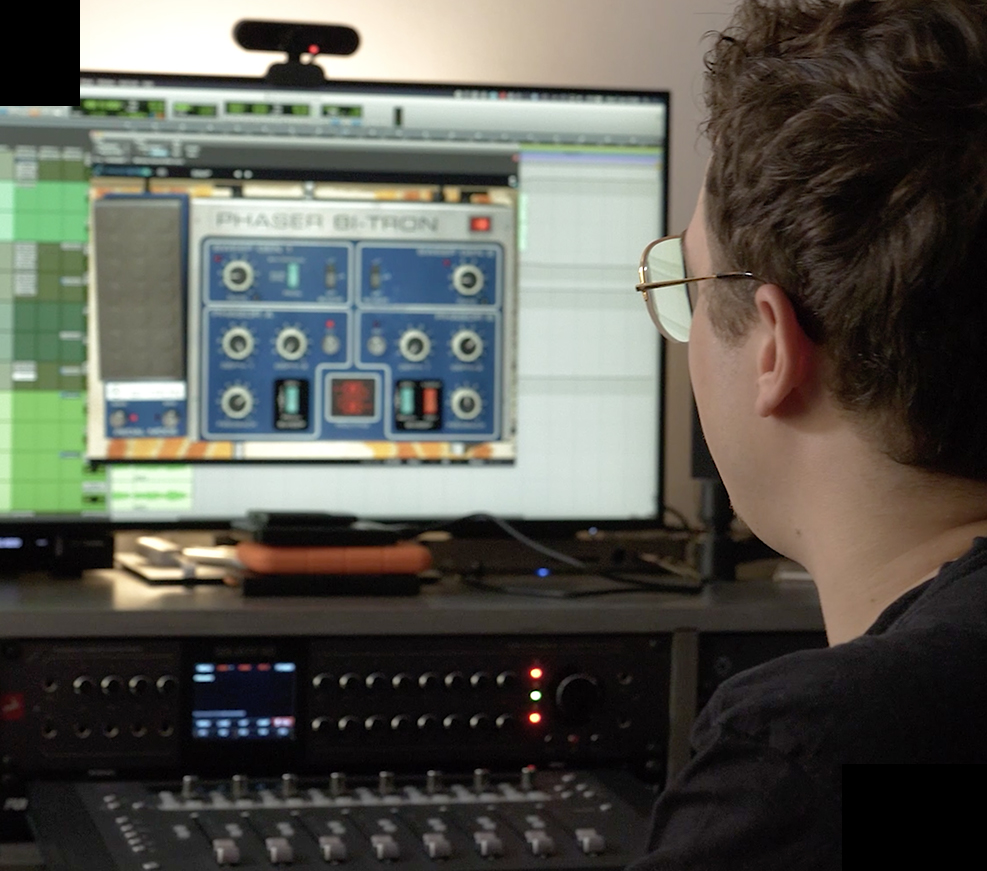 A superhero's utility belt
To deliver a high-quality mix, an engineer's utility belt is what it all comes down to.
The other modulation I really love to use is the MuTron PHASER BI-TRON. I don't know how to describe it, but for me, this is the most recognizable phaser ever. I love it. Chorus, phaser, flanger are obviously very musical tools, but also for me, it's a utility tool. Sometimes, you just want to impose a sound, sometimes you just want to move things and create space.
Some bass slapping is now due again, and Ricky used the CHORUS JUN-6
on the atmospheric bass to widen it out a little bit.
Lay Me Down
A part of Ricky's discography is a bonus track on Adele's '25' album, 'Lay Me Down'. For that song, their chain was a 47 going into a desk preamp with a MCI JH-500 going into an 1176, a Blackface Rev D, which
can be harsh at times. It was working really well in containing her vocals, but it was just a little too pronounced on the mids.
To counterbalance the mix after the 1176 applied, it was time for some warm tube sounds.
We had the analog version of COMP TUBE-STA. Our 1176 went into this plugin and made it super smooth. It's not even about the settings, it's just about the sound going through it.
With an all-powerful smooth criminal at disposal, an engineer's workflow can blossom:
I don't think we even put anything else into the mix after that, and that was a big moment. So when you guys came up with the plugin, I was like - sick, I love this! I've been using it all the time.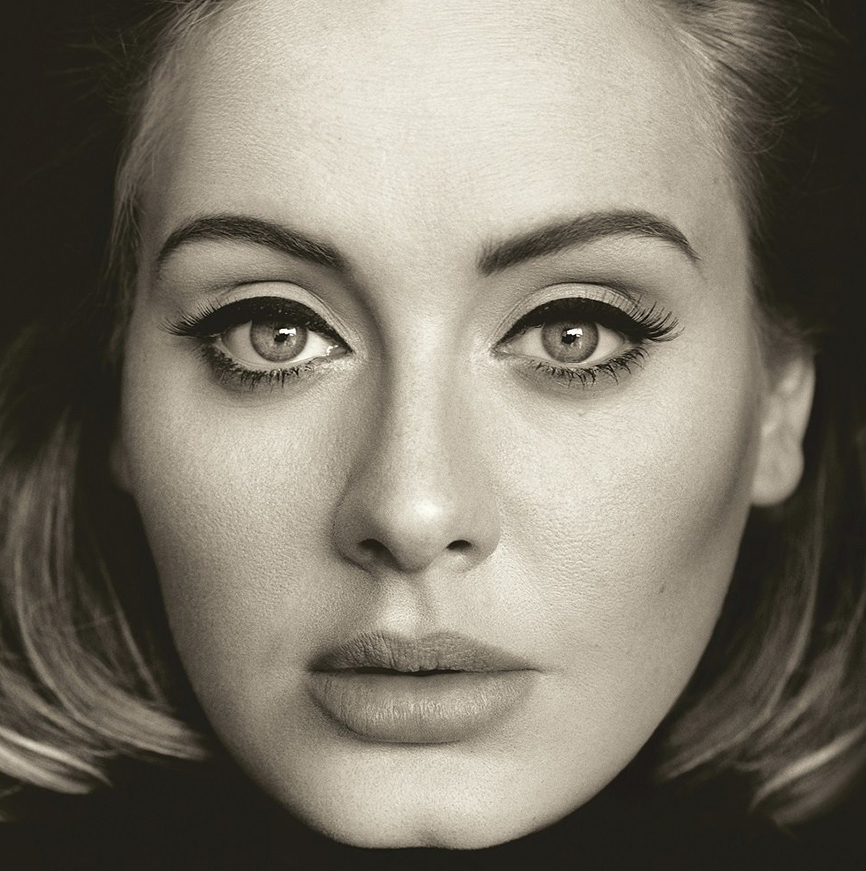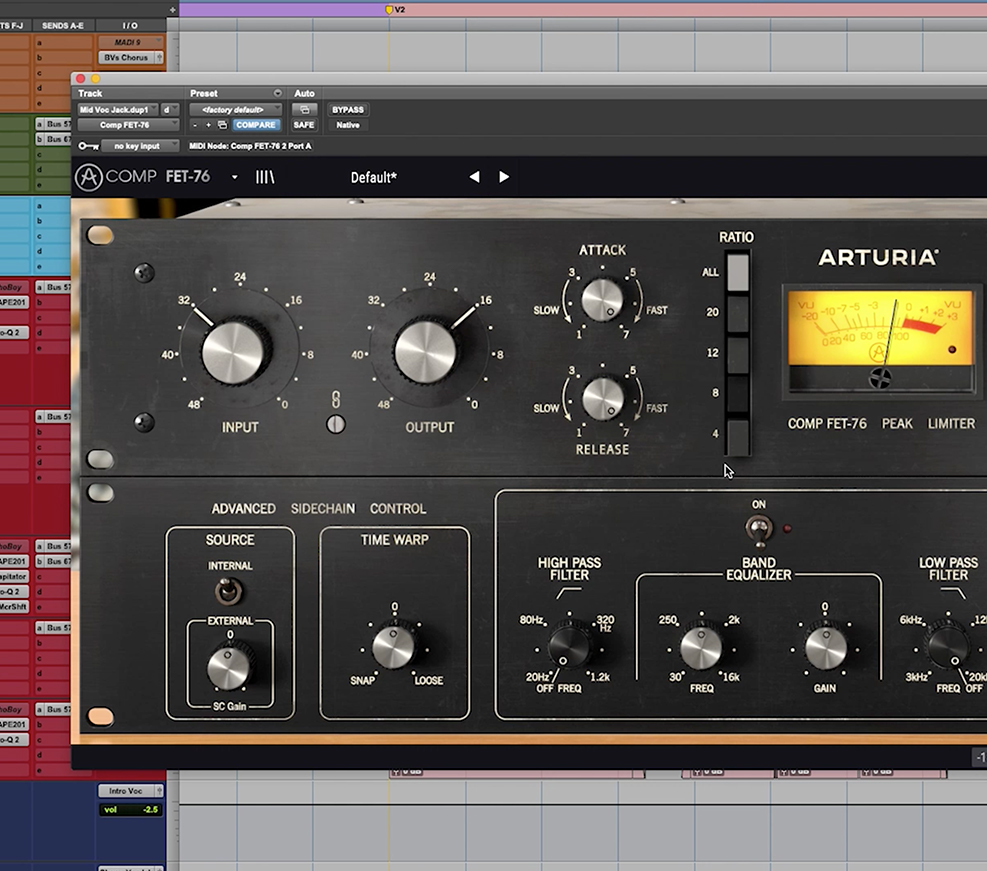 No peaking
To work with a mellow sound, he turned to COMP TUBE-STA again, starting with something slow:
It just really works, I really really like that.' After that, he used a faster compressor, the COMP FET-76 to even out the peaks in the mix. 'Sometimes, you can go super fast with it. Without having to flicker between plugins, without having to open different windows, you have all the tools you need in the same window, which is great.
Icons of the past
FX Collection is a well-polished result of the power of emulation.
To get to a vibey EQ, it goes without saying that the Neve (PRE 1973) is the go-to choice. The preset Male Vocal fits the composition really well at this point. You can obviously experiment - if you need distortion or something saturated, you can really play with it. This knob has a continuous control, so you can really fine tune it. You can totally get to a comfortable level of harmonics without going crazy - and that's it!

Mixing the oldest instrument in the world
Mixing the human voice is a delicate craft, and a spectrum of choice in your tools is what ensures that you get the result you want.
With DELAY TAPE-201, full-on manipulation ensues:
The fact that you can alter the speed of the motor with the Flutter, you can make it kind of lo-fi, it's really priceless.
The Input Drive knob is specifically loved by Ricky for its 'crazy color'.
The distortion spectrum on this plugin is also wild:
You can play with the original preamp or the Germanium, or not have it at all. So there's three flavours of distortion at the actual tone of your slap, which I think is amazing.
The FX Collection bundle breathes through the music it touches:
It's alive, you know, it all interacts with each other, and being able to recreate that in a box is the sh*t.
What makes a good singer?
In Ricky's words, a singer's microphone technique is something that makes a big difference to the production process.
Adele is a true professional, she knows exactly how to be in front of the mic, and that helps massively.
For aspiring engineers, he recommends learning what makes a good singer:
Do they know how their voice behaves in front of the mic? Sam Smith is a master at manipulating the shape of his face and knowing the relationship to the microphones to create a different sound, they're unbelievable at that. Miley's great as well, she's rock'n'roll you know. You almost never have to suggest they got too close to the mic - they know, because they can hear it, they've been doing this for so long. It comes with experience.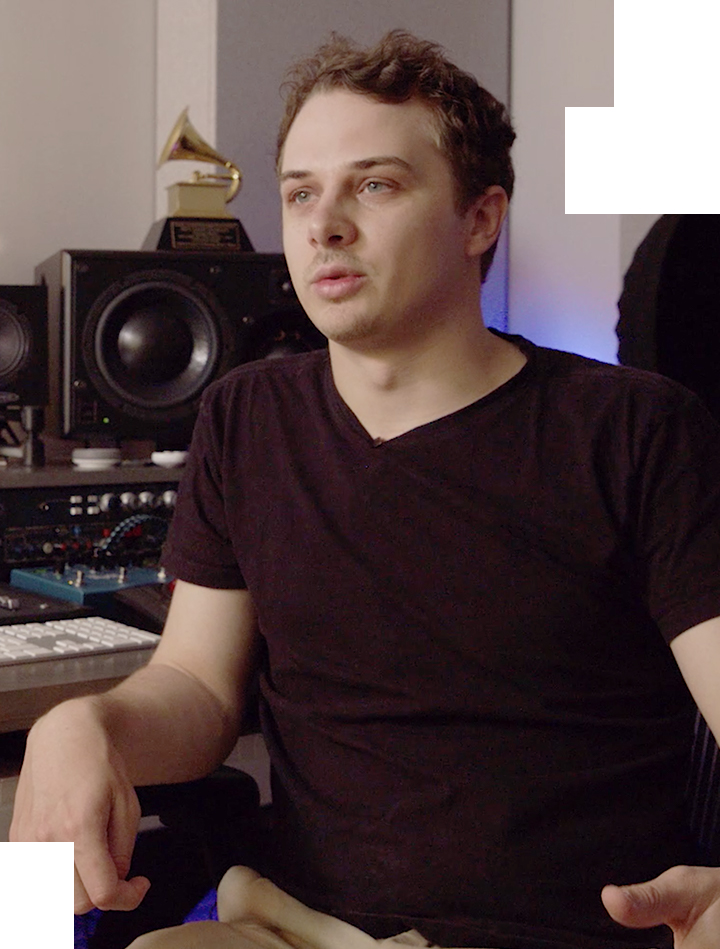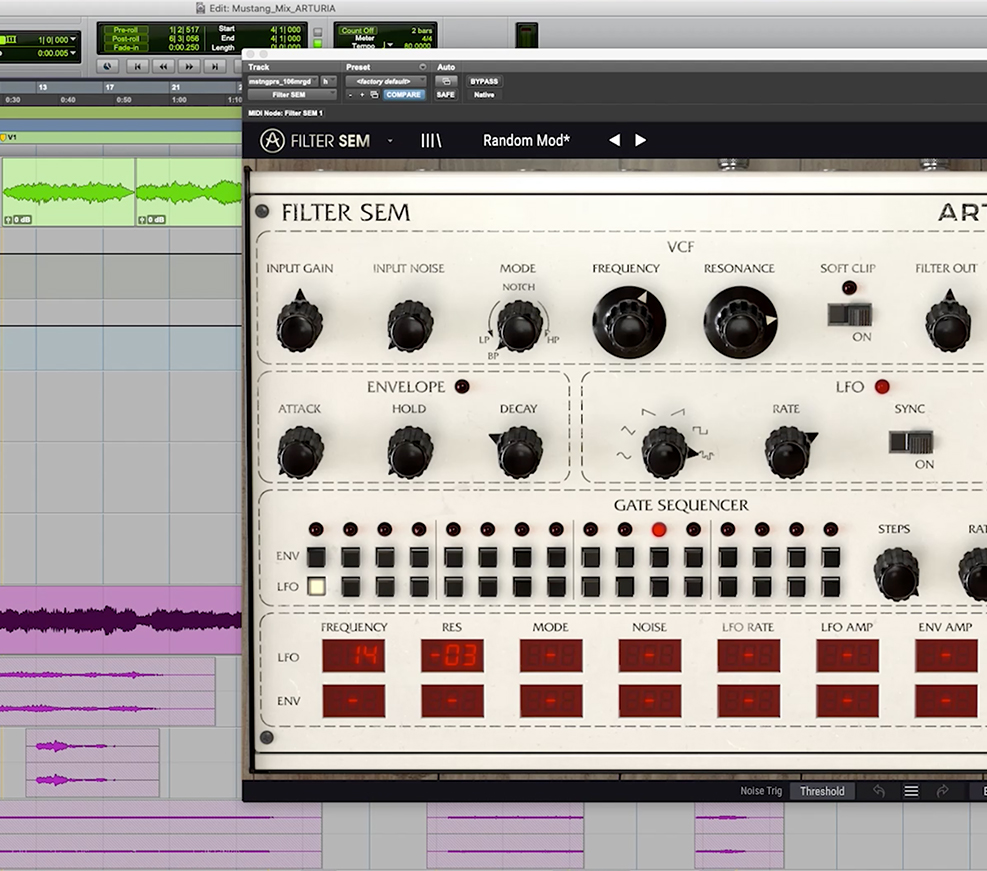 Bounce in, bounce out
This FILTER SEM plugin, I obviously use a lot. On this track, there's a paddy guitar there. In certain situations, like in the choruses when there's a lot of other stuff going on, I needed movement, and I found the preset Random Mod. It makes the instrument more noticeable, but not throughout the whole chorus, so there's moments when it jumps out and then moments when it disappears. It creates bounce, which is what I wanted. It just goes beyond. You can really go nuts with this, like a side chain, so it's really really creative.
The mixing then goes into the processing power:
Again, generally, my mixing process starts with a fast compressor, which could be an SSL. I really dig the COMP DIODE-609, which gives me one more layer of control, because I am simultaneously using a limiter as well.
Beautiful and broken
The right sort of broken sound in guitars is crucial to get right.
We recorded these guitars back then, potentially with an Ampeg Scrambler pedal, which is a sort of broken sound. And when I was mixing it, I felt like I needed a tiny bit more grit and edge, and I know that that's Pre V76 for me. For the combination of the actual input preamp and a little bit of top end, the Crunch preset really works.
The mixing then goes into the processing power:
FX Collection shines as a crossover of modern technology and audio capabilities, leading to a true liberation of the mixing tools.
Peaks and valleys
Harmonizing the bits that stand out is vital for delivering a good mix.
I'm working on the most prominent peaks, which are drums and vocals.
The ratio in this mix is no crazy amount, and for now, it stays at 1.5:1, although Ricky shares he sometimes selects 2:1 or 4:1, all depending on the song.
I try and tune the settings of my mix, producing to music. It's not about what setting it is, it's about what sounds good.
He then goes into the 'beautiful' EQ SITRAL-295.
The only thing I'm doing differently is I'm boosting 3.5. It's good to see how this is being impacted, and how you can see your filtering and stuff, I really like that.
Keeping a holistic approach while adjusting specific parameters is a fine balance.
The Bus FORCE is the real game changer. Here, I'm actually approaching it the same way I'm approaching it on my drum Bus, while being mindful of the whole mix. I start with nothing on, and then I see what I need to do, and start listening to the parallel compression paths. In this case, I'm not putting anything on the chain, it's just the compressor. Lastly, I mix it in to get to a harmonic crispiness.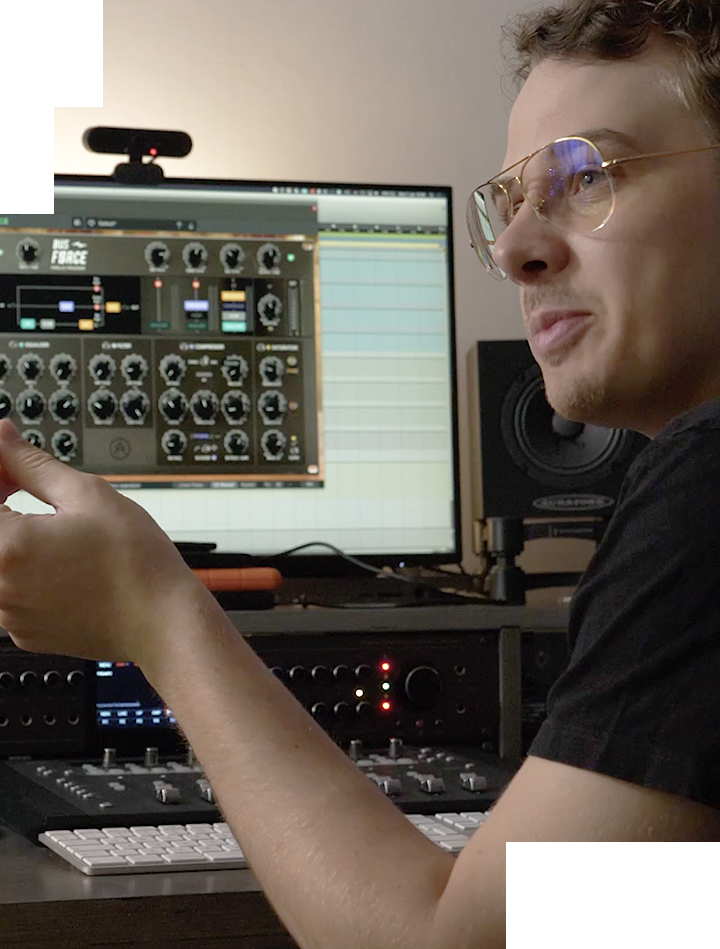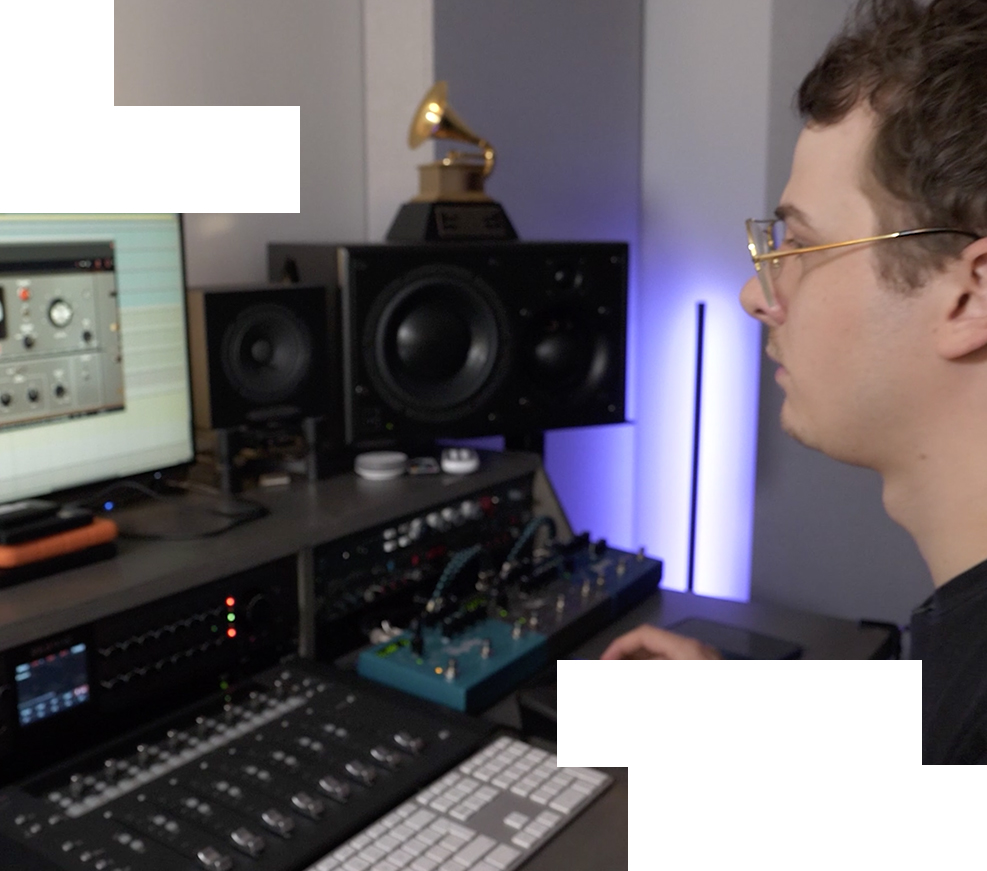 Tools in tune with the times
FX Collection goes way beyond mixing. The sky is the limit for how you can utilize it in your production while being ready for the future:
This is not just mixing tools. This is production tools, recording tools, a hundred percent. It's really important to think that way, because more and more music is transforming to a point where even the multi tracks you get as a mixer are far more advanced than they would be twenty years ago, even ten years ago, as technology changes so fast. So, you need to have great tools and good quality sound from the get-go, and it's not only for mixers, it's for everyone. If you can't do that in the analog domain, do it in the digital domain - but do it right.

A mixing survival kit
Being stranded on an island is not something anyone wishes for - but as a sound engineer, mixer, or producer, you would do just fine with this bundle keeping you company.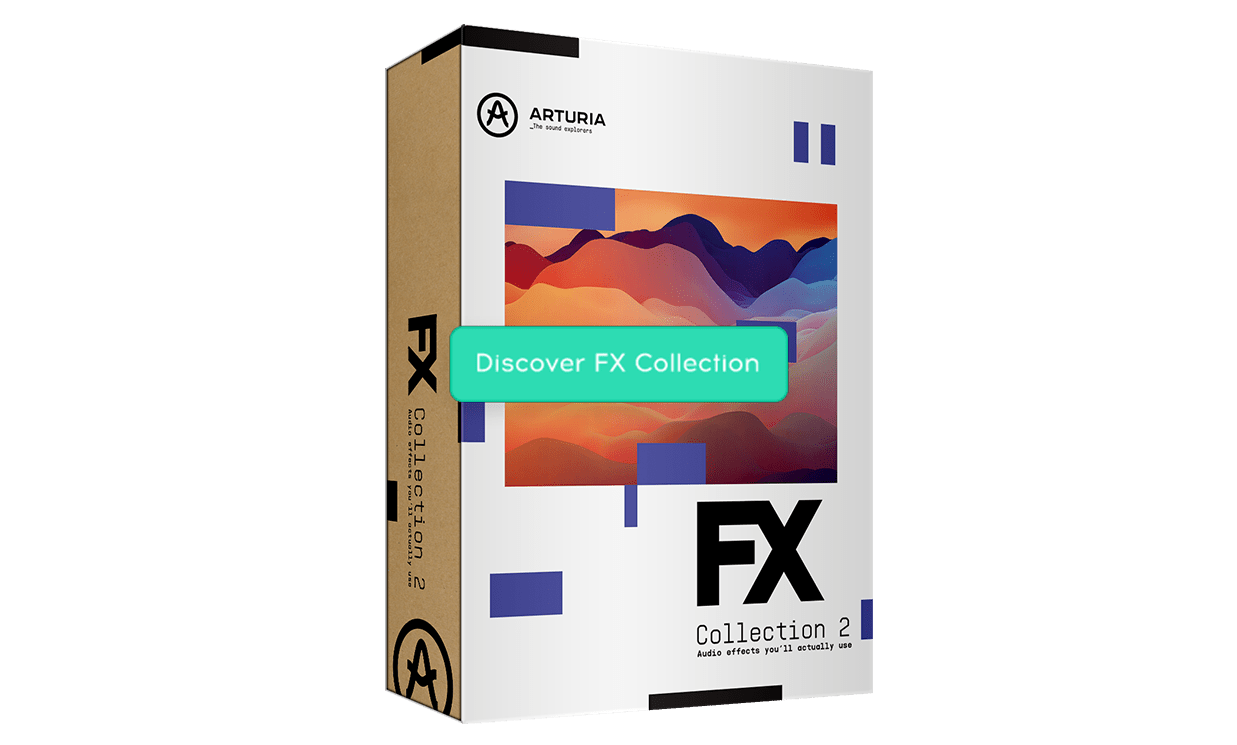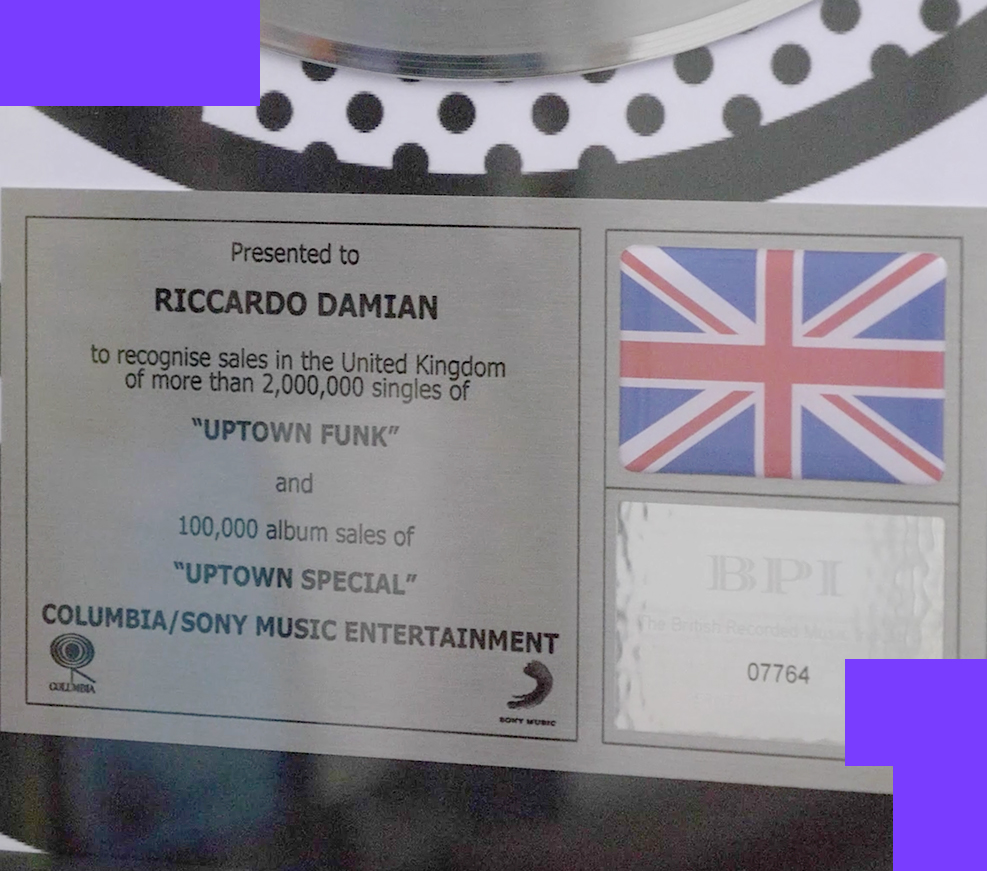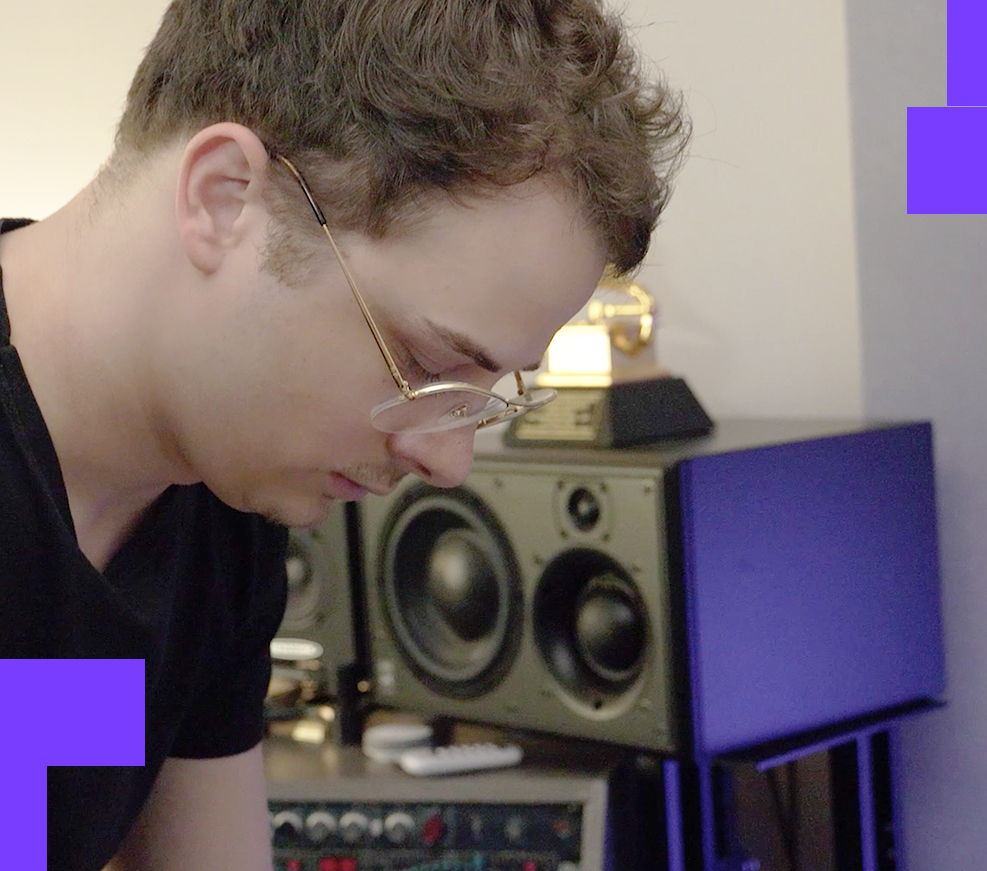 The FX Collection is a Swiss army knife. It has all the colors, all the flavors and all the taste you need to do anything, from recording to production to mixing - the full spectrum. You could be on a desert island with a laptop and a pair of headphones and the FX Collection, and be fine. You wouldn't need anything else, you wouldn't feel you're lacking anything.