Emulator II V is a multitimbral sampling machine that brings E-Mu Systems' seminal digital workhorse back to life in all its nostalgic glory - with a slick modern edge.
Its unique combination of high-fidelity 8-bit sound, warm analog filter, and instantly-recognisable sample library is sure to spark instant creativity, just as the original once did. When you want lo-fi grain, '80s sheen, or a sampling flow that stands out from the crowd, look no further.
Changing the sampling game
An instrument that graced every '80s line-up. An icon from the early days of sampling. A unique character that helped define the sound of a decade and beyond. The Emulator II's digital charm and tactile layout made it the musical weapon of choice for everyone from Depeche Mode to Trent Reznor.
The Emulator series was the work of E-mu Systems in the 1980s. Upon release, the Emulator II was met with critical acclaim, combining the novel versatility of sampling with the familiar layout of a classic synthesizer.
Learn more
At the helm of E-mu systems was the legendary Dave Rossum. A California native, Rossum is now a veteran of the industry, and considered among the most influential figures in electronic instrument design.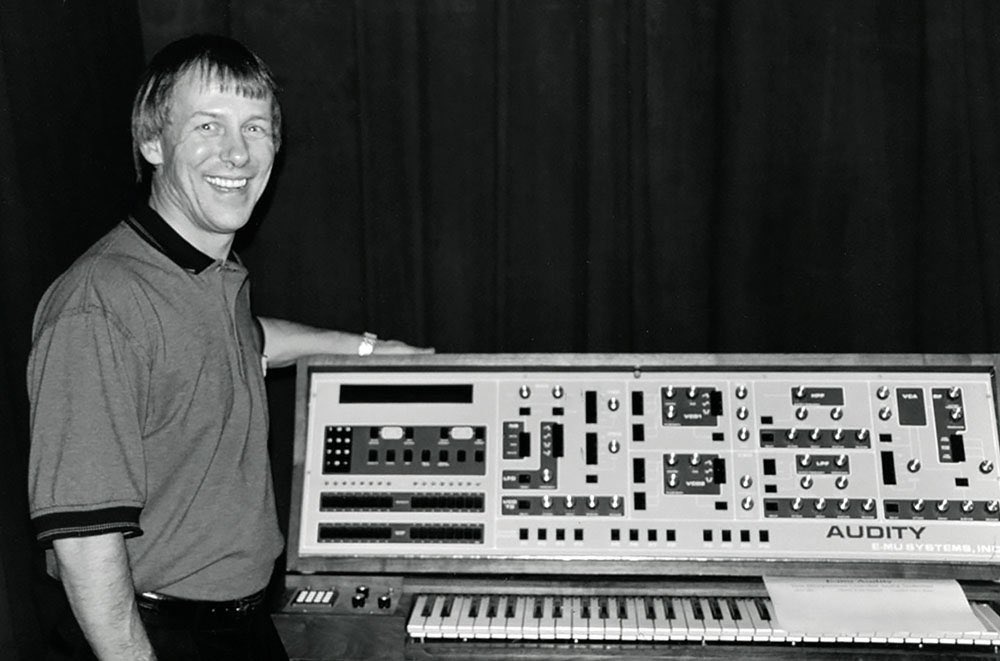 His pioneering work combining analog richness and digital precision in modular systems made the synth world sit up and listen, and the company went on to collaborate with the likes of Sequential and Oberheim. It was when the '80s hit, however, that Rossum struck gold.
At the time, the sampler concept was an up-and-comer; trendy technology reserved for elite hitmaker producers and A-list artists. Dave and his E-mu partner Scott Wedge saw an opportunity to bring sampling to a wider audience.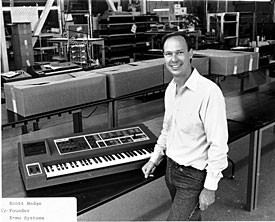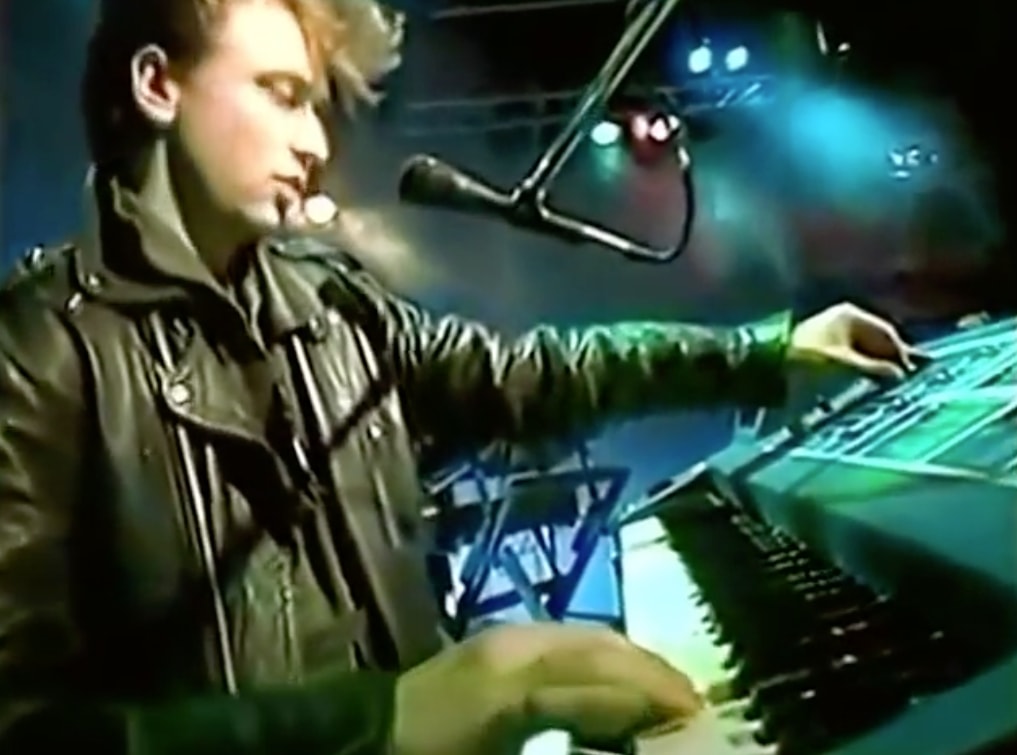 Drawing more inspiration from the response of acoustic instruments than his experience with electronic ones, the Emulator series was born, and in 1984, the upgraded Emulator II hit the market - and it made waves. Much like Rossum's pioneering modular designs, the Emulator II combined digital precision with the organic nature of analog circuitry. The result was a higher-fidelity sound that remained warm and full of character - a true project of passion.
"I've spent so much time around it - I'm attached to it. It's a part of me."
- Dave Rossum on the Emulator II
The instrument's relative affordability, 27.7 kHz sample rate, and reasonably compact synth-style keyboard layout made it a go-to for some of the biggest names in pop, rock, and everything in between. When you heard glossy pianos, lush string pads, and one-hit FX stabs, there was often an Emulator II involved.
Now we've brought this '80s icon back to the future - with you at the wheel.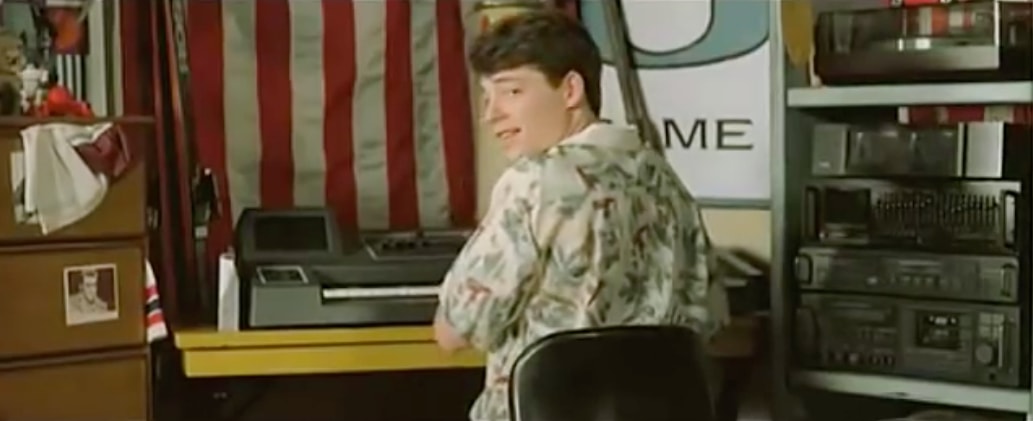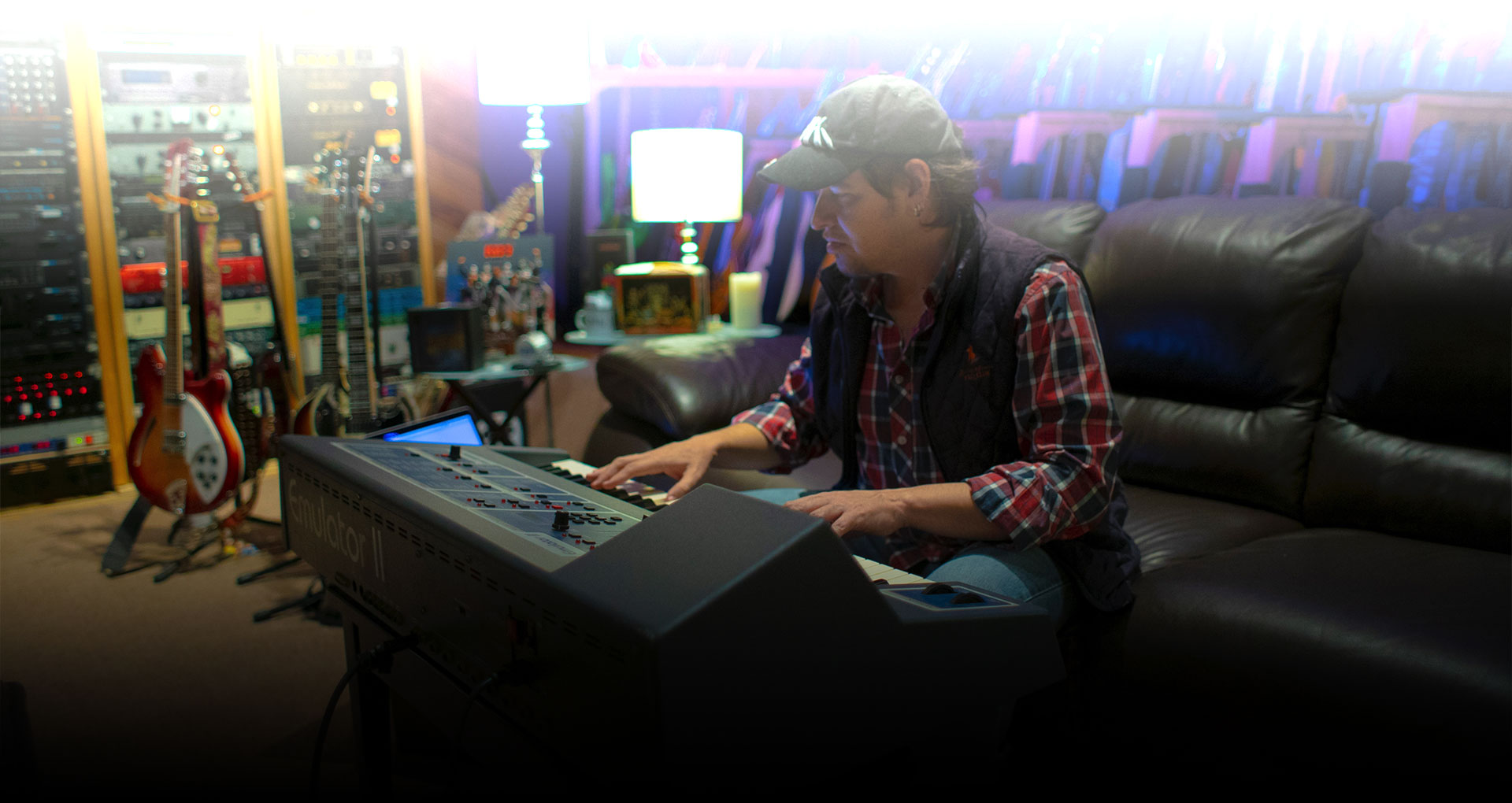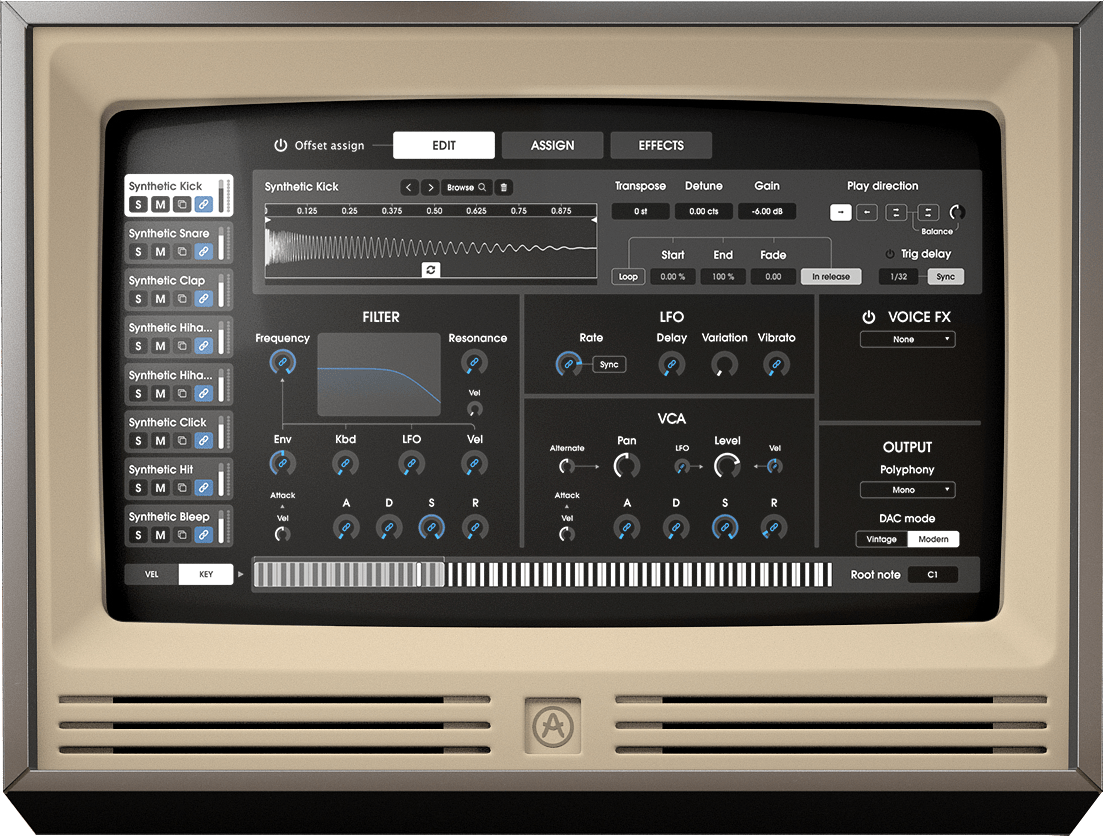 Is it modern?
Is it vintage?
It's both. Emulator II V comes loaded with a curated sample library that mixes iconic Emulator & Synclavier samples with a diverse modern selection. Better still, you can import your own samples to give them that diamond retro treatment, or dive deeper into its sampling architecture with enhanced editing tools.
Timeless Iconic Sounds
4 iconic sounds from the original factory library.
Learn more
Choral vocal sections, the slam of gated '80s drums, symphonic brass, the peaceful flow of a shallow stream - back then, you'd collect your samples on floppy disks. Now, Emulator II V brings a fully immersive vintage sampling experience to your DAW, overflowing with sentimental sonic value.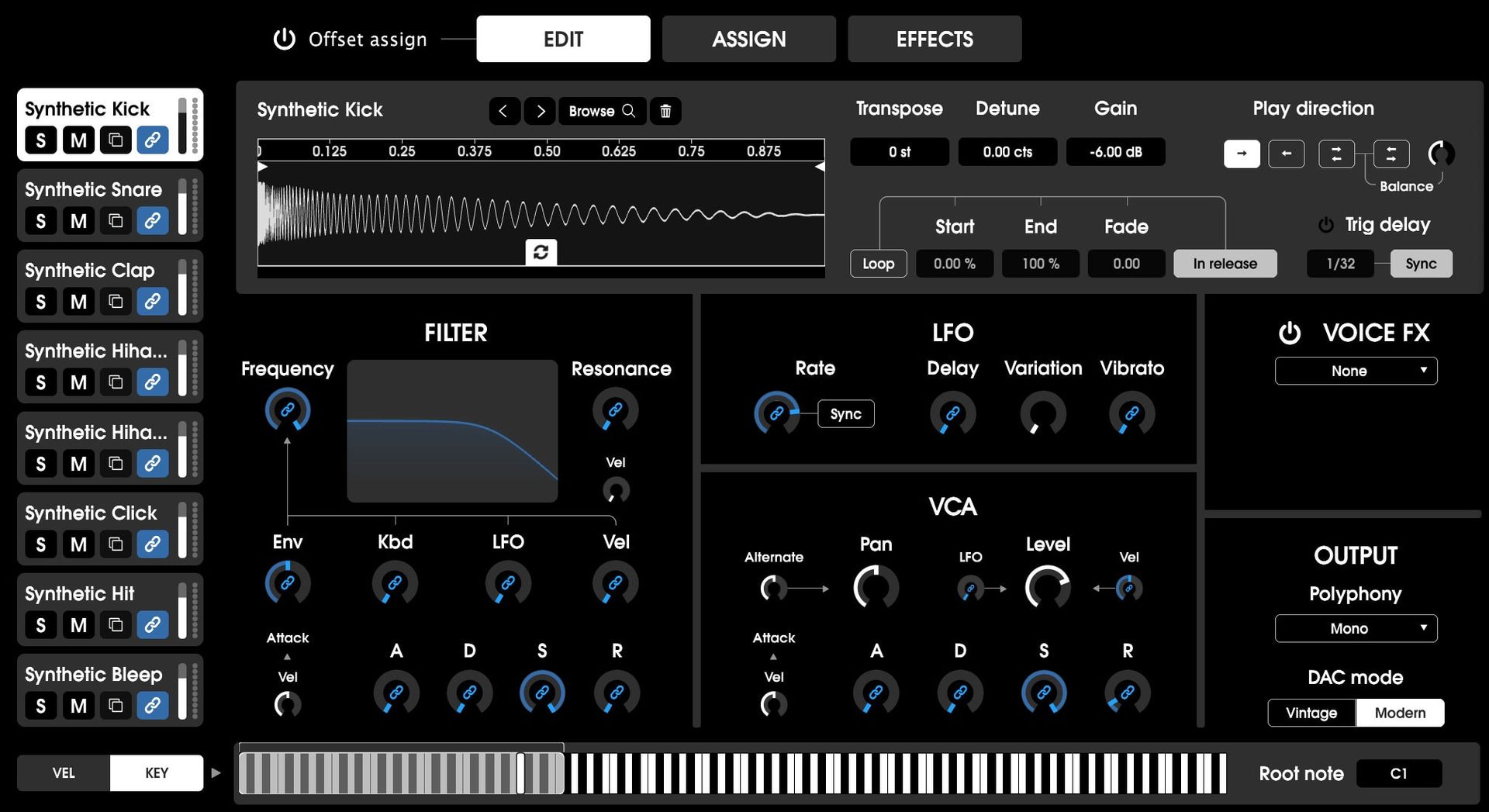 And if you want the samples in your mix to bring a vibe of their own, what better way than to use a sampler straight from the old school? Choose between modern DAC and a faithful emulation of the original hardware's DAC and let the lo-fi vibes roll...
Sampler heart, synth brain
Instrument first, sampler second. Part of what made the Emulator hardware so popular was the fact that it behaved like a synthesizer, but with the flexibility of using samples - its multitimbrality meant up to 8 samples could be played at once on your keyboard.
Learn more
Analog Modelled Filter
Hear the filter in action, applied to the Marcato Strings preset.
Emulator II V follows the same recipe to offer you the same charm that put this instrument on the musical map. Tame that 8-bit character with an ultra-smooth VCF, dial in some LFO for classic synth-style movement, or instantly change your sample playback with familiar ADSR control.
Emulator II V goes beyond glorious '80s sound - this is an expansive virtual sampling workhorse that'll complement your creativity to no end.
Arpeggiator
6-mode arpeggiator to set your ideas free so you can focus on dynamics and expression.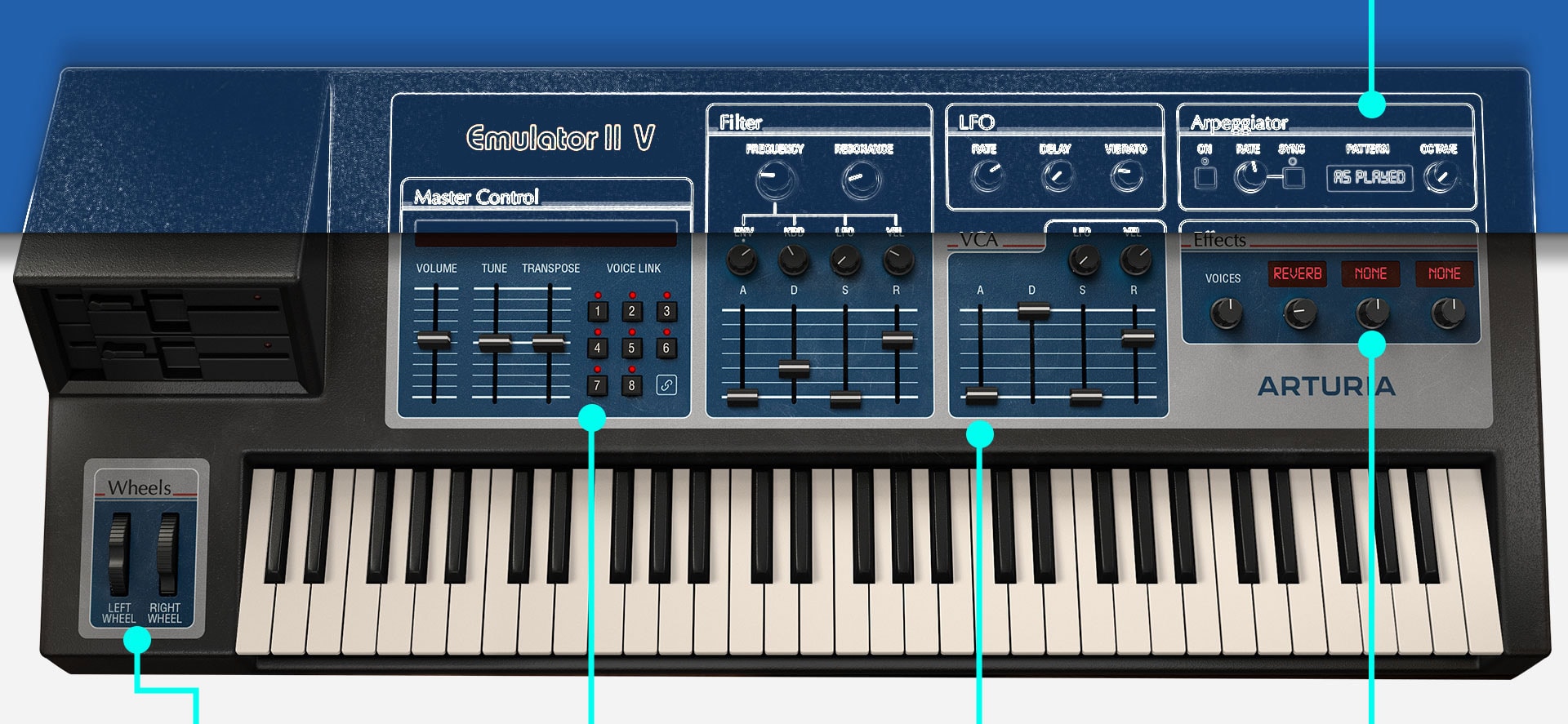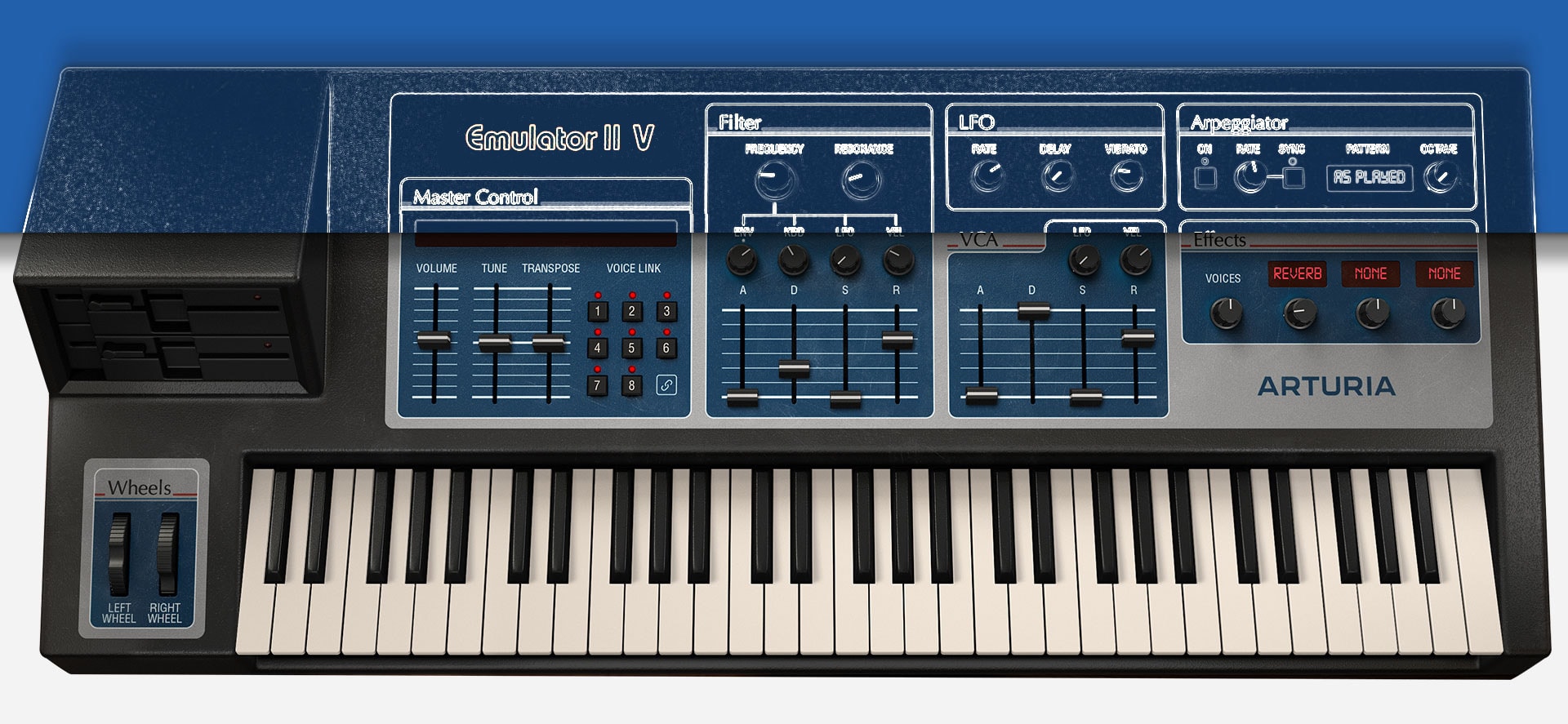 Wheels
2 assignable expression wheels give this sampler an expressive edge.
Master Control
Assign and cross-fade up to 8 separate samples across your keyboard range.
LFO
Each sample is polyphonic within its keyboard zone, with its own filter, VCA, and LFO.
Effects
Add effects per sample to really customize your Emulator palette in sonic detail.
Drum Kits
Create entire drum kits to play on different keys.
Effects per voice
Assign whatever effects you want to any of your multiple samples, to craft your own specifically-colored sound.
Emulator II V's authentic 8-voice multitimbral architecture allows you to play whatever samples you choose like your own custom orchestra - complete with expression and performance tools. This classic sampler is designed to let you express yourself.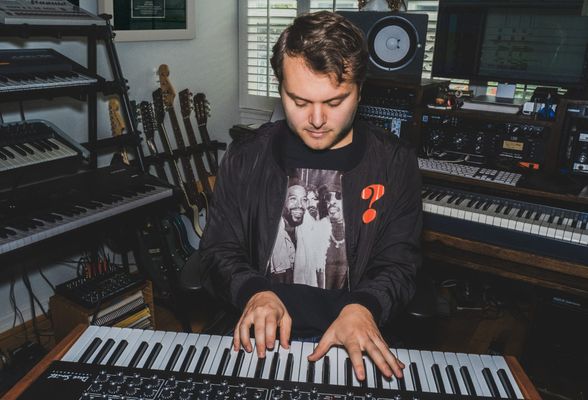 Artists Corner
The Emulator II V is very inspiring and tons of fun. It's packed with unique and wonderful sounds.
Scott Chesak
( Keyboardist / Producer )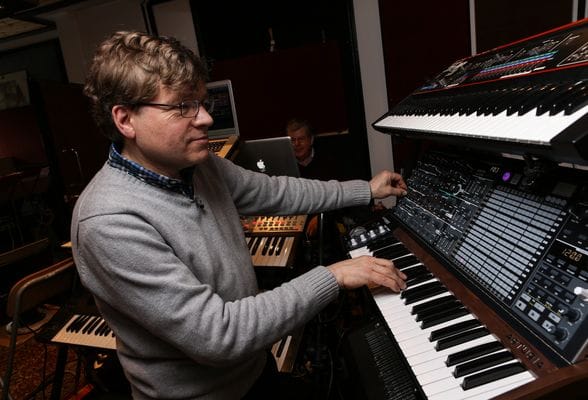 Artists Corner
I don't know what it was about the Emulator, but it always seemed to me to be the sampler that sounded most like analogue tape, something that is clearly illustrated by many of the presets within the Emulator II V (including that famous shakuhachi sample). I wish Delia Derbyshire had been given an Emulator to play with. And the low end is…. remarkable.
Mark Ayres
( Radiophonic Workshop )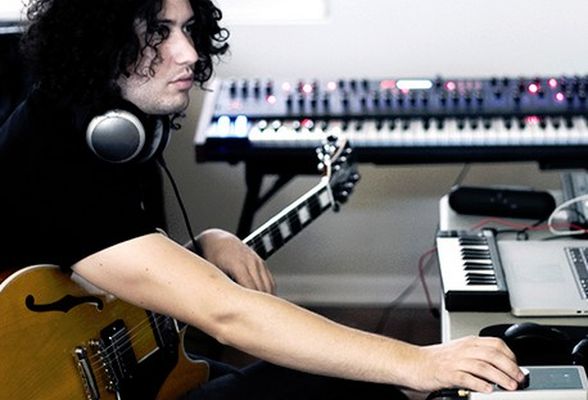 Artists Corner
There's a pretty broad scope of the sounds this thing makes, I love a lot of the bass sounds, I love a lot of the percussive stuff that you would program the sequence with or use with the arpeggiator and there's a lot of delicate airy pads, some fun voices. Things that really just remind you of a lot of stuff that you've heard using the original.
Ilan Rubin
( Drummer/Nine Inch Nails )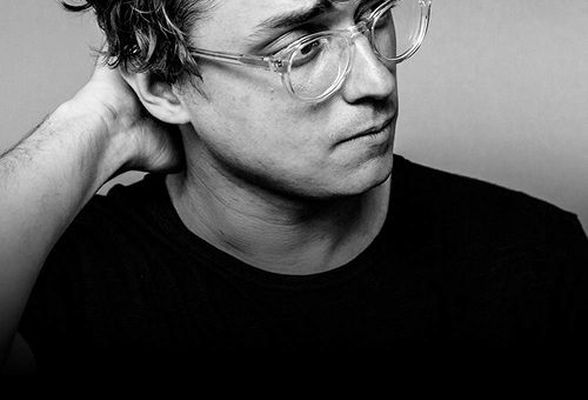 Artists Corner
All these synths are blowing my mind — Emulator II V especially is opening creative doors I didn't know existed. Wonderful to have this wide a range of sounds at the ready.
Elliot Moss
( Singer / Producer )
What we added
Emulator II V's interface is designed to be authentic and immersive - but there's more than meets the eye. Zoom in on the built-in display to access in-depth sampling editing, expressive modulation, and a suite of FX that go beyond the original - and that'll cement Emulator II V as your favorite outside-the-box sampler.
Adjust the behavior of each of your 8 'voices' (samples), including transpose, sample looping, play direction, trig delay, and much more.
Gain more control over your LFO settings, with parameters including rate sync, delay, variation and more.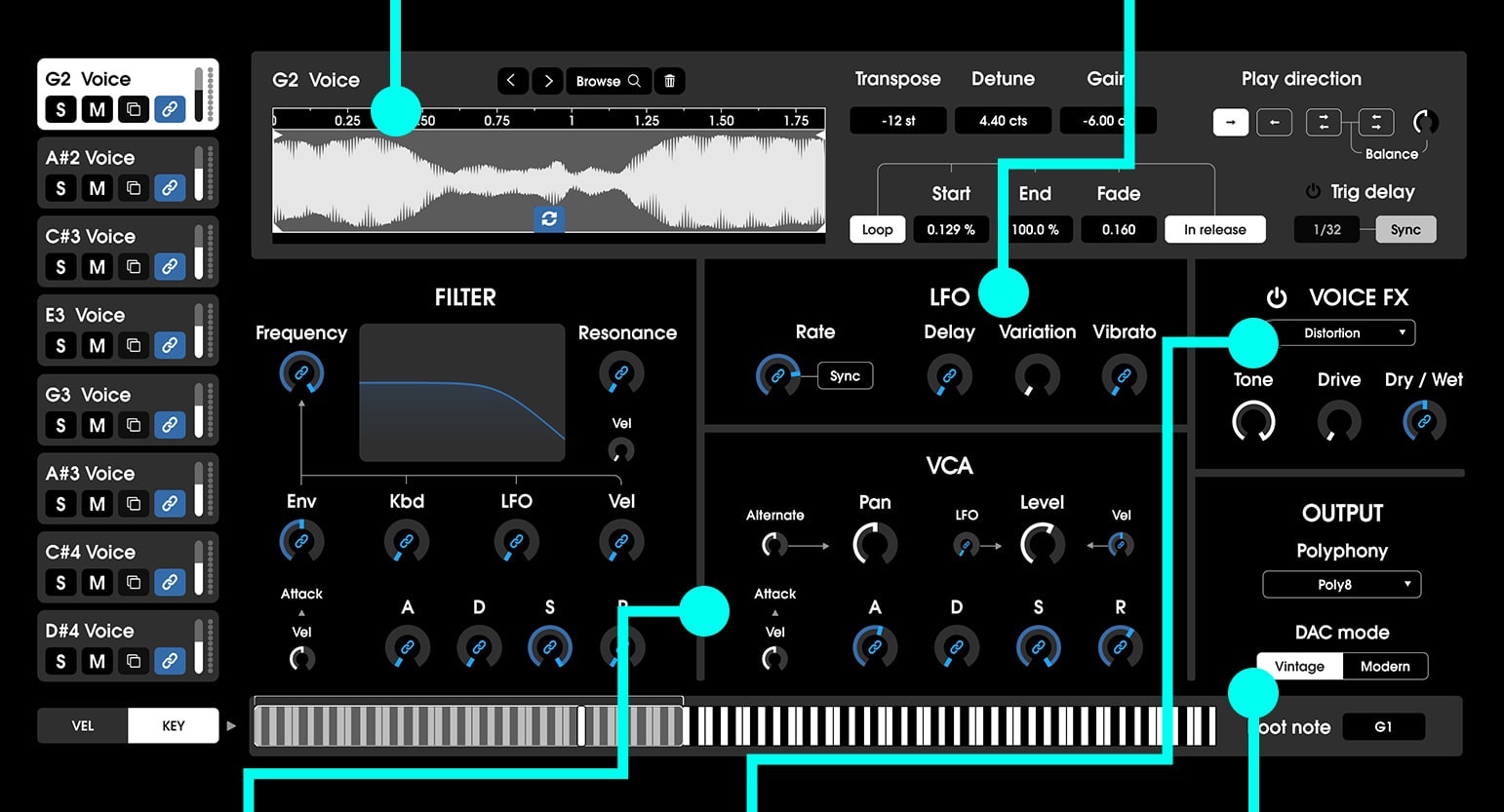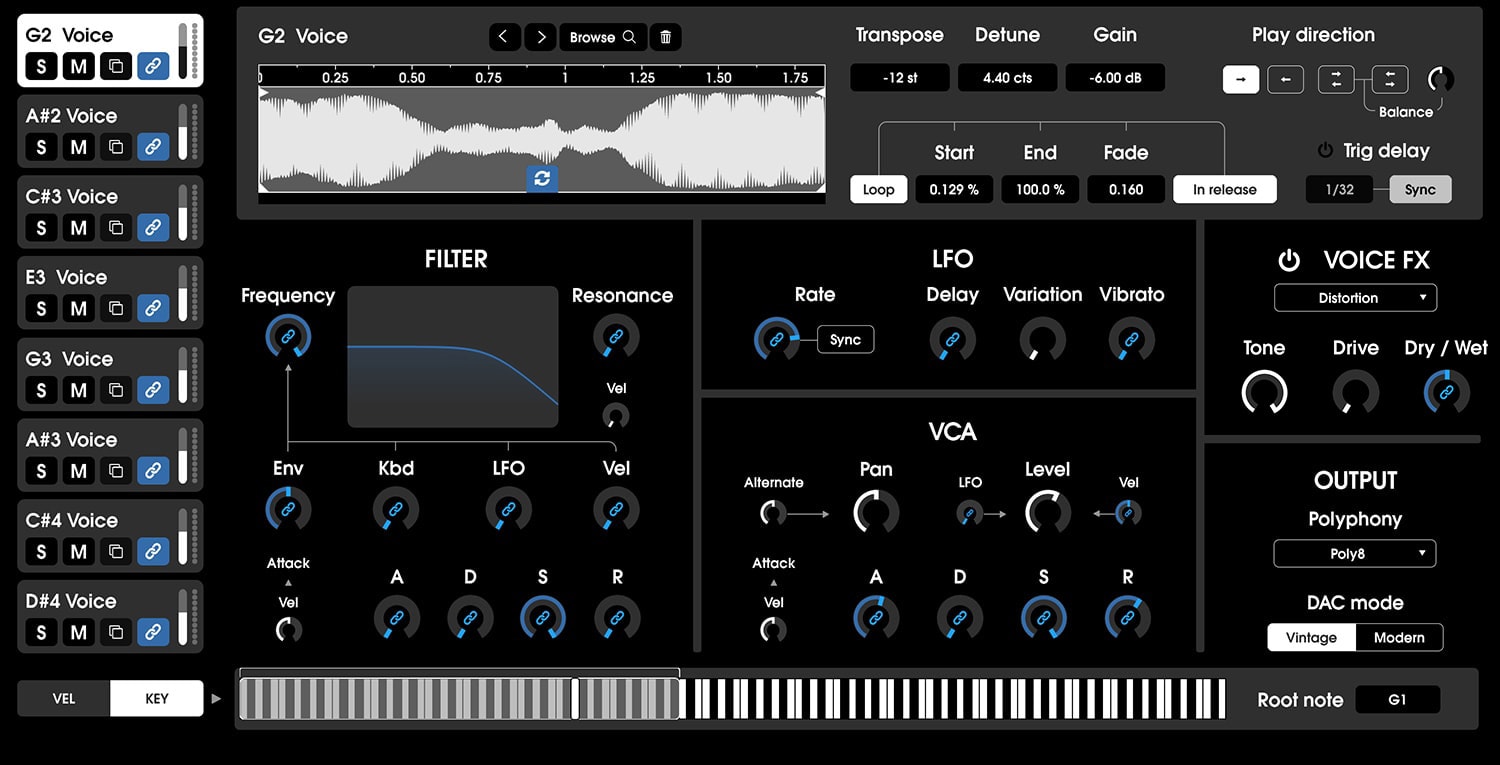 Tap into the deeper functions of the warm analog filter and VCA to further shape the playback and tone of your samples.
Choose specific FX per sample ('voice') to craft a palette to suit your style, from new wave to industrial techno.
Switch to a DAC that suits your taste - choose from modern clean or an emulation of the original crispy digital charm.
Control every aspect of how your keyboard/note range interacts with each of your samples, from zone assignment to aftertouch.
Harness the keyboard/note input as a modulation tool - velocity, keyboard tracking, and aftertouch can be configured to manipulate the same 16 destinations.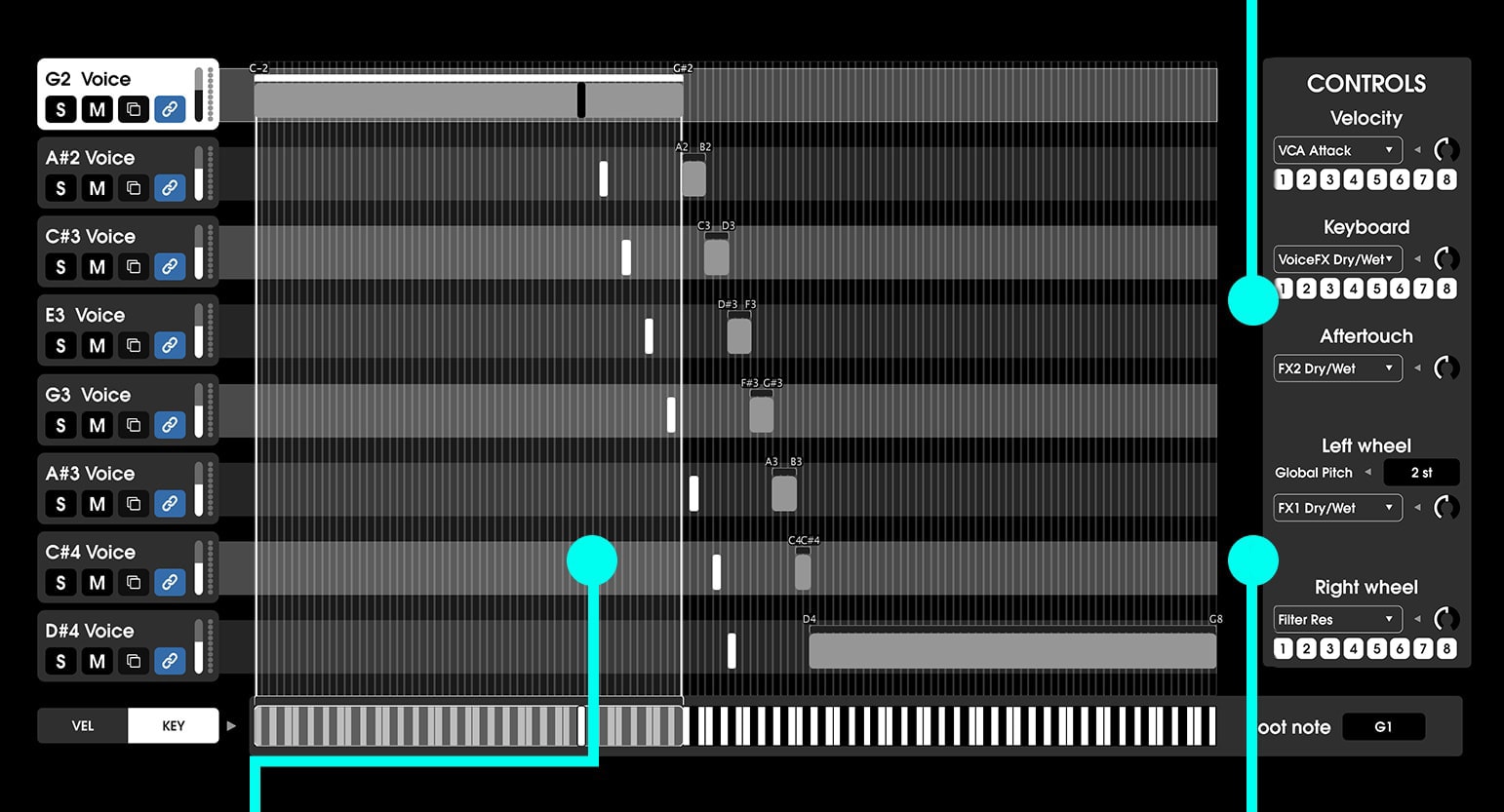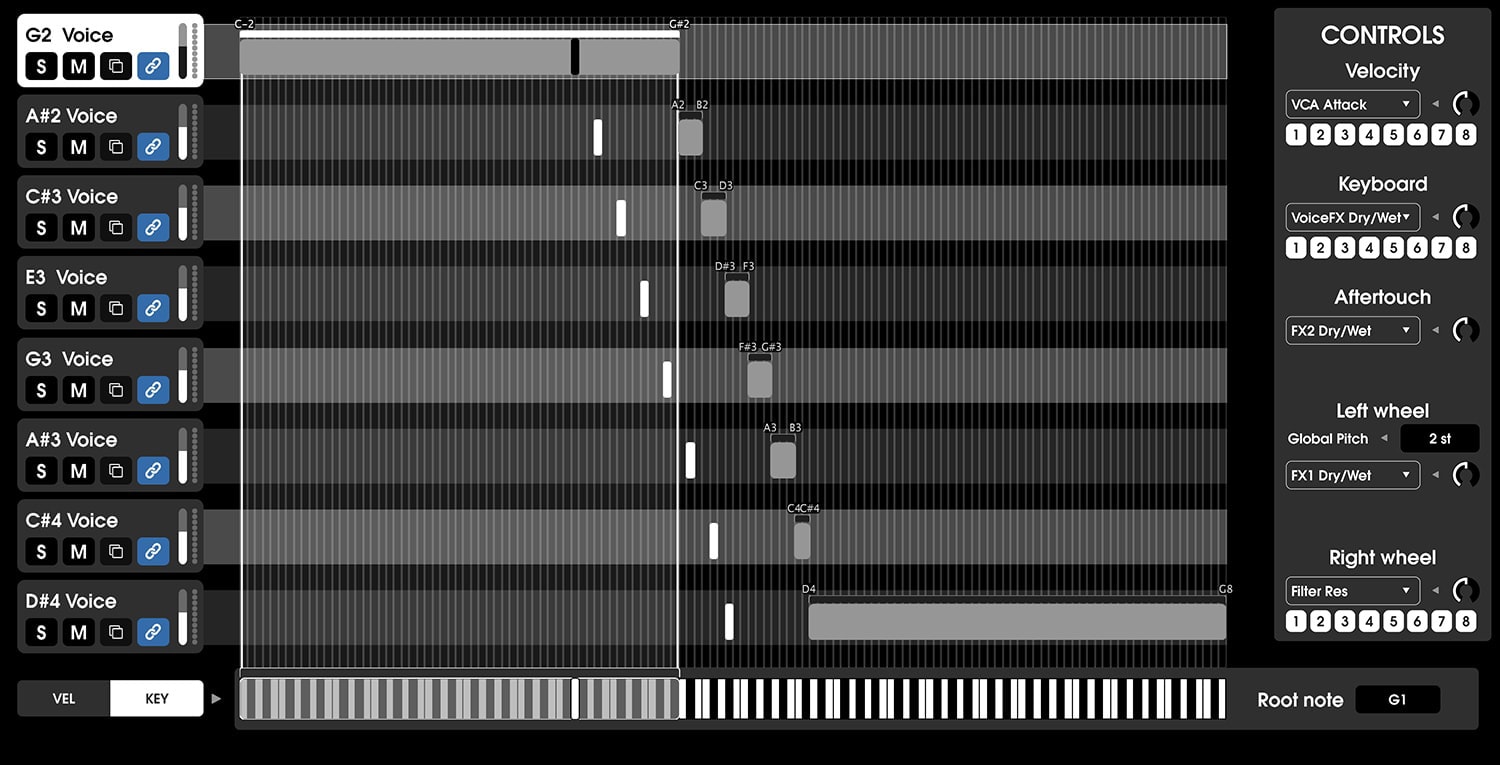 Easily assign samples to different note ranges on your keyboard by easily dragging across the visual interface.
Set up the left and right expression wheels to affect 1 of 16 modulation destinations, from LFO rate to pitch transpose.
The simple addition of 11 FX algorithms is the final trick up Emulator II V's sleeve. Whether you want to add isolated reverb to your snare sample, or just whack a swirling phaser on the master output, Emulator II V is on your level.
Apply an effect to any sample independently, apply up to 3 FX to the output, and opt for series or parallel depending on your tonal preference - get ready to send this sampler into sonic orbit.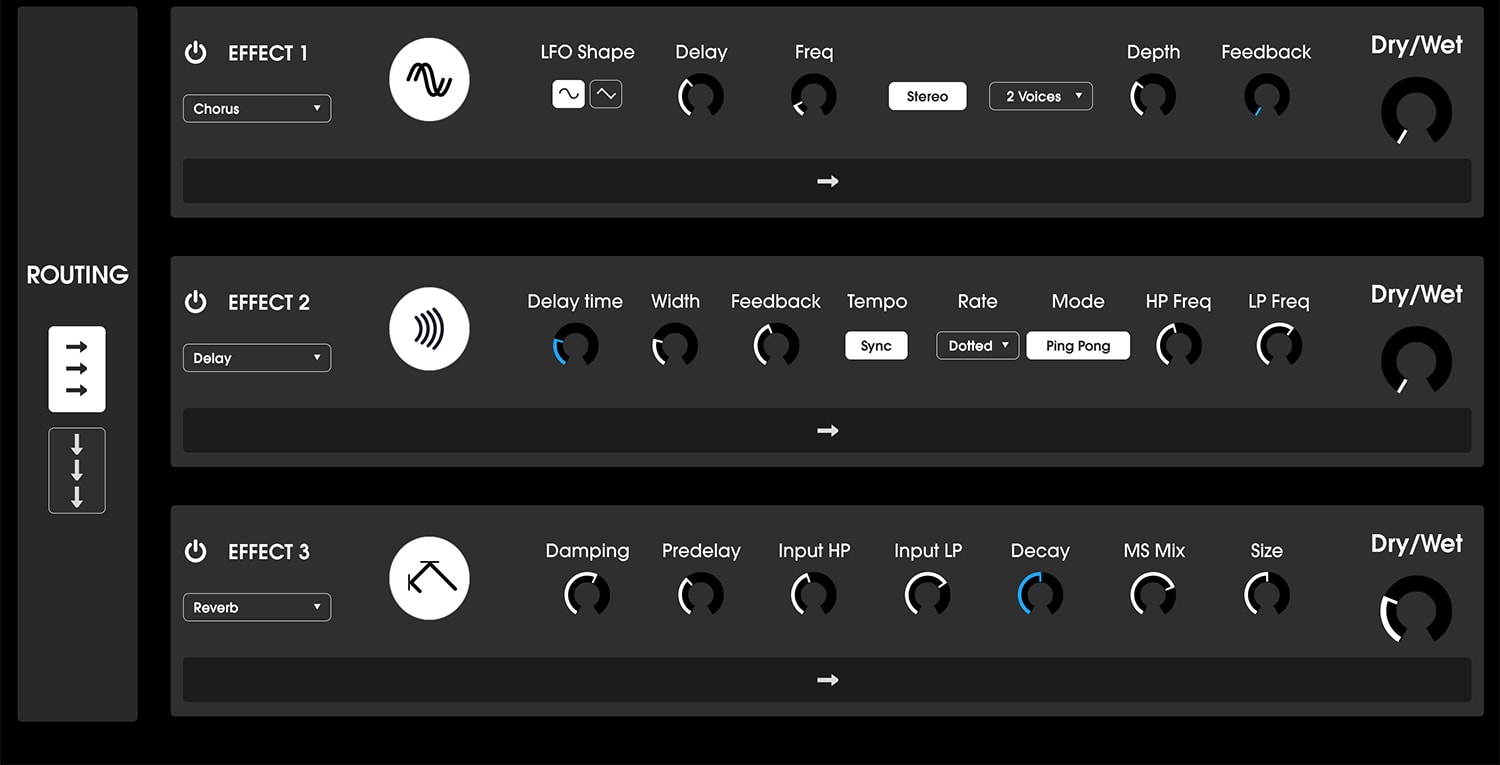 Reverb
Delay
Chorus
Flanger
Phaser
Overdrive
Compressor
Bitcrusher
Multimode Filter
Parametric EQ
Stereo Pan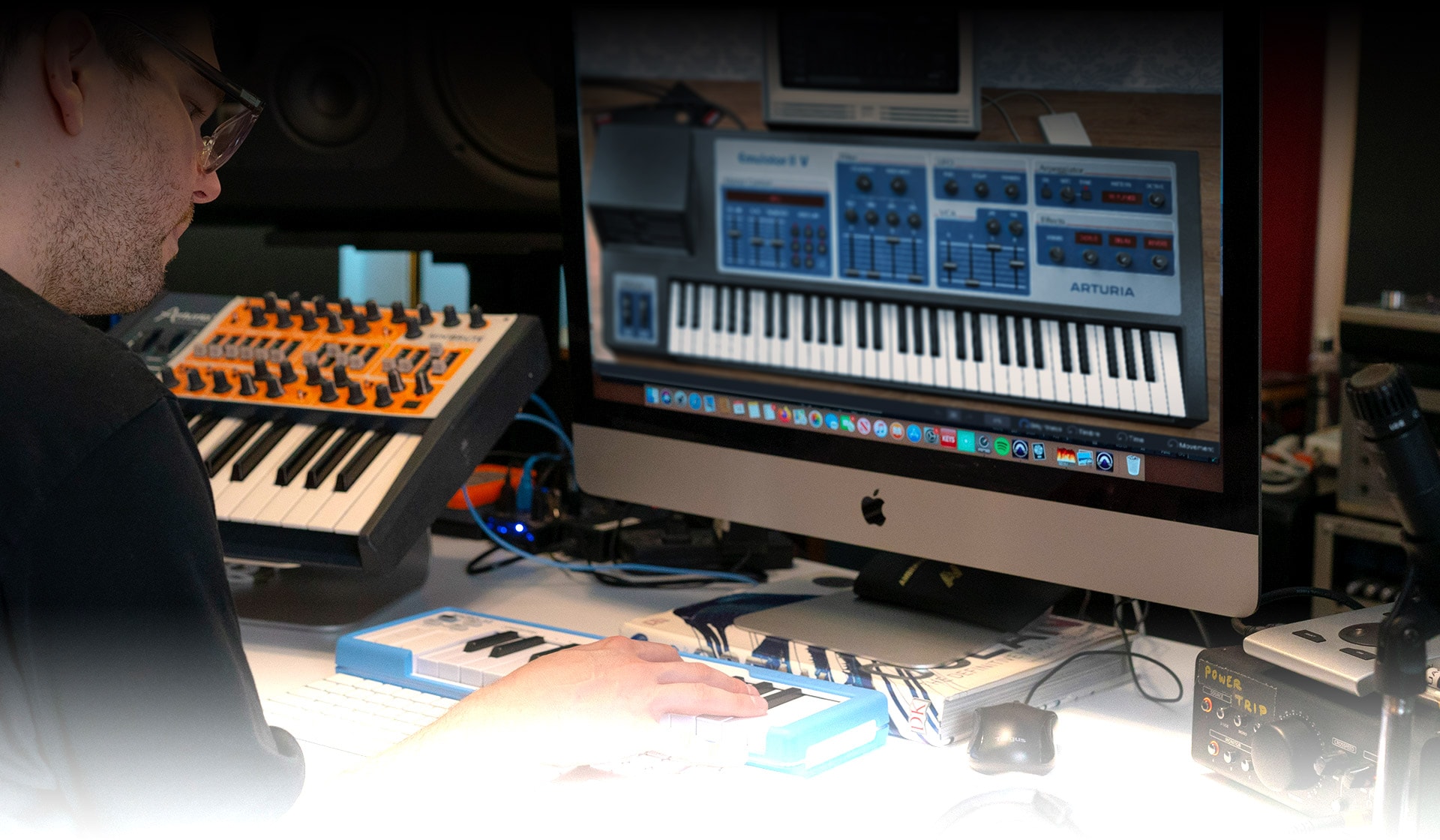 Hear it in action
Immerse yourself in Emulator II V's nostalgic sampled tones. In the hands of sound designers, composers, and musicians of all styles, it comes into its own - experience the awesome retro charm of this classic keyboard.
Sound Corner
Dark Division
This driving techno track, inspired by old-school trance and electro, was made entirely using Emulator II V and the built in presets. No external samples or instruments were used.
Urban Fantasies
A dark and moody dubstep track made using only sounds and drum kits from the Emulator II V factory library, including both vintage and newly made presets.
Sloppy Joes
BoomBap and West Coast inspired trap instrumental with a lofi edge. All sounds come from Emulator II V, with additional processing from our Comp FET-76 and Pre-1973 compressor plugins.
90s Eclipse
A tribute to 90s synth-based pop, made using arovane's own Emulator II V factory presets and external samples for drums.
1991
A groovy house track, featuring laid-back chords and external drum samples, typical of the 90s era.
Arpact
A rising ambient track with a cinematic vibe, led by the "Arpabetic" preset.
Cf BathPluck
A strong club / IDM track, making good use of some of the many exclusive drum kits that were created for the factory library.
Magnetique Tears
A emotional downtempo / trip hop inspired track, with a strong cinematic vibe, making the most out of emptyvessel's own presets, that can all be found in the Factory library. No external samples or instruments were used.
Quiet Moment
A short and driving cinematic ambient track, using arovane's own presets which can all be found in the Factory library.

TAE® Powered
The exclusive analog modeling technology that makes our virtual instrument emulations indistinguishable from the originals. By accurately mimicking the characteristics of analog oscillators, filters, and soft clipping, we can provide astonishing component-accurate detail and authentic analog charm in equal measure.
Learn More
Included in V Collection

This instrument is also part of the V Collection -your complete dream line-up of the legendary synths, organs, pianos and more that made keyboard history. They're modeled with the most advanced technologies for authentic realism, and enhanced with new creative options. Whether you use it as DAW plugins in the studio or standalone at gigs, V Collection puts the greatest keys of all time at your fingertips for instant inspiration.
Learn More
Presets
From the very first note, you'll be hooked on Emulator II V. It comes loaded with expertly-designed presets, from sampled classic instruments to edgy synthesized percussion - you'll find a sound that suits you in no time.
Bass
Shadow Beast Bass
A grimey bass straight from the underground, with a fast attack, and dark analog-filtered character.
Synthtron Bass
With pumping low-end resonance and an unmistakable digital edge, this preset has serious old-school games console vibes.
Drums
Trap Hell Kit
A quick-access trap percussion ensemble, complete with stereo-panning hats, a dynamite clap, and rumbling kick.
Boarderlands
With echoing ambience and metallic resonance, this industrial percussion kit brings post-apocalyptic dust and rust.
Pads
Distant Voice
Translations from another world, vocal echoes from the darkest depths, processed into a pad sound that's eerily beautiful.
Secret Code
An evolving pad teeming with harmonic layers and gritty detail, soaked in luscious ambience.
Sequences
Arpabetic
A pleasant harp-like sound, weighted with a soft lower-octave, and expanded with bright reverb and delay.
Bottom Secc
Sharp, snappy percussive samples pitched and panned into a bouncing rhythmic pattern, with classic action-sequence character.
Keys
Cascading
Use of trig delays and soft ping-pong delay on these glassy samples results in a pleasant musical tapestry.
Bath Pluck
Crunchy strings, plucked with confidence, ringing with bathroom-tile echoes, and bringing a curious Eastern vibe.
SFX
Shardonn
A powerful, echoing presence, ringing with dusty overtones and cavernous reverb, pulsing left and right, up and down.
Folded Time
Bouncing rhythms racing against the clock, breaking the time barrier and fracturing sound itself for a crushed inside-out sound.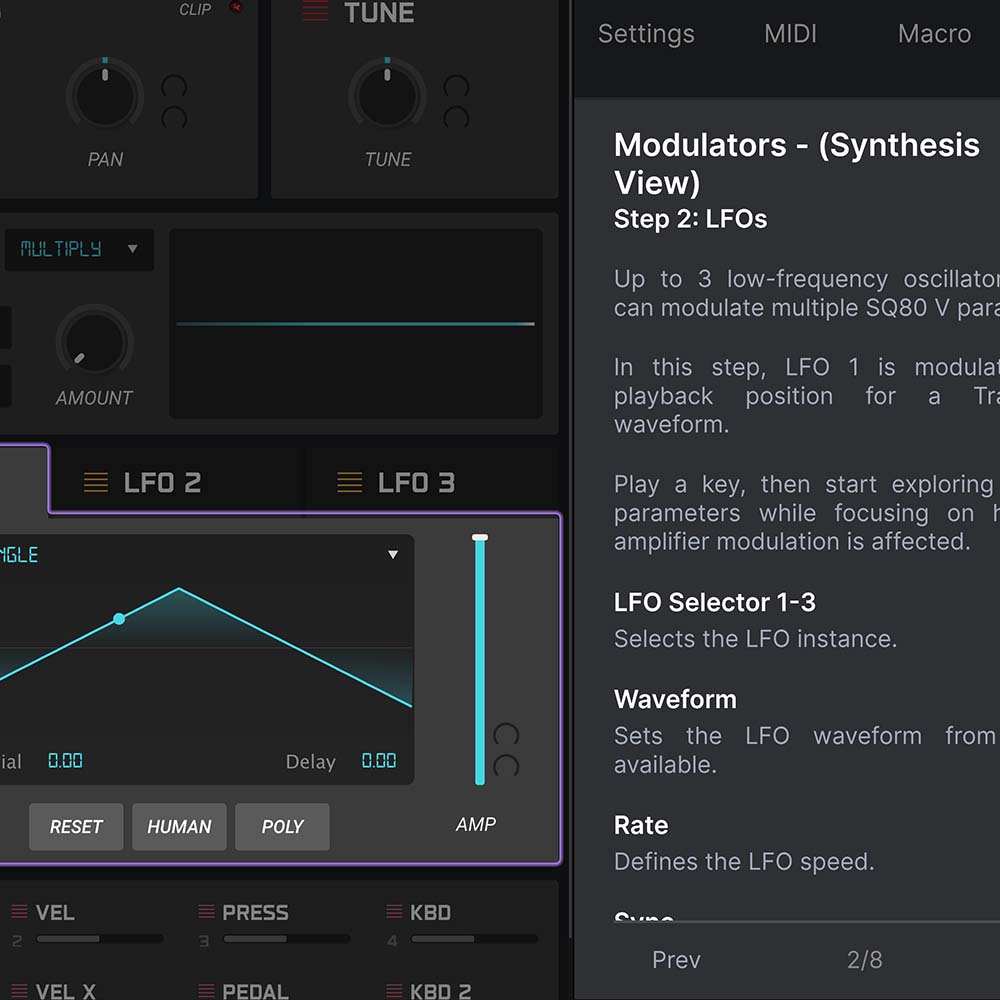 In-App Tutorials
Integrated in-app tutorials guide you through every aspect of the instrument, from individual parameters to tips from our sound designers, so you can focus on the creative stuff. It shouldn't be this easy, but it is!
ASC
Arturia Software Center lets you download, organize, and update all of your Arturia software titles in one place, as well as manage all of your licenses across multiple devices. Keep it simple.
Learn More
Download the ASC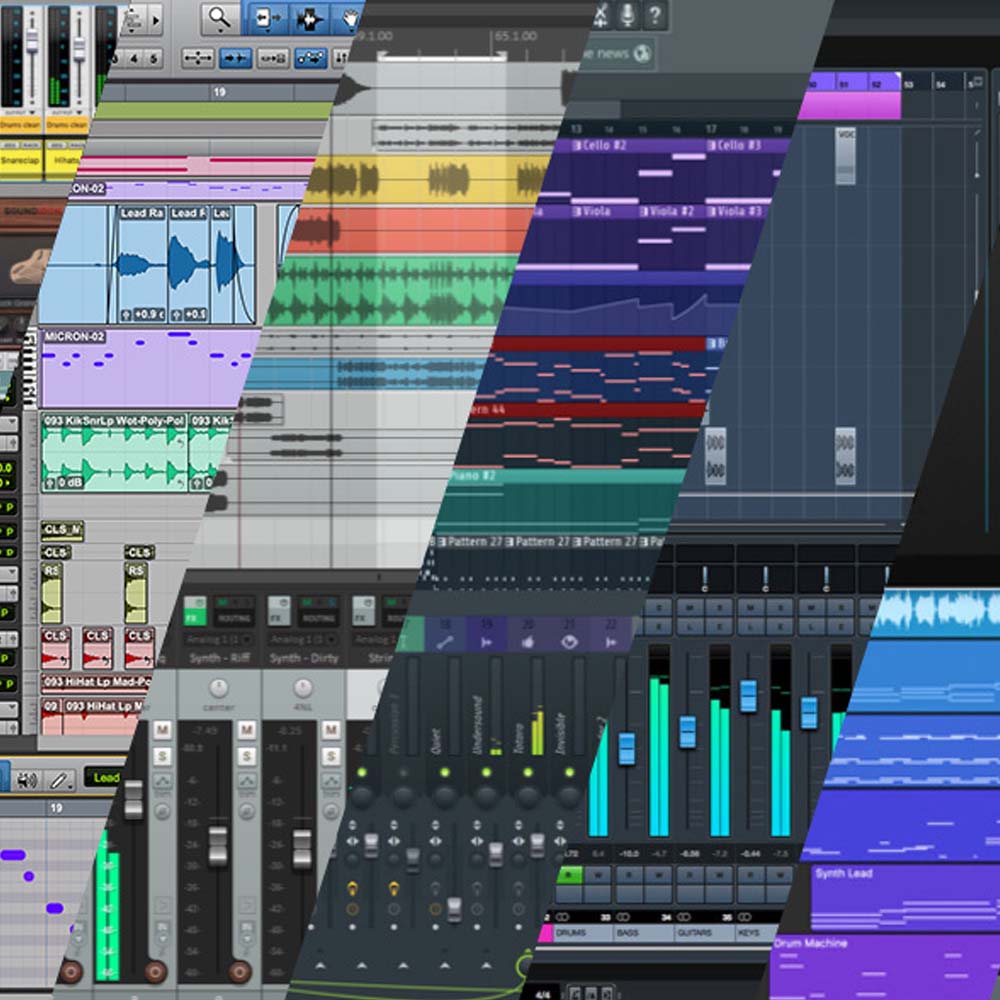 DAW ready
Our virtual instruments and plugins are designed to fit right into your setup without hassle. Whatever your style, you can explore sound while enjoying full compatibility with major DAWS, on both Windows and MacOS.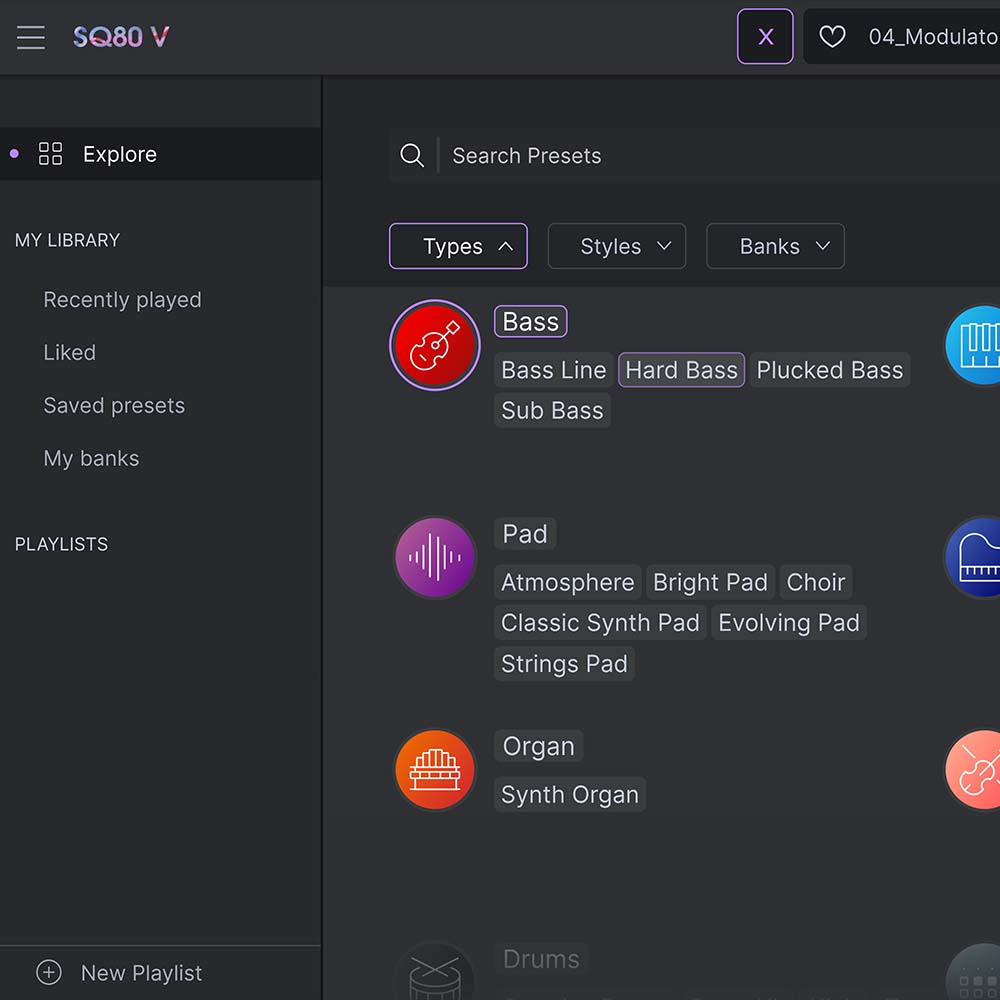 Preset browser
Instantly find the sound that's in your head with intelligent & streamlined preset browsing. Search with keywords, explore by instrument type, musical style, and more - you can even save your favorites to quickly recall later.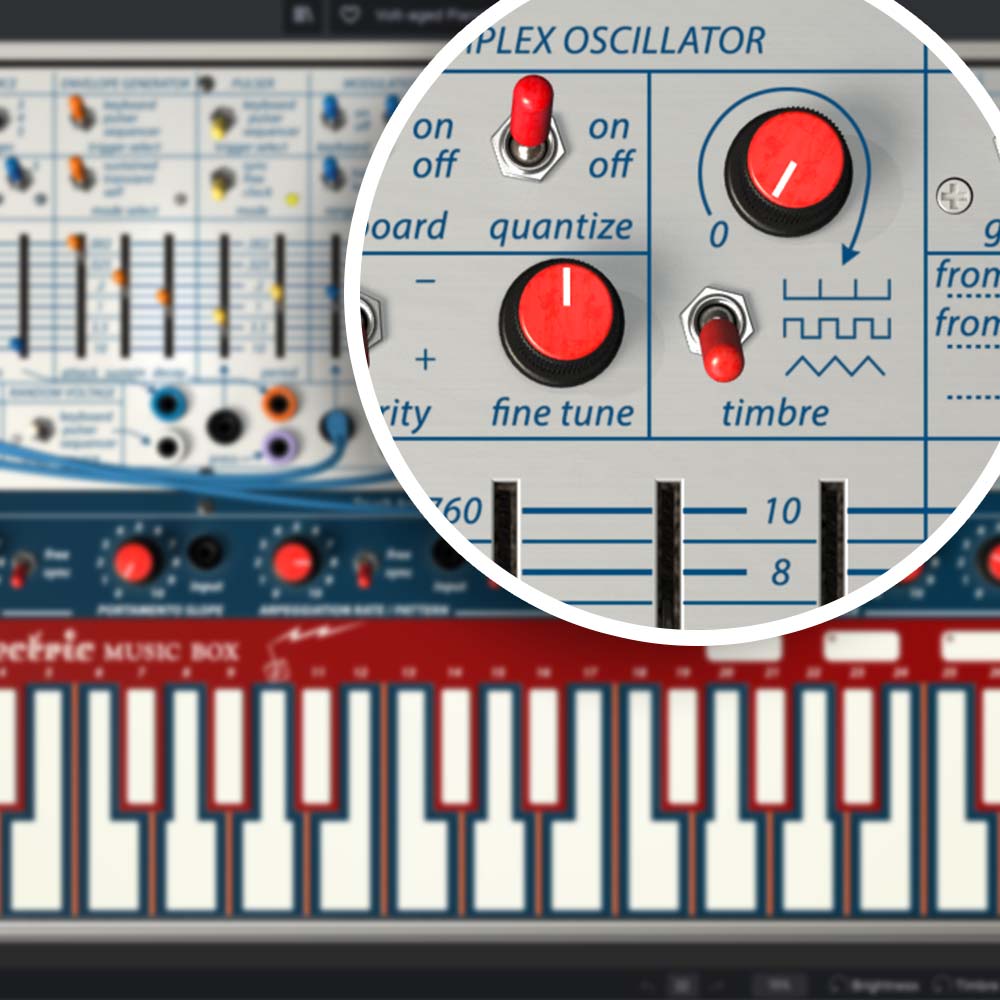 Resizable GUI
Whether you want the full visual immersion of our classic instrument emulations, or to save precious screen real estate, the interfaces for all of your Arturia virtual instruments can be resized to a scale that suits you.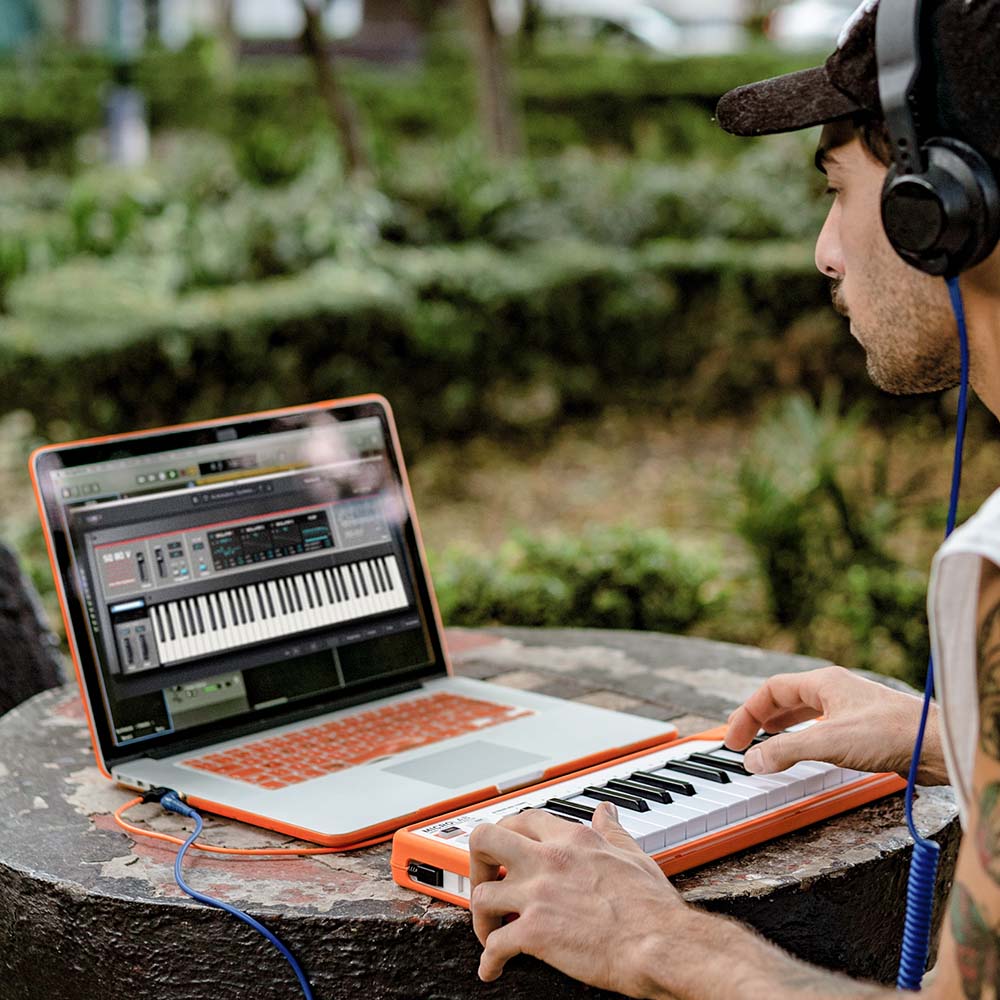 Perfect integration
Instruments come seamlessly mapped for the Arturia KeyLab range - but they'll place nice with other MIDI controllers too. Instant sound tweaking macros, easy DAW integration, and standalone operation.
Gallery
Platform specifications
: Win 8.1+ (64bit) PC: 4 GB RAM; 2.5 GHz CPU.
2GB free hard disk space
OpenGL 2.0 compatible GPU
: 10.13+: 4 GB RAM; 2.5 GHz CPU.
2GB free hard disk space
OpenGL 2.0 compatible GPU
Required configuration
Works in Standalone, VST, AAX, Audio Unit, NKS (64-bit DAWs only).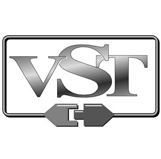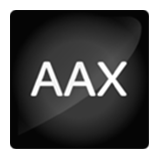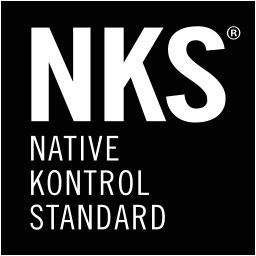 Protection
The software is protected by the Arturia Software Center. You can learn more about it here.
All manufacturer and product names mentioned on this page are trademarks of their respective owners, which are in no way associated or affiliated with Arturia. The trademarks of other manufacturers are used solely to identify the products of those manufacturers whose features and sound were studied during the development. All names of equipment, inventors, and manufacturers have been included for illustrative and educational purposes only, and do not suggest any affiliation or endorsement by any equipment inventor or manufacturer.
Main Features
Original E-mu Emulator II feature set:

8 voices multitimbral sample engine
Each layer (voice) has its own VCF (+ADSR), LFO, VCA (+ADSR)
Original 8 bit companding technology and 27.7 kHz sample rate
Analog filter

Multiple voices can be controlled from the hardware view for simple editing
Includes factory sample bank from the original hardware
Per layer (voice) insert FX
Each layer (voice) can use original 8 bit companding or a cleaner conversion
Integrated arpeggiator
11 master effect types (Reverb Phaser, Flanger, Chorus, Overdrive, Delay, …)
Advanced Brightness, Timbre, Time and Movement macro controls
250 factory presets