THE ART OF SOUND DESIGN
Pigments offers hundreds of master-crafted preset sounds for you to explore, enjoy, and personalize.
To give you the best range of sounds to represent the awesome power of Pigments, we scoured the globe for the most adventurous, experimental, and down-right cool sound designers around. Trailer sound design masters to sample pack geniuses, highly respected recording artists to pioneering modular synthesists. They've all been busy making totally unique, massively exciting sounds just for you.
On this page, you can read - in their own words - what our sound designers thought about Pigments, its workflow, how they approached their sound design, and a little bit about their favorite patch.
Jeremiah SAVAGE
The mastermind behind the Kinetic Metal and Kinetic Toys Kontakt instruments, and sound designer for Absynth, Massive, FM8, and Reaktor, Savage is a highly respected, superbly talented audio artist.
While learning Pigments and experimenting with various parameters, I quickly honed in on my favorite feature: the wave table editor. I always begin my synthesis work by crafting the wave unit first and work my way out from there. With Pigments, you can quickly get the tones and harmonics you need with it's powerful features. I love using the different noise modulators in combination with simpler wave shapes to create realistic sounding instrument timbres.
My approach usually involves deciding on a theme and building the sounds around it. On new synths I like to explore possibilities and experiment to find a certain niche. With my 32 Pigments presets, I created a broad range of challenging tonal and musical pallets, and felt Pigments did a great job of meeting those challenges.
ELP Brain BASS
Night Tremor was my first preset created with Pigments. It has a nice expressive attack and is very playable as a stand alone sound. As it was my first sound, I took the experimental approach in its creation and was very pleased with the result and immediately became hooked.
With Night Tremor, I carved out the tone in the Wave Table section, then used modulation with various wave table parameters. The combination of flexible modulation and deep wave table editing is not just powerful in achieving nice sounds but it's a joy being able to get to that level, finding interesting and unique tones so quickly and easily because it means you can spend more time exploring even deeper possibilities.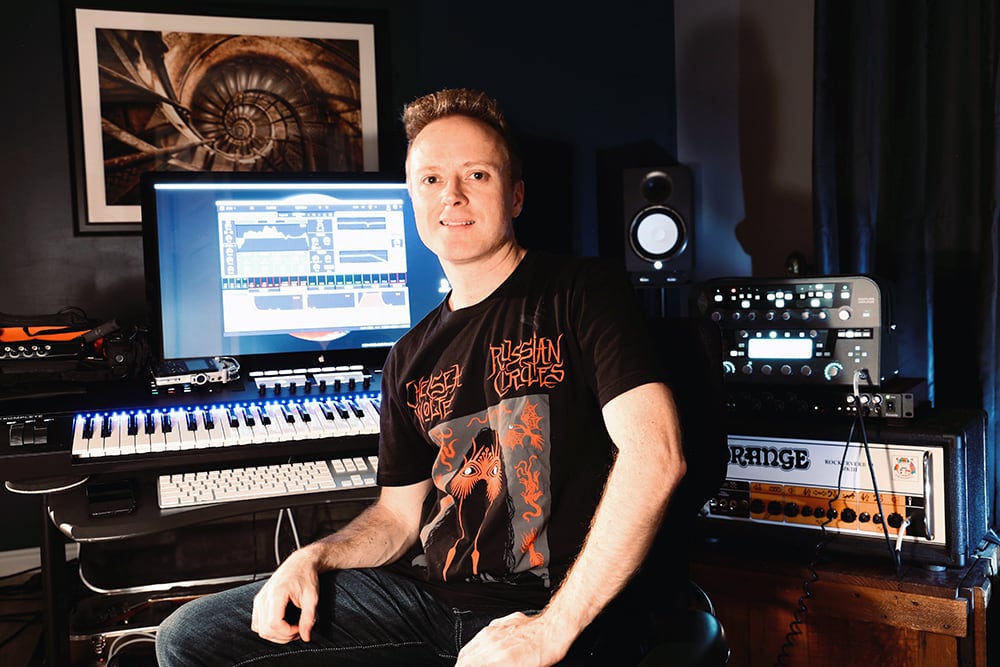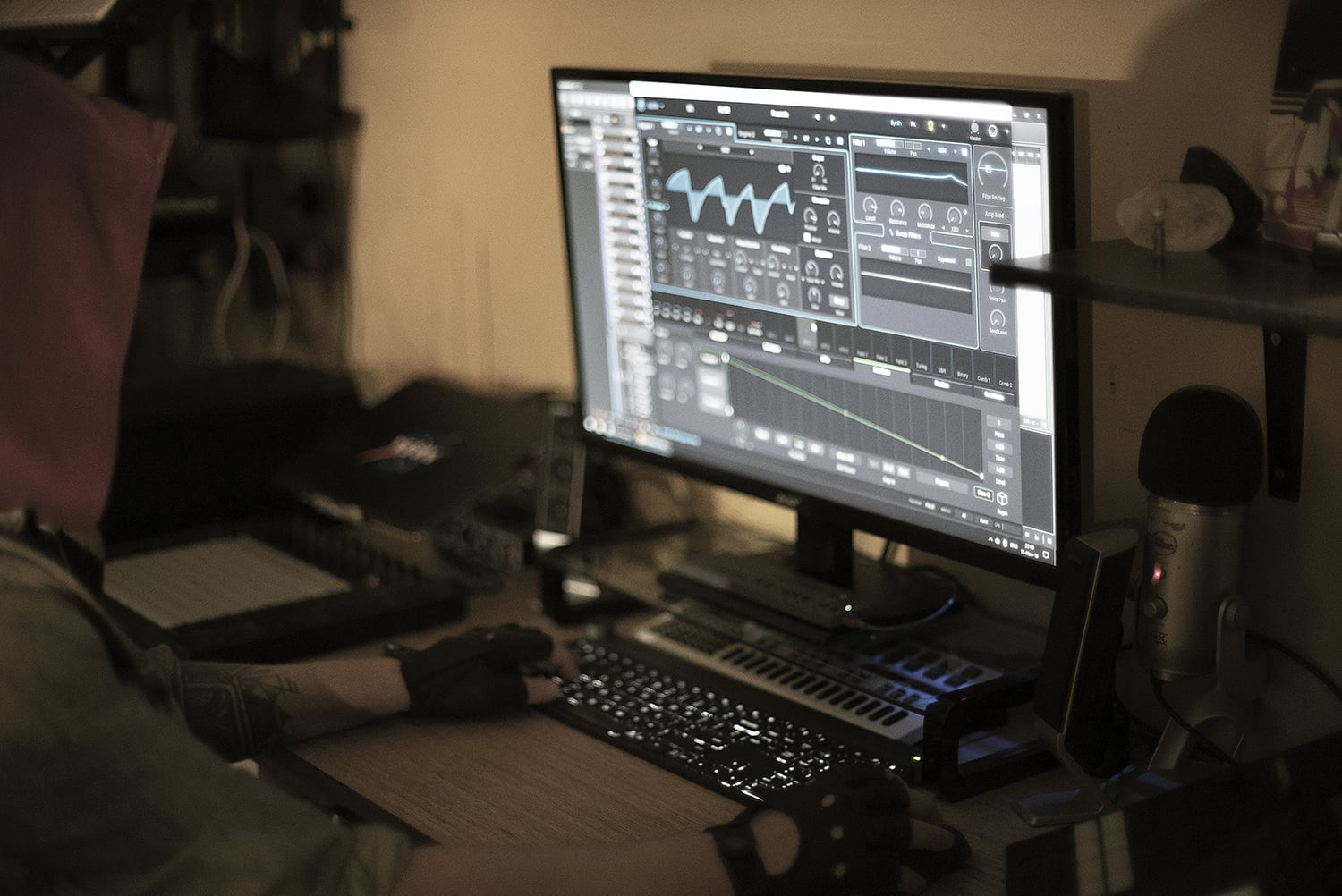 STARCADIAN
Starcadian is a mysterious, independent visual and audio artist, currently based in Brooklyn, New York. He's been making what he calls 'ear movies' since 2011, combining electronic music with fantasy soundtracks, bound together by a narrative mythology catalogued in his music videos. Every album he creates is based on a feature-length script, building off of, and tied to the previous releases. He direct the videos along with his frequent collaborators, and produces all the visual effects.
It's funny how sound design works. You never know what the trigger will be. A "standard" way of starting out would be to try and emulate your favorite sounds build off that. With the right plug-in, you start with those intentions and veer wildly off-course. That's when the real magic happens. Not only does that entire song structure change, but the meaning and vibe. That's really lightning in a bottle and you can't account for when and how that happens, other than making sure you use the right tool that lets you do that and accommodates your trip.
Pigments led me down this wonderful rabbit hole of new exciting ways of manipulating the sounds and made me rethink what I was doing. I've always said that music should never be fully retrospective, or never fully futuristic. The real beauty lies in the middle. No one writes a new language for their next book. You take the existing language and use it in new interesting ways that touch real people. The best way you can do that is by using the right pen, like Pigments.
Space Pad
The foundation of this whole sound comes from a single waveform. When you animate the position, it creates this gorgeous harmonic that would oscillate between the IVth and an octave. After experimenting with macros, I found it interesting how with just one knob you can turn this from a soft spacey pad to a distant black metal guitar from space. I used Pad Enabler to segue in the harmonies, while I using the Timbre with a bezier curve towards the end to intensify the finale. I peppered in little automation hills of wavefolding and phase distortion to give it some variation and intensity. Finally I use Time to alternate between a slow ambient sound to the faster arpeggio section.
Jörg HÜTTNER
Emmy-nominated composer Jörg Hüttner bought his first synth at 15, inspired by Depeche Mode and Jean-Michel Jarre. In the late 90s and 2000s he created lots of sounds for synth manufacturers, before moving to LA in 2007 to pursue a career in film music. He's worked on "50 Shades of Grey", "Independence Day: Resurgence" and Netflix's "How It Ends", and many more. A few of his latest projects include promo spots for NBC and a new trailer album for 2019.
Pigments is a very 'visual' synth. You immediately see what is happening with a sound and its settings thanks to its clear graphics. The easy setup of modulations makes Pigments fun to work with, and I especially like how you see modulations at work in the modulations bar. Combining Wavetables with "conventional" analog oscillators and using Arturia's great sounding filters from various software synths makes for a powerful synth engine.
I always start with "init" sounds with any synthesizer I get my hands on to see what it can do. I checked out Pigments' wavetables first to see which ones I liked best. Then I started to play with different modulation sources to scan the wavetables. From there it gave me an idea what type of sound I might go for. I always focus on making sounds very useful in productions and not to "show off" features. Sounds are tools for my compositions.
Basstastica
I tested a Functions modulation to modulate the filter, which ended up sounding more like a sequence, which I liked. The aggressiveness comes from the wavetable's sound though. Function 1 is the main sculpting feature of this sound. It makes the rhythm and filter movement. I combined hard parameter jumps in it with smooth and curved parameter changes.