Your music is begging for a different kind of synth sound. Look no further than Synthi V.
Synthi V brings you all the experimental excitement of EMS' legendary 3-oscillator analog synths—now infused with thoroughly modern enhancements. Venture beyond unusual lead and bass sounds to create soundscapes and sci-fi effects ranging from beautiful to bizarre and everything in between.
Synthi V will bring out the synth wizard in you. What new sounds will you conjure up?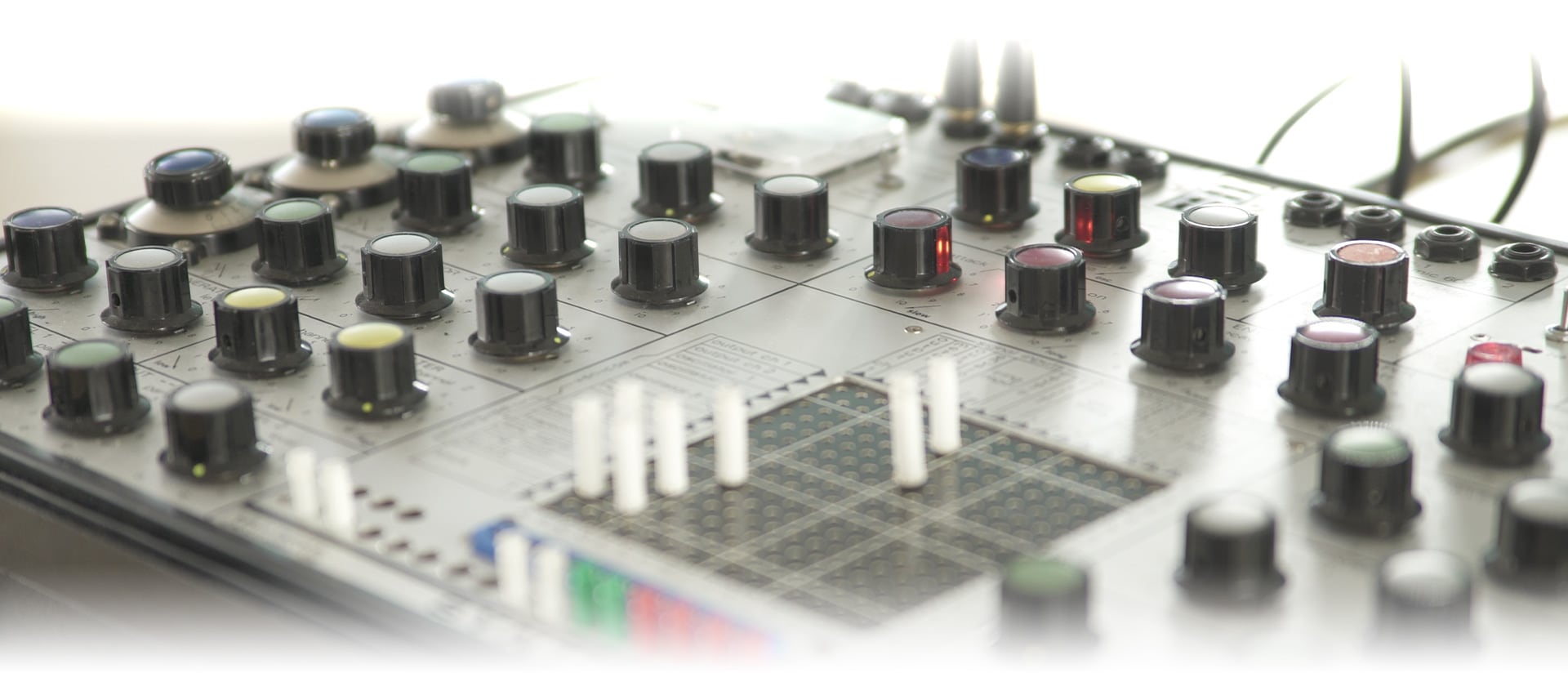 Compact form meets modular function
The British-born EMS family of synths—featuring the sonically identical Synthi AKS and VCS3—were among the first to distill modular synthesizer functionality into a more portable form. Where most competitive designs like the Minimoog sacrificed flexibility to size and simplicity, EMS retained a modular heart through the genius of one of the first matrix patchbays to grace a synth. That additional versatility led to more experimentation outside of melodic norms and into the more electronic realms of psychedelia and sci-fi effects. Cue Pink Floyd's "On the Run" from "The Dark Side of the Moon" LP.
Synthi V is the perfect evolution of the synth that turned a lot of heads. Now you can use it to turn some heads of your own.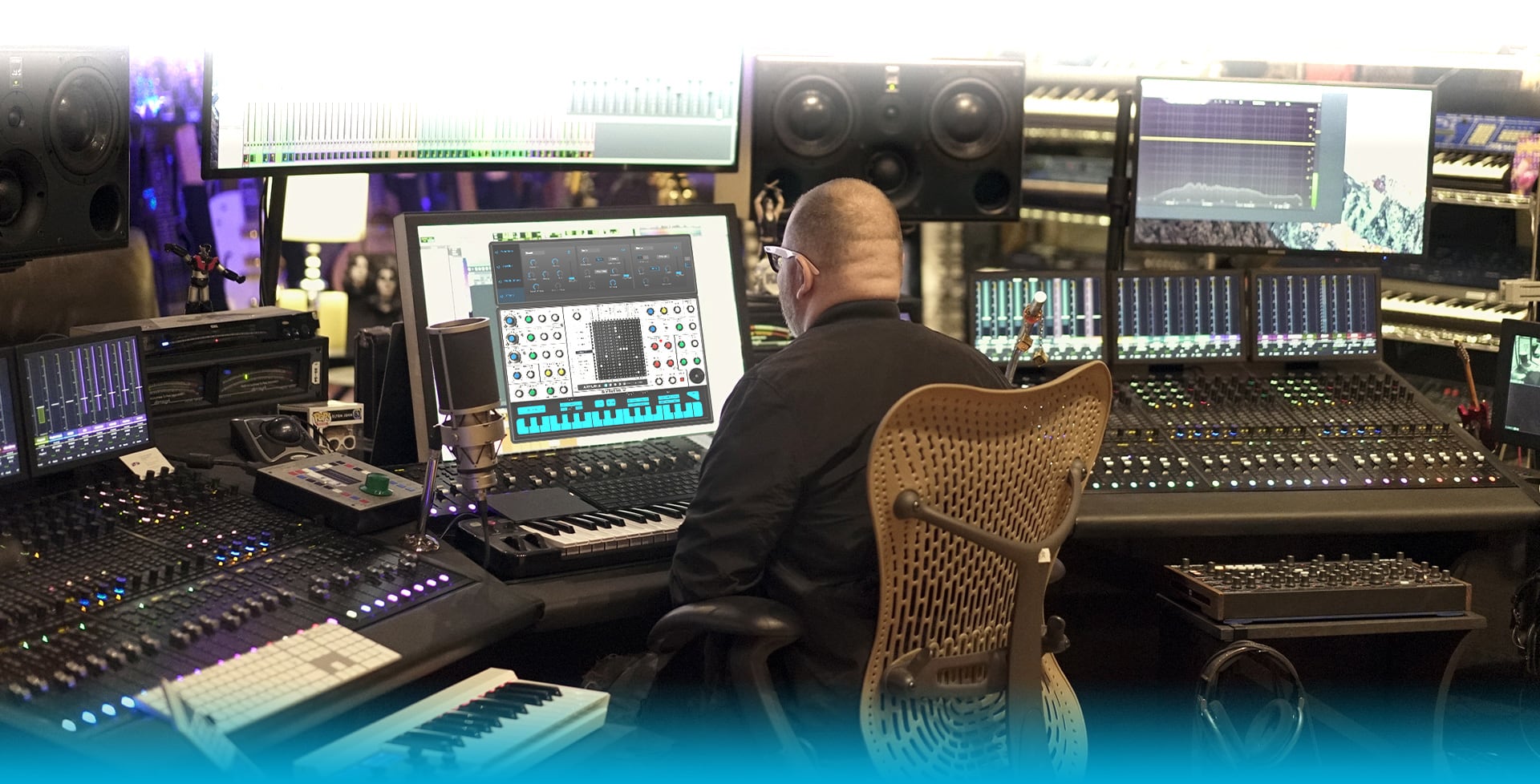 Press Clipping
"I can say that it certainly does sound like the original to my ears. The Oscillators have the same kind of rawness I remember, and the Filter has the same kind of response I remember. The kind of control, and adjustments produced by the patching seem to have the same feel I experienced when working with Synthis, all those years ago. "
Sound Bytes Mag
"Synthi V is a welcome addition to the package and should be high on anyone's wish list."
Attack Magazine
Re-Make/Re-Model
If you're one of the lucky ones who owns or has played a Synthi or VCS3, you'll not only be amazed at how accurate our model is, but also blown away by its dramatic enhancements and new features. If you've never had the joy of experiencing the original, you're in for a treat with Synthi V.
Like the original, Synthi V is one fat, edgy beast that begs experimentation. In addition to making minor mods, we've added a whole new set of digital tools that bring this instrument to the vanguard of today's music. A modern step sequencer, dedicated beat-syncable LFO, and on-board effects are just some of the sonic goodies that will make Synthi V your new obsession. You also now have the power of full matrix modulation targeting every single parameter with totally variable signal strength.

Oh, yeah… did we mention that we've turned this awesome monophonic synth into a 4-voice poly? You're welcome!
With Synthi V, you can add spice to any genre—or create your own.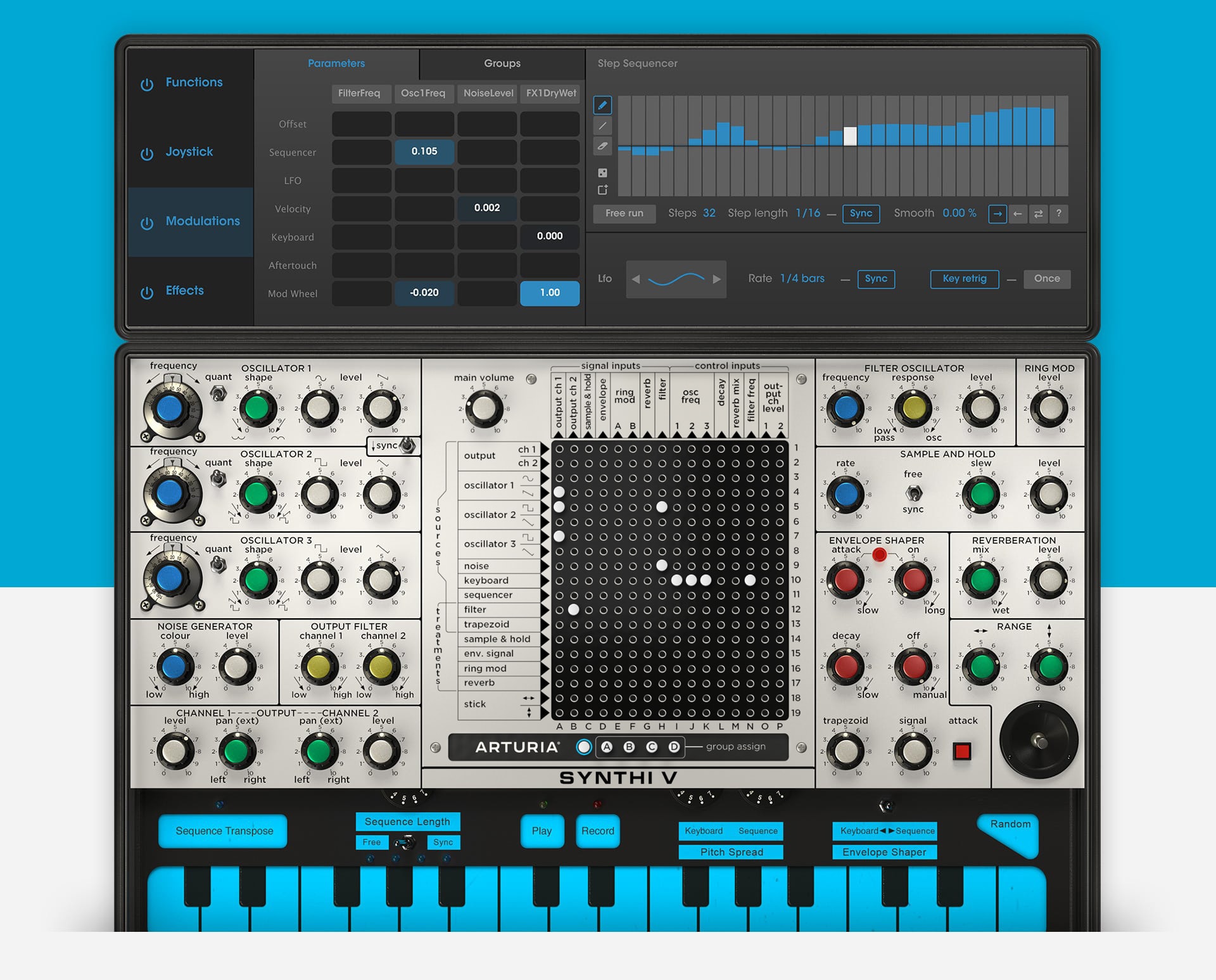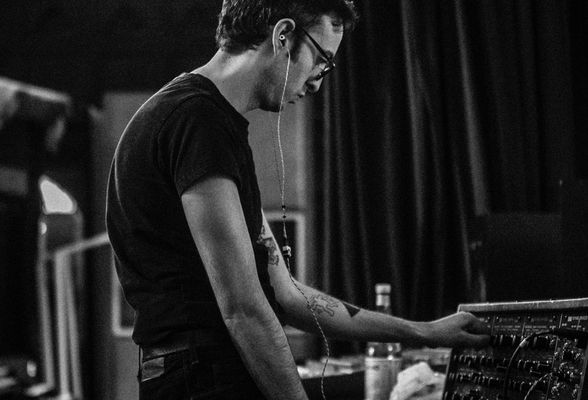 Artists Corner
Original Synthi's are always a pain to use musically, The Synthi V captures the character of the original machine, but far surpasses the original in its ease of use and is now my go to soft-synth for characterful analog sounds.
Tom Furse
( The Horrors )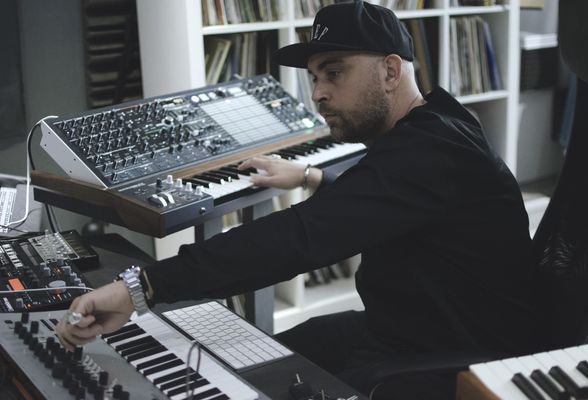 Artists Corner
I am very inspired by the new Synthi V which has a lot of charisma. The scalable 4K resolution gives me the feeling of having the real analog synth in my hands.10/10.
Sasha Carassi
( Producer )
With infinite sonic possibilities,
it's still easy to find just the right sound
Synthi V's comes with an extensive library of leads, basses, textures, sound effects and more. Yet, it's always easy to find the sound you're looking for because of our universal system of categories and tags. Of course, you can organize your own patches using that same elegant system.
Sound Corner
Discover the sound of Synthi V. Thanks to its modulation matrix, you can route any signal into anything, and thanks to its unpredictable nature you'll often create sounds you've never heard before. We've been careful in modelling every single component of the machine to reproduce defects at every levels, from the oscillators to the beautiful distortion found at the different gain stages, contributing to the rich harmonic content of the original sound. Adding up a polyphony of 4 voices expands the potential of the original, letting you create pads and more evolving sounds.
Sound Corner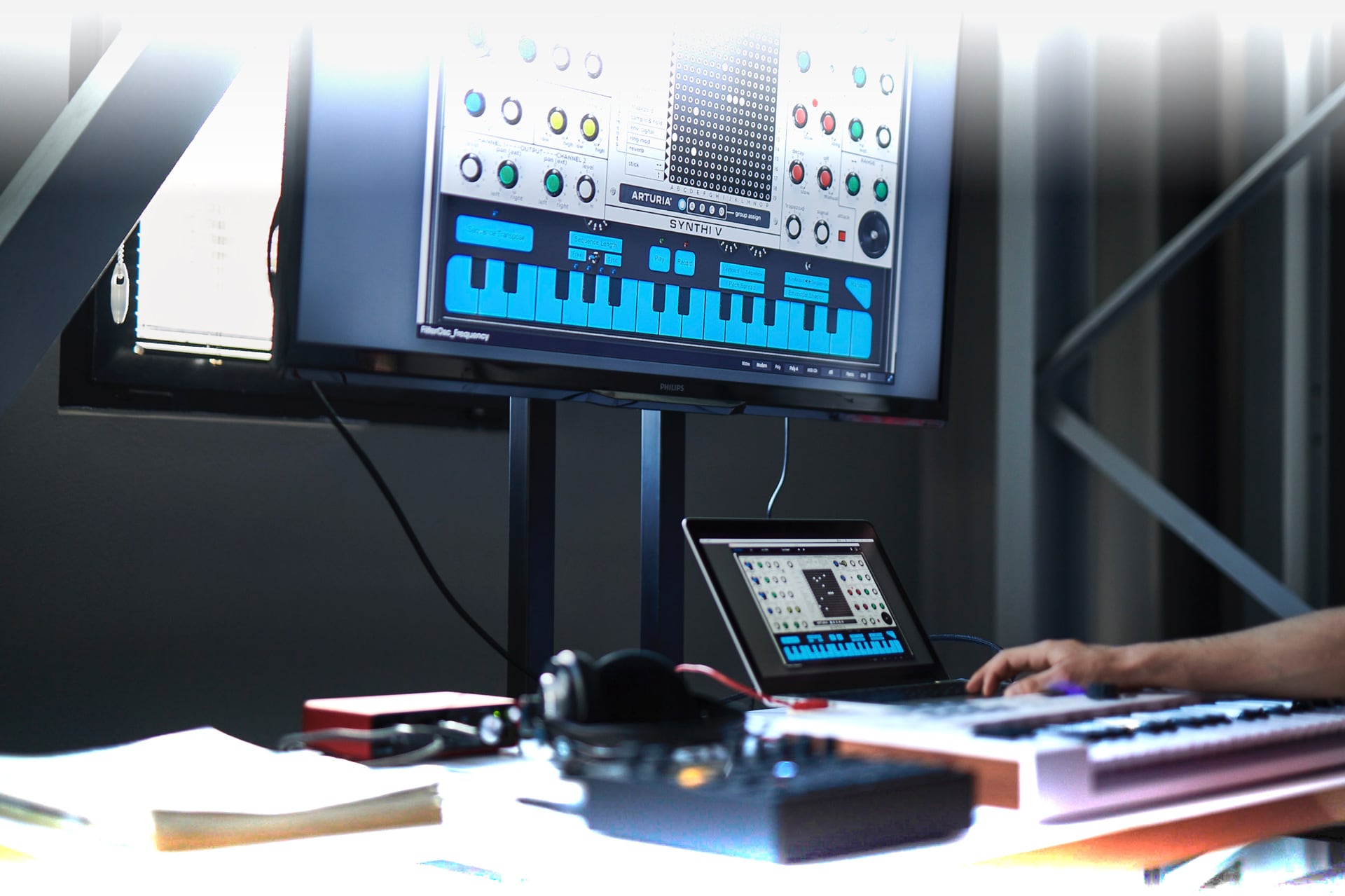 Included in V Collection

This instrument is also part of the V Collection -your complete dream line-up of the legendary synths, organs, pianos and more that made keyboard history. They're modeled with the most advanced technologies for authentic realism, and enhanced with new creative options. Whether you use it as DAW plugins in the studio or standalone at gigs, V Collection puts the greatest keys of all time at your fingertips for instant inspiration.
Learn More
Gallery
Main Features
A component-level model of the EMS Synthi AKS
3 oscillators with waveform mix, noise generator, 18 dB/oct resonant filter, output section with spring reverb modelling
Modular architecture, allowing to route signals in unexpected ways
Ring Modulator, loopable Envelope Shaper, 2 axis Joystick and Sample and Hold modules for advanced modulations
Original keyboard sequencer module with sync to DAW tempo
2 matrix behavior modes: modern and vintage for cross-talk simulation
5 assignable voltage functions to create multi-point envelopes and LFOs synced to DAW tempo
Advanced joystick automation module for modulating parameters in a 2D space
Matrix pin amounts modulations possibilities (with 4 independent groups)
10 effects, Reverb Phaser, Flanger, Chorus, Overdrive, Delay, ...
Up to 4 voices of polyphony
Over 250 factory presets