El Choop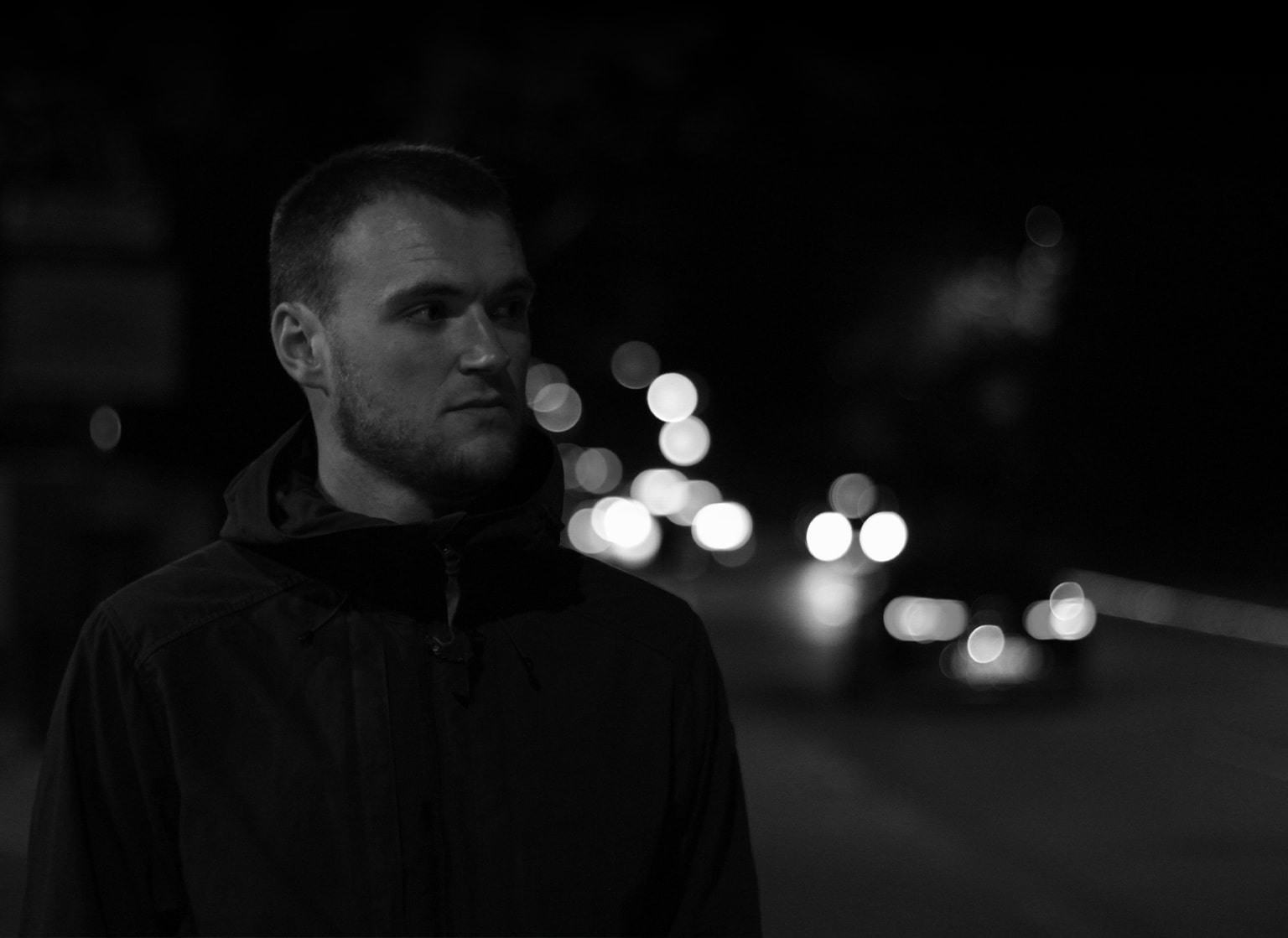 Harvey a.k.a. El Choop is a UK-based producer and sound designer best known for making deep, dubby techno - but he also loves to produce electronic music in all its forms. His latest project was released on London label Ornate Music, and he's known for his monthly Oil City residency on Bloop London Radio, where he showcases the hottest unreleased electronic sounds.
The synthesizer section of the Vocoder V is seriously impressive. It's strong, bright, and emulates that thick analog sound accurately. It's interesting to have a sample's envelope trigger the synth, and when you have it set to 50/50 dry wet (vocoder/synth) you get a balanced blend of sampling and vocoder synthesis which can be a powerful hybrid of sounds. As i'm not a vocalist I've not experimented with vocoders before and after using this one I've been converted, it turns out vocoders aren't just for vocalists. The modulation section is also impressive. I came across some compelling results by routing the input source's envelope to parameters such as reverb size and delay rate. Routing like this is particularly good for a vocal performance because the intensity of a reverb or delay is directly related to the input vocal source. If you sing a long note the reverb on your voice gets bigger in size, or the rate of delay will alter in real time - very cool.
As I'm learning a new instrument or piece of software I try not to have a specific sound in mind, this is so I can let my curiosity lead me and, hopefully, get results that I wouldn't usually get. It's only when I've used an instrument for a good few hours that I can then have a sound in mind and work to it. With the Vocoder V I loved making generative sequences from dropping similar sounds in each of the sample playback slots and launching them randomly. For instance, I imported in 4 C notes from a 303 style acid synth, each with varying timbres and lengths. Then I set the sequence mode to random so each time the Vocoder V was fed a MIDI note an acid note would be launched randomly. The result of this is a seemingly genaritive 303 acid line that is reorganised each time it sequences. I then paired this with the Multi Mode Filter within the effects section and applied some LFO modulation to make it morph and change like a real 303 would.
Montgomery Birds
My favourite preset is ​Montgomery Birds. ​This is a lush pad sound paired with a field recording of morning birds I recorded in my hometown of Montgomery, Wales. I took an experimental approach here importing in a field recording and not expecting it to be musically 'useful'. I designed a pad sound using the Vocoder V's synth section and when layered with the field recording it sounded great. Of course some modulation and effect processing was necessary to smear them both together. The typical reverb and delay combo is preset but with some auto pan and the ensemble parameter dialed to about 50%. The autopan creates movement to the sound and the ensemble parameter provides a chorus like richness that sounds so lush and velvety that I used it on most of my presets! For enhanced playability I routed the modulation wheel to two parameters; band shift and auto pan rate. As you move the modulation wheel you can hear the autopan getting faster as the timbre simultaneously morphs. Although the marriage of tweeting birds and an ambient pad isn't exactly original, I really love this preset. There's something to be said about hearing the birds from your hometown in a musical context. I know that to anyone else these birds aren't so special, but I hope they enjoy the preset regardless.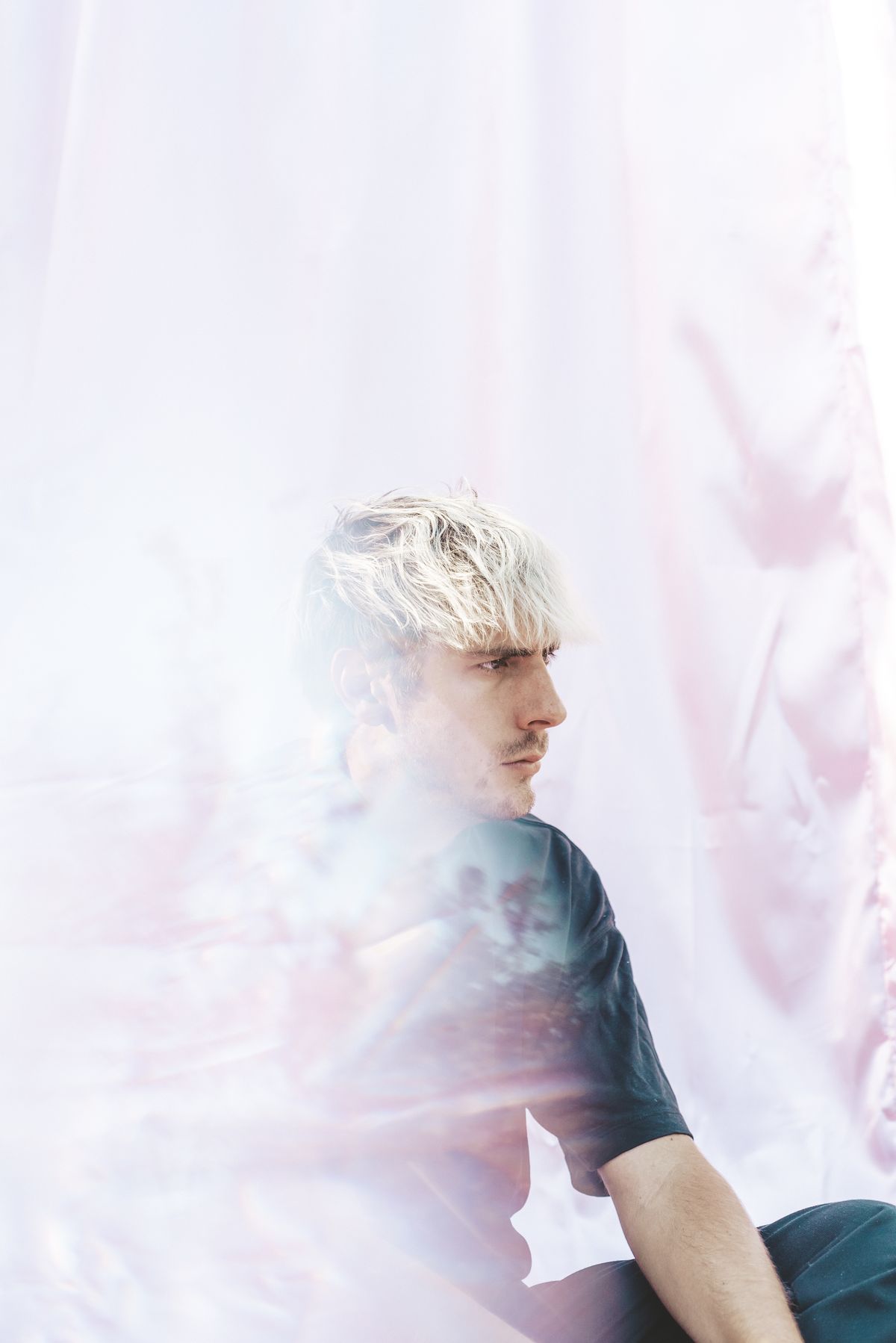 Jean-Baptiste ARTHUS
Jean-Baptiste Arthus has been a resident Arturia sound designer since 2014, in charge of creating factory presets and soundbanks for all Arturia instruments. On top of his relentless creativity at Arturia HQ, he's also known as XL.IKS for releasing deconstructed beats.
I really appreciate the level intelligibility, with both the switched noise and high frequencies level knobs you can easily adjust the ratio between vowels and consonants. The integrated sample player is a nice way to have direct results without the need to set up a sidechain track.
For some presets, I looked for dialog from movies I like, then I used text to speech to generate the voices and I process them through the Vocoder V. I divided voices sound in two categories; the tonal ones that can be played with chords, using clear oscillator tones and little modulation, and on the other hand, the SFX ones sounding like metallic robots or hostile aliens using FM, OSCs shaper, and modulations.
Existz
I wanted to use this speech from the movie "eXistenZ" when the main character loses their mind and says some...interesting things. I used a noise oscillator to have an aggressive but intelligible voice, and a classic square one to add body to the voice.

Simon GALLIFET
Simon Gallifet is a Music Producer and sound designer who has been involved in many projects alongside Arturia. As a multi-instrumentalist, he has been playing drums since the age of 5 and learned classical music theory at university. He has been actively involved in sound design and electronic music production for 12 years.
Arturia has again succeeded in reproducing a legendary instrument by adding features to make it easier to use. I am referring in particular to the sample player which allows you to have ready-to-use vocoder presets. This makes the Vocoder V easy to use and inspiring during the composition process. Audio effects as well as additional modulations such as the envelope follower greatly increase the sonic possibilities.
I created the presets by experimenting as much as possible with the vocal sample pack that Arturia provided. For example, I found interesting results when the "gain" of the sample + "Voice" are increased to the maximum. This allows saturation to be created within the 16 bands giving interesting color and warmth.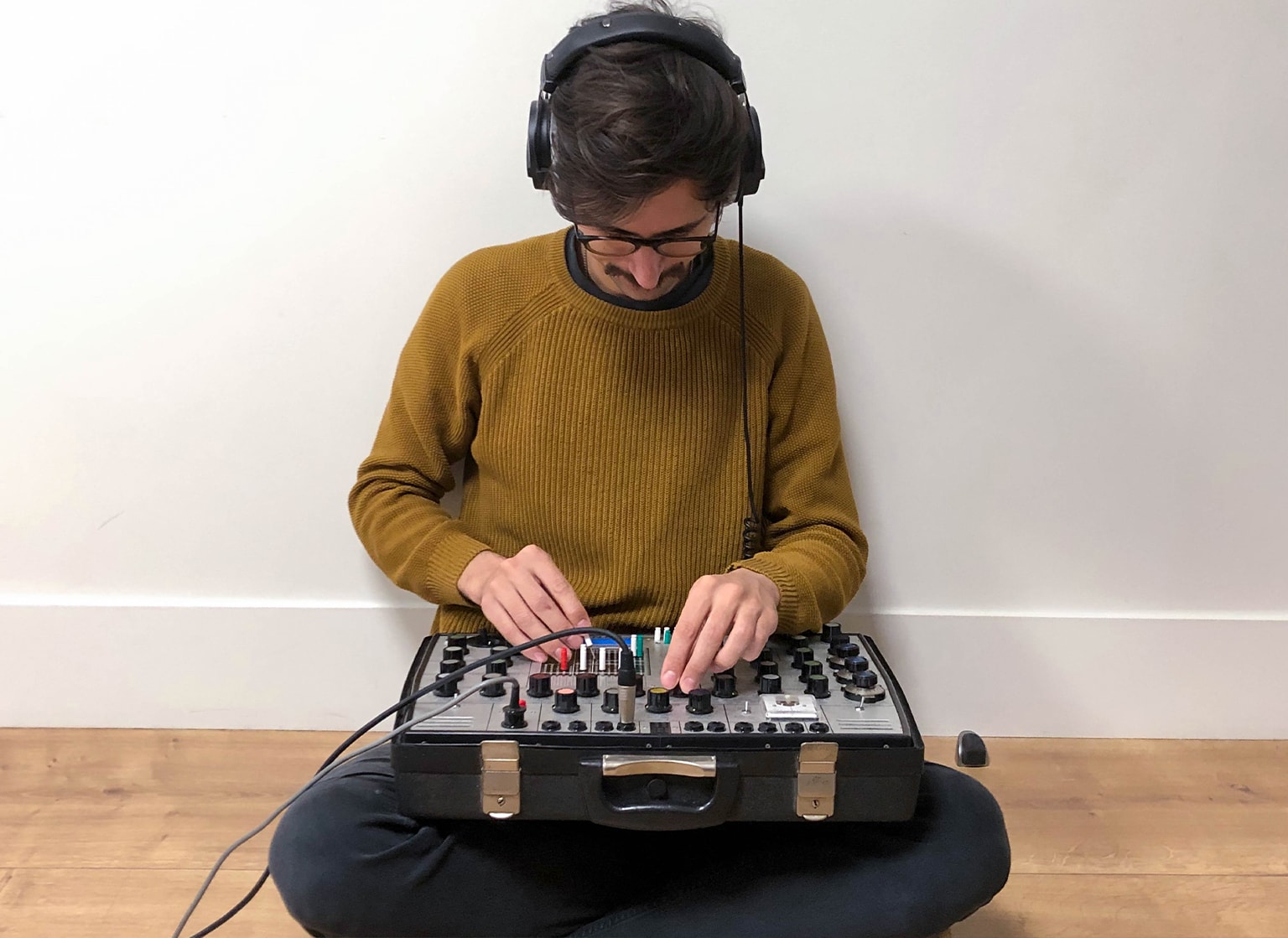 Don't Forget Me
In this preset I wanted to use the follower envelope to activate the delay effects only when the vocoder stops speaking. This technique allows to have a vocoder which on the whole is very wet by the effects without losing the intelligibility of what is being said. The mod wheel slowly adds low mids and stereo width.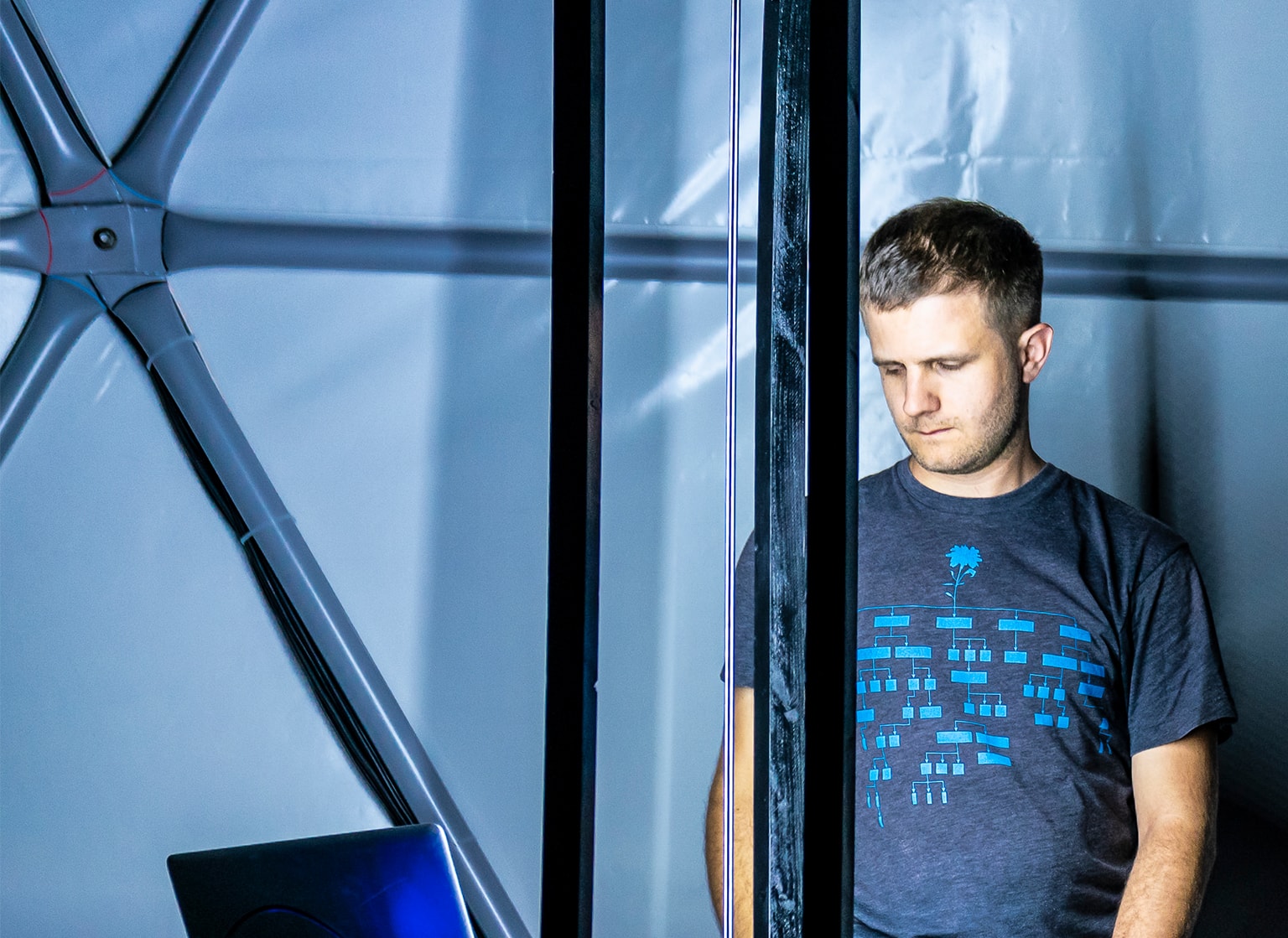 Invited
Creating this preset was more of an experimental approach. The thing I wanted was to make something in an analog way. I love the analog sound revival popularised by things like Stranger Things. It's vocal sample based, you can't really understand any words and if you listen to the dry sound, it's horrible. But I simply take advantage of the simplicity of the vocoder to make it sound great. Just one saw wave with a bit of chorus, some envelope follower modulation on the pitch coarse - job done!
Maxime DANGLES
Maxime entered the core of the electronic music scene in the mid-2000s when he signed his first EPs on the Kompakt label, where his melodic techno with a classy groove fit perfectly. From then on, his releases were noticed by such great artists as Moby, Simian Mobile Disco or Röyksopp, who asked him to remix them. Maxime Dangles has developed a taste and high standards for successful solo performances, as illustrated by his first LP "Resilience", asserting the mutations of his sonic imprint, somewhere in between a generous and exhilarating techno, downy electronica and organic and introspective compositions. As an openly eclectic producer, Maxime travels all through France wherever his numerous experimentation and collaborations take him, when he's not busy performing live on stage.
I'm not a vocoder specialist, but I feel there aren't too many good vocoder plugins in the market. I was impressed by the quality of the sound during my very first time on it. I liked how easy it was to understand and how it was possible to make some other kind of sound than you expect with a vocoder. I did some nice basses, pads and leads with it. I can't wait to explore more with external sound now...
I try to find a good balance between typical vocoder sounds and more experimental ones. I didn't want to make just a robotic voice sound. I used vocoder on my modular and other synths, and I like how creative it became. I also recorded some stuff from internet videos which was fun! Creating textures from a voice so that it doesn't sound like a voice anymore - I like this way of working...
Thibault MOREL
Thibault Morel comes from an acoustic background and plays guitar, trumpet, drums, piano, and clarinet. He's an eclectic artist who performs both solo and in groups in a variety of styles. He started to play live under the nickname Mr Woofer, which was his reggae/dub project. He's now got several new live projects ranging from techno to electronica, a duo with a singer "Cashmeer", and a solo piano project.
This vocoder is really unique. The two oscillators offer such liberty for sound design I've never found elsewhere. The patch bay is a unique feature that gives lots of possibilities, particularly with drums - you can transform your signal and not recognize it, but in a good way! And the envelope follower is really nice to add texture to your voice!
Thanks to my singer Sarah, I had the opportunity to record lots of samples and destroy them in a good way. I tried to add some backing vocals with the vocoder on some tracks we'd already recorded, and that's where the magic began. Tweaking this synth is really easy and really helpful in developing ideas. We discovered a whole new approach for the voices in our mixes.
Bouss
I created this sound using some bass samples. I wanted my bass to be alive, and the patchbay did it! The oscillator parameters are basic, but a little envelope follower on the OSC2 coarse, and a patchbay that excites high frequencies thanks to the lower frequencies - and here we have a speaking bass sound!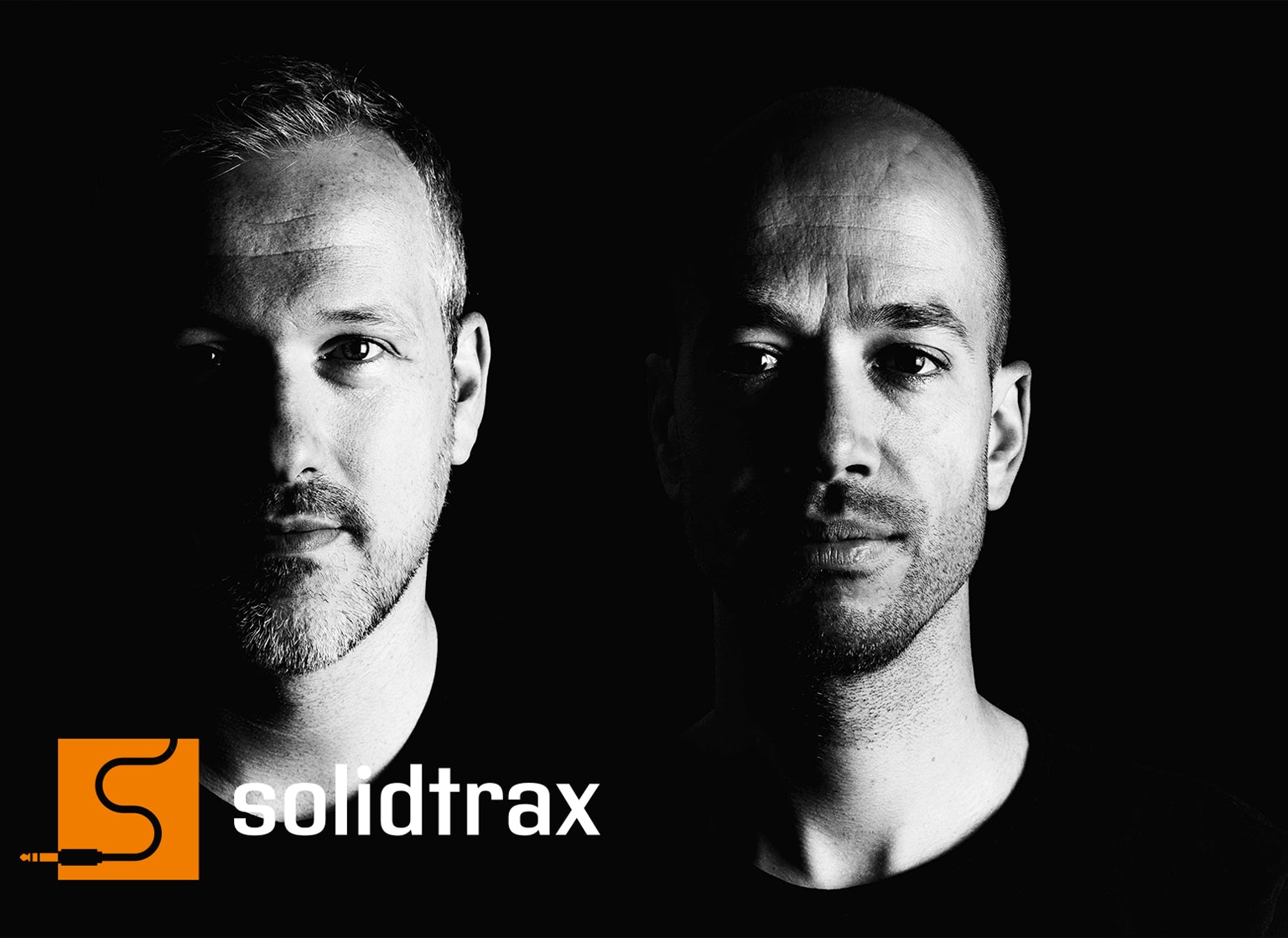 Do You Dance
We really think the Chord effect in combination with the Ensemble is what gives this preset it's mellow and lush character. We let the modwheel control the Bands Shift and FM amount, to shape the sound and texture with it, we really think this works wonders!
Solidtrax
Solidtrax is a producer and sound design duo from The Netherlands, formed by Bastiaan Barth and Menno Hoomans. Their passion for synthesizers and computer music dates back to the early '90s. In 2014 they landed their first big sound design project for u-he, followed by assignments for other companies like Roland, Propellerheads, Bitwig, Cableguys, Kilohearts and Arturia. Since 2017, sound design has become a full time profession for Solidtrax.
Even though we haven't used Vocoders a lot, we quickly started to appreciate the endless possibilities that Arturia Vocoder has to offer. We really like to manipulate drum loops with it, it instantly creates something completely new, something that you can layer with the original drum loop perfectly, to make it stand out some more and give it a unique texture.
Like we mentioned earlier, we mostly like to create a drum loop and load this up in Vocoder and create something musically engaging and interesting. So we didn't have something specific in mind most of the time, we let Vocoder take charge basically and simply tweak until we are satisfied with the result.