KeyLab MkII is an expressive, versatile studio controller that works seamlessly with your DAW, virtual instruments, hardware, and modular gear.
It features dynamic performance and studio controls, including a high quality 49-note keyboard with aftertouch, 16 RGB backlit pads, 9 faders, 9 rotary knobs, and dedicated DAW and transport controls. Its huge connectivity also includes CV / Gate outputs, so you can take command of outboard synth and Eurorack modules with ease.
KeyLab MkII comes complete with thousands of sounds in 3 incredible software titles - Analog Lab, Piano V, and Ableton Live Lite - and works seamlessly with them to let you create music without barriers. Say "hello" to your ideal creative companion for the studio and stage.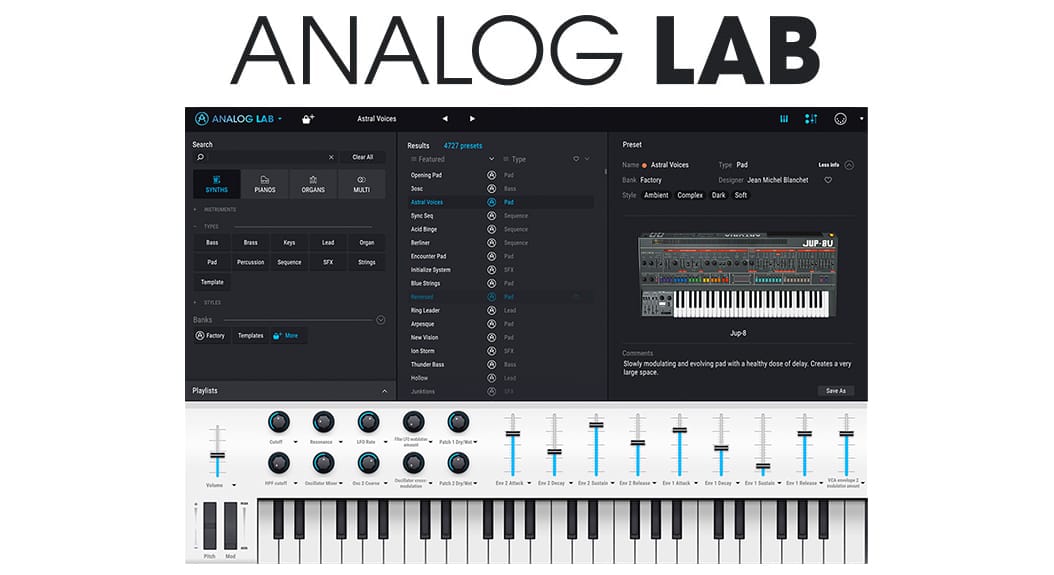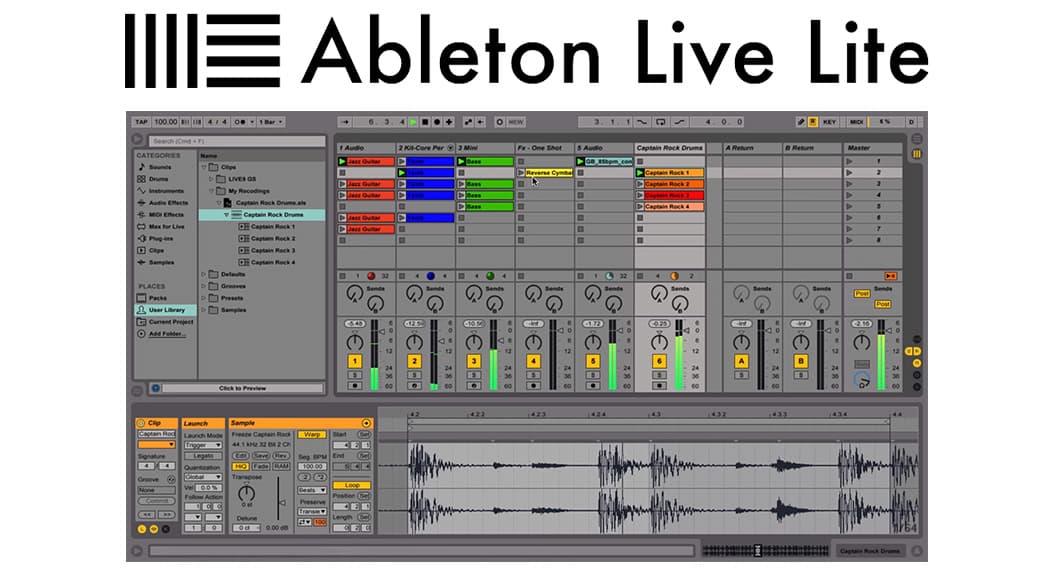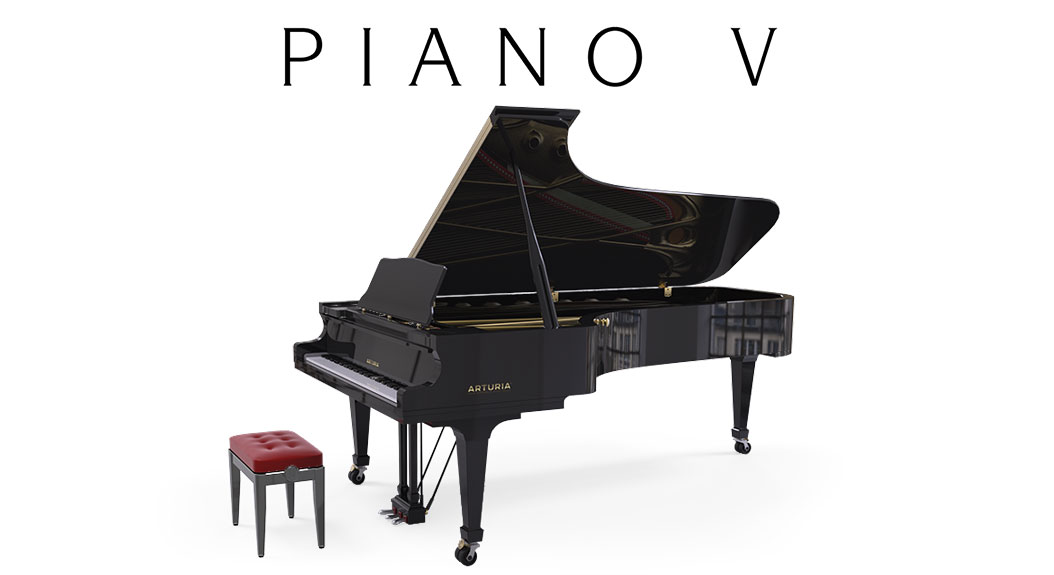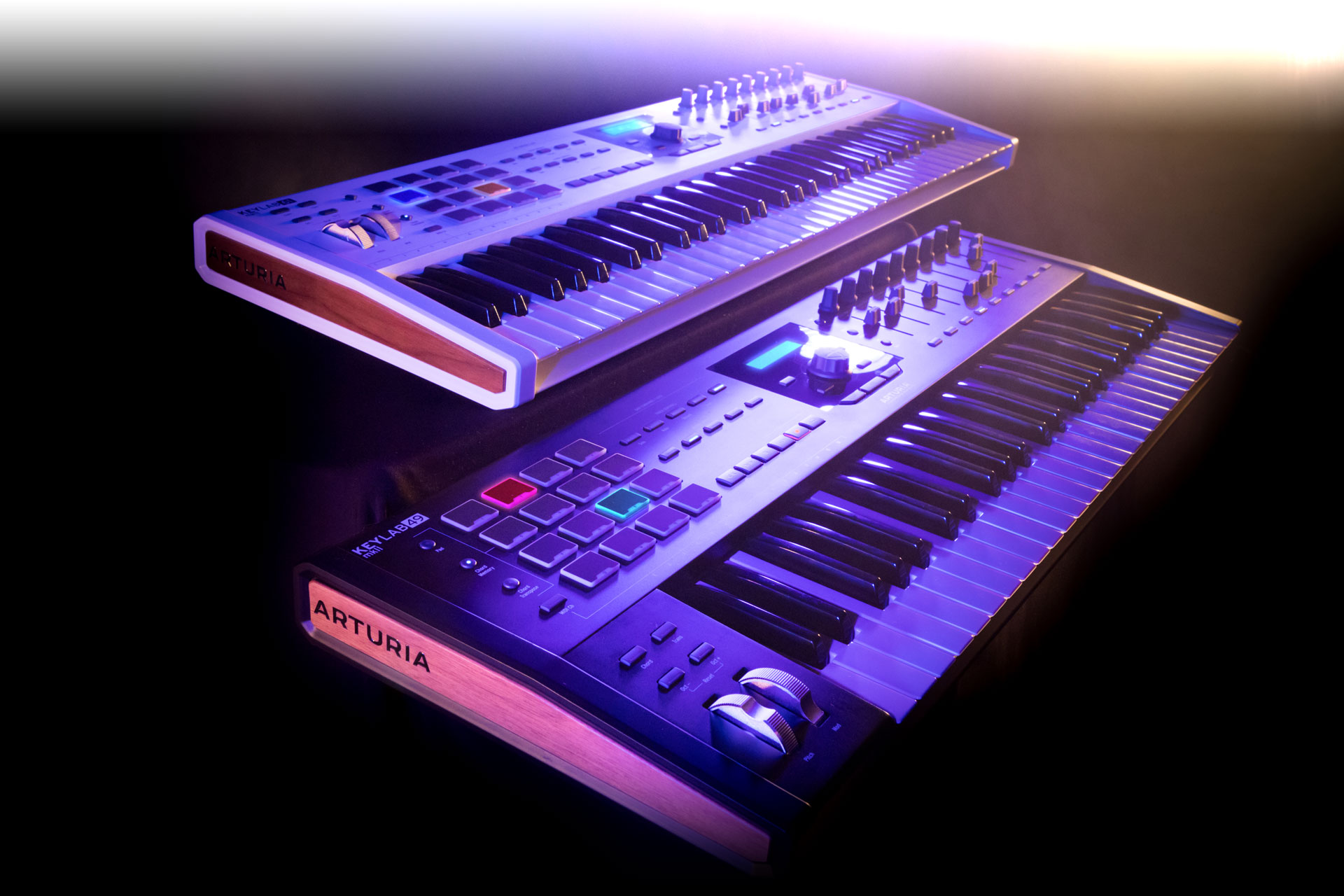 The controller your music deserves
Another level in terms of quality and luxury, KeyLab MkII is a treat for the fingertips and is built to last.
Both 49-key and 61-key versions of KeyLab MkII feature Arturia's Pro-Feel action, the same lusciously playable keybed as the MatrixBrute and MiniBrute 2. Sensitive enough to accurately capture the subtleties and nuances of delicate playing, while still being robust enough to feel the energy of high-impact performances.
Encased in durable, tour-ready aluminium and decked out with wiggle-free knobs and faders, Arturia have created a controller designed from the ground up to not let you down.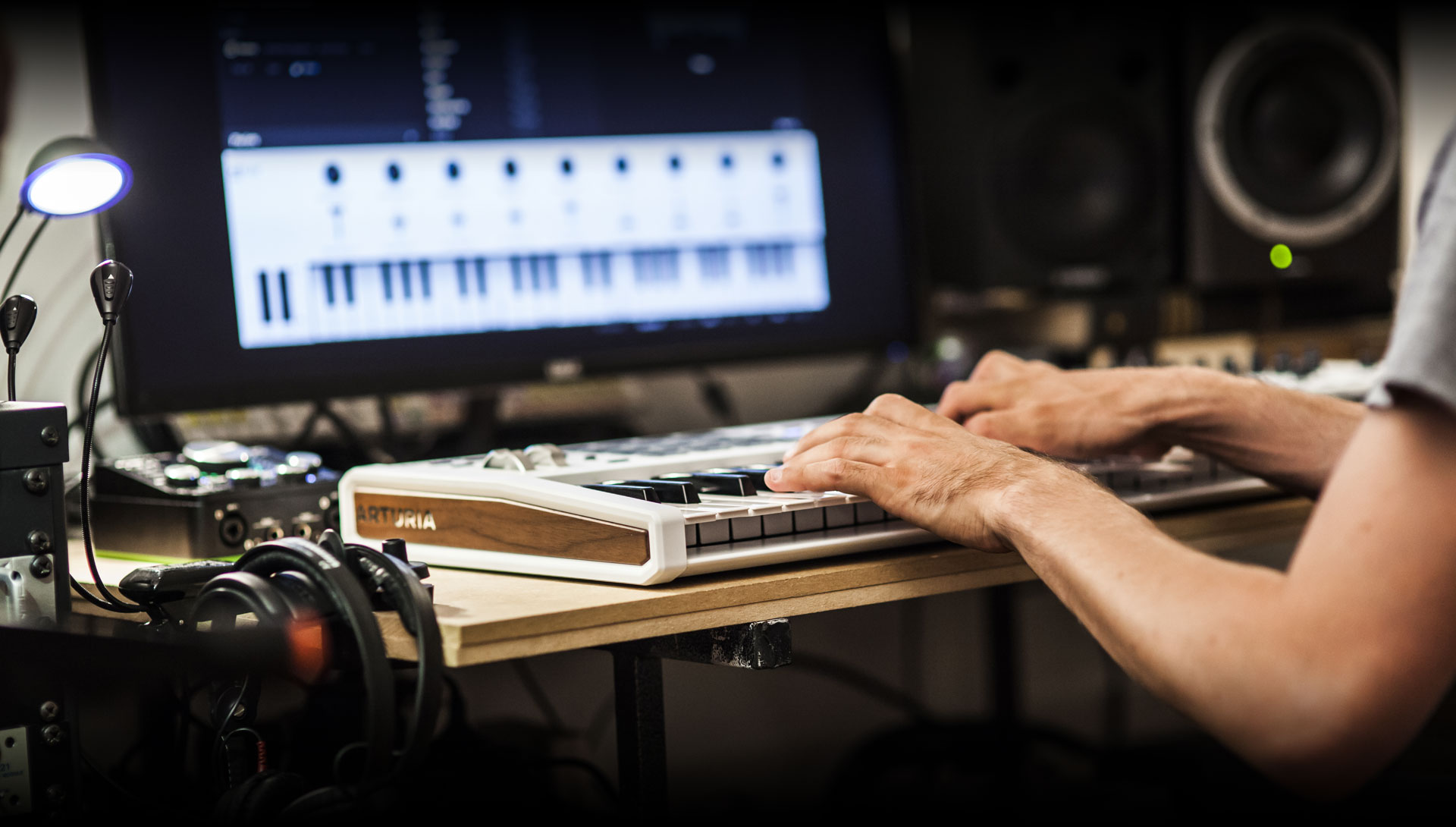 Truly experience your software instruments
Why settle for any old MIDI controller when you could be exploring your very own museum-quality collection of vintage synth and keyboard sounds?
Over 6,500 are available in Analog Lab alone, which perfectly integrates with every element of KeyLab MkII so you spend more time making music, and less time staring at screens.
A gateway to software, KeyLab MkII features 9 rotary encoders, 9 faders, 16 backlit RGB performance pads, and a selection of fully assignable buttons to give you unfettered access to your virtual instruments, effects, and recording environment.
Send and receive CV / gate data to bridge the gap between modular and MIDI, with a fully customizable setup. Set up a complex automated sequence in your DAW, and sent it out to your Eurorack setup. Only KeyLab MkII makes it this easy.
Amazingly versatile, hugely expressive, and geared up to enhance your creativity and workflow wherever your music takes you.
Choose your flavor
Expression doesn't just come down to features and functions, it can be how you choose to express yourself, too.
KeyLab MkII comes in both black and white options, and in 49 and 61-key versions, so whatever your studio aesthetic or size preference, Arturia have you covered.
Press Clipping
"The KeyLab MKII is a solid, customisable master keyboard and DAW controller, as well as the perfect companion to the V Collection plug-ins."
Sound on Soud
"Robust design and keyboard."
Interface
"It is capable of creating emotionally-moving and inspirational sounds (...) worked flawlessly and is inspiring to use...and look at. (...) The team at Arturia deserve credit for producing such an engaging and musical instrument at a modest price. "
Gearslutz
"Arturia's keyboard controllers offer an intuitive design with old-school nods."
AudioAssemble
"The KeyLab MKII is an awesome controller keyboard that not only delivers fine playability, but also tackles DAW control and synth editing (...) Robust build quality with premium keyboard action and pressure sensitive pads."
Electronic Musician
"Dynamic performance and studio controls: a 49 or 61-key keyboard that brings out the best in every musician and producer."
DJMag Italia
"Great playing feel and nice to use with modular Synths."
SYNMAG
"I absolutely love the keys used in this MIDI Key controller remind me very much of the key I fall in love with on my Matrixbrute. I really enjoy playing on it, it feels great. Construction quality is excellent and at the highest standard. (...) KeyLab 49 MKII is an excellent controller that also comes with superb soft synths modeled after classic synthesizers and keyboards (Made available with Analog Lab). KeyLab 49 MKII is a charming, quality manufactured Midi Keyboard with the possibility to control your main DAW and can be used to manage vintage hardware and Modular Setups"
Strong Mocha
"Solid full metal body, Fantastic keybed with aftertouch, Very ergonomic and user friendly control panel, Great design, Powerful software bundle included."
Popular
"So if You are looking for a keyboard, which you can use not only to trigger sounds from various instruments and applications, but also to control the DAW programs, adjust controller to your needs or work with devices and hardware (via MIDI and CV / GATE) - Arturia's new models are certainly products to be taken into consideration."
MUZYK FCM
"Robust build quality, fantastic Arturia Analog Lab integration and a decent software bundle make for a real winning combination"
MusicRadar
"KeyLab MK2 provides a complete solution for those who want to start with strength in music production, or to improve their control options in studios of any type to the maximum."
Future Music ES
"Feature-wise, the Arturia Keylab controllers make excellent controllers for your soft-synths, and their deep integration with Arturia's own software products—like the incredible V-Collection—make them an easy choice for many players.""
MusicPlayers.com
"We are facing a compromise whose versatility, finish and elegance should appeal to more than one user. Well done for that, while waiting for Keylab MkIII (...) The copy made by Arturia with this Keylab MkII is very good overall: improving the first version on almost all points, the keyboard opens to the world of CV / Gate without forsaking the integration with Analog Lab which was the strength of the first model."
Audiofanzine
"For a first-time foray into the world of virtual instruments, KeyLab Mk II won't disappoint. Neither will it let down a seasoned producer seeking a roadworthy and functional workhorse controller."
AudioTechnology Magazine
"KeyLab MkII is an excellent, well-built and thoughtfully designed MIDI control solution that will suit a really wide range of producers and performers. Whether you want to just plug over USB and control your DAW and soft synths or hook up to external MIDI and Eurorack gear over CV, it's got you covered. (... If you're in the market for a serious but accessible MIDI control solution that spans a wide range of connectivity, the KeyLab MkII should definitely be on your radar."
AskAudio Magazine
"Flexible, Connectable, Sustainable, and Playable. this is what every MIDI keyboard should be."
Cuonet
"I like the fact that there's that CV and gate additional kind of output and also CV control. (...) I found the Keylab to be intuitive for such a highly configurable device, preset and bank browsing and control of the Analog Lab makes sound surfing simple and I must say there are a number of great sounding presets in the Analog Lab software package, you are bound to find something inspiring"
Sonic State
"The second version of the Arturia Keylab USB / MIDI controller keyboard is fully successful for the French manufacturer."
Amazona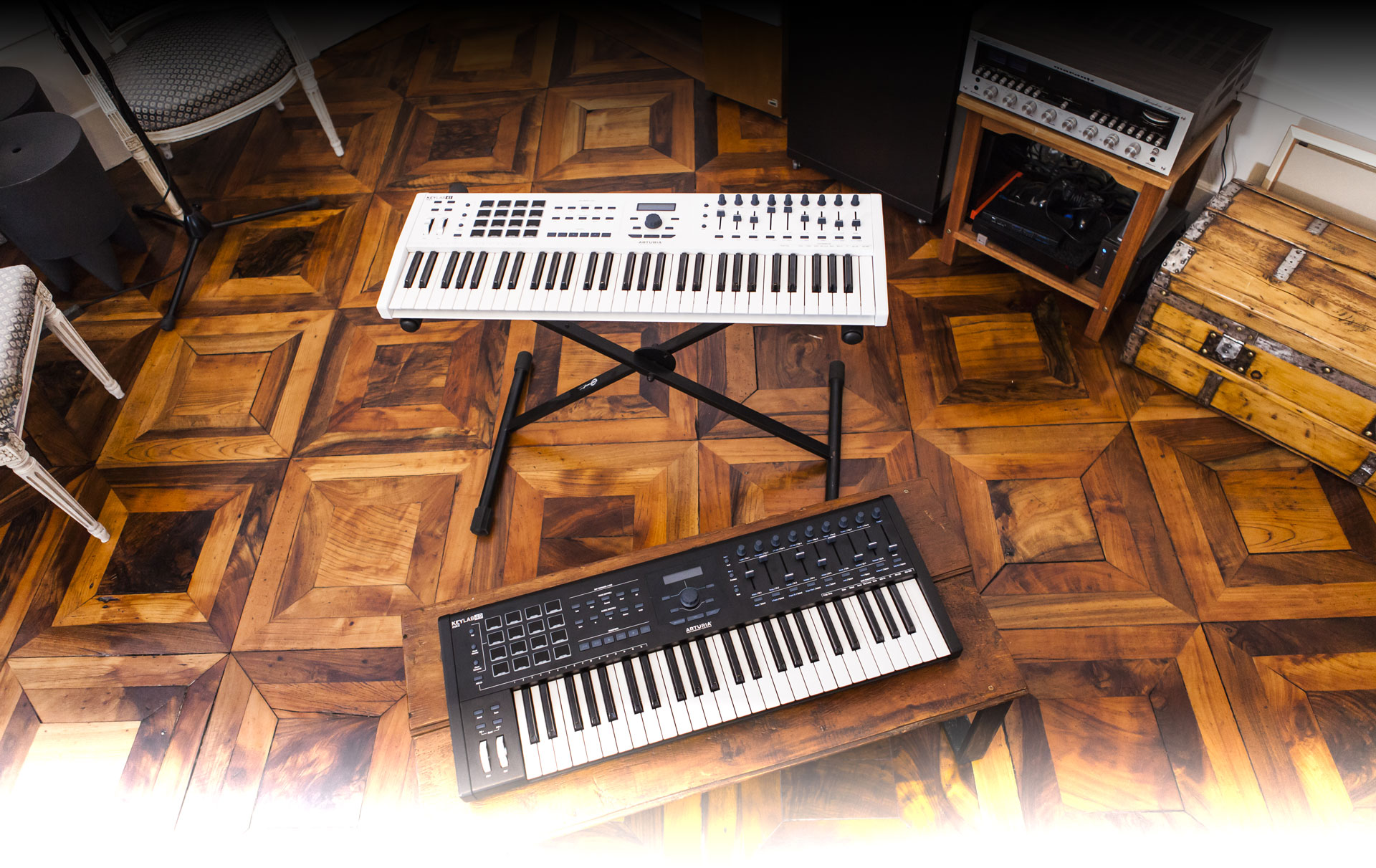 A complete software studio
Every KeyLab MkII owner will also be able to instantly enjoy one of the most comprehensive, inspiring, incredible value software packages available.
Whether you're new to software recording, or already have an enviable collection of software instruments at your disposal, KeyLab MkII has something that'll put a huge smile on your face.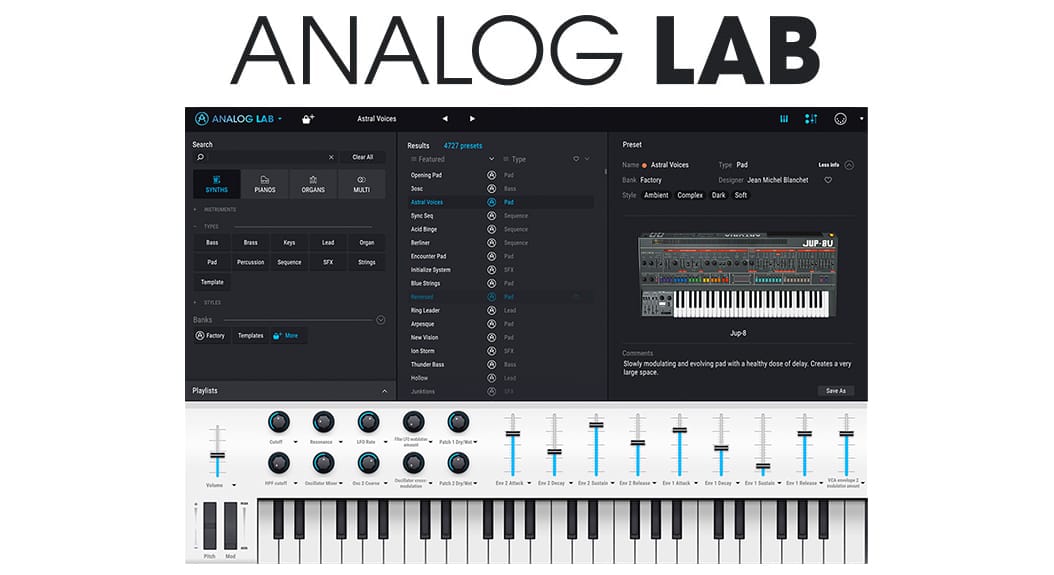 Your very own vintage keyboard collection.
A favorite of Arturia's virtual instrument line, Analog Lab is a standalone title that gives you quick access to over 6,500 beautifully crafted presets from V Collection. Enjoy KeyLab MkII's smart mapping as your browse through iconic sounds of 70s analog synth, classic acoustic and electric pianos, majestic organs, 80s digital synths, and even an iconic sampler and "string machine". Important parameters can be quickly accessed through KeyLab MkII's controls for intuitive live-tweaking, too! Create powerful combo sounds, split your keyboard into 2 different instruments, and explore the best sounds of 21 historic instruments.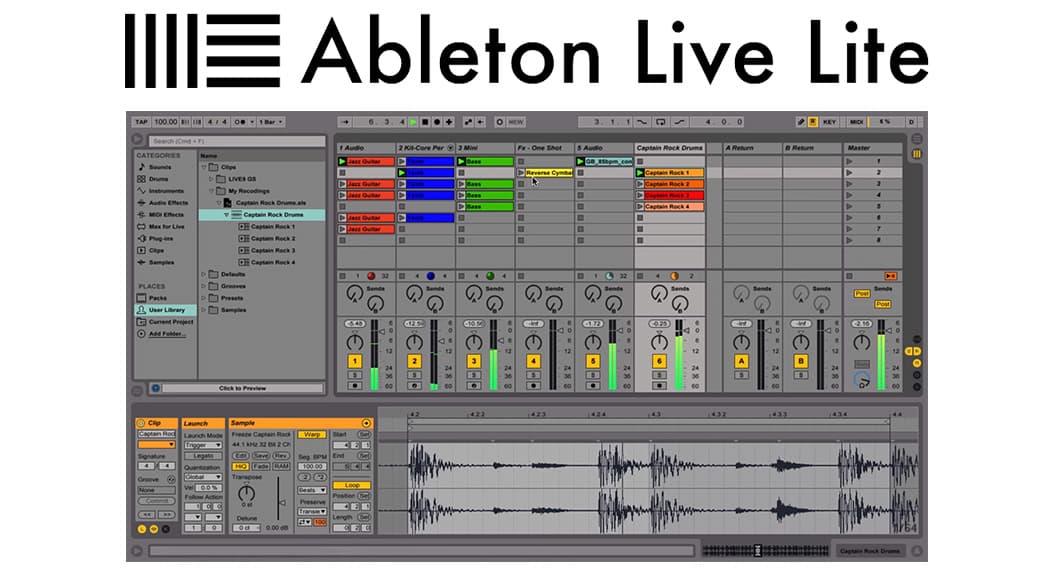 An introduction to one of the most intuitive, popular production platforms around.
New users and seasoned pros alike love working with Ableton Live Lite. Featuring an innovative twin workflow, time stretching and pitch shifting functions, as well as numerous studio quality effects, you'll be releasing professional quality tracks in no time. We teamed up with our friends at Ableton to make using Arturia controllers with their software easier than ever. With smart detection, you can quickly and easily take full control of Live using KeyLab MkII's buttons, faders, knobs, and transport controls.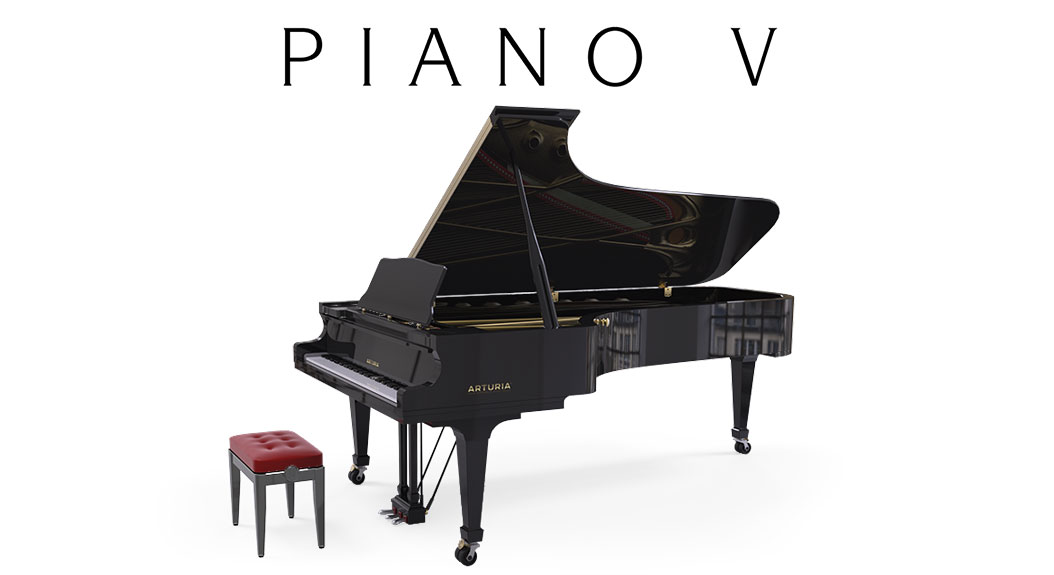 An essential instrument for any songwriter's sound palette.
Letting you make full use of KeyLab MkII's expressive keybed, Piano V is a comprehensive piano software suite that uses the power of Arturia's Phi physical modelling to recreate legendary acoustic pianos. Put the sound of a legendary German concert grand in your tracks, or use a contemporary Japanese model to add some bite. There's even more esoteric instruments made possible through the magic of physical modelling like glass and metal, and every instrument features full control of multiple parameters to hone the sound of your ideal instrument.
Packing enough synth, keyboard, and piano power to inspire the most discerning professional, while still being an amazing "one box solution" for newcomers, KeyLab MkII's included software will ignite your creativity for years to come.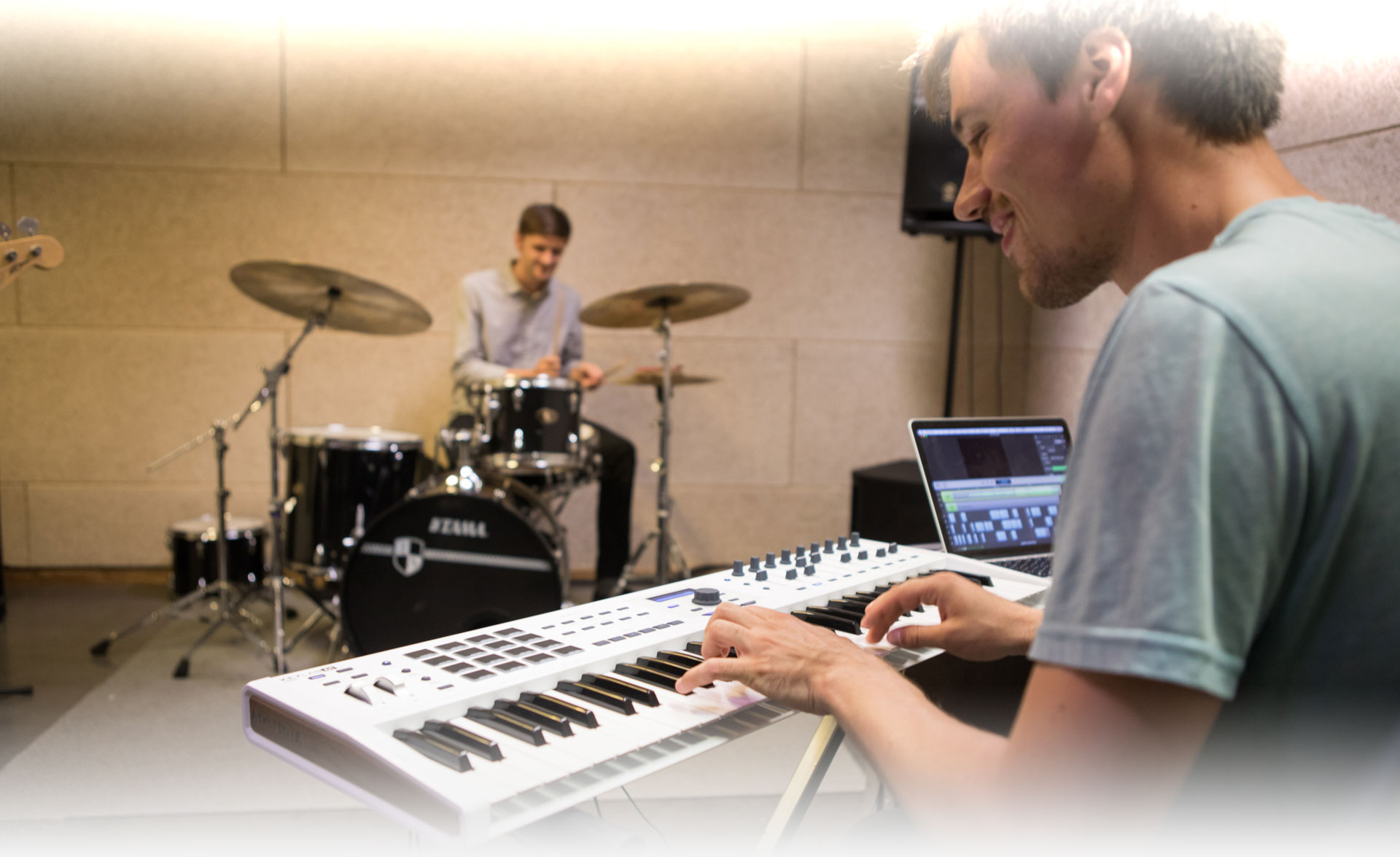 Sound Corner
80's desires
A typical 80's electro track using 7 Analog Labs instances on Live lite. No external synth or effects have been used in the track. Chord mode have been used on the pad track.
Crashing Waves
This piano-driven electronica piece highlights the Piano V2 with its melancholy chord progression, recorded using the Keylab mkII's Chord function. All instruments and sounds come from Analog Lab and Piano V2. Some external effects such as Reverb, Compression, and EQ were used in Ableton Live Lite.
Utopia
Utopia: This soul-infused groove uses the Chord function of the Keylab mkII for its main keys and strings. All instruments and sounds come from Analog Lab. Some external effects such as Reverb, Compression, and EQ were used in Ableton Live Lite.
Your personal MIDI assistant
Designed from the ground up to make you the master of your MIDI environment, KeyLab MkII is one of the most flexible, adaptable, and customizable controllers ever devised.
Not only does the latest generation KeyLab let you create fully personalized User maps, it also features incredible DAW integration, letting you spend more time "in the zone" and less time switching to and from your computer screen. By using any one of the 10 User maps, you can personalize the response of practically all the buttons, knobs, faders, keys, pads, and pedal inputs on KeyLab MkII, giving you ultimate control of your DAW, effects, instruments, and outboard gear.
To cut out the guesswork, KeyLab MkII also comes with 6 magnetic overlays for the DAW Commands section, giving you at-a-glance information on what each button does in your favorite recording software.
A MIDI masterpiece: KeyLab MkII doesn't force you to make music a certain way, it lets you write the rules.
1. Performance controls
Multi-purpose dynamic, back-lit pads also let you select your favorite mapping options or trigger chords and chord memories.
2. DAW command center
Take control of your recording software thanks to the MCU/HUI protocol.
3. Intuitive browser
Twin-line LCD display & jog wheel let you easily navigate your sounds.
4. MIDI channel select
Quickly change MIDI channels with dedicated control.

5. Performance controls
Bend your notes, modulate your sounds and transpose your keyboard by semitones or full octaves.
6. Chord play
Quickly create full arrangements with intelligent chord feature.
7. 49 or 61 note Keyboard
Durable, velocity and pressuresensitive keys will capture every nuance of your performance.
8. Rotary knobs & faders
- Adjust pan and level 8 channels at a time.
- Quickly access the main instrument parameters in Analog Lab.

9. CV outputs
Control CV gear such as a Eurorack system.
10. MIDI in and out
Control any MIDI-compatible instruments and devices.
11. Controls/Pedals
Sustain, Expression and Aux pedal inputs. CV input.
12. USB connectivity
Bus-powered, class-compliant, and powered through usb.
13. Optional dc power
Power KeyLab mkII without connecting to a computer.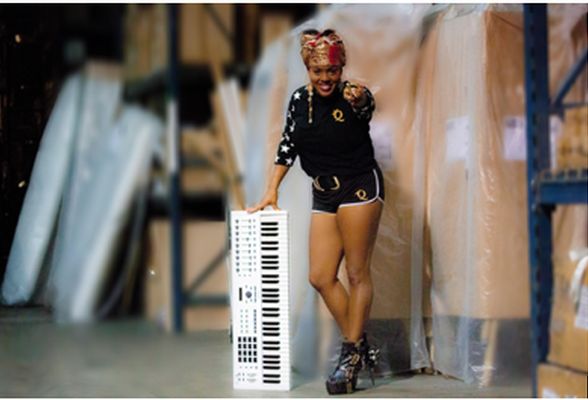 Artists Corner
The look, sensitivity and versatility of my KeyLab 61 MkII is not only amazing, but optimal for my live and studio expressions!
Queen Cora
( Beyoncé / Prince / Missy Elliott )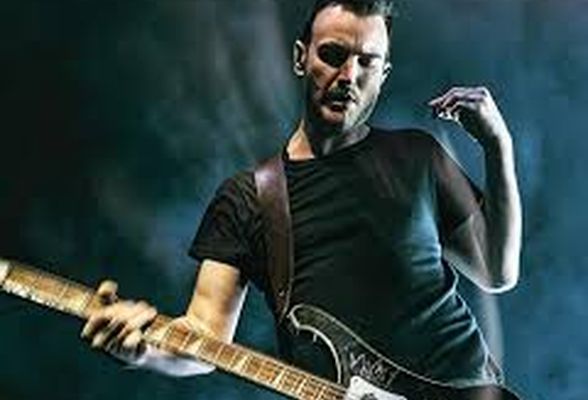 Artists Corner
I love all the CV / Gate stuff on it, it kind of has everything in one tool. This technology is advanced.
Paul Wilson
( Snow Patrol )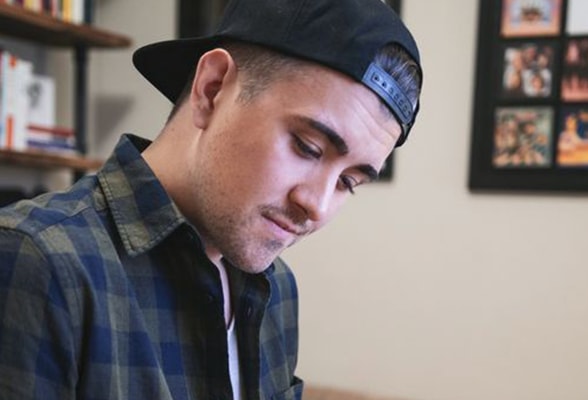 Artists Corner
As a songwriter/producer, keys and synth sounds are a crucial part of my creative process. Overnight, the Keylab MkII has become the centerpiece of my production workflow, giving me complete control of my DAW and amazing Arturia plugins!
Patrick Breen
( Producer / Song writer )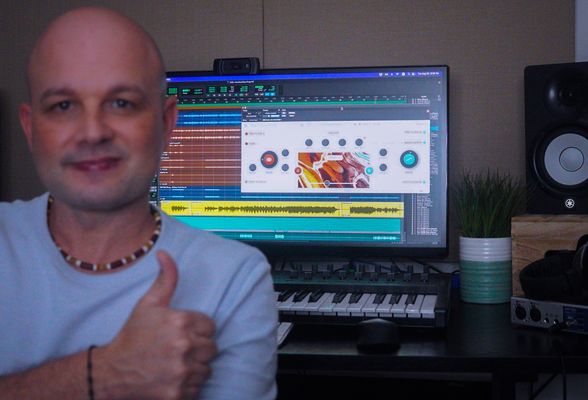 Artists Corner
This amazing controller allows me to control many parameters of my plugins and DAWs. I love the keybed which is very playable and comfortable. It's the perfect tool for studio and stage.
Luiggy Santiago
( Arranger / Music Director / Grammy Award Nominee )
Artists Corner
Arturia is not only doing great work with software instruments, but they are doing great work with hardware as well. And the KeyLab MkII brings the two worlds together beautifully. The build quality feels like you're playing a classic hardware synth, and best of all, I can tailor the MkII to my workflow more than any other controller I've experienced. It's fantastic.
Dave Tozer
( Producer / Songwriter )
Gallery
Main Features
Software Specifications:

Includes Analog Lab software with 6500 synth sounds
Includes Ableton Live Lite
Includes Piano V

Hardware Specifications:

49 & 61 key options available, each with high quality keybed with velocity and aftertouch
16 RGB-backlit performance pads
Control bank with 9 faders and 9 rotary knobs
Control modular equipment with 4 CV/Gate outputs, controlling pitch, gate, and modulation

Seamless integration with all Arturia software instruments
Presets for multiple DAWs, with magnetic overlays for controls
Huge connectivity, including expression, sustain, CV/Gate, MIDI, USB and 3 assignable auxiliary pedal inputs
Perfect Analog Lab integration:

Select sounds, browse presets, switch parts, smart-assigned controls.
Standalone or plug-in operation: VST, VST3, AU, AAX.
Over 6500 TAE® powered preset sounds from Arturia's award-winning V Collection

Ableton Live Lite - record, layer, and edit your sounds to create a finished song.
Piano V - Twelve different world-class pianos meticulously crafted using our critically acclaimed modeling technology.
Compatible with all major Digital Audio Workstation: Pro Tools, Logic Pro X, FL Studio, Bitwig, Cubase, Ableton Live, Digital Performer, Studio One *
Available in Black or White
Platform Requirements
Analog Lab
: Win 7+ PC: 4 GB RAM; 2 GHz CPU.
2GB free hard disk space
: 10.10+: 4 GB RAM; 2 GHz CPU.
2GB free hard disk space
Works in Standalone, VST 2.4 (32-bit and 64-bit), VST 3 (32-bit and 64-bit), AAX (32 bits with PT 10.3.8, 64 bits with PT 11), Audio Unit (32-bit and 64-bit).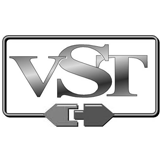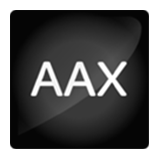 The software is protected by the Arturia Software Center. You can learn more about it here.
Piano V
: Win 7+ PC: 4 GB RAM; 2 GHz CPU.
2GB free hard disk space
: 10.10+: 4 GB RAM; 2 GHz CPU.
2GB free hard disk space
Works in Standalone, VST 2.4 (32-bit and 64-bit), VST 3 (32-bit and 64-bit), AAX (32 bits with PT 10.3.8, 64 bits with PT 11), Audio Unit (32-bit and 64-bit).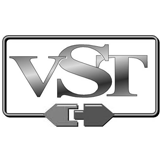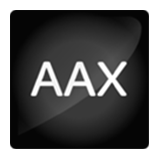 The software is protected by the Arturia Software Center. You can learn more about it here.
Ableton Live Lite
: Win 7+ PC: 4 GB RAM; 2 GHz CPU.
3GB free hard disk space
1024x768 display,
DVD drive or broadband internet connection for installation
: 10.8+: 4 GB RAM; 2 GHz CPU.
3GB free hard disk space
1024x768 display,
DVD drive or broadband internet connection for installation
Size & weight
KeyLab MkII 49 size : 31,2 x 11,7 x 2,1 inches (793 x 297 x 53 mm)
KeyLab MkII 61 size : 34.5 x 11.7 x 2,1 inches (875 x 297 x 53 mm)