This was the flagship synth that put the Japanese manufacturers on the map as serious competitors the early '80's. With its colorful user interface and great sound, the Jup 8 scored a hit among musicians the world over.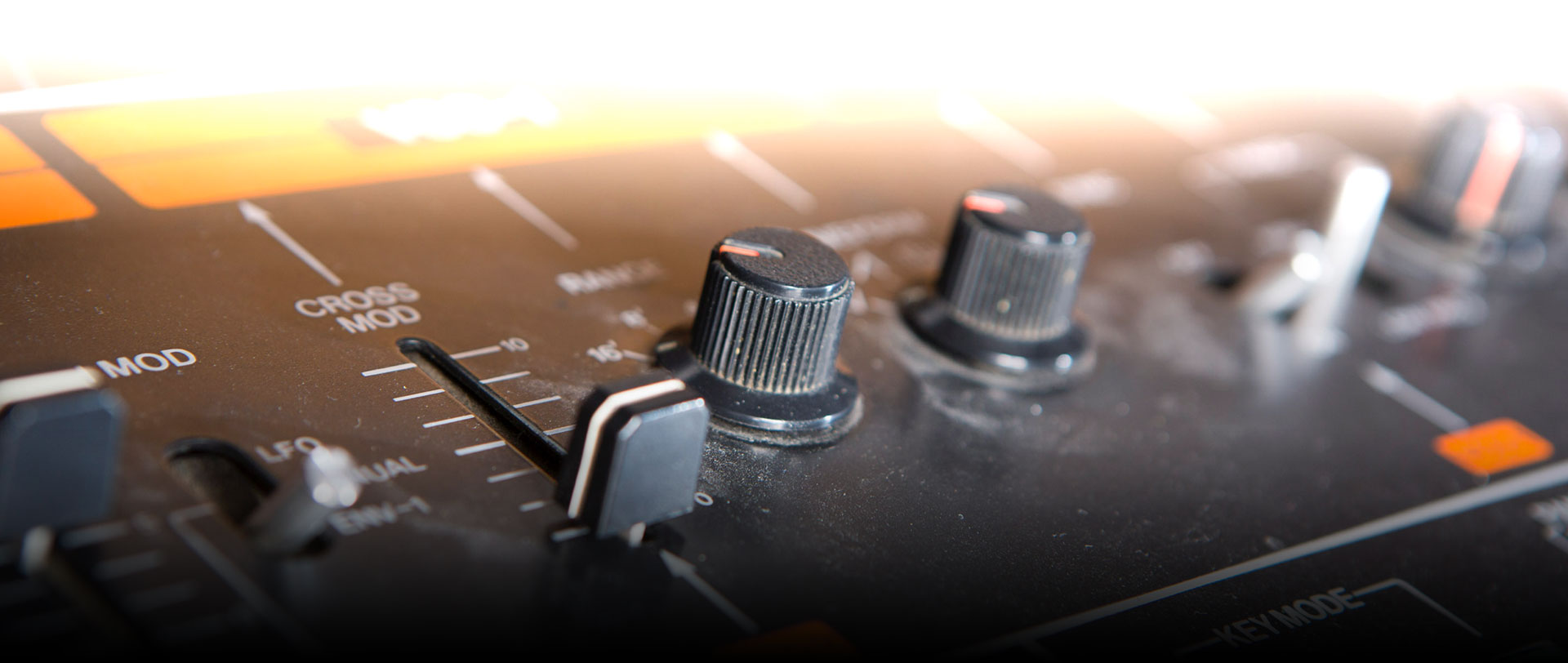 Crystal clear fatness
The original instrument was known for its lush pads and haunting leads, its ability to split and layer sounds and its flexible arpeggiator. Jup-8 V not only provides these original features, it created an original sound that is respected to this day.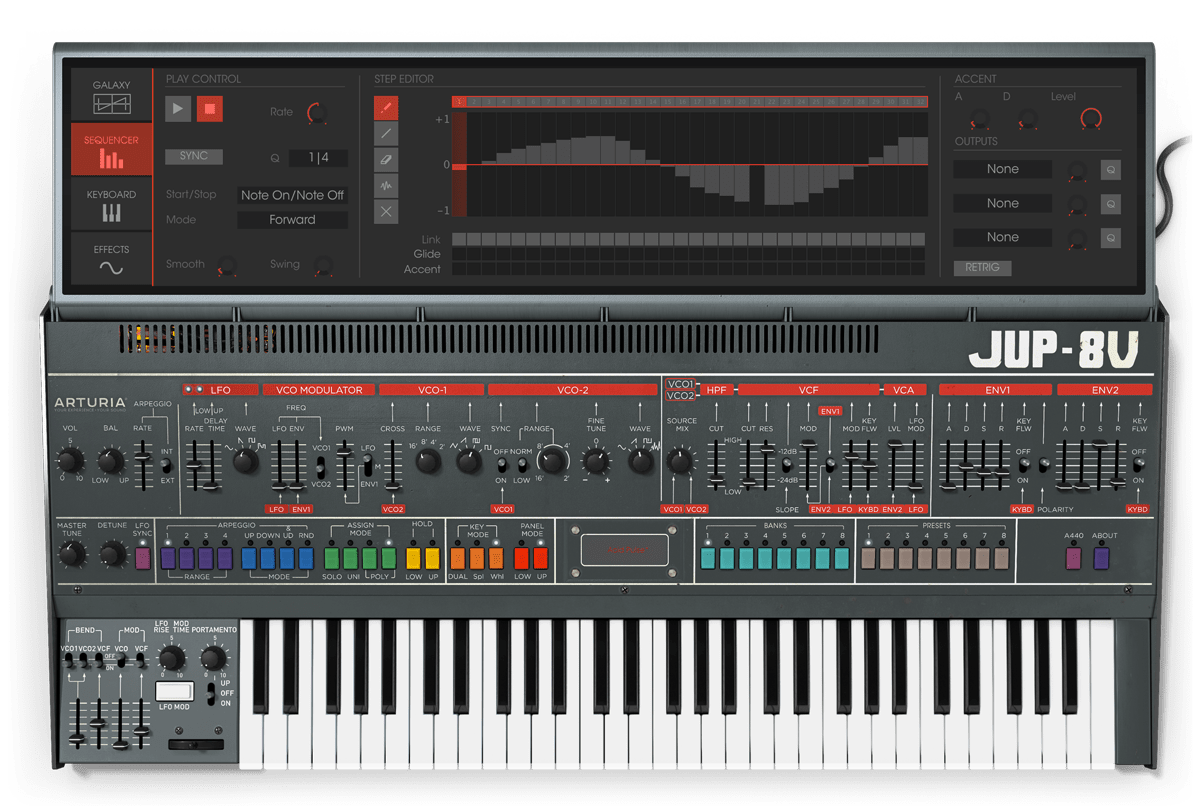 Innovative sounds
From its gorgeous basses to floating pads and lush strings; our Jup-8V has a sound as big as the planet Jupiter.
Out of this world innovation
While the original was amazing we wanted it to be mind blowing.
We added the ability to patch effects into the voice path further expanding the sound pallet and then added a full function step sequencer and a bold new modulator called the 'Galaxy'. These new innovations take this product beyond Jupiter and back.
Artists Corner
The Arturia synths are perfect for the background scoring of the sound-tracks we produce here at Bollywood... For people who have worked with the original machines like us, the Arturia recreations are just top-class.
Shankar Ehsaan Loy
( Producer - Composer )
Artists Corner
It's almost like having a photograph of the Jupiter-8 hardware on your computer. Having used our father's unit, we find that the software has revived older memories.
Salim and Sulaiman
( Music Director )
Artists Corner
When Arturia asked me to audition the new Jupiter-8V, without doubt, I was transported back in time!.. Same Futuristic looks... Same Flashing lights... and the same Fantastic sound, just like the original synth !!!
Leslie Lewis
( Producer - Composer )
Artists Corner
My favorite synth of all time is now a soft-synth thanks to the wonderful people at Arturia... This is a must have for all of us JP8 lovers. Howard Jones
( songwritter )
Artists Corner
The Jupiter 8 is one of my all-time favorite synthesizers. When I first played the Arturia Jupiter-8V, I was amazed and instantly taken back to the first time I played the original.
Gabrial McNair
( No Doubt )
Artists Corner
Arturia Jupiter 8V, there simply is no substitute. We use it non stop on our productions. Its Phatt and rock solid !
DJ Rooster & Sammy Peralta
( DJ/ Producer )
Artists Corner
Loaded with effects and extra filter settings I can now look back at my Jupiter-8 days and smile. The best ghostly strings ever and hi pass filters in memory.
Chris Pitman
( Guns N' Roses )
Artists Corner
I'm having a lot of fun with the JP8V, just like Devo and Depeche Mode had with the original hardware synth. This is much easier to bring to concerts and rehearsal rooms though, and it sounds really, really great...
Barry Burns
( Mogwai )
Artists Corner
I love the warm sound. The Modulations are much better than in the original. The Sequencer is amazing. And the Effects are really cool. Like all the Arturia-stuff : FAT !!!
Alexander Kowalski
( Alexander Kowalski )
Artists Corner
From the first minuets of use, Jupiter-8V immediatly inspired me. I immediatly had new ideas and new basis of compositions... It's a very good tool with the report/ratio price quality really appreciable.
Alex Gopher
( Alex Gopher )
Sound Corner
Fantasy
A song by The Circuit Symphony. All sounds have been made with the JP-8V.
Jsoundz
A funky track by Christian Laffite. All sounds have been made with the JP-8V except the drum loops.
Crunchy House
Track entirely made with the Jupiter-8V (including drums), no additionnal FX. Cubase multiband compression and maximizer on master.
Space Vibe
Track entirely made with the Jupiter-8V (including drums), no additionnal FX. Cubase multiband compression and maximizer on master.
Arturia Software Center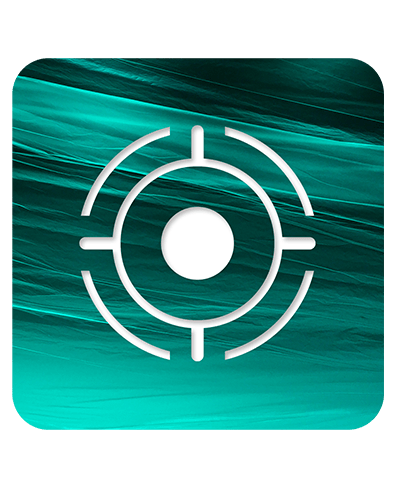 ASC is the central software that elegantly manages all your Arturia software licenses. It activates your licenses and synchronizes them across multiple devices (you get five instances with each instrument license). ASC also notifies you of updates and downloads them. You can even easily learn about new products, download demos versions and purchase the full products. Simple.
Download ASC
Included in V Collection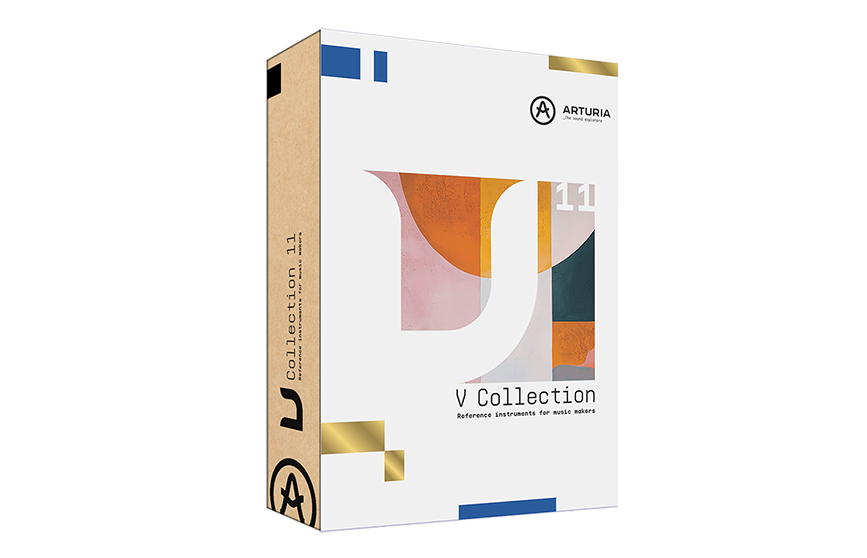 This instrument is also part of the V Collection 5 -your complete dream line-up of the legendary synths, organs, pianos and more that made keyboard history. They're modeled with the most advanced technologies for authentic realism, and enhanced with new creative options. Whether you use it as DAW plugins in the studio or standalone at gigs, V Collection 5 puts the greatest keys of all time at your fingertips for instant inspiration.
Learn More
TAE® Powered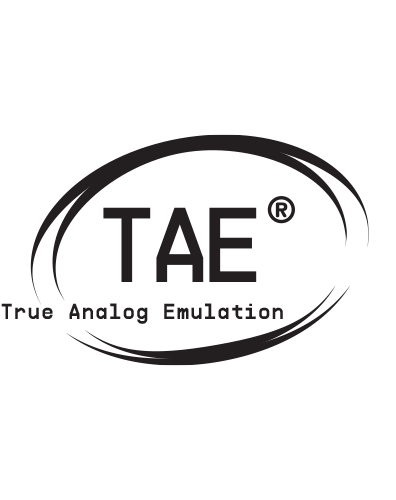 TAE® "True Analog Emulation" is Arturia's exclusive technology that accurately reproduces the defining sonic qualities of analog synthesizers. It recreates the characteristics of analog oscillators in amazing detail, transparency and clarity, as well as the exact properties of the analog filters that give each classic instrument its unique sound. Soft clipping adds even more punch and presence. TAE® is primarily what makes our virtual instruments indistinguishable from the originals.
Gallery
Main Features
More than 500 high-quality, innovative presets
Up to 32 voices of polyphony
The same unique audio structure as the original synth: 2 oscillators per voice, 2 LFOs, 2 filters and 2 envelopes
Unison mode up to 4 voices
Two simultaneous voice-level effects (serial): Chorus/Flanger, Phaser, Distortion, Parametric EQ and Ring Mod with flexible routing options
Two simultaneous Patch-level stereo effects (serial): Chorus/Flanger, Dual Delay, Phaser and Reverb
Performance-oriented step-sequencer
Galaxy: an innovative module for advanced LFO modulation capabilities
Keyboard split and layer
Configure external MIDI control quickly and easily
Awards