What's new in Pigments 3
Pigments has evolved to be bigger, bolder, and more versatile than ever, blurring the lines between timbres and pushing sound design into vivid new territory.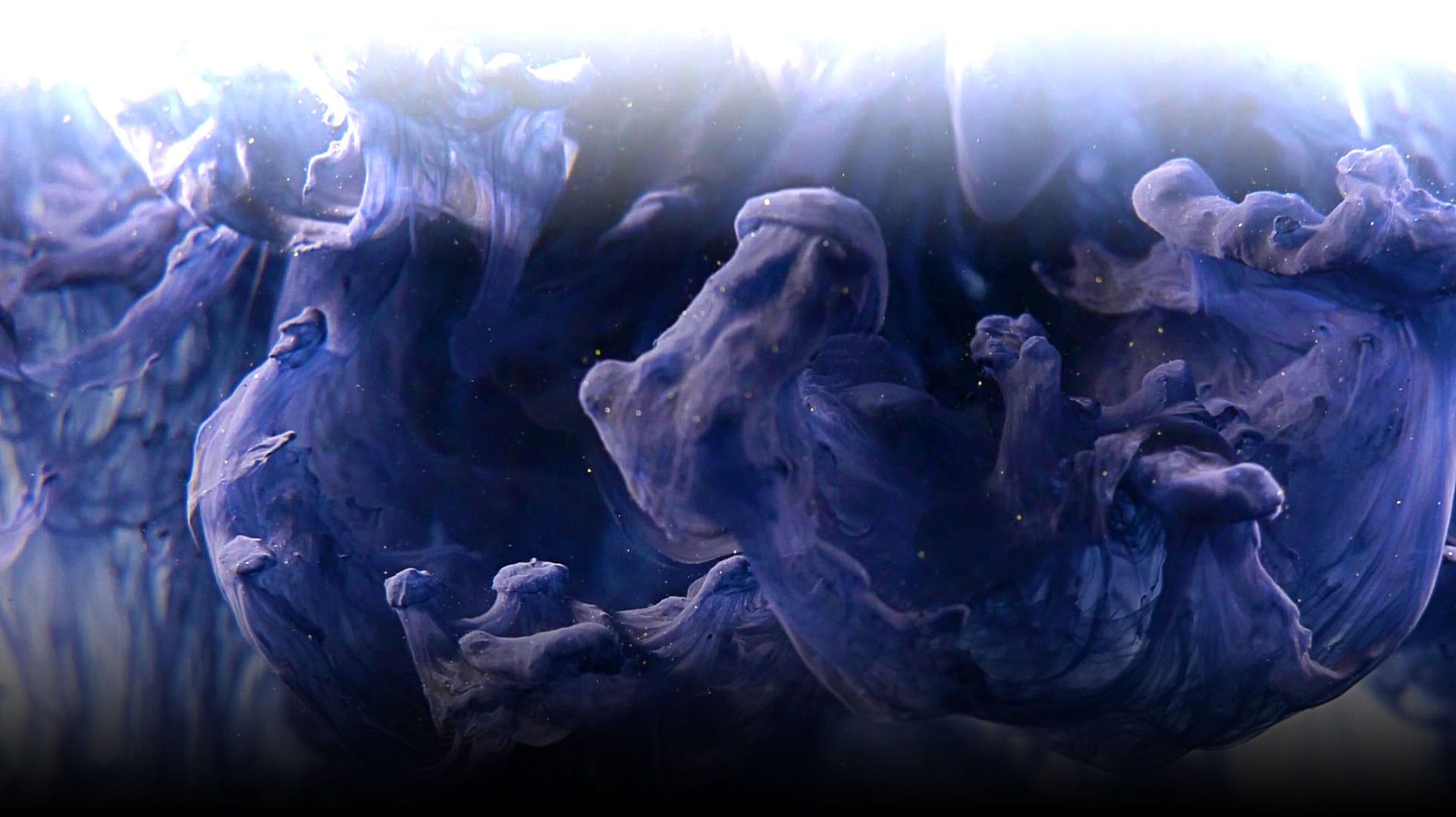 An infinite spectrum of sound
Pigments 3 raises the bar for VST instruments, surpassing the capabilities of premium hardware synths and plugins alike, making your wildest sonic fantasy a full-color reality. Effortlessly build, animate, customize, and refine complex patches unlike anything you've ever heard.
Sound Engines - Combine any 2 out of 4 sound engines for your own custom timbres
Utility Engine - An extra oscillator & up to 2 layers of sampled noise for sonic depth
Dual filters - Choose any 2 out of 10 filter types, with advanced routing
Professional FX - Enjoy 18 stunning FX algorithms, from vintage to cutting-edge
Massive modulation - Modulate anything with anything, with a simple click-and-drag
Powerful sequencing - Sequence & arpeggiate with advanced randomization, scale quantization, and polyrhythms
Easy-to-use interface - Color-coded 3-panel design with real-time visual feedback
Preset library - 1200 presets, spanning every genre, crafted by elite sound designers and producers
Press Clipping
"This instrument is paradise for those who love geeking out in the process of crafting unique sound."
AudioTechnology Magazine
"Pigments is a very powerful and unique soft synth created by Arturia who, we have to say, are masters of their game."
DJ Mag
"Pigments is an absolute pleasure to use and never feels confusing or intimidating thanks to its excellent interface. Yet there is still enough depth and thoughtful, musical features to keep the most demanding sound designer happy. Hatts off to Arturia - I hope they will continue to develop software of their own design. (...) A pleasure to use thanks to its excellent design and graphical interface."
Sound on Sound
"It's an entirely original virtual synthesizer with an unusual and compelling sound, a wonderful slate of great features, and a user interface that's as easy to navigate as it is, well, colorful"
Recording Magazine
"Pigments is a great synth for complex evolving sounds (...) And, this is a very fun instrument to play (...) If you're into synths, you'll really want to check this one out for sure. Hats off to Arturia for successfully expanding into a new instrument category (...) Pigments takes Wavetable synths to a new, more refined and mature level than any other implementation I've seen to date."
Tape Op
"Impressive capabilities!"
Interface
"5/5 Pigments easily earns a place at the top table of synthesis. (...) the whole thing impresses from end to end. It's hard to imagine how Arturia could have made it any easier to use - the work it has done in that regard is hugely commendable. With its voluminous, expressive sound and inspiring interface and architecture, Arturia's first homegrown synth is a marvel."
MusicRadar
"Pigments causes a sensation. They've put a lot of thoughts and expertise in software and hardware synth development to create a graphically well thought out interface. Rarely it was possible before to create or reroute such complex modulations so quickly, rarely was the introduction to the topic of wavetable synthesizers so easy. Pigments is the synthesizer for beginners. The surface is exemplary large and clear, the parameters are not hidden."
Bonedo
"Pigments is yet another winner in their lineup of synth plugins. I really can't think of anything I'd like added to it. (...) It is very easy to use, the layout of controls in the display seem well thought out, and best of all it just sounds great."
Sound Bytes Mag
"There's a lot going on in this latest synth powerhouse. (...) a surprisingly adept emulation machine (...) excellent controllable randomization tools."
Electronic Musician
"There's a lot going on in this latest synth powerhouse. (...) a surprisingly adept emulation machine (...) excellent controllable randomization tools."
Electronic Musician
"Arturia's Pigments Synth is very flexible and versatile thanks to the combination of classic analog synth and wavetable technology. It offers many possibilities for changing the sound, but the user interface remains very clear. The sound ranges from gentle to absolutely fat."
Digital-notes.de
"Pigments is a success. The interest of this instrument is double: a powerful synthesizer and a real learning tool (...) Pigments reconciles the look and listening."
KR home-studio
"Fairly easy to use softsynth that uses the best of Arturia has to offer when it comes to softsynths. (...) Very usable for laying down sequence basslines if you combine it with additional FX plugins that can make it sound dirtier."
Gearjunkies.com
"Incredible sounding oscillators and filters, beautifully designed, amazing modulators, powerful and flexible effects, great sequencer and arpeggiator section."
AskAudio Magazine
"At the heart of Pigments is the deep, deep modulation routing system, with a highly visual approach each source can have multiple destinations and can also be modified by the same sources. Its deeply powerful and results in some highly complex and compelling sounds."
SonicState
"Pigments sounds excellent. It is because of both perfectly built synth engines and great filters, as well as the availability of a wide range of perfectly designed wavetables (...) In terms of sound, Pigments represents the highest league, while workflow, GUI, and unbelievable possibilities of modulation and effects section can appeal to many musicians."
Estrada i Studio
"I'm having a great deal of fun with it. And we're clearing at a new generation of advanced soft synths. Then on top of all of that, it's not an exaggeration to say that Pigments is really a synth combined with a sequencer. The polyphonic sequencer/arpeggiator is full of trigger options and settings that mean it's totally possible to fire up Pigments in standalone mode and make a whole piece, just as you would with a full synth workstation or modular rig."
Creat Digital Music
"It is a synthesizer in which Arturia has wanted to concentrate a large number of resources and get out of the most established areas. It is not a synthesizer that intimidates its use, but in spite of offering a very recognizable global structure, it floods with details in each element that go out of the most traveled and allow to accumulate many simultaneous actions."
Hispasonic
"I highly recommend you to try out Pigments, which sound pallet could perfectly fit all your tracks. Arturia's developers keenly designed the ergonomics of the interface, in order to make it easier and intuitive for users when working with it. It's the type of synthesiser we can use to learn synthesis. "
Audiofanzine
"Pigments is a powerful synth unifying the best of virtual synthesis, it has an amazing sound and modulation options are a delight to design dynamic sounds. An excellent and flexible ally for the creation of new sounds."
Future Music ES
"Arturia keeps the promises that Pigments can sound like other synths; no other synth can sound like Pigments. New vibes and tones are always helpful to stay unique with the sound you deliver. (...) Pigments is because of its layout and approach an outstanding way to learn how to use a Synth."
Strong Mocha
"Excellent sound quality, with two powerful oscillators and a diverse set of filters."
Gearslutz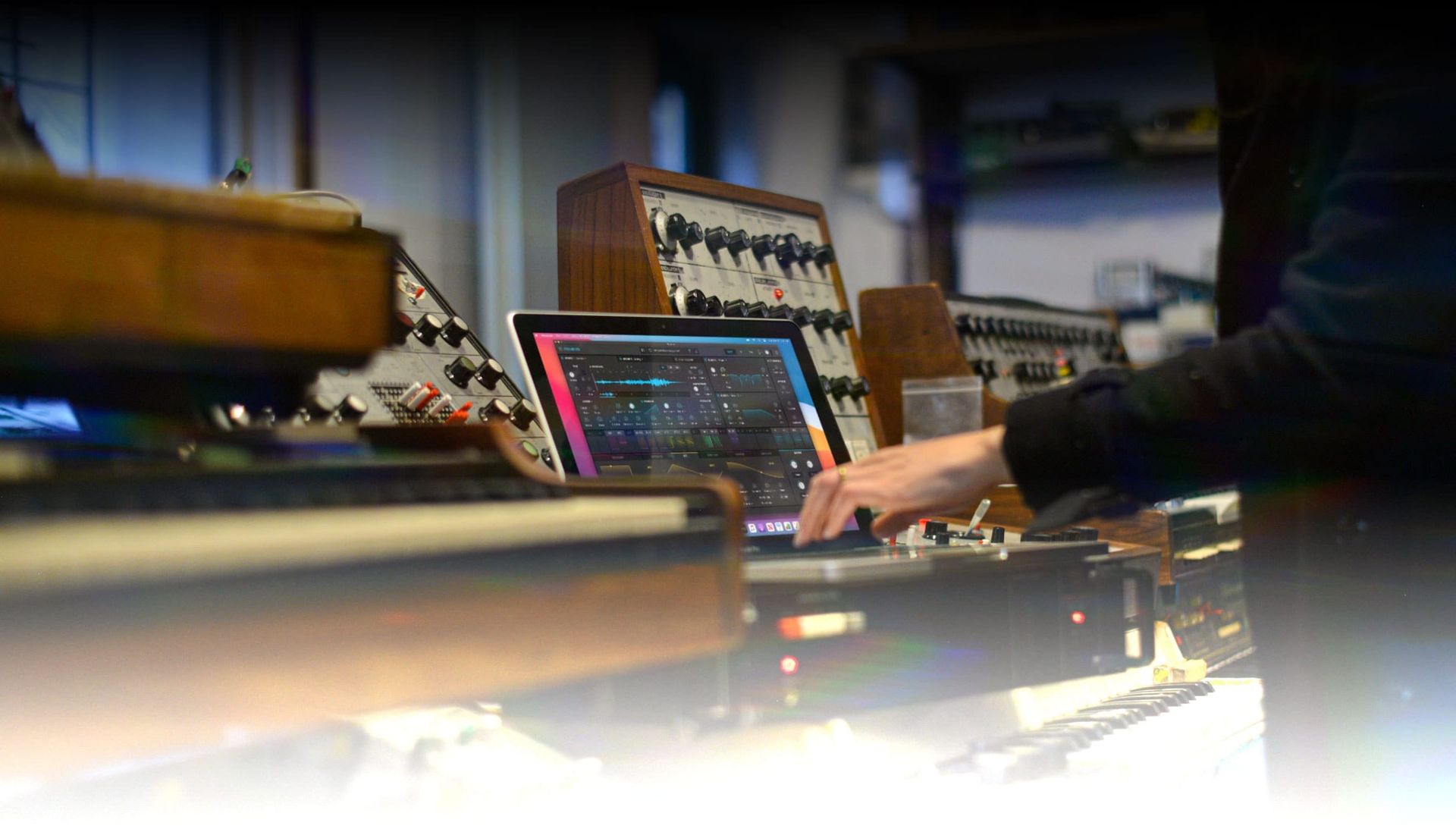 Create any sound
Whatever sound you need, Pigments can take you there.
From bright nylon-like plucks to the fattest wavetable sounds, dark hip hop & trap bass to creeping film soundtrack ambience, Pigments is your blank sonic canvas. Combine any pair from a selection of 4 state-of-the-art sound engines, and layer them with deep sub bass and a sprinkling of sampled noise for instant access to every texture, timbre, and color.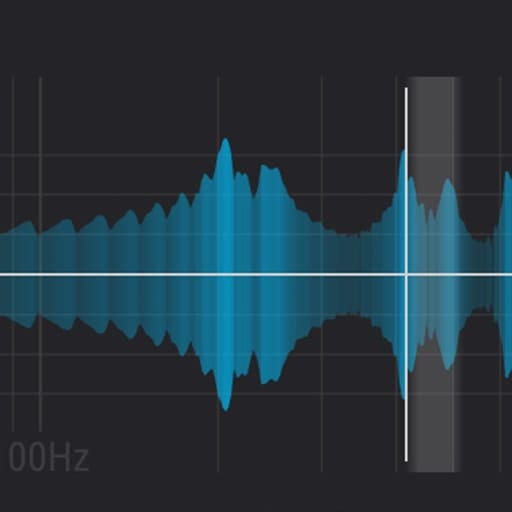 Harmonic engine
Cutting-edge additive synthesis that lets you forge curious & tangible timbres from scratch, from plastic tubular resonance to evolving vowel-like swells - in vivid harmonic detail.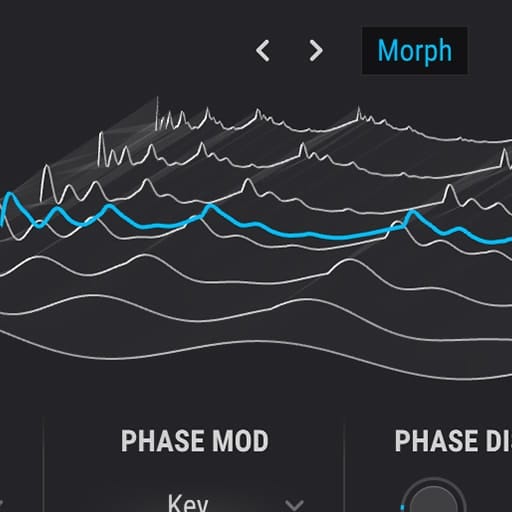 Wavetable engine
Animate, distort, or morph through over 160 wavetables, bringing a vast spectrum of breathy, glassy, and abrasive digital sounds. Perfect for everything from roof-raising bass music to hyperpop toplines.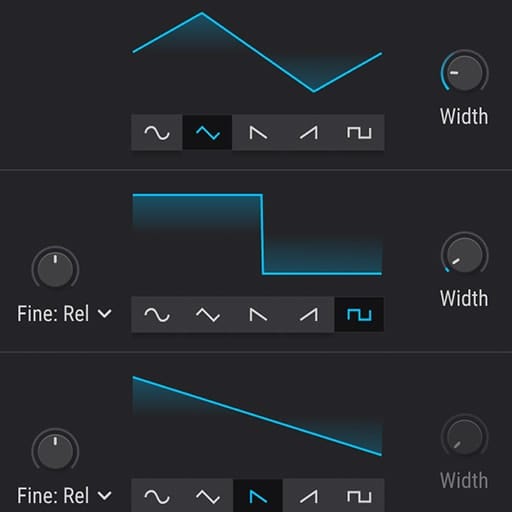 Virtual analog engine
Energize your mix with coveted analog warmth and irresistible vintage charm, inspired by the greatest synths ever made, courtesy of our award-winning analog emulation technology.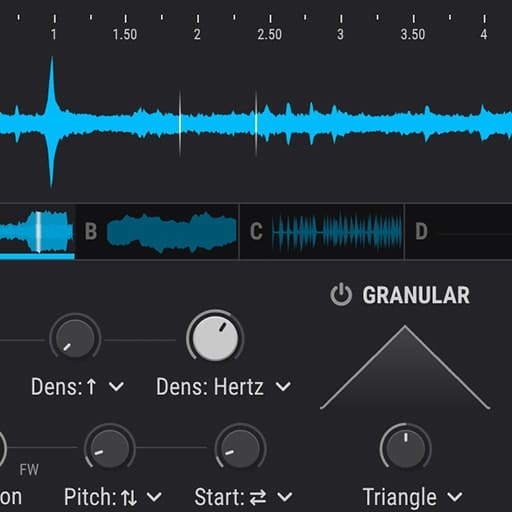 Sample & granular engine
Browse hundreds of instrument samples and loops, import your own, and transform them into genre-defying granular patches. Warp, contort, stretch, and modulate samples down to the finest detail.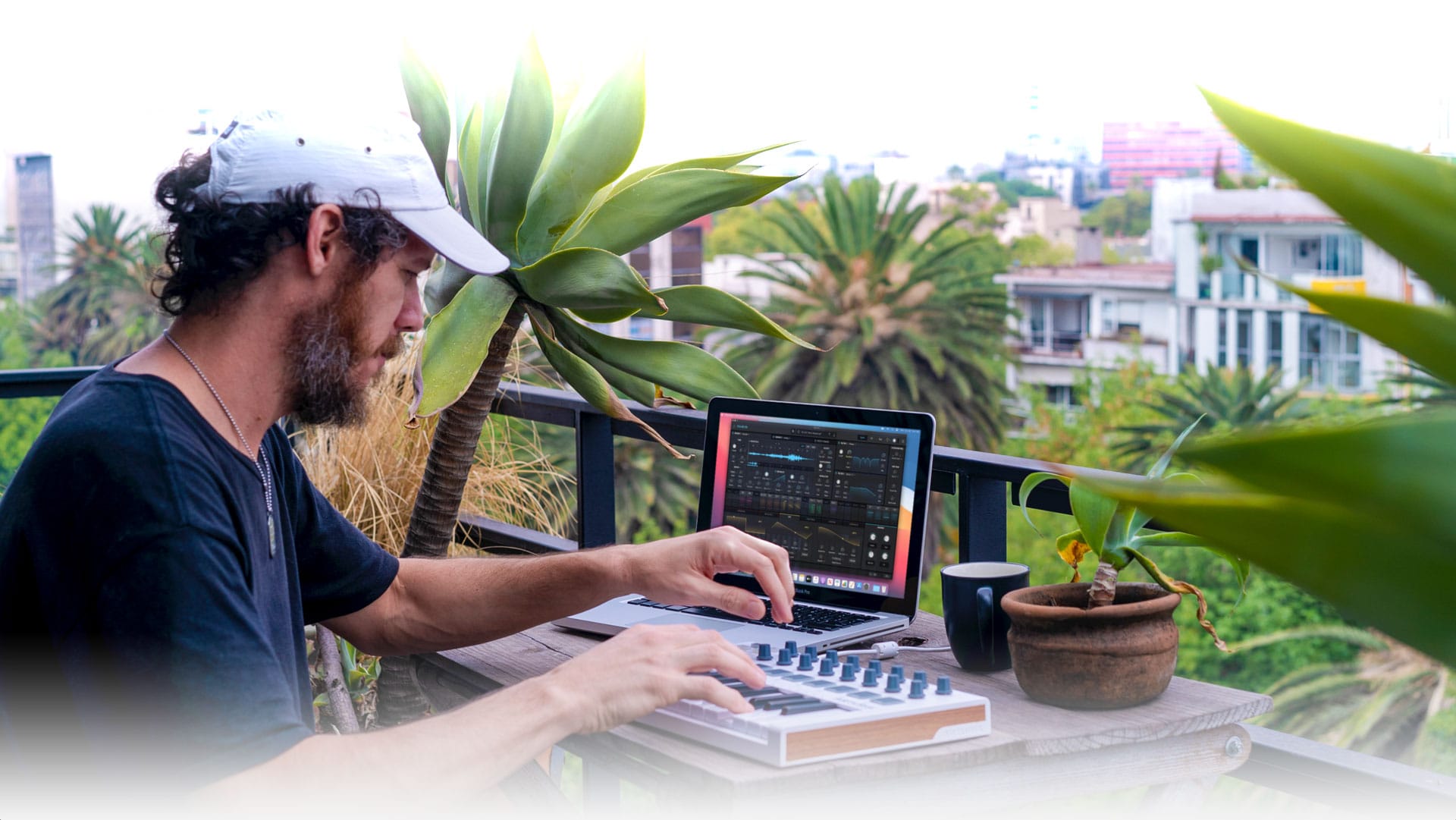 Endless customization
Any parameter tweak or expression is just a colorful click away. Shape, animate, and elevate your sound until it's entirely your own with instant patch modulation, the best classic & modern filters, and stunning studio-grade FX.
Modulation
Modulation is the beating heart of Pigments' living sound. Instantly access dozens of modulation sources, from keyboard velocity to random generators, and assign them to any parameter with a single click - create your own complex patch in minutes.

Filters
Route your sound through dual filters, with 10 filter types to choose from - ranging from vintage synth VCF emulations to modern dance anthem high pass curves.
FX
The ultimate final touch. Create your own unique chain of FX with twin insert buses and a send bus, and a curated selection of 18 classic, creative, or modern algorithms - from pitch shifting delay to an essential multiband compressor.


Musical sequencing
Pigments doesn't just make amazing sounds and inspiring synth presets
- it makes music.
The advanced sequencing section lets you weave beautiful melodies, catchy motifs, and entire arrangements without ever leaving Pigments. Need a dose of inspiration? Experiment with powerful arpeggiation, scale quantization, and smart randomization that'll get you back on the creative path in no time. On the Seq page, everything is laid out simply in front of you. Watch your sequence as it plays, and make adjustments to notes, octaves, velocity, and more with a simple click and drag.
1


Polyrhythmic sequencing

Create cyclical melodies with pitch, dynamic, and expression variations that follow different rhythmic meters.
2


Arpeggiator

Transform a chord or any selection of notes into a pulsing animated progression, perfect for adding instant movement to your mix.
3


Scale quantization

Limit your note choice to 1 of 15 scales, including a custom scale, so that Pigments never plays a wrong note.
4


Advanced random sequence generator

Take a musical leap of faith and dial varying degrees of randomization into every aspect of your sequence - from pitch to portamento.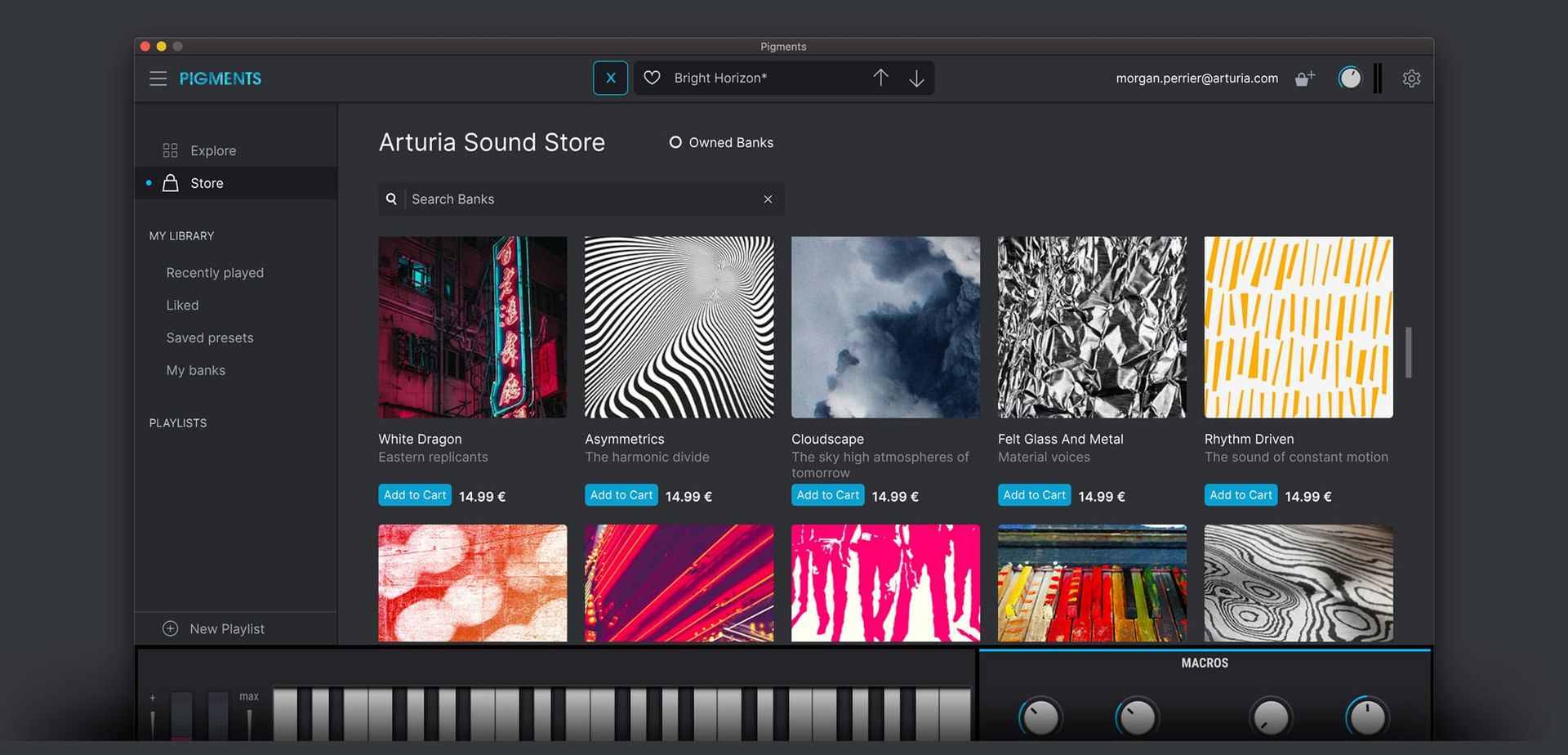 The Sound Store
Expand Pigments' library with Sound Banks, released monthly, for an extra dose of inspiration. Curate your own sonic palette with presets based on genres, instrument types, and even your favorite artists.
Spectrum Sound Pack
To celebrate the launch of Pigments 3, we created a collection of 5 sound banks, each one including 100 presets and channeling its own distinct sonic character. Every patch in the Spectrum Sound Pack has been fine-tuned to maximize Pigments' latest enhancements, from the additive Harmonic engine to the dazzling Pitch Shift Delay.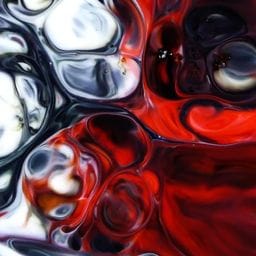 Crimson
Red-hot modern bass spanning wavetable, additive, and hard-edged FM sounds.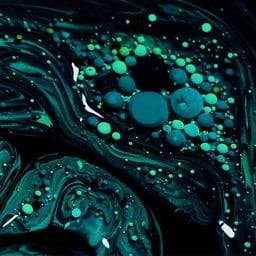 Malachite
Crystalline pads, glassy textures, and bell-like resonance brimming with harmonic detail.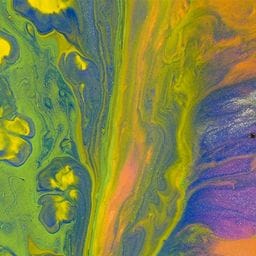 Ochre
Expressive timbres inspired by pianos, organs, vintage synths - keys unlocked.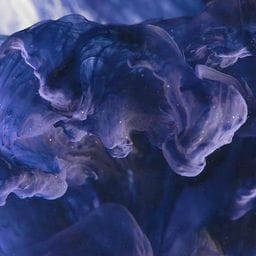 Amethyst
Layered ambiences, from granular flickers to angelic choir pads to evolving additive patches.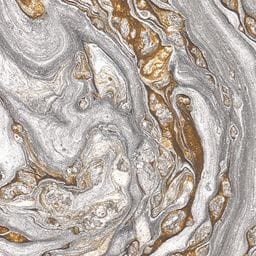 Onyx
Tension, time, and texture - sequences, percussion, and SFX to keep your mix moving.
Sound Corner
Cluster
A techy drum and bass track making heavy use of the new harmonic engine. Presets featured include Cluster WTF, Throttle Pluck, 3rd Harmonic, Weird Ratios, Glasgow 808, Absolute Variance & Bar Gesture.
Harmonic Encounters
With 'Harmonic Encounters' we wanted to create everything with Pigments 3. With this uplifting and dreamy EDM style we think we are showing its real power.
Cobald
Cobald contains only sounds from Pigments 3. The main presets I wanted to use for this track were "Parision" and "Brighton Gatekeeper", both very dynamic sounds. I used macro modulation and aftertouch to play creatively with the presets.
Green Calx
The "Cosmos Olie" factory preset is put to good use in this mesmerising ambient track, which shows Pigments' ability to shine at making larger than life and ethereal sounds.
Lets Say Around 3PM
Apart from the drums every sound is created with the new Pigments 3. This track is more in a moody and laid back style, using the harmonic oscillator and sampler generously.
Solar Particles
A deep mysterious sci-fi cue that centres around the Black Hole and Slur of Tines presets.
Boss Pigeon
A high-energy, synth-metal track. All patches were programmed by Diego Tejeida, and can be found on the latest Pigments update. Live drums performed by Simen Sandnes.
Epopee
A dreamlike single presets demo that explores different textures, all made possible with the new Engines in Pigments 3.
Liquid Drum
Rolling liquid D&B showing a mixture of pads, lofi and cold keys and modern sub & mid bass sounds. All Pigments except drums, a little Arturia Plate-140 on the chopped snare.
Lovecity
Bass music track, in which all sounds, except cymbals, were made using presets from Yuli Yolo, that can be found in Pigments 3.
Plucked
A moody & dub inspired beat driven track focused around the Wave Vox Triangles & Additive Koto presets. Also featuring 3rd Harmonic and Cheap FX EP.
Ice Box
Driving and melodic trap track, making good use of the new sample engine. All the synth parts and melodies come from Pigments 2.0 presets, with the use of external drum samples.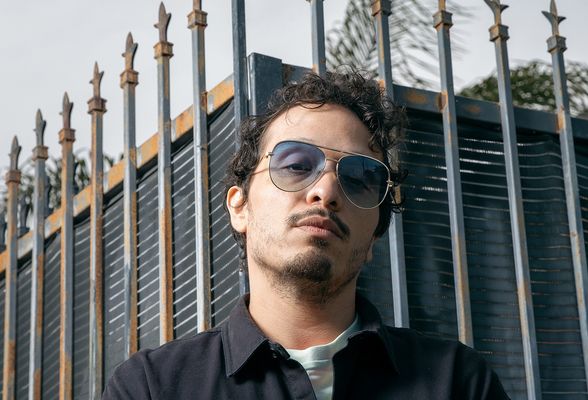 Artists Corner
The depth of sound from Pigments - I'm so deeply inside of it now that I don't hear things the same!
Scoop DeVille
( Producer )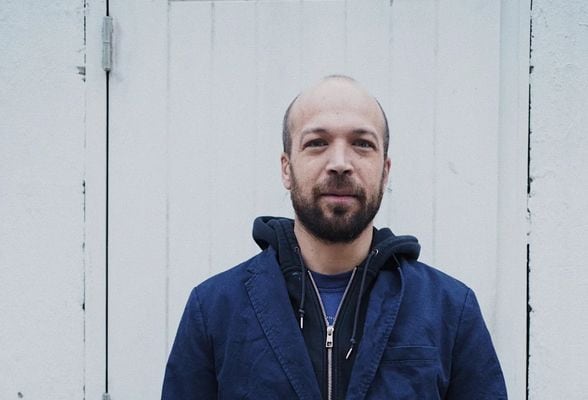 Artists Corner
Pigments is a complete surprise and a revelation to me because I normally associate the team at Arturia with having successfully closed the gap between analog and digital emulation. But this is something completely new, an analog/wavetable hybrid beast with the craziest modulation capabilities I have ever seen.
Mylo
( Producer )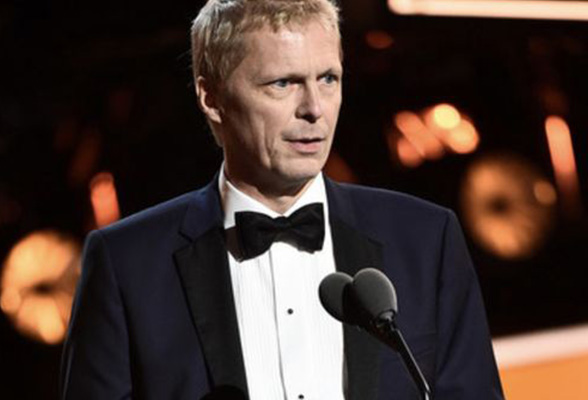 Artists Corner
Been a long time since I got to know a soft-synth that feels so alive! Beautifully designed, original, and deep, and it sounds great.
Marius de Vries
( Composer (La La Land, Moulin Rouge) )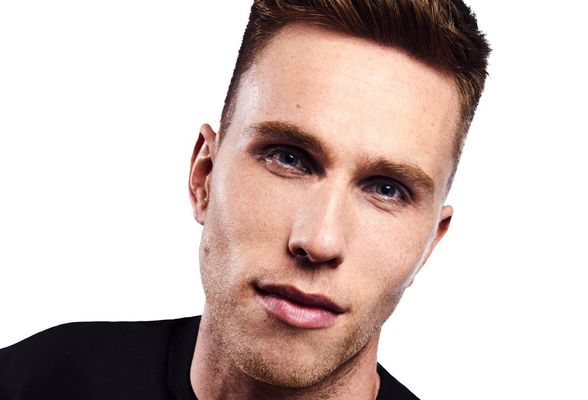 Artists Corner
I love how Pigments sounds so warm, and how easy it is to achieve the result you are looking for with your music. Great job on how the interface is done, all functions are easy to be found, even if you are new to this synthesizer. 5/5.
Nicky Romero
( DJ / Producer (Britney Spears, David Guetta) )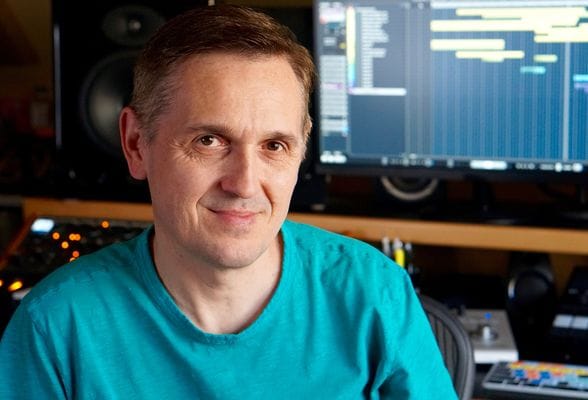 Artists Corner
With Pigments you can do sound design without limitations. I'm able to quickly turn the ideas in my head into sounds, partly thanks to the friendly and intuitive interface. I directly felt a connection with Pigments; the filters sound great, and it has a lot of power in the low end, something that is signature to my personal sound.
Robert Dudzic
( Composer / Sound Designer (Ready Player One, Guardian of the Galaxy) )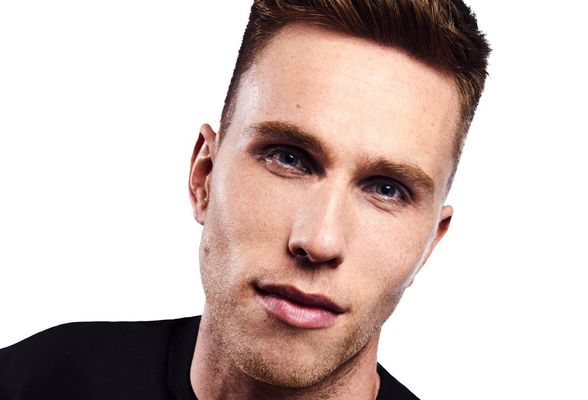 Artists Corner
It gives you the results pretty fast, it brings that quality of an analog synth to approachable, easy software, that everybody can use.
Nicky Romero
( DJ / Producer (Britney Spears, David Guetta) )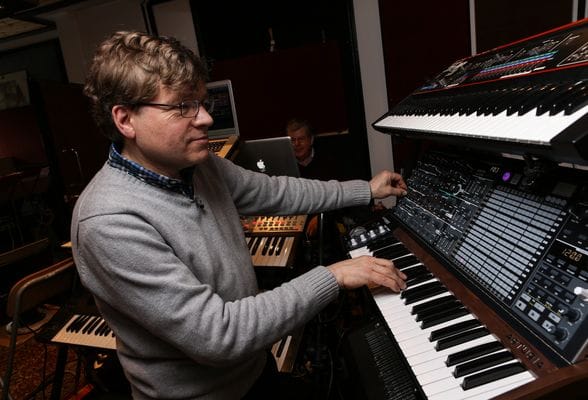 Artists Corner
Deep… both gloriously old-fashioned and fashionably modern. It follows the MatrixBrute path of almost infinite modulation which is a very good thing. Can't wait to start importing my own Waveforms.
Mark Ayres
( Radiophonic Workshop )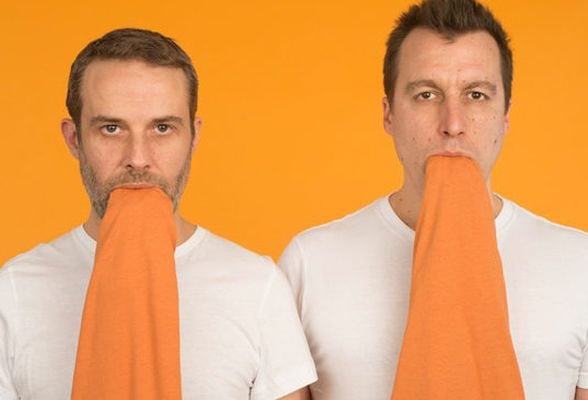 Artists Corner
We love it, there is a real detail and depth in its sound, the modulation assignment and routing system is one of the best we've used, making complex structures clear. Its potential is exciting, we've still got lots to discover.
Plaid
( Producers (Björk, Mara Carlyle) )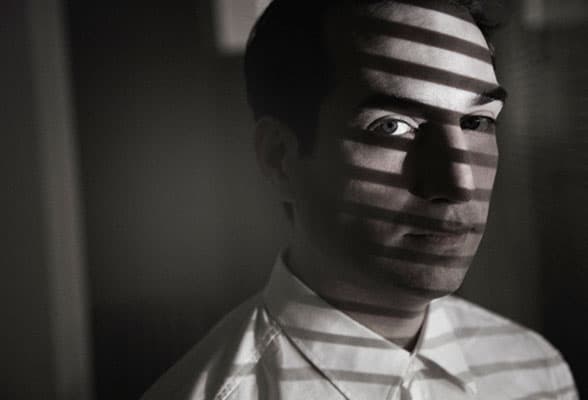 Artists Corner
Such a nice implementation of a modular synth concept!
Marc Houle
( DJ/Producer )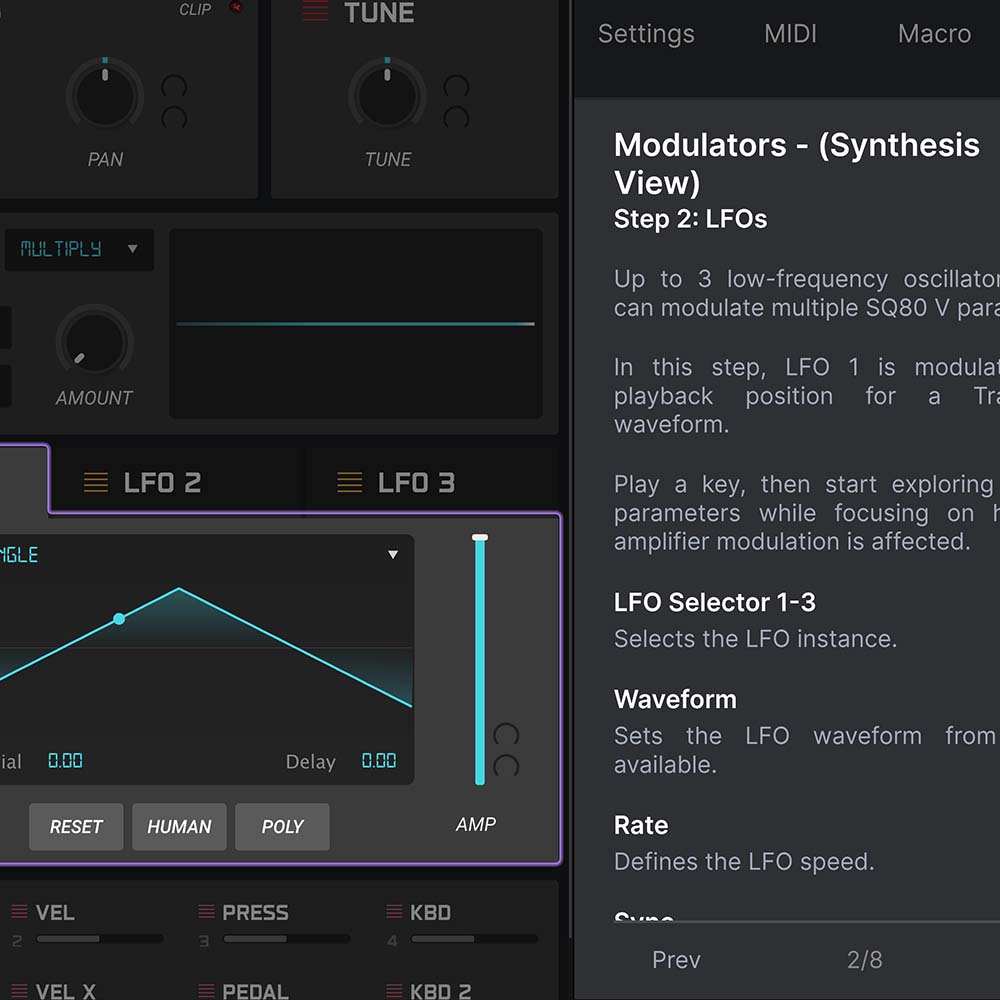 In-App Tutorials
Integrated in-app tutorials guide you through every aspect of the instrument, from individual parameters to tips from our sound designers, so you can focus on the creative stuff. It shouldn't be this easy, but it is!
ASC
Arturia Software Center lets you download, organize, and update all of your Arturia software titles in one place, as well as manage all of your licenses across multiple devices. Keep it simple.
Learn More
Download the ASC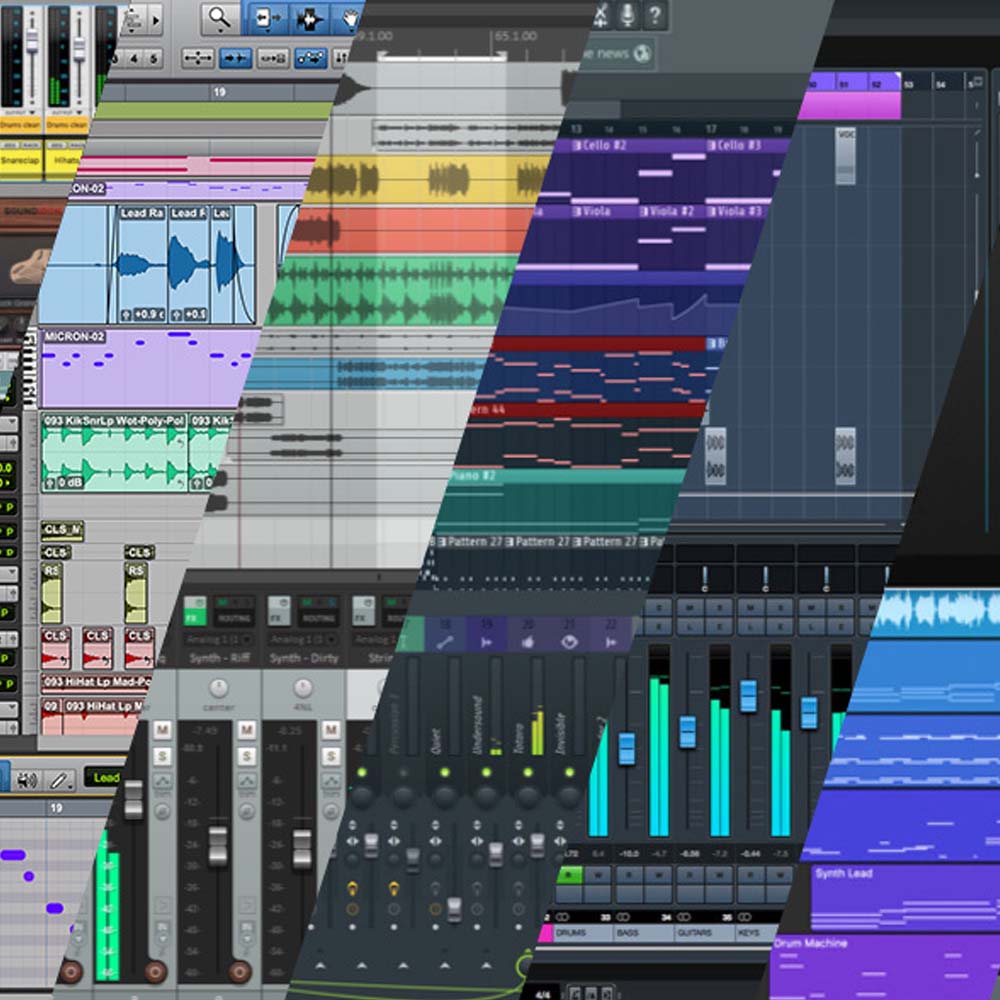 DAW ready
Our virtual instruments and plugins are designed to fit right into your setup without hassle. Whatever your style, you can explore sound while enjoying full compatibility with major DAWS, on both Windows and MacOS.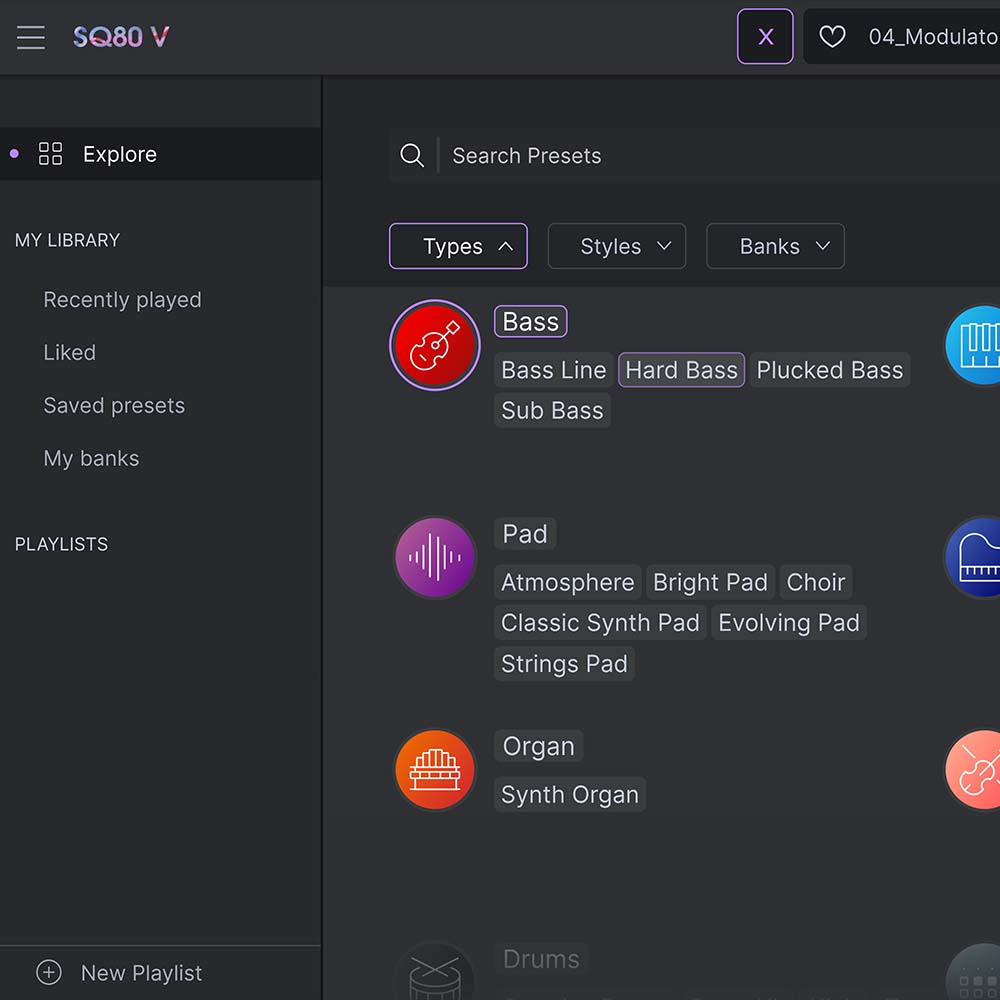 Preset browser
Instantly find the sound that's in your head with intelligent & streamlined preset browsing. Search with keywords, explore by instrument type, musical style, and more - you can even save your favorites to quickly recall later.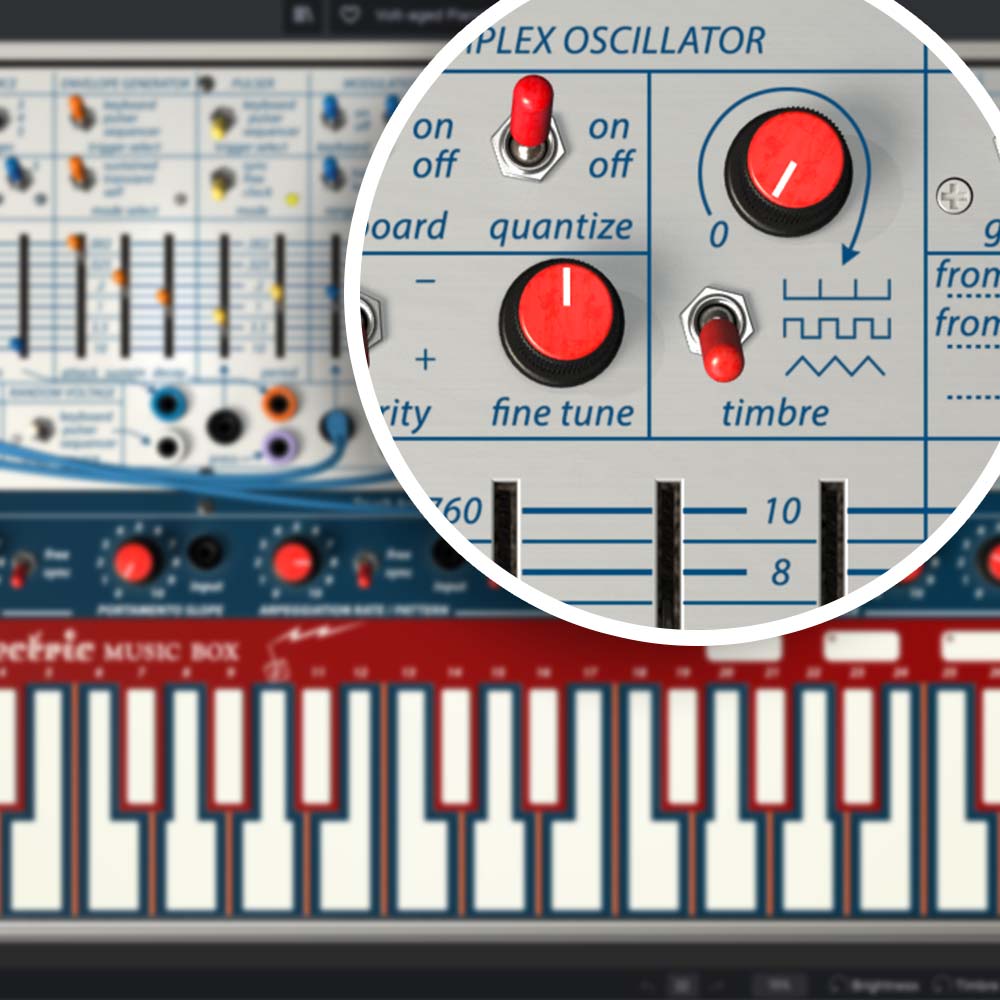 Resizable GUI
Whether you want the full visual immersion of our classic instrument emulations, or to save precious screen real estate, the interfaces for all of your Arturia virtual instruments can be resized to a scale that suits you.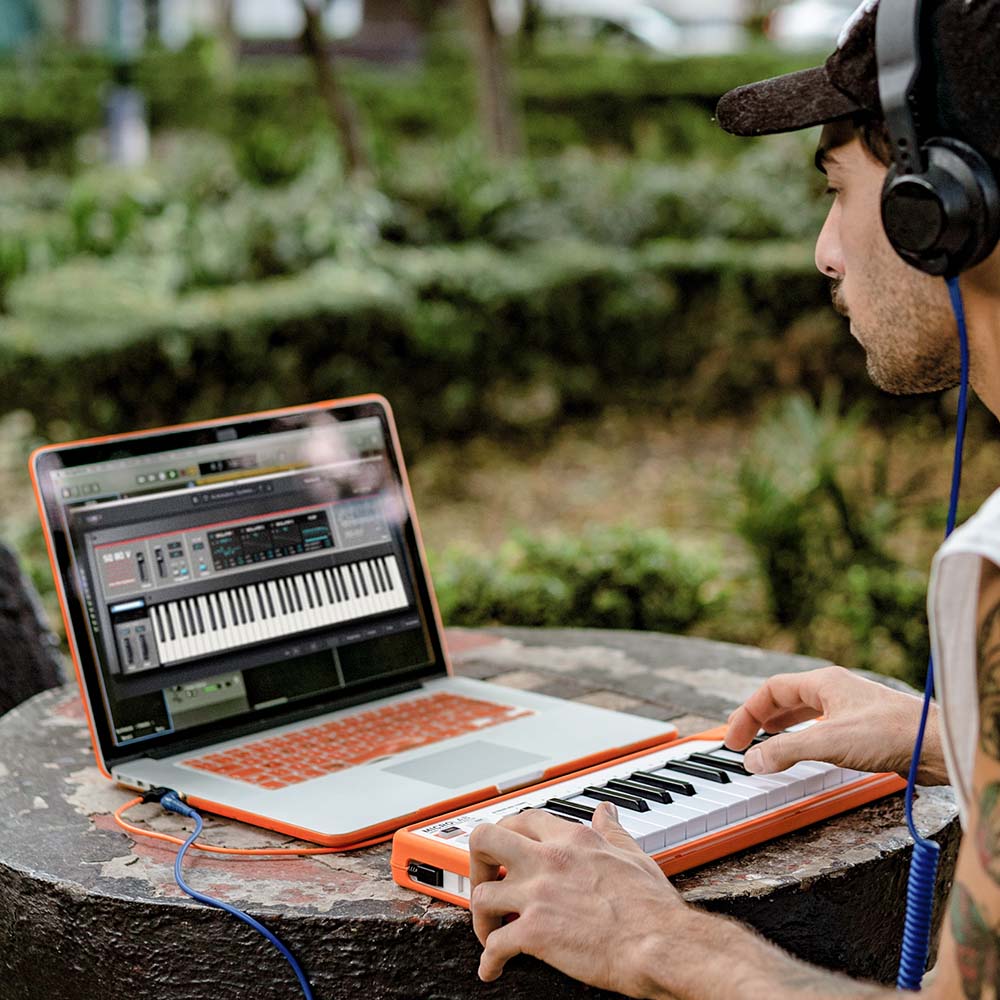 Perfect integration
Instruments come seamlessly mapped for the Arturia KeyLab range - but they'll place nice with other MIDI controllers too. Instant sound tweaking macros, easy DAW integration, and standalone operation.
Gallery
Platform specifications
: Win 8.1+ (64bit) PC: 4 GB RAM; 2.5 GHz CPU.
2GB free hard disk space
OpenGL 2.0 compatible GPU
: 10.13+: 4 GB RAM; 2.5 GHz CPU.
2GB free hard disk space
OpenGL 2.0 compatible GPU
Required configuration
Works in Standalone, VST, AAX, Audio Unit, NKS (64-bit DAWs only).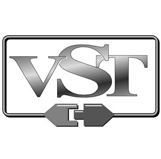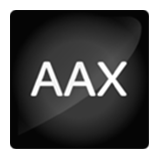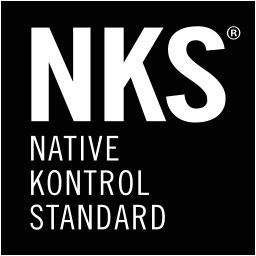 Protection
The software is protected by the Arturia Software Center. You can learn more about it here.
All manufacturer and product names mentioned on this page are trademarks of their respective owners, which are in no way associated or affiliated with Arturia. The trademarks of other manufacturers are used solely to identify the products of those manufacturers whose features and sound were studied during the development. All names of equipment, inventors, and manufacturers have been included for illustrative and educational purposes only, and do not suggest any affiliation or endorsement by any equipment inventor or manufacturer.
Main Features
Two engines in parallel with a choice of:

Virtual Analog triple osc engine
Complex Wavetable engine (including over 160 wavetables)
Sample & Granular engine (including sample library)
Harmonic Oscillator additive engine

Third Utility engine

Analog-style oscillator layer with 5 waveforms and 6-octave range
Dual noise sample players with built-in sample library

Visual interface with color-coded modules and graphical feedback
Dual filters with continuous series/parallel routing

Classic filter types from V Collection instruments
Modern filter types

Powerful FX section

Insert or Send routing
Modulable parameters
18 FX algorithms, from vintage to cutting-edge

Advanced modulation system

Graphical editing, source-based or destination-based.
Envelopes, LFOs, Function generators, Random src, ...

Extensive, ever-growing library of 1200 presets
Polyrhythmic Sequencer and Arpeggiator

Create complex, custom and evolving sequences/arps
Awards