Born from the lineage of its predecessor, MiniBrute 2 is an adaptable, dynamic synth with semi-modular architecture and huge connectivity. This is synth evolution.
From the earliest electronic instruments, synthesizers have expanded and enhanced the possibilities available to musicians. We decided not only to apply this mantra to the sound of our new instrument, but to synthesizer itself. MiniBrute 2 was born! A synthesizer that would sound huge and yet be compact, self-contained and versatile. An instrument that would be both comprehensive and evolving.
MiniBrute 2 sweeps conventions aside, in terms of sound, features, and preconceptions of what a synth should be.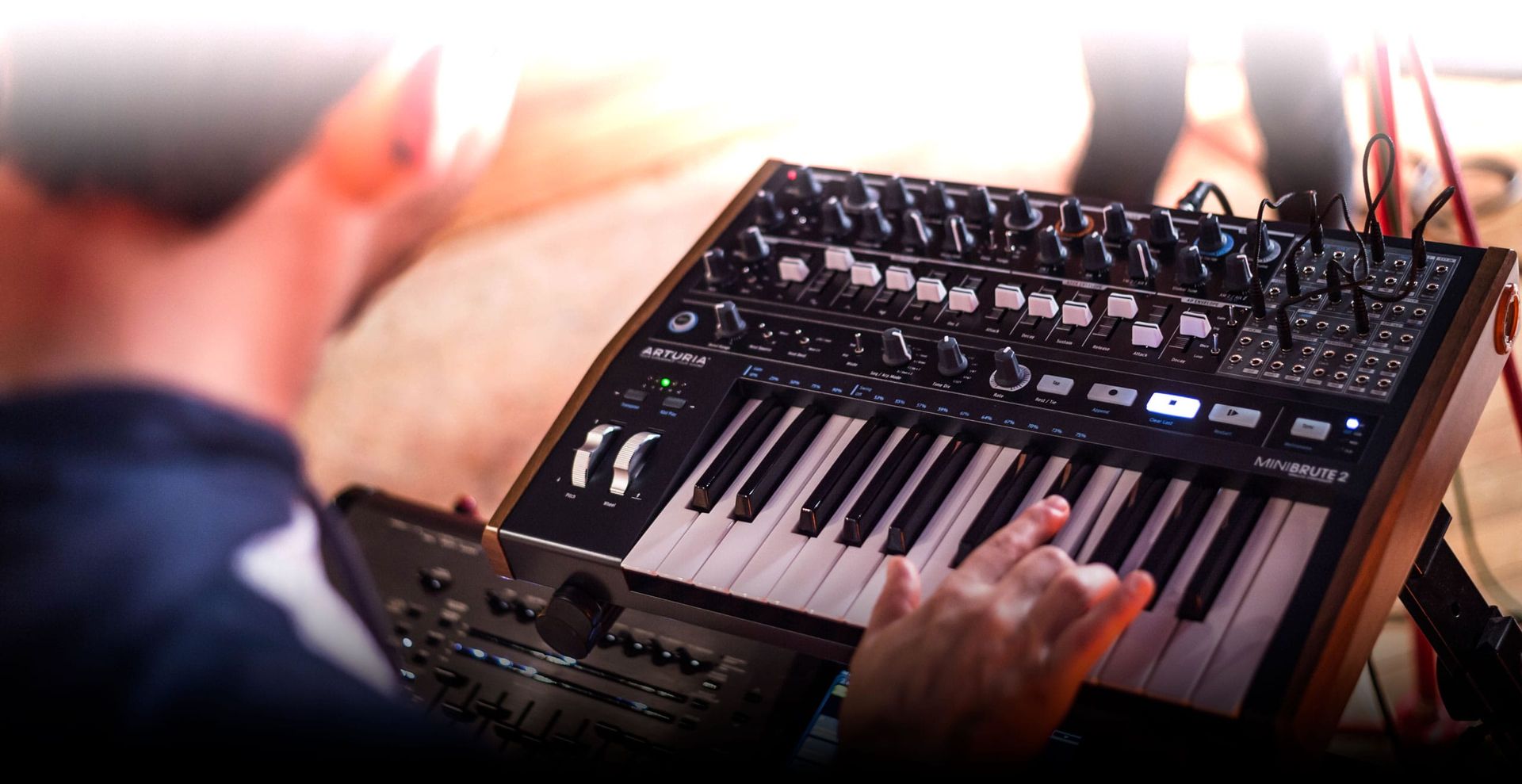 A small beast with a powerful voice
Let's be honest, you're not here because you want the same old synth, are you?
The MiniBrute 2 has nothing to hide. Take a look at its front panel, get yourself acquainted. You'll notice the now-iconic Brute oscillators, the acidic Steiner-Parker filter, and the mayhem-inducing Brute Factor knob that has become the signature Arturia synth element for many fans.
Looking a bit further, beyond the usual modulation sources and controls, you'll notice some exciting, unexpected features: a second VCO; a second LFO; new VCO and Filter frequency modulation possibilities; modifier-related modulation destinations; a brand new, loopable AD envelope. Once tamed, this little beast will reveal the full range of its vocalizations, including raging leads and piercing sequences, as well as smooth pads and purring bass.
The time is nigh, the moon is full, and MiniBrute 2 is ready to howl.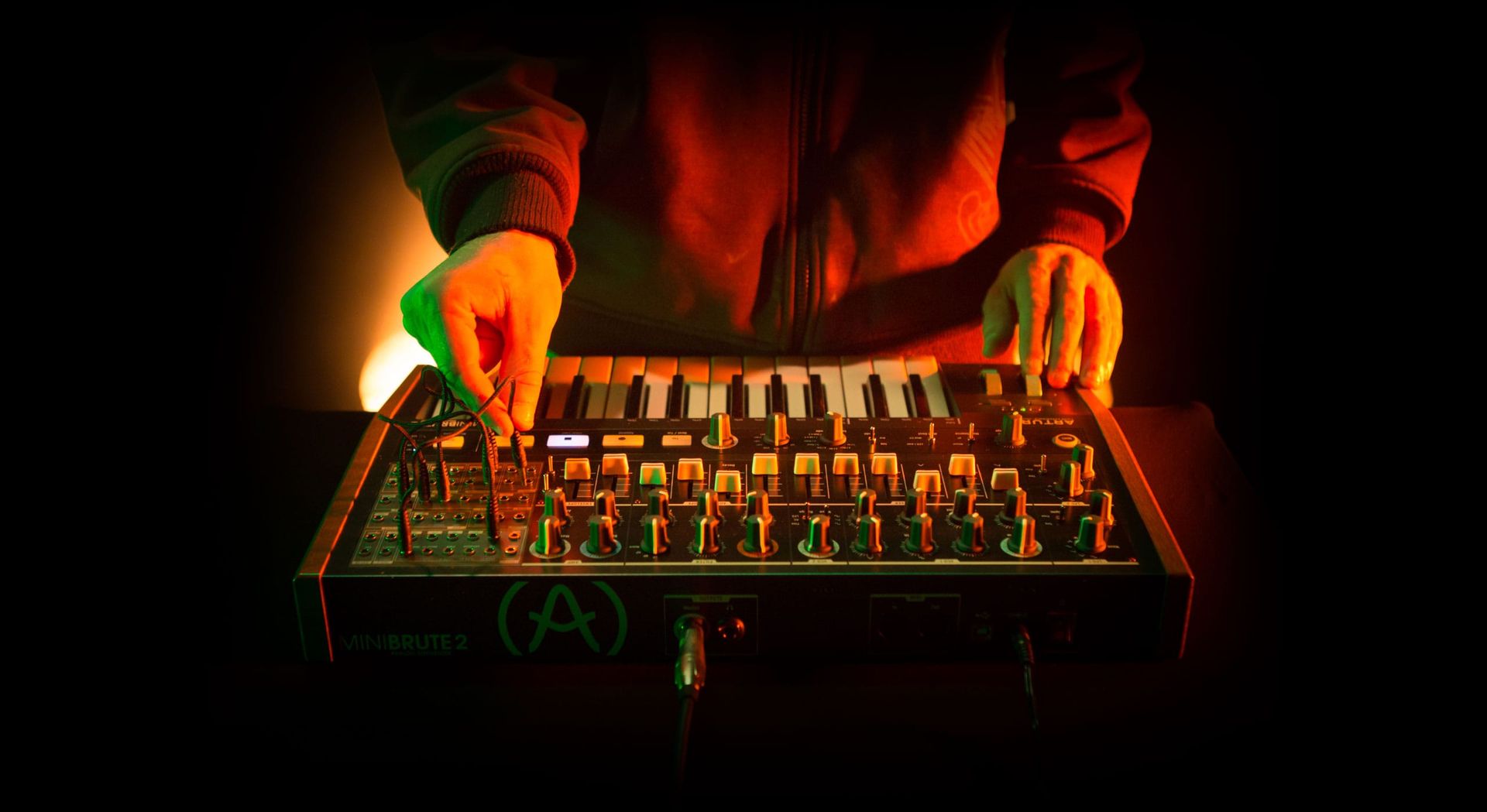 A polymorph with a pack instinct
There are two ways that creatures thrive: adapting, and grouping together. MiniBrute 2 is a master of both.
Thanks to its massive CV/Gate patch bay, you will be able to reinvent and restructure your MiniBrute 2 at any time. The synth is semi-modular, even with no patch leads connected, and each of its features has already been cleverly, inspiringly routed. If you want to start dissecting the sound and experimenting, you will find direct, 100% safe access to the MiniBrute 2's genetic code on the right of its front panel.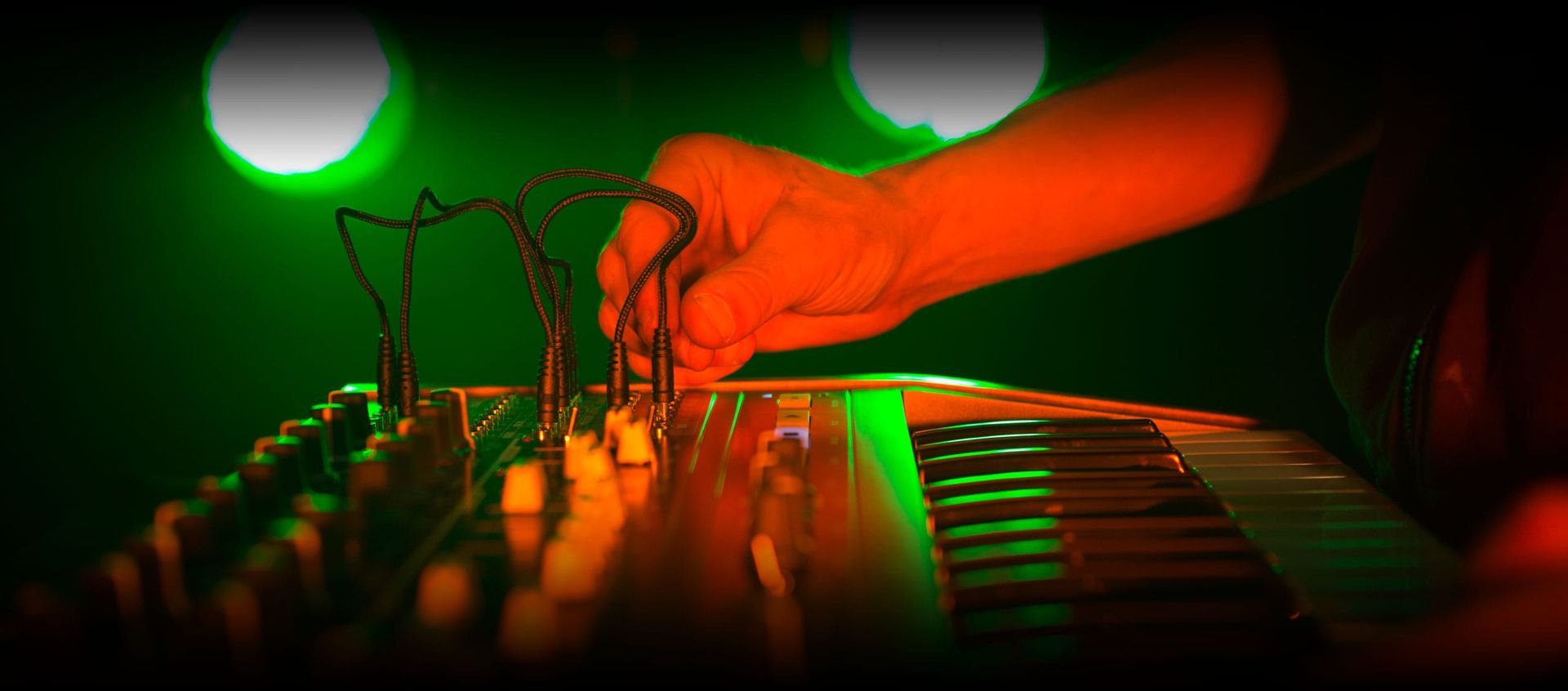 Modulating the Metalizer amount to an audio pulse? Having the AD envelope affecting its own decay to make it sharper? Affecting the VCO1 FM amount with the LFO? You get the idea. The possibilities are practically unlimited, and even more so if you have CV/Gate-enhanced gear and Eurorack modules to welcome into the pack.
No natural selection here. With MiniBrute 2, you set your own rules of sonic evolution.
Press Clipping
"There's a lot of fun and flexibility to be had here and sound wise there's some very nice sweet spots. It's a synth that absolutely rewards tinkering and experimenting. "
Noisegate
"In conclusion, if you're looking to get started with analog synthesis, all of the Brutes are great entry level synths in terms of price, but also deliver serious sonics and flexibility well beyond what you'd expect from an entry level unit. These would make a great addition to an existing system like Thom's studio or, if you're just starting out like Geoff, are not likely going to be something you'll want to replace as you get deeper with synths. At every price point Arturia is delivering gear that exceeds expectations. "
Tape Op
"In terms of flexibility the MiniBrute 2S is made to be the center for a modular setup, or as a starting point for going modular. Soundwise it is clearly more flexibel than ever before."
SYNMAG
"Platinium Award - On the whole, both versions of the MiniBrute 2 are a real success. They take everything we liked about the original – the analogue grit, interesting oscillator shaping, Brute factor – and expand on it considerably. The addition of the patchbay really does massively expand the fl exibility and potential. Where the original was a great tool for gritty leads and basses, this follow-up is equally well-equipped for evolving drones, inharmonic FM sounds and out-there SFX. An expanded synth engine, semi-modular architecture and flexible control options make this a seriously competitive monosynth."
Future Music
"Fine synths, nice and flexible, good sounding, very well priced, very cool patchbay."
Interface
"On the whole, the MiniBrute 2S is a real success. It takes everything we liked about the original - the analog grit, interesting oscillator shaping, Brute factor - and expands on it considerably. The addition of the patchbay really does massively expand the flexibility and potential. The MiniBrute 2S is an impressive analogue synth and a real step up from its predecessor. The patchbay adds flexibility and character that make this a very serious competitor in the now crowded analogue monosynth market."
Music Racar
"The MiniBrute 2 Series are powerful new synthesizers. If you're interested in a compact system that combines flexible synthesis, sequencing and Eurorack capabilities, the new range has to be high on your list of candidates."
Sound on Sound
From our heart to your hands
Designed by passionate synth enthusiasts to cater for the most intrepid, experimental musicians out there.
The brainchild of Arturia's daring product manager Seb Rochard, born on the foundations of synth guru Yves Usson's unique approach to synthesis, MiniBrute 2 is truly an instrument by musicians for musicians. Every aspect of the synth, from its layout to the carefully chosen components, reflects their painstaking obsession to bring you the most adaptable, joyous analog synth around.
Once you take a look at MiniBrute 2's layout and features, everything becomes clear.
Let's take a closer look at what MiniBrute has to offer...
1. VCO 1
Sawtooth, Pulse and Triangle waves with unique modifiers and direct FM control. Ultra Saw makes for huge sounds, Metalizer adds complex harmonics to the triangle wave. FM generates rich tones.
2. VCO 2
Selectable waveform between sine, saw and square. Multiple tuning modes for fine, coarse or LFO operation.
3. Oscillator Mixer
Allows for mixing the levels of the individual waveforms of the oscillator 1 and 2, the noise generator and the external inputs.
4. Steiner-Parker Multimode Filter
Beefy filter with Low Pass, High Pass, Band Pass, and Notch modes. Resonance can be pushed into self oscillation.
5. 4 Stage Envelope
ADSR Type Envelope generator.
6. Brute Factor™
The Brute Factor™ can add subtle drive effects to full blown intermodulation havoc.
7. AD Envelope
This modulator can generate AD, AHR or loopable envelopes. Its Attack and Decay times are CV-controllable, too.
8. Patchbay
48 CV inputs and outputs to control many elements of the synthesizer and sequencer. Some utility modules provide extended possibilities.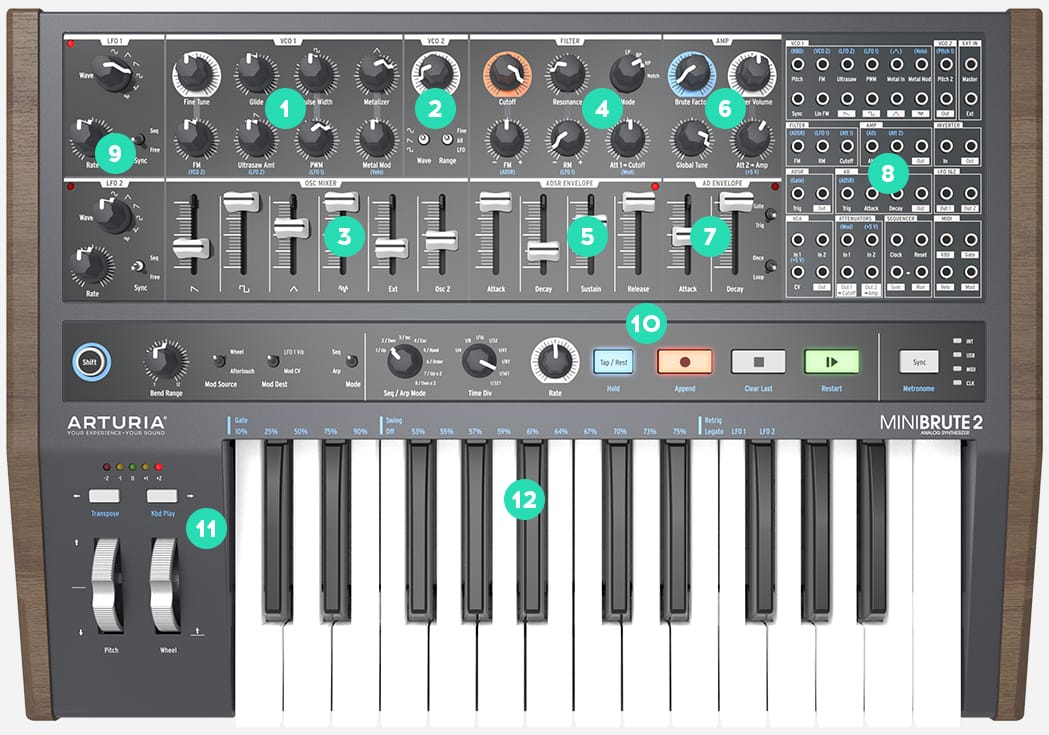 9. Two LFOs
Both LFO supply 6 waveforms and can run in sync to the Sequencer. Very fast rates can be obtained.
10. Sequencer/Arpeggiator
Flexible sequencer or arpeggiator allows for instant melodic phrases. Syncs to MIDI clock over USB and MIDI In to play in sync with your favorite DAW.
11. Performance Controls
Mod Wheel & Aftertouch destinations and Pitch Bend amounts can all be set.
12. Keyboard with Aftertouch
25 note velocity-sensitive keyboard with aftertouch. Octave buttons allow transposition of up to 5 octaves.

13. Audio In/Out
Line and headphones outputs.
14. MIDI In/Out
Connect and sync MiniBrute to any DAW or hardware MIDI equipment.
15. USB In/Out
Control MiniBrute from your DAW or use it as a master keyboard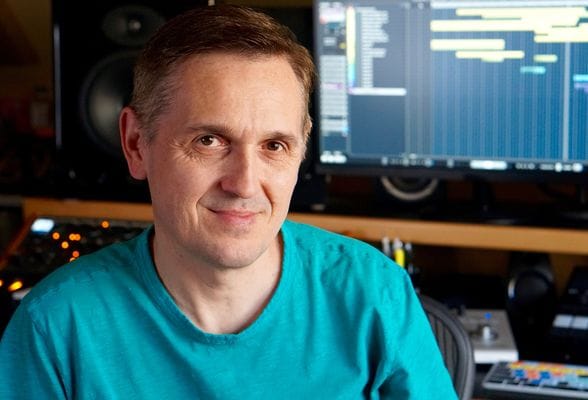 Artists Corner
Being a sound designer I'm constantly on the search for new sources of sound. When the MiniBrute 2 was first introduced, it immediately caught my attention with its sleek design and expand CV control to rich quality sounds. The MiniBrute 2 is a machine where the limits are endless. I love how versatile and easily accessible it is to control of the sound. Combined with RackBrute 6U the MiniBrute 2 is a powerful weapon and solid workstation.
Robert Dudzic
( Composer / Sound Designer (Ready Player One, Guardian of the Galaxy) )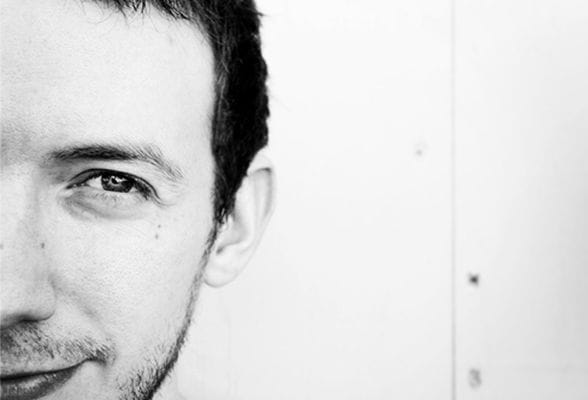 Artists Corner
The scope of sounds possible is incredible, and the semi-modular system has been a great way to get into modular synthesis, and for creating sounds I'd never even think of previously. I also love the form factor of the MiniBrute 2 - it's an incredibly powerful synth with a very small footprint.
Martin Roberts
( Musical Director / Musician: M83, Schiller, James Bay )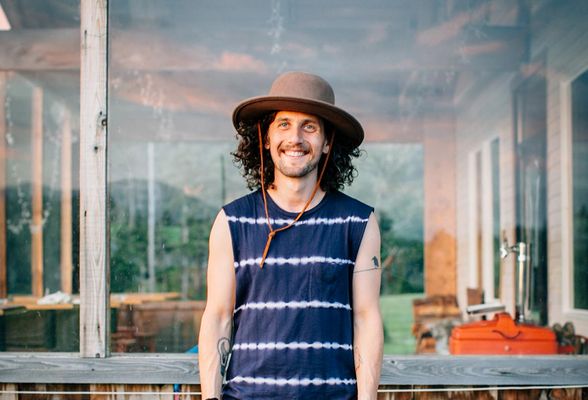 Artists Corner
In a world filled with reduced feature sets and run-of-the-mill preset sounds, the MiniBrute 2 is wild breath of fresh air. I've enjoyed having this unique synth around the studio, both as a highly customizable sound source, and a command center for my modular setup!
Josh Karp
( Budo / Macklemore )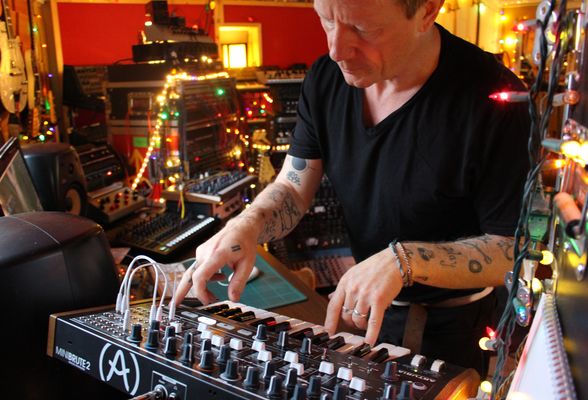 Artists Corner
The MiniBrute 2 is astounding. It's deep. Wild and chaotic. Endlessly inspiring. This will be a vital weapon in my arsenal. It's fantastic.
Jacknife Lee
( Producer / Mixer: U2, The Killers, R.E.M )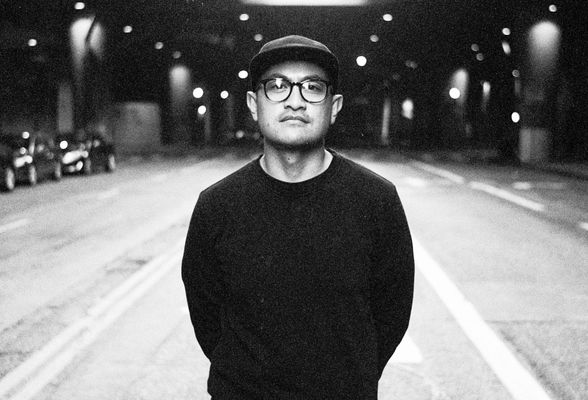 Artists Corner
My studio is always expanding. And with the introduction of modular synths into my workflow, the MiniBrute 2 has helped expand on many new ideas. I love shaping sounds within the MiniBrute itself, and at the same time having the ability to patch out into my eurorack modules in my RackBrute unit, it becomes a whole new world of discovery.
Freddie Joachim
( Producer )
It will learn through play
With a creative approach, MiniBrute 2 will be able to master any trick you can imagine.
Maybe you'll want to enjoy MiniBrute 2 as the musician's best friend it is; enjoying its devoted attention, safe in the privacy of your studio, and at the center of your creative setup. Maybe you'll want to share its awesome tricks and sonic prowess on stage, with an audience. Whatever you have planned for this incredible synthesizer, it won't let you down.
Sporting a high quality, aftertouch-enhanced 25-key keyboard, an inspiring arpeggiator, and a smart and effective sequencer. The way you perform is up to you. Will you focus on the musical performance, set up sequences and arpeggios, losing yourself in the real-time tweaking of the sound parameters, or create hybrid sounds with modular synths (5U, westcoast and Eurorack)?
One thing's for certain: once you get your hands on this beast, you'll never want to take them off.
Sound Corner
Choppy Fun
This intense electronica excerpt sounds like its name suggests; choppy and gated tech stabs, bassline and simple square arpeggios underneath a floating ethereal lead. No external samples or instruments were used. External effects include: EQ, Auto Filter, Reverb and Delay from Ableton Live 9.
MK2-serenade
A punchy techno track, showing the aggressive potential of the machine. Additional drum samples and light processing on the MiniBrute 2 parts.
Myriad Ensemble
An acid-like track inspired by world music flutes and brass instruments coming together in harmony, emulated by clean saws and squares. A high pitched wobble bass adds flavour to the mix. No external samples or instruments were used. External effects include: EQ, Pan, Reverb and Delay from Ableton Live 9.
Rocker
A bouncy and playful techno tune with a pitched snare drum line, melodic bass and triangle wave pad, and a strumming string style lead. No external samples or instruments were used. External effects include: Reverb and 1/8 note Delay from Ableton Live 9.
SpringIsComing
An uplifting, flowing ambient piece that makes use of the VCO 1 Glide for legato melody lines. A modular-style groove brings everything together. No external samples or instruments were used. External effects include: EQ, Reverb and Delay from Ableton Live 9.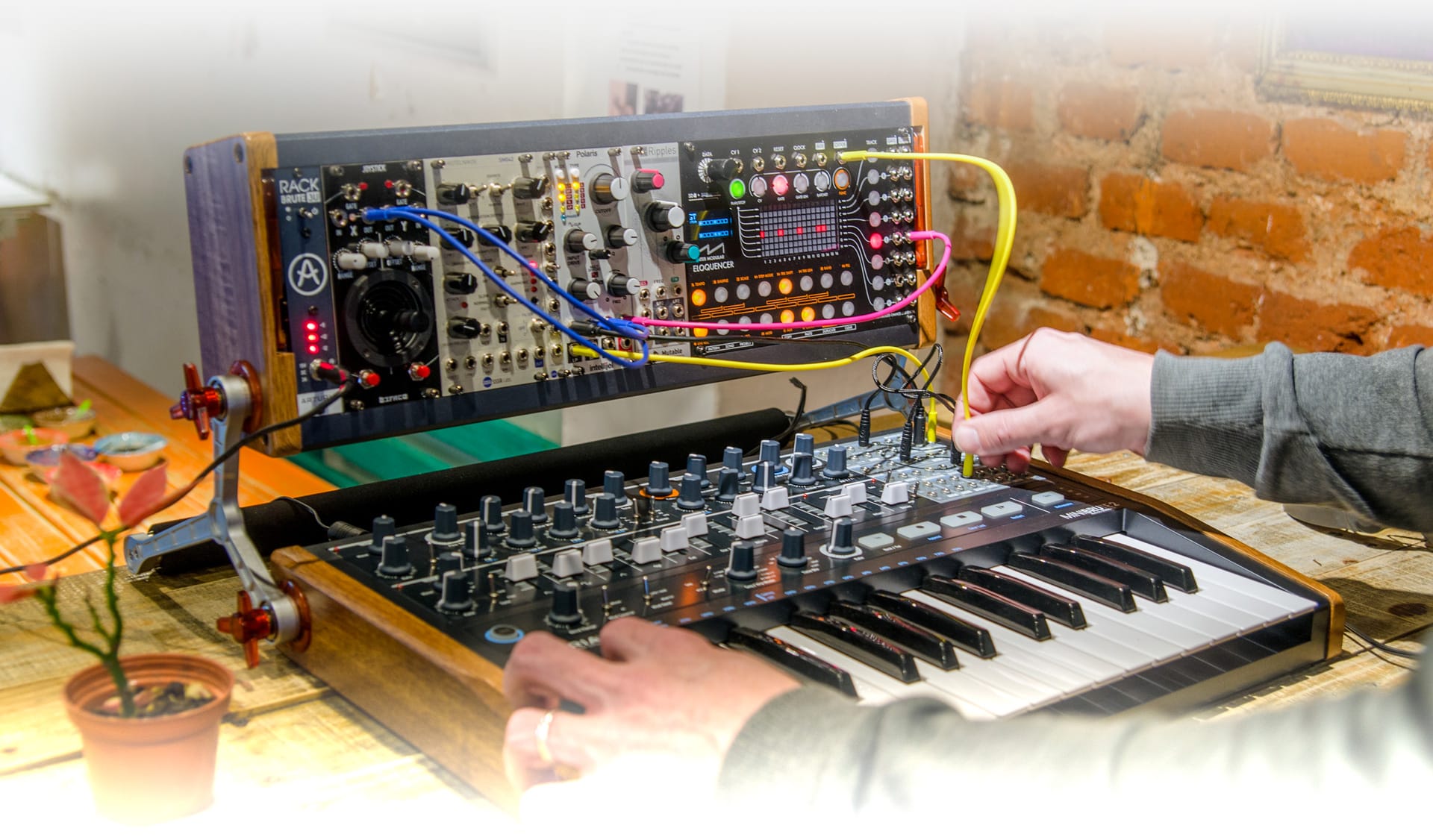 Part of a living, breathing Ecosystem
MiniBrute 2 is at its boldest, most instinctive best when it exists as part of a full, creative environment. The team at Arturia have created a vibrant world for it to inhabit.
Whether you think the MiniBrute 2 is impressive or intimidating, we have created a world of useful tools and accompaniments to help you build the best relationship possible with our organic, vital synth. In addition to its clear, streamlined architecture, we also created a preset "Cook Book" for you to discover its abilities at your own pace. When you're ready to experiment, you'll find we've provided you with a set of patch cables so you can start reworking its sound and networking with other modules in your creative setup.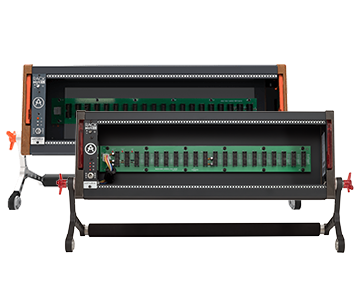 RackBrute 3U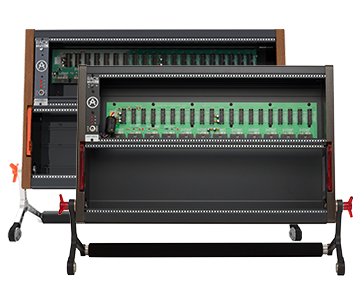 RackBrute 6U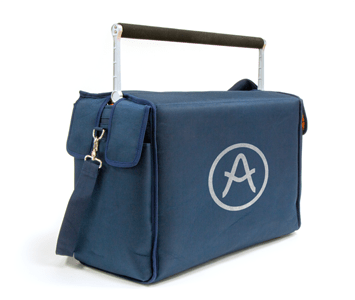 Travel Bag
Once MiniBrute 2 has staked its claim as head of the pack, you can use the exclusive Link system to connect it to a RackBrute, set it up in different configurations, and start gathering Eurorack modules within a perfectly fitted and ultra-solid case. If you want to take your sound with you, simply fold down your sonic EcoSystem and pack it into the safety and security of a RackBrute Travel Bag.
The story of the MiniBrute 2 species starts here. How far it goes, and where it will take you is all up to you.
Gallery
Box contents
MiniBrute 2 unit
Power cord
Perfectly realized right down to the smallest detail, MiniBrute 2 also includes
8 patch cables
a "Cook Book" jam-packed full of superb sonic recipes for you to try out, put together by some of the most illustrious synth-chefs around.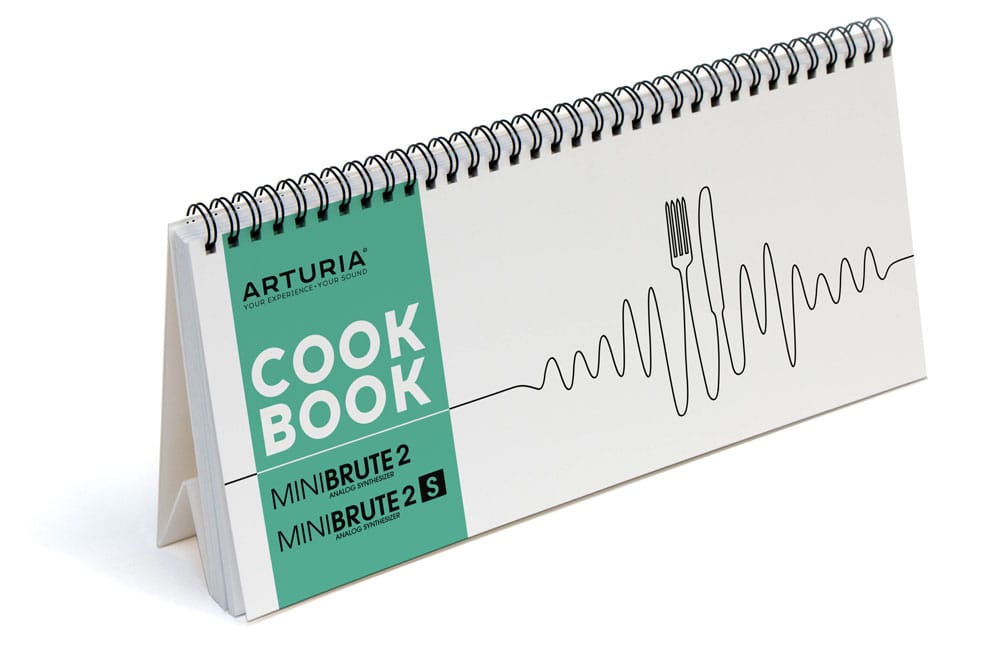 Size & weight
Instrument size : 19 x 13.2 x 2.3 inches (484 x 336 x 58mm)
Instrument weight : 10.6 lbs. (4.8 Kg)
Main Features
Analog Synthesizer
2 Analog VCO's:

VCO1 : Saw + UltraSaw, Square +Pulse width, Triangle + Metalizer. (Waveform mixing)
VCO2 : Sine, Saw, Square waveforms (three tuning ranges).

VCO 2>1 Hard Sync, VCO1 linear and exponential FM
White Noise Generator
External Audio In
Steiner Parker filter (12dB per octave): Low Pass, High Pass, Band Pass, Notch modes.
2 LFO's with Sync: Sine, Tri, Saw, Square, Random, Slew Random
1 ADSR envelope
1 AD envelope

Trig, Gate modes
One shot or Loop
Attack and Decay times CV controllable

48-point CV and Gate patchbay

Inputs and Outputs for the voice and sequencer
Utility modules: inverter, attenuators, VCA

25-key velocity and pressure sensitive keyboard
Arpeggiator types : Up, down, inclusive, exclusive, random, note order, double up, double down modes
Sequencer mode:

8 step-sequences with Rest, Tie and Legato note entry
Each sequence can have up to 64 steps

MIDI and USB I/O
Awards