The chameleon controller and sequencer that will match your musical environment perfectly. It's compact, rugged, and the perfect companion on the road or in the studio.
Arturia's BeatStep: a degree of functionality and performance never seen before in a portable pad controller. BeatStep is highly versatile, capable of triggering clips in applications like Ableton Live, playing drums with BFD or EZDrummer, or tweaking synth parameters. Or doing all of those at once!
BeatStep is also a 16-step analog sequencer, and it's like a force of nature when it comes to creating interesting musical phrases for analog synthesizers, MIDI drum machines, keyboards and DAWs. Its advanced connectivity interfaces easily with a computer or iPad® using USB, a drum module with MIDI, or the CV/Gate inputs on an analog synthesizer.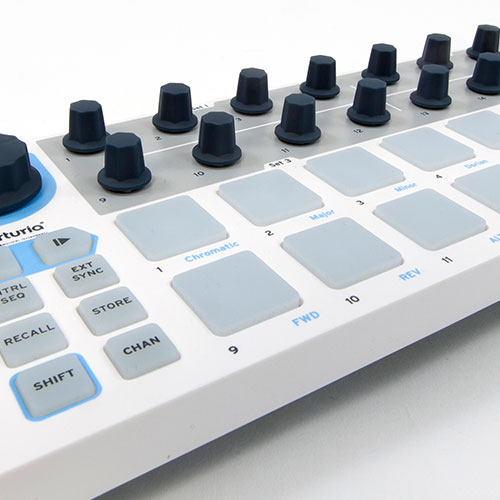 Step Sequencer
In SEQ mode the pads become toggles for each step in your sequence. The 16 encoders will adjust pitch for the associated step. 16 memories allow for instant recall of your favorite patterns while the pad scale modes, sequence playback modes and time division functions allow for realtime performance changes.
On top of all that it has MIDI, USB and CV/GATE connectivity, giving you a sequencer that will work with all types of gear, including analog synths, software instruments, and MIDI hardware.
Percussion Controller
With 16 velocity- and pressure-sensitive pads, BeatStep is the perfect compact percussion instrument. The ultra-sensitive pads allow for great dynamic performances. The 16 encoders can be assigned to adjust various parameters for further real-time control over your drum sounds.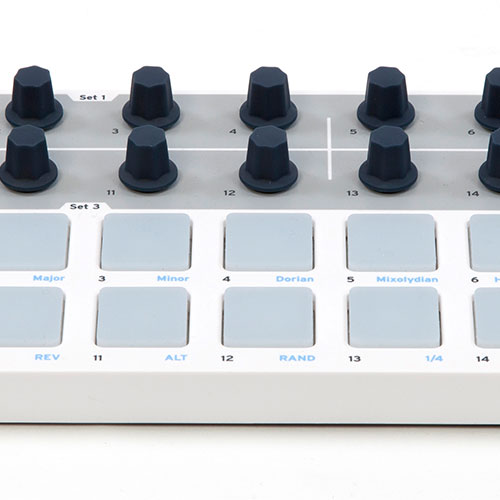 General purpose control surface
The BeatStep pads can be configured to send MIDI note on/off messages, MMC commands, Program and Bank changes, or serve as MIDI CC buttons.
With 16 encoders, 16 pads/buttons and 16 presets, there are as many ways to use BeatStep as there are live gigs and studio environments. You can trigger clips in Ableton Live or use the encoders to adjust the effects in your favorite DJ app. The transport buttons can be MMC controls or send MIDI CCs to start and stop your DAW. It can be the MIDI Clock master or slave to an external clock.
Using an iPad and a camera connection kit, you can turn BeatStep into one of the most flexible iPad app controllers ever.
Press Clipping
"Great control for synths, doubles as a set of drum pads & creative playback modes"
Computer Music
"This lightweight, desktop controller can be used with just about any instrument you own, whether it's software or hardware-based, using MIDI and CV:Gate signals"
Electronic Musician
"Put simply, your wish is BeatStep's command."
Keyboard US
"This has to be the runaway bang-for-buck hit of NAMM 2014. whether you need drum machine-style groove entry or a primary sequencer for your modular synth rig, you're covered."
Keyboard US
"Fun, useful, flexible and packs a big punch for the price"
KR Home Studio
"A very powerful and fast controller, taking only little space in your studio, perfect for your travels it will allow you programming and execution "LIVE" "
Meet Music Magazine
"BeatStep has to be the runaway bang-for-buck hit of NAMM 2014. Whether you need drum machine-style groove entry or a primary sequencer for your modular synth rig, you're covered."
KeyBoard
"Fun, useful, flexible and packs a big punch for the price"
Future Music
"With its excellent build quality, its multiple types of connections and the richness and simplicity of setting mainly via MIDI Control Center, BeatStep is undoubtedly a success."
Audiofanzine
"If you're looking for something that can infuse some of the analog sequencer variability and groove to your productions, the BeatStep can get you there."
Resident Advisor
"Basically as a tool it's got plenty to offer for the price. It certainly has a role in most setups."
Sonic State
"We love Arturia, you love Arturia, and it seems the French masters of hybrid synthesis are about to spread more love. BeatStep is likely to be one of the most important tools you'll want in your electronic arsenal"
Futur Music
"If you have external midi equipment, analog hardware, an iPad or a laptop, for that matter, then you probably owe it to yourself to give the BeatStep a test run. The easy to work the features and the low price bodes well for the future if Arturia with BeatStep could setting a trend ball rolling."
Studio magazine
"What makes BeatStep controller an especially interesting surprise from Arturia is the fact that being a step sequencer with USB connection it also has a cv / gate output that makes it easy to use with analog synthesizers."
Studio magazine
"Beatstep is a great controller, at a great price!"
Audio Technology magazine
"The BeatStep is a David in a Goli- ath market. It may be small, yet it is mighty good and opens a door to in- spiration and creativity in both music creation and live performance."
CanadianMusician
"An excellent MIDI controller that unites the worlds of software and hardware at a price that's hard to ignore"
Music Tech magazine
"If you're a laptop performer in the market for drum pads, a flexible control surface and a hands-on step sequencer, the Beatstep could be exactly what you're looking for!"
Sound On Sound
"Arturia deserve accolades for creating something that stands out from the crowd."
Ask Audio Magazine
"The BeatStep is well built, well designed, compact and just plain enjoyable to use. Add to this the step sequencer and the fact it retails for under $100 and it seems we have ourselves a bit of a winner."
Ask Audio Magazine
"BeatStep is a MIDI Controller and Step Sequencer in one. Solid. Small. Cheap. Great pads. Easy to use - All I can say is I love this piece of hardware for what it is."
BeatFlakes
"BeatStep is only slightly larger than half an A4 page but feels substantial"
Computer Music
"Bottom Line: Hugely Powerful Controller and Software, Great Value - it's easily become an essential piece of gear"
Create Digital Music
"The best compliment for Arturia and the BeatStep is probably that I did not send back the test unit, but I am going to buy it."
Digital-notes.de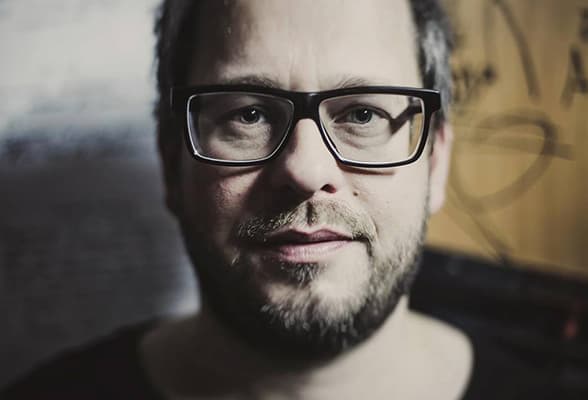 Artists Corner
I fell in love with a little new toy, the BeatStep. So simple and so effective. I hate complicated technology and the BeatStep is as simple as one would wish. Plus the benefit of great sequenzing and controlling possibilities including a CV/Gate connectivity to get my old synths back from the attic in the studio.
Oliver Huntemann
( DJ/ Producer )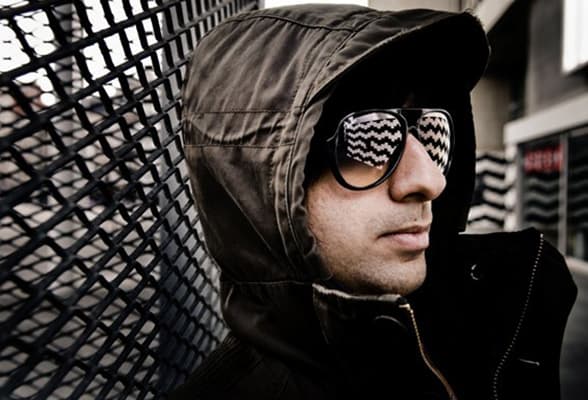 Artists Corner
Arturia's BeatStep will definitely be connected to my DAW , Love the fact it can be both Midi controller and a Sequencer , will make building Drums part in your track more creative and fun task then before.
Guy J
( DJ/ Producer )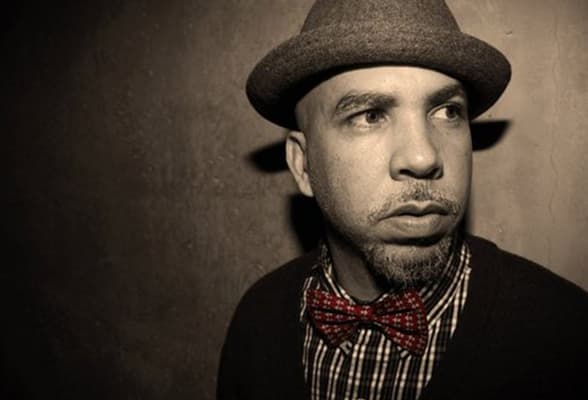 Artists Corner
The new beatStep is extremely intuitive and has helped my creative process and workflow exponentially. Not to mention making programming fun again!
Doc McKinney
( Producer - Composer )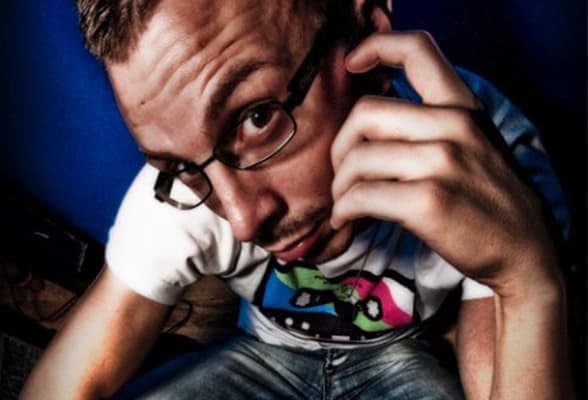 Artists Corner
It's not a toy. The BeatStep is a solid step sequencer, easy to use and extremely fun to play with. Although it has plenty of applications, I do love it to go on with other analogue synthesizers as it allows me to get all of those incomparable musical nuances I was looking for.
Aki Bergen
( DJ/ Producer )
Gallery
Main Features
16 backlit pads

Red = Control mode
Blue = SEQ mode
Velocity- and pressure-sensitive

16 assignable encoders with 2 modes
Transport controls

Send MIDI clock with Start/Stop (internal sync)
Send MMC Play and Stop messages

Data Encoder

Volume MIDI CC#7 – Control Mode
Rate – in Sequence mode
Sequence Transpose – SHIFT + Data Encoder

Kensington Lock port
16 user presets
Multiple pad modes

Note data
MIDI CC data
Program Change with Bank Select
Awards