PolyBrute Now Shipping
You've seen it in the hands of reviewers and artists, and now it's your turn - the first PolyBrute orders are now shipping worldwide. Some orders may have already arrived, and the rest are on their way.
Imagine using 6 analog voices to craft a sound that's powerful, raw, and entirely yours. Imagine a sound existing in two states simultaneously in a single preset, with seamless morphing between them. Imagine multi-axis performance controls offering next-generation musical expression. Imagine instant and limitless modulation at your fingertips. Imagine a polysynth made by musicians, for musicians.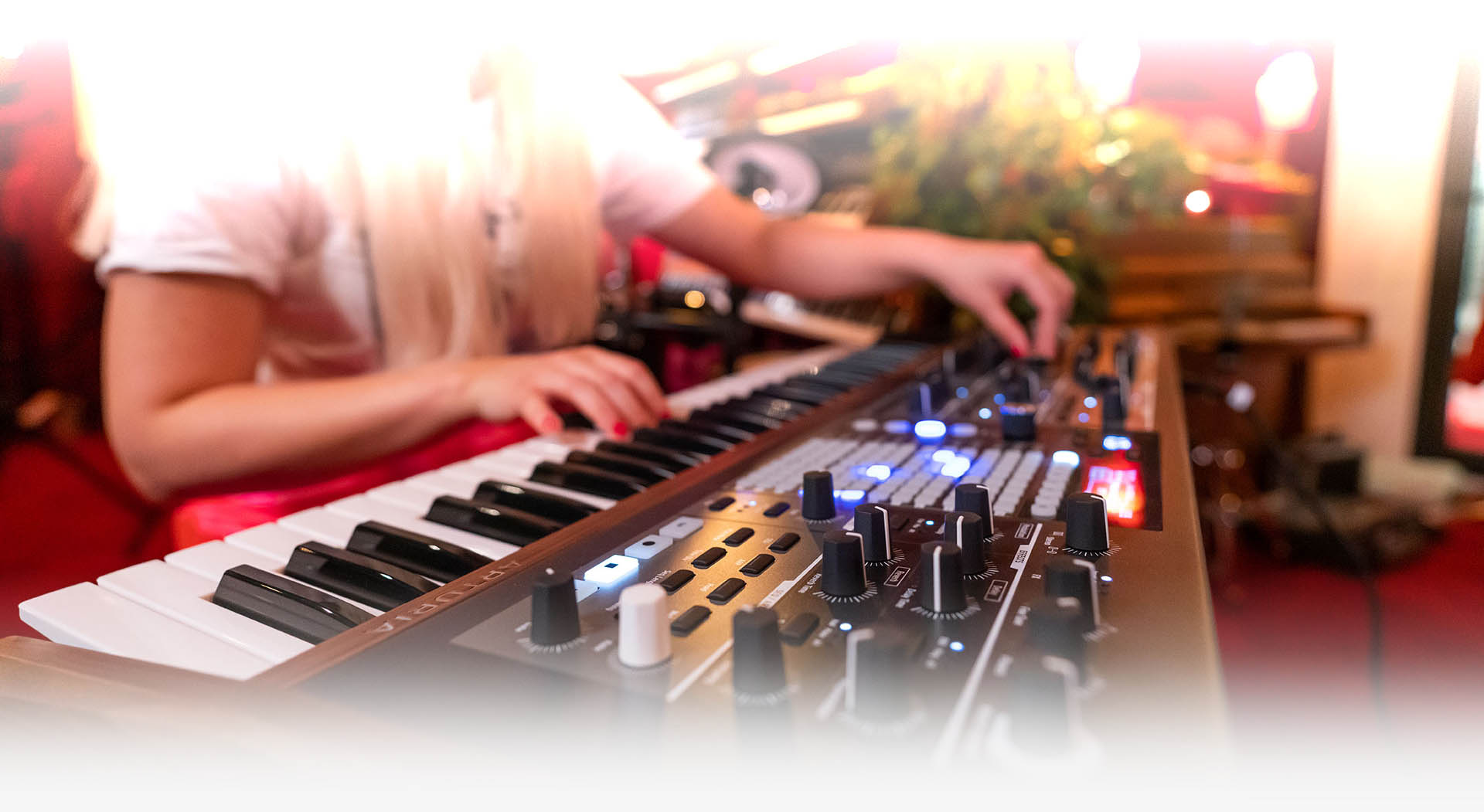 Evolution of the Brute sound
Raw, powerful, organic. The analog Brute voice is an unmistakable sonic force to be reckoned with - how about six at once?
PolyBrute's six-voice power starts with two Brute waveshaping oscillators. With sprawling timbral versatility from delicate airy pads to snarling stacked bass, these are six voices you can count on to excel in every application.
The tactile and reactive nature of analog synthesis is right at the heart of PolyBrute's architecture. Tame or animate the oscillators with an expanded array of multiple filters, envelopes and LFOs for absolute control over the analog domain. Once you've harnessed its sound sources, PolyBrute is your vessel for an inspiring voyage into sound.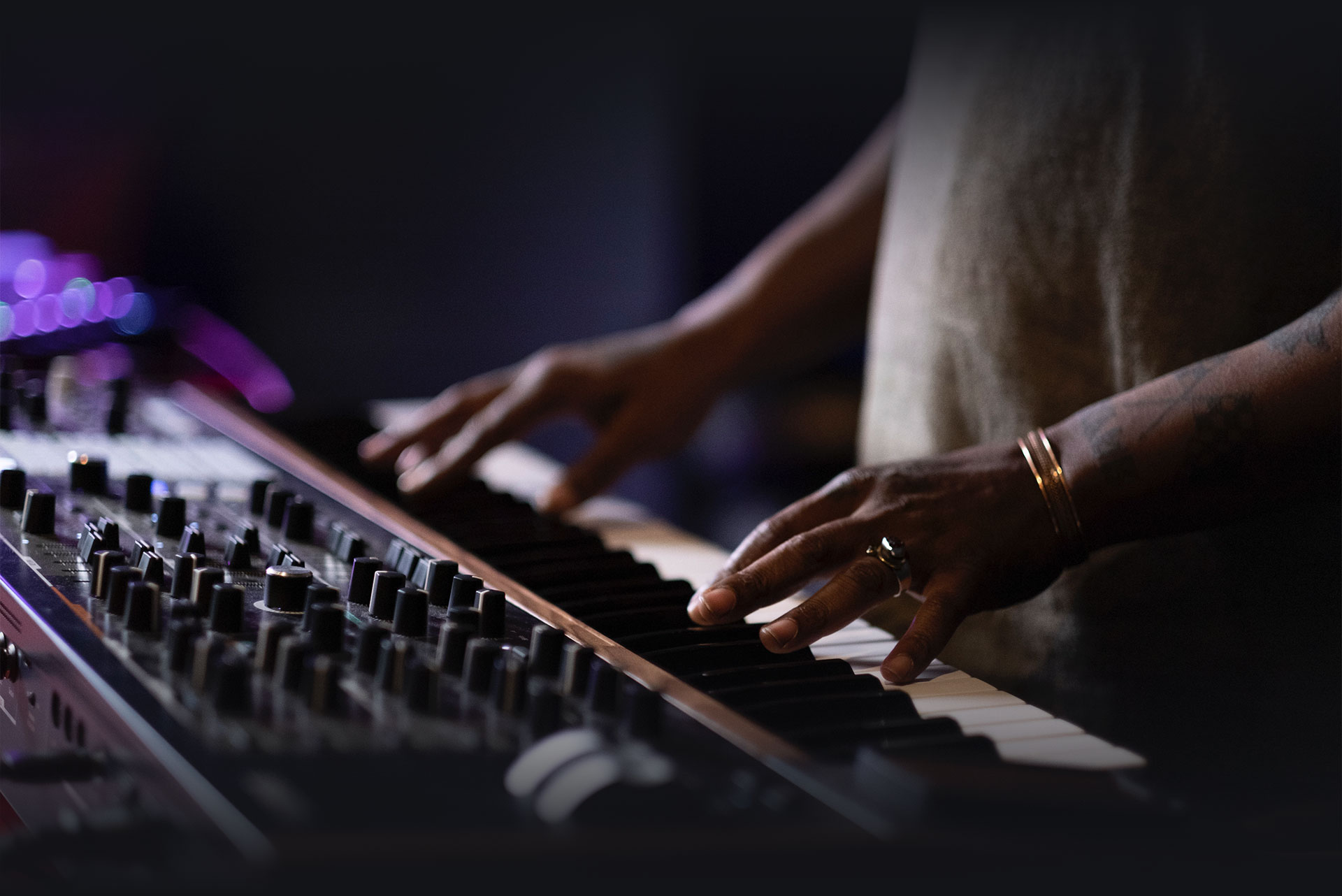 Morphing
a bold new chapter in the story of synthesis
PolyBrute's morphing abilities let you perform, compose, and explore sound without boundaries.
Imagine being able to sweep all the parameter settings between two different patches all at once. PolyBrute goes even further with its groundbreaking ability to gradually morph between two completely different states within any patch.
Starting on a classic synth pad, then gradually adding a brighter, more digital-sounding layer.
From a Clavinet to a Wurlitzer, and everything in between.
Hear a moody plucked sound morph into a washed-out pad.
An aggressive lead going from thin to very large and detuned, thanks to the unison features.
Launch into an infinite continuum of inspiring new sounds in between.
For morphing to work, hands-on control is essential - PolyBrutes takes it to another level. The all-new Morphée three-dimensional performance touchpad ensures that intricate morphing expression is always right at your fingertips. Manipulate any facet of PolyBrute's sound, from delicate morphing to extreme dynamic shifts, across the X, Y and Z axis in an instant.
It doesn't end there; PolyBrute is armed to the teeth with articulate controllers to give your performances and compositions the elusive human touch.
This unparalleled sonic flexibility and expressivity is what earns PolyBrute its place in synthesizer history - a trailblazer of creativity.
Press Clipping
"The PolyBrute is an impressive, original and endearing instrument that will take pride of place in the most demanding studios."
Audiofanzine
"The PolyBrute is a hugely enjoyable and characterful synth, with some exceptionally interesting facilities that make it stand out from the crowd"
Music Tech
"I've had the privilege of playing and reviewing many of the most revered polysynths of all time, and I think that the PolyBrute has the potential to be up there with the best of them."
Sound On Sound
"Wonderful poly concept, the brute factor at the expected level of evolution"
FutureMusic.me
"PolyBrute is a unique instrument with both sound and features that stretch the boundaries of what a polysynth should be."
Sonicstate.com
"This is an excellently designed, characterful synthesiser deserving of a place among the top tier of polysynths."
Future Music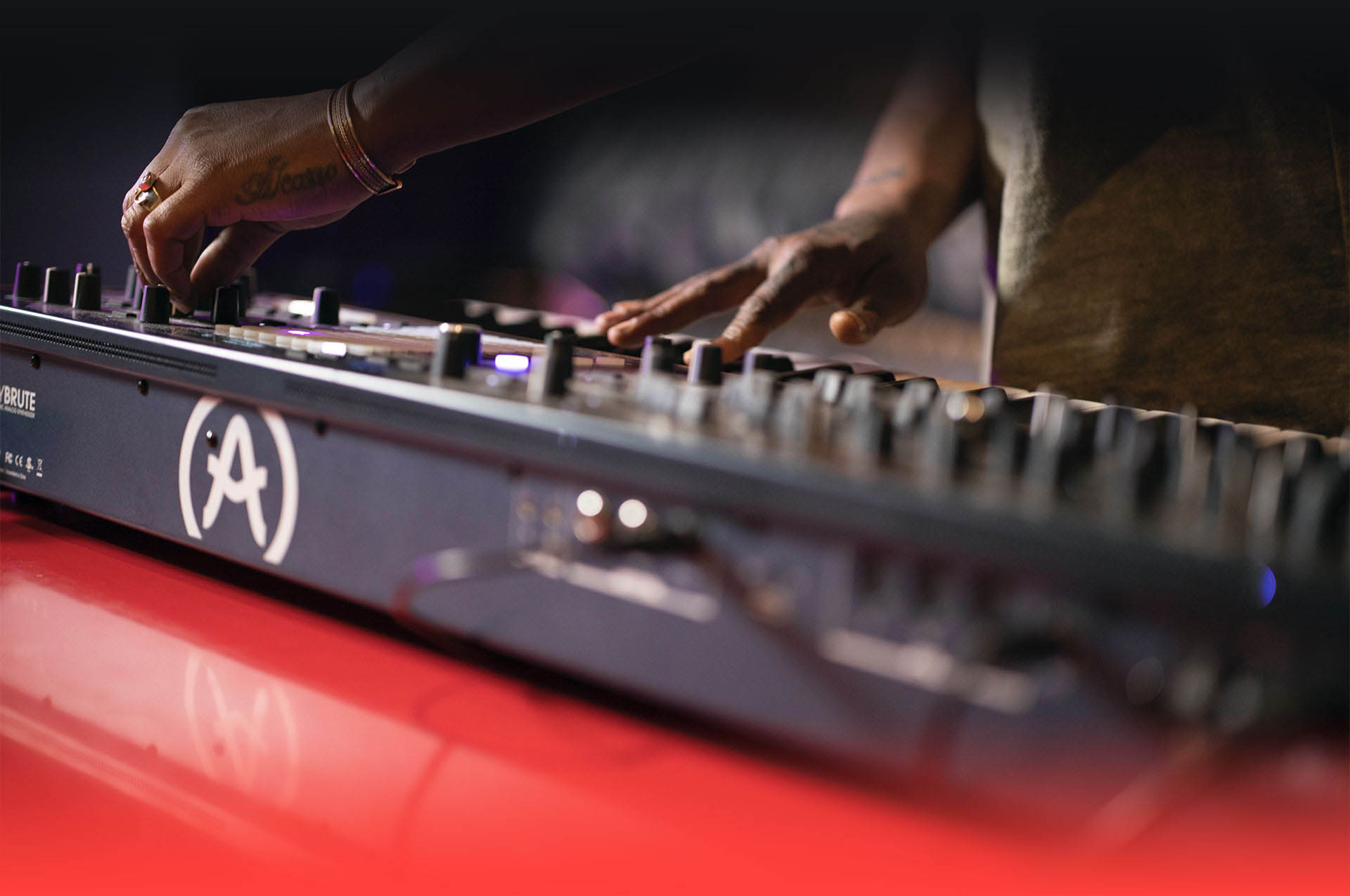 The Matrix
The digital brain for PolyBrute's analog heart
The Matrix is where PolyBrute's analog reactivity and digital precision collide - an advanced architecture unlike any synth before it.
Presets
Instant access to 768 presets slots, including patches from the greatest sound designers in the world. No menus, no waiting - just like everything else on PolyBrute.
Sequencer
A tactile visual interface with everything you need to create dynamic polyphonic sequences, arpeggios, parameter motion recording and more.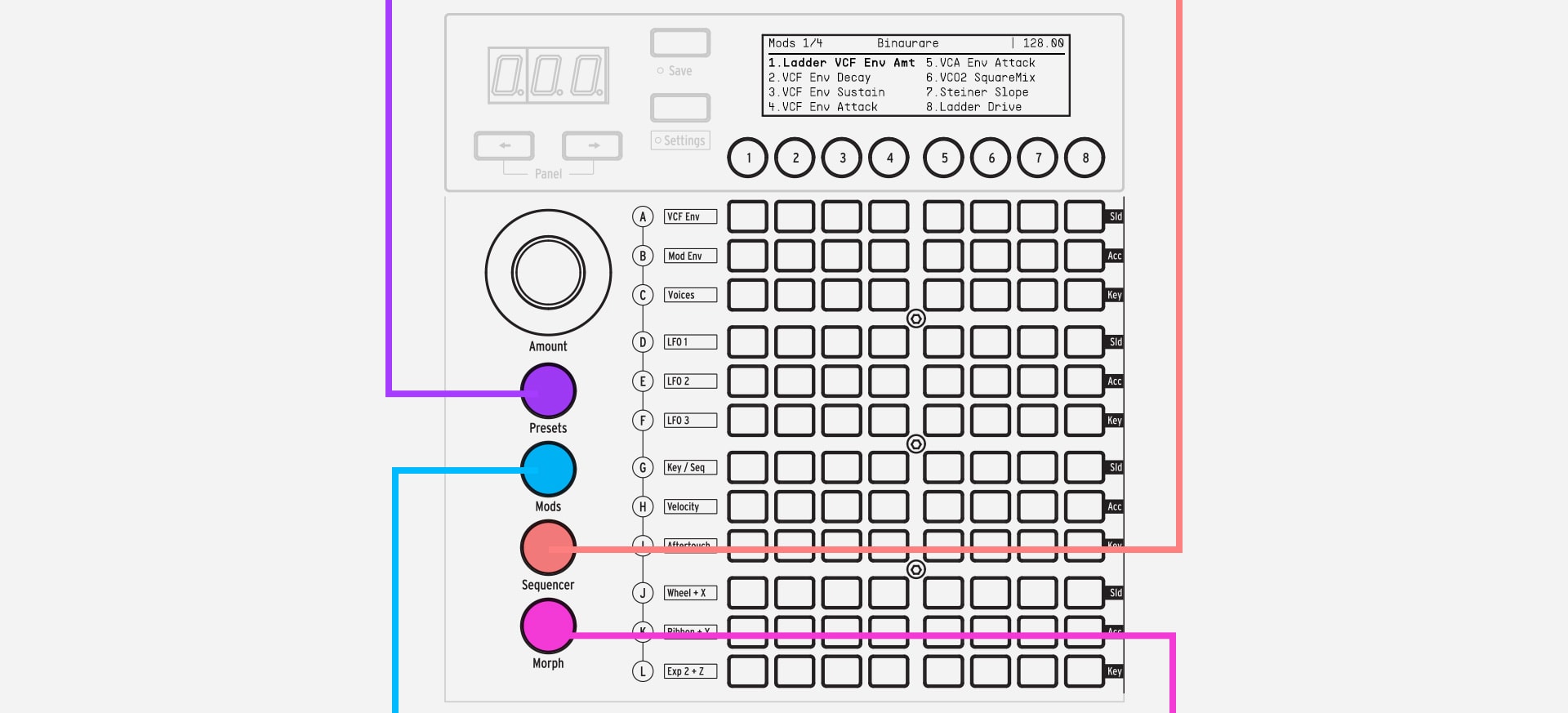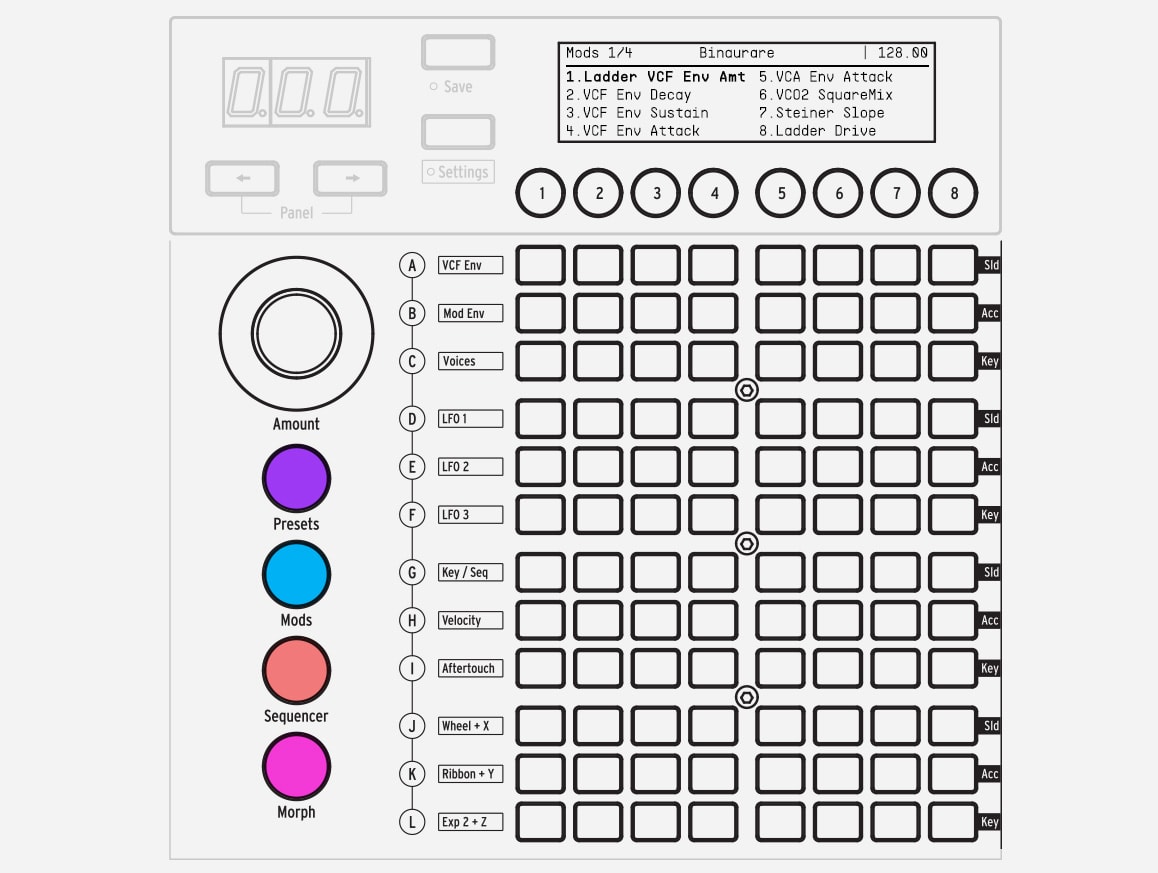 Mods
A 96-point digital patchbay with up to 32 destinations - easily route any of your modulation sources and controllers to influence dozens of PolyBrute's parameters at once.
Morph
Adjust the modulation sources and destinations for the A and B states within a preset to deepen your morphing contrast and color.
Sound Corner
PolyFlutes
PolyFlutes A mysterious, chillout ambient track with the duophonic aftertouch in the spotlight, made using only the Polybrute 2.0 Factory presets. No external FX were used in this demo.
Hold The_Line
Hold The Line Melodic dreamy funky track reminding the 80s ambiences. All the synth parts and melodies come from PolyBrute, with the use of external Live drum samples.
Cool-Brute
A funky jazz track based on the "Wurlinet" preset, which uses morphing to transform a "Wurlizer" style electric piano sound into a clavinet! The drum parts were also created entirely on the PolyBrute.
Spovtnik
A trip into orbit using 9 Polybrute instances. Based on a string ensemble sound (Solistrings), a sequence (Spovtnik), and a lead sound (Mini Lead).
Lost In Space
An ambient track created on one of the early Polybrute prototypes in summer 2019. It is made up of 6 different sounds played successively live in audio on a DAW. The sounds on this track use no external effects or additional synthesis sources - it's all PolyBrute.
Ghost
A dark progressive psytrance composition, with a triple-layer pad doing the heavy lifting on the atmosphere front. It uses 10 instances of the PolyBrute, with the kick and drums coming from my personal samples.
Bridges
A dreamy ambient track reminiscent of the deep atmospheres of old-school Berlin music. This track is based on 4 PolyBrute instances demonstrating the extensive possibilities of morphing, most notably with the "PPG 4.0" preset.
Between Ice And Fire
A track typically in the spirit of Massive Attack using 6 instances of PolyBrute to demonstrate the full extent of its power and rich sound.
Poly Synergy
This minor melodic tune is made of 9 Polybrute presets sounds from Lily's bank, and a conga loop for a richer percussion section. All effects are internal to the PolyBrute: no external plugins were used except Ableton Live 10's compressors.
Softness
A bewitching melodic track showing the spatial and ambient side of the instrument. A multitude of sounds, including "13 VCOs", a pad sound "First Snowfall", and 2 Sequences: "Floating points" and "Granular Freelance". Everything but the percussion is made on PolyBrute.
Mars Geology
A simple and straight techno track. Everything but the kick is coming from the PolyBrute. Based on the "Pulsar" preset with some SFX presets like "FX Hoover" and "Massacre".
A Hands-On Analog Experience
PolyBrute puts all that analog power right up front with dedicated knobs and switches, offering unmatched control and immediacy.
Almost everything you touch also generates MIDI, so you can capture your every move as part of your DAW productions. Need some instant attitude? Crank up the enhanced Steiner filter's Brute Factor. Want to change the cutoff on both filters at once? Grab the Master Cutoff knob. Time to move the floor beneath your feet? Dial in VCO 2's sub-oscillator. It's all right there in front of you.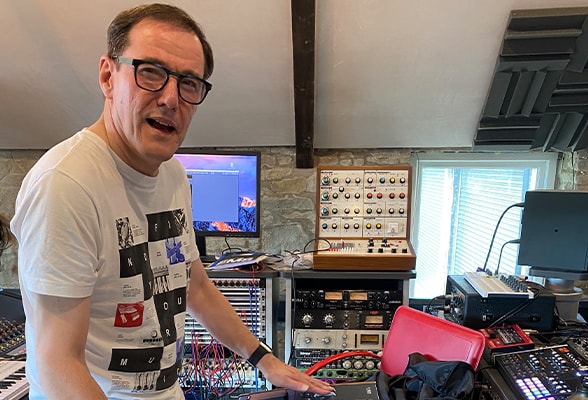 Artists Corner
Arturia have done it again! The brand new PolyBrute is the synth the world's been waiting for. The 6 voice PolyBrute is the most inspiring synthesiser I've heard in a very long time. It really does sound amazing. Tweaking is a breeze and very addictive thanks to the eye-catching 8 x 12 matrix panel inherited from its grandad, the MatrixBrute .This makes it easy to keep tabs on the exceedingly deep modulation routings the synth offers. Much more than the sum of its parts. The PolyBrute may well be the best thing to happen this year. The best Brute yet.
Stephen Morris
( Joy Division & New Order )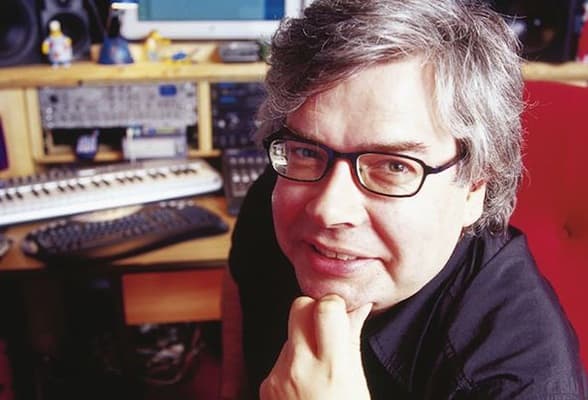 Artists Corner
Take a touch of matrix, add a load of poly, stir it all together and what do get? Richness by the spadeful that's what! Unison as big as a house one moment then pads as delicate as the wind. An absolute peach of a keyboard and my new best friend.
Roger Lyons
( Producer - Composer (Alt-J / Oscillator Hell) )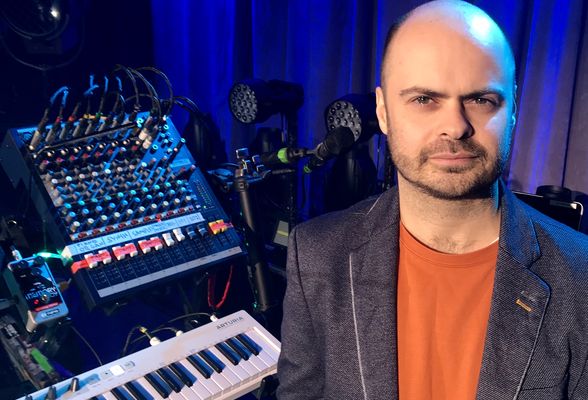 Artists Corner
As soon as I played the PolyBrute, just flicking through some of the many presets, I was sold. It sounded so alive and expressive and was much more fun to play than other modern polys out there.
Nick Baines
( Kaiser Chiefs )
PolyBrute Connect
Enjoy seamless bi-directional editing and organization with your computer.
PolyBrute Connect bridges the gap between hardware and software like never before, letting you incorporate its expansive sound into your virtual studio workflow. Open it up in your DAW, connect PolyBrute's USB and audio outputs to your computer, and unite your dream analog synthesizer with huge virtual flexibility.
Craft sounds
Explore the depths of PolyBrute's advanced features with a like-for-like virtual interface
Manage your patches
Organize your favorite sounds, and easily import new presets & sound banks.
Control in real-time
Every parameter change, either on synth or software, is mirrored by the other.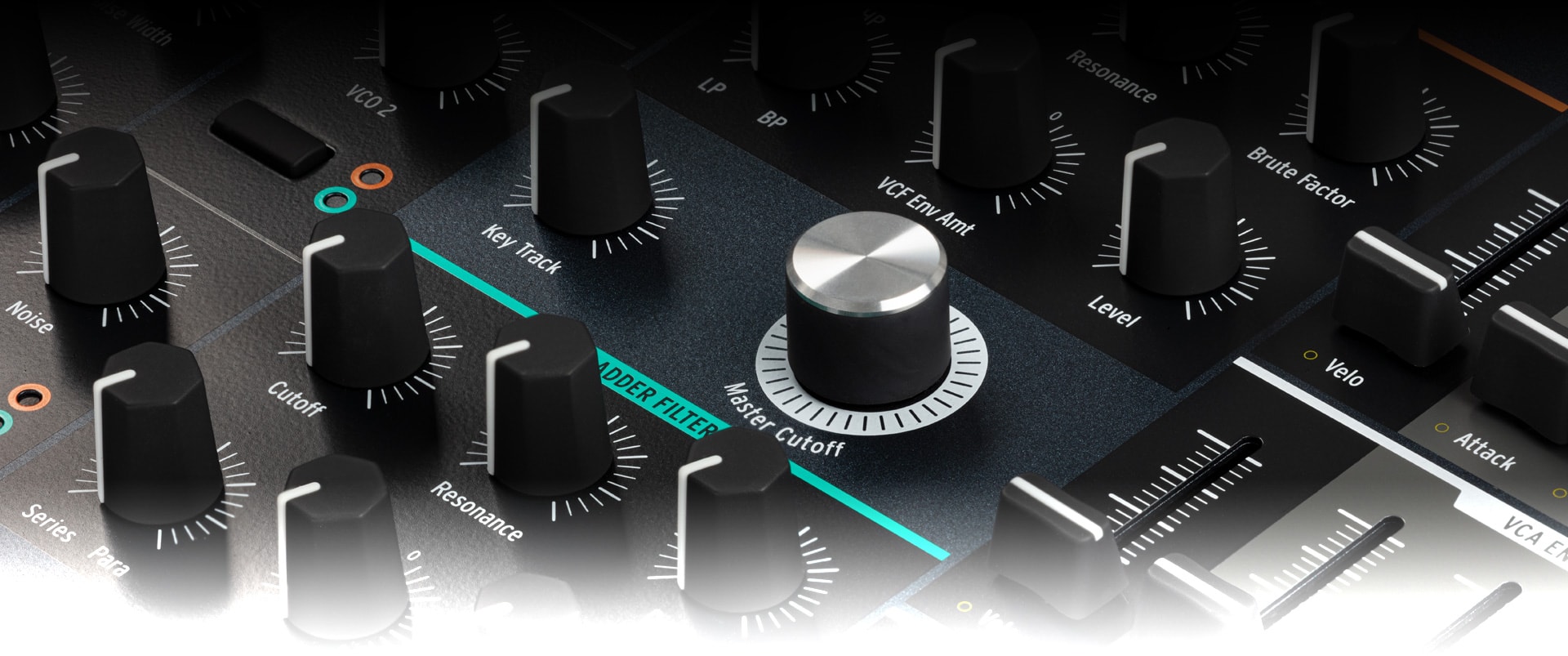 Distinction in design
An instrument of this magnitude is deserving of only the highest attention to detail - PolyBrute is a synthesizer years in the making.
It's undergone rigorous testing to ensure a build quality of the finest calibre. Controls, buttons, and expressive components that are a delight to use, time after time. Its pristine metal chassis is embellished with luxurious dark walnut appointments for a timeless aesthetic, with a sleek, modern flare that sets it apart from the crowd.
PolyBrute is something unmistakably new, while remaining firmly rooted in synth design heritage.
Gallery
Box contents
PolyBrute unit
Power cable
Size & weight
Instrument size : 38.3 x 14.9 x 4.4 inches (972 x 378 x 110mm)
Instrument weight : 44 lbs. (20 Kg)
Main Features
Analog Morphing Synthesizer

6 voices of Polyphony
Mono, Unison, Poly voicing
Single, Split, Layer modes

61-keys with Velocity and Aftertouch
Pitch Bend, Mod Wheel, Ribbon controllers
Morphée touch and pressure sensitive 3D controller
Sound Morphing capability, part A and B for each preset
Two Analog VCO's

Saw
Triangle + Metalizer
Square + Pulse Width
Sub
Linear FM
Hard Sync

Noise Generator

Continuous tone from rumble noise to white noise

Osc and Noise Mixer with Filter routing
12dB/Oct Steiner Parker Filter

Continuous LP>Notch>HP>BP morphing
Cutoff, Resonance, Brute Factor

24dB/Oct Ladder Filter with Distortion
Three Envelopes

Two ADSR
One DADSR
Looping capability

Three LFOs

LFO1 and LFO2 with waveform selection
LFO3 with waveform shaping using Shape and Symmetry
Rate control & Tempo Sync
Various retrig options

Three stereo digital effects

Modulation FX : Chorus, Phaser, Flanger, Ring Modulation, ...
Delay : 9 algorithms including BBD, Digital delay, ...
Reverb : 9 algorithms including Hall, Plate, Spring, Shimmer, ...

768 preset slots
12x32 Modulation Matrix
64 step polyphonic sequencer

Notes, Accent, Slide per step
3 tracks of automation

Arpeggiator and Matrix Arpeggiator
Stereo audio output
MIDI and USB i/o + analog clock i/o
2 expression and 1 sustain pedal inputs
Awards